PRESENTATION! What comes to your mind when you hear that word? You would most likely have the mental image of a person standing in front of an audience, with or without video or audio-visual aid, dispensing information.
In the tech world, there is software(s) designed to enable people to present information in a clear and concise form. They are known as "presentation software(s)". 
What is presentation software? According to YourDictionary.com, they are "computer programs designed in such a way that allows the user to present information in an engaging way such as with text, pictures, sound, and video…normally in the form of a slide show" 
Going by this definition, you immediately think of Microsoft PowerPoint.
Yeah!
PowerPoint is the most common presentation software available, so much that many people do not know that there are other forms of presentation software with advanced features.
There's Impress, there's Keynote from Apple, LaTeX Beamer, and WPS Office (Free and complete office suite which includes writer, spreadsheet, presentation, available across multiple platforms – Windows, Linux, Android, iOS, and Mac). Let's check out the best presentation software.
Best Presentation Software
Take a look at other presentation software (both paid and free alternatives), with advanced features that can give you what you want – Professionally and as a Business owner.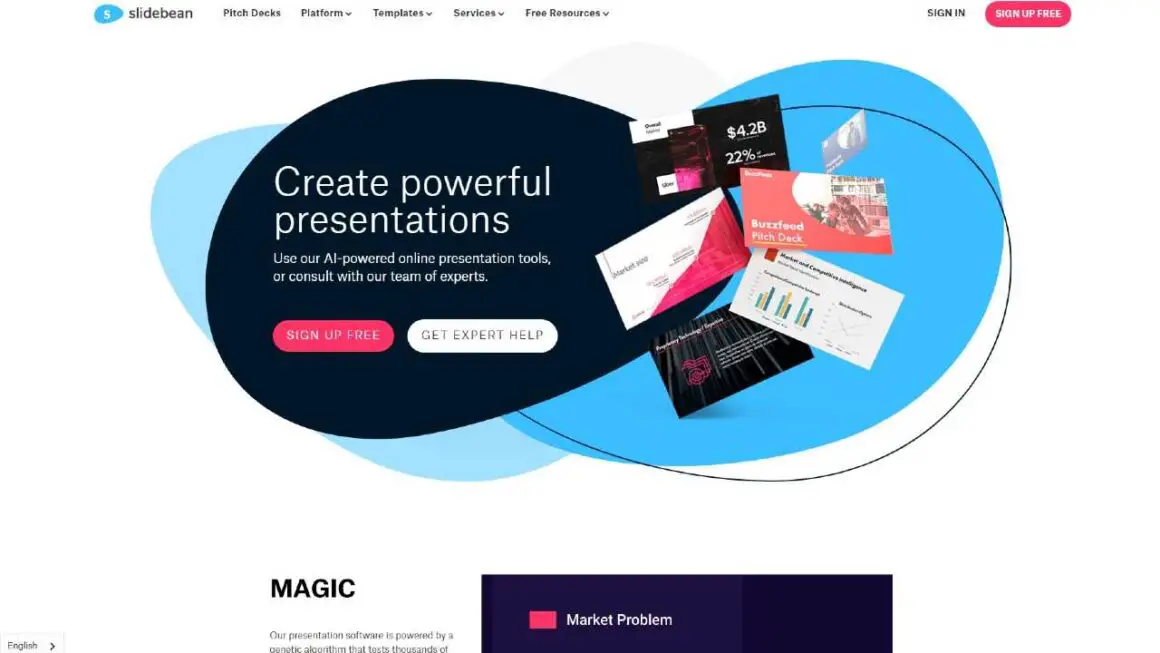 Slidebean is one presentation software that enables you to make easy on-the-go presentation slides. 
Key features: 
Slidebean has hundreds of specific blank templates that you can easily choose from, and edit (from what they have to suit your needs). It specifically has pitch deck templates, which provide you with an outline and all you do is just fill in the blank spaces. 
There are templates for everyone, everything, and every purpose; For start-ups, Consultants, Agencies, Marketing, Business, Sales and so much more…
An interesting fact about the pitch decks provided by Slidebean is that they could be rewritten to fit your taste, your own design for your business. You're not the only one who would be using this. Slidebean has created over 30,000 investor pitch desks with the help of the Slidebean team, and over the last 12 months, more than 250 projects completed! 
Pricing: 
Basic plan – $0
Starter plan – $8 per month (billed annually) 
Premium Plan – $19 per month (billed annually) 
Founder's edition – $149 per months (billed monthly or annually)  
It might interest you to know that PayPal, Hilton, Miami Heat, P&G, Pfizer, Yelp are all but a few of the biggest brands that have used Slidebean presentation design services. What stops you from trying?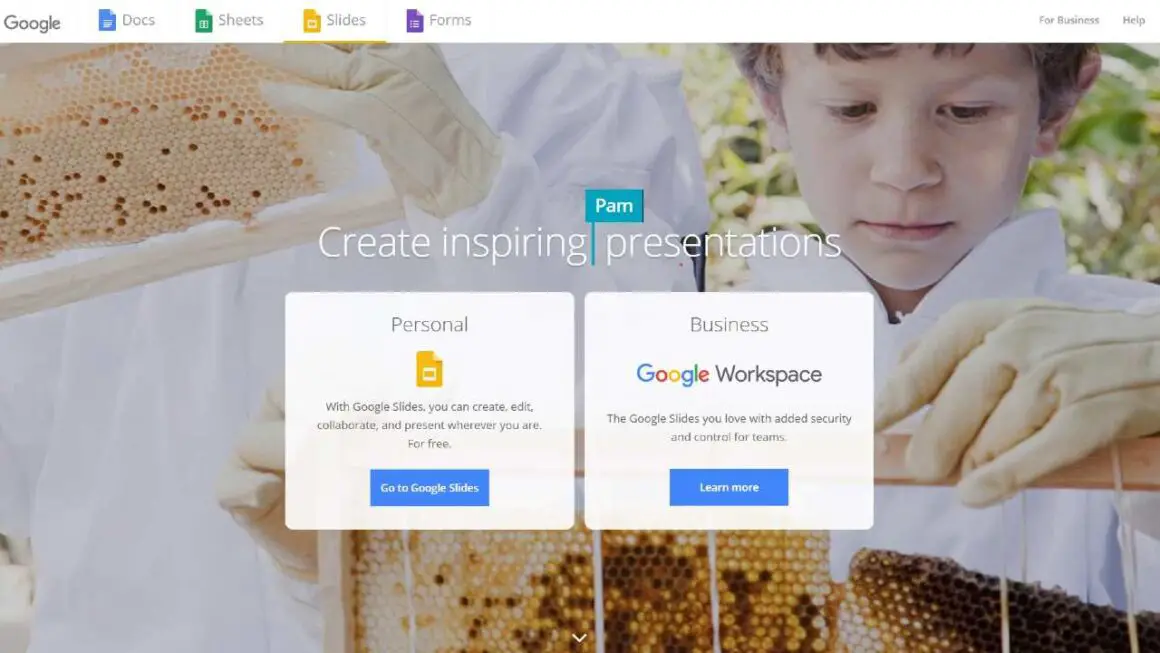 Google Workspace slides have a super amazing feature!  What that is? You can work with a team, your business partner, or external contacts. You get to control who gets permission to view, edit, or even add comments on the presentations! 
Key features:
Easy to design slides lets you start from the beginning or use an already provided template. Enhance your presentations with videos, images, drawings, and smooth transitions. 
Accessible on any device you use, get to work on your presentation any time, anywhere!  
With unlimited revision history, presentations are saved automatically online and revised versions are kept indefinitely for you (you don't have to worry about your storage space, uh?). This way, you can always track and undo/redo your revisions. 
Sharing control lets you have control over who views and edits your slides. Convert your slides into the desired format to share with others.  
Apps like Gmail, Google Meet, Google Chat, Google Calendar, Google Drive, Google Docs, Google Sheets, Slides, Google Forms, Sites, Currents, Keep, Apps script, Cloud search, are all incorporated to make working with your team easy and fast!
Pricing:
Every plan is first available on free trial for 14 days.
Business starter plan -$6 per user every month 
Business standard -$12 per user every month 
Business plus – $18 per user every month 
Enterprise – contact the sales team for pricing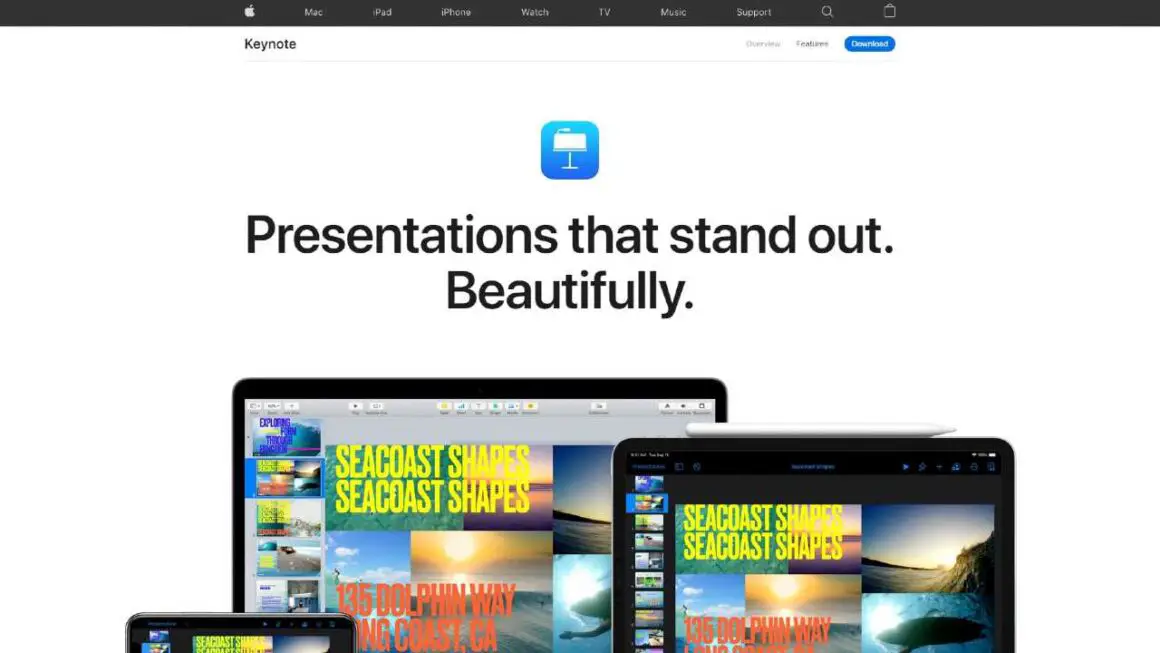 This powerful presentation tool from Apple gives your presentation a 'stand-out' outlook.
Key features:
Here are the features as indicated on the Apple website:
Available are over 30 eye-catching themes aimed at giving your presentation a professional outlook. You can also create your own design, and customize your presentation page by page. 
A simple intuitive interface presents tools right before you so that your team members can easily add beautiful charts, edit photos, and incorporate cinematic effects. Rehearse mode lets you practice on the go with your current or next slide, notes, and clock, all in one view! 
Work together with your team in the same presentation, anywhere you are in the world.
If you're teaming up with someone using PowerPoint, you can save Keynote documents as PowerPoint files, or import and edit PowerPoint documents in Keynote 
With just a tap, align objects to motion paths and it stays in the right direction as it travels along a path
Add descriptions to images, movies, and audio to help people using assistive technology 
Youtube/ Vimeo videos can be integrated and played in your presentation without a media player. 
Pricing:
According to PCMAG.com: "Keynote is available on App Store at no cost. However, if you use an old Mac device, a one-time fee of $19.99 is charged. Keynote comes directly with your iPhone and can be downloaded for free, from the Apple App Store." 
Libreoffice impress is a presentation app that lets you make presentations on different categories easily.
Key features: 
Libreoffice Impress allows for different editing and view modes: 
Normal for general editing 
Outline for organizing and outlining your text content 
Notes for viewing and editing the contents attached to a slide
Handouts for producing paper-based material
Slide sorter that lets you quickly locate and order your slides 
Pricing:
Libreoffice Impress is Free! That's a lot of goodies to enjoy for free!
Ever seen a presentation with heavy features yet light with complexities? I present you Slides!
Key Features:
Slides editor is available in your browser
Present your slides in real-time
Collaborate on your slide
Works on any device
Vertical slides that can be stepped through during your presentation
Easily create exciting animations
Protect your slides with passwords, share privately or publicly
Create and edit slides with templates, stock photos, tables, and more
Developer-friendly
Pricing:
Basic – $0
Lite plan – $5 per month (billed annually) 
Pro plan – $10 per month (billed annually) 
Team plan – $20 per month (billed annually)  
Enterprise plan – contact the sales team
A presentation software that enables you create, present anywhere at anytime
Key features:
Zoho show is embedded with themes for every need, just pick one to give your slides a smart look
Translate your story in slideshows by using smart elements – charts, tables or expand it with powerful images and/or relevant videos
Share your presentation, publish and broadcast(to the remote and local audience) by giving it a stable URL. You can publish on websites, blogs, Social Media, etc. 
Accessible for Apple devices and Android smartphone devices – create, edit, collaborate, and share beautiful presentations on your device. Import presentations and work on them offline, or download them as an image or PDF 
Work with PowerPoint as you can import files, review them with your team, or present a slideshow right away.  
Integrations with other apps make your work easy
Pricing:
Zoho show is free for personal use. For Businesses, Zoho Show is included in the Zoho Docs enterprise pricing packages.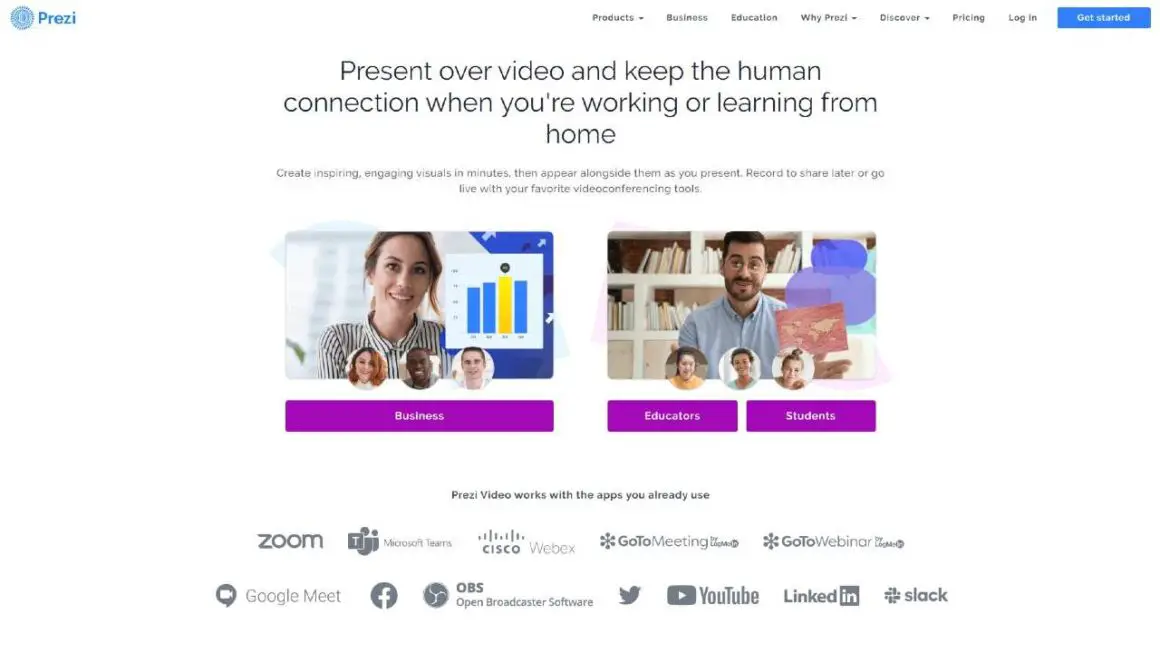 Did you know Prezi is the short form of presentation in Hungarian? Well, now you know.
Prezi is a presentation and collaboration software site founded way back in 2009. As of 2018, Prezi had more than 100 million users who had created more than 325 million public presentations that have been viewed over 3.5 billion times! 
The Prezi platform itself is a visual storytelling software alternative to traditional presentation formats. Prezi is for Businesses and Professionals, Students and Educators 
Prezi presentations feature a map-like overview that lets users pan between topics, zoom in on details, and pull back to reveal context. With more advanced features came Prezi Next and Prezi Business.
Note that Prezi Next doesn't support internet explorer and as an HTML5 application, it runs on Javascript though it is compatible with most modern systems.
Key features:
Prezi enables the organizational flow of information by letting presenters adopt the method of content delivery, resulting in questions and concerns about slides being treated as they arise.  
Prezi Pro, and Prezi Pro Plus users can control their privacy settings, they also have access to the Prezi desktop app, on which offline editing is enabled.
Prezi also offers an educational license for students and educators as well as Prezi Business that is designed specifically for teams.
Prezi present allows you to make moving, zooming presentations that grab attention.
Prezi video lets you appear alongside your content while making your presentation.
With Prezi Design, you can make interactive charts, reports, maps, infographics, and more.
Prezi is integrated with different apps at different levels to help you achieve this! Google classroom, Zoom, Microsoft Teams, LinkedIn, Slack, Facebook, YouTube, etc.
Pricing
Pricing Basic – $0 to $7 per month 
Prezi Standard (for personal use)– $3 to $7 per month 
Prezi Premium (for business professionals) – $59 per month
Price plans for Students and Educators – $0 to $50 per month
Price plans for Businesses – $7 to $50 per month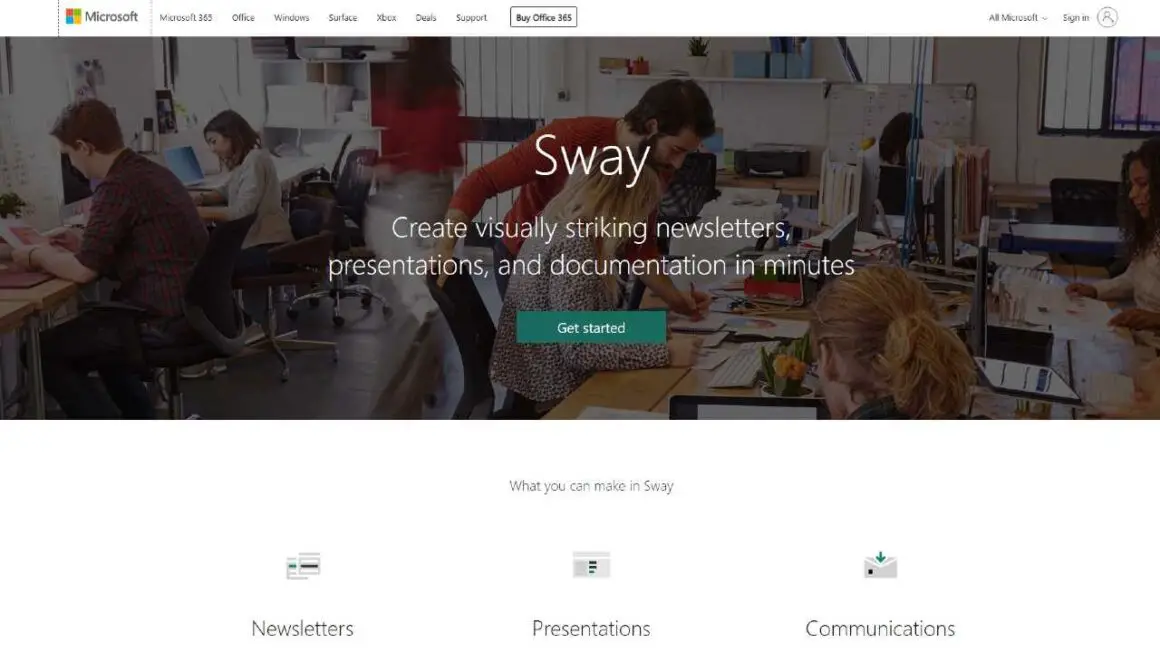 With Sway from Microsoft, you can make Newsletters, Presentations, and Communications. There's really no limit to who can use Sway with its multifaceted features.
Key Features: 
Sway is integrated with your device and the web, which makes it possible to easily drop in content from anywhere (photos, videos, and other multimedia) 
Already designed content saves you time, just put in final touches to fit your style 
Microsoft Sway is easily displayed on any screen, generate a simple URL you can use to share and edit/coedit your work 
Your Sway presentation can have content from various sources. Integrations with apps like OneNote, Bing, YouTube, Facebook, Twitter, Mixcloud, Infogram make this possible
Sway accounts are usually tied to the user's Microsoft account. Presentations can only be viewed and edited from any web browser through Office for the web. There's no provision for offline editing or viewing
Accessible only on apps for Windows 10 and iOS 
Share content in different languages-up to 39. Sway is that versatile!  
Pricing:
Sway is free for anyone who already has a Microsoft account. However, you unlock advanced features when you use Sway as part of a subscription for Microsoft 365.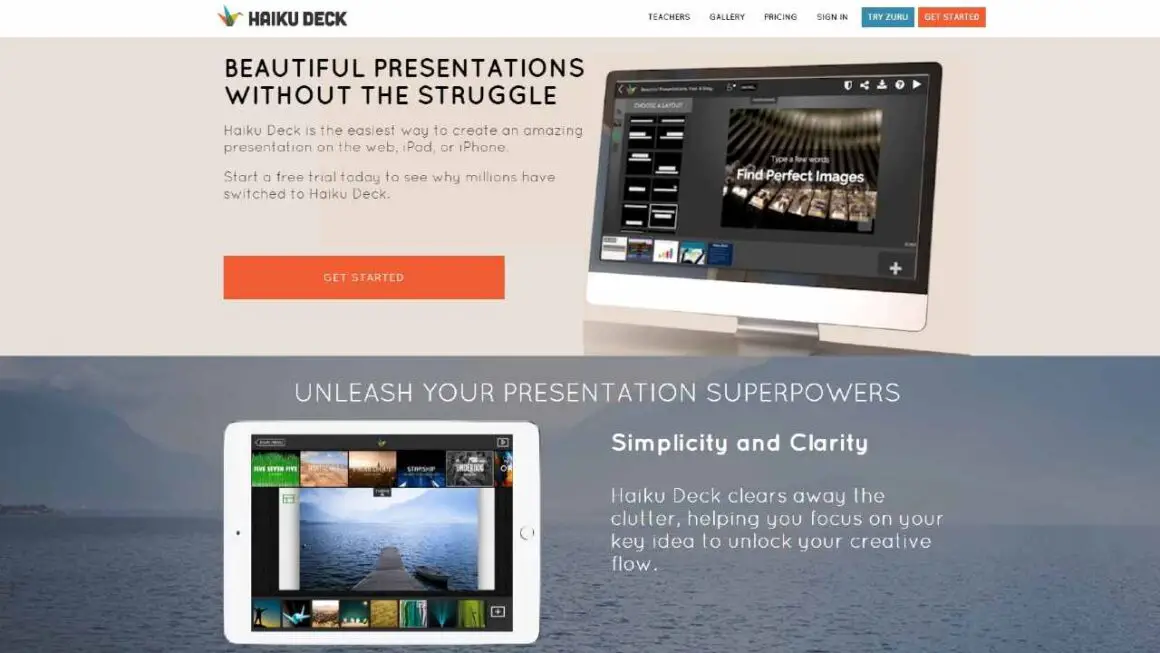 Simple but powerful presentation software with which you can display your presentation strength.
Key features:
Whether it's creating your professional profile, a press release, startup pitch, social media reports, cultural values, vacation plans, you can be sure that Haiku has got you!  
Download files for offline viewing, printing, or editing 
Be in control of your presentations – which team member/s get to see what
Save audio narrations as videos and add YouTube videos in your presentation
Haiku is suitable for Students and Educators, it is used in over 21,000 schools.
Pricing: 
Basic plan – free
Pro plan – $9.99 per month ($119.88 when billed annually) or $19.99 per month (when billed monthly) 
Premium plan – $29.99 per month ($359.88 when billed annually) 
Enterprise plans for Organizations and large teams – Contact them for price
Slides in everything in every format. Whoops! A multimedia presentation tool that lets you combine PowerPoint presentations, PDF files, and even Prezi presentations!
Key features:
Create custom SlideDog presentation playlists for all your media needs
Seamlessly switch back and forth when you have different media to display
Multiple speakers at meetings or Conferences? Use this feature to view all.
When you have demonstrations or sales pitches where you often switch between a slide deck and a website.
When you have timed presentations with different file types (you can configure SlideDog to auto-advance and loop the playlist).
Add files from your desktop computer and the Internet. SlideDog is integrated with apps like YouTube to make this possible.
Comfortably control your presentations from your smartphone, tablet, or computer 
Use the remote control function via the Slidedog remote app to change files and slides, control multimedia, and view notes. A pin code that'd be sent to you restricts access to the remote and guarantees you security.
With the live sharing feature, share your content with your audience, let them follow through on their own devices through a Slidedog generated link. With this, they get to see current and previously seen slides, ask questions, give feedback. 
Interactive elements within presentations give you a one-click way of getting feedback from your audience:
Pricing:
Free – $0 
Pro – $99 per year (annual subscription). Renewal can be canceled anytime
Pro Event – $49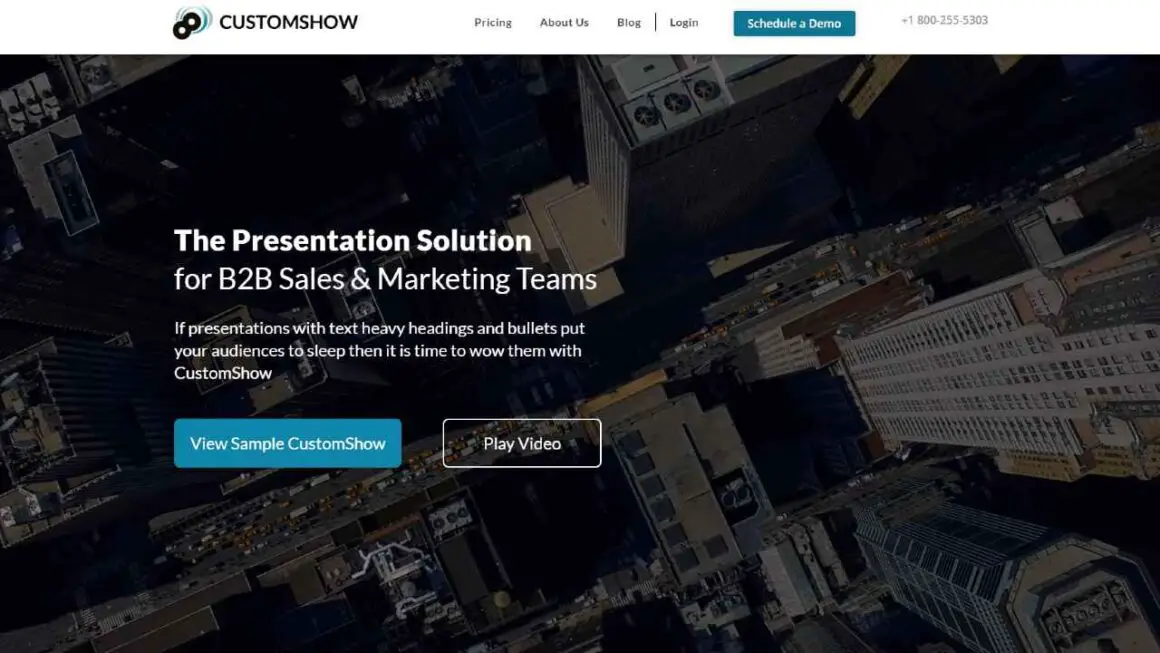 Businesses would have success using this presentation software as it's made for Business To Business (B2B) Sales and marketing teams
Key features:
Keep the attention of your audience and wow their minds using the rich  interactive media
Keep everyone on message, control your brand and ensure regulatory compliance
Ever heard of simulcasting? This feature in custom show enables you to broadcast presentations effectively to both local and remote audience 
Business analytic tools give you insight on your customers and audience engagement
Design and do presentations both online and offline
Pricing: 
Essential plan – $23 each user per month 
Professional plan -$39 each user per month 
Enterprise – $55 each user per month. 
FAQs
How does Presentation Software work? 
Presentation software usually has three major functions that enable you to benefit maximally from them: 
An editor that allows text to be inserted and formatted. Images, videos, animation links, and sound can all be combined to get a solid presentation. 
A method (of appearance/transition) for inserting and manipulating graphic images 
A slideshow system to display the content (different ways/methods of displaying content) 
Why Presentation Software?
Here's what Teach-ICT says:
Presentations can be easily output to different formats e.g in handouts 
It is excellent for summarizing facts
Great and easy to use for showing graphs/charts/diagrams to an audience 
Easy-to-use and easy to edit tools 
Allows you to face your audience and make eye contact with them while presenting.
Additionally, as noted by The Marketing Mane:
Presentations often give room for effective business communications through the well-organized combination of graphics, animation, and multimedia
The visual impact of presentations wows your audience while giving you (the presenter) room to build interactions.
Contributes to building your brand, as company products, vision, logo even marketing collateral are presented in a way that appeals to your audience and keeps your brand ringing in their heads
  Presentations save time as all that has to be done is get content to be presented in slide shows, and the rest is history. 
Presentations can be shared via a sharable web link or email.  Presentations stored over the web can be accessed anytime, anywhere.  
Conclusion
When choosing a presentation software, here are some things to look out for:
Determine if it's for business or for an individual. Know which would be suitable for your use.
Look out for integrations: App integrations on presentation software would definitely make your work easier as you will be able to insert videos from other apps and even play them in your presentation. 
Compatible formats: You don't want to lose files in case you change devices, use presentation software that allows you to save presentations in formats that can be played anywhere, anytime. 
Have a bit of control over your presentations: You should be able to flip through your slides effortlessly, see upcoming slides before they appear, control who in your team see what. 
Offline presentations: Look out for presentation software that would allow you work on your slides even without internet. So internet or not, good to go!
Look out for presentation software that is available in different languages. It'd help you, especially if you constantly have to do business outside your language territory. 
Did you find this helpful? We'd be glad to receive feedback from you! In the meantime, check out our review on appointment scheduling software.