Technology has made our lives better, not to mention appointment scheduling software. If you are looking for a list of the best appointment scheduling software, then you have come to the right place. 
Furthermore, small business owners are always looking for an efficient way to schedule appointments in different locations. Therefore, it is time for them to start using the best available appointment scheduling software. 
Indeed, choosing an appointment scheduling software would help your business make the most of your resources. Besides, it will provide well-designed interactive experiences that are coordinated and thorough.  
Appointment scheduling software is helpful for designing successful marketing campaigns and contact management as well. I will share with you some of the best appointment scheduling software that I have found so far.
What is Appointment Scheduling Software?
Appointment scheduling software is used to automate the process of making contacts with potential customers, making sales, and follow-ups. This software comes with various functionalities.  
The following are the top appointment scheduling software: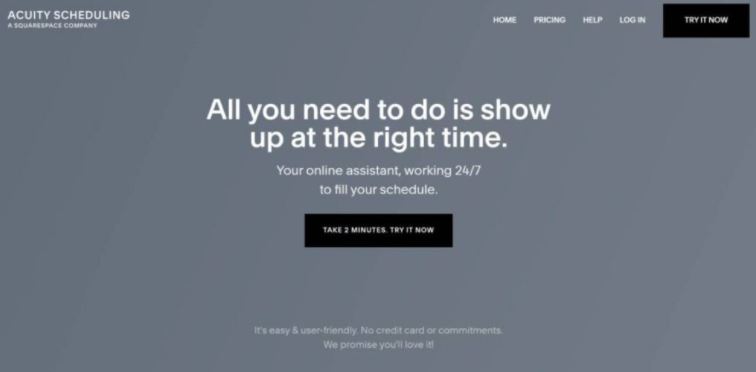 Ideal for a customer-facing solution. 
First, let me introduce you to Acuity Scheduling, one of the best appointment scheduling software on the market. Besides, if you're an independent service provider or run a small business, Acuity is a must-have tool that will help you get the most out of your day. 
By using Acuity, you not only can add client information such as name and contact information into your calendar but also notes regarding what products they are interested in and how to schedule services with them. 
No more trying to have conversations between emailing back and forth, nothing is lost in translation and it all happens within one place.
Features
Appointment management: Clients get to schedule their appointments online. Email reminders are sent to them ahead of time to prevent no-shows.
Calendars are automatically in sync with new appointments.
Integration of third-party digital platforms such as QuickBooks, Google Analytics, and MailChimp.
Manage several schedules from a single place.
Acuity customer service is valued highly by consumers.
Pricing
Emerging – $14-$15 monthly.
Growing – $23-$25 monthly.
Powerhouse – $45-$50 monthly.
All-in-one small business management solution.
Thyrv is a small business management platform that provides scheduling software structured in such a way that encourages easy customer-provider interaction. Furthermore, all customers, employees, and bookings are loaded into the system automatically. Additionally, Thryv will happily remind you of upcoming due dates, reschedules, and other changes.
Features
Customer relationship management
Sales and payments
Customer communication
Scheduling and appointments
Reputation management
Marketing automation
Online presence
Document storage and sharing
Social media
Pricing
They have three plans (3 users, 8 users, ad unlimited users) but, have to contact them for the price.
Ideal for salon, spa, and fitness businesses.
Vagaro is a unique and powerful scheduling and management software for small businesses in the beauty, wellness, and fitness categories. Additionally, Vagaro is available on any device – they have a website and a mobile app accessible for smartphone users.
They also have a website where you can list and promote your business. Customers can find your business there and also read reviews. You can also offer deals or live stream classes.
Features
Appointment scheduling
Appointment reminders
Client management
Email marketing
Employee management
Inventory management
Loyalty program
Payroll management
Live stream integration
On Vagaro Pro (their mobile app), you can:
Manage your calendar, make appointments, and send reminders for appointments
Track your customers, have information about them, check their appointment history
Customize your service and class menu
Sell products, services, memberships, and gift cards
Pricing
You can try Vagaro for free for 1 month.
1 user – $25 per month
2 users – $35 per month
3 users – $45 per month
4 users – $55 per month
5 users – $65 per month
6 users – $75 per month
7+ users – $85 per month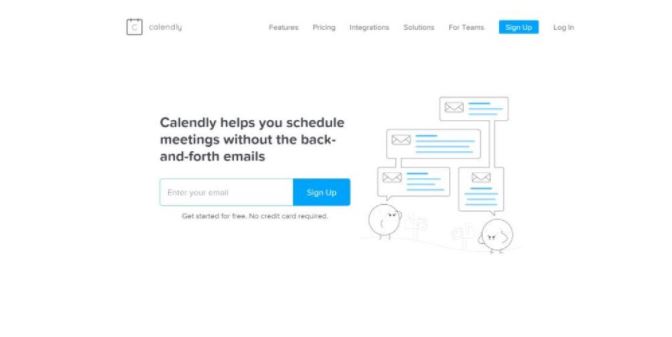 Ideal for businesses in need of integration.
Calendly connects with your calendars, such as Google, Office 365, iCloud account, and so on, to automate appointment scheduling with your contacts, business prospects, and clients. The app makes it easy to find meeting times.
The process is simple.
Connect your calendar to Calendly
Choose the calendar you want Calendly to check
Define the duration of meetings for people to choose
Share a link with the team to bring them to the Calendly page
Features
For Small Teams
Calendly allows a meeting invitee to schedule their own meeting slot
Calendly lets you generate a link to send to your team members if you'd not be available for a meeting, priority, or equity.
For Large Teams
A team member has a personal scheduling page
An invitee schedules a meeting time, then that time is automatically assigned to any team member who is available. They can also schedule meeting times with multiple team members at once.
A meeting invitee can choose which team member(s) they need to meet on a team-wide page
A department in a company or even an entire company's availability for a schedule can be displayed on Calendly   
Pricing
Calendly offers 14 days free trial where you can try all features. After that, you can choose
Basic  – Totally free
Premium – $8-$10 per month
Pro – $12-15 per month
The most sophisticated booking application for salons and spas.
Fresha is an online booking and scheduling platform designed for the beauty and wellness industry (like spas, salons, massage therapy). When you open a Fresha account, you can manage your bookings, clients, sales even appointments. What's more, every Fresha account comes with four direct links for online bookings:
Microsite
Link to Fresha website
Link to your Facebook account
AAlso,a link to your Instagram account
All links open straight on your page where your services are displayed for clients to book with you.
Fresha has a separate app (for iOS and Android) for your clients. On the app, clients can:
Manage their bookings by rebooking, rescheduling, or even canceling
Upload their profile photos so you could recognize them easily
See categories of service and their descriptions when booking
Fresha is free. But, if you choose to use Fresha plus, you'll pay only a little fee to unlock advanced features. 
Features
Pay by text charges clients' cards at no additional cost.
Confirm by card used for offline bookings are secured with the client's confirmed cards.
Smart marketing: marketing campaigns for birthdays, new clients, and lots more. Also, you do not pay to send marketing messages. Furthermore, all emails using marketing features are covered under your Fresha plus fee.
Built-in no-show protection.
Built-in late cancellation protection where you can charge for all online bookings canceled late.
SMS reminders for clients' notifications.
Access to the Fresha marketplace to advertise your services and get new clients.
Online bookings integrated with your website, Facebook, and Instagram pages.
Payment is on a success-based approach and applies only to successfully completed bookings.
Pricing
Fresha – No monthly fee.
Fresha Plus (Optional) – 2.19% + $0.20 transaction fee, 20% new client fee.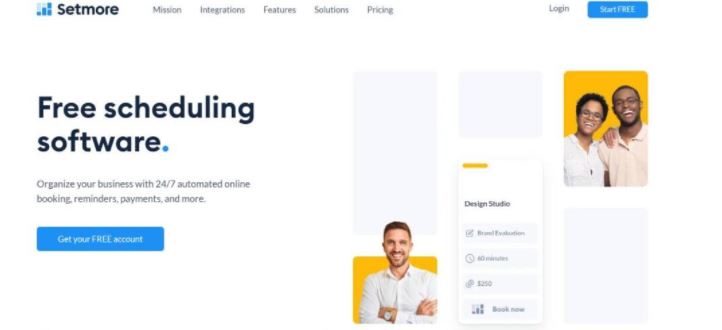 Setmore is an appointment-booking service that helps you manage and grow your business. Furthermore, their service offers the tools you need to create and book appointments, set prices and packages, and build a website customized to your business. Besides, your customers can even save time by booking online for the times that work best for them.
Features
Appointments: Schedule appointments using your desktop or smartphone. Available to Setmore premium users, recurring appointments enable you to book future appointments with a regular customer.
Integrations: Setmore offers integrations to make running your business easy. Integrations include: iOS and Android apps; payment processors; social media accounts; website booking widgets; sync with calendars; a popular business and productivity software.
Reminders: This feature enables you to save money on missed appointments. Text reminders are usually sent to customers to keep them committed to keeping their appointments. Besides, appointment reminders, scheduling, or cancellations can be sent via automated email alerts.
A free Setmore account starts with up to four (4) staff profiles. Your staff can also manage their own business appointments, receive alerts and reminders, and even display their availability.
Book Now: Every Setmore account comes with an online booking page that allows customers to book their appointment with you easily. There's also self-service booking – customers get to reserve their time slot with you on the calendar straight away.
Class Booking: With this feature, you can create a class with a duration, cost, and available seats. There's really no limit to the number of seats. What's more, choose a host and plot the sessions on your calendar. Also, customers get to book their own attendance online through your Setmore booking page. Finally, you get notified by email about who signs up, and customers get email reminders ahead of the next class.
Pricing
Setmore – Free.
Premium – $25/month.
Live Booking – Contact Setmore for pricing.
Versatile and can be used by a variety of businesses.
SimplyBook.me is a free online appointment scheduling software that works for businesses accepting time appointments. It enables businesses to enable customers to book appointments online 24/7 and receive SMS text/email reminders to avoid No-Shows.
The platform provides a booking web page, Google calendar sync, Facebook booking button, and a booking button if you already have a website. Also, the platform offers promotional features and membership features. It also offers the ability to sell products upon booking, gift card sales, booking reports, and acceptance of payments in advance.
Features
Online bookings from your mobile-optimized website or integration with your current website. Bookings can also be done directly via Instagram, Facebook, and Google   
Notifications via SMS or email about appointment reminders, rescheduling, and cancellation
Secure communication as data is backed up daily
Accept payments via a range of payment processors – Stripe, Paypal, and even more.
SimplyBook.me's Facebook, Instagram, and Google My Business native integration, WordPress, and other CMS systems that SimplyBook.me has been integrated with, or customize your integrations using their API.
Custom features like coupons and gift cards, sales of products, membership classes, promotion systems, HIPAA, SOAP, intake forms, packages, POS, deposits, related resources, tickets, video meetings, and more are available for your maximum use.
Pricing
It is available on a free trial for up to 14 days with 50 free bookings.
Basic package – $99 a year or $9.9 a month.
Standard package – $299 a year or $29.9 a month.
Premium package – $599 a year or $59.9 a month.
This scheduling software is an online reservation system that serves people who provide tours and activities or offer any kind of leisure activity service. Indeed, it is made for businesses of all sizes in the adventure travel industry. In addition, Peek PRO is available for iOS and Android device users.
If you are in the travel/adventure industry and you're looking for software that'd make it easy for you to run your business, try using Peek PRO. If you're also in need of online booking software that could make your traveling easier, and more organized, Peek PRO could just be what you need.
Features
A world-class booking that allows your customers to book their tours effectively.
Make maximum revenue from walkup bookings facilitated by the fast and powerful POS services offered by Peek PRO.
Peek Pro uses the same technology as airlines use, facilitated by the speedy QR-based technology.
Automated review requests are sent regularly. Furthermore, it helps you get positive feedback on TripAdvisor, Yelp, and Peek, which is embedded directly on your website. As a tourist/service user, you can access the quality of your tour guide using this feature.
Marketing is made easy with the integration of tools like Google Analytics, Mailchimp, HubSpot, and lots more. Thus, high-value customers can be retained for repeat purchases courtesy of this feature.
Additionally, with Peek PRO integrated with Yelp, Reserve with Google Groupon, and Expedia, you're better able to connect to more customers, manage the availability of your resources, staff, and time across different activities and tours.
As a Tour Operator, Peek PRO offers
Activities booking
CRM
Central reservation system
GDS/OTA integration
Package creation
Payment processing
Pricing management
Promotions management
Quote management
Reservations management
Resource management
Vendor management
Waiver management
Website management
Pricing
As reviewed by trekksoft.com, Peek PRO charges a 6% 'convenience fee' for online bookings. Plus a 2.3% credit card fee and $0.30 to suppliers.
For offline bookings, no booking fees are incurred but if a credit card is used, then the credit card fee applies. Peek PRO charges a one-time setup fee of $199.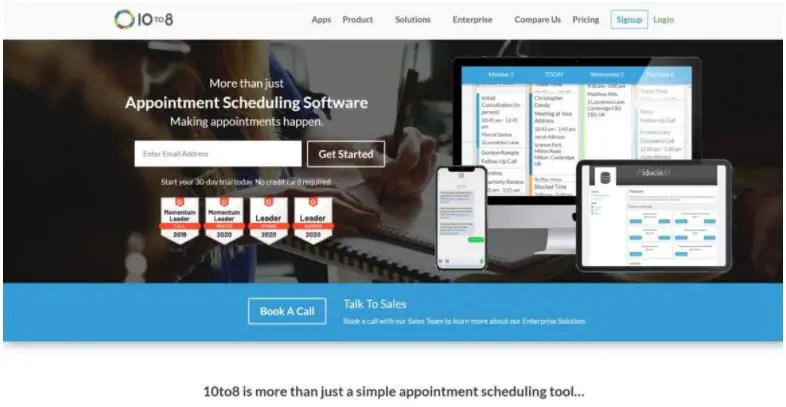 Ideally suited for companies that like to be in touch with their clients.
Small companies must make the best of their time. That's where 10to8 comes in, a small business phone system that incorporates CRM and appointment making in one creative bundle. The 10to8 app, which includes features such as instant chat features and over 500 integration with popular apps such as Zoom, Microsoft Office, PayPal, and more. 10to8 allows you to not only plan but also monitor appointments in real-time.
Features
Online booking that allows your clients to book, reschedule or cancel their appointments either straight from your website or via private links.
2-Way Calendar Sync: 10to8 automatically syncs with your calendars like Google, Outlook, Office 365, etc
Smart SMS, email, and voice reminders, 2-Way chat with clients, Live reporting
It also integrates with over 1500 apps to make running various aspects of your business easy
Customizable with branding and white labeling features
Advanced client management: You can also manage all your customer's data and records, even add private notes
Take online payments with the integration of payment processors like Paypal, Stripe, or Sagepay
Pricing
Free – $0.
Basic – $9.6-$12 per month.
Grow – $20-$25 per month.
Bigger Business – $40-$50 per month.
Enterprise – Contact for price.
Have you ever thought that it could be possible to organize your business in such a way that you assign tasks to staff and take care of your clients all from within your comfort zone? Jobber makes that possible.
Furthermore, Jobber's award-winning software empowers small home service businesses to organize their entire operations. They can schedule jobs and manage their teams, invoicing customers and collecting payments.
Jobber is a good fit for services that constantly have to be out in the field, for example, dispatch or delivery services. If you are in this line of business, Jobber could as well be your best bet. Outside delivery and dispatch services, you could also try Jobber if the features look like what would be great for your business.
Features
Schedule your work for the day and make fast scheduling decisions in the field.
Client and property information are paired up with service items and notes.
GPS tracking
Make payment transactions on the go.
Add notes or attach files to client visits and jobs.
Create a quick menu and kick-start some actions on Jobber.
Pricing
Jobber has different price categories for different plans. First, Jobber is available on a free trial, then different plans with a different price range.
Core plan monthly costs $49 USD per month, annually costs $29 USD per month.
Connect plan monthly, costs $139 USD per month and annually for $99 USD per month.
Grow monthly plan is charged at $279 USD per month and annually at $199 USD per month.
Bitrix24 is a social enterprise platform. It is a united work space that handles the many aspects of daily business operations. Besides, Bitrix24 will help you handle your organization or staff. It includes features for organizing team communications, as well as security monitoring and enforcement. 
Via a customer lifecycle module tool, Bitrix24 also keeps track of phone calls and other customer events. Contact monitoring, time tracking, budget management, project management, CRM optimization, teamwork tools, and many more are also helpful tracking functions for companies.
Bitrix24 also enables you to handle client appointments in a stress-free way. Furthermore, the platform is used by over 7 million-plus organizations. To conclude, Bitrix24 is a popular scheduling app you can depend on.
Features
Free unlimited calendars, free unlimited appointments, and calendar access rights
Free CRM features such as sales funnel, sales reports, pipeline management, 360-degree customer view, support for repeat sales, and sales automation.
Collaboration tools: instant messenger, meetings and briefings, intranet, customer portal, videoconferencing
Contact center: Get access to their contact center and helpdesk software tools for typical customer communication channels. They are email, phone, and text messaging.
Access collaborative task and project management tools for teams. You also have access to time tracking, reminders, reporting, templates, advanced project planning, resource management, and project calendars, interactive printable Gantt charts, etc.
Use their website builder to build your own responsive website with desirable features using their website builder
Document management: Gain access to online file storage, file sharing, and document management.
Pricing
Bitrix24 is available on a free trial. Then there are Special plans and Business plans.
For a special plan, you have Start+, which goes for $19 USD per month. CRM+ goes for $55 USD per month. Project+ is $55 USD.
For a business plan, you have Standard and Professional. The standard business plan goes for $79 per month. Additionally, the professional Business plan goes for $159 per month.
The Genbook app is a simple, smart, and affordable appointment scheduling solution that helps organize and manage your small business. Besides, Genbook makes it easy to accept online appointments and meet with customers over the phone or in person. 
This powerful scheduling software is trusted by thousands of companies.
Features
Online scheduling
User access and multi-location
Reserve with Google
Integration – productivity apps, social media, payment platforms, website builders, online directories, BookNow button
Pricing
Genbook is available on a free trial. Outside that there are different plans charged at both monthly and annual rates.
Solo plan (only one user) – for solo entrepreneurs
The Solo monthly plan costs $29 per month.
The Solo yearly plan costs $300 annually, charged at $25 per month.
Team plan (2-5 users)
The Team monthly plan is $59 monthly.
The Team yearly plan is billed at $588, but $49 per month.
Company plan (6-12 users)
The Genbook Company monthly plan is charged at $99 per month.
The Genbook Company yearly plan is billed at $996, but $83 per month.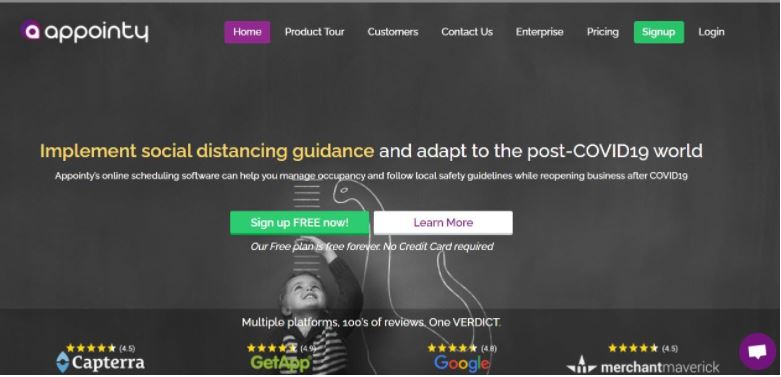 Appointy is one of the most beautifully designed and easy-to-use appointment booking software for scheduling appointments online. Whether you need a standalone appointment booking website for your business, or you need to embed an appointment scheduler on your existing website, Appointy is the perfect solution. 
Also, Appointy is equipped with thousands of tools, features, and integrations that make managing appointments easier. They also have a 110k+ customer base. Appointy is designed to serve many business categories, from health to professional services. 
Features
Schedule appointments and resources.
Customers can schedule multiple future appointments for the same service.
Schedule classes, workshops, and events.
Schedule tours, rides, and activities.
Get to compare and analyze how your business is doing with powerful analytic tools.
Ensure clients never miss their appointments with automated email/SMS reminders at preset times before each appointment.
Customers get to pay in full, part, or a fixed amount when they schedule an appointment.
The option of last-minute deals helps you reduce empty time slots by promoting last minutes deals to all your customers via Facebook, Twitter.
Customize everything, brand it to fit what you do.
Finally, as you grow, Appointy lets you add staff or managers. Each can manage their own schedules and link their personal Google calendars.
Pricing
First, Appointy is available on a free trial for 14 days. After that, you get different price plans
The Growth Plan
The yearly plan costs $19.99 USD per month (billed annually)
The monthly plan costs $29.99 USD per month
The Professional Plan
Yearly is charged at $49.99 USD per month (billed annually)
Monthly is charged at $59.99 USD per month
The Enterprise Plan
Yearly charged at $79.99 USD per month
Monthly at $99.99 USD per month
How to Choose an Ideal Appointment Scheduling Software
1. Consider your needs
Employers and employees must be prepared for meetings, whether the organization is small or big. When choosing which appointment scheduling software to use, the first thing to keep in mind is your needs. 
If you own a local company, you might use Appointy for simple automated appointment booking software that will allow you to take customer calls with ease. Nevertheless, there is no such thing as a one-size-fits-all solution. 
Consider the perfect option before settling for some appointment scheduling program. Do you want a web-based program or a downloadable tool? 
Since many of the most common solutions are online, the majority of tech providers have a range of services that can be downloaded from a variety of devices, including smartphones and tablets.
2. Technical ability
It is important to use appointment management software that is technologically up-to-date to assist you in managing all of your appointments. If you are not a computer professional, the idea of using an online appointment scheduling program can be challenging to comprehend. 
3. Responsive design
Responsive design means that the website adjusts and changes dimensions depending on the display size. For smartphone users viewing a web from a smaller device, this is especially crucial and simply don't want to scroll indefinitely to see all the content. 
With this ability, all of the information is readily available, and without spending time scrolling to get to what you need.
4. Ease-of-use
Ease-of-use may be the most important consideration for small businesses when selecting an appointment scheduling software. It could impact your organization's productivity and profit margin depending on how well it works for you. 
Staying organized and on track is not easy and it is even harder when you are working with several programs. The easier a scheduling tool is to use, the more productive your agents will be (and in turn, the more money you will make).
Also, remember that staying organized is also your clients' top priority, a good scheduling software should facilitate this process. The best appointment scheduling software should have a simple interface and easy-to-use features.
5. Your budget
What is the budget for the software that will be helpful in managing your appointments? You will see a variety of products varying in price depending on their functionality. Finally, ask questions about the budget to avoid the purchase of an expensive and unnecessary product.
FAQs
How do I know if my business needs appointment scheduling software?
If you are not keeping in touch with your new and existing customers, then yes, your business needs appointment scheduling software. Businesses that want a more streamlined approach to scheduling appointments should use appointment scheduling software. 
This software takes the guesswork out of scheduling an appointment, saving you time and effort in the process. The best way to keep a business that is growing current is by keeping in touch. Appointment scheduling software helps you do this.
Does Microsoft have a scheduling tool?
Yes. Microsoft Bookings is the most used appointment scheduling tool by the different sectors of companies. It helps you to easily schedule meetings, conference calls, appointments, and more.
What are scheduling techniques?
Scheduling techniques are methods that can help you get things done in a timely fashion. Their effectiveness also depends on the type of task and its complexity. Besides, there are various approaches, but they all aim to tackle time management as a whole. 
Nonetheless, different apps and programs provide their solutions involving workflow processes, automated time tracking, and segmented storage of information.
What are the benefits of appointment scheduling software?
Appointment scheduling software can help your business in the following ways:
Reduce appointment no-shows
Increase business revenues
Increase productivity and save employee's work hours
Connect with current and potential customers
Comply with local safety guidelines
Schedule 24×7
Retain customers
Payment processing
Conclusion
To sum up, in today's world, you cannot ignore the fact that recruiting help is a task that every business has to consider and get through with. There was a time when businesses had a limited set of resources at their disposal, which was primarily internal expertise and employees. 
Consequently, it was quite difficult to give top priority to each and every task that the company needed to get done. Yet, there are some things that are not in your control and you cannot sacrifice those. 
Hence, this forms the very basis for the need to hire a recruitment service. This is where appointment scheduling software can come into play. 
The purpose of appointment scheduling software is to allow a business to make appointments, an appointment could be either for goods or services. With this software, you can fill in your actual time, date, and price as well as you can schedule it on the software using the calendar. 

Check out other software reviews on the blog.