You will understand the need of having screen sharing software if you've ever tried to provide remote support to a baby boomer without access to their computer. Sorry, baby boomers.
Okay. Jokes apart. I'm pretty sure you're aware of the recent global public health crisis which made jobs, meetings, training sessions, and webinars all go virtual, ultimately making screen sharing software more useful than ever for business owners.
In this article, I will review the best screen-sharing software solutions for personal and business needs including free and paid versions. Hopefully, you can choose one that fits your needs.
Let's get started.
What are the Best Screen Sharing Software?
If you're looking for a screen sharing software that's easy to use, reliable, and simple to set up, these best screen sharing software options will work great.
When you need to give your team, clients or business partners access to your screen, nothing is faster than TeamViewer. For over a decade, millions of users around the world have entrusted their screen sharing needs to the software.
TeamViewer is unarguably one of the best screen sharing software on the market. Over 400,000 people use TeamViewer every day, and there are over 2 billion devices connected to it.
Taking a close look at TeamViewer's features, you may wonder whether there is anything this software cannot do.
You can also create channel groups, print documents remotely, and control UHD devices with this screen-sharing software.
With millions of users worldwide, TeamViewer is indeed the global standard for online collaboration and remote support over the web.
TeamViewer Pros
Offers cross-platform access
Complete control over a remote device
Offers one-time and ongoing connection options
Powerful screen sharing capabilities
Complement with third-party integrations
Two-factor authentication to keep sessions secure
Keeps all confidential documents secure
TeamViewer Cons
Not for inexprience users
TeamViewer Pricing
It is accessible for personal use at no cost. However, for enterprises, it offers 3 plans accordingly:
Business license: 23.90/month
Premium license: $47.90/month
Corporate iicense: $93.90/month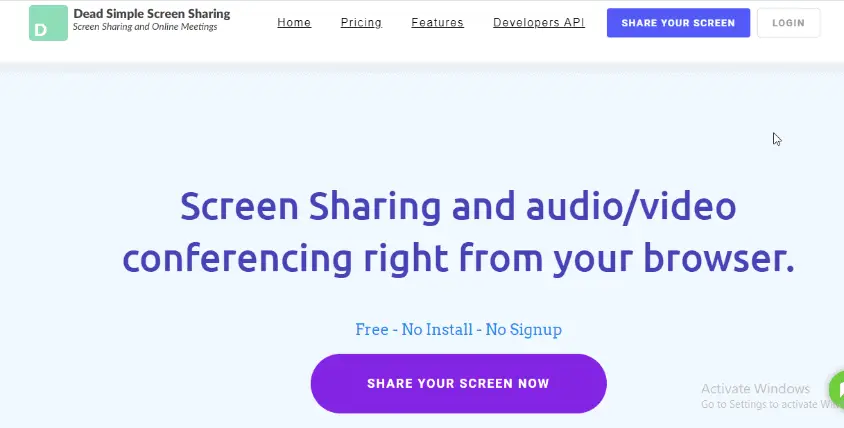 If you're looking for a simple, reliable way to share your computer's screen with others over the internet, look no further.
Bid au revoir to the days of training nightmares. Dead Simple Screen Sharing is an intuitive, screen-sharing tool that allows you to share your screen with anyone using only a URL – no additional software is needed.
Additionally, it works on any device, in any browser, without any plugins or downloads…best of all, it is lightning fast and as simple as cutting and pasting a URL.
With your laptop or mobile device browser, you will be up and running in seconds.
The software's free edition allows for both voice and video conferencing, however, the maximum number of participants is limited to four. Furthermore, the platform allows several users to share displays at the same time, as well as a chat function.
Dead Simple Screen Sharing Pros
Excellent integration options
Offers scheduling features
Supports screen sharing at high frame rates
Equipped with both audio and video conferencing tools
Dead Simple Screen Sharing Cons
Only works with Google Chrome and Mozilla Firefox
Limits number of participants on free version
Dead Simple Screen Sharing Pricing
It offers a free plan, while the premium plan costs $18.00 per month.
Mikogo makes online meetings easy and convenient. Connect with colleagues, customers, and business partners in minutes through HD video, audio, chat, and file sharing.
Use your computer, mobile device, or tablet. It's the easiest way to meet face-to-face from anywhere in the world – without leaving your desk.
It makes screen sharing simple. Whether you want to teach someone how to use software or showcase a digital product, screen sharing makes the task easier and more enjoyable.
You can decide whatever window on your screen you wish to share using the screen-sharing features, and the multi-monitor function can display up to four screens at once.
You may also record VoIP calls, preview them in the Session Player, and choose whether or not to convert them to video. Additionally, you can send files up to 200MB in size or exchange instant chat conversations using the program.
Mikogo Pros
Makes scheduling sessions easy
Broad range of collaboration tools
Choose the application window you want to share
Offers the switch presenter feature
Mikogo Cons
Can't send more than 200MB file
No meeeting with more than 25 participants
Mikogo Pricing
Here are the pricing plans offered by Mikogo accordingly:
Standard: $14/month
Professional: $16/month
Team: $48/month
Screenleap is one of the best screen-sharing software for everyone. It is the best way for teams to share screens, allow remote access, and participate in screen-based meetings.
It is collaborative, affordable, and accessible from any device. Screenleap is web-based therefore, it does not require any downloads or installations.
Go beyond simple screen sharing and view your content side-by-side with peers, customers, or coworkers.
Use Screenleap's online meeting platform to seamlessly start, schedule, join and connect with others via screen sharing, video conferencing, live broadcasting, and collaboration features without any downloads.
If you use the free version of Screenleap, you are limited to two meetings each day. Furthermore, a single conference can only have eight viewers and sessions can only be held for forty minutes a day.
Screenleap Pros
Easy to use
Collaborative and affordable
Accessible from any device with internet connection
Select the area of the screen you want to share
Quick meeting setup
Offers SSL encryption protection
Screenleap Cons
Meetings is limited to 40 minutes/day
Only compatible with the Google Chrome
Screenleap Pricing
Screenleap offers a free plan and 3 paid plans accordingly:
Basic: $19.00/month
Pro: $39.00/month
Company: $19-$49/user/month
There's no free trial, however, you get a 20% discount if billed annually.
Whether you're an employee who needs to resolve a tech issue, or a parent helping a curious child figure out which emoji goes with that funny face you just typed, a good screen sharing program is invaluable.
Whereby has been raising the bar for online collaboration by offering the best screen sharing applications, making it easier than ever to help coworkers and family members solve any problem via live video chat.
The YouTube integration allows users to play any video posted on the platform during a meeting, while the Trello and Google Drive integration is only available on the paid plan.
Furthermore, if you wish to record meetings or establish personal and team rooms, you'll need to upgrade to the Business membership plan.
Overall, Whereby is a fantastic software to share your screen efficiently.
Whereby Pros
Compatible with major web browsers
Create custom links for meeting rooms
Simple screen sharing process
Duration of a meeting is not limited
Whereby Cons
Free version is limited to one meeting room
No audio conferencing features
Whereby Pricing
Whereby has a free version for the basic feature but you will have to go for one of the paid plans below to enjoy all its features.
Pro plan: $9.99/month
Business plan: $59.9/month
See also: Get Premium Sound Quality With the Best Audio Editing Software
Zoom is one of the best screen sharing and video conferencing software in the world, used by more than 50 million people. It's intuitive, reliable, and extremely easy to use – anyone can join a call in seconds.
It allows its users to share screens of any size with contacts from the comfort of their desktops. With a full-screen option, HD video, and audio conferencing feature, it's the best way for businesses to bring their remote workers into the fold securely and effectively.
Everyone is on equal footing when sharing a screen or projecting from laptops, tablets, and even phones with Zoom. With its advanced video technology, you can create meetings that look fantastic and are easy to run, even for people who aren't technical experts.
Additionally, as the host, you can choose to lock screen share in a situation where you want only your screen shared. There's also a call recording option, so participants may go back over what they learned afterward.
Zoom Pros
Easy to use
User-friendly
Expansive features and productivity tools
Can host large meetings
Has a call recording option
Offers cross-platform access
Google calendar support
Stream meetings/webinar on Facebook
Zoom Cons
Free version caps meeting at 40 minutes
Zoom Pricing
Hosting a meeting for up to 100 people is free, however, there is a 40-minute time restriction. Zoom offer 3 paid plans in addition to the free version.
Pro: $14.99 per month
Business: $19.99 per month
Education: $1,800.00 per year
See also: 11 Best Video Conferencing Software: Meet with Your Team Anytime, Anywhere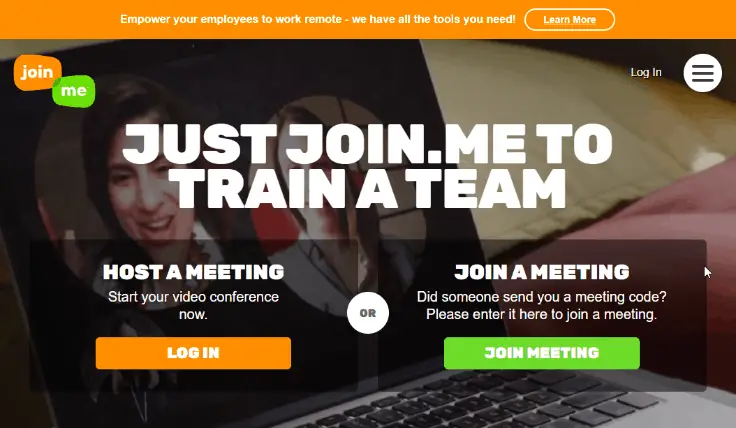 Join.me is a web-based screen-sharing service that allows users to design a meeting link and invite others to join them.
The online conference room has a configurable background and one-click screen sharing feature that can be used easily.
Whether it's a customer you need to show how to use your product or your boss walking you through an important workflow task, the Join.me the experience is designed to be interactive and engaging while still allowing you to do what needs to be done.
Users can share their displays one after another using the presenter swap function. A user can give over control to one or more participants, who will then display their displays with the rest of the participants.
Similarly, people using the Join.me mobile whiteboard may share real-time notes on the discussion using the whiteboarding function.
Join.me Pros
Incredibly simple screen sharing
Meeting rooms can be customized
Free trial available
Share screen on the go
Powerful collaboration tools
Effortless scheduling process
Perfect for non-technical users
Whiteboard sessions for real-time collaboration
Join.me Cons
No free version
No recording option
Join.me Pricing
In addition to its free trial version, Join.me offer 3 paid packages accordingly:
Lite: $10/month
Pro: $20/month
Business: $30/month
Slack brings team communication and collaboration into one place so you can get more work done, whether you belong to a large enterprise or a small business.
With the desktop app, you can share your screen with other users during Slack conversations.
Chat and call in real-time, share screen, send files of any size, and access your team and project management tools―all from one place.
Slack is easy to use wherever your team works best: at home, at work, or on the go. It's fun, so your team will want to come back. It's where work happens.
You may draw on your screen to add annotations during screen sharing. However, It's worth noting that the screen may only be shared by one person at a time.
Slack Pros
Extremely easy to use
Free trial
Video alongside text-based channels
Screen drawing and whiteboard
Instant communication
Searchable history
Integration with other tools and services
Shared files
Public and private channels
Slack Cons
Messages can get disorganized and chaotic
Addictive by nature
Slack Pricing
In addition to its free plan, Slack provides 3 premium plans accordingly:
Standard: $8/month
Plus: $15/month
Enterprise: You will have to contact Slack
Also, the 3 plans come with a free trial to test the software.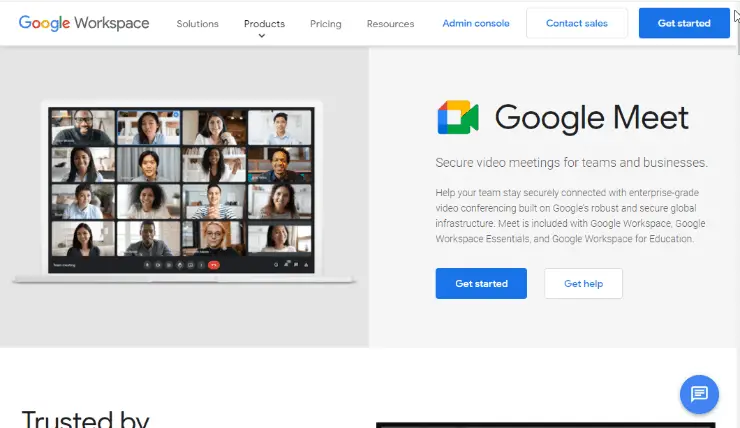 It is designed for people who want to have quick meetings with others across computers, phones, or tablets. You do not need to install anything (no plugin required). It works on both Mac and PC.
Easily share your screen and collaborate in real-time with coworkers, friends, and family.
Right from your Gmail inbox, it can be used for a presentation with remote attendees, or as a group video chat for up to 15 people at once.
Plus, as soon as you share your screen, the mobile app will remind you to turn on Do Not Disturb.
Being a Google product, Meet integrates with the rest of the Google suite, such as Calendar, Drive, and other Google services.
Plus, Google Meet works with Zapier, enabling you to automate tasks like sending Google Meet connections to new leads or creating a meeting link from a task, so you're ready to screen share when it's time.
Google Meet Pros
Easy messaging
Sharing screen is a breeze
Control for hosts
Generous free tier
Includes document collaboration
Installable app not required
Recordings to Google Drive
Integrates with Google Workspace and other Google apps
Google Meet Cons
No virtual meeting assistant
Lacks built-in remote control
No transcription feature
Google Meet Pricing
Since Meet is part of the Google Workspace suite tools, you will have to pay for the whole suite to utilize Google Meet.
Here are the 4 plans you can choose from:
Starter: $6/month
Standard: $12/month
Plus: $18/month
Enterprise: Contact sales
Additionally, all the plans come with a 14-day free trial.
See also: 17 Best Webinar Software Choices
Microsoft Teams is intended to be more than just a screen-sharing and video-conferencing platform. It's designed to serve as a primary hub for chat, meetings, phone calls, files, and, well, teams.
Whether you are on the go or at your desk, it's easy to start a conversation where everyone is included. Invite others into a conversation or move it with you from one device to another.
Also, in screen sharing mode you can work with colleagues no matter where they are, on desktop or mobile devices.
Share your screen from your desktop or phone and collaborate on documents, spreadsheets, and presentations with co-workers or clients.
Furthermore, you can share your whole screen, a single window or program, a blank whiteboard, or InVision, PowerPoint, or OneDrive files while in a conference.
Microsoft Teams Pros
Increase team productivity
Easy to use
30-days free trial for paid plans
Useful chat addition
Share screen from desktop or phone
Offers a free plan
Integrate with other Microsoft products
Microsoft Teams Cons
Limited flexibility
Confusing file structure
Microsoft Teams Pricing
You can have up to 100 participants with a 1 hour (maximum) meeting on the free plan (included in Microsoft 365 ). However, if you need more than the free plan's offers, Microsoft 365 has 3 paid packages you can choose from.
Basic: $5.00/month
Standard: $12.50/month
Office 365 E3: $20.00/month
In addition, all the package comes 30-day free trial and they're billed annually.
Once you use ShowMyPC, you will never go back to the traditional way of connecting to a remote computer. This is because ShowMyPC gives you the power to share your screen and instantly control another computer remotely from anywhere in the world.
With ShowMyPC, you can share your desktop or individual applications with any size of a group at once.
You can simply and reliably connect a client to your computer so they can work together on files, read your screen, or share control of applications as if in the same room.
In addition to its affordability, there is no restriction to the number of remote people you may invite to a session, which is something that many other remote desktop and screen sharing software has.
ShowMyPC Pros
Easy to use
Affordable
Live Chat
Screen Sharing
File Transfer
Remote Control
Session Recording
Session Transfer
ShowMyPC Cons
No audio capability
Lack voice over internet protocol (VoIP) capability
ShowMyPC Pricing
In addition to its free trial, here are ShowMyPC paid plans:
Premium: $14/month
Professional: $19/month
Business: $36/month
Enterprise: $60/month
What is screen sharing software?
Screen sharing software, also known as screen-sharing tools or remote-access software, is a form of internet videoconferencing that allows users to share their desktop screens.
You can share your computer screen either in real-time or as a presentation. In addition, screen sharing software can be used to access files on one computer remotely from another.
It is a secure, easy way to let another person view your computer screen. It's like having them sit right next to you and watch everything you do on your computer.
What is the benefit of using screen sharing software?
Are you an IT professional assigned to manage a remote computer or a parent looking to help your child complete homework? The benefits of using screen sharing software enable users to conveniently access, control, and share computer screens over the web.
In addition, users can teach others how to use complicated software programs, troubleshoot issues in real-time, share business presentations, and much more.
A more convenient way to run a live demo for a customer, screen sharing software allows you to easily share your computer screen with your customer using one of the best screen sharing software available today.
Unlike traditional demonstrations that require you to travel around with a laptop/PC, using screen sharing software allows you to easily stream content from a computer or device anywhere in the world and enables you to provide live support without context switching.
You can teach, co-work, or collaborate in real-time. The possibilities are endless.
See also: 9 Project Management Software and Tools For Your Team
Who can use screen sharing software?
Anyone can use screen-sharing software. They're widely used for a variety of business and personal needs. Corporate clients can use them for on-site training with customers or remote employees.
Also, small businesses may use them for demos or presentations to new clients. Screen sharing software can be used by companies of any size, from small businesses to large multinational corporations.
Personal uses include video chatting with family members who live too far away to see in person and tutoring students who want to share their screens while showing off their computer skills.
FAQs
How much does screen sharing software cost?
When it comes to screen-sharing software, there are a lot of choices. However, average screen-sharing software can range from anywhere between $20 and $200/month for all the functionality you need.
Are there any limitations on who can use screen sharing software?
No, there are no limitations on who may use screen-sharing software. It can be used by almost anyone. This includes business employees who need screen sharing capabilities at home for work-related purposes or friends and family members who want to show others how to use their devices.
Is there a free screen sharing solution?
Yes. TeamViewer is the ultimate, screen-sharing software that will let you share your screen with one click at no cost.
Whether you want to remotely support your sales department, give a presentation or show your product to a prospect, TeamViewer is your go-to tool. However, if you need advanced features, you will have to upgrade to one of its premium packages.
Can I transfer files with a screen share?
Yes, most of the best screen-sharing software listed above allows you to transfer files while sharing your screen during a meeting or presentation. Even Mikogo let you transfer files up to 200MB.
Can I share my screen when I am on the go?
Yes, with screen sharing software like Microsoft Teams, you can have your screen shared on the go wherever you are. It's can be used on iOS and Android mobile devices.
Conclusion
With the development of remote working and digital businesses, there is a plethora of free and paid desktop/screen sharing software on the market. However, the overall best screen sharing software is TeamViewer.
Not only is TeamViewer free for personal use, but it's also affordable for businesses of any size. It's a screen sharing software designed for everyone.
Whether you want to teach a customer how to use your digital product, pitch an idea, defend a project or train your new employees, TeamViewer has a great line of features to meet any of your screen sharing needs.
As much as preparation is key to a successful presentation, it's also vital to ensure you have the right tools at reach. Here are the 11 Best Presentation Software To Deliver That Perfect Presentation you check out for your next presentation.
Finally, I hope this post was helpful.
Tosinajy teaches you how to make money online, the software you'll need, and guides on how to deal with common issues you may encounter.
Thanks for reading.
Ready to TeamViewer for Free?
Click on the button below to get TeamViewer for your personal use, all for free. You can always upgrade to one of its paid plans if you need additional functionality.