Are you looking for the best URL link shorteners that can help you shorten, optimize and track your links? I've got you covered in this article.
I'm pretty sure you've encountered a long, ugly link—the kind that makes you cringe when you have to share it on social media.
Well, there are several options to choose from when it comes down to picking the best URL link shortener. Therefore, it can be overwhelming to know which one will be perfect for you.
In this post, I have hand-picked the best URL link shorteners for you. These tools will help you improve your links and give real-time analytics of your link performance.
Quick Review
What is the best URL link shortener?
See also: Introduction to Social Media Marketing
Best URL Link Shorteners
Here are the best URL link shorteners to shorten, optimize and track your links.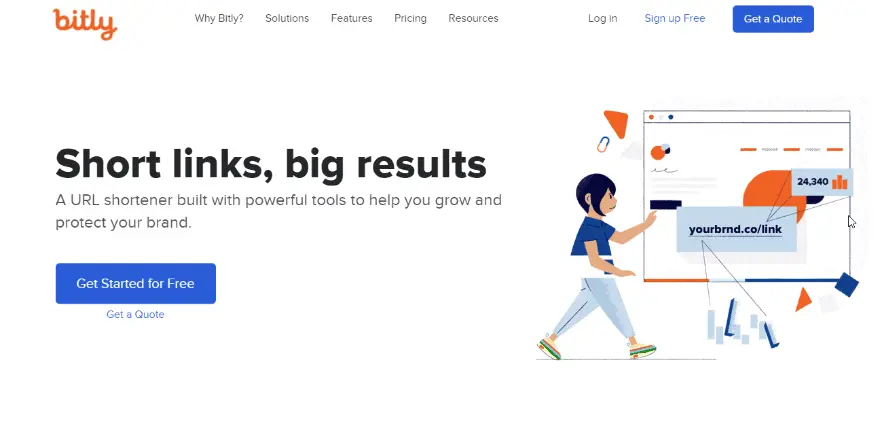 Bit.ly is known as one of the best URL link shorteners used by many businesses. It gives you a complete analytics tool that can track clicks, stats, see where your links are placed, and much more.
In addition, it has a few advanced features like converting short URLs, emailing links, authenticating, and reporting. Best of all, it has a free plan.
You can automate and scale your workflow with Bitly's API and integration with over 700 apps. Furthermore, you can send your affiliate channel referral links and custom short links via text messages.
It is the simplest way to share links on Twitter, Facebook, and email. News organizations use bit.ly for real-time updates, bloggers use it to track clicks on their blog posts, and also Twitter users include bit.ly links in million tweets per day.
Bit.ly Pros
Generate QR codes for your custom links
Save per-character fees on SMS with shorter links
Track metrics like organic link share
Has an extensive resource library and knowledge
Automate the delivery custom branded links at scale
Bitly API offers powerful security and flexibility
Bitly Cons
No live support
Free plan has limited features
Bit.ly Pricing
In addition to its free plan, Bitly offers three plans:
Basic: $29 per month
Premium: $199 per month
Customized: Quote-based plan
Also, you can save up to 33% if billed annually.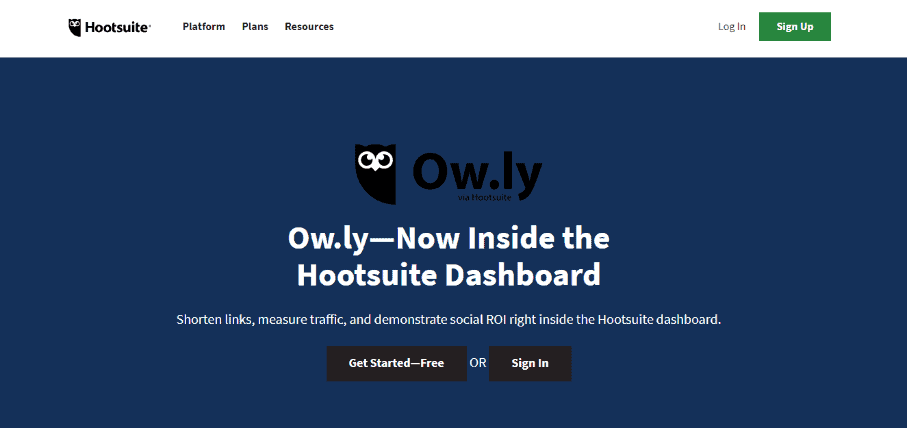 Since ow.ly makes URLs shorter, this makes them a lot easier to manage and share with others via social networks or send over email.
The Ow.ly long URL shortener allows you to create a shortened version of your long URLs while keeping all the information that people can discover when they click on it.
Ow.ly also lets you measure clicks in newsletters, Facebook, comments, and microsites.
It analyzes all URLs against Google's Safe Browsing blacklist to avoid phishing and malware. Furthermore, following SEO best practices, all custom URLs are completely redirectable and indexable.
Ow.ly Pros
Track links via Google Analytics and Adobe Analytics
Create custom analytics
Select link presets from multiple options if available
Track your social media performance
Customize the name of shortened links with your personal branding
Ow.ly Cons
Mobile app not compatible with iOS devices.
Ow.ly Pricing
In addition to Hootsuite's freemium plan, all their plans come with free access to Ow.ly. The paid plans, however, include more advanced features.
Here are the paid plans offered by Hootsuite:
Professional: $49 per month for up to 10 social profiles
Team: $129 per month for up to 20 social profiles
Business: $599 per month for up to 35 social profiles
Enterprise: quote-based plan
Also, the Professional and Team plan comes with a 30-day free trial.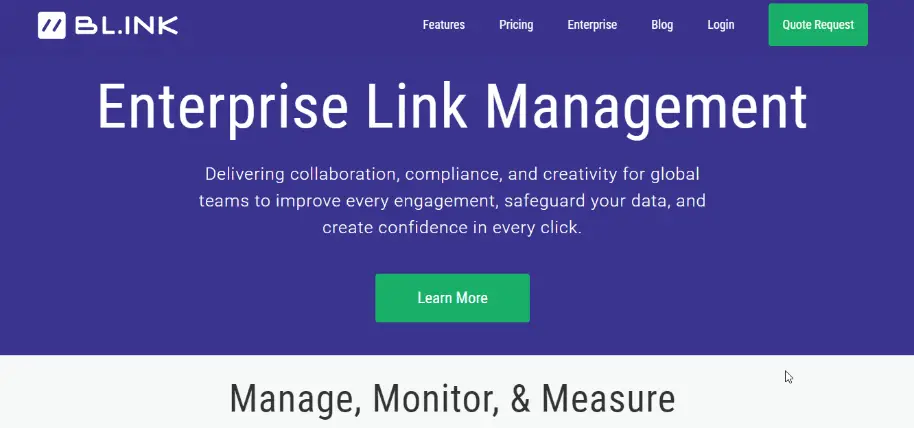 As one of the best URL link shorteners, BL.INK makes linking simple for everyone.
To use BL.INK, copy the short URL that has been created into the clipboard, paste it into an email or IM, Twitter or Facebook message, or anywhere else that accepts text. Your link will be displayed as a clear and clean URL, redirecting directly to the intended website.
BL.INK also includes some fun statistics to compare how many visits you are getting on different services and domains.
The platform is scalable so that you can handle global teams, multiple campaigns, and large portfolios of brands. Additionally, it connects to countless automation tools, such as Zoho Flow and Zapier.
In addition, to create a memorable brand impression, you can include personalized words in your links.
BL.INK Pros
Dynamically route clicks through location, language, date, device, and time
Create branded links with tags and notes
BL.INK supports 301 and 307 redirects
Create a memorable brand impression
Automatically delete a shortened link and its data
BL.INK Cons
No mobile app
Poor customer support
BL.INK Pricing
BL.INK has no free plan, it only offers 5 paid plans:
Expert: $48 per month
SMB: $99 per month
Team: $299 per month
Business: $599 per month
Enterprise: Custom plan
You also get a 21-day free trial with any of the 5 plans.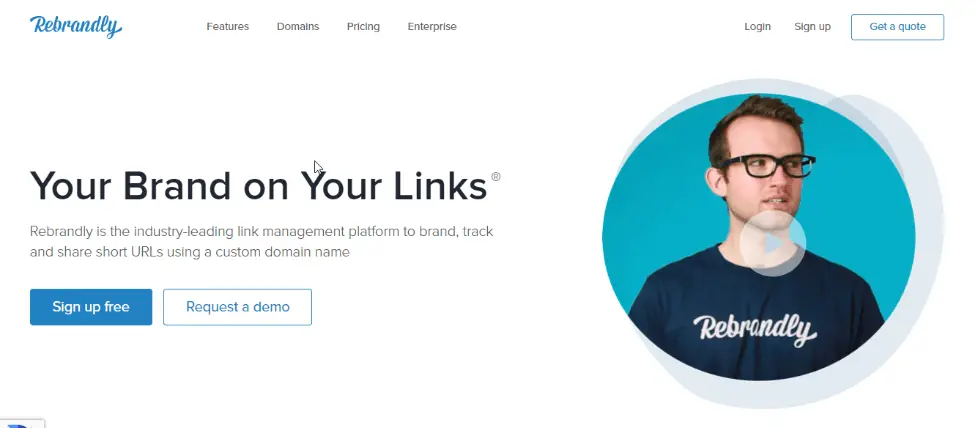 Want your links to stand out? Give them a custom domain and bookmark beautiful and relevant landing pages with this one of the best URL link shorteners on the web.
With Rebrandly you can shorten, manage and track all of your links, be it for marketing, notifications, or any other purpose.
In addition, you can establish team-specific folders to communicate and browse a specific set of branded links without getting lost.
It also modifies destination URLs and generates unique URL slugs. You may also set an expiration date for links and allow quicker redirection.
Reduce bounce rates, increase conversions, and strengthen your branding with Rebrandly's URL shortener.
Rebrandly Pros
Expedite the sign-up and sign-in process through a single sign-on (SSO)
It offers use cases, product FAQs, and automatic updates
Powerful enterprise tool integration
Multiple access levels to manage large teams
Dedicated engineer support and email support
Rebrandly Cons
Mobile app not compatible with iOS devices
Rebrandly Pricing
In addition to its free plan, Rebrandly has 4 plans:
Starter: $29 per month
Pro: $69 per month
Premium: $499 per month
Enterprise: Custom Price
Also, all 4 plans come with a 30-day money-back guarantee in case you're not happy with Rebrandly services.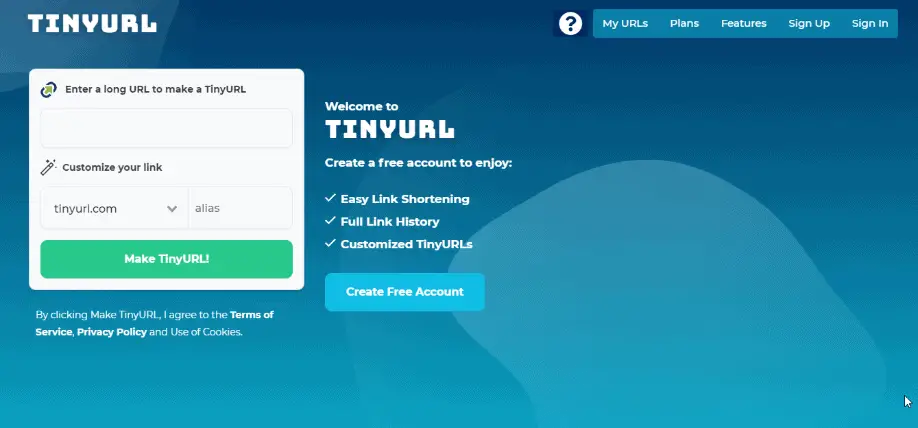 TinyURL was developed as a way to make it more convenient for people to freely communicate with one another and share links on the Internet.
In the past, many of us have relied on using long URLs in our posts and comments only to have them break when copy-and-pasted into forums or message boards.
TinyURL solves this problem at once by creating shorter, easy-to-remember URLs that can be used anywhere. Additionally, it has a great link preview function that allows you to check the final shortened link before submitting it to avoid redirection.
It also lets you add a shortened link to the toolbar of your browser. Then all you have to do is click a button to shorten any link.
The premium TinyURL subscriptions include link tracking, administration, and analytics.
TinyURL Pros
Generate an unlimited number of short links for free
Link retargeting
Automatically disables spam or illegal links
Conversion racking
Create custom links with your personal branding
TinyURL Cons
No mobile app
Few integrations
TinyURL Pricing
In addition to a free plan, TinyURL offers 2 premium packages:
Pro: $9.99 per month
Bulk 100k: $99 per month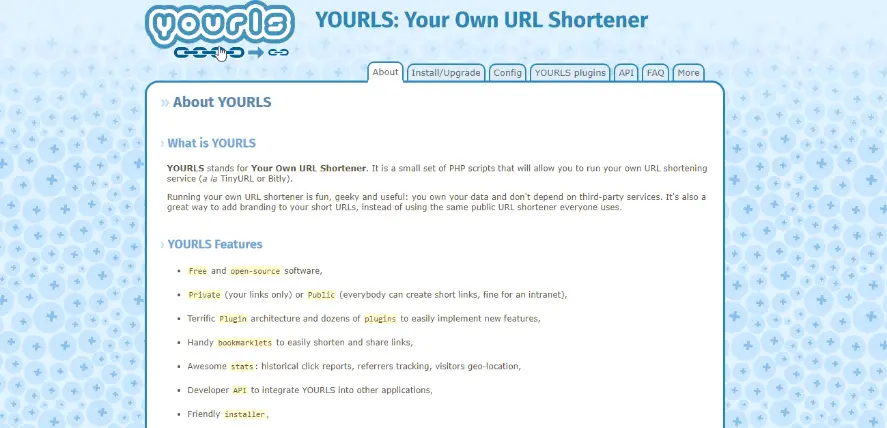 YOURLS (Your Own URL Shortener) is a set of PHP scripts that will allow you to run your own URL shortener or link management system. It is designed for maximum ease of use, security, and configuration flexibility.
No ads, no affiliate program, just a simple and solid product designed to make the Web a more friendly place. It's an open-source, minimalistic, and user-friendly way to create short URLs for sharing everywhere.
It also has a fantastic plugin architecture that allows you to add new custom features. YOURLS allows you to establish links using sequential or custom URL keywords.
Additionally, it includes advanced analytics for tracking a variety of factors, such as referrers, historical click data, and geo-location.
YOURLS Pros
Easily add new features without modifying core files
Keep changes when you upgrade to the latest version
Instantly deactivate or activate plugins
It's a secure and passwordless solution
It provides access to advanced documentation, tips, plugins, and more
Supports multiple frameworks and platforms
YOURLS Cons
Can't discover broken link
Less comprehensive link analytics
YOURLS Pricing
YOURLS is an open-source URL link shortener. Therefore, it's completely free to use.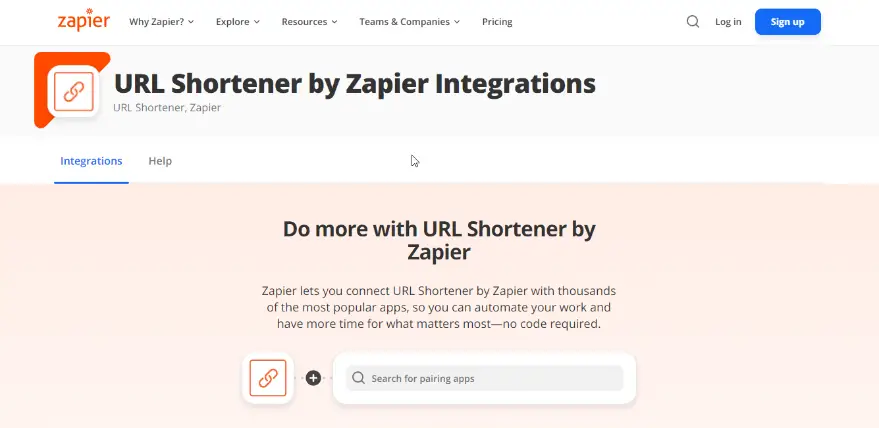 Stop typos, copy/paste mistakes, and over-length URLs. Shorten, track, and share any link with this powerful URL shortener from Zapier. This is designed as an easy tool for link shortening and sharing so you can make your links shorter and easier to share.
Zapier's URL Shortener lets you track and share your links with a nice, branded URL – a unique link-tracking shortcode – so that you know how many people click through to your site.
For example, you may abbreviate a social network post's link and store it in Google Sheets at the same time.
Zapier also integrates with over 2,000 apps, including Google Sheets, to automatically add and upload shortened URLs.
URL Shortener by Zapier Pros
Free plan provides integration with 100 tasks per month
Include shortened links to personalized messages and emailers
Track the performance of links on different data points
It provides quick email support
You can also get personalized assistance by hiring a Zapier Expert
URL Shortener by Zapier Cons
Fre plan offer limited features
URL Shortener by Zapier Pricing
Zapier's URL shortener comes for free with all the Zapier plans.
JotURL is a hyper-micro URL shortener service for website owners and bloggers. It will give you the ability to create, share, manage, and track your short URLs right from the JotURL control panel.
This tool is much more than a URL shortening service; it's a cost-effective, feature-rich marketing solution for companies looking to optimize their marketing campaign links in order to generate leads.
JotURL has over 100 features to help you improve every contact with your audience by tracking and monitoring your links to ensure they're working at their best.
Each link is monitored to guarantee it is secure and available, so you never have to worry about a broken link. JotURL also provides 24/7 click-fraud monitoring to screen out bot clicks, allowing you to ban these sources or IP addresses.
JotURL Pros
Link rotator
Split A/B testing
Excellent user support
Password protected links
Click fraud monitoring/protection
HTTPS links
SSL certificates management
Deep linking
JotURL Cons
Steep learning curve
No free plan
JotURL Pricing
Growth: 7€/month
Pro: 55€/month
Business: 135€/month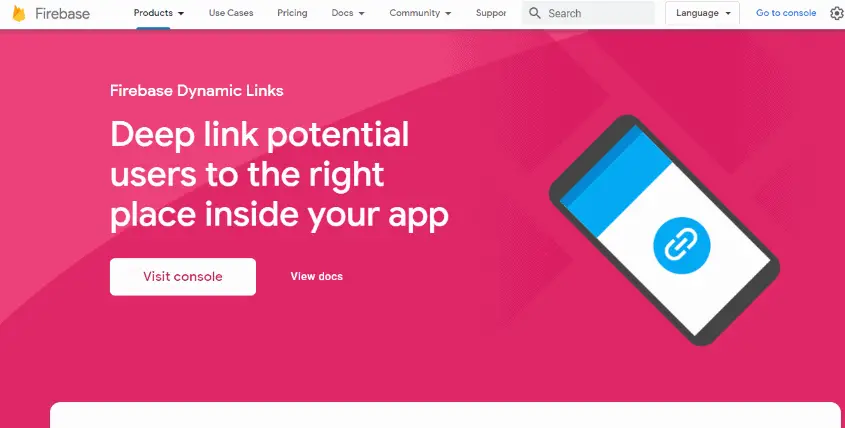 Firebase Dynamic Links is a new way for developers to generate fully custom, native mobile app links. These links are fully programmable and can be personalized based on the user or device. You can build dynamic, shortened URLs in order to increase the number of app installations.
In addition, you can make links that direct visitors to the same page on the mobile app as they did on the mobile website. This will assist you in converting more users of your mobile web app into users of your native mobile app.
A/B testing, cloud messaging, sophisticated analytics, infinite dynamic connections, and more are just a few of the unique features it offers.
To increase app user base and income, the Google URL shortener also provides API references for web, iOS, and Android.
Firebase Dynamic Links Pros
Easily track conversions
Add your custom domain to reflect your brand in the link
Instantly add UTM parameters to track the marketing campaign
Track numerous metrics like first-opens, clicks, re-opens, and installs
You can ntegrate it into your current app projects
Firebase Dynamic Links Cons
Firebase Dynamic Links Pricing
Firebase Dynamic Links is completely FREE.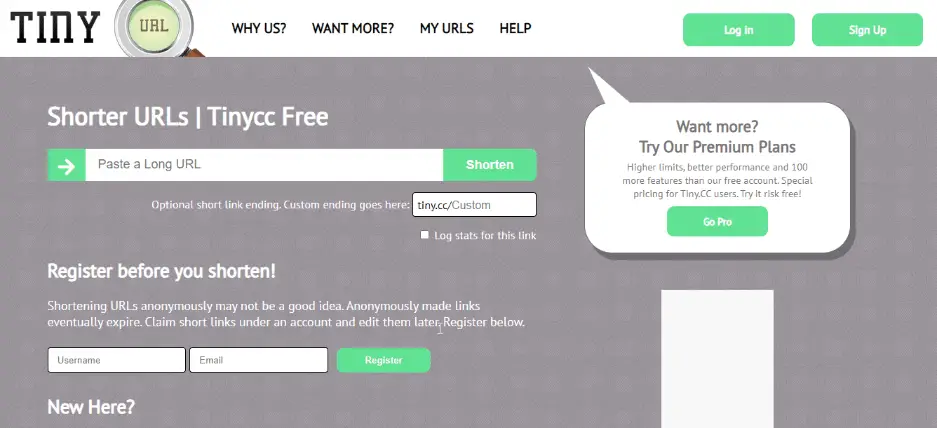 Tiny.cc is one of the best URL link shorteners to define and create branded URL short links, tracking clicks, views, stats, allowing to share shortened links easily through the web and on mobile devices.
It also allows you to establish smart targets that automatically redirect users based on their language preferences. You may also use retargeting pixels to track the effectiveness of your ads and increase your ROI.
For greater branding and visibility, it also allows you to generate vanity URLs or keyword-rich short links. To make your link more trustworthy, you insert your business name into it.
Tiny.CC Pros
Run marketing campaigns with dedicated links
Manage campaigns with multi-tier account access across organizations
Detect visitors' language preferences through smart links
Generate trackable QA codes through shortened links
Track audience reactions and social media metrics
Tiny.CC Cons
Too much ads
Link on free plan expires
Tiny.CC Pricing
In addition to its free plan, Tiny.CC offers 4 premium packages:
Basic: $5 per month
Business: $25 per month
Pro: $44 per month
Enterprise: Quote-based
If you choose to use the free plan, know that any created link will eventually expire. However, you can save 8.3% off the monthly billing if billed annually.
What is a URL Link Shortener?
A URL link shortener is a service that, as the name suggests, shortens URLs. It is a great way to save characters and make your links more appealing.
The common problem is that all these links on social media sites take up too much valuable space with URLs that look ugly. So these link shorteners make it so that they don't need so many characters in their link.
Why Do You Need URL Link Shortener?
URL link shortener is an easy and convenient way of sharing a link on social media. It is an effective way to avoid clogging up timelines and feeds with long URLs.
If you are just starting out, visibility is the best tool in attracting your first customers. Reaching your potential customers on social media and growing an email list is essential to your success.
Your domain URL is the most important part of your website, whether it's an online store or blog, without a shareable link, you won't get enough traffic. If you have a brand new blog for example, then creating a short URL link gives you a jump start in generating hype for your blog post.
Also, trying to sell your services or products on social media without a unique short link is actually impossible. With the best URL link shortener, you can create a shorter URL from your existing long links and generate as many short links as you wish for each service or product.
What Should You Look Out For in the Best URL Link Shortener?
1. Fast and easy to use
The best URL link shortener should be fast. If you have to wait a very long time until the URL gets shortened, then you wouldn't want to use it. It should also be easy to use where there are no steps or complicated procedures involved.
2. Branded Links
A branded link is an important feature your URL shortener must-have. By offering branded links, you'll have a way to diversify your online presence.
In addition, it allows you to promote your business' website and capture customers by attracting them with short links that they can access quickly. This will help you reach more clients as they are likely to recall these shortened URLs easily.
3. Extensive Integration
The best URL link shortener will have an extensive array of services it can integrate with. You should be able to integrate with all of your customer databases as well as third-party software, API, blogging tools, social media platforms, and marketing & CRM systems without much hassle.
4. No advertising or hidden fees
The best URL link shorteners are accurate, reliable, and free from advertising and hidden fees. These are the general characteristics that you need to look out for when choosing a company to use.
5. Strong Analytics
You should lookout for a URL link shortener that will make it easy to monitor traffic, conversions, and other vital statistics.
Your link shortener should offer detailed reports on everything from the number of clicks you're getting to how many new Twitter followers your shortened URLs are generating for you.
See also: 10 Best Social Media Management Tools, Apps, and Software
FAQs
Does free plan have limitations?
Yes, the free-of-charge services have limitations, such as the shortened URLs last for some time, and the limit is set. If you'd like to have a fully functional URL shortener, I recommend that you sign up for a paid plan.
How much do they cost?
Even though some URL link shorteners like TinyURL can be used for free, the average cost of a link shortener range from $5 – $200 per month. However, there are some like BL.INK that costs even more (Business plan: $599 per month).
What is the link shortener URL format?
This depends on the URL link shortener you use. For example, a URL shortened by Bit.ly will look like this; http://bit.ly/2cWMKPL while that of TinyURL will be something like this; http://tinyurl.com/akpkcwh.
How many links can I shorten?
There are no limits to the number of links you can shorten and track using a URL link shortener. You can shorten as many URLs as you want.
Can I shorten a link that contains special characters?
Yes. URL link shortener supports all kinds of characters including spaces, apostrophes, numbers, and hyphens. Length is not limited.
Do I need technical skills to make a short link?
No technical skills are required to make a short link with any of the best URL link shorteners above, just several steps that everyone can do. The process is so simple that anyone can do it regardless of their experience in computers. It's also super fast and easy.
Conclusion
Overall, Bit.ly is the best URL link shortener. Bit.ly automates the delivery of custom branded links at scale, and its API offers powerful security and flexibility. Even with the free plan, you can still get your links shortened and branded.
In addition, with the free plan, you get to try Bit.ly before deciding to opt for its paid plan.
However, if you're a small business owner on a low budget, you don't necessarily need to pay a dime to get your links shortened. You can use a URL shortener like TinyURL or Firebase Dynamic Links all for free.
Well, if your goal is to get more leads and increase conversion rate, then having live chat software integrated into your website is an effective strategy you should try out.
To help you save time looking for the right live chat software, here are the Best Live Chat Software to Convert Your Leads to Paying Customers.
Finally, I hope you found this post helpful.
Tosinajy teaches you how to make money online, the software you'll need, and guides on how to deal with common issues you may encounter.
Thanks for reading.
Read to Try Bit.ly for FREE?
Click on the button below to get started with Bit.ly. You can always upgrade to one of its paid plans if you need additional functionality.