For course creators, webmasters, and information marketers, membership sites are one of the most popular methods to make money online. However, you can any of these websites in a matter of minutes using any of the best membership site platforms in this post.
However, because there are so many various membership website builders to pick from, each with its own set of features, it can be difficult to find the best one.
In this post, I'll provide my thoughts on the best membership site platforms, including their essential features, benefits, and weaknesses.
See Also: Top 6 Best Sources to Get Help Creating Online Courses
Quick Review
Best Membership Site Platforms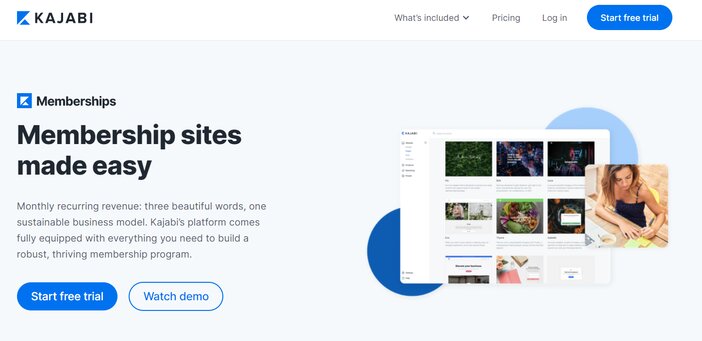 When it comes to establishing membership sites on hosted platforms, Kajabi is undoubtedly my top selection.
Kajabi's main advantage is that it makes membership programs simple even among non-technical folks with no coding experience.
It provides some of the most cost-effective alternatives for your website. Members might be charged on a weekly, bimonthly, quarterly, or annual basis. You can even provide a free trial or charge a one-time setup cost if you like.
Kajabi makes it simple to create several membership tiers and attach different content to each.
Its built-in community feature makes it simple to create a private space for your users to communicate with you and one another.
You don't want to surrender your hard work to other platforms if you've worked hard to create ties with your members.
So it's fantastic that there's a built-in option, but some other platforms may lack community features, forcing you to rely on third-party networks like Facebook Groups.
Kajabi has some excellent data for tracking the performance of your membership. You can check your dropout rate, which is the average time it takes for users to discontinue their membership. Plus, your recurring monthly revenue and average revenue per user.
The nicest aspect is that Kajabi isn't solely concerned about membership. You also get a slew of additional capabilities for your website and business. You'll be able to create quizzes, offer online classes, and conduct surveys, among other things.
It contains an email management tool built-in that eliminates the necessity for Getresponse, Sendinblue, Aweber, and other platforms.
It does have a sales funnel builder of its own. So you can host webinars, create sales sites and landing pages, manage affiliates, and do everything in one spot.
See Also: Kajabi Review – Is It Really Worth It?
Pros
You may post material to the Kajabi membership platform without caring about storage or bandwidth constraints
Auto-scaling is used on Kajabi's website to keep it running smoothly even when there is a lot of traffic
Your membership site will be SEO-friendly, which means it will be easy to find for individuals who need it
Members can feel safe on Kajabi's website because the platform is backed by excellent security offered by the Cloudfare domain
You're only one article away from understanding how to upload your material and get rid of your reliance on developers
Cons
The Kajabi system does not assign responsibility for certificate creation
The assessment feature has limited possibilities
It might be fairly confusing for beginners because there are so many features
Pricing
In terms of cost, Kajabi is among the most expensive alternatives available. You can pick from three major packages, each of which offers a 20% discount if purchased annually. You can also test their 14-day free trial plan.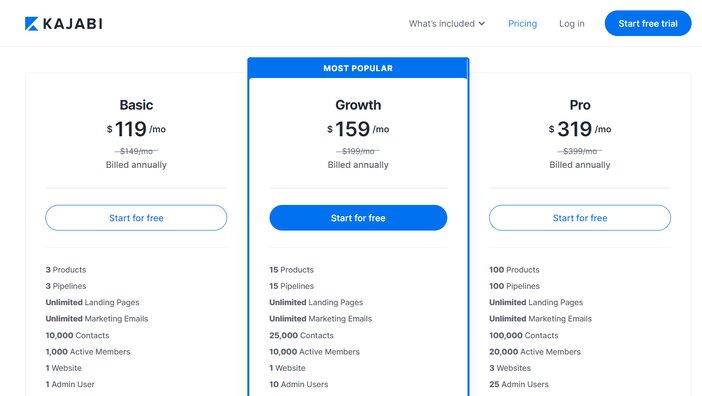 Kajabi pricing starts at $119/month for the basic plan, $159/month for the most popular plan, and $319/ month for the pro plan.
If you want to be invoiced annually, these prices apply. Should you prefer to pay every month, the Basic, Growth, and Pro plans cost $149, $199, and $399, respectively.
If you manage an online business, you're certainly aware of the numerous digital marketing services, tools, and plugins available to aid in the development of your brand and sales.
To get going, you'll need site hosting, a sales funnel creator, and an email service provider at the absolute least. In the future, you might want to consider hiring affiliates and organizing webinars to boost earnings. The best part is that Builderall solves all of these problems by providing all the tools you need in one place.
Builderall offers you the ability to host your membership site on dedicated servers and obtain a number of useful hosting features, such as a content delivery network to improve the speed with which your website loads. DDoS protection, SSL certificates, and more.
You can connect all of your social media accounts with ease, and you can even incorporate live broadcasts from Facebook and YouTube directly into your website.
Anyone who wants to start an internet business should use Builderall. Whatever your design talents and experience, you'll be able to swiftly design and promote your products or services using this straightforward platform and its substantial reference material.
Builderall allows you to convert a portion or all of your site into a membership site. Simply create a secure area within one of the Builderall Builders, then tweak the registration and login features to meet the requirements of your project.
Your site's membership can be free or you can charge a fee. This is a good approach to monetize your website and charge your subscribers a monthly subscription fee.
Pros
It has over 30 integrated tools, saving you time and money over buying a slew of different tools
The cost of web hosting is included in all plans
It provides a one-time $1 trial with full access to all features
There's also a profitable affiliate scheme included
If you use virtual assistants, there is a VA Access option
It's constantly being updated with new tools, enhancements, and cool features
There's a support team, onboarding, a YouTube channel, and a Facebook community, among other things
It's simple to integrate with other internet marketing tools, which is important if you want to maintain utilizing any of your existing software
Cons
The sheer number of tools available might be overwhelming, especially for those who aren't familiar with technology
It's frustrating when features don't work the way they're supposed to
It can be challenging to navigate and will put your patience to the test if you're a beginner
Their customer service team can take a long time to respond and provide you with solutions
If you're just getting started and have a limited budget, the Funnel Club plan might be fairly costly
Pricing
There are three plans to choose from. Builderall is a premium tool, but the price is fairly affordable when you consider all of the features and capabilities it offers.
You can alternatively pay $1 to test the Premium plan for 30 days; after that, you'll be charged the Premium package's regular fee.
Builder for $29.90 per month: Access to all Builderall apps, unrestricted usage of the Builderall email marketing automation tool, SSL certificates, responsive email builder, and much more are among the features.
Premium for $69.90 per month: All affiliate marketing and eCommerce tools, as well as a streaming and webinar platform, VA access, CDN hosting, and more, are included in this bundle.
Funnel Club for 99.90 per month: This is the package with all the bells and whistles, without a doubt. However, you should be aware that your initial payment will be $199, with regular billing of $99.90 beginning after 30 days.
They do, however, provide the option to cancel at any moment.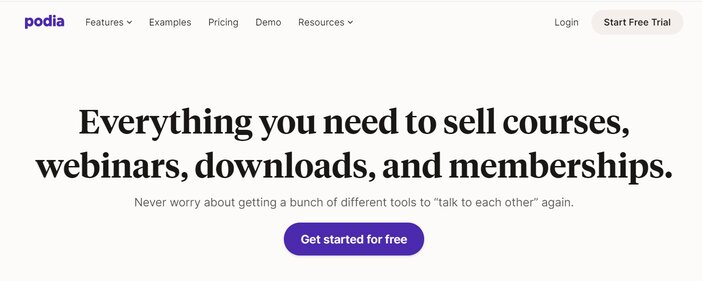 As a digital marketplace, Podia allows you to develop and sell membership content, digital downloads, online courses, webinars, and more.
It guides you through the entire sales funnel, from sales page construction through EU VAT calculation, email capture, affiliate program management, and payment processing.
With auto-update settings, the website builder allows you to develop mobile, tablet, and desktop-friendly sites.
It works in the background without jeopardizing corporate security and allows you to receive all membership payments without incurring any transaction fees.
In terms of course delivery, the course player is sleek and well-designed from the perspective of the end-user.
Although Podia does not have a mobile app, the course player is mobile-friendly, allowing people to view your content on any device.
Another feature of Podia's membership site builder that I appreciate is the ability to create separate posts for each of your members.
You may limit access to these posts using a membership subscription, and it's a great way to distribute one-off content from time to time.
One thing I noticed with Podia is that you can't buy a domain name from them directly, but you may choose a domain registrar and then transfer the domain to them.
Even if you are a beginner, the Podia team strives to make their platform as simple as possible. There are no hidden fees, and the best part is that you can build an endless number of courses and items for a single monthly fee.
The opportunity to build a specialized community space for your members is something that Podia lacks. While your members will be able to leave basic comments on your postings, there will be no social network for them to engage with one another.
Pros
Their dashboard is simple to utilize
Customers, products, emails, and files can be hosted indefinitely
On all plans, there is no transaction cost
Live chat messaging, email marketing, sales pages, and other advanced marketing tools are available
Embedding checkout/purchase buttons on external websites is possible
Cons
Only the higher plan includes the membership feature
A free plan does not exist.
A domain registrar that is directly integrated is missing
There isn't a mobile app function
Pricing
All three of Podia's premium subscription options come with a 14-day free trial that requires no credit card information. The Mover plan, on the other hand, does not include membership benefits.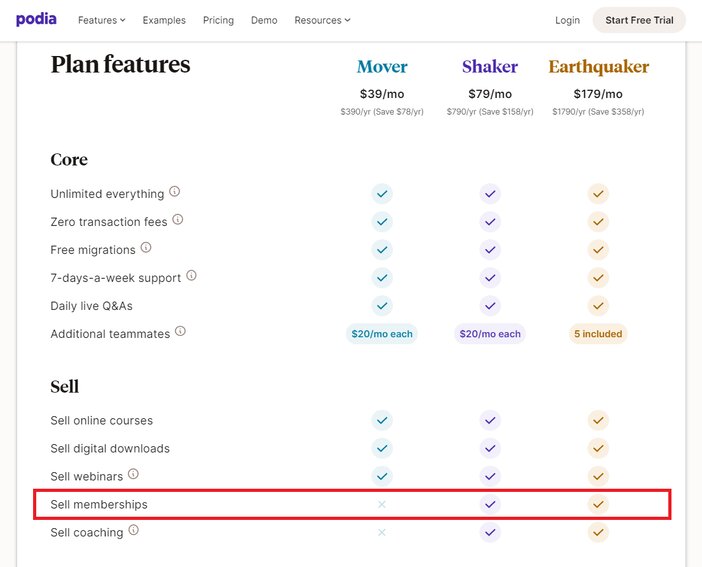 You'll need to sign up for Podia's Shaker plan, which costs $79/month, to launch a membership site.
It includes an infinite number of clients and courses, as well as product upsells, bundles, certificates of completion, and quizzes.
Additionally, it provides you with an affiliate management platform via which you may recruit affiliates for your membership business.
In addition to the Shaker plan, Podia also offers the Mover plan, which starts at $39 per month, and the Earthquaker plan, which starts at $179.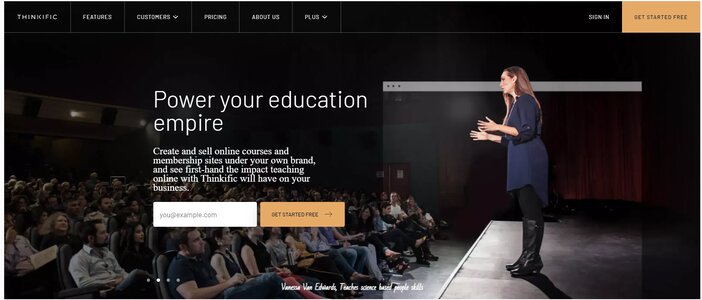 This is a renowned platform for building subscription websites, and it includes a drag-and-drop website builder to help you get started. The platform allows for the direct integration of a full eCommerce system.
Thinkific's strength is its user-friendly interface and beginner-friendly features, which allow non-technical people to sell memberships and courses online.
It supports audio files, videos, webinars, PDFs, and other material formats for courses and lessons.
Furthermore, it provides several student evaluation elements such as mandatory or optional assignments, questionnaires, and several sorts of quizzes. Likewise, you might give course completion certificates to successful students to encourage and motivate them.
You can make video completion mandatory and video downloads unavailable to boost content engagement.
Thinkific and other similar systems do not allow you to host courses on your website. Your content is hosted by Thinkific, so you don't have to worry about finding your hosting, but you still have complete control over the appearance of your website.
With automation tools like Shopify, Zapier, Stripe, ActiveCampaign, Google Analytics, and others, app connectivity is a huge bonus for Thinkific. The platform allows students to earn credentials and provides a fantastic user experience.
Thinkific is the only online course platform with a long-term, viable free alternative for selling courses. Other course providers offer either 14-day free trials or no-cost options with transaction costs.
Thinkific's free plan has no transaction fees and includes several premium features. You may fully customize your branding, create a course, administer quizzes, and accept payments.
Upgrade to Thinkific's reasonably priced subscription plans when you're ready to add more than one course and take benefit of hundreds of other features.
See Also: Kajabi vs Thinkific: Which Of The Online Course Platforms Worth It?
Pros
Although Thinkific will host your courses, you can customize the URL to make it look like it belongs on your site
Phone help is available from Thinkific. On higher tiers, they also provide priority phone help
An easy-to-use voice-over PowerPoint presentation application that simplifies video production
For more costly courses, you can provide students with payment choices such as a monthly payment plan
Thinkific has an expert marketplace where you can outsource jobs or obtain extra help from Thinkific experts
Integration with Zoom for live sessions
There are numerous third-party integrations
Cons
There isn't a course marketplace where you may sell your course
Although they are the only platform that offers phone help, there is no chat support
Even though there is no built-in email marketing, you can easily connect to third-party email providers like MailChimp and Aweber
Although there is no built-in sales funnel builder, you can easily connect to third-party sales funnel builders like LeadPages and Clickfunnels
Pricing
Thinkific pricing begins with a free plan that permits for three courses and unlimited users, while its paid plans top out at $499/month or $399 if paid annually for the premier license.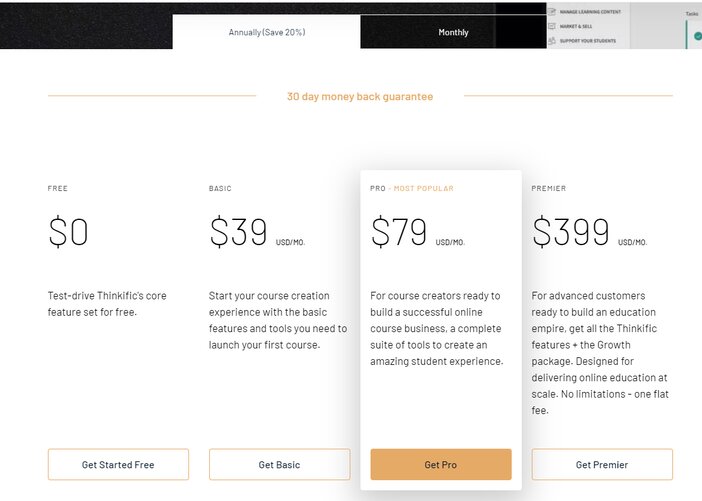 The basic package, which costs $49/month or $39/month if purchased yearly, offers a significant increase in functionality.
While the Pro plan, which costs $99/month or $79/month if paid annually, includes all of the capabilities that most course entrepreneurs will ever require. It's also worth noting that none of Thinkific's plans have transaction fees.
Each premium plan includes a 30-day free trial so you can check out the features and see if it's the best fit for your company.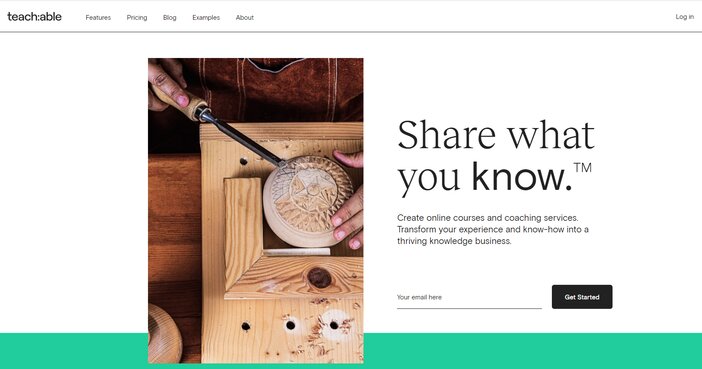 This membership site platform has become a popular name throughout the world, and it is a wonderful membership site platform for creators and entrepreneurs who are passionate about assisting others in achieving their goals.
Teachable has a fantastic membership site builder that allows you to produce fantastic content and, more importantly, a fantastic-looking website.
The one-on-one session, in which you can speak directly with your student, is one of Teachable's unique features.
Gamification also makes the site more enjoyable for learners. With Zendesk, Intercom, and Olark, you can use Zapier to provide outstanding assistance.
The fact that Teachable charges transaction fees are something I dislike about them. Another disadvantage is the lack of ability to generate trial memberships.
They also provide instant reimbursements, which are critical for course creators, as well as the ability to include quizzes.
The entire marketing process is made easier by advanced price choices that allow you to provide coupons and bundles, as well as the ability to establish an affiliate network.
They, like other membership platforms, allow you to track sales and student data through a user-friendly interface.
Global payments are accepted in over 130 currencies, with Paypal and mobile payment options available. The essential thing is that their payment channel handles EU VAT, so you won't have any tax issues.
When it comes to designing membership tiers, Teachable is a little less user-friendly. It's less user-friendly than other platforms.
As a workaround, you'll have to develop different bundles of courses to create different membership tiers.
In addition, your pricing options are more limited than those offered by other sites. You can create monthly or annual memberships, but you can't provide a free trial or charge a setup cost upfront.
See Also: Best Website Builders for Building Stunning Websites With Ease
Pros
You can link your domain
Compatible with a variety of third-party applications
Users can make payments in a variety of currencies
Affiliate marketing, email marketing, coupons, and other advanced marketing methods are all available
Cons
Multiple levels are difficult to design
It doesn't keep track of subscription statistics
There is no community feature
Pricing
Teachable pricing begins with a free plan that allows for limitless courses and students, while its paid plans top out at $299/month or $249/month if paid yearly for the Business plan.
The basic package, which costs $39/month or $29/month if purchased yearly, offers a significant increase in features.
While the Pro plan, which costs $199 per month or $99/month if paid annually, includes all of the capabilities that most course entrepreneurs will ever require. Also, keep in mind that both the free and basic Teachable programs have transaction costs.
Each premium subscription includes unlimited video, payment processing integration, student management, and no costs for free courses.
Kartra is a multi-purpose online business platform that also allows you to create a membership site.
Kartra's membership site builder allows you to construct online courses as well as add independent content such as audio playlists, video, text, and so on. You can also drip your content regularly.
The default members' area is attractive, and you may further personalize it to reflect your brand and fulfill your needs. Your members can also view your material from any device, including their mobile phones.
However, because Kartra doesn't have much in the way of user participation, you won't be able to make quizzes and assignments or create a community area within it. You can only engage with your members via the comment section.
In terms of mobile learning, their course player is mobile-responsive, however, they do not yet offer a smartphone app.
It provides you with a variety of pricing options for your membership site. So you may design subscriptions that are weekly, bi-weekly, monthly, quarterly, or annual, with a free trial or even a one-time purchase.
You can also easily build numerous access levels for your website and provide special content to subscribers in each tier.
Pros
There are numerous instructional videos available
A fantastic membership platform
Autoresponder, marketing automation CRM, and affiliate system are all built-in
Campaigns and sales funnels that have already been created are available
Cons
For a small business owner, this is prohibitively expensive
It does not provide users with much training
A workaround is required for some Kartra integrations
It also has restrictions in terms of integration and webinar services
Pricing
Kartra spares you a lot of money by providing so many different tools. It does not, however, provide a free trial. You can still try their service and activate the 30-day money-back guarantee if you are not satisfied.
According to the price, each package has its unique set of benefits. Each bundle differs in terms of the number of emails sent per month, the number of leads generated, and the bandwidth available.
The starting plan is $99, silver costs $149, gold costs $299, and platinum costs $499.
FAQs
1. What exactly is a Membership Site Platform?
If you've ever heard of an online course platform, a membership site platform is very similar to it.
On a membership site platform, you can also build online courses and classes, but only for a limited number of people. You can put all of your content on one website and make it unavailable to anyone who isn't a member.
The fact that it's a membership-only model places a premium on the material you publish on your site. It assures your members that the items they pay for and gain access to on your site will not be found elsewhere online.
2. What are the essential features of a membership site platform?
To make your decision easier, I've compiled a list of crucial factors to consider before purchasing a membership tool.
Ability to host exclusive contents
Pages for users and members
Segmenting contacts
Automation features
Various levels of membership
Integrations with payment gateways
See Also: Advantages and Disadvantages of Online Learning
Conclusion
I hope that now that you've finished reading my round-up evaluation of the best membership site platforms, you've figured out which one is right for you.
Since it is an online education platform, Kajabi stands out as a great membership platform. It contains marketing functions as well as tools for creating courses. If you're on a tight budget, though, Builderall is the product I recommend.
Finally, if you're looking for capabilities to help you create courses, check out Teachable. It enables you to add a variety of file kinds and resources to your website. You can also make changes to the courses you put on your website.
Tosinajy tells you how to make an income online, the tools you'll need, and how to cope with typical problems you may encounter in the process.
Thanks for reading.
Ready to get started with Kajabi?
Click the button below to start building your membership sites with Kajabi.