In today's world, online events are one of the most effective solutions to engage your target audience. Hence, webinar software comes into play. It helps you build and manage your online event effectively. 
Do you wish to know the best webinar software choices but do not know exactly where to begin? You should be able to choose which option is the best one for your company, as every webinar has certain features that make it excel in different areas. 
Also, you've seen the videos and scrolling banners on websites encouraging you to make a webinar. They often promise that hosting a webinar is easy. But, of all the claims about how easy it is, people rarely talk about the software you need to host your own webinars. 
That's where this post comes in. Here are 17 of the best webinar software choices available today, ready for you to use.
What is webinar software?
Webinar software is software that allows you or your company to conduct webinars. Since a webinar is a live seminar held online, it requires special preparation and promotional efforts. 
Hence, this software automates the presentation process, makes the pre-and post-event management easy, and ensures consistent delivery of the webinars without any glitches. It is used by people and organizations that are keen on public communication and presentations via the Internet. 
Furthermore, webinar software is used for broadcasting interactive online meetings, educational classes, teleconferencing, and various training sessions and speeches live wherein questions can be asked, submitted, or answered in real-time.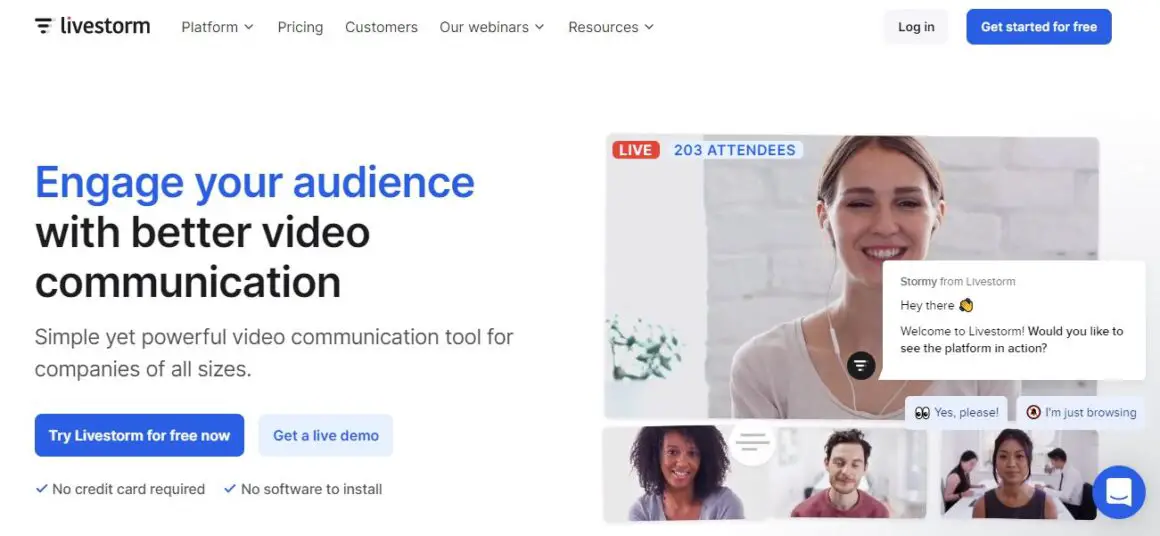 Livestorm is an excellent webinar platform that is great for promoting products and sales. It helps to organize and hold online events. In addition, this software can work on any browser with no restrictions. It is also accessible from any device like laptops, PCs, mobile phones, and tablets.  Livestorm is the best webinar software.
Features 
Access to adjustable themes with a straightforward set-up method.
Provides live, automated, or on-demand webinars, which are suitable for online courses.
It allows time to time interactive chats as well as good customer service.
Perfect for product demos and an increase in sales.
It has email logistics.
Good customer support.
It combines and examines webinars and video meetings.
Unlimited recording storage.
Data security.
100% GDPR-Compliant.
Pricing Plans:
The first plan is free with essential features.
The Meet Premium plan is $31/host for a month with up to 8 participants.
The Webinar Premium costs $99 per month with a 4-hour limit for a webinar.
Then, the Enterprise plan which offers multiple workspaces. In this plan, you can get a personalized quote if you ask for it.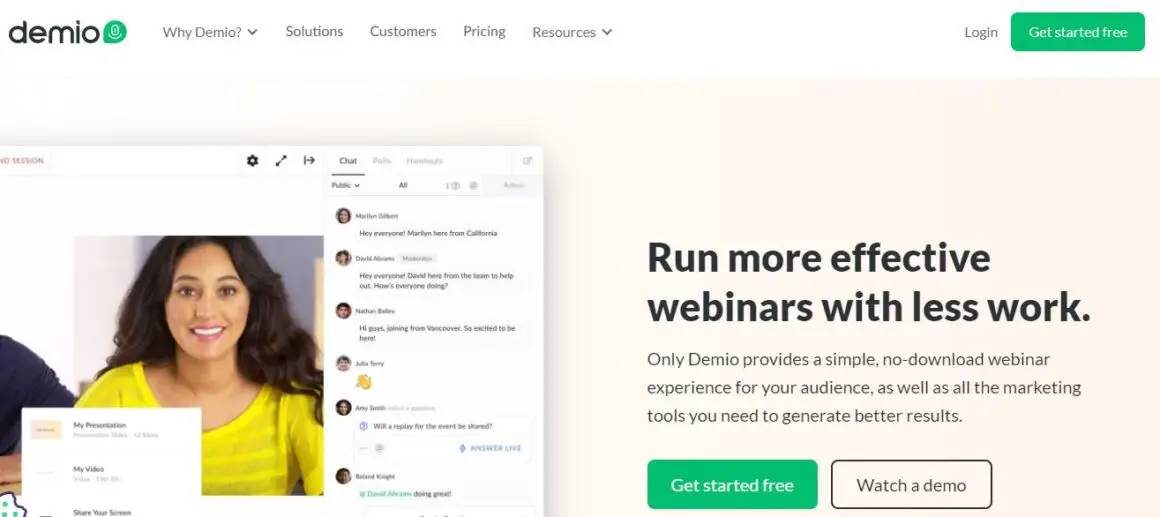 Demio is the webinar software best for marketing. This platform is built to help you market and grow your business. Also, Demio is suitable for small business owners, and it has the best marketing features to help you generate more leads.
Furthermore, Demio is useful for marketing. You should give it a try.
Features
High quality and great-looking platform.
Event reminders as well as email automation.
Provides built-in analytics and insights.
Live, unlimited and automatic webinars.
24/7 chat and email support.
It can be combined with other marketing tools.
14 days of a free trial of all features.
No download required.
Pricing Plans
Starter Plan costs $34/month for a 50 person webinar room.
Growth Plan costs $69 for 150 people.
Business Plan costs $163/month for a 500 person room.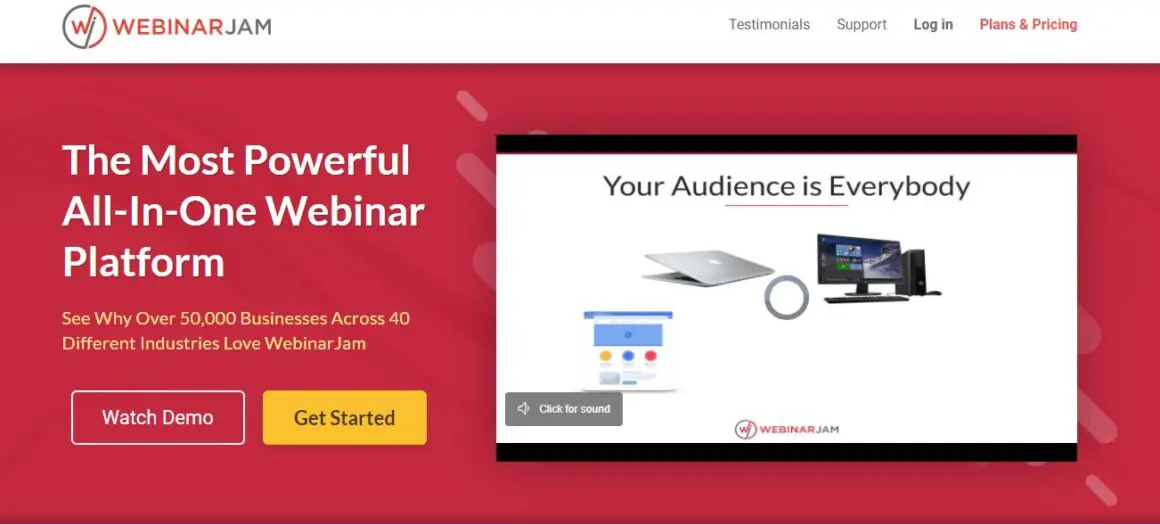 WebinarJam is one of the best software that is being used worldwide. It is effortless to use, and it supports event streaming, live casting, and broadcasting.
Besides, many businesses use webinars to draw in more potential customers and enhance their lead generation. WebinarJam is a captivating, user-friendly, and inexpensive software for enterprises to conduct webinars online.
Features 
It helps to sell your products by providing pop-ups to your audience.
Unique broadcast distribution.
Great customer support.
It is compatible with various browsers and devices.
Easy to use.
30-day money-back guarantee.
Quick setup process.
Support and training.
Can easily handle many attendants.
User-friendly dashboards.
Automatic recording.
Pricing plans
The Basic Plan costs $499 per year, and it allows 500 participants for a webinar.
Professional Plan costs $699 per year, and it allows 1000 participants and four speakers.
Premium Plan costs $999 per year. This plan is mainly for businesses that depend on webinars for their marketing. It also allows 5000 participants and 6 speakers.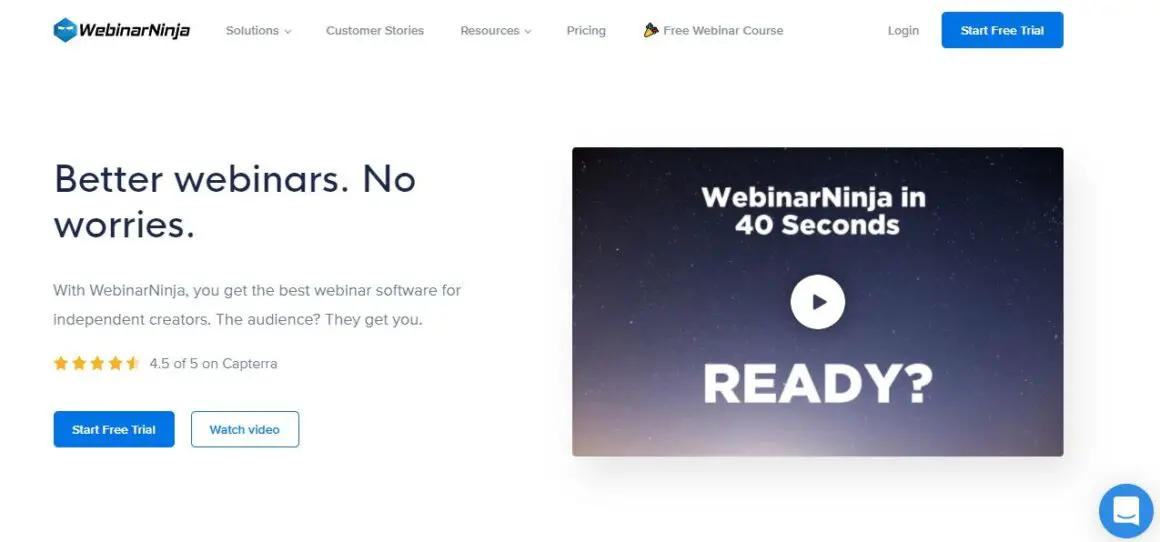 WebinarNinja is one of the easiest webinar software to use. It provides the tools needed for you to have an effective webinar. The software helps users to concentrate on the content of their webinars. 
Since it is an easy and convenient way to host webinars, you don't have to go through the trouble of coding and setting up just to get your webinar up and running.
Features 
Integration of live and recorded videos.
Automated webinars.
It has a series of webinars.
Automatic email.
Analytics dashboard.
14-day free trial of all the features.
Pricing Plans
Starter Plan costs $39 per month and allows 100 viewers.
Professional Plan costs $79 per month with 200 participants.
Plus Plan costs $129 per month.
Power Plan costs $199 per month.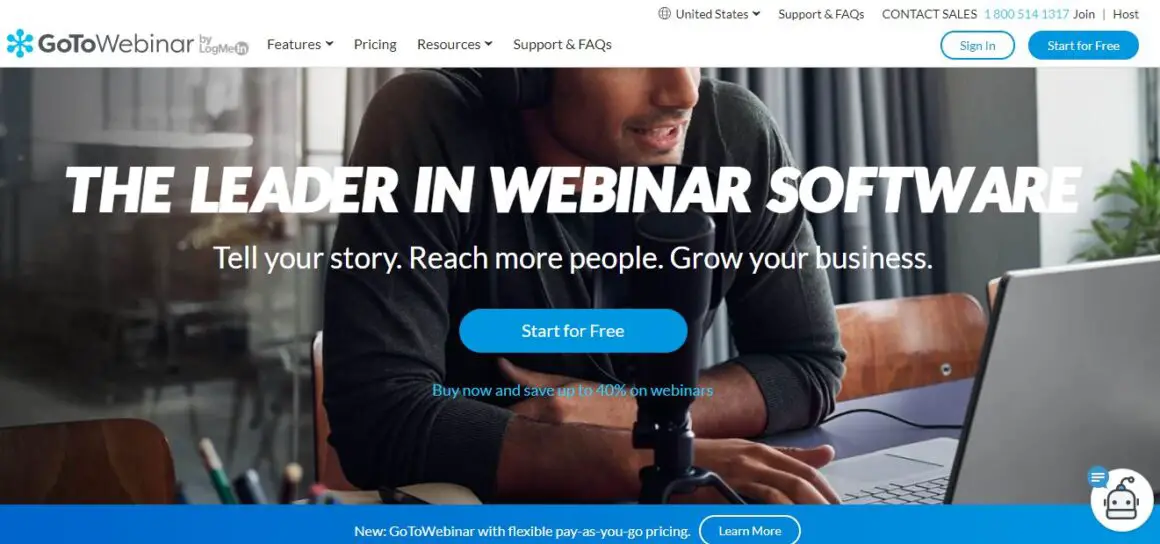 GoToWebinar is the best webinar software for a large organization. It's also one of the easiest to use—even if you're completely new to webinars. Indeed, the software helps to reduce all the stress that comes from webinars. In fact, all you have to do is focus on growing your business.
Features 
It has a lot of features.
Automated email.
24/7 customer support.
Prerecorded events.
HD video quality.
In-built polls and surveys.
Pricing Plans
The Starter Plan starts from $89 for 100 attendees per month, $199 for 500 attendees for a month, and $429 for 1000 people per month.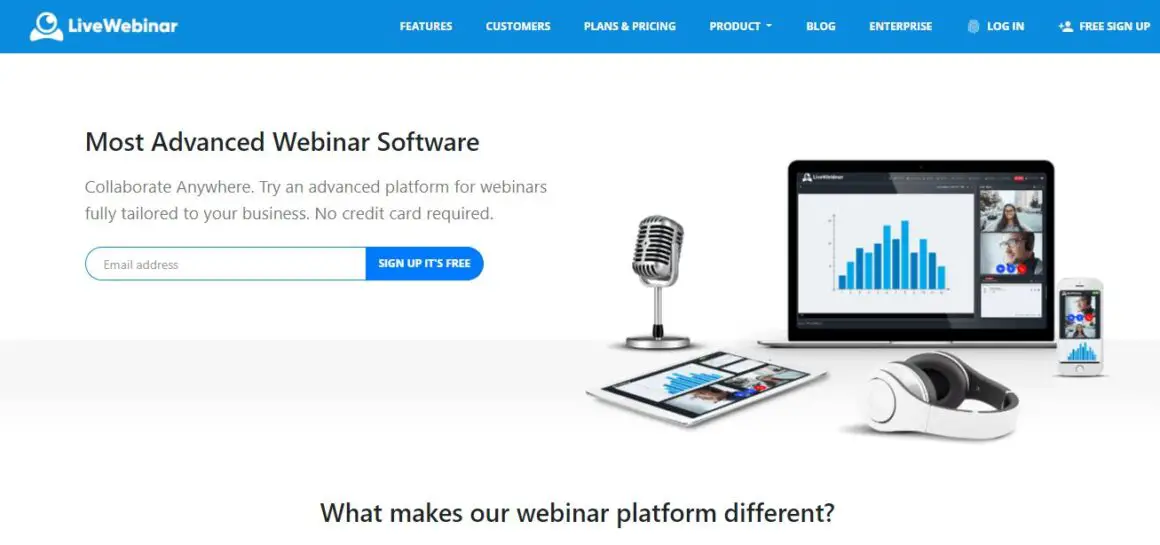 Running a webinar can be difficult, LiveWebinar makes it easier. It's not the cheapest software in the market but it does make things easier for the speaker and attendees. With LiveWebinar, you do not need to download any software onto your computer. Anyone who wants to watch your webinar can easily join in by accessing the URL that is provided.
Features
It allows you to host 1000 participants.
The Whiteboard feature allows you to express your ideas by drawing on videos.
14-day free trial for all features.
Integration with other marketing tools.
Streaming of live video on all social media platforms.
Polls and surveys.
The call to action button is available.
Pricing Plans
The Freemium plan allows only 5 attendees.
The Professional plan is $11.99 per month for over 100 attendees.
The Business plan costs $95.20 per month for up to 500 participants.
The Custom plan is for up to 1000 attendees.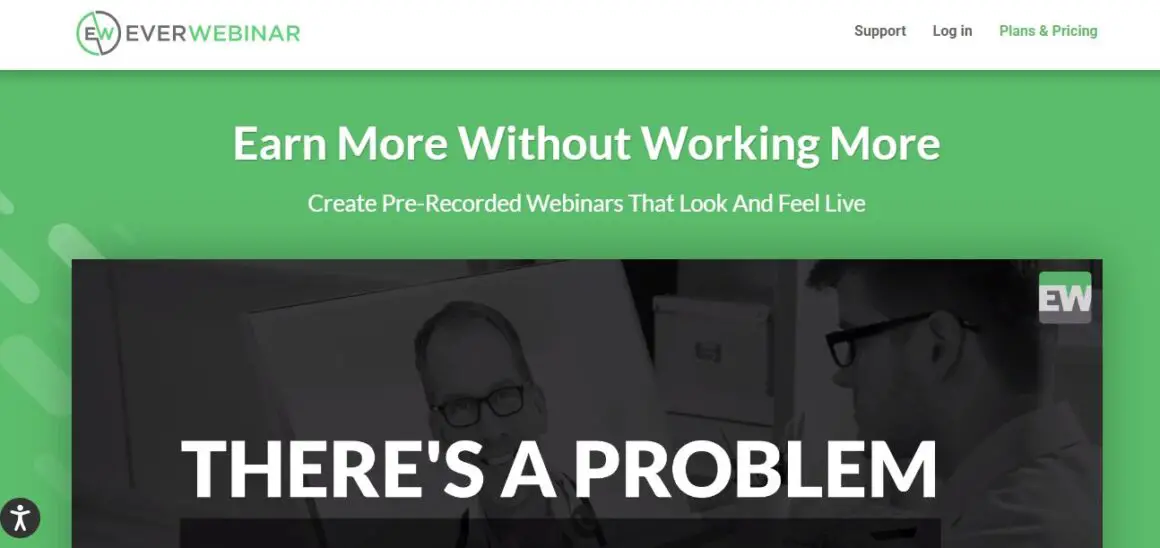 EverWebinar is known as the most active automated webinar platform. It's on this list because of its effectiveness. EverWebinar is an all-in-one webinar software solution that allows users to create, promote and host live online events.
The platform features a full bundle of tools to help you manage your events productively. You have nothing to do; EverWebinar does it all.
Features 
Automated customer activity.
Real-time performance stats.
Unlimited free hosting.
It converts old live events into evergreen events.
Integration with WebinarJam.
Pricing Plans
EverWebinar costs $41/month.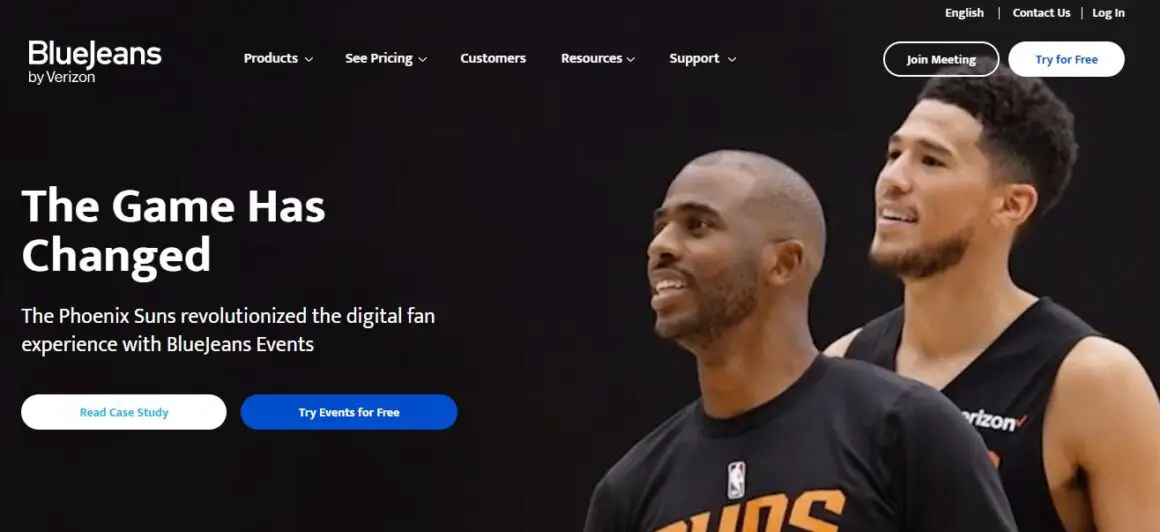 The best webinar software for a big virtual event is BlueJeans. This webinar software is used to organize events for a large audience worldwide, like live streams and town halls.
Features 
Event cloud recording.
24/7 Support.
It can hold a big event worldwide with up to 150 presenters and 50,000 attendees.
Full moderator control.
Post-event analytic reports.
Pricing Plans
The starter plan costs $83/month with up to 100 participants.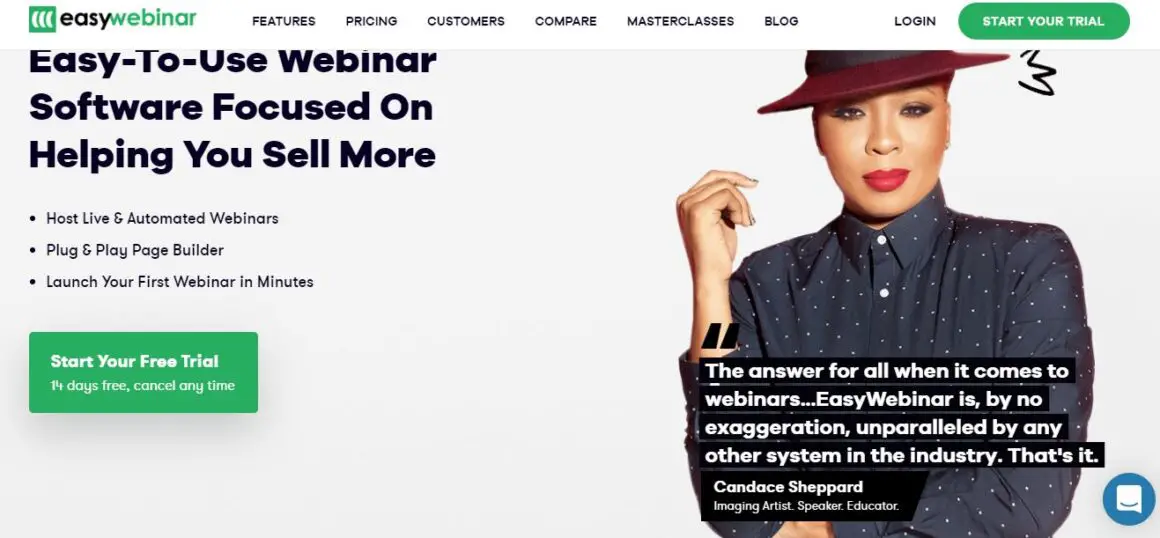 EasyWebinar is specifically for marketing and growing businesses. It is software that successfully combines webinar technology and marketing strategy.
Features
Integration with popular email marketing tools.
HD video.
It also allows up to 100 participants.
WordPress integration.
Unlimited live viewers.
Pricing Plans
The standard plan is $59/month.
Professional Plan is $90/month.
The Enterprise Plan is $349/month.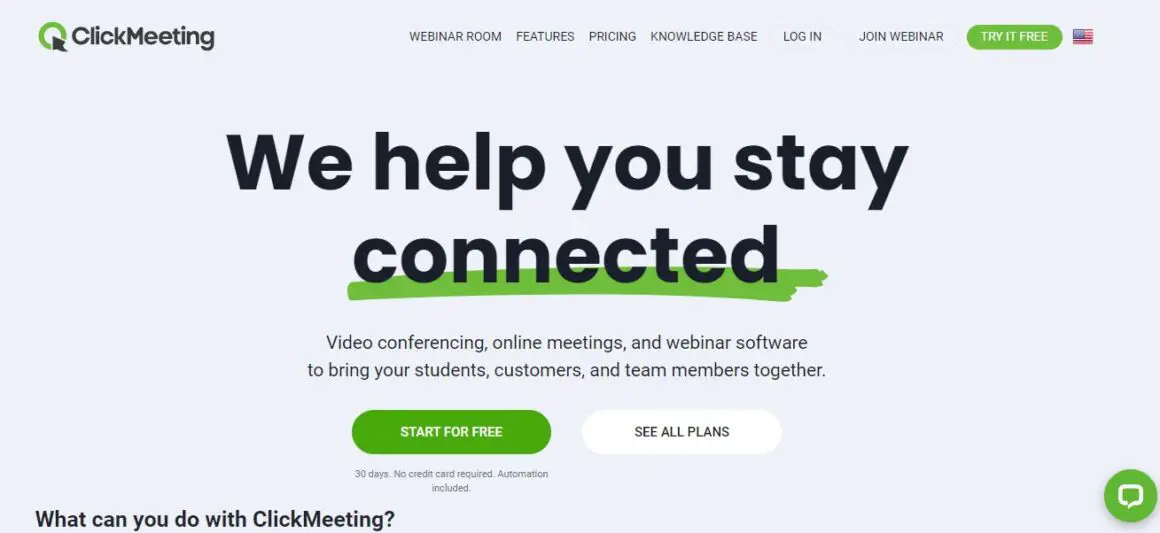 ClickMeeting is designed for entrepreneurs, businesses, and event organizers looking for an affordable web conferencing solution. Additionally, it is easy to use and has a user-friendly interface. ClickMeeting handles all the webinar processes and works on all devices. Also, this software is perfect for education features.
Features 
It provides automated webinars.
Analytical insights of past webinars.
Polls and surveys are available for feedback.
Chat options as well as exciting sessions.
Allows multiple presenters.
30-days free trial of all features.
Pricing Plans
The cost for 25 attendees is $25 per month.
50 attendees cost $35 per month.
Enterprises customers can go for custom-pricing.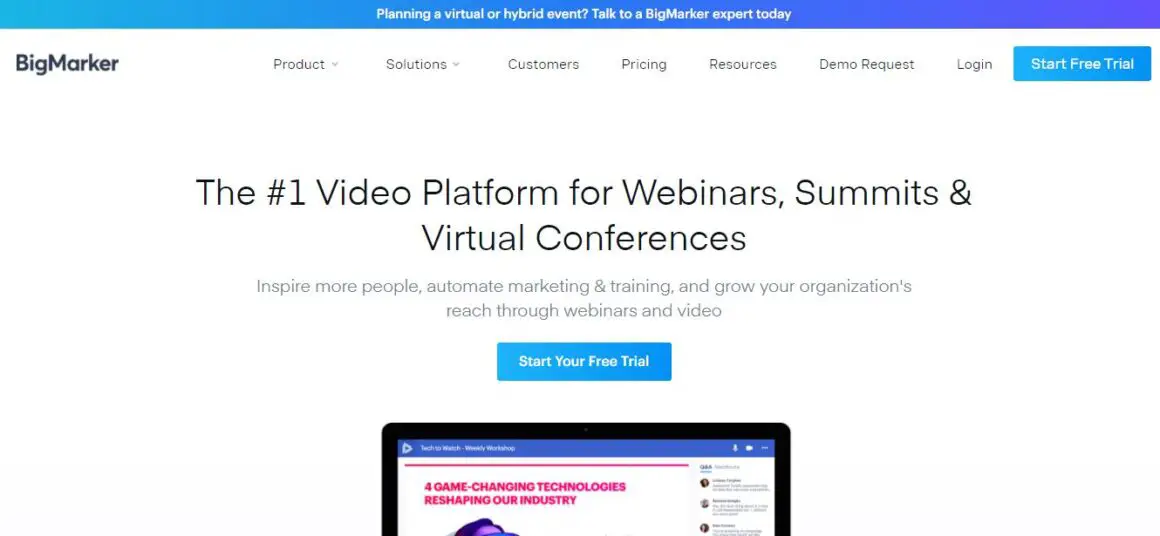 BigMarker is a webinar software known for being versatile and easy to use. Besides, it's highly intuitive and allows you to add features that can save you a lot of time.
In addition, it was voted as one of the best webinar software options by many users. Also, BigMarker is a webinar tool that is good for interactive sessions like summit and conferences because of its excellent streaming capability.
Features
It provides quality live streaming features like chats, polls, Q&A sessions, handouts, etc.
7-day free trial period.
HD video as well as screen sharing.
Integration with apps like Calendly, MailChimp, Marketo, etc.
Offers 15 different landing page types.
Pricing Plans
The starter plan costs $79 per month.
Elite plan costs $159 per month.
Summit plan costs $299 per month.
The White Label plan is for the enterprise customer.
Adobe Connect is the best webinar software for big agencies and marketing organizations. The platform allows you to host meetings and interact with your customers. Also, you can customize your hosting room.
Features
It showcases products as well as services to a target audience.
Integration with CRM software like Salesforce and Eloqua.
It offers different templates to customize your virtual space.
30-day free trial to feast the product.
Hosting unlimited events.
Pricing Plans
$100/month for 100 seats.
$470/ month for 500 seats.
$580/month for 1000 seats.
LiveStream is a good webinar software that is mainly for educational institutes and big businesses. Besides, if you already have a target audience, this webinar tool is for you.
Features 
An unlimited number of attendees.
Unlimited storage.
Automatic records and stores the event in the cloud.
Live Q&A.
Good customer support.
Private link sharing.
Stream to YouTube and Facebook Live.
Pricing Plans
$75/month annually.
Enterprise package, which is pay-per-view.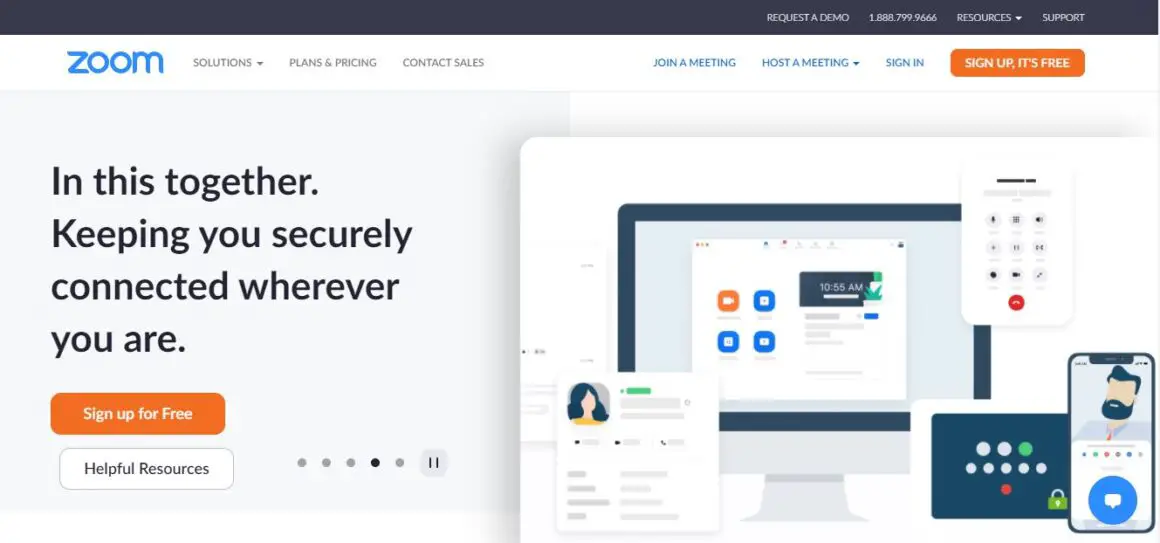 Zoom has become one of the best webinar software people use these days. Additionally, it allows you to interact with people and keep in touch with them. It is an essential tool for either a small or big team to communicate daily about their work.
Features
It is user-friendly.
It offers HD audio and video, desktop, screen sharing, and app sharing options.
Integration with Microsoft Outlook as well as Google Calendar.
It backup every meeting in the cloud.
It is free to sign up.
Pricing Plans
It has a free plan that allows 100 participants.
The Basic plan costs $14.99/month.
The Business package is $19.99/month.
The Enterprise package is $19.99/month.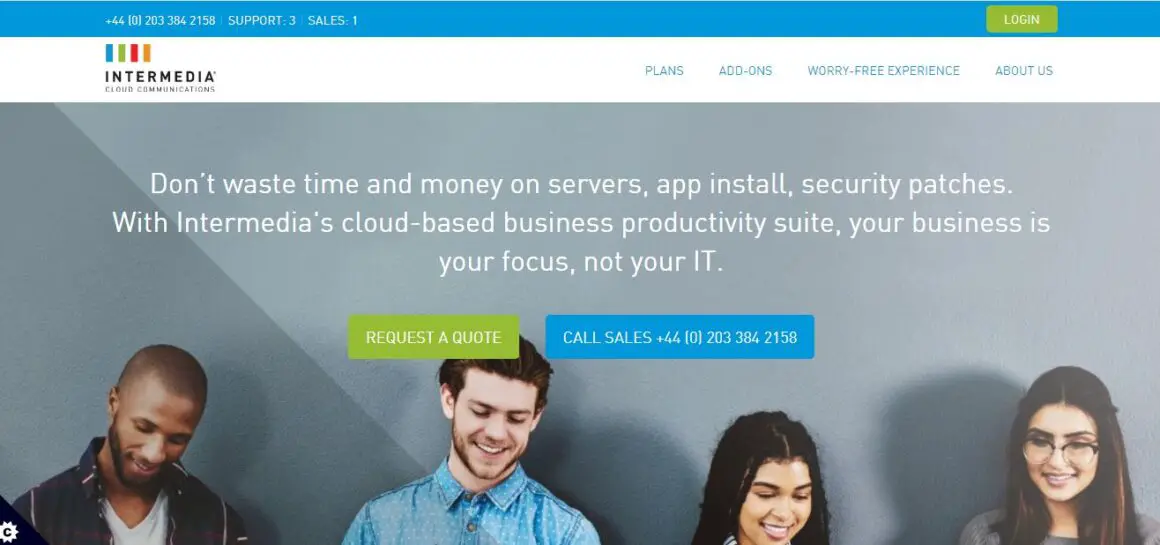 Another good webinar software is AnyMeeting. There are a number of good things to say about this webinar software. It's a platform that allows you to create your own customized webinars for both one on one interactions, as well as group webinars if you need.
It has great features that make this an attractive option for those considering it. Indeed, AnyMeeting is a webinar tool that is suitable for small agencies and educational institutes. It provides you with excellent tools to host your webinar.
Features 
HD video broadcasting
Automatic webinar recording
Allows 1,000 participants and 6 speakers.
Live-chat as well as Q&A sessions.
It is user-friendly.
Free 30-day trial.
Pricing Plans
The Webinar Lite costs $48/month for up to 50 viewers.
Webinar Pro costs $128/month for 200 viewers.
Webinar Enterprise costs $298 for 1,000 people.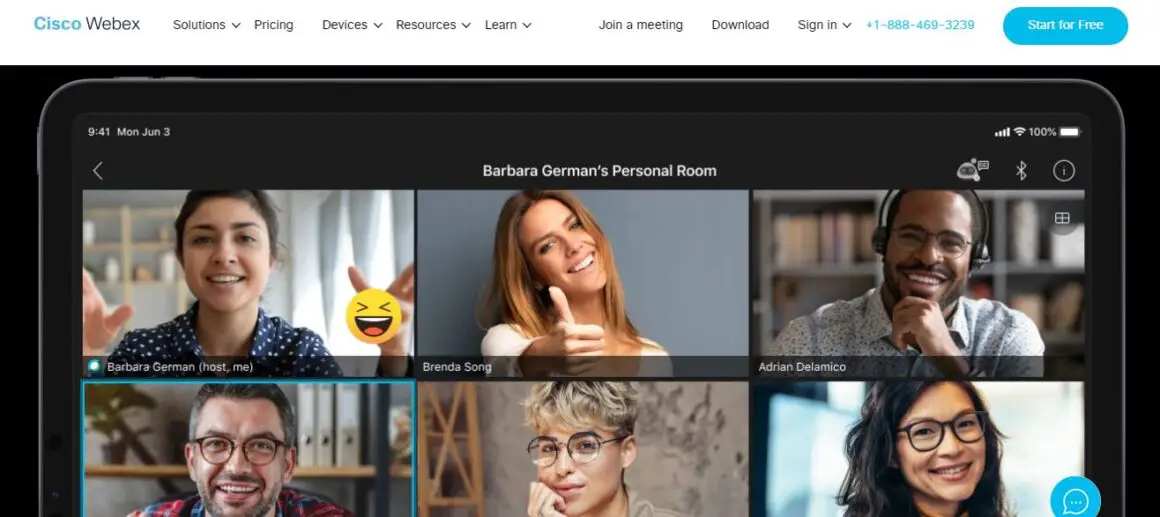 It's one of the most successful conferencing programs out there, and it's known for being excellent.  A lot of webinar agencies have made the decision to implement Webex because of its wide range of features and capabilities.
In addition, it is flexible enough for large organizations that make more advanced presentations, who require more teamwork and multilingual assistance.
Features 
HD video and audio quality.
Q&A sessions.
Polls and surveys.
Users can customize it to their taste.
Cloud-based platform.
User-friendliness.
Pricing Plans
The Basic plan is $13.5/month for 50 participants.
Dacast is one of the most underrated webinar software platforms out there. It not only helps with marketing and connecting with your clients but also provides you with a great platform for your events. Furthermore, it provides excellent features that will help you hold a special webinar.
Features 
24/7 customer support.
Integration of live video.
Unlimited viewers.
It is easy to set up.
It is user-friendly.
Allows FTP access.
Pricing Plans
Paid plans cost $19/month for 300 viewers for an hour, while $289/month for 15,000 viewers for an hour.
How to choose your ideal webinar software
Ease-of-use 
Ease-of-use is paramount when selecting your webinar software. so, if you aren't tech-savvy it could be a problem if the software is too complex to configure and use. 
For example, if you are not the most technical person, you should avoid software that has a steep learning curve. Thankfully, there are numerous options for easy-to-use webinar software like GoToWebinar, WebinarJam, and WebEx.
Mobile compatibility 
The good news is that the webinar software market has matured in recent years and webinar software requirements have become more standardized. So, more solutions are available for mobile devices. 
Still, one of the most significant challenges of mobile-friendly software is properly making the software tablet-friendly. This means that it must be able to adjust the size of text and images on the fly and still maintain its functionality. 
Simply put, you need to choose a webinar tool that will not only work for your business but also one that your audience or clients can access. Therefore, if you plan on doing webinars primarily on the go, make sure the software is mobile compatible.
Audience size
With a website's web traffic increase, you are eventually going to be left with the same problem of how to engage more audiences. This has been the goal of countless companies, innovators, and entrepreneurs since the online era began.
In addition, having strong webinar software will give you everything you need to host your own effective webinars. From live webinar recording to host chat room, and attendee request management, it is essential for drawing attention.
Pricing 
If there's one thing you'll experience when comparing webinar software it's the wide range of pricing. Software startups and free solutions exist in the market. But, most webinar software providers offer multiple pricing tiers to match a variety of needs. 
Many companies even offer a free plan which will suffice for many users who only host a few webinars a year. However, more robust plans are often available if you need to host more or feature-rich webinars for your audience. 
To conclude, pricing models for webinar software will depend on the type of service you're looking for.
Integrations
Integrations are usually one of the main reasons why you would pick a certain webinar software over the other. Besides, it makes sense since marketers love plugins and integrations. 
Thus, depending on how your marketing funnels are set up, you might want to consider a webinar software that integrates with your email marketing platforms like MailChimp or Constant Contact. 
Also, there are some integrations like event registration systems like Eventbrite, landing page builders like LeadPages, project management tools like Trello, and CRM platforms like Salesforce.
Learn more: How to make money with a webinar.
Summary
In brief, let me tell you the truth; there are several important factors to consider when deciding on your webinar software. If you consider everything, it could take days or hours to select the correct platform for your needs. 
Marketers have lots of alternatives when it comes to choosing the best webinar software. So, to help you choose the perfect webinar system for your organization, I have compiled a list of 17 of the top webinar software on the market. 
In addition, I have discussed what to look out for when evaluating each particular platform. This includes its ease of use, pricing, audience size, mobile compatibility, and even integrations.
Finally, I recommend WebinarJam if you want to host webinars in the easiest and most convenient way possible.