Due to the obvious increase in remote work, web queries for the best conference call services have increased dramatically.
However, did you know that the best conference call services include more than just phone calls? They also provide a range of collaborative tools that make coordinating a breeze.
I understand that there are many conference call services to select from, which is why I've reviewed the best options for you in this post.
Let's have a look at the list.
Quick Review
Here are the best conference call services.
See Also: 11 Best Video Conferencing Software: Meet with Your Team Anytime, Anywhere
Best Conference Call Services
What are the best conference call services for businesses?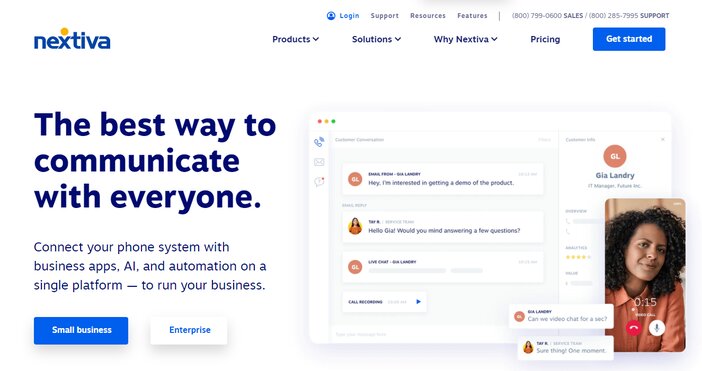 If you can't afford to take a chance on conference calls' voice quality, Nextiva is the most efficient VoIP network available.
The Nextiva app is compatible with all platforms, including iPhones, Android phones, and desktop and laptop PCs. It can be used to receive calls whether on the road, at home, or at work. You can also initiate a call on a desk phone and transfer it to a cell phone, and vise – versa.
Nextiva makes it simple to add team members and establish call forwarding policies depending on departments, making it ideal for remote teams.
The audio call quality is fantastic, and their apps are simple to use. They also provide good customer service. Their platform also contains LiveChat, CRM, and a variety of other tools to help you run your business.
Nextiva's phone system includes conference calling. Also, every staff can hold their conference call using the conference bridge feature, which is available at no additional cost. The number of people on each call is determined by the subscription plan you choose.
The Professional package allows for 40 callers, while the Enterprise and Ultimate plans allow for an infinite number of callers. The Basic Package does not feature conference calls.
Nextiva CRM solution comes with its own set of features and tools for sales and support. You can save an infinite number of accounts and contact information in the system. You'll also be able to see a consolidated view of each customer's whole experience.
Pros
All of Nextiva's corporate phone plans include round-the-clock customer service
There is a mobile app that is simple to use and never gives any problems
The technology from Nextiva interfaces with existing contacts and customer relationship management software
Nextiva can be utilized with existing workplace and mobile phones
Cons
One big disadvantage of Nextiva is that canceling a subscription is a herculean task, and you may never get to terminate your contract
Some services, such as extended CRM connectors and limitless SMS, are not included in the cheapest plans
A three-year commitment is required to get the best rate from Nextiva
Nextiva's basic package is more costly per user than some of its competitors' lowest-tier plans
The software is not user-friendly
Their free trial time is far too short, at only seven days
Pricing
Nextiva offers two conference calling pricing plans that will suit your needs.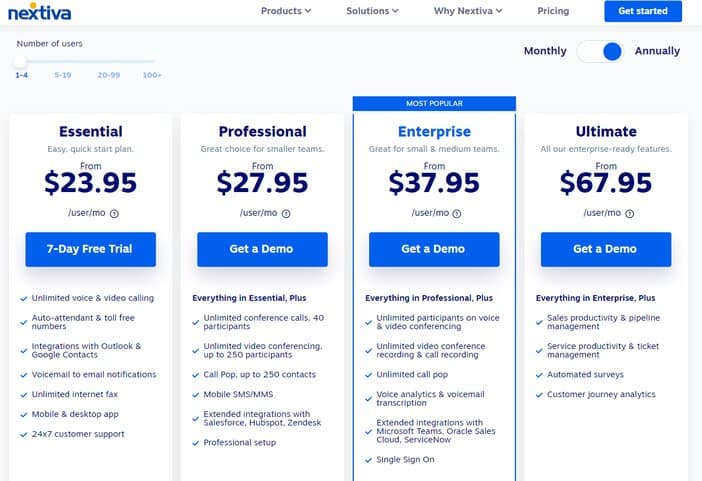 If you never need more than 40 people on a conference call, Nextiva's Professional plan, which includes video, voice, and team messaging, will cost you between $21.95 and $27.95 per user/month, based on the number of users required.
The Professional package also includes a technique to get around the 40-person conferencing limit by allowing up to 250 people to participate in video conferences.
Upgrades to Enterprise or Ultimate provide you with limitless participants on either kind of conferencing if you would not like to worry about hitting any limits.
At all levels, the Enterprise plan costs between $31.95 and $37.95 per user/month, which is $10 extra per user/month than the Professional plan. The Ultimate plan costs $52.95 to $67.95 per month per user.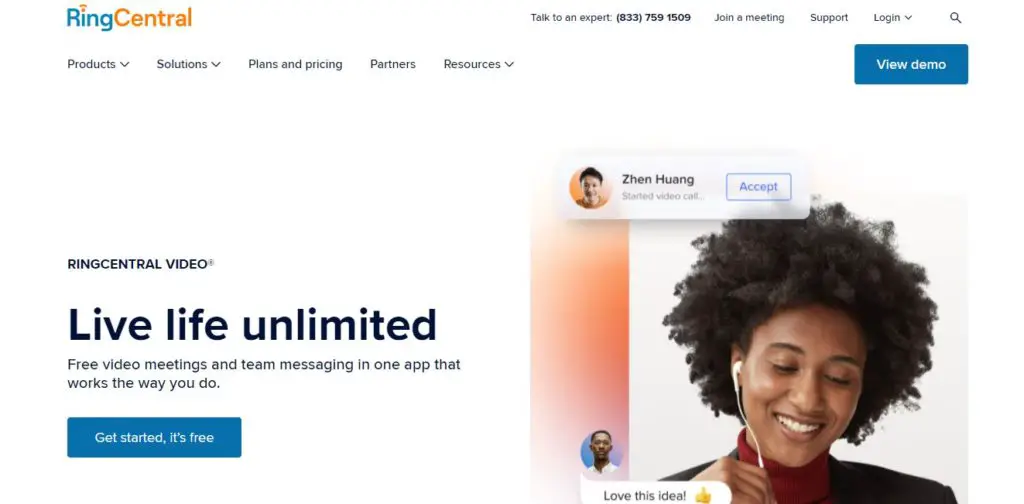 RingCentral is a multi-platform business communications software that can manage instant texting, video, and phone calls. As a result, if you're searching for a communication solution that connects your entire office, this is a great option.
It's essential to establish that your communication networks are safe, especially if your company handles sensitive data. To prevent interception, all conversations are encrypted utilizing TLS and Secure Real-Time Transport Protocol.
Additionally, network firewalls are installed. Since administrative activities need numerous levels of authentication, data centers are secured using electronic devices and on-site specialists.
It provides limitless audio-only and video conferencing calls, as well as a single bridge number for each firm and a unique host and access code for each user. This implies that team members can conduct conference calls at the same time without interfering with each other.
The newly revamped RingCentral App, which integrates phone and video conferencing, as well as team chat messaging, into a unified mobile-friendly platform, is one of the highlights.
VoIP telephone conference calls can be handled over Wi-Fi, with carrier minutes, or with data from a smartphone. The RingCentral app comes with over 180 pre-built connectors and allows users to create custom APIs.
Every conference call line is always accessible, so there's no need to schedule a call ahead of time. Instant, impromptu conference calls are also possible.
RingCentral can also be used to make international calls. With foreign inbound numbers in over 100 nations, local caller ID, and toll-free numbers, you can expand your reach.
Pros
The cost is one of the most reasonable, and it includes several features that allow more calls to be routed to the appropriate lines
If you pay for a year's worth of service in advance, you can save up to 33%. While most of the competitors offer volume savings as well, RingCentral outperforms the competition
RingCentral is extremely adaptable to a variety of scenarios
For every type of communication, there is an app
There is a wide range of software integration options available
Cons
Since RingCentral outsources customer service to other nations, some customers have difficulty communicating with service representatives who might not communicate in English as a first language
Since there are so many different ways to configure call routing, it might be tough to figure out how to accomplish it at first
It comes with a basic plan that is limited
Pricing
RingCentral MVP has four premium plans ranging from $29.99 per month/user to $59.99 per month/user. However, the cheapest package does not provide limitless audio conferencing.
If you want a plan that is always free, the RingCentral Video Pro plan is for you. However, the number of people that can join a conference call is limited to 100.
Should you require more than that, the RingCentral Video Pro+ plan will do the magic.
Extra toll-free numbers, as well as other extras, can be purchased for $4.99 per number each month.
This is a well-known video conferencing and meeting solution that can be used online. Zoom is a good choice if all you need is video conferencing and online meeting software.
By just sharing a link, you may effortlessly set up an online conference call or meeting and invite your colleagues. It's simple to use, and there are apps for all devices, including mobile phones.
Zoom is a free service package that provides unlimited 1-on-1 meetings and conference calls with approximately 100 people. For most small organizations with remote teams, this is sufficient.
Users on laptops and desktops don't need to install any software to join or initiate a connection, making it one of the most user-friendly conferencing solutions available. All users have to do is authorize the Zoom browser application by clicking a link.
The free plan's disadvantage is that conference calls are restricted to 40 minutes in length. This is inconvenient because everyone in the conference room will notice a countdown timeout, and when the timer reaches 40 minutes, the app will throw everyone out.
You will not receive a unique virtual business phone number from Zoom. Each Zoom conference, however, is assigned a unique dial-in code that members can use to participate via phone if they don't have the app or stable internet access.
However, it is only compatible with Chrome, Firefox, Edge, and the latest version of Safari, meaning mobile users will need to download an app to use it.
With some of the subscriptions, Zoom offers a large knowledge base, as well as 24/7 phone assistance and live training. However, the audio quality can be erratic at times.
Pros
Due to its efforts to make you seem at ease throughout navigation, Zoom is exceptionally simple to use
There is a pay-as-you-go option available
When you get a large meeting license from Zoom, you get space for up to 500-1,000 people
Conferencing with an operator is possible
A waiting room is available for conference attendees
Cons
Zoom's major flaw is its lack of security. Meetings have been claimed to be disrupted by hackers
With the free plan, audio and video meetings are limited to 40 minutes, while with the subscription plans, they are limited to 24 hours
The free plan is lacking
Regrettably, many users have discovered that Zoom, even for those who pay a subscription, provides poor customer service
Basic audio conferencing services are only accessible as an add-on plan on the Zoom free plan
Pricing
With a free membership, you can host a call with up to 100 people and a 40-minute time restriction, as well as unlimited one-on-one calls.
One license for Zoom costs $149 per year. This allows for sessions with up to 100 people to take place. Business plans start at $199.90/year for one license and support meetings with up to 300 attendees.
The Enterprise package, which costs $240/year for a single license and allows for 500 participants, unlimited cloud storage, and recording transcripts.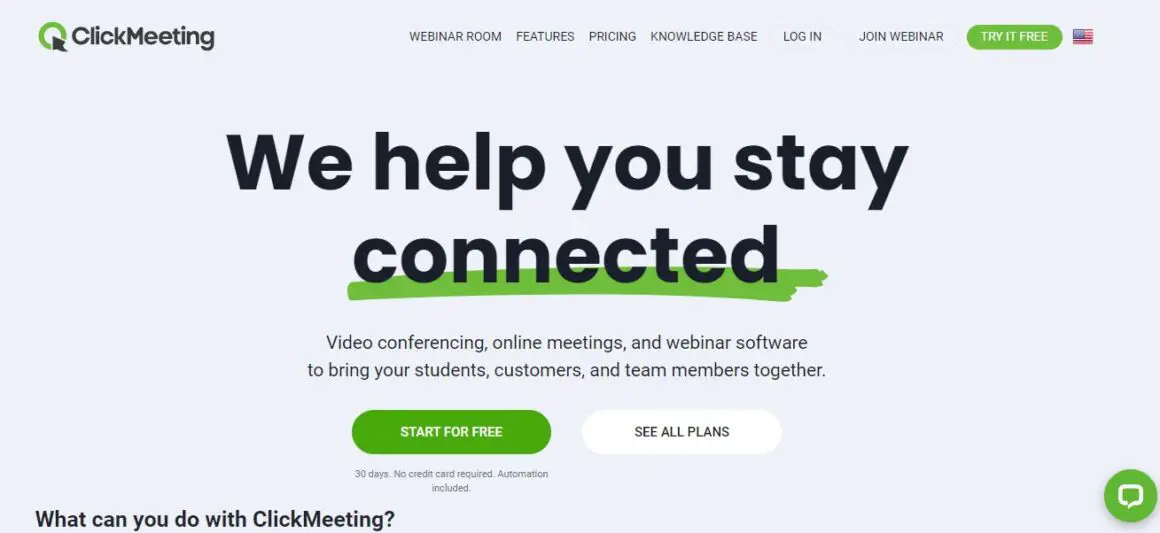 ClickMeeting is a webinar software that may also be used to do conference calls. Although ClickMeeting is primarily a tool for hosting webinars, it also includes a collection of helpful and efficient conference call capabilities for staying connected and collaborating with fellow employees.
It's worth mentioning, though, that because it's essentially a webinar platform, the capabilities it provides are geared at delivering insights, which sounds plausible when you consider it.
ClickMeeting, on the other hand, is adaptable and extremely adjustable, and if you're shopping for a video conferencing solution with an engaging user experience, it could be an excellent fit.
When it comes to conference calls, ClickMeeting's comprehensive collection of presentation and agenda tools enables you to have extremely entertaining and productive discussions with your team, prospects, clients, and others.
It's a great method to give your team meaningful insights while also making onboarding and training new staff a breeze.
It has more features focused on sharing ideas because it is more of a webinar tool. As a result, you might want to explore elsewhere if you're searching for a pure conference call tool.
However, if you're searching for a complex and versatile conference call solution, this is still an excellent option.
The customizability they provide makes it much easier for viewers to participate in the material a presenter is talking about. Overall, I think it's fantastic for educational agencies, instructors, and other educators.
Their webinar system also connects with PayPal, allowing clients to quickly and securely purchase admission to your webinars.
See Also: A Beginner's Guide on How to Create a Webinar [Step by Step]
Pros
It follows up with webinar participants automatically after they've attended
There's no need for a third-party conference calling service because ClickMeeting allows attendees to call into every meeting
During meetings, you can create surveys, polls, and Q&A sessions
There isn't much of a learning curve with ClickMeeting
Cons
It isn't meant to be used for frequent, everyday video meetings
For a system that solely provides video conferencing, it's a tad costly
There are only a few video participants
Pricing
There are three pricing options for ClickMeeting.
Live – $25 per month, invoiced on an annual basis
Automated – $40 each month, invoiced on an annual basis
Enterprise – Plan based on a quote
A 30-day trial period with up to 1000 guests is also available through ClickMeeting. The paid plans allow you to host up to 1000 people, while the custom plan allows for up to 10,000.
All options include unlimited online meetings, webinars with up to 8 cameras, meetings with up to 25 cameras, and screen-sharing.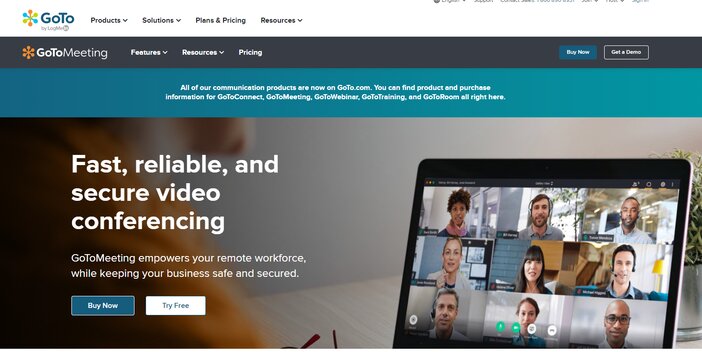 GoToMeeting is a good choice if you want an easy-to-use internet conference call software. It's a fantastic choice for both small and large organizations.
You may host or attend meetings with a single click from your laptop, phone, conference room, or anywhere else.
You can also host and participate in video, audio, and web meetings. It's a smooth and flawless process for everyone involved, whether you're the administrator or a participant.
GoToMeeting all-in-one hardware and software kits are one of the company's best features. They'll bring you everything you need to turn any physical space into a smart meeting space.
SmartNotes, a tool that instantly transcribes and records meetings and stores them locally or in the cloud, is one of its most appealing features. Individual speakers are additionally separated by the SmartNotes Meeting Assistant for more accurate transcriptions.
Attendees can also join using the toll-free "Call Me" option, which allows GoToMeeting to dial participants at the start of the conference without the need for PINs. Users can even switch devices in the middle of a meeting.
See Also: 17 Best Webinar Software Choices
Pros
The best part of the GoToMeeting program is how simple it is to use
Users on the Business or Enterprise plans have accessibility to the slide to PDF feature, which allows them to capture numerous sets of presentations in one go
One of the most appealing qualities of GoToMeeting is its adaptability
All users on the Business and Enterprise programs have limitless accessibility to call and video meeting recordings.
Cons
GoToMeeting does not operate properly in browser windows, requiring you to download their app
Even though GoToMeeting's smart assistant AI provides transcripts, they are only available in English, thereby non-English users are left out
If your Internet provider pings your modem frequently, GoToMeeting may cause issues.
GoToMeeting promotes the most up-to-date solutions, but it falls behind on older technology
Today's market is flooded with free conference call services. GoToMeeting, on the other hand, isn't one of them
Pricing
GoToMeeting, unlike several other commercial conference call options on the market, does not provide a free basic plan. You can, however, use a 14-day trial to try it out for free.
Professional — For up to 150 participants, this costs $12 per month per organizer
Business — For up to 250 participants, this costs $16 per organizer per month
Enterprise — This price is only available for groups of up to 3,000 people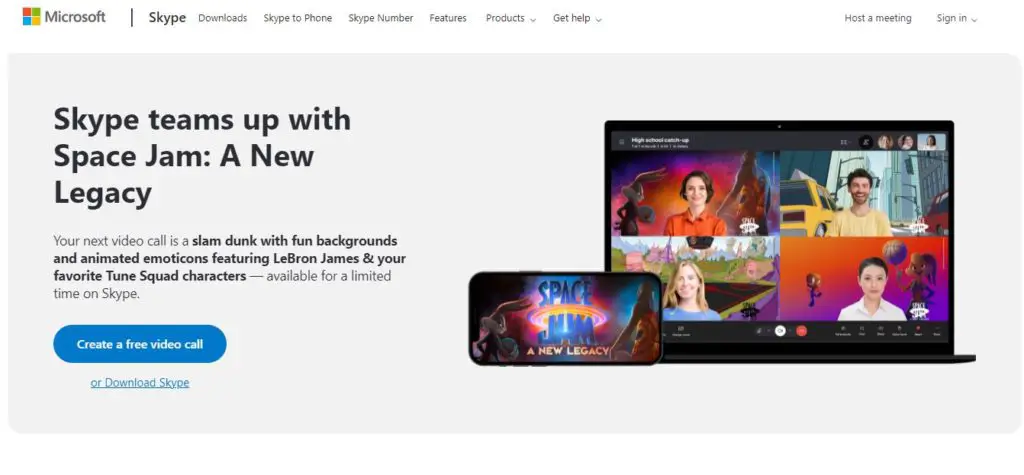 Skype was established in the year 2003. Palo Alto, California is the company's present headquarters. In 2011, Microsoft purchased Skype.
Even if you haven't ever used it, Skype is most certainly the first thing that comes to mind when you think about video calling. It's no surprise, given that Skype paved the path for all other video conferencing applications.
For many people, Skype is a good fit, and it used to be the go-to tool for both personal and corporate communication.
Skype's incredibly flexible pricing is the key reason it is the world's most prominent online conversation service provider. Also, Skype is well-known for its free video chat and communication features, which are at best rudimentary.
Furthermore, Skype is a video-conferencing application that allows users to make HD video and audio calls from a variety of devices, including tablets, smartphones, Alexa, and computers. Users can communicate with other Skype accounts for free or make low-cost calls to local and international lines.
It has a large user base, making it simple to connect and initiate discussions. You can look up existing connections by typing their Skype names into the search box.
You can also search for someone by their real name, email address, or phone number if you don't know their Skype login. To be sure you're calling the appropriate person, Skype will display the number of shared mutual contacts.
You'll be prompted to test your camera, microphone, and speakers on Skype. This takes less than a minute and should only be done once during setup, but it's necessary if you wish to make video or audio calls.
Instant messages can be sent to other Skype contacts and are sent directly to their Skype accounts. You can also send emojis and images, as well as record video messages.
Pros
Sound and image quality are excellent
Video calling, phone, and text messaging are all included in this feature-rich communication tool
Low-cost calls to landlines and mobile phones
Skype-to-Skype calls are free
Photo and video sharing in addition to messaging
Subscription services for dialing local or international numbers at a low cost
Cons
The quality of the video and audio is determined by your internet connection
There may be issues with individual participant audio level if there are a significant number of people in a conversation
Skype does not support receiving SMS messages
Pricing
Although Skype is usually free, some Skype services do charge a fee. When a Skype user calls a mobile phone or a landline outside of the platform, Skype is not free.

For $3.21 per month, you receive a Skype membership that allows you to make unlimited calls within the United States. Beyond that, it's an extra 16¢/minute if you use 2000 mins/month.
You make unlimited calls to anywhere in North America for $7.51 each month. After that, it's 38¢/minute if you use 2000 mins/month.
For $8.59 per month, you can obtain 800 minutes of calling to India, after which it's $1.1/minute.
FAQs
1. What is a Conference Call Service, and how does it work?
Conference call services enable users to connect and engage over the Internet utilizing the video and audio features of a computer or mobile device.
Businesses can use these tools to hold virtual video conferences, presentations, meetings, training seminars, and more, making them available to anybody with a device and an Internet service.
Most conference call systems provide functions that imitate characteristics of in-person meetings in order to enhance collaboration and participation.
These features include the ability to share presentations and files, live chats for easier communication, whiteboard tools for document collaboration, and more.
Attending those seminars no longer requires everyone to be in the same place at the same time. Instead of waiting for the workplace to open, gather your team and work from home at any time.
2. What are the characteristics of conference call services?
When looking for a conference call service that is both practical and worth your money, there are a few key elements to look for, including:
Quality of audio and video
The purpose of conference calling is to make communication simple. Bad audio or picture quality can wreak havoc on this, so look for software that regularly produces high audio and video quality.
Elimination of Noise
This is necessary to reduce distracting background noises such as keyboard typing, cat mewing, and other similar sounds. It also aids in making a positive first impression on clients and fostering a pleasant working environment.
Collaboration software
You should be able to show presentations, share files, and use a whiteboard or mark-up function for real-time editing with your conference calling service.
Mobility
Web conferences must be accessible from any location and on any device, including smartphones and tablets.
Instruments of communication
Other features, like screen sharing, live chats, Q&As, and polls, assist allow good communication and engagement in addition to strong audio and video.
Security
Password-protected events, user verification, and confidential participant lists are examples of security features.
Capacity for recording
Meetings are frequently recorded for future consumption or to be shared with others who were unable to attend.
User-friendliness
Since the people who will be utilizing your conference call service are likely to have a wide range of technological skills and knowledge, you'll want software that is easy to use and intuitive.
Conclusion
Every organization needs conference call tools for a variety of reasons, including client interaction, onboarding, and training.
Nextiva is the top option if you require a business phone solution to handle your audio conference calls.
RingCentral is the ideal conferencing call platform if you want an all-in-one solution for video and phone conferencing.
Zoom is the ideal standalone video conferencing solution since it permits you to add additional people without compromising the quality.
If you want an all-free solution that still delivers the needed result of hosting a conference call with a large group of participants, then Skype is where you should turn to.
Thanks for reading.
Ready to get started with Nextiva?
To start a conference call with Nextiva, click the button below.