The high-quality sounds you hear in blockbuster movies and chart-topping music would not be possible without the best audio editing software.
Audio editing software can help you turn your imaginative sounds into reality. These software are applicable to movies, music, and podcasts.
Are you looking for the best audio editing software? You are in the right place. This post is everything you need if you want to edit the next blockbuster video, chart-topping music, or viral audio.
In this article, I've compiled a list of eight of the best audio editing tools that you can use for your next project, regardless of the device you're using.
Let's get started.
Quick review
Audacity – My top pick for the best audio editing software
Ocenaudio – Best audio editing alternative to Audacity
Adobe Audition – Best audio editor for studio professionals
FL Studio – Best audio editing software for DJs and remote music producers
WavePad – Best audio editing software beginners
Avid Pro Tools – Best audio editing alternative to Logic Pro X
Logic Pro X – Best audio editing software for Apple users
Cubase – Best audio editing software with the most robust features
Best Audio Editing Software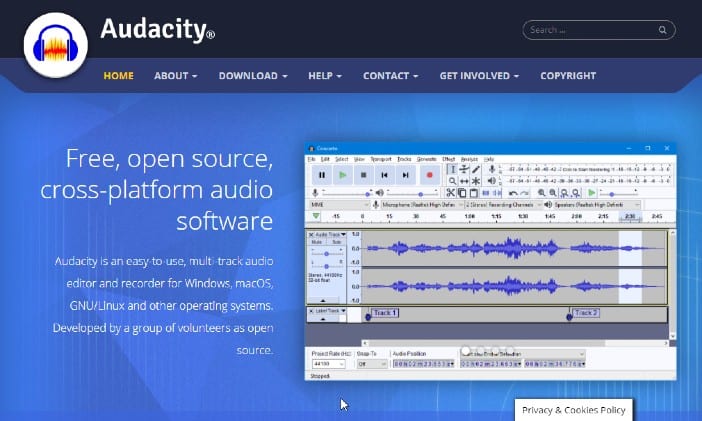 Due to its full-featured software with multi-track editing tools and cross-platform compatibility for Linux, macOS, and Windows, Audacity is our choice for the best overall audio editing software. It's ideal for audio editing projects of all kinds, including podcasts.
The best part? It's completely free. This makes it ideal for beginners and people who like to work from home. But don't let the price fool you. It's ideal for business requirements, especially if you customize your interface with plugins tailored to your individual projects.
Audacity is a free and open-source audio editor. The Audacity project is open to any volunteer developers.
It provides the essential tools for audio editing, as well as a respectable range of effects, and its user interface is simple to grasp.
Add effects, modify pre-recorded files, capture fresh sounds, and listen to podcasts with this audio editor.
It's great for whipping up a podcast or conducting a short edit on a piece of audio, and while you'd be better off having a more powerful program on hand for bigger work, Audacity is always handy.
When compared to some of its competitors, it has a basic and slightly clumsy UI. You can't simultaneously record numerous audio sources or make non-destructive modifications. We may overlook the drawbacks because it comes without a price tag.
Pros
It is entirely free to use
You can convert recordings from different media to digital format
There are numerous editing choices for sound effects, speech, and music track reduction
Using a mixer or a microphone, record live audio
It supports Multitrack audio and bulk processing
Combine audio files and save the recording in a variety of formats
Cons
The user interface is a bit dated
To use the most advanced features, you'll need to buy some premium plugins
Pricing
Audacity is absolutely free to use because it is open-source software.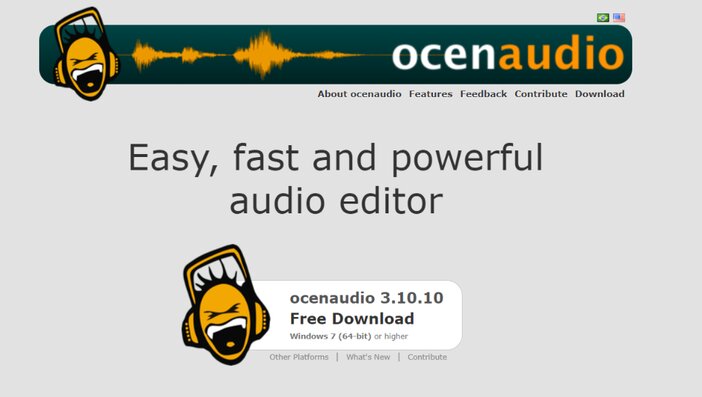 Ocenaudio is a simple, fast, and efficient audio editing program that you can use on a daily basis. It has a simple user interface and gives you a real-time display of effects so you can get audio editing done quickly.
It is a good free audio editor to consider installing if you find the Audacity interface a little overwhelming but don't want to sacrifice any capabilities. Apple, Windows, and Linux devices are all compatible with this open-source platform.
The keyboard shortcuts in Ocenaudio help you edit faster and more efficiently. Aside from that, it works with files on your local machine as well as ones in the cloud.
Ocenaudio contains a range of effects as well as support for VST plugins, in addition to basic cutting and clipboard operations (and AU plugins on a Mac).
Filters, simple noise reduction operations, time, a 31-band equalizer, and pitch adjustment are all included. To have rapid access to features like copy, cut, and delete, as well as to get accurate timecodes, highlight audio.
Ocenaudio stands out among free audio editors since it allows you to preview effects in real-time. Most tools need you to edit "destructively," which implies making changes to the original audio file.
Ocenaudio can deal with files stored on your local PC as well as those hosted on cloud servers. Although some users find the UI to be a touch minimal, the majority of users enjoy the clean and colorful design.
If you plan to edit regularly, it's a good idea to know some of Ocenaudio's built-in keyboard shortcuts, which will make your job much faster.
See Also: 8 Tips on How to Make Money with Your Voice
Pros
You can save time by simply copying and pasting audio segments
The design is simple and bright
For better organizing, you can convert segments of the audio file into labeled 'regions'
Its filters make it simple to achieve the appropriate voice modulation
Cons
Only supports single stereo/mono files
Pricing
Ocenaudio is absolutely free to use because it is open-source software.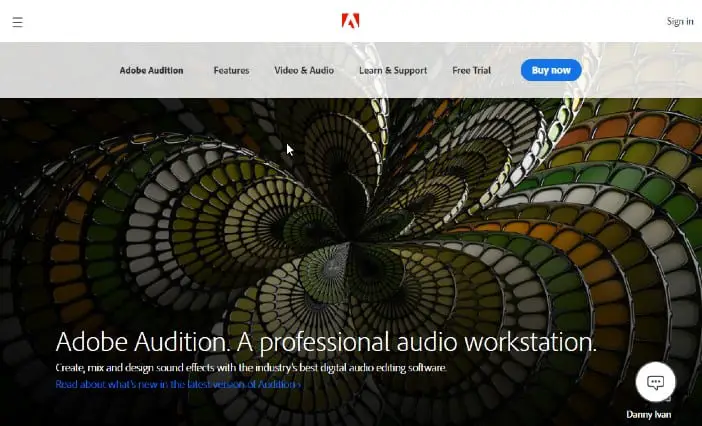 Anything from Adobe is likely to be fantastic, and Adobe Audition is no exception. By cleaning, mixing, and practically fine-tuning your raw audios, you may turn them into flawless sound while maintaining a fluid workflow.
Even if you're not a pro at what you do, their spectral display and crucial sound panel can assist you repair audios and obtaining professional-level quality. Not to mention that you may create audio remixes by reordering the songs to fit any length of time.
While it isn't inexpensive, it comes with tools for reducing background noise, mixing and mastering tracks, and adding effects to make your music stand out.
This tool allows you to record numerous sources on distinct tracks at the same time. It also makes post-production tasks such as editing and effects processing easier. Vloggers, podcasters, and anyone crossing the amateur-professional border will love it.
Audio restoration capabilities in Audition make it simple to repair damaged or ancient recordings. This is quite easy to use; simply highlight the objectionable sounds, press a button, and Audition will remove them from the rest of the audio.
When Audition restores badly recorded audio, it has no detrimental impact on the original material, which is a huge bonus.
Adobe Audition is designed for a variety of audio applications, including podcasts, which require extremely precise sound nowadays. As a result, you can see how good your altered audios will sound with this software.
See Also: 10 Best Podcast Hosting Sites – Which Should You Join?
Pros
It supports external equipment, such as audio interfaces or mixers for better output
Compression and mixing tools with a lot of punch
It allows you to edit in both Multitrack and Waveform modes
Effects and editing of the highest quality
Capture sound from several microphones and mix or alter sounds from various speakers with ease
You can get professional help if you need assistance
It's a good fit for folks who want to edit voice-overs or audio for videos
Cons
It requires you to subscribe after your free trial
It's not a good fit for folks who want to make music
Beginner audio editors will find it more difficult to utilize
Pricing
Although Adobe Audition isn't free audio software, you may test it out for 7 days for free. You'll gain access to all of the Audition's latest features and updates.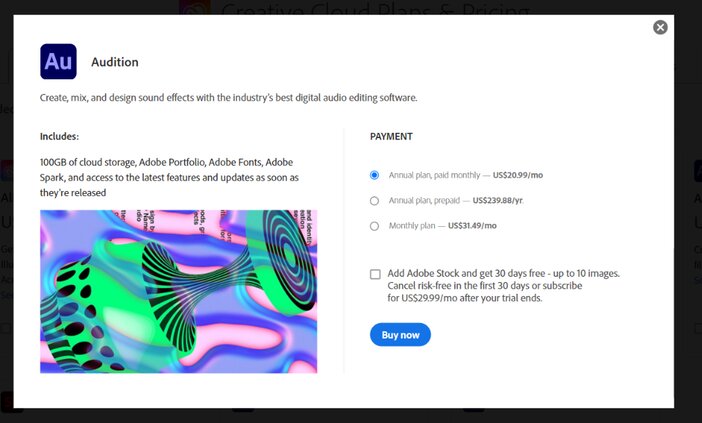 Standard pricing is $20.99 per month when purchased separately, or $52.99 when purchased in conjunction with other Adobe Creative Cloud products. Creative Cloud is available for $19.99 a month for students and instructors.
Since it's Adobe, expect high prices. However, given the number of capabilities included in this sound editing program, it's an investment you won't be sorry to make.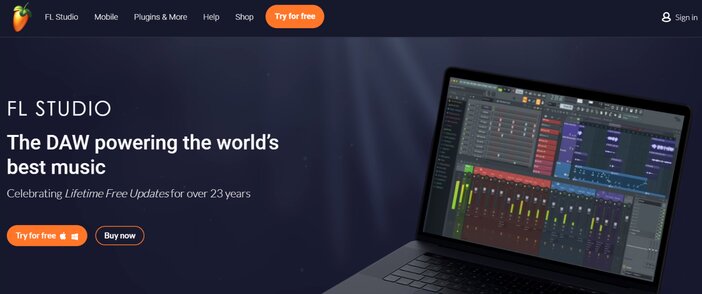 FL Studio is a widely known audio editing software for consumers who desire a single solution to handle all of their music production needs. Despite its sophisticated layout, its images are clear and easy to read. It also has a completely scalable user interface that works with a variety of display formats.
It's also receptive to multitouch motions, which is unusual. Your PC, however, would require a touch-screen monitor. You may also use it as a live entertainment mixing board by simultaneously shifting numerous faders.
It's the best music editing program for mobile artists and producers, with support for Windows, Mac, Android, and iOS.
You will get all future updates for free when you purchase any edition of FL Studio. It's a fantastic price, especially considering that most other pro audio editing software has a hefty upgrade fee. It's really cool.
You can also use it to create tracks from a variety of basic templates, including the Channel Rack. Automatically applying the limiter to the master bus might also result in booming mixes.
Pros
It's packed with features
You can immediately render 4K visualizer videos
Not only for audio editing but also for music production
It's outfitted with live DJ controls
VST support means you can use any third-party plugin
It supports both Windows and Apple's Mac OS X
Cons
The user interface isn't the best
To begin with, it can be a little intimidating
Pricing
Each of FL Studio's four pricing tiers can be purchased as a one-time payment. Check out how much each plan costs and what it includes for a comparison.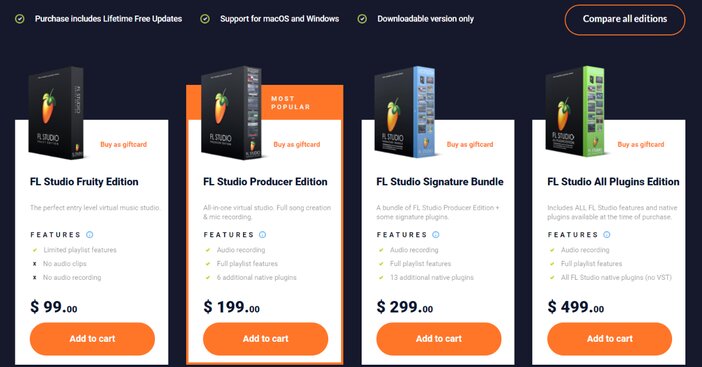 Fruity – $99: This includes 82 instruments and effects
Producer – $199: This unlocks 86 instruments and effects
Signature – $299: Get access to 92 instruments and effects with this package
All Plugins – $499: Includes 102 instruments and effects
Sound Libraries, a MIDI Sequencer, and Lifetime Free Updates are included in all plans. The number of effects, virtual instruments, and audio editors available makes a difference.
Among the four packages, the Producer is the most popular. It's appropriate for both novice and experienced users, making it the greatest sound editing option for aspiring musicians and producers.
This audio editing software is a little older, but it's still really handy. The UI isn't as slick as some of the other editors on this list, but it more than makes up for it in features.
It's simple to set up and use. Noise reduction, compression, and reverb are just a few of the integrated effects. For more skilled users, there are numerous excellent analytic tools.
It can trim, chop, amplify, copy, split, equalize, and normalize your audio tracks in seconds and supports all major audio formats. There are also choices for reducing noise and gaining access to advanced tools such as spectrum analysis, which provides a more complete perspective of your audio frequencies.
If you're someone who creates a lot of soundtracks or other audio and wants to save time editing it, you can use their batch processing tool to edit everything at once. It's ideal for folks who are pressed for time and need something quick.
WavePad is a limited-featured app that you can download for free on Mac, Windows, Android, iOS, and Chromebook. To fully utilize the capabilities of this software, you must purchase the commercial edition, which, in my opinion, is well worth the money.
This free audio editor is similar to Ocenaudio in that it is relatively simple to learn and use, but it has a few extra functions. Audio Units, an industry equivalent to VST plugins, can be used to expand it practically indefinitely.
Pros
There are a lot of features in the free edition
Beginners and amateurs will find it simple to use
Professionals can get a full-featured app for a low price
Cons
Cutting-edge features aren't present
The Mac version of the software isn't as well-optimized as the Windows version
Pricing
WavePad is a free audio editor available for Windows, Mac, iOS, and Android. Here are the premium versions if you want extra features: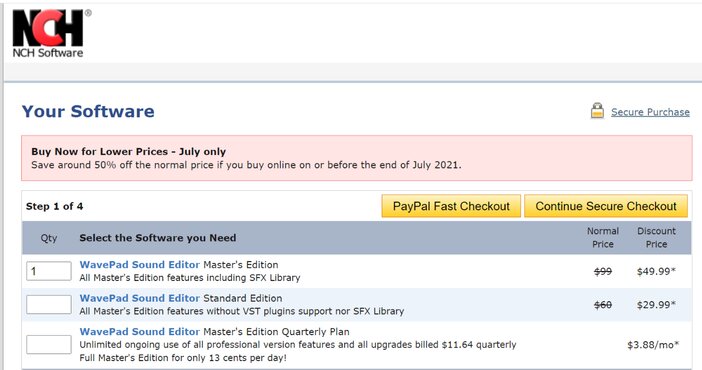 The Standard Edition: This costs $29.99, provides all of the essential features
Master's Edition: This costs $49.99 and comes with VST plugin compatibility and an SFX library
If you're working on personal projects, the lite version's tools will suffice. However, if you want to use them for commercial purposes, you'll have to purchase the software to get a license.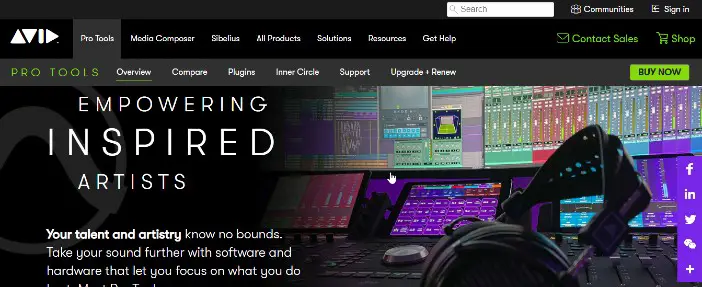 Avid Pro Tools is a high-end digital audio workstation for movies, music, gaming, and other forms of media. Pro Tools, like Adobe Audition, allow you to record multitrack audio.
To begin composing music, set up an input source, connect an audio interface, or use the app's virtual instruments. There are both free and paid audio plugins available in Pro Tools for Mac and Windows, giving you access to additional audio resources.
Everything about it is designed for mixing, organizing, and mastering high-quality audio for broadcast, music, and film, and Avid Pro Tools is the way to go if you want the greatest sound from your cut.
However, while audio pros love it, Avid Pro Tools is almost probably more than you need if you're looking for audio editing software, and it can be difficult to wrap your head around the workflow if you don't have a history in audio production.
It also allows you to discover the music of dedicated musicians and collaborate with them, thanks to an ever-growing ecosystem of music creators.
Furthermore, Pro Tool gives you the option of having your songs played on major music-streaming services like Apple Music, Spotify, Pandora, and others.
It includes a free audio editor called Pro Tool First, which is aimed at inexperienced musicians and producers. More advanced functions are available in the premium editions.
Pros
Recording and mixing engine with 64-bit speed
It includes UVI Falcon 2, a powerful virtual instrument
Use the cloud-based collaboration feature to collaborate with up to ten people on the same project
Folders that can be collapsed
There are almost 750 voice audio tracks available
Import sessions created with other audio editing software with ease
Cons
There is no built-in pitch adjustment
To fully comprehend its properties and interphase, there is a learning curve
It doesn't support VST or AU plug-ins
There is no instrument track presets included
Pricing
As previously said, this sound editing program is available for free. You can use it for as long as you want because it isn't time-limited. The premium versions come with a 30-day free trial that allows you to try out all of the features.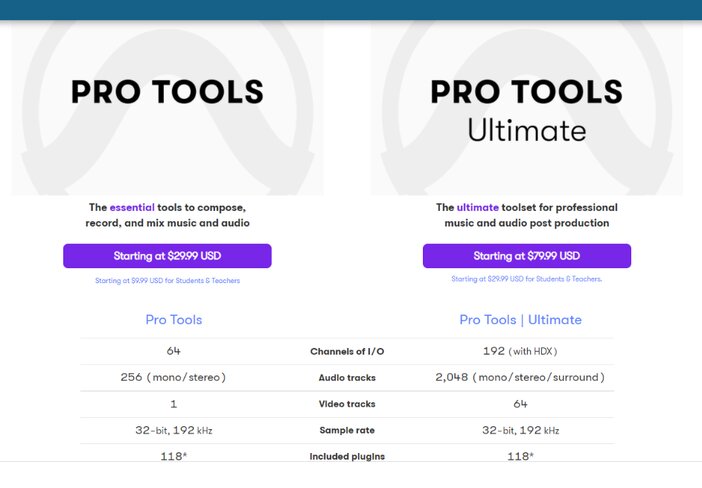 Pro Tools First — it's free
$29.99/month for Pro Tools
$79.99/month for Pro Tools Ultimate
However, be aware. These paid monthly options are only available for a one-year membership. The prices are a tad more if you don't want to be locked in.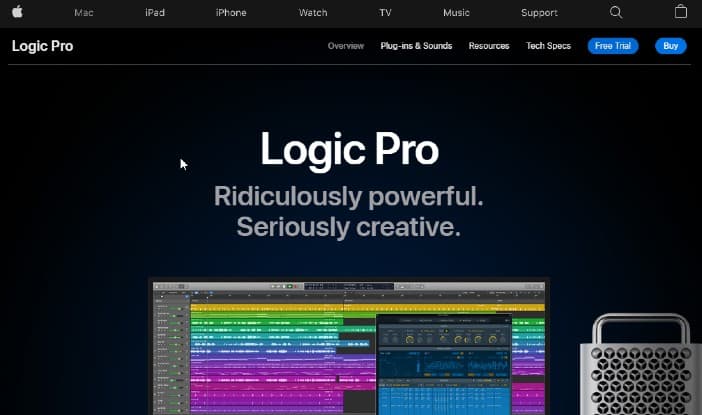 Apple's pro audio editor Logic Pro is best designed for music. It has a wide choice of plugins as well as several functions.
Apple's Logic Pro allows you to use some of the most cutting-edge audio production and editing techniques. You may quickly compose drum rhythms, melodic patterns, and convert sounds into instruments using their Sampler, Step Sequencer, and Quick Sampler tools.
This DAW has a lot of capabilities and can be expanded to include a lot of different effects, plug-ins, and sounds. Logic Pro X gives the tools you need to create a high-quality recording from scratch, whether you're a DJ working on a remix or want to create a high-quality recording from scratch.
You may edit sound on the go using this low-latency tool. You'll get accessibility to dozens of plug-ins, including 70 effects and 24 instruments, once you've installed it. The software includes over 10,000 preset loops, samplers, and drum kits instruments.
There's so much in Logic Pro X that it's unlikely that one individual will use it all, but it covers almost every audio editing and mixing necessity.
Set up your Logic Remote to get the most out of Multi-Touch. If you have an iPhone or iPad, you can utilize them to control the Logic Pro workstation through your Mac.
This, in true Apple manner, takes a pre-existing utility and renders it more minimalist and hence easier to use. It also manages to do it while undercutting the industry's main players on pricing.
Pros
On a Mac, it works flawlessly
You may easily hide icons and handles using this powerful tool
It includes a lot of features and a lot of plugins
If necessary, you can also have control over individual notes
Its superior recording techniques might assist you in efficiently compiling your audio files
There are a lot of tutorials on this site
Cons
Only for Mac users
At $199, it's quite pricey
The software is more suitable for professionals. So, beginners may find it difficult to use.
Pricing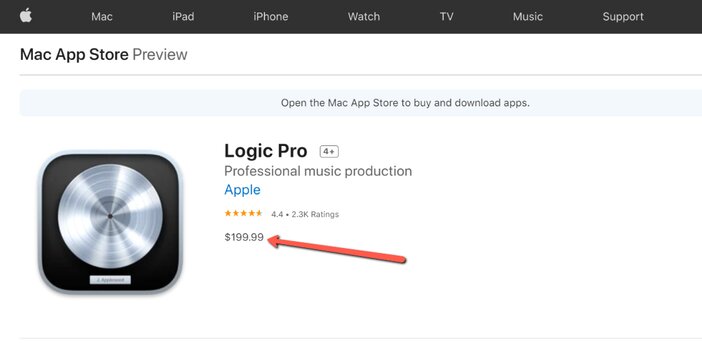 Logic Pro X is available for $199 as a one-time purchase. While some may consider this to be pricey, it represents a far better bargain than a subscription approach, especially given the DAW's quality. You'll have access to the program and any upgrades for the rest of your life.
Apple also provides a 90-day free trial, which is more than enough time to familiarize yourself with all of the program's features and tools.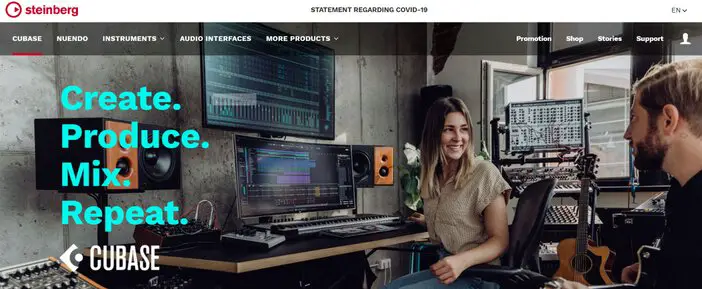 For those who desire to mix, create, and produce music, Steinberg Cubase is a robust audio editing software. It can help you reach your full creative potential, whether you're a novice or a seasoned composer/producer.
This software is quick, adaptable, and user-friendly, and it works with virtually any genre.
When it comes to features, Cubase has a lot of them as well. There's a frequency equalization that enables you to make extremely fine frequency tweaks to your recordings, as well as an Auto-Pan function that helps you experiment with your tracks rapidly.
You can use product tracks from beginning to end without burning a sweat because Cubase is intuitive and understands what a typical user behind the screen wants to do.
Additionally, if you utilize plug-ins, Cubase's Plugin Sentinel will scan them to guarantee that they are genuine and will not harm your system. Audio-ins is another tool that allows you to utilize filters and effects independently on your audio tracks.
You can choose from a variety of software packages based on your needs and budget. But first, take advantage of the free trial to see what's waiting for you.
Pros
It has a plethora of amazing features
Both macOS and Windows versions are available
Has a frequency equalizer for fine-tuning adjustments
It's an easy-to-use tool with superb audio quality
Plugin Sentinel ensures your system's security
Cons
The software isn't as feature-rich as other tools, and it frequently falls behind in terms of regular upgrades
This is not software for novices
The need for an eLicenser USB dongle is a significant disadvantage of Steinberg's copy-protection technology
Pricing
Cubase offers a 30-day free trial, which is enough time to try out the service's features and capabilities.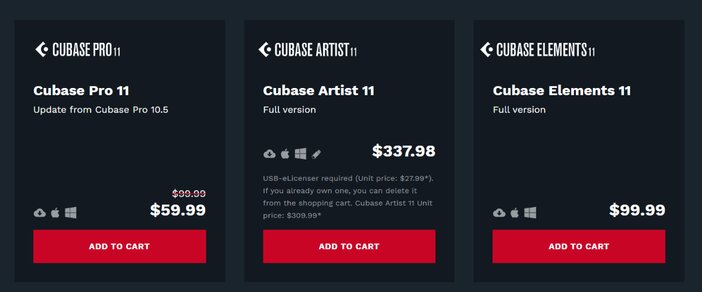 Cubase's pricing structure is divided into three categories:
Cubase Pro is available for €59.99
The Cubase Artist is priced at €331.99
Cubase Elements is available for €99.99
FAQs
1. What is Audio Editing Software?
You'll need a tool to handle all of these post-production activities, from altering audio to changing the length. Not only that, but you'll also need to make other versions, such as looping, mixing numerous tracks, and so on.
Here's when audio editing software comes in handy. To put things in perspective, even a simple audio track requires the use of an audio editing application.
Decent audio editing software can also assist you in recording from many microphones, editing it as needed, and converting the audio to the desired format.
2. Is there a Mac-like audio editor in Windows 10?
No.
Windows, unlike Mac, does not include a capable built-in audio editor. Audacity is the most popular audio editing software on Windows. It's a free and open-source tool with a lot of functionality and is surprisingly simple to use.
You can also use WavePad, which is a free application with a vast number of functions. Even for beginners, the commercial edition of the application is reasonably priced.
Conclusion
I am confident that after reviewing the list of the best audio editing software in this post, you will be able to decide which one to use.
To put things in perspective, Audible is the way to go if you want a completely free audio editing program. However, if you're on a low budget but still want the best features that a competent audio editing program can offer, Adobe Audition is your best option.
Should you, on the other hand, plan to make beats? There's no need to look any further than FL Studio. What about the people who have money to spend? Apple's Logic Pro X comes highly recommended.
Please keep in mind that these suggestions are based only on my professional experience and significant research; you should still carefully study all of the contributions in this post before making your final decision.
Tosinajy educates you on how to make money online, the tools you need, and solutions to common issues you may encounter. Thanks for reading.