Manual cash registers are a thing of the past. Modern POS systems are versatile and come with a plethora of useful functions.
And besides, you want the consumer to profit from the transaction while also making things as simple as possible for your company.
Managing multichannel inventory, transferring credit card details across different platforms, and maintaining your records for tax moments are all issues that come with running a small business and several retail locations.
If you don't have all of the necessary skills or time to handle all of these, a POS system can help.
I've compiled a list of the best POS systems software that may help you automate your selling process, regardless of the type or size of your company.
Let's get started…
Quick Review
Best POS Systems Software for Small Business
Listed below are the best POS systems software for small businesses that you can deploy today in your business that will ease how you handle payments for your small business.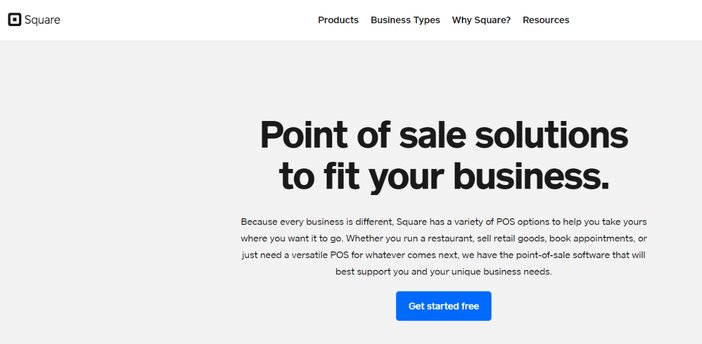 Square is the best POS solution for small business owners in my opinion. It's free to get started, simple to use, and packed with useful features. These advantages make Square an excellent choice for small business owners who require basic yet powerful functionality right away.
This is a popular payment method among mobile enterprises such as retail stores, food trucks, and boutiques. To give your business an extra push, combine the Square POS and mPOS systems for an all-in-one platform for receiving payments.
Square's credit card scanners and point-of-sale mobile app, which is compatible with most Android and Apple devices, make it simple to accept client payments; many Square customers, for example, run their businesses on iPads.
Customized receipts can be sent through email or printed using a receipt printer. In addition, Square's point-of-sale software allows you to keep track of open tabs, divide checks, and track your inventory in real-time.
With the Square Reader for magstripe, you can transform your smartphone into a POS system and start receiving payments on the go.
Square is a popular choice among small business owners because of its adaptability. You won't need to incorporate a third-party service to accept payments because Square functions as a credit card processor.
Square POS software pricing is transparent. The POS software is absolutely free to download and use. There will be no hidden prices or monthly fees. The transaction rate is your only expense, regardless of how many sales you handle.
If you're on a tight budget or aren't sure if you really need point-of-sale software in the first place, Square POS is a good option.
Pros
You must go through a simple basic setup procedure
Customers may calculate and add tipping to restaurants with a single click
You can also use the app store, which has a large number of third-party programs
It is a cloud-based service
Suitable for the majority of small and mid-sized businesses
Provides detailed reports and statistics
Provides secure payment hardware
Has a mobile app that is compatible with Android and Apple iOS devices
Cons
Inventory control is limited
It's possible that a payment hold will occur
This product is not suitable for high-risk businesses
The customer service procedure can be improved
Phone support is limited
Pricing
Square is a free point-of-sale system. It doesn't require any type of payment to get started.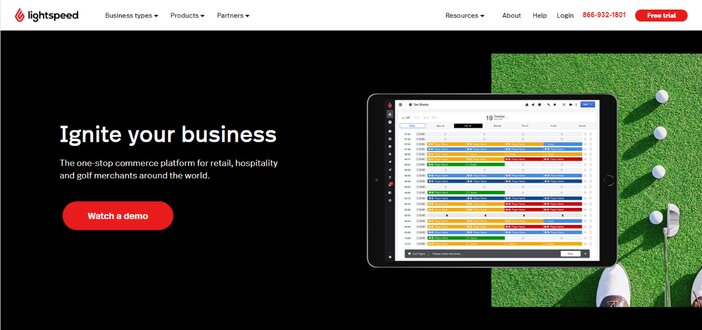 Lightspeed is a well-known POS company based in Montreal. It offers point-of-sale systems to retailers, golf courses, and restaurants.
Since this is a discussion about the best POS systems software for small businesses, I've chosen to focus on Lightspeed Retail's offerings.
Lightspeed Retail is a cloud-based POS technology for online businesses that is simple to use. Inventory management, ordering, and billing tools quoting, as well as timesheet and reporting capabilities, are all included.
You may use Lightspeed Retail to keep track of all your inventory across many locations, assign serial numbers to your products, and do multi-channel data analysis. Not only can internet firms manage their online inventory, but they can also manage their on-site inventory.
Lightspeed Retail integrates with a variety of applications and business systems, including Facebook, MailSync, WooCommerce, Nimble Schedule, and AppCard.
A free trial is available from Lightspeed Retail. It also provides a $69 per month and per store basic plan that is payable annually.
The ability to integrate your accounting software begins with the Standard plan, while ecommerce integration begins with the Starter package.
You'll need to pay for the Advanced subscription if you want to run customer loyalty programs. Lightspeed Pro is the only way to get analytics.
For $29 per month, each additional register can be added. Lightspeed can also be used as a payment processor. They charge a transaction fee of 2.6 percent plus $0.10.
Lightspeed's major flaw is that it lacks the number of payment processing integrations that some of the other solutions on this list do. This could be done on purpose to get you to utilize their processing system.
Pros
Restaurants have their own app that is tailored to their needs
The systems fully integrates inventory management, purchase order management, staff management, and customer relationship management functionalities
It can be used to create bids, estimates, and service and maintenance orders, among other things
Real-time analytic reports are available
Gift cards, cash, debit, credit, checks, and shop credit are all accepted methods of payment
There is also a smartphone application available
Receipts can be emailed or printed
It comes with a 14-day trial period and does not require a credit card
Cons
There aren't many payment processing interfaces to choose from
You must use Lightspeed's recommended processors for credit card processing, which is not covered in the pricing
Designed for retailers selling products with barcodes and SKUs, rather than services or non-standard inventories
The first setup is a little more difficult than with comparable solutions
You may find it difficult to work with several aspects if you are a newbie
Pricing
Depending on the scale of your company, you can choose from five distinct price points: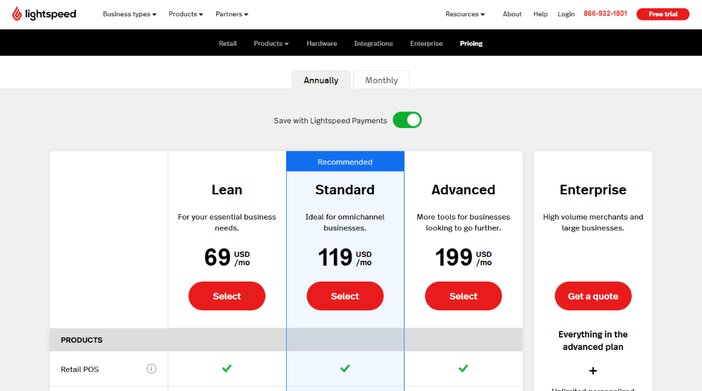 The cost per month starts at $99 and goes up to $229 a month. You also receive a 14-day free trial without having to share your credit card information.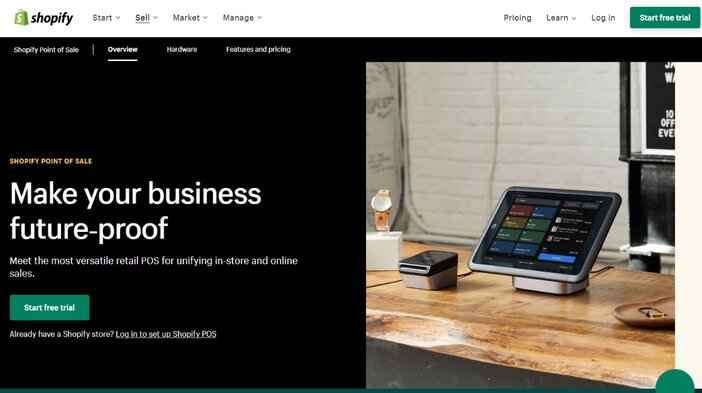 Shopify is one of the most popular ecommerce systems today. If you already use Shopify for your online store, you should also use Shopify POS. This will allow for smooth integration and the operation of your two systems as a single unit.
For online and in-person sales, your inventory is updated and controlled in real-time across different locations. You may also use Shopify to coordinate transfers among locations and forecast inventories.
With customer loyalty profiles and tools, Shopify makes it simple to construct customer loyalty programs.
You may also accept payments anywhere in the store using Shopify POS. That implies there will be no long lines.
The monthly pricing of your Shopify plan includes Shopify POS for free. The processing fees are the only additional costs.
Pros
Designed with merchants in mind
Online and in-person sales are synced
Plans that are month-to-month and do not require a long-term commitment
No credit card is required for a 14-day free trial
Cons
To handle credit cards, you'll need an internet connection
There isn't a subscription-free option
Basic plan reporting is limited
The functionalities of a free POS app are limited
Additional charges for utilizing third-party payment services
A subscription to an ecommerce site is required
Pricing
The monthly pricing of your Shopify plan includes Shopify POS for free. The processing fees are the only additional costs.
Basic Shopify – costs $29 per month and includes 2.7 percent commission for in-person purchases as well as two staff accounts.
Shopify – $79 per month includes 5 employee accounts, unlimited staff POS PINs, 2.5 percent commission on in-person sales, and 1-5 retail locations.
Advanced Shopify – $299 per month: Includes 15 employee accounts, 2.4 percent commission on in-person purchases, unlimited staff POS PINs, and up to 8 retail locations.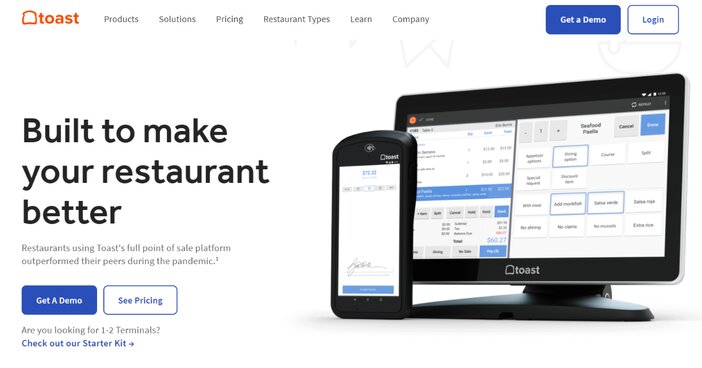 Toast POS is a point-of-sale system created specifically for restaurants in the United States. It enables customers to effortlessly and conveniently keep their accounts up to date by providing useful features and alternatives that they may utilize to improve customer satisfaction.
You can use this program to manage restaurant reservations, inventory, and internet ordering all in one place. The main benefit is that Toast POS can help you improve your business by conserving time and boosting your organizing skills.
You may deliver high-quality services while also ensuring that they are cross-checked via order tracking and data reporting. Toast has extra tools to make your selling operation even easier and more efficient.
Online order is now feasible with the system, which is a certain method to cut costs while increasing revenue. Customers can also use kiosks to make payments, allowing them to skip long lines and choose their chosen method of payment.
With a function called "pay at the table," printing or sending receipts, and tipping waiters directly from the tablets, payments are made easier for both restaurant owners and their customers.
Customers can also convert their cash into loyalty points, which they can use on future visits. Toast POS also keeps track of menu sales in real-time and provides detailed reporting on product offerings across all menus.
Pros
Has a no-cost plan
A one-time processing fee
It's a management program that runs on the cloud
Provides in-depth reports that reveal the most selling items in your store
Depending on the type of restaurant you own, you have a lot of customization possibilities
Cons
With add-ons, it may get pricey
It's solely for Android; it's not compatible with Apple's iOS
There is no free trial available
A limited free plan is available
Pricing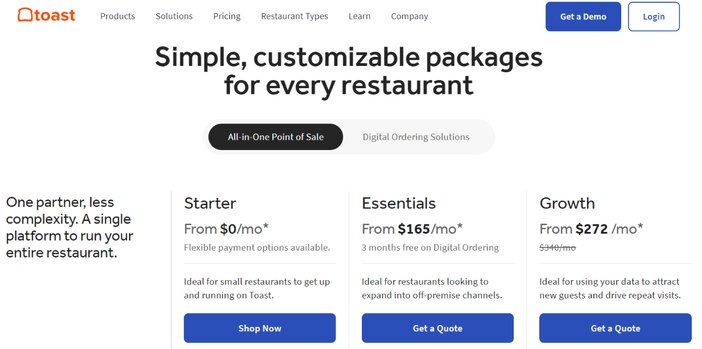 Starter – $0/mo
Essentials – $165/mo
Growth – $272 /mo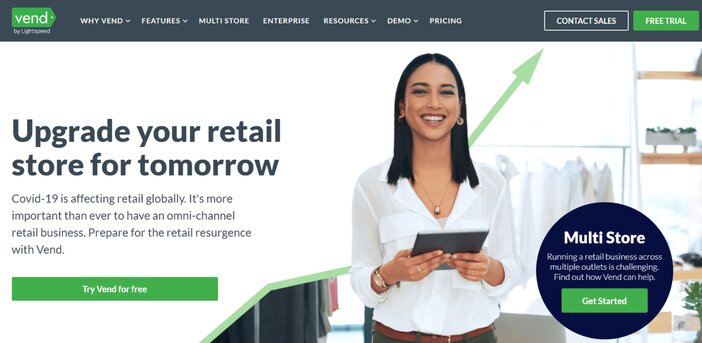 Vend, unlike many other POS solutions in the marketplace today, is a cloud-only POS solution. They don't offer any on-site server setup, which is wonderful for small businesses, but it's a bit restricting for larger businesses.
The benefit here is the consistency across platforms. Irrespective of the hardware you're using, the application looks the same on the front end.
When compared to the other POS options on this list, Vend is a little different. They don't sell or process payments, and they don't market any hardware.
You'll have to rely on Vend to connect with third-party services for things like payment processing and other requirements. However, the software's simplicity is a plus.
Vend is a platform for small businesses. It isn't intended for use in bars, restaurants, or food trucks.
The product's intuitiveness and modern, clear design are two of its most notable aspects. Furthermore, it is not simply a web-based system but also includes an easy-to-use iPad application.
Pros
There are no product limitations
Doesn't require internet access
The user interface is simple
Cons
The Lite plan has a limit of $20,000 in turnover
When you add more registers, it becomes more expensive
Pricing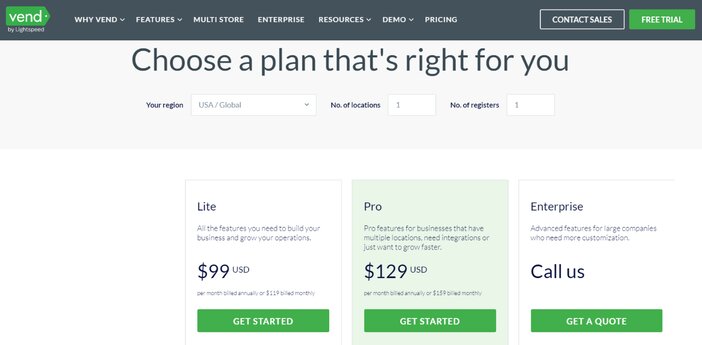 Lite: This edition includes all standard features and small business statistics for $99 if paid annually or $119 if paid monthly.
Pro: Advanced analytics, e-commerce tools, and gift card features are available for $129 per month if paid annually, or $159 if paid monthly.
Enterprise: To obtain an estimate for a customized package that includes premium API access, a dedicated account manager, and an onboarding program, call sales.
The Lite plan has a monthly turnover cap of $20,000 per month. You'll be elevated to the Pro plan if you go above this limit three times in a 12-month period.
There is only one register in both Lite and Pro. Additional registers are $59 per month on a monthly basis or $49 per month on an annual basis.
Vend Pro includes extensive analytics and reporting, promotions, ecommerce platforms, multi-outlet retail management, and API access.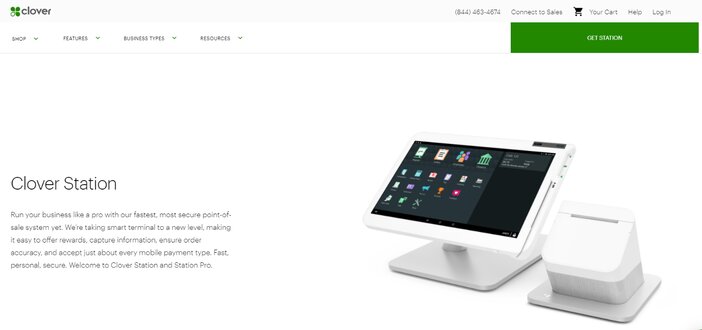 Clover is a one-of-a-kind POS solution for small businesses that are mobile, modern, and distinctively designed.
Clover's software is equally adaptable, allowing you to pick and select features from a large app store to design a system that's exactly fitted to your needs, whether you run a retail, fast food, full-service restaurant, or service sector business.
Its clean, basic approach is great for a company that prioritizes ease of use and simplicity. You can get up and running in minutes after purchasing your Clover system – you'll get your entire hardware setup as a bundle, replete with integrated software apps.
Clover's only drawback is that all systems come with a First Data merchant account, which limits your processor options.
Clover offers flat-rate pricing and no long-term requirements, but there is also a slew of Clover/First Data resellers, each with its own pricing and service contracts.
I recommend purchasing your equipment directly from Clover or from a Clover reseller who has been recommended by Clover.
The Clover Station is a good alternative if you are a medium-sized business that wants to start selling your product right now. Clover appears to be a great POS system at first appearance, as it is customizable, feature-rich, and functional.
Meanwhile, the company's processing and customer support concerns persist, and Clover has been slow to fix them. Feedback from customers hasn't improved greatly over the years.
Clover is also not a cheap device, as it usually demands some significant upfront hardware investments. Clover's real software and functionality, on the other hand, have very few flaws.
Pros
All-in-one, plug-and-play POS
Exceptionally adaptable
Monthly rates that are affordable
The product is simple to operate
Access to the Clover App Market, where you may download a variety of third-party apps
Provides multi-layered protection to help safeguard your information
Free trial for 30 days
Cons
The pricing structure is perplexing
It's impossible to separate POS from payment processing
Pricing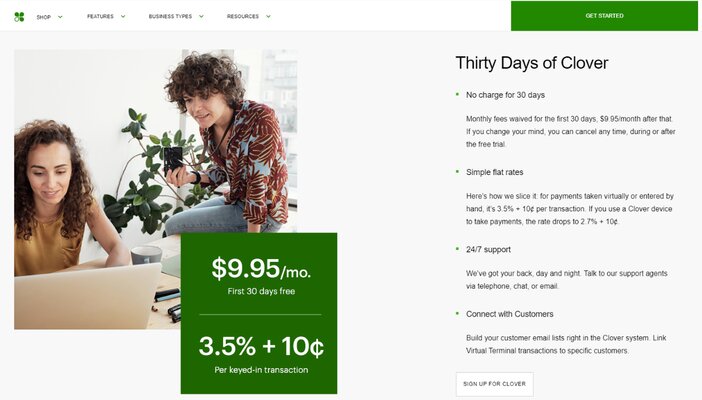 Clover's cost starts at a jaw-droppingly cheap $9.95 per month. You also have 30 days to try it out before being charged.
FAQs
1. What is a POS system, and how does it work?
A POS system is the hardware and software that enables a company to accept payments for goods and services from customers. The point-of-sale refers to the physical location where the transaction takes place.
POS systems used to be physical cash registers that only took cash, checks, and credit cards. This category includes receipt printers, cash drawers, barcode scanners, and other gadgets.
Recent mobile point-of-sale (mPOS) software and credit card scanners enable businesses to handle consumer payments from practically anywhere using mobile devices such as iPads.
Furthermore, many POS systems can accept practically any sort of transaction, including contactless purchases such as Apple Pay and Google Pay.
More than merely processing payments is now possible with POS systems. Many products, including those we've examined here, function as vital company hubs, handling everything from inventory, customer, and personnel administration to accounting, payroll, and shipping.
2. What are the different types of point-of-sale systems?
a. POS (Point of Sale)
Devices are connected by hardware connections in this old method of POS. Large companies prefer the traditional POS systems because they are well-established, trustworthy, and possibly more robust.
These kinds of companies include convenience stores, grocery stores, specialized stores, and others.
b. Wireless Point-of-Sale
A wireless POS system comprises a networked base station and a number of wireless portable devices that essentially bring the counter to the client.
Boutiques, coffee shops, delivery services, restaurants, and other businesses favor wireless POS because it saves space and allows employees to collect payments from anywhere.
c. Mobile Point-of-Sale
Attaching card swipers to tablets and smartphones and integrating them to cloud-based software transforms them into POS terminals. Mobile POS is less expensive to set up and more adaptable. It's ideal for food trucks, vendors, pop-up stores, and trade events, among other things.
3. What should I look for in a POS system?
What makes a good point-of-sale system? When you're weighing your alternatives, there are a few things to keep in mind.
i. Processing of payments
Your POS system must first and foremost process payments. Some choices include payment processors built-in, while others require third-party connectivity.
If you don't want to switch payment processors, make sure to get a POS system that can work with them.
ii. Capabilities in ecommerce
You should seek a POS system that interfaces with your ecommerce business if you sell online or want to sell online. Otherwise, factors like inventory management may become difficult.
I'd suggest an all-in-one platform like Shopify to those of you who are currently selling in-store but want to expand into the ecommerce sector. With any Shopify package, you get Shopify POS for free.
iii. Your financial plan
Whether you're a tiny business or a major corporation, you'll need to budget for technological integration. If you know you'll be using the technology for a long time, search for yearly subscriptions to take advantage of additional savings.
Also, look for a program that allows you to see the pricing in real-time. You should think about it if you want to develop trust in the product. If any red flags appear, it's best to move on to another choice.
iv. Setup and usability
The best point-of-sale systems are easy to set up. Some don't even necessitate the purchase of any gear. It's as simple as downloading and installing software on your own computer.
Other alternatives need you to buy hardware from them directly. These settings are typically more difficult, but not always complex.
Once your POS system is up and running, it's vital that your employees find it simple to use. If you work in the restaurant or retail industry, you probably have a lot of part-time employees and a lot of turnovers. As a result, POS software training and daily use must be as simple as feasible.
v. Hardware
When purchasing POS software, do you want to use your own gear or acquire equipment?
This decision is influenced by a number of things. One of them could be pricey, but this isn't always the case. Hardware has an impact on usability, as we've already covered.
The nature of your business determines the sort of gear to use. If you manage a coffee shop, for example, you'll most likely want a customer-facing POS machine behind the counter. Other retail locations, on the other hand, may opt for a mobile POS for employees to utilize on the floor.
vi. Reporting analytically
The goal of spending on a POS system is to simplify the sales process.  This software assists you with workforce administration and data management in addition to transaction processing.
If you buy one of these products, seek a reporting option that will help you keep track of everything, including transaction volumes, average sales value, expenses, and so on.
vii. Customer service
It's not like you know everything there is to know about your POS system. That is why you require proper customer service. You may also require assistance with any third-party integration.
Check to see if the system you're considering buying offers 24/7 customer support. It could be by phone, live chat, or email. Also, keep in mind that the assistance is normally provided at no additional expense.
See also: 12 Best CRM Software for Small Business
Conclusion
We've looked at the best POS systems software for small businesses in this post. Choosing the appropriate POS system for your company may save you a lot of time and money, especially when it comes to duties like managing inventory, distribution, and reporting.
Square is a completely free point-of-sale system. It provides data security and fraud protection
Shopify is a point-of-sale system for small to large enterprises that includes features such as product variants support
Vend is an iPad-based point-of-sale system for small to medium-sized enterprises. It offers offline functionality as well as contactless payment capabilities
Even if you simply have a few operations that need to be automated, you may still choose a low-cost POS system that only has the features you need.
Make sure to carefully consider your alternatives and make the best decision possible while maintaining your business in mind.
Tosinajy educates you on how to make money online, the tools you need, and solutions to common issues you may encounter. Thanks for reading.