Are you thinking about learning a new language? There has never been a better moment to learn a new language than now, thanks to technological advancements.
The days of enrolling in classes and purchasing textbooks are long gone. All you require now is a smartphone.
There are a plethora of excellent language learning apps available. The difficult aspect is deciding which app is the best app to learn a language. I scoured the market for the finest language learning applications and screened them down to our top seven picks.
Whatever your language study objectives or learning method, there's an app for you here.
Let's begin…
See Also: 9 Practical Tips on How to Make Money Speaking Another Language
Quick Review
Best App To Learn A Language
It is my belief that as you go through this list, you should be able to find the best language learning app for your needs and style.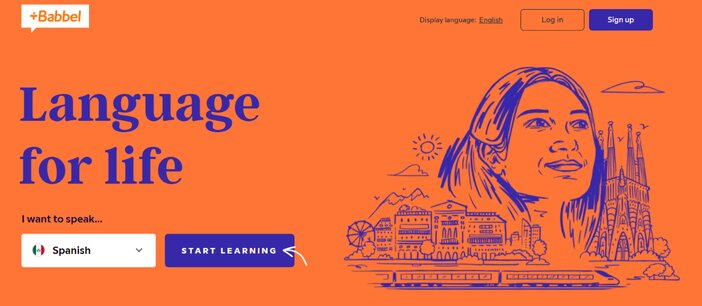 With several online courses and smartphone apps to pick from, we're operating in a perfect period for language learning, but Babbel is the greatest option for many people. It divides lessons into small, readily digestible portions and includes interactive, quiz-like components to keep you engaged.
Each class begins with a step-by-step presentation of vocabulary using illustrations. The words are then used in related sentences and brief dialogues that are customized to the student's skill level. This assists the learner to rapidly develop good conversational skills.
The app contains useful pop-ups that clarify the most significant grammar points linked to the studied material, and the desktop edition includes brief cultural notes. Babbel offers distinct packages for strengthening specific abilities such as grammar and vocabulary, in addition to the overall beginner's courses.
You can focus on strengthening your chosen skills if you previously have some knowledge of speaking a language and recognize where your deficiencies are. On Babbel, you can download your lessons for later study, and the app will deliver helpful reminders to ensure you don't miss a class.
Babbel tailors each set of lessons for the specifics of the language, nation, and culture, rather than delivering generalized lessons that teach the same vocabulary and phrases irrespective of language. 
A paid subscription also offers you accessibility to live classes delivered by real instructors, in addition to the normal lessons you can take via a browser or on a mobile app.
Languages supported include Spanish, English, French, Italian, German, Russian, Brazilian Portuguese, Turkish, Indonesian, Polish, Danish, Dutch, Norwegian, and Swedish.
Pros
Pronunciation aid through interactive interaction
The first lesson is completely free
At first impression, everything appears to be well-designed and professional
Syncs across many devices
Cons
The monthly fees pile up
There isn't a free trial plan accessible
They claim that if you devote 15 minutes of your day to learning a new language, you can become fluent in it. Is it, however, even possible?
Keeping track of your progress is difficult
Lessons can be dull and even boring at times
Less content for languages that aren't well-known
Only a few languages are supported
Pricing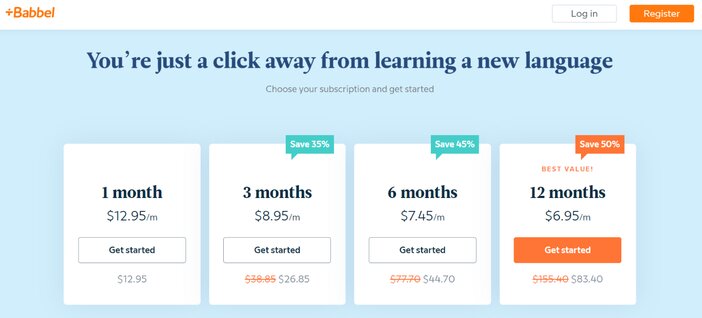 Babbel charges $12.95 per month, $26.85 per three months, $44.70 per six months, and $83.40 per year.
Duolingo was founded in 2012 with the goal of teaching only three languages. There are now over 36 languages available, including fictional languages like Star Trek's Klingon and Game of Thrones' High Valyrian.
You keep "streaks" going by achieving language goals, which motivates you to keep going. You can also compete in leaderboards with other users and connect with friends to support one another, send remarks, and celebrate accomplishments.
The objective of Duolingo is to make high-quality learning free and open to everyone, hence the app's basic version is free. A premium Duolingo Plus service removes advertisements, gives you unlimited hearts, allows you to learn offline, and offers a few other cool benefits.
Duolingo, in my opinion, is an excellent tool for increasing your awareness of a foreign language. It's like having a parent hold your hand while you make your first steps into the world of words. While it's a terrific technique to learn the fundamentals, it falls short when it comes to real-world context learning.
When you're ready to move on, you might want to look for another software that has more practical language applications.
The platform's major flaw is also its greatest strength: it teaches new languages through repetition and memorization instead of explaining how the languages work on a grammatical level. This is why, for a well-rounded education, you should combine the app with a language-learning option.
Supported languages include Spanish, English, French, German, Portuguese, Italian, Irish, Dutch, Swedish, Danish, Russian, Esperanto, Turkish, and Polish.
Pros
Learning a language for free
No need to create an account
Provides lessons that are well-organized and progress in nature
It has a visual depiction to make learning more interactive, as well as features to keep you engaged
Duolingo supports many languages
In just a few minutes, you can finish a lesson
Cons
Less content for languages that aren't as well-known
Free accounts include ad placements
You must learn topics in a specific order, and you will have limited opportunities for real-world practice
Pricing
Duolingo is a language learning program that is absolutely free. The free account, on the other hand, will leave you with a lot of in-display advertising. If you want to get rid of the adverts, you'll need to upgrade to a premium account.
Duolingo's premium account costs $6.99 per month. You may still test out the premium account with a 14-day free trial before committing to the plan.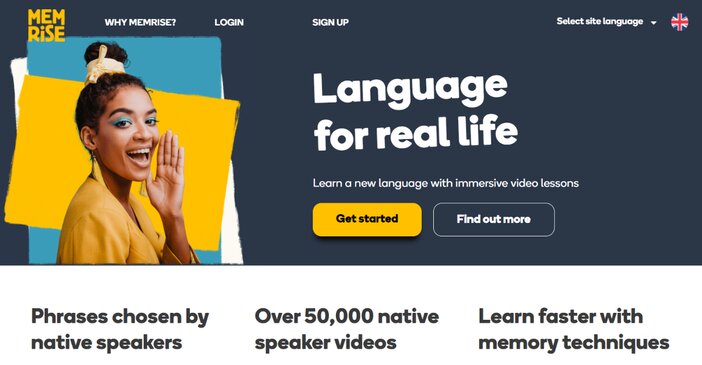 Memrise is the next most well-known language learning software, based on spaced memorization of flashcards and mnemonics. It's the place to go if you want to practice your vocabulary in an entertaining way.
It makes language learning enjoyable by using real-life content and video footage of indigenous speakers in their own cities to assist users to grasp authentic accents and experience a bit of the local culture and environment.
Structured classes based on major textbooks or lexical frequency lists are available. The software uses a unique way to generate amusing or unusual associations with the words being studied.
Memrise is unique in the way it teaches you words and phrases. Terms are grouped together in phrases with words that sound similar in your favorite language to help you remember them.
Switching around the translations is another way Memrise utilizes to teach you a new language.
In this technique, you study a few new words at a time and then review them in a different order to confirm that you understand them before moving on to the next round.
Memrise has a large language learning community of approximately 35 million people. Multiple easy-to-use activities and over 30,000 native speaker video clips in the "learn with locals" feature in the pro edition help you develop real-life experiences.
Some languages supported include French, English, Spanish (Spain and Mexico), Arabic, German, Korean, Turkish, Japanese, Dutch, Chinese, Italian, Swedish, Norwegian, Portuguese, Russian, Danish, Polish, Mongolian, Icelandic, Slovenian, and even Yoruba.
Pros
Memrise provides fun ways to learn, such as memes and gamification
On the site, you can choose from a variety of levels, languages, and courses
With learn with locals feature, they provide a real-life learning experience
Cons
The quality of user-generated content varies greatly, and the activities can become tedious after a while
To begin, you must first register a user account
Memrise focuses mostly on providing a rudimentary glossary and leaves a lot to be desired
If English isn't your first language, it limits your selections, just like Duolingo
Pricing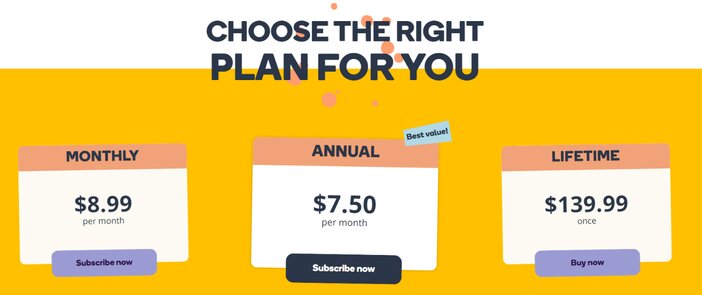 There are 23 languages to pick from, and there is a free tier as well as a premium-paid plan that costs $8.99 per month or $7.50 per month for an annual plan. Memrise is available for a one-time fee of $139.99.
Among the most prominent paid language study apps is Rosetta Stone. It allows you to switch between languages before picking which one you wish to study.
It can greatly assist you in improving your diction as well as correcting your pronunciation and accent.
The best aspect is that the app is ad-free, allowing you to learn without interruption. You can seek and talk in the app's scavenger-hunt-style tasks.
All you have to do is point your phone's camera at an object to get an instant translation into the language you're learning. There is one feature that distinguishes Rosetta Stone from other language learning apps. It solely uses your desired language from the beginning.
Things aren't translated by them. It won't get you very far if you think in your mother tongue and then translate those terms.
This may appear to be a difficult method, but it is the correct one. It is usually preferable to learn how to apply terminology and idioms in a certain situation. To summarize, learning to think in your target language will be beneficial.
Some languages supported include Chinese, Arabic, Dutch, Filipino, English, French, Greek, German, Hebrew, Irish, Hindi, Italian, Korean, Japanese, Polish, Persian, Vietnamese, Portuguese, Russian, Swedish, Spanish, and Turkish.
Pros
Different pricing options are available
Support for several platforms
You'll have a lesson plan that is completely unique to you
Many languages are supported
A tried-and-true teaching method
Designed with tourists in mind
Cons
Instructions or explanations are limited
You're on your own if you come into something difficult somewhere
The subscription fees are also quite high
Lessons might be monotonous at times
It does not prepare you for use in a conversation
Pricing
Rosetta Stone's pricing structure has been updated to make it more competitive with other competing language-learning apps. Rather than paying a one-time fee for each language, you can now subscribe to a monthly plan.
Monthly fees for three and twelve months are $11.99 and $9.99, respectively. However, dedicated language learners can pay $179 for lifelong access to all languages.
Busuu is a self-paced online classroom with everything you need. Its short, context-based courses are both relevant and appropriate for the student's level. The app is simple to use and contains a variety of learning courses, ranging from basic vocabulary and grammar for beginners to full conversations and grammatical tasks for expert students.
The grammar tips that appear are useful because they explain difficult concepts that you might not have noticed otherwise, such as verb forms in different tenses. We noticed that they did an excellent job of balancing grammar and practice.
Busuu also has a number of useful travel courses that teach you the fundamentals of a language, helping you to best plan for your upcoming trip and communicate with the locals. You can also communicate with native speakers and have them edit your text, or you can earn points by correcting other students.
There's also an offline option, which allows you to download lessons and study without needing to be connected to the internet — ideal for learning on the road. Busuu provides writing exercises and necessary flashcards, but you must subscribe to access the entire range of courses and extra features.
The vibrant community of indigenous speakers and other language learners is one of Busuu's best features. It doesn't matter if you want to learn Russian, Arabic, or develop your Spanish skills, finding your fit is straightforward.
Whether you learn on a desktop or laptop computer or on the go with the Busuu mobile app, you have complete choice over how you learn your chosen language.
Spanish, German, Portuguese, English, French, Russian, Italian, Turkish, Japanese, Polish, and Chinese are all supported languages.
Pros
Excellent for people of all skill levels
Discussions with native speakers
Make friends with other students
Provide other users with feedback
Cons
A limited number of languages are available
For East Asian languages like Japanese and Chinese, Busuu isn't the greatest choice
There are few chances to practice speaking
The free plan has a lot of limitations. Pay for one of the two premium programs if you're a serious learner
A user account is required
Pricing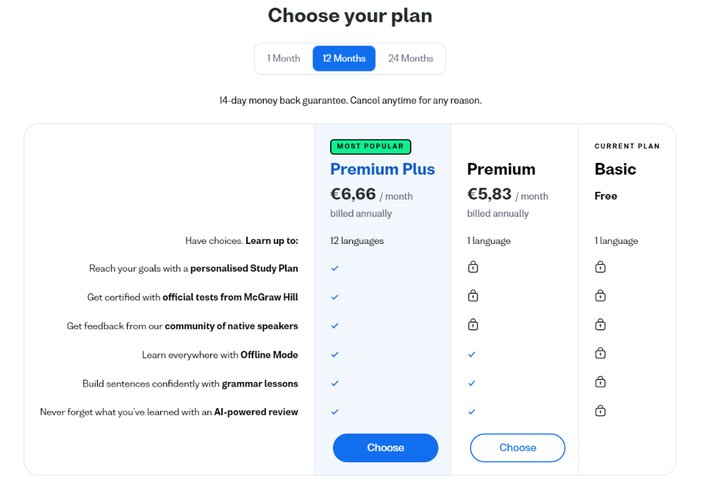 On Busuu, you can choose between three distinct plan types. You can only use one language and a restricted number of features with the free Basic plan. The Premium plan, which costs €5.83/month, only allows you to use one language but gives you access to more services.
Finally, the €6.66/month Premium Plus subscription allows you access to up to 12 languages as well as all app features. There are monthly, 12-month, and 24-month options available, with the lengthier plans costing less per month.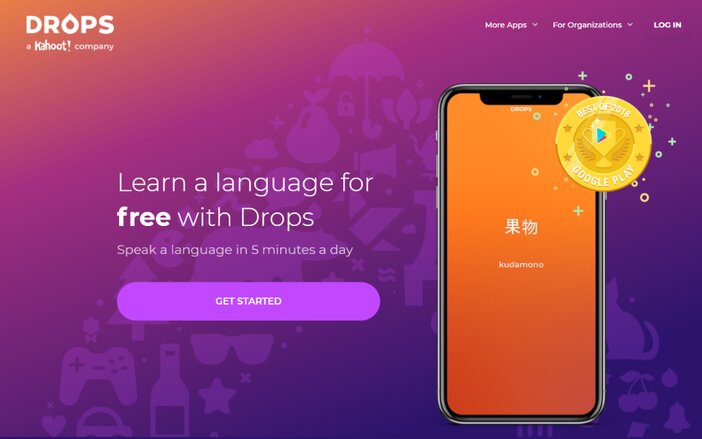 Drops is a great alternative if you're short on time. Every day, a new five-minute free daily lesson is delivered to your inbox.
According to the app, this keeps you from being overwhelmed or attempting to absorb too much at once.  Yes, even with the subscription plan, there is a five-minute limit.
Visual learners will enjoy the variety and engagement of the games, which include a lot of dragging, swiping, and tapping. These very concentrated courses were enjoyable and engaging for me.
The software is absolutely amazing, with thoughtfully designed UX and graphics. However, I believe the learning curve was too long. It will take a long time to attain fluency with five-minute vocab lessons, which may make it difficult to stay motivated.
Drops is also a great language study tool for expanding your vocabulary. It explains words in a simple and interesting manner, making the entire process more enjoyable.
This app isn't ideal if you've just moved to a new country; nevertheless, because of its conversational nature, it's a terrific travel companion. You'll only need to devote five minutes per day to Drops classes. And you'll be surprised at how quickly you pick up a new language.
Pros
Drops is one of the most beneficial and distinctive languages learning apps because of its overall design and gamification components
Visual learners will benefit from this
On Drops, you may learn tens of thousands of new words over a wide range of topics
Cons
While Drop has a large vocabulary, it lacks grammar help
Each day is limited to five minutes
Before delving in, you'll need some basic understanding because it skips over some sections
It does not prepare you for real-world applications
Pricing
The free version of the program allows you to use it for five minutes every day or every ten hours; however, the premium version gives you additional time.
Drops cost $8.99 a month, $60 per year, or $149.99 for a lifetime subscription. If you sign up on the website, you will receive a 15% discount on the regular price.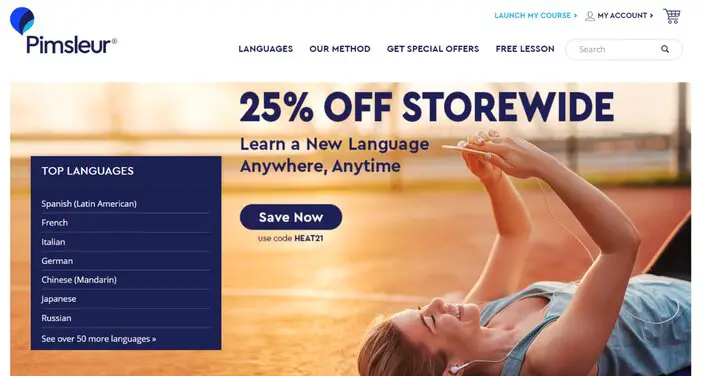 The Pimsleur language study method is an audio-based course that delivers sentences in both the target and mother tongues for you to convert into the target language.
It was created several decades ago based on linguist Paul Pimsleur's studies. Simon & Schuster's course is available in 30 half-hour sessions or smaller units of 10 half-hour sessions.
The audio will present you with words and phrases, as well as their translations, either alone or in a recommended context.
Then there's a wait for you to recite the sentence or recall a previously memorized one. The audio then tells you the answer, allowing you to confirm your guess or improve your knowledge for the next time.
Almost all of the system's components are audio-based. There may be some reading material for specific units, but even it should be studied while listening to the audio that explains how to progress.
The majority of what is spoken to you is not put down in any form. You may be forced to become accustomed to speaking in a language that you will never be able to read.
Pimsleur offers courses in over 50 languages, ranging from the most common, such as Japanese, Spanish, Italian, and German, to lesser-known languages, such as Punjabi, Ojibwe, Twi, and Tagalog.
The audio format has the advantage of allowing you to listen and learn while walking, driving, jogging, or performing almost any other physical activity.
See Also: Advantages and Disadvantages of Online Learning
Pros
The lessons are well-structured with reasonable length
There are native speakers that are both male and female
The platform is simple to use and pleasant to the eye
Lessons build beautifully on each other
Cons
Since all lessons follow the same format, using it quickly becomes tedious
It focuses on listening and speaking, but it does not assist you in improving your reading and writing abilities
The course is designed for native English speakers. This makes it a little more difficult for individuals who speak English as a second language
It employs a more formal vocabulary, so you won't learn any slang or colloquialisms
The pricing structure isn't easy to understand
It is costly
Pricing
Pimsleur pricing is confusing; your location as well as the language you're learning will have an impact on the price. With any purchase, you'll get a 7-day free trial.
It's unclear which regions have access to the paid option, but if you don't live in the United States, Canada, Australia, or the United Kingdom, you'll have to use the Pimsleur app.
Pimsleur offers subscriptions for all languages with at least 60 courses. And the amount of content offered determines the monthly cost.
The audio-only version costs $14.95 a month, while the version of the interactive exercise costs $19.95 per month. It is available in French, Mandarin, German, Italian, Brazilian Portuguese, Japanese, Latin American Spanish, Russian, and English for Spanish speakers.
Frequently Asked Questions
1. What are the hardest words to learn in English?
If English is your first language, you've probably never considered how difficult it is to perfect English spelling as an adult. Even natural English speakers have trouble with some terms.
The following are the ten hardest words to learn:
Rural
Worcestershire
Otorhinolaryngologist
Choir
Colonel
Squirrel
Penguin
Sixth
Anemone
Isthmus
2. Which non-English words are the hardest to master?
As a native English speaker, do you want to study other languages besides English?
Why not try out these terms first to determine if you've truly grasped the new language you're attempting to learn?
German: Fünfhundertfünfundfünfzig (this means five hundred fifty-five)
Russian: мгла (mgla) (this means haze)
Chinese: 日(rì) (this means day)
Estonian: Jõululaululaulja (this means Christmas caroller)
Welsh: Llanhyfryddawelllehynafolybarcudprindanfygythiadtrienusyrhafnauole (this is the unofficial name of a Welshish village)
Icelandic: Vaðlaheiðarvegavinnuverkfærageymsluskúraútidyralyklakippuhringur (this is a keychain ring for road workers' outdoor keys, which are kept on a moor named Vaðlaheiði)
3. What advantages do studying a foreign language provide?
In a world where mobility continues to rise, learning a language has a tremendous benefit. It is beneficial not only for traveling but also for learning and professional opportunities in other countries. At any age, learning a second language allows you to improve a variety of mental capacities.
The following are some of the advantages of learning a foreign language:
Enhances memory
The mind Is sharpened
The first language is better developed
Improve your job prospects
Develop a stronger bond with other cultures
Becoming a polyglot is a great way to broaden your horizons
It boosts your confidence
Languages that are less well-known can be preserved
4. If you only speak three languages, are you a polyglot?
No.
You're bilingual if you can communicate in two languages; trilingual if you can speak three. A polyglot is someone who speaks more than three languages. You can also define yourself as multilingual if you are any of the aforementioned.
Conclusion
Learning a second language, regardless of your first, is a splendid way to widen your personal and professional horizons.
If you are on a budget, the best app to learn a language for free is Duolingo, while if you have the money to spend, simply go with Babbel.
You can start learning your preferred language by downloading a few applications. Your learning style and goal will determine your preferred language learning app.
If you enjoy what they have to offer, you can upgrade to their premium package for more research.
Tosinajy educates you on how to make money online, the tools you need, and solutions to common issues you may encounter. Thanks for reading.