Podcast hosting sites are really important if you want to start the next top-rated podcast. Don't know where to start from, or you are probably undecided as to which podcast hosting site to choose, don't worry, I've got you covered. I have made a list of wonderful podcast hosting sites to choose from.
Podcasting isn't as simple as recording just any audio and posting it on the web. You need to host your audio files with a reliable podcast hosting site.
There are millions of people who listen to podcasts and as a podcaster, you have to pick a great site that will host your podcast. This might turn out to be an aggravating and time-consuming undertaking as there are a lot of alternatives to pick from which happen to have similar attributes.
That brings us to the question you probably have on your mind now. Just how do you pick the best one?
There are lots of free and business alternatives, and everything in between to pick from; this all depends on what you wish to create.
The tools listed are reviewed based on cost, technical support, storage, and so on.
What is the Best Podcast Hosting Site?
It is exhilarating to start a new podcast because you get to create the podcast episodes you have an interest in producing, acquire new equipment, record audio, and also share your personal podcast with the world. Isn't all that exciting!
But do not be carried away and forget that you need to begin by choosing a platform. Various podcasters will certainly need different hosting services.
This guide will not only help you record fantastic podcasts, but it will also save you time.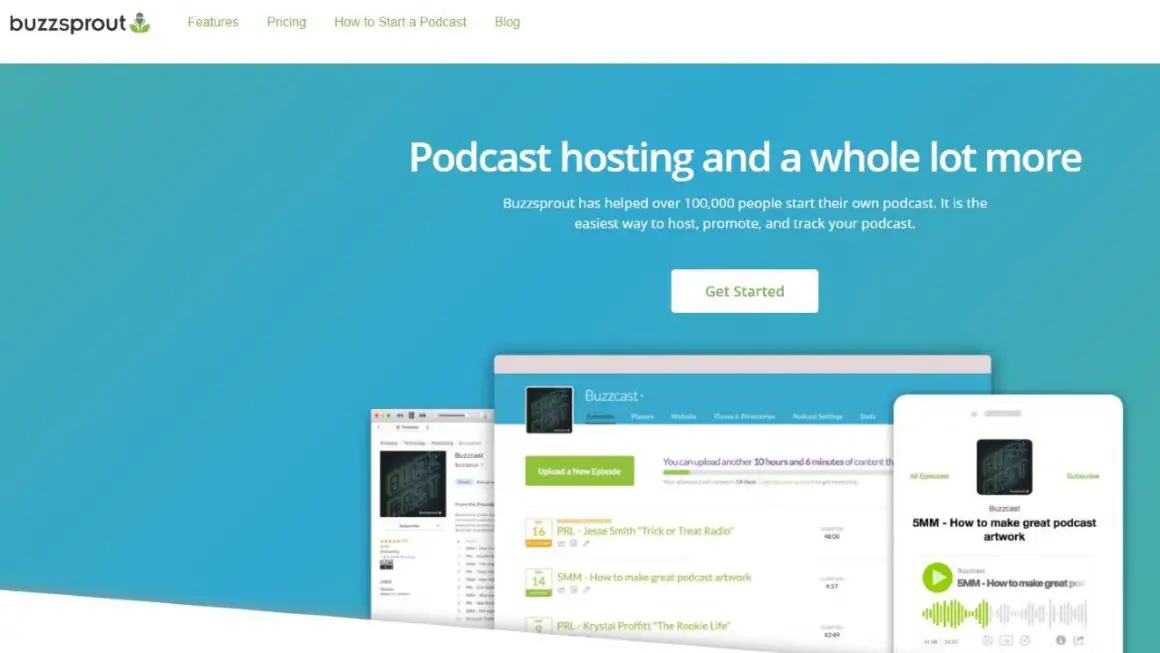 Buzzsprout is an established podcast hosting platform. They started over 10 years ago. Anyone who has tried it knows that it has really changed and grown over the past few years.
Since 2009, the platform has provided dependable, fairly affordable hosting and services, with new features like customizable podcast websites, the ability to transcript podcast episodes, and simple to understand podcast statistics available to help you understand your podcast growth.
Like many of the expert competitors in this area, such as Blubrry or Podbean, the differences between the top hosting services are not so much. One reason why Buzzsprout is exceptional is that they offer a free option, although it is has a limited amount of storage space and only provides hosting for 90 days
Pricing: Paid plans begin at $12 / month for 3 hours of content, with the ability to add more content on a pay-per-hour basis. The largest plan offered, and the best option for full-time podcasters that post one or two shows a week is the $24 per month plan, which provides 12 hours of storage space.
Buzzsprout pricing is way different from many rivals that price their plans by storage size, not time of episodes. The hourly plans are nice for beginners who are not yet conversant with storage spaces and don't really know how much they need.
Above the pricing, Buzzsprout is outstanding because of the support they offer, their simple to use the platform, and other website and transcription services.
Buzzsprout also permits you to add a podcast player right on your website – and you can feature just one episode or a whole playlist of episodes.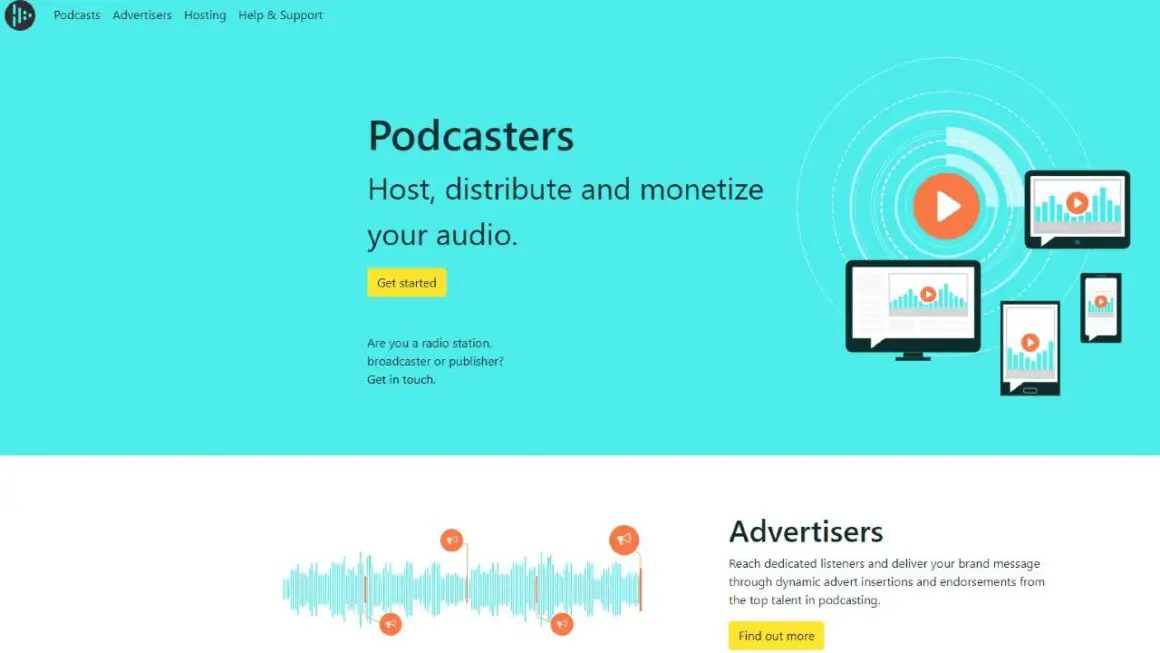 Audioboom is simply the best for dynamic ads and monetization purposes. It is a well-known site that provides you with simple hosting, distribution, and an embedded player. What they are mainly famous for is their help with podcast monetization.
Once you hit 10k plays per episode, they provide tools to create dynamic advertisements and sponsorships for your show.
Some other features of interest are an embeddable player with social media integrations and analytics is broken down by geographic region, app, and device.
Pricing: To get started, their $9.99 plan gives you
Unlimited episode uploads per month
Embeddable players for a website or social media integration
Advanced analytics that provides breakdowns by geographic area, app, and device
Up to 10k per month with their standard plan and 25,000 plays per month with their plus plan
Generally, Audioboom is a strong podcast host with good monetization features.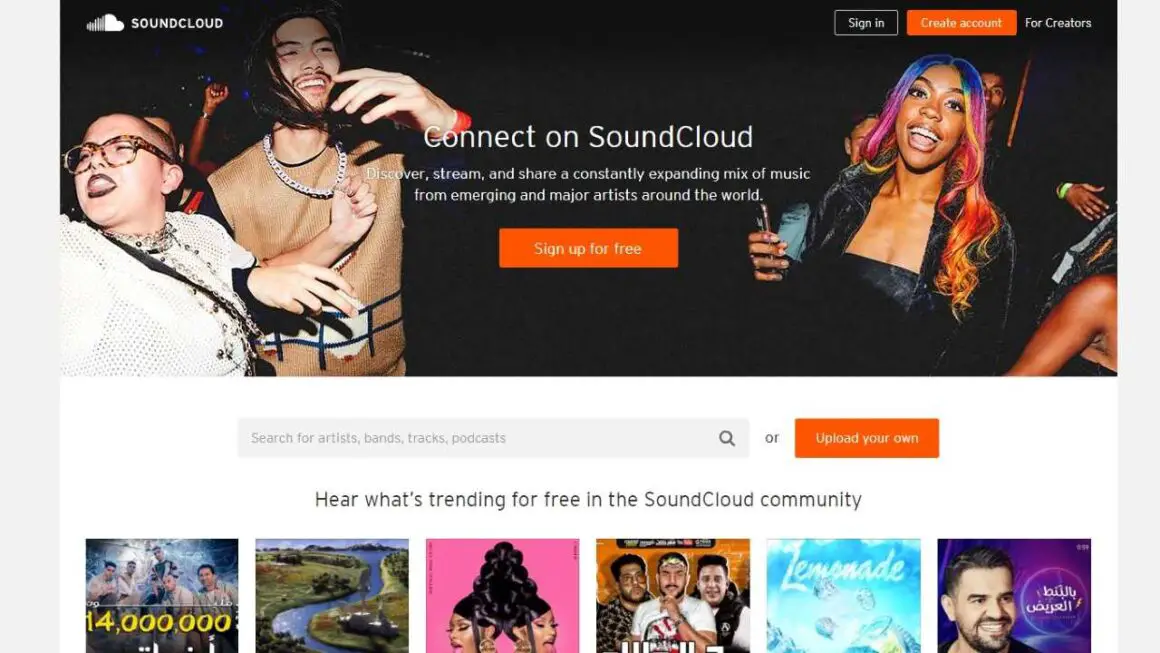 SoundCloud is the biggest music and audio hosting site worldwide and they introduced their hosting platform in 2015.
When you use their hosting services, you get access to all their embedded players, timed comments, and Twitter cards. You can even upload 3 hours of content per month and get a simple report with a free account.
The more advanced SoundCloud Pro Unlimited account offers you embed controls, limitless upload time, scheduled releases, and the ability to pin five podcasts to your profile.
Price: Free to $16 per month ($12 when paid annually)
Simplecast is a new podcast hosting site that seeks to differentiate itself with a fully modern interface. It also offers $15/month plans. A Recast is a tool on Simplecast that allows you to share custom clips of your episodes on social media.
While Simplecast isn't established enough to compete with some of the other big players in the space yet, you cannot but like their ambitious nature and infinite storage plans.
Simplecast has three paid plans to pick from:
Basic Plan ($15/month): Limitless storage and uploads, two member accounts, customizable show website, an embeddable web player, email support, 20k downloads per month. 
Essential Plan ($35/month): All basic plan features, including two extra user seats, location (country and state/region) and technology (apps, browsers) analytics, 50k downloads per month, additional web players, and the addition of chat support. 
Growth Plan ($85/month): All functionalities of previous plans, plus 5 more extra user seats (9 total), ISP analytics, detailed metro area location analytics, and 120k downloads per month.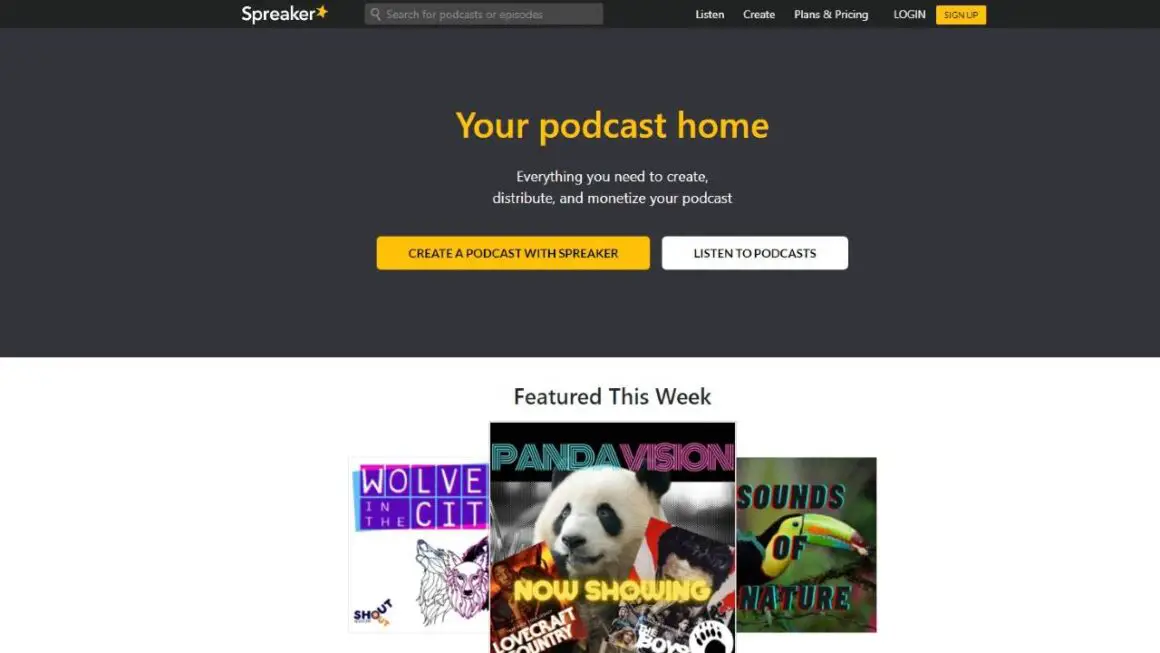 Spreaker stands out because of how seamless their mobile platform is.
If you are a podcaster always on the move, consider Spreaker because of how well made their Spreaker Studio app is. It doesn't only offer most of the same full array of features that the desktop dashboard has, but you can also create live podcasts with the app and even edit as you are recording.
Their free basic plan is limited, with 5 hours of storage and a single session allowance of 15 minutes. You just have to upgrade to one of their three plans to get more storage and limitless streaming.
Their paid plans have some strong features like the capability to embed widgets on your website, schedule episodes, and even order your mobile app.
They also have plans which contain great features. Examples of those plans are On-Air Talent, Broadcaster, and Anchorman plans. Additionally, Spreaker's storage capacity is great. Their most popular plan is the Broadcaster Plan at $18/month. You are entitled to 500 hours of audio and 3 hours per live podcast if you use this plan.
Generally, if you're looking for a host that provides great storage, Spreaker is a good choice.
Blubrry was established in the year 2005 and in the past years, it has developed a solid community of podcasters. The company is privately owned, based, and operated in the US. It is also a subsidiary of RawVoice. Blubrry has a good track record, therefore you don't have to worry about the platform disappearing in the near future.
Blubrry is a great podcast hosting service that provides not only hosting but managed WordPress hosting with PowerPress, the #1 WordPress plugin for podcasters.
Their lowest price option is $12/month and offers 100MB of storage. You will have to upgrade to their professional plan if you feel the need to use unlimited hosting services.
In addition to their professional plan with custom pricing, they have four paid plans ranging from $12 to $80, which provide anywhere from 100MB to 1,000MB/month of storage space.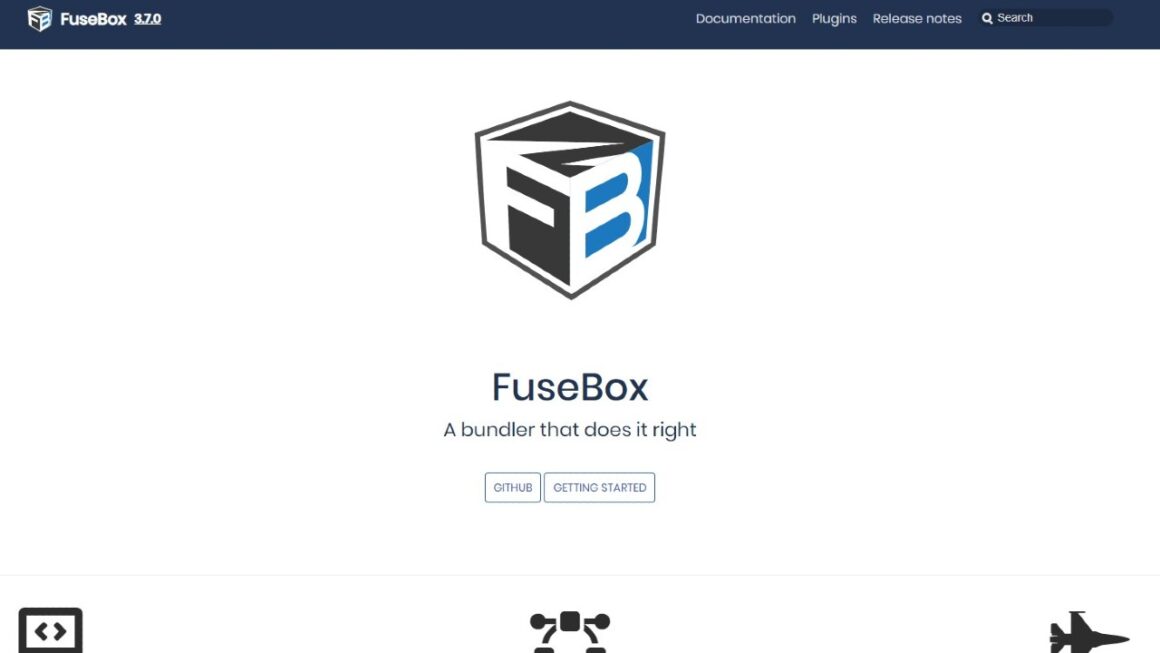 Fusebox is a wonderful invention fashioned by famous podcaster Pat Flynn of Smart Passive Income. Who is the best man to create the perfect podcasting product, other than a prolific podcaster himself?
Fusebox offers email capture- which is one of the only podcast players to offer this, and other great features. Podcast transcripts can also be added to your website by using a transcript plugin.
Pricing: The WordPress plugin costs $12 per month and $97 per year.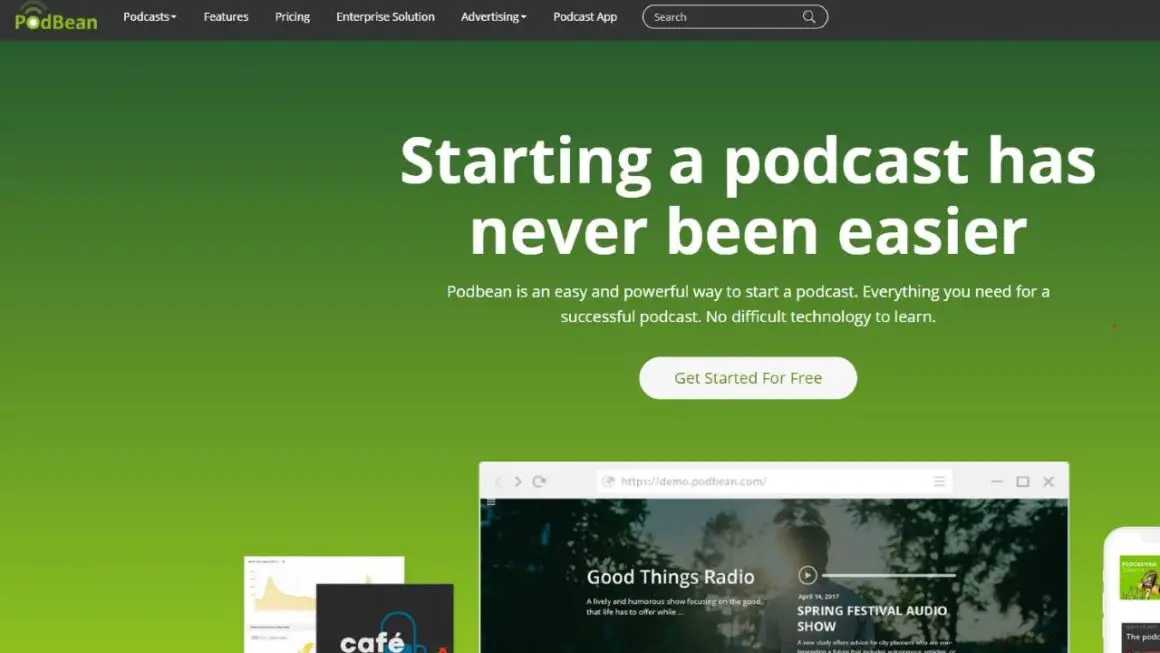 In the jam-packed podcast hosting world, Podbean is just like a king. It has great features like an easy-to-use interface, budget-friendly pricing, and flexible alternatives for podcast creators. Many users may initially be drawn in by the free hosting alternative for limited uploads and $9 per month unlimited storage option
Podbean is also one of the most widely used hosting sites for new and rising podcasts, thanks to the free trial month they currently offer and the free "Podcast Starter" option.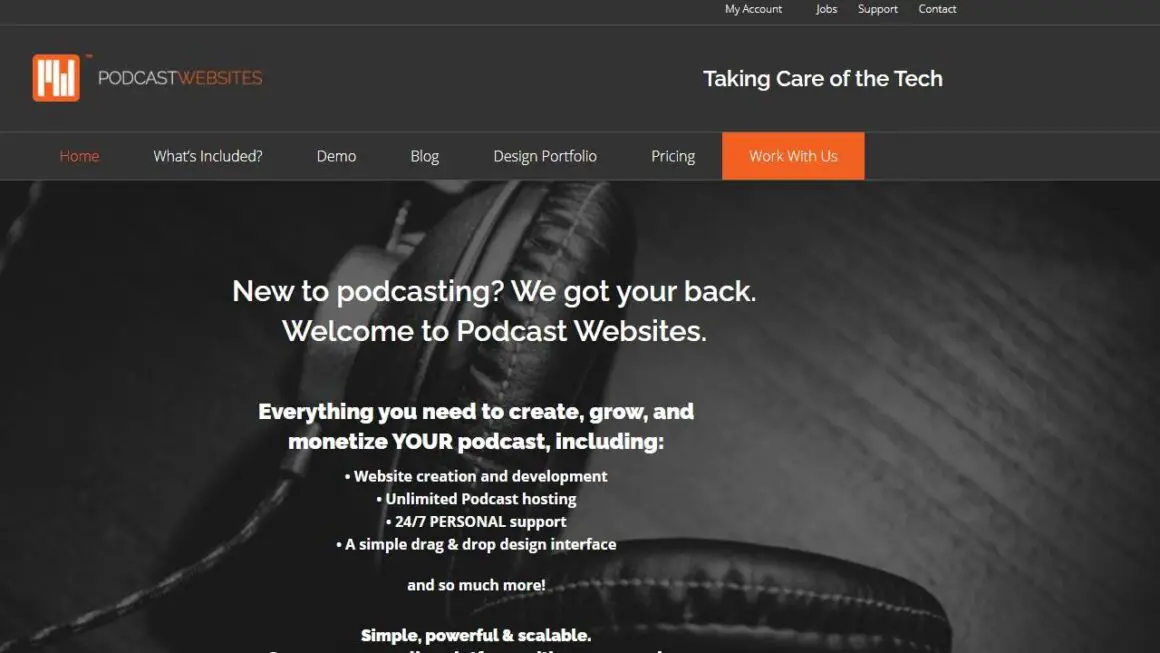 For website developers, I will recommend Podcast Websites. This podcast host features a simple podcasting workflow that allows podcasters the right of entry to the fully responsive website hosting and security, built-in statistics, daily backups, and 24/7 support.
As a Podcast Websites member, you also receive digital marketing support to assist in promoting your podcast, ads, and podcasting advice from real, experienced podcasters.
Moreover, you can use Builder – a drag and drop website builder with themes unique to podcasters.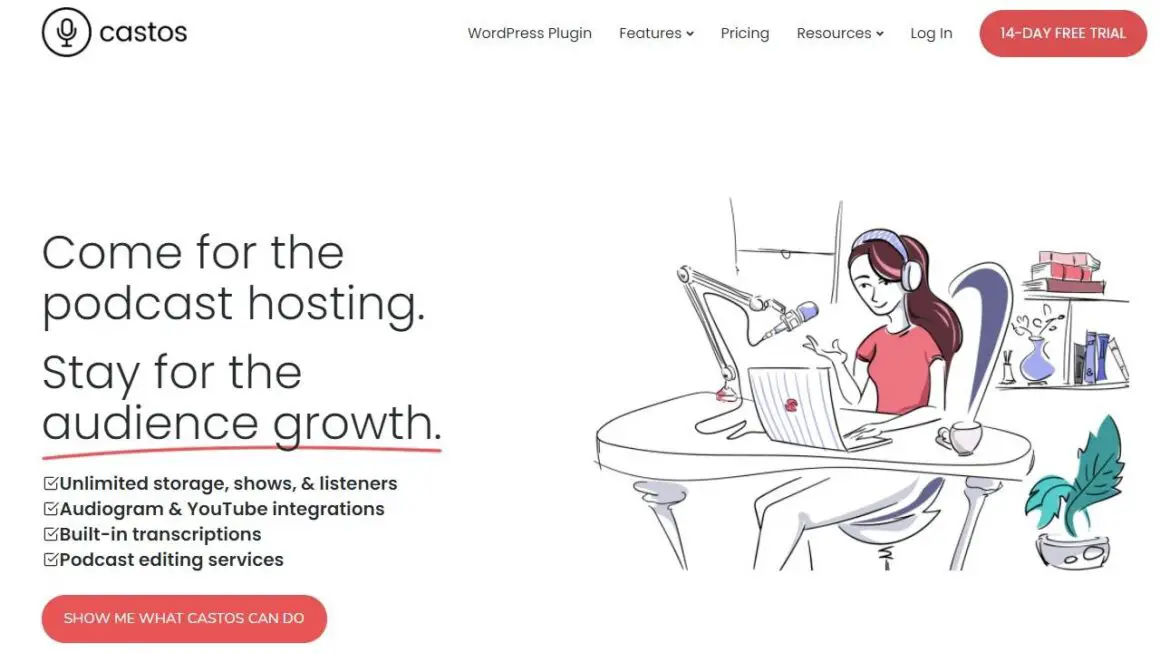 If you ask me, this is the best WordPress podcast hosting solution. Castos' WordPress integration is rivaled only by Blubrry in terms of ease of use, and their plans range from $19 to $49 per month.
This tool has an automated import process that helps users switching from a competitor to their platform easily move content over. Castos also has an integrated YouTube publishing option that can convert your audio into video files. These files can be shared with the click of a button.
FAQs
What does Podcast Hosting mean?
Podcast hosting gives your podcast the needed file hosting and RSS feed. Companies that host podcasts upload your audio files, inform the hosting platform of your program's information and also generate your feed. The podcast host sends the audio files and media to the platforms straight whenever a user subscribes to your podcast.
A podcast is a number of audio files that are packed into a single file. As expected, they need a great deal of space and bandwidth to be stored. Since personal website servers do not have the amount of storage needed for files that huge, podcast hosting websites supply you the space to keep your files to ensure convenient download by your target audience.
Ultimately, it is an easy setup. It is composed of a web server that allows file downloads, the .mp3 files themselves, and an RSS feed describing your audio file. The very best providers do a lot more than that.
These providers provide advanced analytics reports on your listeners, advertising tools to grow your audience, social sharing alternatives, all-day assistance, and much more.
Furthermore, podcast hosting sites might consist of attributes like streaming compliance, file storage, and also endless bandwidth. They can likewise assist you with a free website and domain.
I'm confident that you have actually come across places like iTunes or TuneIn, yet these are podcast directories. Your podcast requires a host initially.
The importance of a great podcast host when beginning a new podcast is not to be underestimated.
Conclusion
Above is my list of wonderful podcast hosting sites to try out this year. There are some factors that people should consider when choosing podcast hosting sites.
When picking from a variety of podcast hosting sites, the first things to look out for are the site's features. You should have the liberty to upload as much content as needed monthly. The site should have a satisfactory storage space, be compliant, and should be able to view analytics.
You should also consider if you are willing to pay more for extra features or if you just want unlimited free hosting.
If you need a new site, look for alternatives that combine hosting and email marketing tools with Weebly or WordPress. These enable you to show blog posts and notes. Also, make sure that the hosting company you pick works with top podcast networks.
Lastly, only go for podcast hosting companies that can promote you with advertisements, crowdsourcing, expert guidance, and so on. These companies are helpful as they distribute your audio files to the right spots and also help in storing your podcast.
My advice, choose the best option suited for you and you will enjoy podcasting. If you enjoyed this article, check out my online course platforms review. Cheers!