Wondering how to have the best travel jobs? Does traveling give you the thrill of a roller coaster ride? If you're looking for a way to experience the world and earn a living, the best travel jobs can be your solution. 
Traveling is all about exploring the world. Also, about getting a feel for different cultures, and meeting new people. This is something that someone who is in the travel industry can enjoy on a daily basis! There are various types of travel jobs out there. 
From flight attendants to tour guides, there are many different ways to get your feet wet in the travel industry. Here is a collection of the 23 best travel jobs for those who enjoy the thrill of traveling.
Categories of travel jobs
i. Expat jobs
As an Expat job, this involves you living and working in a foreign country. The reason people take on an ex-pat job is because of the cultural experience and adventure it affords them. Expat jobs give you the freedom to travel the world. 
Travel writing jobs, tour guide jobs, ex-pat jobs for English teachers are available to people who can work and want to live in another country.
ii. Digital nomad jobs
As the name implies, you come and go as you please and live like an ultimate nomad. These jobs are done online from anywhere in the world. 
All it takes to be a digital nomad are a reliable internet connection, a smartphone, and a stable computer system. 
Examples of digital nomad jobs include blogging, freelance writing, e-commerce, social media consulting, etc.
iii. Jobs that pay you to travel
For those who love to travel, there's a huge range of jobs that need traveling or jobs that pay you to travel. There are several categories of jobs that revolve around the travel industry. 
For example, there are jobs available to those who would like to be flight attendants, cruise ship crew members, salespeople in travel agencies, tour guides, or truck drivers.
iv. Backpacker jobs 
Besides your usual travel jobs, there are also backpacker jobs available. Whatever you are looking for, you will find what you want in the backpacker jobs section. 
The backpacker jobs category includes all jobs related to long-term travel or working a gap year. This includes seasonal jobs, volunteer positions, and paid internships.
So, what are the best travel jobs?
Best Travel Jobs
1. Travel agent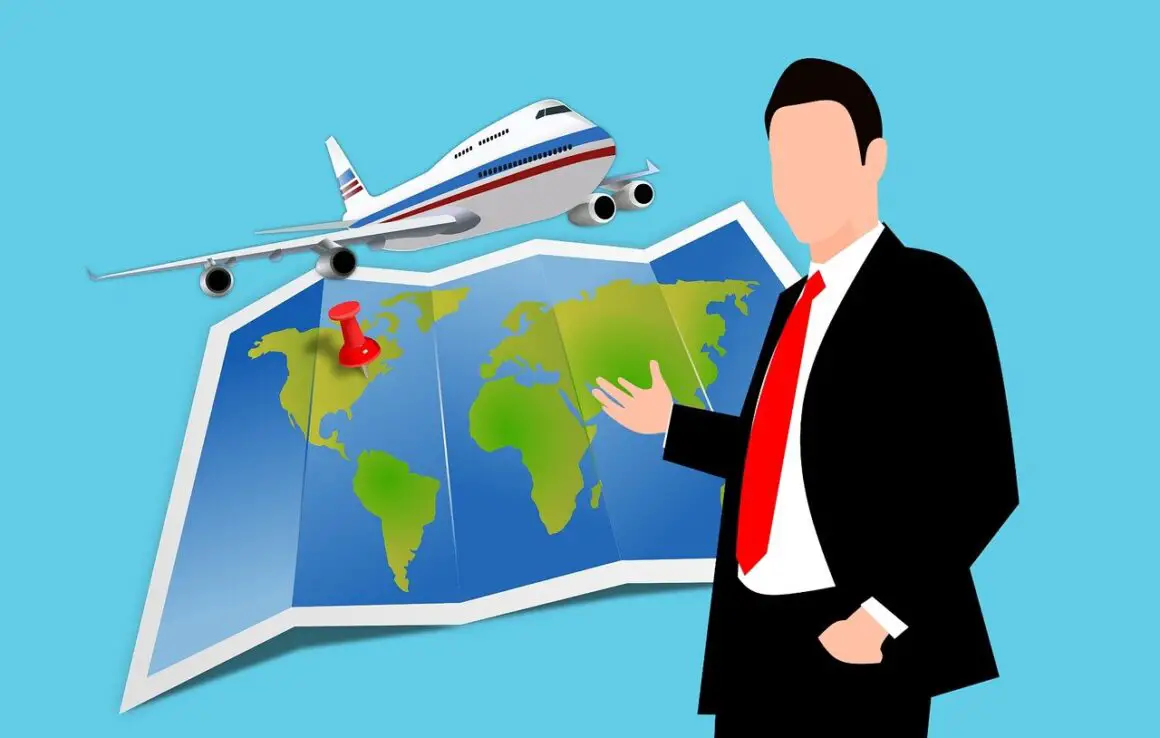 The best travel jobs are about the travel industry itself. A travel agent helps travelers plan vacations that include airfare, lodging, and transportation. 
Travel agents match travelers with flights, hotels, and other services to create an itinerary for the trip or vacation. 
The most popular involves spreading the word to the masses, whether directly or indirectly in media channels (TV, magazines, newspapers), commerce outlets (travel agencies, websites, and portals).
There are also employment opportunities with the airlines themselves where you get to put your travel skills to work as a planner or analyst. 
Furthermore, many agents fly around the world and get paid $200+ per night as GDS hotels. With Total Access Advantage (seller pays for the subscription).
The income ranges from about $2,999 – $5,999 per month.
2. Drop shipping merchant 
A drop shipper is a retail merchant who sells a product for a third party. The third party can be an e-commerce merchant, or manufacturer, and sometimes the wholesaler. The drop shipper's role is to fulfill sale orders, process refunds, returns, and even reorders – hence the name drop shipper. 
Dropshipping is gaining popularity and is one of the most successful business models of the current time. 
Dropshiping is best because you should not be responsible for holding stocks or managing after-sales and returns.
Besides, you can do this while traveling around the world as you don't need a storefront. What are you waiting for!
You can make up to $1000 – $30,000 per month as a drop shipper.
3. Teach English abroad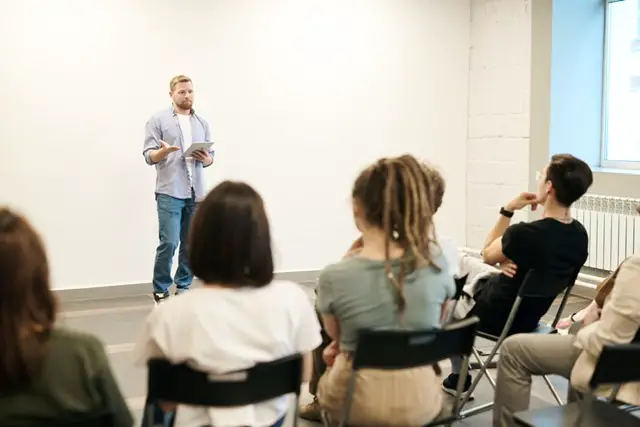 Thousands of people travel abroad to teach English every year. Teaching English abroad is one of the best travel jobs. It is a perfect way to explore, meet people worldwide and live a decent life.
If you are a college graduate with either a bachelor's degree or TEFL certification (Teaching English as a Foreign Language) you can find jobs overseas. 
The best countries for English teacher jobs are South Korea, Japan, China, Taiwan, and the UAE. Singapore is also well known for paying its teachers well.
Those who want to teach English abroad can expect an income range of about $19,500 – $76,000 per year.
4. Travel blogger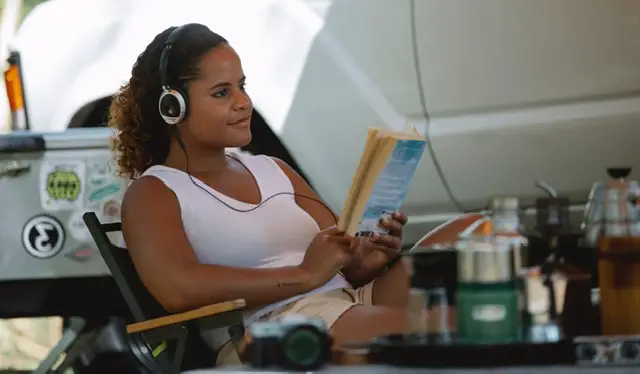 No matter where you are in the world, a smart and savvy blogger will either be there first or one of the pioneers. If you can write about it, sell it, or take part in it, you're one step ahead of the game. 
Most travel blogging jobs offer flexibility (in terms of your living arrangements and pay). Being a travel blogger can be one of the most rewarding and exciting careers today. 
You get the opportunity to see many parts of the world and meet incredible people. Besides, you build your own schedule from the ground up. Building a blog is not hard to do, but it does take some effort, time, and commitment. 
It may seem like an unconventional job, but traveling is becoming a more popular career path than ever. Posts featured on travel blogs make up some of the most popular content on the internet.
Travel bloggers earn up to $500 – $20,000 per month.
5. Software engineer 
While there are millions of travel jobs out there, only a handful offer the type of flexibility that travelers need and crave. 
Software engineering is one of those travel-friendly jobs. It's not easy to break into the software development field. 
But, with enough commitment, and plenty of elbow grease, you can do it. Besides, you can use it as your launching pad for an exciting career in travel. Software engineers are not limited to the normal 9 – 5 working hours of the day. 
This versatility enables you to explore new cities and work opportunities. So, it is time for your next adventure. start preparing!
They earn about $60,000 – $123,530
6. Tour guide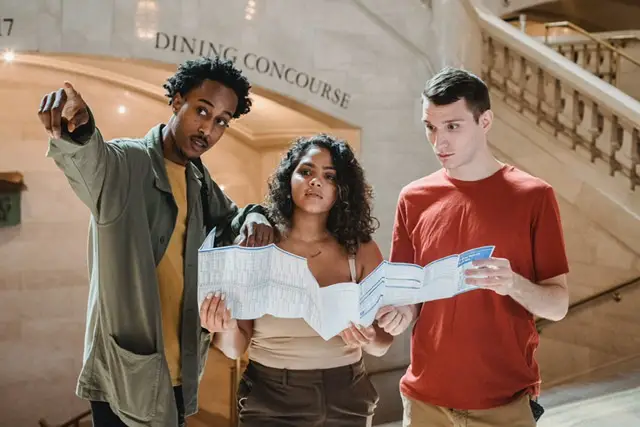 The biggest inspiration of many travelers is not to be inspired but to encourage other people to explore the world. One way of expressing this is to be a tour guide. 
Tour guides take people to stunning places in different parts of the world. They get well paid for doing this. Besides, they also get tips from the group. 
Most tour guide jobs do not need special training or education. But some do, and there are even some schools that specialize in preparing people to be tour guides. 
Tourists love visiting beautiful locations all over the world. Furthermore, they don't mind paying more to go with an expert, a knowledgeable guide who can share first-hand stories about what they are seeing.
The income range is about $15,100 – $47,000 per year.
7. Street Performer/musician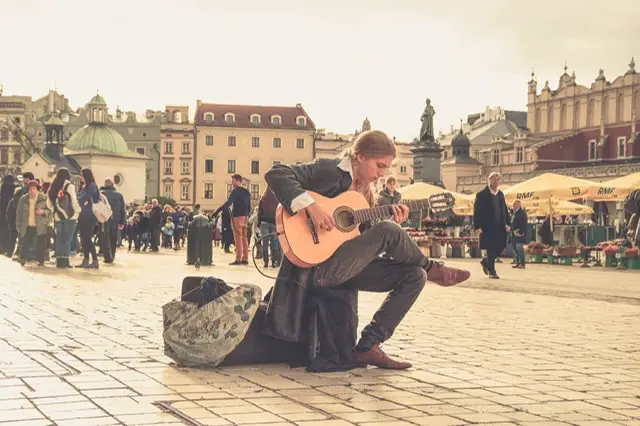 If you enjoy entertaining large and small crowds, you may want to consider a career as a musician or street performer.  
Musicians make their living by playing music, whether for tips or for paid gigs. As a street performer, you have to create a memorable performance that will engage people passing by. 
It's not enough to be good at your instrument; you have to also be able to draw attention and make yourself memorable. 
Yet, it is important to know that most people can never make a decent living doing these jobs. 
Most people do it for the passion and interest they have in music or performing arts. Besides, to some, it's a kind of side hustle.
Street performers can have free tickets and earn up to $10 – $100 per hour.
8. Yoga instructor 
Being a Yoga instructor provides you with flexible scheduling and inexpensive travel opportunities. A career in yoga is the perfect choice for people who want to make a difference in people's lives and the world around them. 
Take your life to new heights as you travel the world, teaching others the art of yoga. Explore the world while you teach others about yoga. 
Whether you choose to run a class in one of your hotel's facilities or offer more privates in your lodging personally, yoga will be sure to attract plenty of curious travelers into the fold. 
Yoga instructors earn up to $30 – $100 per hour.
9. Foreign service agent 
Foreign service officers serve in the diplomatic service as full-time public servants. If you think about the best jobs for traveling, this might be an option for you. 
As a foreign service member, you can travel the world. They have their corporate headquarters in significant cultural cities with advanced facilities and tourist amenities. 
The position demands a high standard of written and oral customer service and communication.
A job for the government where you can live and work everywhere. What more could you ask for?
Expected income can be around $500 – $10,000 per month
10. Freelance travel photographer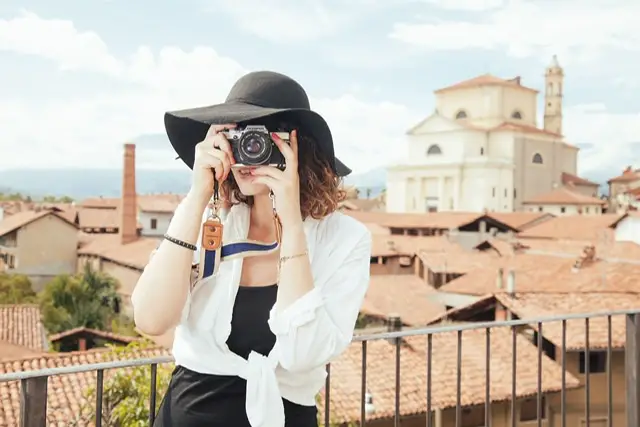 Freelance work is by far the best way to make money if you are into photography and traveling. 
This type of photographer will help any traveler who is looking for a way to make money with his/her travel experience. When traveling, there are many chances to capture the beauty of the world around you. 
Sharing your pictures through travel photography can also be very rewarding and can even become your profession. 
If you know how to promote yourself and have a talent for capturing breathtaking images, there's no reason why you can't earn thousands from taking pictures all over the world. 
If your goal is to get experience on the road, this opportunity will be perfect for you!
Income can be up to $1000 – $10,000 per month
More travel jobs
11. Remote Work & Telecommuting
Working from home is a type of digital nomad job. Remote work is growing fast in today's world. The number of people who telecommute or work from home has skyrocketed during the last decade. 
Remote work entails working anywhere when you want. It's about independence and versatility. 
Suddenly, you're on the other side of the world with the person who is in charge of your work and payment. Work while you're traveling, at home, or that coffee shop down the road.
The income varies depending on qualifications and type of job.
12. Bartending jobs abroad 
Many young adults are deciding to pursue their dreams of working abroad as bartenders in beautiful, exciting locations. 
Bartender jobs abroad are one of the most popular jobs foreigners seek out. 
There is no doubt that a job as a bartender can be fun and sexy. With decent bartending skills, it's possible to find work anywhere in the world.
You can earn up to $11,570 – $54,930 as a bartender. 
13. Travel nurse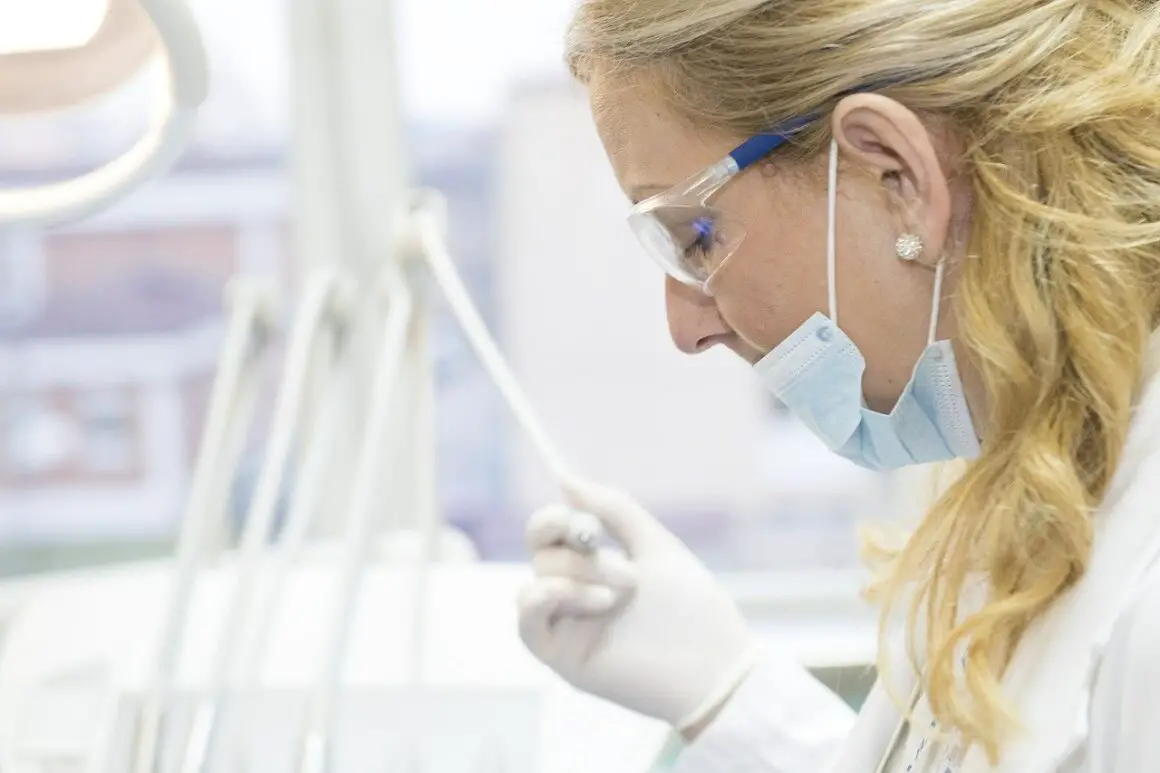 A travel nurse is a registered nurse whose nursing practices are used when traveling in different locations such as hospitals, clinics, and other hospitals. 
Patients and staff receive great support from the traveling nurses who also work in hospitals. In general, nurses have one of the best careers in the travel job industry.
It is ranked as one of the top five favorite careers among US citizens. They provide a link between the community health care system and an entire population of specialty programs throughout the United States.  
This job offers you an opportunity to join a team in a position that will help advance your career, improve your knowledge by learning new skills, and enable you to build a network of contacts in your specialty.  
Travel nursing can be a natural fit for nurses who enjoy meeting people, working in different settings, or are seeking new challenges. Also, those who want the chance to help others in need. 
Travel nurses can expect to earn about $45,800 – $97,930 per year.
14. Videography / Vlogging / YouTube 
Explore the world with your camera. Videography, vlogging, and YouTube are a natural fit. Most of the successful YouTubers use it as a business and make a living out of the views they get from people. 
Furthermore, as their followers grow, they are more likely to endorse new products on behalf of the company they are doing videos for. 
For example, a YouTuber with 50 thousand subscribers might be able to get more clients for Nikon if they did videos using Nikon cameras.
 As technology has advanced, so has the quality of video shots that people are willing to explore. This means opportunities for videographers to take exciting shots or display beautiful scenery.
Vloggers can make up to $1000 – $20,000+ per month
15. Flight Attendant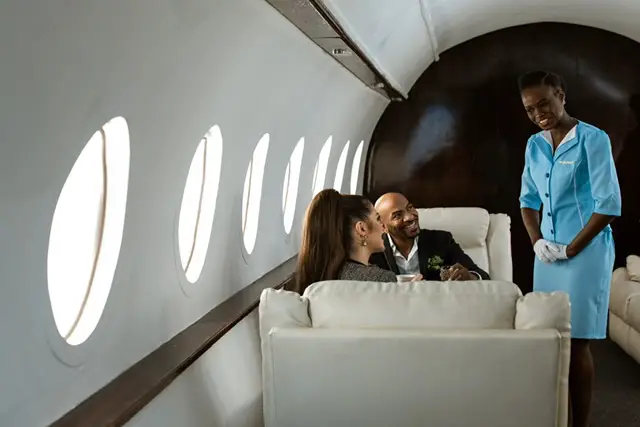 There are so many justifications for enjoying the flight attendant's lifestyle. You get the chance to visit places you've never been to before.
Besides, you meet wonderful new people from various locations in the world every day. You also have an enormous amount of flexibility in your work schedule. 
There are a lot of perks to being a flight attendant, such as the travel benefits, which are great for anyone who likes to travel. 
Another perk is that your hours are set up in advance. So you know when you'll be on and off of work.
Flight attendants earn up to $21,350 – $74,000 per year.
16. Truck driver 
You will also hear that if you want to earn a lot of money, then truck driving is the perfect option for you. 
This work can need you to travel for more than a week to deliver the goods. In contrast, the industry of shipping needs you to be skillful and determined. 
Shipping cargo needs tremendous responsibility and dedication.
17. Tourist entertainer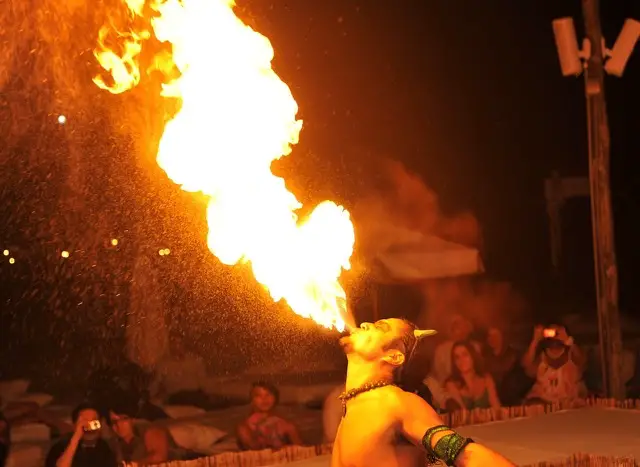 In the travel industry, there are many jobs, one of the most popular jobs is as a tourist entertainer. 
Some people like to be foreigners, in their daily work as a tourist entertainers, so they can get rid of the boredom of life. To be a qualified tourist entertainer, one must have certain skills to attract visitors.   
Tourists will always need entertainment wherever they go. If you have a talent and can perform it for others, a job as a tourist entertainer could be perfect!
18. Cruise ship worker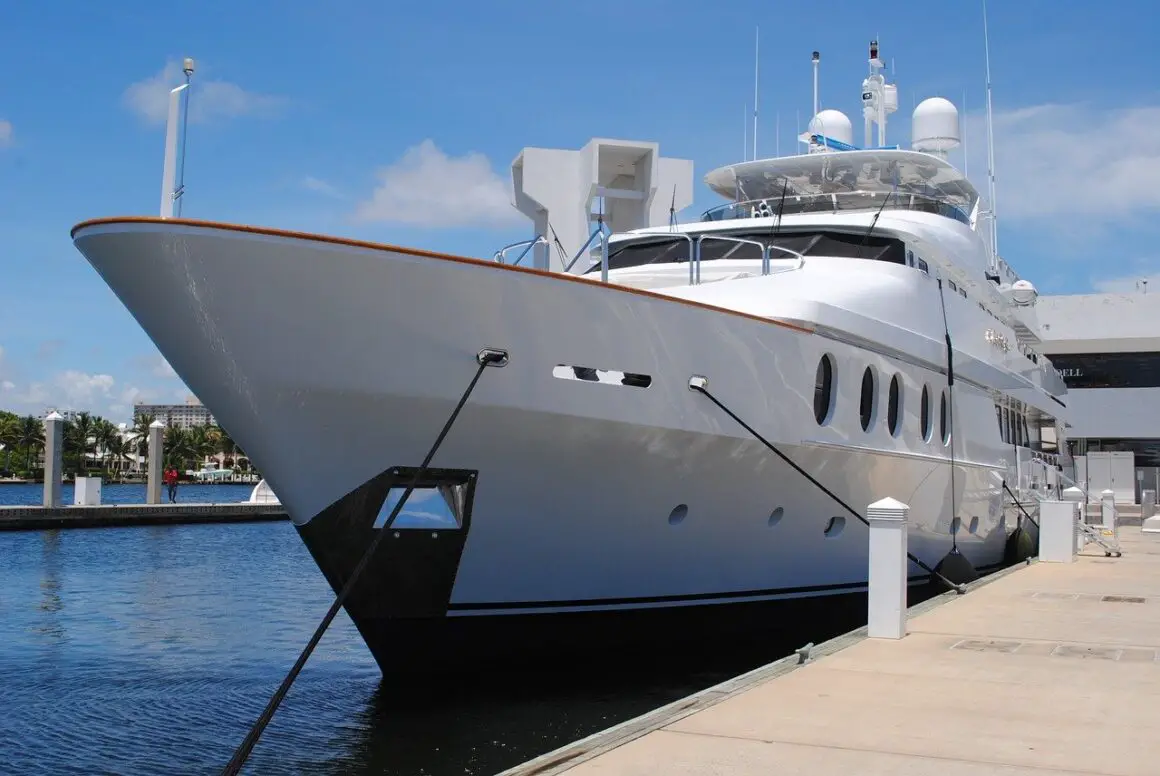 The cruise ship industry is booming. A cruise ship worker is a common position that many travel jobs offer. It is a fun job and can be a genuine way of making money.  
Cruise ships offer a great way to earn a living and travel at the same time. Besides, you get so many amazing views and most times free meals.
These types of workers fill a wide range of jobs from chefs, store clerks, entertainers, salespeople, and more.
Aside from the benefits, it is also about hard work, long hours, and unsociable schedules. Cruise ship workers are often required to work on holidays because the ship cannot leave port without a full crew.
The income varies depending on your job role and position.
19. Freelancer writer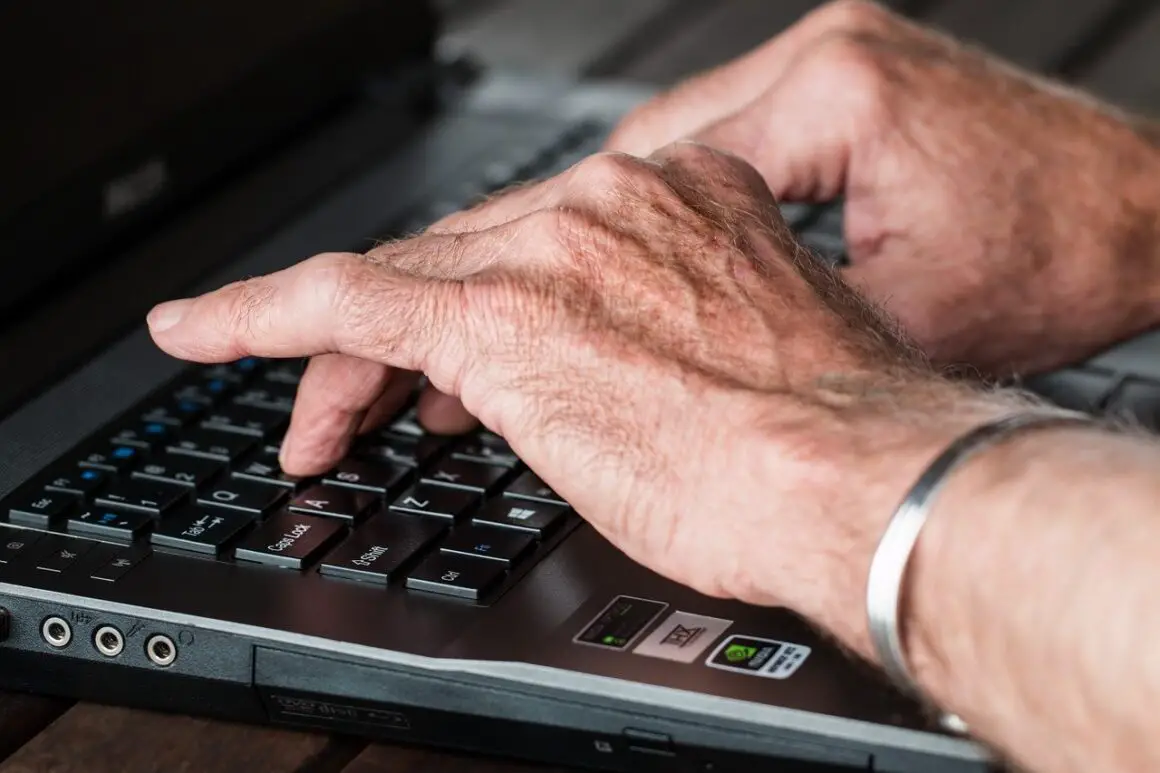 Freelance writers nowadays have many opportunities. These jobs will give you freedom and flexibility in your work schedule. 
Their main role is to write for various organizations or individuals. This is an exciting career as it offers you to see a lot of the world, learn about new cultures, get to know their lifestyles and dreams. 
Freelance writing is a digital nomad job. Thus, a writer can travel the world with his own funds and at his own pace through various assignments he is offered to work on.
A freelance writer can earn up to $24,530 – $117,100 per year.
20. Event planner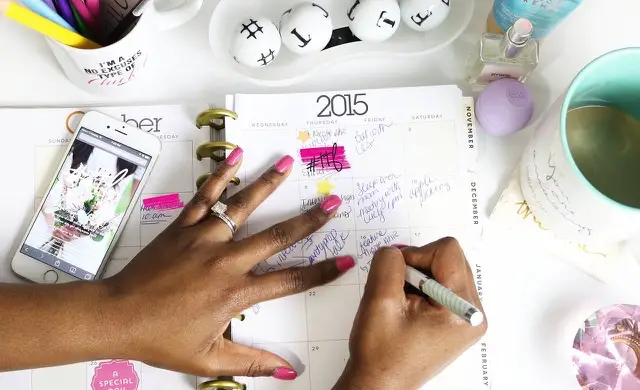 When it comes to travel and tourism jobs, event planners are among the most sought-after professionals. 
Since most people today like traveling, there is also a high demand for event planners to help organize meetings and conferences. 
A job as an event planner encompasses the creation of events to be held at a certain time and date. 
It needs great detail and creative thinking to capture a specific audience's interest to attend.
The income varies depending on experience, location, and type of event.
21. Ski instructor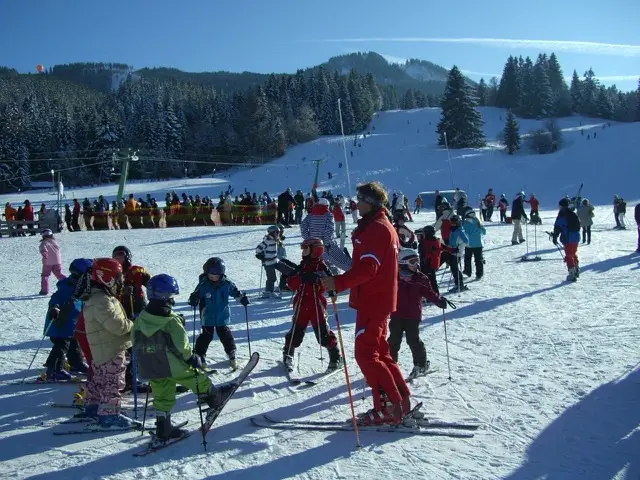 Ski Instructor is one of the best travel jobs you can have. It gives you the chance to live in some of the most scenic areas in the world. 
In the snow belt, ski instructors make a very comfortable living and the chance to live at a base camp can come with some attractive employee benefits.  
Ski instructors fly to their location on the ski lift, ready to teach and enjoy the slopes for the winter.  
Because they often work for resorts, ski instructors are able to live in ski-in/ski-out condos or homes that sometimes include outdoor heated pools and hot tubs. Enticing right?
Ski instructors can earn up to $1000 – $4000 per month.
22. International aid worker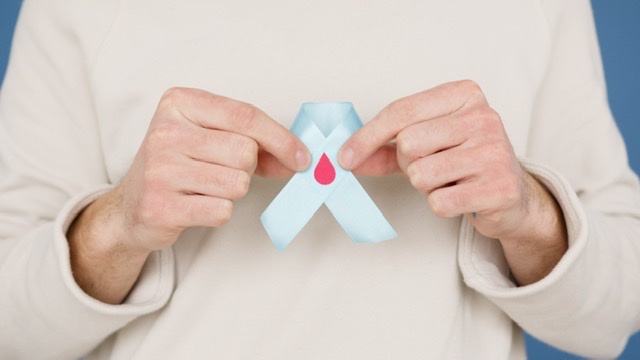 International aid workers are people that work for organizations helping to eradicate poverty, promote education and relief efforts. 
Most international aid workers work in the field, living temporarily in a specified area. The best jobs in the world. A place where you earn money while helping people out. 
These are usually voluntary positions, so they are not paid that much, but if you choose to do this, the rewards of making a difference will last forever. 
Taking these kinds of jobs means long hours, grueling working conditions, and small paychecks. It's for people who are passionate about helping others. Some do it for free!
The Income is about $314 per month plus food & accommodation
23. Online translator jobs
Travel jobs are becoming more and more popular as the number of travelers continues to rise. 
Online translator jobs are specially designed jobs which you can do from anywhere in the world using your own computer and Internet connection. 
You will be working for translation agencies, as well as freelance for online customers worldwide. 
They include major corporations, niche agencies that concentrate on a certain aspect of the travel market, including luxury traveling or airline jobs. 
This is a perfect way to make money whether part-time or full-time. What's more, you can do this by wearing your pajamas in your house.
Online translators earn about $25 – $70 per hour.
The bottom line
There are many different travel jobs that one can consider. Many of them require a college degree, such as teaching, and some need a license before you are able to work in the field, such as becoming a nurse or a police officer. 
Some of the more traveling-focused jobs include working as an instructor for a corporate travel team or getting paid to write about your travels such as blogging and photography. 
Others work remotely in an office, but travel is still part of the job description because they need to go to meetings on occasion or visit clients. 
We've looked through hundreds of travel jobs from around the web to bring you this list of the 23 best travel jobs for those who enjoy the thrill of travel. There's something for everyone on this list!