Recently, I was in need of a business lawyer. So I decided to do some research online. During my research, I made sure to analyze, rank and document the best online legal services that I found.
Doing this, I believe the documentation of my research will be of help to anyone who happens to also be in need of legal representation to support their new or expanding business.
Therefore, if you are in need of the best online legal services, this article highlights the top platforms where you can quickly get the legal representation you need.
Let's get started.
Quick Review
See Also: How to Make Money Online as a Lawyer [Passive Income Ideas]
Best Online Legal Services
What are the best online legal services?

It almost doesn't get any nicer than Rocket Lawyer in terms of convenience. This online legal service was created to make legal paperwork and document generation simple for anyone. They also make it simple to locate an attorney quickly.
Rocket Lawyer will match you with a lawyer in minutes, even if you are a person or a small business. The best aspect is that you receive access to legal competence for a set cheap price, or you can pay a monthly subscription fee if your legal requirements are frequent.
They provide you with multiple channels to swiftly reach attorneys and their counsel, such as by email, phone, or chat, as their name implies.
Rocket Lawyer also has a fantastic legal advice webpage where you can write in your legal issue and receive responses within one business day.
If you require additional assistance, they can connect you with a real lawyer with whom you can speak and consult about your concerns.
Their excellent lawyer directory helps you to choose the legal issue for which you want a professional's advice, as well as your region, so they can link you with someone who is conversant with local laws.
Individuals and business owners can utilize this online legal service to create legal documents for a variety of purposes.
Rocket Lawyer has no legalese, which is one of its best features. You don't need to know any sophisticated legal language; simply answer a few questionnaires in plain English, and their software will generate the legalese for you.
You can make as many edits as you like, sign them wherever, and print as many copies as you want at no extra charge.
Pros
All legal specializations are covered by on-call attorney service
At a reasonable cost, you can have an attorney check your documents
They offer online legal consultations
With simply a click or a phone call, you can get a free 30-minute legal consultation on any new legal situation
Create your legal documents with the help of a secure document builder
Responsive customer service
Money-back guarantee for 30 days
There is a mobile app available
Offers a free seven-day trial
Cons
In comparison to other companies, the membership cost is quite high
It's difficult to say how long you'll have to wait for your files to be evaluated by an attorney
A la carte services can quickly increase your spending
To get access to the free trial, you'll need to provide your credit card information
Pricing
Rocket Lawyer has two pricing choices that are both quite affordable. For $39.99 per month, you can become a premium member and receive discounts on all key legal services. RocketLawyer is currently giving a free 7-day trial at the time of writing.

You can also pay for specific services as you require them.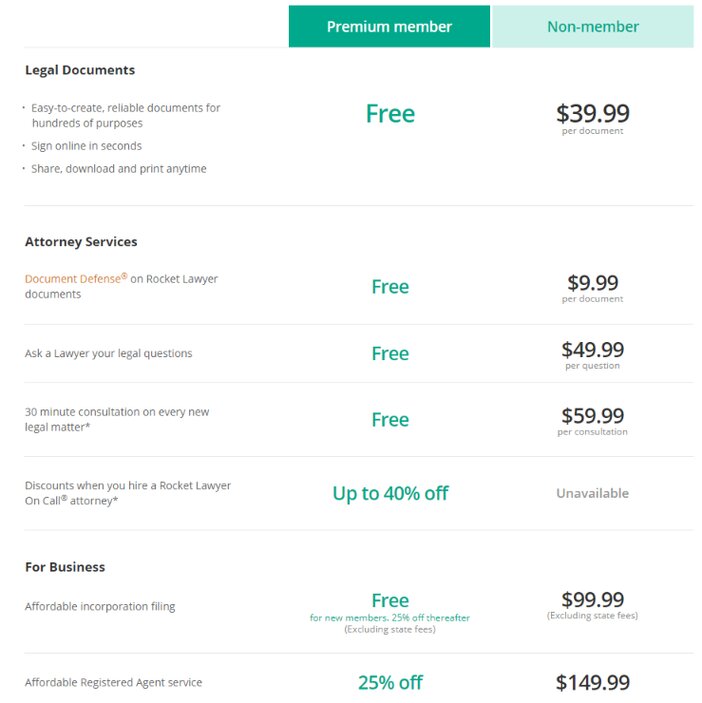 What is my recommendation? Go for the membership if you require more than one document or plan to have a lot of inquiries. In any case, a single document will set you back $39.99.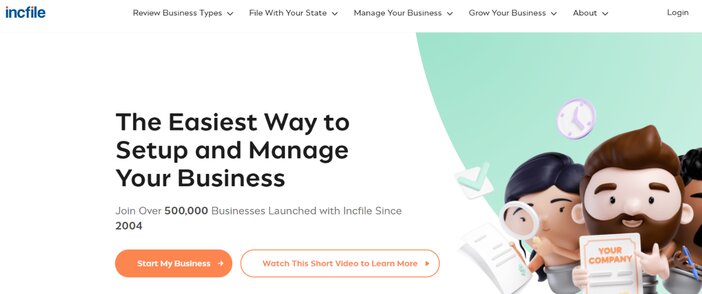 If you're unsure which legal entity your company should utilize but don't want to spend a lot of money on legal bills, Incfile is the solution. Incfile specializes in forming your company as a legal entity.
The legal concerns of those who want to form a business are taken care of by Incfile. Incfile can offer you the necessary legal aid whether you're incorporating a non-profit, an LLC, or a corporation.
Even if you have no idea what type of business is ideal for you, the service can assist you in making a decision. As a result, it's a great option for first-time entrepreneurs and small enterprises looking for a quick start.
The website of Incfile even has a large library of legal documents. These materials might assist you in starting and growing your business. These resources are accessible for no cost, demonstrating the service's dedication to its customers.
Do you require a registered agent to handle legal documents on behalf of your corporation or Limited Liability Company? The registered agent service offered by Incfile is an excellent addition to their business formation services.
Incfile provides tax expert services in addition to business registration. You'll be assigned a tax specialist who will assist you in preparing and filing your taxes, lowering the risk of mistakes, and improving your tax returns.
When compared to more expensive online legal services, IncFile may fall short in some areas: There are no legal consultations offered, for example. Still, IncFile was created to be a flexible service that helps you get your business off the ground, not a full-fledged law practice.
Customer service, on the other hand, is unquestionably an area where it falls short. While this may not seem like a big deal, IncFile isn't a legal counseling service, so it's still a disadvantage.
Pros
Provides a free LLC filing service
Incorporate in any US state
Three packages are available, each of which can be customized
Includes lifetime notifications before significant filing deadlines
Cons
State fees are not included in the free LLC filing
Call support hours are limited
Some states have significantly larger prices than others
Pricing
Simply choose an entity type and your state to get an instant quote on the cost of starting your business.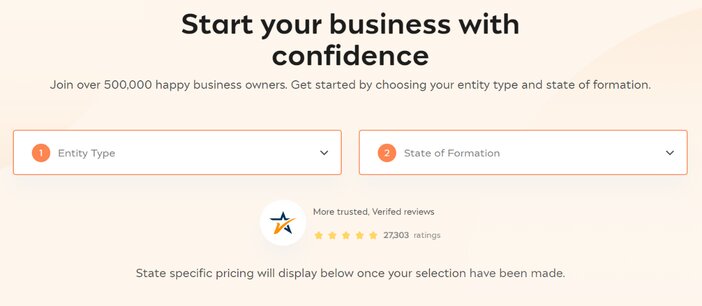 The Silver Package is available for no cost. All you have to do now is pay the registration fee in your state. However, you'll have to spend extra for services like the IRS Form 2553, the EIN/Tax ID, and operating agreements, among other things.
The Gold Package, which starts at $149 plus state taxes, and the Platinum Package, which starts at $299 plus state fees, are two other alternatives.
A business banking account, an operational agreement, an EIN, a banking resolution, lifelong company notifications, tax consultations, and limitless email and phone support are all included in the paid plans.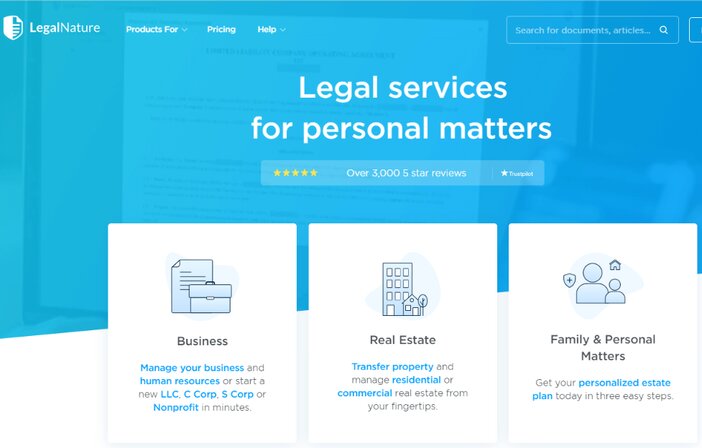 LegalNature is a legal internet service that allows users to build their bespoke legal forms.
The founders were troubled by the hefty rates that conventional attorneys demanded LLC filing offerings and other sorts of legal aid, so they designed an extremely reasonable product.
LegalNature is a solution for people who require legal paperwork but lack the time or financial resources to consult an attorney in person.
Anyone can sign up for a monthly subscription or pay a one-time price to download one legal document for under $40. Online legal documents are extremely convenient, and LegalNature guides you through the process for intricate legal forms that may need customization.
Although online legal forms cannot replace the advice of a professional law firm, they can assist you in gathering the necessary documents prior to meeting with an attorney.
It can also help you save money on the legal documents you'll need to start a business or petition for divorce. Additionally, LegalNature is useful for landlords, developing businesses, and others who require access to continuous forms.
LegalNature, unlike Rocket Lawyer, does not provide a full spectrum of legal services. They just provide online legal documents and do not provide attorney services or assistance with contract enforcement.
Although before they only sell legal documents, their catalog is surprisingly wide, and their online personalization system ensures that all you have to do to alter a document is answer a series of questions, and LegalNature will insert your information for you.
This in-house customization approach greatly decreases the likelihood of any inaccuracies in your legal documents, as well as the possibility of severe consequences resulting from issues stemming from wrong information.
Their customer service personnel will answer your inquiries in a professional and timely manner that meets your needs.
Pros
It simply takes a few minutes to fill out a LegalNature form
The organization offers not only high-quality services but also time-saving options
Creating an LLC with LegalNature is a simple and painless process
It has a very user-friendly interface, which is very useful for business creation services
Before you commit to one of LegalNature's paid programs, you can try the service for free for seven days
The business offers a money-back guarantee as well as outstanding customer service
Cons
They do not provide a no-cost tax consultation
Affordably priced monthly subscription
There is no legal advice available
Pricing
There are two different pricing structures at LegalNature.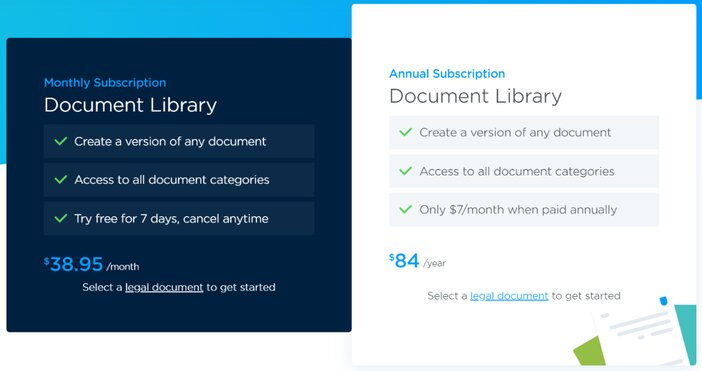 The whole document database costs $38.95 per month or $84 per year to access, which is billed annually. A free seven-day trial is also available. The cost of a single document starts at $34.95.
If you require business services or documentation, be sure to study the pricing structure.
In case you're not satisfied with the service, LegalNature offers a 30-day money-back guarantee.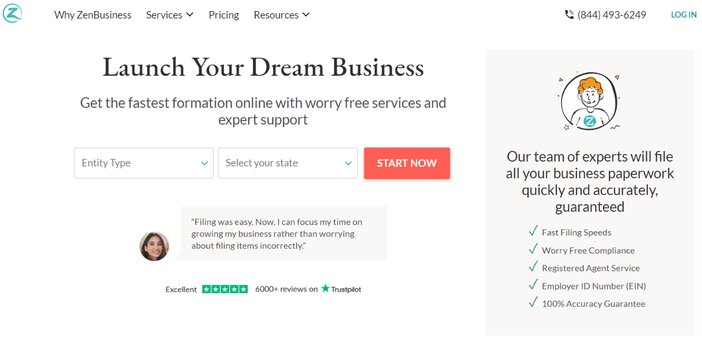 ZenBusiness is a company that specializes in business registration. Its legal entity administration packages set it apart from the competition.
Simply select your filing package and any additional company services such as expedited filing, registered agent, tax compliance, or Employee Identification Number (EIN) or Tax ID that is required. They then digitally transfer all of your business documents to your customized dashboard.
To do business in New York, you must issue a notice in two different newspapers, according to the New York State Limited Liability Law.
ZenBusiness can assist you in completing your publications and meeting all other needs so that you can lawfully conduct business in New York.
It's easy to sign up. Visit and register for an account on the website. If you require support, you may visit or call the Austin office.
Although their registration process is straightforward, you may have questions along the road. If that's the case, you can start a live chat with their customer service team right away in your browser window. They are willing to assist you.
You can also give them a call or send them an email, and they will respond within one business day.
See Also: Best Invoicing Software for Small, Medium, & Large Businesses
Pros
ZenBusiness provides their consumers with low-cost LLC and corporate services
You'll get a registered agent at a low cost
Bundle for forming a business that is unique to you
There's no need to be concerned about compliance with their guarantee
Even on Sundays, customer support is available
Cons
Legal services are limited
ZenBusiness does not have the same brand recognition as its competitors because it is a relatively new firm
Pricing
ZenBusiness has a three-tiered pricing system, with the opportunity to create your own if the regular plans don't meet your demands.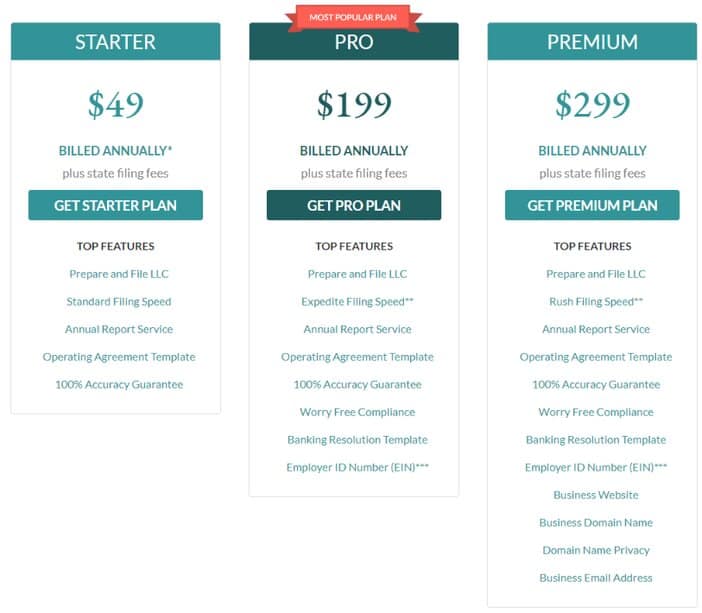 The Standard Plan is $49 per year plus state fees, the Pro Plan is $179 per year plus state costs, and the Premium Plan is $299 per year plus state fees.

Being a small business owner, you'll face a lot of challenges, and not all of them will be predictable. Having legal representation on your side is invaluable, which is where LegalShield excels.
LegalShield is simply an attorney services firm that offers small business lawyers consultations on specialized legal issues.
You can inquire about any legal concern you have, however, the frequency of times you can contact your provider law firm in a particular period is limited.
Simply select a service plan and complete a brief application form to gain access to LegalShield's highly skilled attorneys. The corporation charges its members a monthly flat cost for legal-service plans geared toward business owners and individuals.
LegalShield distinguishes itself from the competition by providing debt collection services. The platform's lawyers will draft five to 15 debt-collection letters every month, depending on your membership tier, to assist you to overcome cash-flow challenges and reclaim what is due to you.
This online legal services provider can help you organize a partnership, an LLC, a corporation, a sole proprietorship, or a non-profit organization, in addition to offering legal services to existing businesses.
Being one of the greatest legal assistance websites, LegalShield provides a vast library of free online information to anyone, including economical company formation services.
LegalShield offers many add-ons, such as website builder tools, identity theft protections, and workflow management software, to provide help throughout the life of your organization.
Traditional law firms frequently demand exorbitant hourly rates and costs to advocate for your business and provide legal assistance. LegalShield overcomes this problem by offering fixed monthly plans that feature discounted hourly rates, member-only privileges, and document reviews.
Pros
LegalShield has various strategies to meet a wide range of legal requirements
On behalf of your company, LegalShield will write business correspondence and letters
Unlimited business-related phone consultations and one hour of legal research assistance
There is a service that provides trial defense
Letters of debt collection and aid
There is a Member Bill of Rights available so you can see what kind of work you might expect
Cons
Customer support isn't always quick to respond
There isn't a free trial period or a money-back guarantee available
Pricing
The following is LegalShield's price structure:

Personal Legal Plans begin at $24.95 per month and go up from there
Plans for small businesses start at $49.00 per month
Monthly Business Memberships start at $145
In short, LegalShield offers a comprehensive collection of features at a reasonable cost. It offers a variety of programs and packages to assist you on both a personal and professional level.

LegalMatch is an online legal platform that matches users and businesses with local attorneys who are licensed to practice in their area. Simply fill out an online survey about your legal issue, and LegalMatch will pair you with a carefully vetted local attorney who can help you.
Lawyers who are interested in defending you will send you an email (or contact you if you like) providing information about their history, fees, and past client evaluations after assessing your legal situation.
To boost targeted web traffic from persons seeking legal issues or searching for lawyers, LegalMatch employs a combo of SEO and advertising.
They offer a law library containing over 7500 pieces of useful legal knowledge, and organic search results bring in a regular stream of traffic. They also have a dozen other practice area-specific websites with more information.
When a potential client with a legal problem visits the LegalMatch website, they are screened through a sequence of intake questionnaires tailored to their specific needs. This produces a "case" in the system, which is then routed to attorneys who fulfill the criteria for evaluation.
Being an attorney, you can look over the details of the person's case and contact them if you're interested. Alternatively, you can immediately "decline" a case to hide it. LegalMatch's pricing isn't disclosed, however, it differs by professional field and location.
Another excellent feature of this platform is that LegalMatch thoroughly validates all of its attorneys before contacting you.
Finding an attorney with LegalMatch is a 100% free procedure. Those seeking legal advice are under no obligation to retain any of the lawyers recommended by the platform.
See Also: Common Interview Questions and Best Answers
Pros
In less than 24 hours, you can find a local attorney
Large information base to assist you in understanding the service you require
LegalMatch will not charge any fee to match you with a lawyer
A large network of legal professionals
Excellent client service
Cons
There is a possibility that lawyer's proposals will not thorough
Fixed-fee legal services are not accessible, which might lead to high legal fees
Pricing
LegalMatch is a 100% free service for both businesses and clients. The business generates money by billing attorneys a monthly fee for using the platform to meet with clients.
What is the definition of an online legal service?
An online legal service is a website that offers services to any personal or business-related legal hurdles or connects you with an attorney who can provide legal advice on those issues.
As a result, online legal services may be able to assist you by giving information and assistance on how to set up or establish your business entity. Some even handle your registration and serve as your registered agent, receiving mail on your behalf.
Other online legal services just offer a library of legal forms and papers to assist you in drafting and personalizing your legal documents.
These libraries are notably valuable for persons who have some legal knowledge or are looking for information to help them understand a legal issue.
Another type of online legal service is one in which you fill out a questionnaire regarding your legal case and then post it online for interested attorneys to contact you with proposals and quotes. In most cases, these platforms will allow for consultations.
Seeing that online legal services exist in a variety of formats and provide a variety of services, it's a good idea to have a good understanding of what you'd like done before signing up for one.
When should you consider online legal services?
Investing in online legal services whenever you want them makes sense. It's certainly not something you need to keep on hand all of the time unless you're running a high-risk company, facing lawsuits because of the things you sell, or sweeping in millions of dollars every year.
There are, however, certain exceptions to this rule. It makes it more logical to invest in legal services from the start, based on the type of business you're doing and the risk involved. However, for most small firms, on-demand online legal services are sufficient.
Whether you require help establishing your business, preparing business contracts for freelancers and recruits, serving eviction notices, safeguarding patents, or anything else entirely, and online legal services are the most cost-effective option.
If you require a lot of help at once, several providers offer membership options to keep expenses down and make them available to everyone. If you're not sure what you need, this could be a good option.
FAQs
1. Is it possible to speak with a lawyer for free via the internet?
Yes, you can speak with a lawyer over the internet for free. Keep in mind that free services typically come with conditions, and the lawyer's word may not be very reliable because they aren't being paid for it.
That isn't to suggest it won't work out, but keep in mind that a premium service will yield greater outcomes. It is worthwhile to pursue.
2. Is it Legal to Make a Will Online?
Yes, online wills are legal as long as they follow all applicable federal and state regulations. Companies that sell online will hire licensed lawyers and legal specialists to meticulously write their estate planning forms so that they are legally enforceable.
It's important to remember that not all online will generators are made equal. Even if some of these companies' offerings conform to your state's regulations, you'll want to be certain that the final document has the same weight as one prepared by an attorney.
Conclusion
Online legal services are becoming increasingly popular. These platforms provide legal assistance without requiring you to leave your house or office.
Rocket Lawyer and Incfile are my top picks for the best online legal services provider that'll meet the majority of your legal needs.
Realistically, your legal requirements will evolve as your company grows. Fortunately, you have access to a large choice of useful and reasonably priced online legal services. If you want a 100% free service, I propose LegalMatch.
These services provide you with peace of mind, and I believe it is always preferable to address issues before they emerge.
Tosinajy teaches you how to make money online, the software you'll need, and how to deal with common Internet issues.
Thanks for reading.