Are you in the market for the best streaming software for your broadcast business?
There is an ever-growing number of video streaming software programs available today. With so many different programs to choose from, the process of deciding which is best for you can be confusing.
There are both free and paid streaming software programs being offered online and there is no right answer as to whether paid or free versions offer the best quality streaming without a lot of fine-tuning.
As a result, this post reviews (plus pros, and cons) the best streaming software to help you come up with a decision on which one is the best for you.
Quick Review
What is the best streaming software for Beginners and Experienced Streamers?
See also: Best Screen Sharing Software [Free, Freemium & Paid]
Best Streaming Software
Here are the best streaming software for Beginners and Experienced Broadcasters.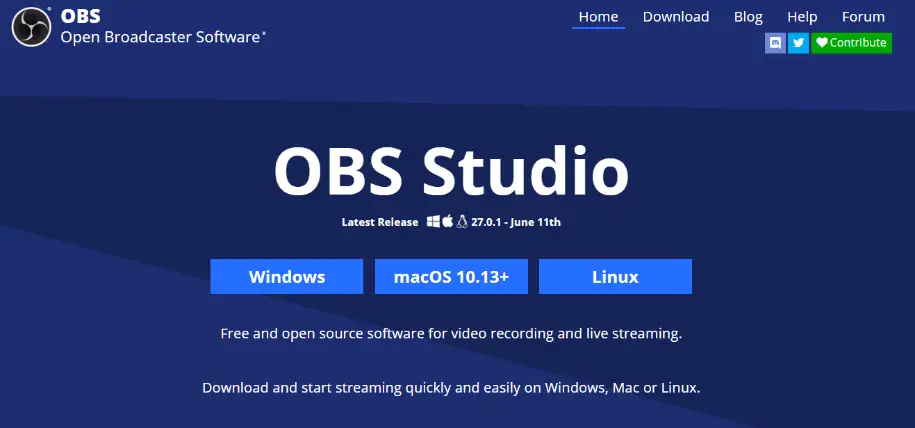 OBS Studio is the perfect solution for recording and streaming without complications. Built on top of the OBS framework, this software comes with a vast number of features for you to get your stream on. OBS Studio is designed to make your life easier.
It's a free & open-source, comprehensive solution that includes everything you need to get you started with screen recording and live stream.
RTMP broadcasting, multiple source switching, capture cards, cameras, chroma-key (green screen), video and audio streaming, and application windows are all supported by OBS.
It is compatible with Windows and macOS. Furthermore, with OBS you can record, stream and broadcast near the real-time high-quality video of many kinds of events from your desktop.
OBS Studio also makes it easier to overlay webcam footage with on-screen graphics and effects, such as the weather or sports scores.
Instead of paying lots of money for expensive professional streaming software, why not get OBS Studio? It's 100% free and can do the job just as well.
OBS Studio Pros
It's free
Easy-to-use for beginners
Monitor 8 different scenes simultaneously with Multiview
Frequent updates
Integration with numerous plugins and scripts
Able to function on lower-quality internet
OBS Studio Cons
Some limitations on features
Room for improvement for plugins
OBS Studio Pricing
OBS Studio is open-source, therefore it is 100% free.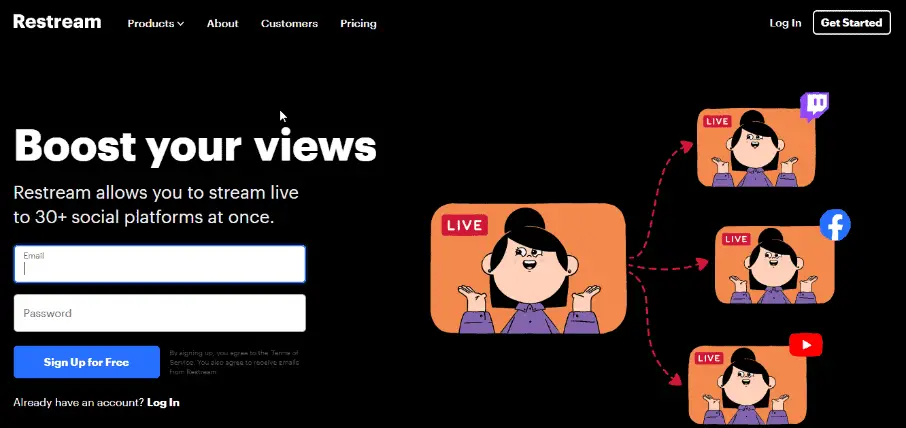 Restream is one of the best streaming software available on the market today. It is a cloud-based video streaming service that allows you to stream videos to over 30 platforms at once, including Twitch, YouTube, and Facebook.
Restream also provides native interaction with popular streaming applications such as XSplit, OBS Studio, Elgato, and others.
In addition, you can convert your local videos into multiple formats and even stream them to multiple devices at once. It is constantly being updated by the developers as well as the community giving you access to new features regularly.
They also offer an integrated chat tool that you can use as an overlay during your live stream. Over 20 pre-designed themes are available to alter the look and feel of your chatbox.
With the Restream services and browser plugins, you can add your live video streams to Restream's global network of broadcasters of all sizes. This allows you to widen your social network and grow your audience in ways not possible today with other streaming software.
Restream Pros
Create multiple channels on a single platform 
Has a built-in amplifier
Track your frame drops, bitrate, and frames per second (FPS)
Update metadata of all streams from a single point  
Add a CTA button to your live stream
Allow viewers chat with each other 
Hide nasty and rude words in the chat box
Restream Cons
Occasional bugs with the chat bot
Free plan has branding in the comment section
Restream Pricing
In addition to its free plan, Restream comes with four plans:
Standard: $16 per month
Professional: $41 per month
Premium: $83 per month
Business: $249 per month
Also, with any of the paid plans, you have a 7-day free trial to try Restream.
See also: 11 Best Video Conferencing Software: Meet with Your Team Anytime, Anywhere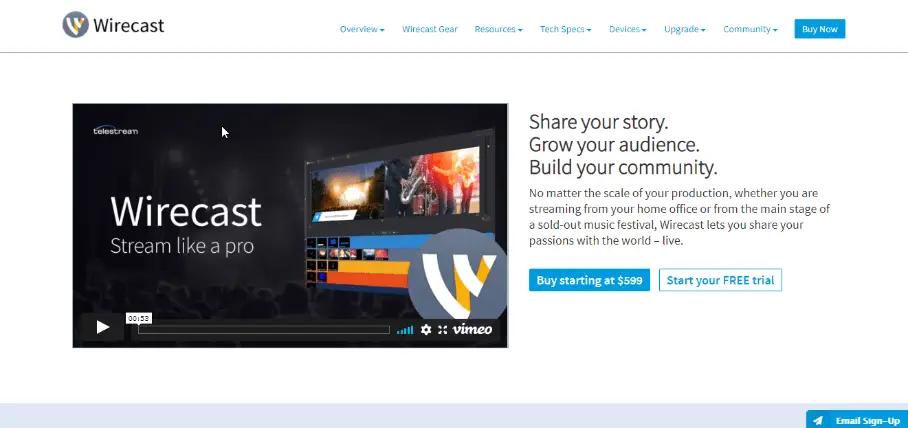 Wirecast is one of the most powerful streaming software available. It's a professional quality live and non-linear streaming software used by thousands of broadcasters around the world every day.
A complete solution for news programming, talk show hosts, indie musicians, churches, schools, or virtually anyone who wants to broadcast live or produce videos that will stand out.
In addition, Wirecast includes a lifetime of features and functionality. With a full range of live production features, a built-in community platform, and all the streaming delivery options you need, Wirecast provides everything you need in one package.
The Wirecast program works with a variety of capture cards, devices, and camera inputs. Live switching and picture-in-picture compare included in this encoding option. Best of all, Wirecast works straight out of the box so you can start streaming today.
Wirecast Pros
Easy-to-use
Compatible with most popular operating systems
Easily record videos in MP4 or MOV files
Supports Pro Audio FX Built In
Green screen
Supports GPU-accelerated encoding
Instant replay
Wirecast Cons
A bit expensive
Takes a lot of computer memory
Wirecast Pricing
Wirecast provides no free version or free trial, it offers only two paid versions. Also, it's important to know the software doesn't run a monthly subscription, its two versions come with a one-time payment:
Wirecast Studio: $599
Wirecast Pro: $799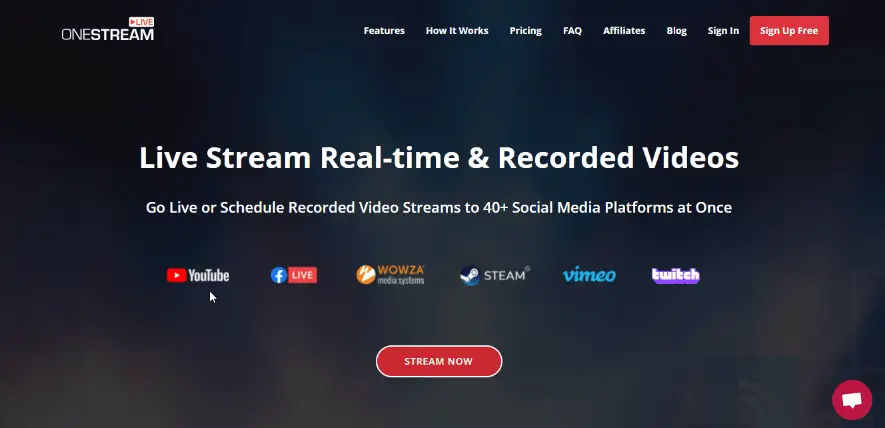 OneStream is known as one of the best streaming software, with the ability to broadcast and record live and pre-recorded videos and post them to over 30 social media networks.
It turns your computer into a powerful multi-room streaming server that can be accessed from anywhere in the world.
In addition, you can record and plan your broadcasts on social media platforms up to 60 days in advance using pre-recorded streaming.
You can further use OneStream in conjunction with other streaming technologies for live streaming.
Scheduling pre-recorded videos is a breeze. You just upload your video clip, choose a day and time, and choose from a variety of streaming platforms, including YouTube, Twitch, Facebook, Instagram, Periscope, and others.
OneStream Pros
Stream to over 40 platforms 
Schedule posts up to 60 days in advance
Require so software installation
Multiple upload options
Share screen
Custom RTMP streaming
OneStream Cons
Complex configurations
Limited features
OneStream Pricing
In addition to its free plan which offers unlimited streaming, 5 minutes max per stream, 1 social account, and 5 GB max file size, OneStream has 3 premium packages.
Basic: $10 per month
Standard: $39 per month
Professional: $89 per month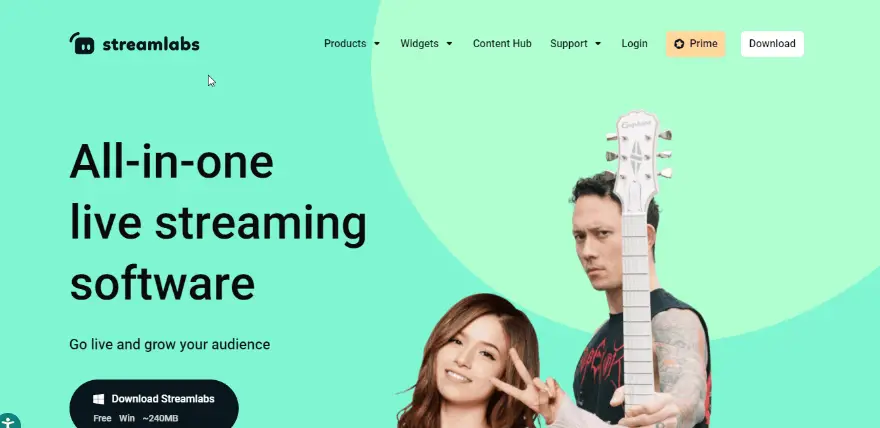 The Streamlabs OBS streaming software is another open-source option. The program is free to download, however, full access to all of the features is only available in the Prime version.
Streamlabs OBS is the perfect streaming software for most live streamers, content creators, and producers who are working on a low budget without having to spend thousands of dollars.
MelonApp, their web-based live streaming studio, is one of the most unique features of this software. With the app, you can stream to Facebook, YouTube, LinkedIn, or Twitch with just one click and without leaving your current web browser.
In addition, it enables broadcasters to focus on creating great content while the software handles the heavy lifting. It's fully managed, 24×7 support with a team of professionals standing by.
Streamlabs OBS Pros
Easy for beginners
Tools for designing stream layout
Selective recording
Gaming overlays
Tools for tipping and donations
Streamlabs OBS Cons
No scoreboards 
Limitations on graphic overlays
Some features are clunky
Streamlab OBS Pricing
LikeOBS Studio, Streamlab OBS is free to use. However, to unlock all of Streamlabs' features, you must upgrade to "Prime".
Unfortunately, on the website, there is no information about prices for prime.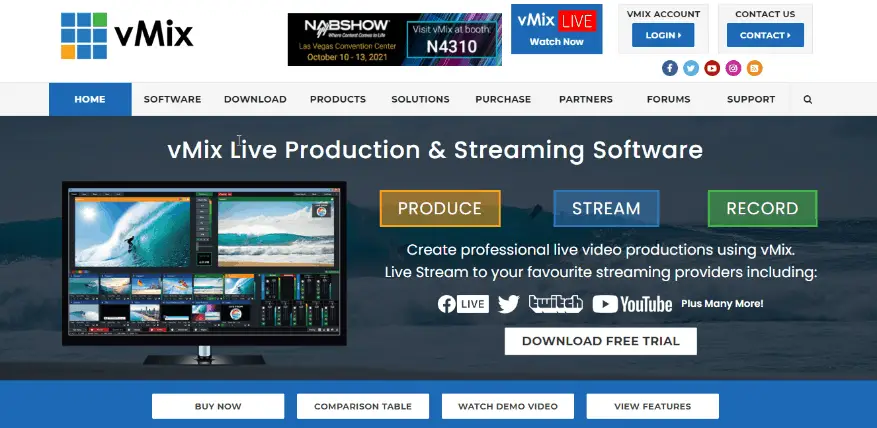 vMix software is the ultimate video mixing software for all your streaming and broadcasting needs. The software makes it easy to mix live content, record videos, take calls, show webcam feeds, and more.
With live streaming on Facebook, YouTube, or Twitch becoming an everyday option for businesses and schools everywhere, more and more are turning to vMix to stream live from anywhere in the world.
vMix allows you to mix HD video in real-time and broadcast live videos directly to the internet.
In Full HD, SD, and 4K, you can also switch, record, and LIVE stream videos. The good news is that you can use it with a variety of tools, including cameras, images, DVDs, video files, Powerpoint presentations, and more.
vMix Pros
Capture events like goals through a single click
Add tags to events for better segregation
Create highlight reels of event instantly to play between intervals
Eliminate echo from the audio with Automatic Mix Minus
Use multiple virtual sets, overlay channels, and templates
It offers a fully functional 60-days free trial
vMix Cons
Not compatible for using on mobile devices
Steep learning curve
vMix Pricing
In addition to its FREE version, vMix has premium versions:
Basic HD: $60
HD: $350
4K: $700
Pro: $1200
All versions are available for a one-time fee. A 60-day free trial is also included to see if the software is worth your money.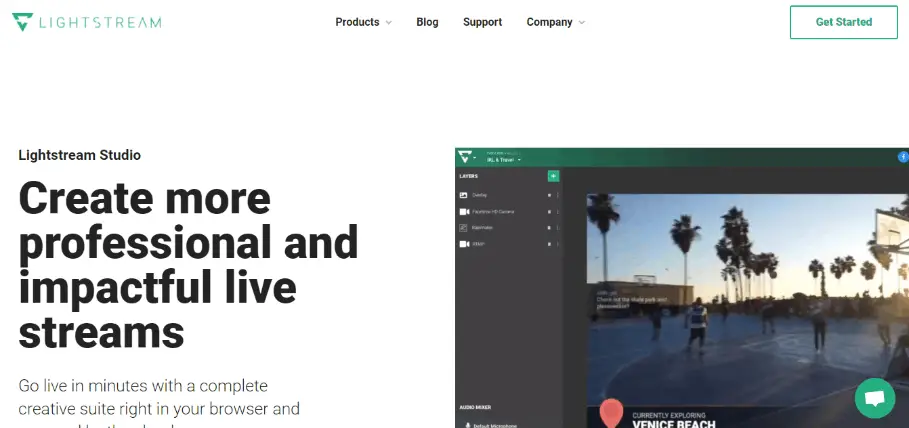 Streaming video and audio without the storage hassle. Lightstream is a cloud-based streaming software solution that doesn't require you to download anything or connect any hardware.
Just log in from any web browser and you can stream content to play on laptops, tablets, phones, even television sets, with zero latency – zero buffering.
Lightstream works right out of the box and comes with the main server components pre-configured so that all you need to do is run it.
It is extremely simple to use, with a drag-and-drop editor that includes creative controls, projects, and scenes.
In addition, you can increase audience engagement by using third-party connections for motion graphics, social network displays, and on-stream notifications.
Lightstream Pros
Go live in under 60 seconds
Has a drag-and-drop editor
Start your live stream on phone
Switch scenes remotely
Only need internet connection
Share link and opt to privately chat with guests if needed
Lightstream Cons
Require a 5MB upload speed for video streaming
No templates available
Lightstream Pricing
Lightstream's Creator plan is $25/month. Additionally, the plan includes up to 7 remote guests and up to 4 RTMP (Real-Time Messaging Protocol) sources.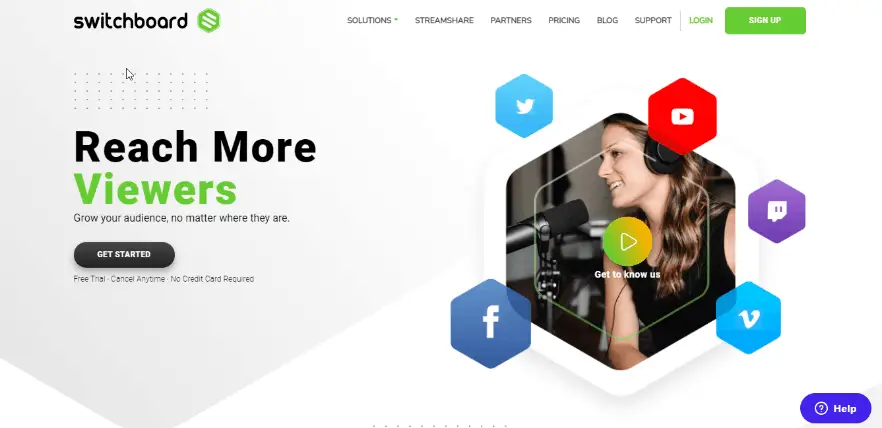 Whether it's live sports or world news coverage, Switchboard Live enables you to see your vision through to the screen with unprecedented ease.
Switchboard Live is one of the most powerful and customizable video streaming software in its class. Packed with features, it's the system you'll need to create your own live broadcasting channel, and connect it with a myriad of other online applications.
Switchboard Live is a dependable simulcasting program that allows you to stream to several locations at the same time. It includes video player embedding options in addition to robust simulcasting functionality.
This program doesn't have a lot of extra capabilities, but it's a good choice for broadcasters that require a specialized simulcasting tool.
From simple one-person shows to broadcast news networks, Switchboard Live combines video production and real-time interactive television capabilities into one easy-to-use package.
Pros:
Dedicated simulcasting support
Video embedding
Solutions for different use cases
Generally easy to use
Integrates seamlessly with most OVPs
Cons:
Some minor "snags" in setup
Some settings require manual configuration
Pricing:
Switchboard Live has three different pricing plans accordingly:
Indie: $29/month
Pro: $59/month
Business: $99/month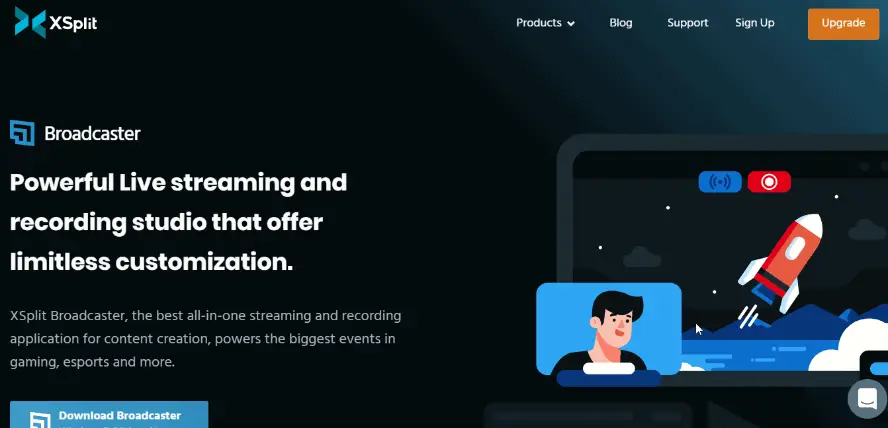 XSplit Broadcaster is one of the best platforms for live streaming and recording your favorite gaming moments. It's used by top professional gamers and many elite streamers.
Vcam, Broadcaster, Connect Webcam, and Capture, are the four products offered by XSplit (Beta). The XSplit Broadcaster is particularly the most appropriate product for streaming since it can both live stream and record
Imagine being able to capture your gaming prowess and delivering it to the masses without even having to leave your game.
With XSplit Broadcaster, you can stream, record, and share your videos through live or pre-recorded sessions with just a few clicks.
Furthermore, automatically detect game sounds and overlays, add webcam video, or reply to comments from your viewers in real-time.
XSplit Broadcaster Pros
Organization by title tags
Streaming and recording tools
Suitable for business needs
24/7 support
XSplit Broadcaster Cons
The platform is a little bit confusing
Requires a bit of a learning curve
Puts strain on some processors
XSplit Broadcaster Pricing
Here are the XSplit Broadcaster Premium plans:
1 Month License: $15.00
3 Month License: $30.00
12 Month License: $60.00
Lifetime License: $200.00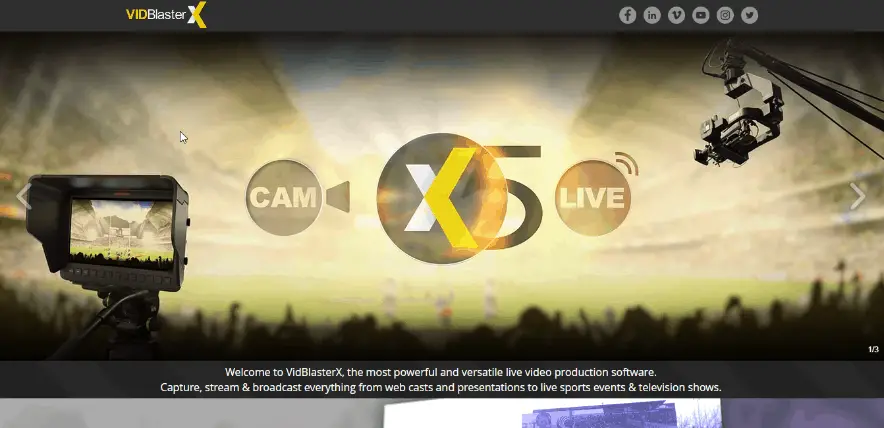 VidBlasterX is a complete streaming software solution. It brings live and on-demand streaming, in a user-friendly interface.
It supports all major streaming protocols, including MMSH, RTMP, and HLS. The system is designed to scale almost infinitely and can be customized for any size of a media company.
Features include next-generation video technology & a low latency encoder that offers clear high-quality video at 60 frames per second with audio directly from the source device.
As a result, it is ideal for live gaming broadcasts, corporate training, church services, TV shows, sporting events, and much more.
Centralizing media under one easy-to-use interface, VidBlasterX is one of the reliable streaming software on the market. Overcome bandwidth limits and deliver professional video across networks with this intuitive point-and-click solution.
VidBlasterX Pros
Wide variety of features
Highly customizable
Can be used for multiple streaming purposes
Good range of pricing plans
VidBlasterX Cons
Not for inexperienced streamers
Not compatible with Mac and Linux
VidBlasterX Pricing
VidBlasterX has 3 premium plans, they're available on a yearly subscription.
Here are the 3 pricing plans accordingly:
Home: $9/year
Studio: $99/year
Broadcast: $999/year
All in one software that takes the stress out of live streaming. Twitch Studio enables broadcasters to go live and create content on the Twitch platform directly.
Twitch Studio can simply integrate inputs from your webcam, microphone, video game, screen, web browser, or any of them at the same time.
It also supports the Network Device Interface (NDI), therefore, you can play with two or more monitors and use them as input sources.
You can easily create a live stream of their gameplay, using the integrated video camera and broadcasting it all with the touch of just a button.
Twitch Studio was developed to be an intuitive and powerful tool for anyone, whether you are a new or experienced broadcaster.
Twitch Studio Pros
Built-in widgets
User-freindly
Desktop, mobile, and set-top box apps
Varied content
Free, with premium options
Free games and other bonus items for subscribers
Offers own software for broadcasting from PC
Mobile broadcasting
Twitch Studio Cons
No official Nintendo Switch or Roku app
A Twitch Prime subscription no longer removes ads across the board
Twitch Studio Pricing
Twitch is free streaming software that includes advertising at regular intervals. If you're a member of Amazon Prime or Prime Video, you'll have access to Twitch Prime, a premium experience that includes extended broadcast storage (60 days instead of 14 days).
What is Streaming Software?
Streaming software is a technology that facilitates the delivery of sustained content to an end-user over a network; specifically the internet. This includes live/linear streaming, video-on-demand (VoD), podcasting, and even synchronous real-time communication such as chat rooms and interactive web applications.
In addition, it provides solutions for converting your owned media files into live streams that can be accessed, played back remotely, and re-broadcast via the Internet.
See also: Get Premium Sound Quality With the Best Audio Editing Software
Why Use Streaming Software?
Streaming allows you and your audience to engage in a multi-dimensional experience without ever having to download. The rich listening experience will keep them on the edge of their seat, clicking back for more.
Many of the streaming software is easy to use and allow your listeners to play their desired stream even as they browse other options.
Additionally, streaming software allows you to view live or pre-recorded video in different ways. Cost-effectiveness, versatility, and flexibility are just some of the benefits. With streaming software, you can also save time and most importantly money on costly bandwidth costs.
Who Can Use Streaming Software?
Anyone can use streaming software. You don't need any special training or equipment. Furthermore, you can stream digital video, audio, and pictures using streaming software.
Consider streaming technology for video conferencing, distance learning, live entertainment, and web broadcasting for organizations, educational institutions, and personal users with broadband connections.
In today's working world, most people work from home or remotely. As a result, you need to have an effective way to communicate with co-workers, customers, and vendors. As a result, you can share a live presentation and collaborate in real-time by inviting others to view your public stream.
See also: 11 Best Presentation Software To Deliver That Perfect Presentation
FAQs
Which of the best Streaming Software should I use?
There are so many streaming software programs to choose from. They offer various features, have different designs, and cost quite a range.
However, if you're a beginner, I will suggest you start with OBS Studio. It's particularly designed for beginners and it's completely free.
What is the cost of Streaming Software?
Streaming Software has a varying cost depending on the platform you wish to use it for. Some streaming software is free while some can cost a few hundred dollars per month, depending on your needs.
Also, there are some like Wirecast that come with a one-time payment. However, you can expect the cost of streaming software to range from $10 – $200 per month.
How much money will I make as a Streamer?
As a streamer, you can make hundreds of dollars per month through subscriptions alone. Streamers with talent and dedication can create a full-time career out of streaming.
Particularly, If you have experience in performing, public speaking, event planning, or have professional camera operating experience, you will be on the right track to making a six-figure salary.
What kind of Internet speed do I need for streaming software?
The general rule of thumb is that your Internet speed should be at least twice the bitrate of your content for smooth streaming.
For example, if you want to stream HD content, you should have an Internet connection of 5 Mbps or greater. If you want to stream Ultra-HD content, you should have an internet connection of 25 Mbps or greater.
What are the best features that I should be looking for in the best stream software?
There are several features to consider when looking for the best streaming software. First, look at the fees. Most plans cost money, so do your research on which plan you need and what features you want to include.
You also may want to check the vendor's website to see if there are any special offers (ex: free trial, reduced price if you pay yearly, etc.).
Next will be durability – make sure you won't have any issues with the company down the road if you find that you need assistance or technical support.
Another important feature to consider is encoding. Encoding is the process of taking a signal that is in its original format and converting it into a different form.
Conclusion
Overall, Restream is the best out of the best streaming software designed with everyone in mind. It is a professional tool that will help you grow your channel on Twitch, YouTube, Facebook, and other platforms. Restream is affordable, easy to use, and has a fantastic line of features.
However, if you're searching for an open-source solution, OBS Studio, and Streamlabs OBS are great choices. While both programs are free, they include the majority of the functionality essential for live streaming as well as significant integration capabilities.
On the other hand, larger organizations that wish to produce live events on a wide scale will find Wirecast and vMix helpful.
Perhaps, you are also into podcasting, here are the Best Podcast Software that will make your podcast stand out in the crowd.
Finally, I hope you found this post helpful.
Tosinajy teaches you how to make money online, the software you'll need, and guides on how to deal with common issues you may encounter.
Thanks for reading.
Ready to Try Restream for Free?
Click on the button below to get started with Restream, all for free. You can always upgrade to one of its paid plans if you need additional functionality.