Looking for the best video conferencing software to conduct a meeting with your team or participants of an online course? You're in the right place. It is the era of collaboration and communication, and meeting online has become more common than ever. 
There are many video conferencing software that you can choose from, but only a few provide value. Are you planning for an online conference? This article would be a great help in finding the best 10 video conferencing software.
As a business owner or an entrepreneur, it's hard to find time to travel. You have a lot on your plate, and meeting with clients or potential investors in person can be difficult sometimes. 
There's no reason why you have to miss out on meetings if you use video conferencing software. You can save a lot of time and money with them both by scheduling meetings and lining up sessions faster in the first place. 
So, whether you need to meet with your team or anyone in the world, you have the best software for video conferencing right here.
Quick review
What is video conferencing software?
Video conferencing software allows users to see and interact with remote parties via live two-way video. It makes it easy to meet and collaborate with colleagues, partners, clients, or students online. 
Video conferencing software also facilitates face-to-face cooperation between parties in real-time. Thus, making it more effective and efficient.
Using video conferencing software is the latest trend that is gaining popularity by businesses. It is mainly due to the benefit of communicating with more than one person, which is very important when trying to build a business. 
Best video conferencing software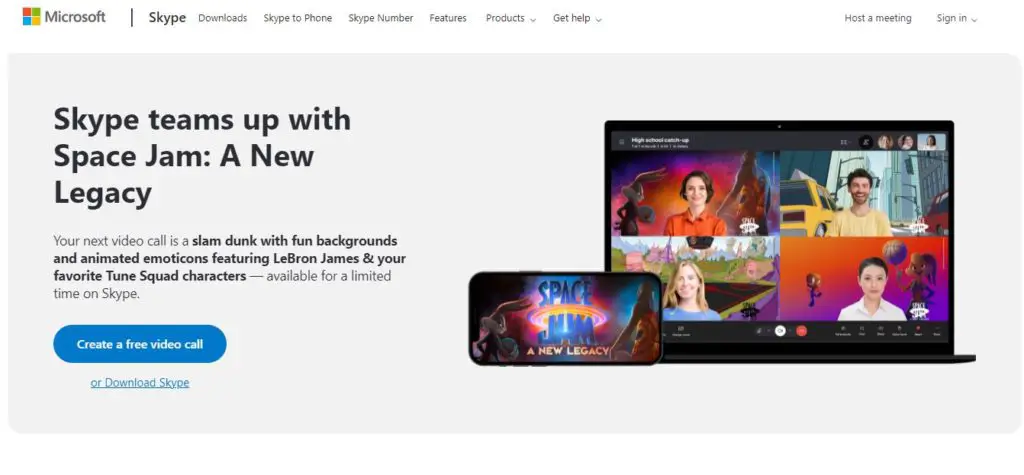 Skype is a popular application that allows you to make multimedia phone calls and enables the webcam video conference. In addition to displaying their video capture in real-time on the screen, Skype allows you also to save all your voice calls for later playback. 
Furthermore, this user-friendly application integrates two-way audio and video for a seamless video conference with business partners or family members.
Pros
Perfect for a video conference
Provides an instant messaging service
Share screen during a call
Instant messaging
Cons
It freezes a lot
Slow customer support
Possible technical glitches
Pricing
Entry Level (Unlimited world): $13.99 per month.
Unlimited US & Canada: $2.99 per month.
Unlimited North America: $7.99 per month.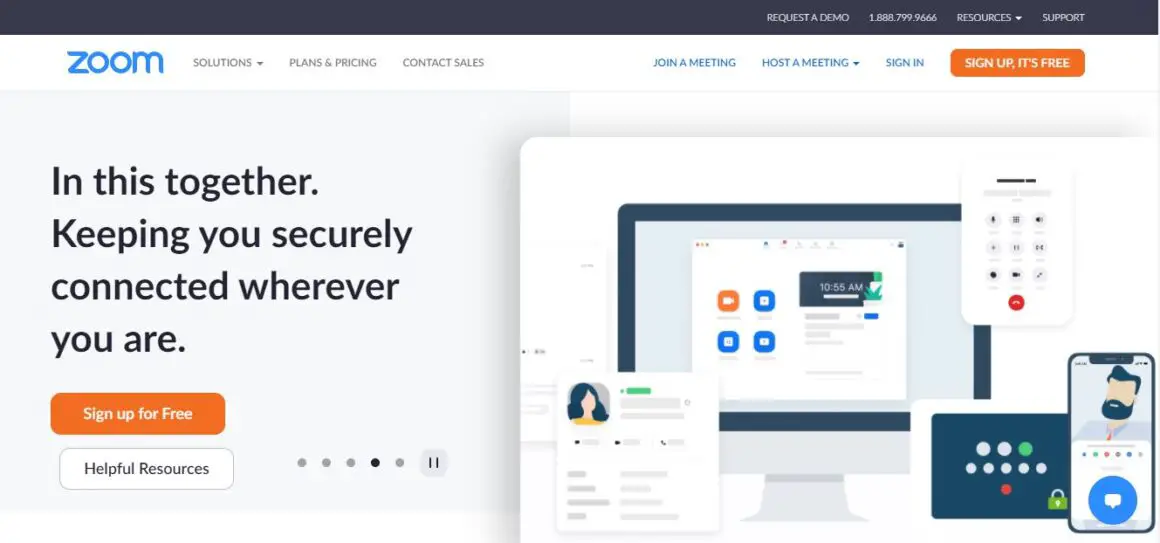 Zoom is not just a simple video conferencing software. It is an affordable video conferencing software that allows you to connect many participants on your call. You can also use it to do a multi-track recording. 
Furthermore, it also includes other functionalities like automatic conference number dialing, instant messaging, local recording, etc.
Pros
Simple to use
Friendly free account
Paid plans are reasonably priced
Outstanding performance
Hosts and participants can take advantage of a variety of features
Exceptional track record for quickly resolving support issues
Cons
There are no toll-free numbers for the United States or the United Kingdom. 
The app does not allow you to add a description or a meeting agenda when inviting people to a meeting. 
Pricing
Basic: Free
Pro: $14.99 per host per month per license (up to 9 licenses)
Business: $19.99 per host per month per license (10 or more licenses)
Enterprise: $19.99 per host per month per license (50 or more licenses)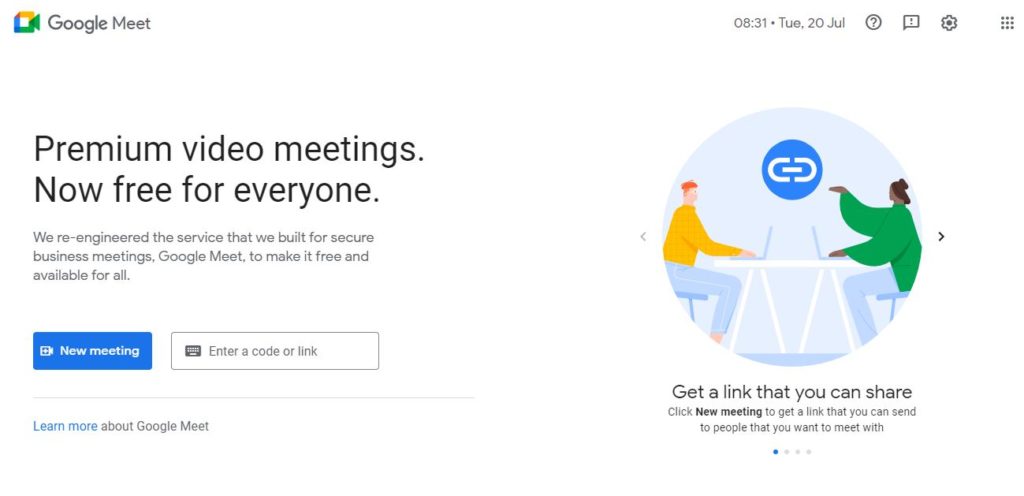 It seems Google is truly committed to meeting the demand for video collaboration. Google Meet was introduced in March 2017 as a web-based yet highly effective video conferencing software. It also doesn't require the installation of extra hardware and apps. 
Although the product offerings are unclear, its outstanding functionality more than makes up for it. So if you're looking for a web-based video conferencing software, Google Meet is an obvious choice.
Pros
Completely compatible with other Google Workspace offerings
Excellent customer service options
Multiple screen layouts
Screen sharing
Cons
The Enterprise tier has a limit of 250 members
The product offerings are unclear
Pricing
Free plan: free maximum of 100 attendants per meeting
Essential plan: $12 per user/month with a maximum of 150 attendants per meeting
Enterprise plan: $25 per user/month with a maximum of 250 attendants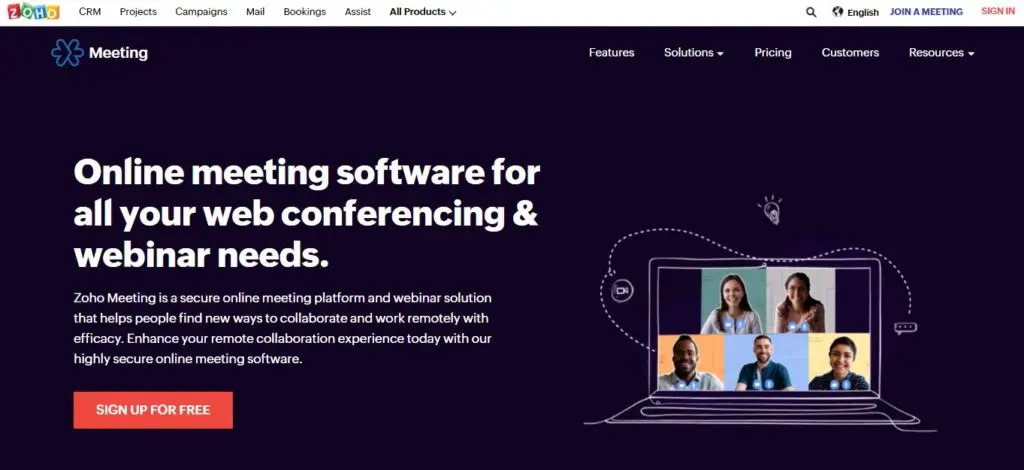 Zoho Meeting is one of the most powerful video conferencing software out there. The software is for people looking for something that can compete with Skype in terms of performance and video quality. Additionally, the best part is that it is affordable.
Pros
Cost-effective
Up to 40 simultaneous video feeds
Excellent webinar features
Cons
There is no whiteboard
Microsoft Internet Explorer is not supported
It lacks full integration with Microsoft Outlook
Webinars are available as a separate product
Pricing
Meeting plan
$2.5 with 10 Attendees
$5 with 25 Attendees
$7.5 with 50 Attendees
$10 with 100 Attendees
Webinar plan
$15 with 25 Attendees
$23 with 50 Attendees
$31 with 100 Attendees
$63 with 250 Attendees
If you seek out the easiest way to run a meeting or conference with your team members, then Office 365 has good news for you. Microsoft Teams is a new app that brings together chat, meetings, notes, and attachments in one unified experience. 
It also aims at more productivity and collaboration between teams with excellent features. These features originate from other communication/groupware applications, like video conferencing, document revision control, and discussion boards.
Pros
Business-class free video chats with no time constraints
Support for a wide range of platforms
10 GB of cloud storage for file sharing and file transfers.
Remote control of shared applications is possible
Chat is always open
Integration with Microsoft 365
Cons
In the free plan, there is no recording of meetings and no phone dial-in
Initially, setup and operation are somewhat tricky
Pricing
Microsoft 365 Business Basic: $5 per user per month
Microsoft 365 Business Standard: $12.50 per user per month
Office 365 E3: $20 per user per month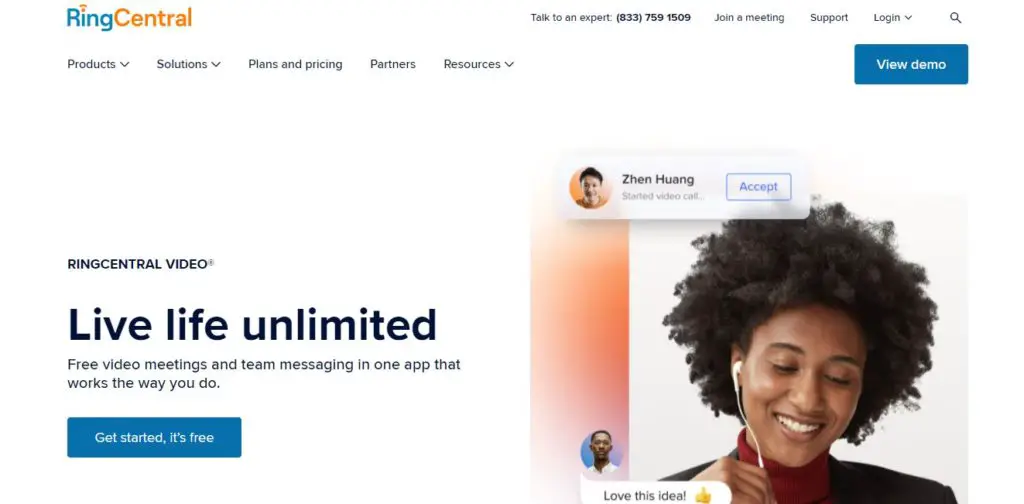 Glip by RingCentral is a fully integrated, next-generation team communications solution. It includes instant messaging, presence, video conferencing, a file storage system, and more. 
This video conferencing software gives you the tools to communicate and share information within your team, your company, or the world.
Pros
Tasks, a calendar, and interactive file commenting are all included.
There are excellent options for admins to manage channels and teams.
The allowance for cloud recording is decent.
Cons
Joining several accounts with the same email address is troubling.
There are no keyword updates or threaded conversations.
No whiteboard or meeting transcription.
Integration with Google Calendar and Microsoft Outlook is restricted.
Contacts handle RingCentral.
Pricing
Glip Pro: Free
Glip Pro+: $11.99 per month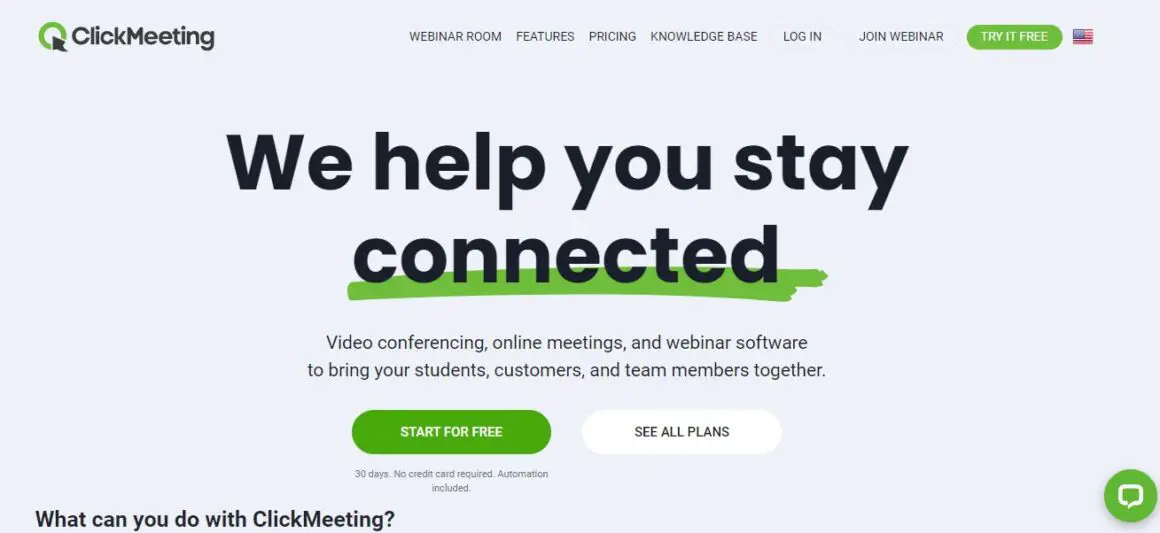 ClickMeeting is a small, accessible, and easy-to-set-up platform that offers everything you need for great webinar experiences. 
You'll find everything you need for live conferencing in the ClickMeeting software. It includes a chat feature, an interactive whiteboard, advanced moderation tools, and automatic dial-in reminders.
Pros
Simple to use.
It is not necessary to use a credit card to try
Gives an outstanding webinar performance
Cons
There is no phone service
It's a bit expensive for a solution that only offers video conferencing
There are a small number of video participants.
Pricing
Live: $25 per month
Automated: $40 per month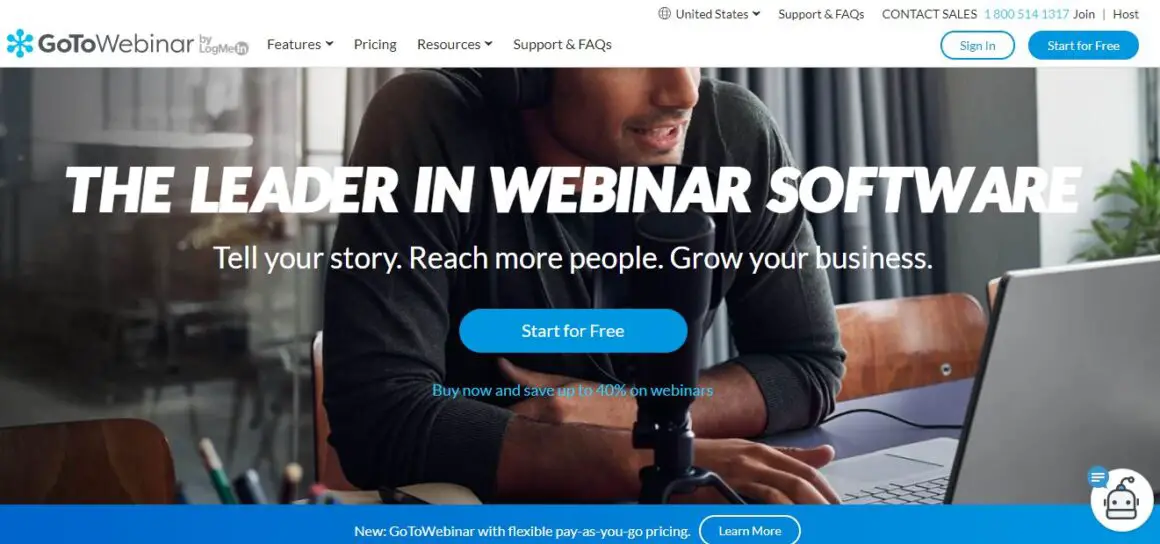 GoToMeeting is a free video-conferencing and online meeting service for web users. In addition, you can use it to hold meetings with coworkers, clients, or webinars with customers. It's easy to join, easy to use, and also easy to share your screen over the internet.
Pros
Meetings with high-quality video and audio
It is simple to join
Professional focus 
The user interface is well-designed 
Viewing participants and shared content are possible in different windows. 
Setup for a technically advanced conference
Recording of chats and meetings
Cons
Limited access control/authentication
Only paid versions of the desktop application are available
Pricing
Professional: $12.00 per month with 150 attendees
Business: $16.00 per month with 250 attendees
Enterprise: with up to 3,000 attendees, you have to contact them to get a quote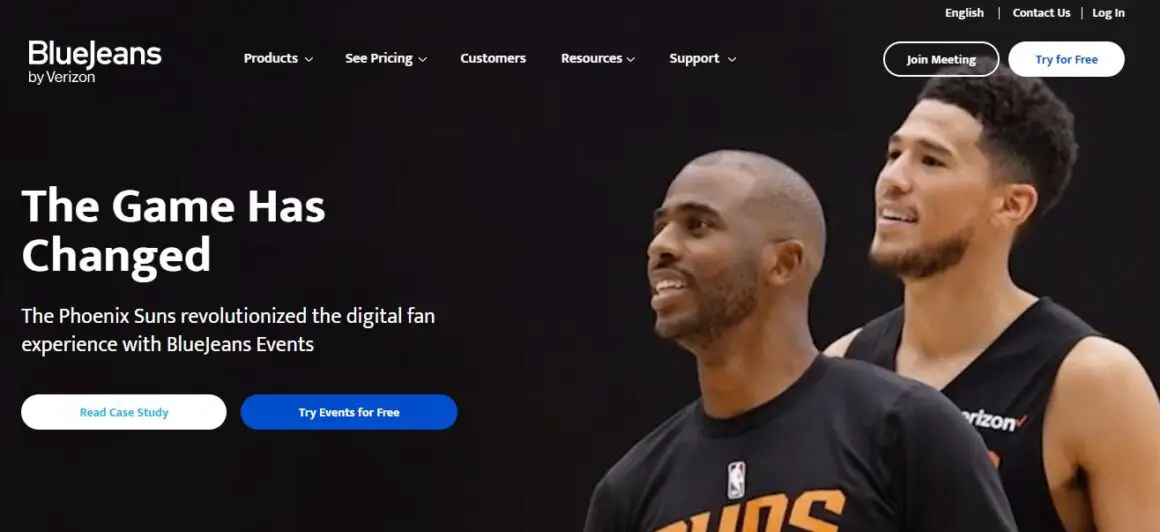 BlueJeans is an experienced provider of video conferencing and webinar services. The BlueJeans platform provides the business tools that allow clients to collaborate and make decisions virtually while enhancing the way users connect and communicate within a virtual environment.
Pros
Metrics on quality and reviews
Browser, desktop, and mobile devices are all supported
Dolby Sound-enabled rooms and hardware gain from directional audio
Cons
There are no file-sharing options
No standard webinar features
Pricing
Meetings
BlueJeans standard: $9.99 per month
BlueJeans pro: $13.99 per month
BlueJean enterprise: Contact them for a quote
Events
BlueJeans video webinars: $83 per month
Large-scale video events: Contact them for a quote.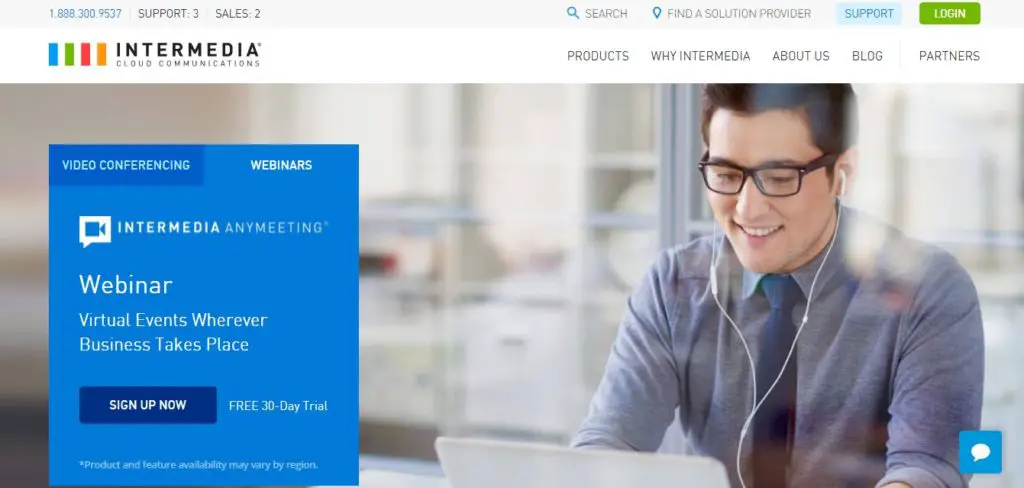 Compatible with both computers and smartphones, Intermedia AnyMeeting video conferencing software provides a convenient way to hold face-to-face meetings regardless of where you and your colleagues are. 
Easy to install, you can communicate with up to 14 other people at once, using either audio or video. The Intermedia AnyMeeting mobile app allows you to make calls on the go from just about anywhere.
Pros
More than 200 people attended
Works with nearly all features from the browser
Delivers video feeds optimized for all devices at the same time.
Browser-based screen sharing 
A unique whiteboard feature 
Automated transcription 
Cons
Lacks end-to-end encryption
Webinar features are available separately.
Pricing
There is a free 30-day trial for all plans.
Free tier: free with only four meeting attendants
Lite tier: $9.99 per user per month with up to 10 meeting attendants
Pro tier: $12.99 per user per month with up to 100 web attendants and up to 30 high-definition (HD) video attendants.
Enterprise tier: $17.99 per user per month with up to 200 web attendants plus pro tier features
Video conferences should be accessible, right? Join.me lets users start video calls instantly from a familiar interface and enjoy crystal-clear voice and video quality. 
It has an elegant feature for sharing your screen, letting multiple people simultaneously view what you're looking at and even draw on your screen, making it very simple to hold training or meetings with clients, colleagues, and peers. 
It's free for one-to-one chat sessions, but it requires payment for the other features.
Pros
A free plan that is very friendly
Options that are both cost-effective and flexible
It shows up to ten video streams at the same time
Cons
Whiteboard is only available on iOS devices
The Lite plan doesn't include webcam feeds
Pricing
Join.me Free: free
LITE: $10user/month (billed annually)
join.me PRO: $20user/month (billed annually)
BUSINESS: $30user/month (billed annually)
Considerations for choosing the ideal video conferencing software
1. Screen and file-sharing capabilities
Screen and file-sharing capabilities are a must-have, especially at work. It is useful when you're trying to discuss something technical or showcase some project files, especially if you have long-distance coworkers. 
Furthermore, it's ideal to choose a platform that can divide up the screen, show photos or videos, and allow everyone to converse in real-time. Showing slideshows of company products and statistics or other documents is also an essential feature for salespeople.
2. Pricing and quality
Another critical factor to consider is the price. You need to know how much you will have to pay for each item to stay within your budget. 
The price of a product is an important feature to consider while determining the level of value you will be getting from that product. Even if a product is solidly built and delivers on all its parts, it might not fit your budget. 
Alternatively, an inferior product can end up better priced than a superior but overpriced model. You also have to consider the difference in pricing for similar products and weigh it with the difference in quality to evaluate the worthiness of your choice.
3. Adaptation and ease of use
Adaptation and ease of use are two different properties. It is entirely possible to make something easy to learn without it being practical. 
The key points to the software adaptation are how easily the user can adapt (with little instruction) to the new system. If the said new system is difficult or tedious to use but capable of doing nothing else, there will be little adaptation. 
Thus, it is essential to pay attention to ease of use; a technically sound idea convoluted in execution will fall in this category.
4. Number of attendants
When considering video conferencing software, you'll need to consider the number of people who will be accessing the video system. Most systems offer up to 10 or 20 participants at a time, with a few offering unlimited participants. 
A more comprehensive number of participants does not necessarily mean it is a better system. It simply means that there will be a more significant number of participants in the conference using this particular software.
5. Customer support
Customer support is vital for any software, but especially so with tech products. After all, if the software doesn't work as promised or develops issues, customers turn to customer support to help them fix the problem or replace/repair their product. 
Customer support includes ongoing support, tools, and features to help users make the most of a product.
FAQs
When can I use video conferencing software?
There are many different reasons you may want to use video conferencing software. For one, it can be a great way to keep in touch with loved ones who live far away. You can also use it to attend meetings or get work done without the hassle of traveling. 
Lastly, some video conferencing software can serve as powerful webinar platforms.
How many people can take part in a video conference?
Depending on the chosen conferencing software, a business can host a video conference with up to 100 participants.
Is this solution for all businesses?
Yes, this solution would be great for any business, whether it's a small business, enterprise, retail business, or other kinds.
Who needs video conferencing software?
Since the boom of video conferencing, this software has been one of the most commonly used applications by businesses today. 
Whether you are a small company looking to save money by eliminating travel costs, or a large company trying to improve communication between coworkers, video conferencing software can cater to your needs.
Video conferencing software can also help companies stay connected to partners and clients, even outside the immediate area.
Should I use a free or paid product?
Ideally, if you're in the early stages of starting your business, a free product is a logical choice. It would allow you to test out the water and see if this business model would be profitable.
While there are many free products and services to choose from, I suggest you go with a paid product. A paid product might have more options and guarantees than a free alternative. 
Usually, the biggest differentiator between a free and paid product is that the paid version has been tested and used by many people before you.
Why use video conferencing software?
Video conferencing software is a new way to collaborate, allowing users to communicate with one another remotely. Video conferencing provides businesses with a way to collaborate with colleagues no matter their location, from the boardroom to the home office. 
The technology allows users to see each other and engage in real-time communication similar to being in the same room. There are many different applications for video conferencing, including training, conducting interviews, and dealing with customers face-to-face.
With software like Skype, you can now meet face-to-face with everyone from business partners in Bangalore to college students in Boston.
What is the difference between a webinar and a video conference?
Webinars aim to share data and knowledge. It can be considered a more informal educational tool used to share information with the public. The purpose of video conferences is to foster collaboration and improve relationships between groups.
Final thoughts
Video conferencing can make life easier and save a lot of time for customers, employees, and other stakeholders. It facilitates a cost-effective way to broadcast live events and lets you connect with people regardless of geographic distances. 
Any business can benefit significantly by employing such solutions to help companies reach their clients or audience more effectively. The world we live in today is highly dependent on technology. Yet, finding the right video conferencing software isn't easy. 
There are scores of products out there, with more being released every week. Some offer business-critical features such as mobile apps or enterprise capabilities. While others target specific groups of users looking for a particular feature that they might not even know existed until they found it. 
So, I decided to share my list of the best video conferencing software with you. I hope it will help you choose the right one for your business.
Other than Skype and Zoom, which have a variety of features, I recommend Intermedia Anything for a sales pitch. If you are particular about online training, then ClickMeeting will be your perfect choice.
Furthermore, webinars can also be a means of income for you. Check out my post on how to make money with webinars to learn how to go about it. Lastly, you should also check out other software reviews on the blog.
Thank you for reading.