Podcasting is growing every day. As for those who are in the know, leveraging the power of the best podcast software is rising the ranks.
However, choosing podcasting software can be tough. There are tons of options out there. And it can be hard to decide which ones are worth your time and money.
That's why I've scoured the web to identify the best podcast software out there. Whether you're looking for something lightweight or ultra-powerful, below is the list of the best podcast software you can rely on anytime any day.
Also, in this post, a brief review of each software is included plus its cons and pros. Furthermore, you will learn effective tips on how to make your podcast stand out.
What Is Podcast Software?
Podcast software is a piece of computer software used to create, edit, upload, distribute and play audio podcasts. With an all-in-one podcasting software, you don't need the experience to create great podcasts, make them sound better, or easily share them with the world.
From developing your audio to making an actual show, Podcast software will help you make a podcast for any situation or event. A complete podcast production system can help you turn your interviews into compelling audio or video podcasts.
See also: How to Start a Podcast
What Are The Best Podcast Software?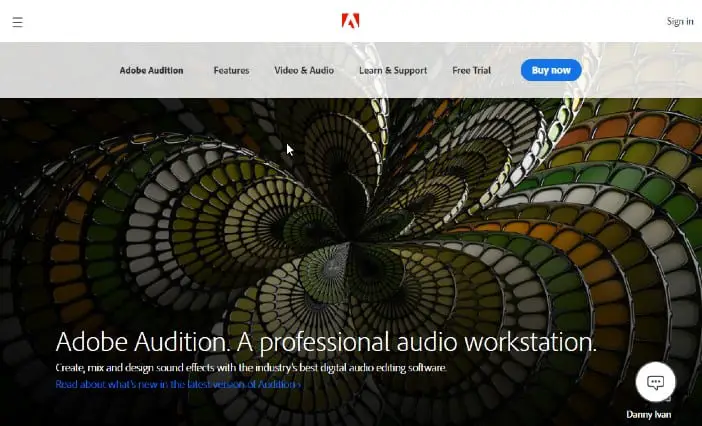 Adobe Audition is one of the best podcast software and it comes with Adobe Creative Suite.
There are many podcast recording software options available, but this one is among the most advanced. This is ideal if you wish to record podcasts or mix them with multiple microphones.
Audio editing and production are Audition's specialties. It does not include any music-related software, such as MIDI support. Advanced features including fast batch processing and an FX system are included.
Pros
Repairs damaged audio
Great for fine-tuning
Presets and templates available
Cons
No music creation
Learning curve
Price
$20.99 per month (annual plan), free trial available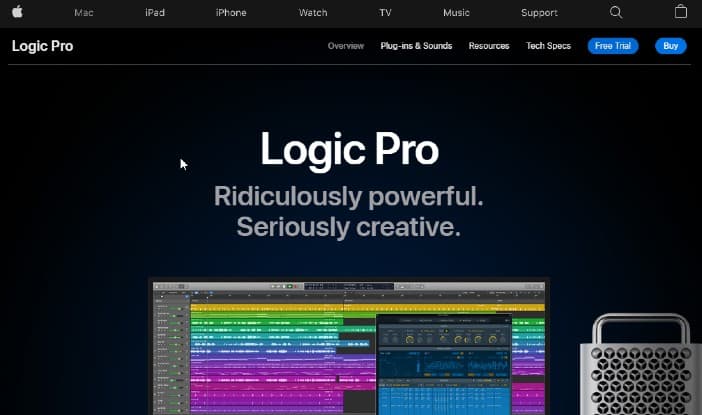 Logic Pro X is not a new tool to seasoned podcasters as this DAW (Digital Audio Workstation) is one of the most highly acclaimed audio editing products in the industry.
The audio recording tools in Logic Pro X are, unsurprisingly, too strong for most podcasters, as they are designed for pros who create a sound for feature films and other demanding projects.
Adding sound effects, historical EQs, and recreating acoustic environments are just a few of the many podcast editing features available in Logic Pro X.
Keep in mind that Logic Pro X is only compatible with Mac computers running macOS 10.13.6 or later.
Pros
Offers professional audio recording tools
A rich selection of plug-ins and sounds
Supports 24-bit/192kHZ audio recording
Over a thousand stereo can be added to the timeline
Users can add post-production effects
Logic Remote app
Multiple automation features
Cons
Demanding technical requirements
Only available on Mac computers
Price
$199.99 one-time payment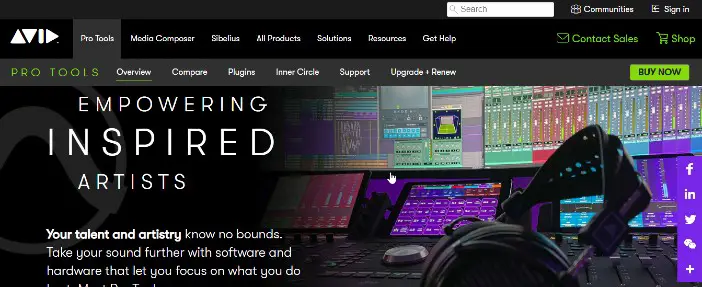 This is most likely one of the first DAW software packages on the market, and it is unquestionably one of the finest. Pro Tools is a professional audio recording and editing program with all of the capabilities you'll need to create a new podcast episode.
If you choose to produce your podcasts with Pro Tools, you will have a plethora of choices at your disposal, like mixing several tracks and applying effects to your recordings.
You'll also be able to collaborate with other team members through the cloud or share your work using the Avid Link app.
Pros
It is an easy to use program that makes overdubs faster
The quality of the recording turns out better using this program
Multitrack recording and arrangement of music
Integration with UAD
Import and export multitrack files
Cons
No MIDI production
Pricey Add-ons
Price
Pricing plans start at $29.99 per month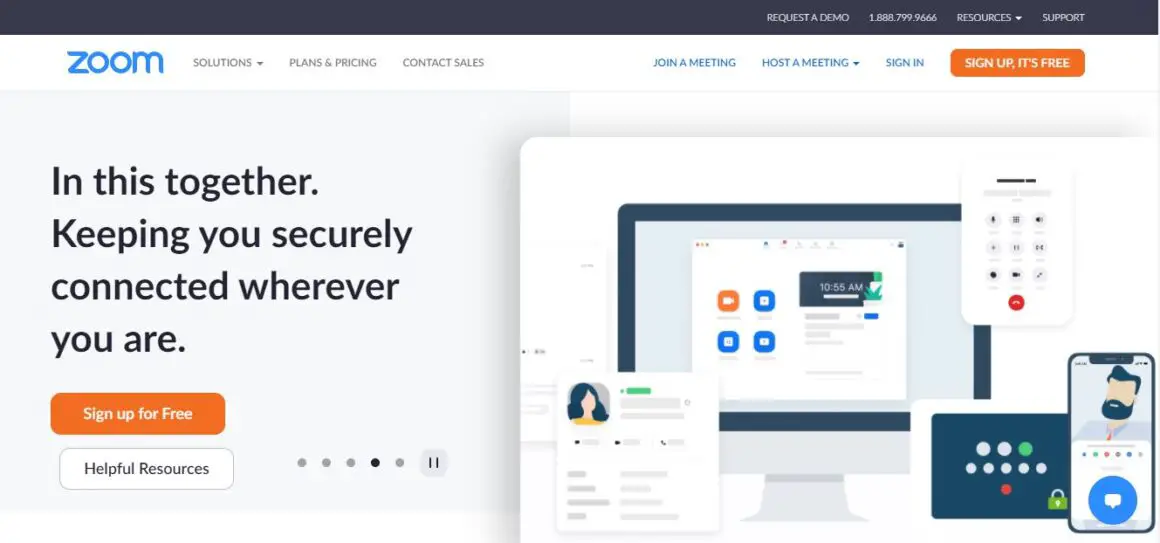 Zoom is useful for more than simply online meetings. It's also one of the fantastic free podcast recording programs. To record a Zoom conference, you just need to press a few buttons, and it supports remote speakers.
You don't need any (other) program, and your guest doesn't need an account; all you have to do is share the link, show up, and start recording your episode!
A basic subscription allows for up to 40 minutes of group calls, which is more than enough for each episode. Zoom separates video and audio recordings automatically, giving you more freedom and time to edit and distribute your episodes individually.
Pros
Simple set up
Remote interviewing
Good noise cancellation
Cons
No editing features
Average sound quality
Price
It's completely free.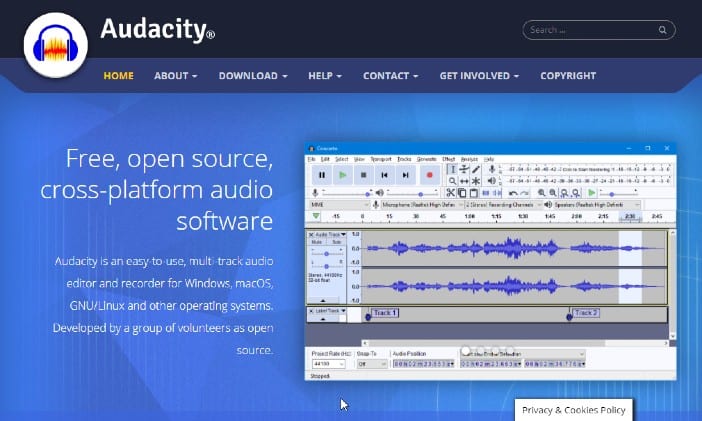 Audacity has been used by podcasters to record their shows for decades. This cross-platform audio recorder and editor is still one of the best podcast recording software solutions available.
Audacity may be used to record live audio using a microphone or a mixer, as well as to digitize audio files from other sources. Audacity also allows you to pick whether you wish to record in 16-bit, 24-bit, or 32-bit audio. You can simply edit each podcast you record, so you may trim or delete sections of the audio you don't want to include in the final edition.
You can import and export virtually all sorts of audio files using this legendary podcast recording program.
Pros
Offers a wide array of audio recording options for free
Captures high-quality audio files
Rich audio effects library
Supports all of the most commonly used audio file formats
Cons
Equipped with basic audio editing tools
Outdated interface design
Price
Audacity is FREE.
You can use Hindenburg Journalist to record conversations, interviews or make solo recordings if you are an experienced podcaster, audio recording professional, or journalist.
You can record new material as well as import and edit all audio files regardless of bit rate and sample rate with Hindenburg Journalist.
By balancing the highs and lows, the Voice Profiler tool automatically produces EQs and enhances the sound of your recordings.
Hindenburg Journalist comes with all of the audio editing tools you'll need to fix any mistakes you make while recording a podcast or add fade-in and fade-out effects.
You may upload podcasts directly from Hindenburg Journalist to Libsyn, or Soundcloud, or any other available hosting platforms.
Pros
Simple audio recording setup
Supports all types of audio files
Generates EQs automatically
Upload audio files directly to Soundcloud or Libsyn
Cons
A bit expensive
Features only basic audio editing tools
Price
Has a trial version while pricing plans start at $95
By providing automatic audio editing services, this SaaS streamlines the process of creating a podcast. All you have to do is upload the files you want to modify, and Alitu will increase their quality.
The app's theme builder allows you to create soundtracks for your podcasts, and Alitu automatically adds id3 tags to every audio file you upload.
You may also use the program to make a solo recording and upload it to Podbean, Libsyn, Blubrry, and other podcast hosting sites.
Pros
The short and simple podcast production process
Support for a broad spectrum of audio file formats
Uploading podcasts directly to podcast hosting platform is easy
Excellent noise removal capabilities
Cons
Adjusting file's audio settings manually isn't an option
Offers limited audio recording and editing features at a high price
Price
$28.00/month or $280 billed annually
See also: 10 Best Podcast Hosting Sites – Which Should You Join?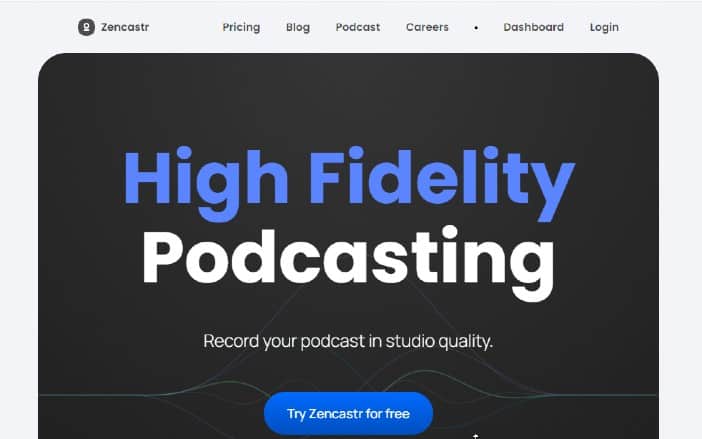 It might be tough to find fresh guests for each new episode of your podcast since their schedules are sometimes too hectic. Zencastr overcomes this problem by allowing people to conduct interviews over the internet.
Simply email your visitor a link to this web-based podcast recorder, and the interview will be captured in lossless 16-bit 44.1k quality. Zencastr keeps tracks distinct for each guest, preventing quality drops during the recording.
The app's Soundboard allows you to add intros and outros to each new podcast you record in just a few clicks.
All of the interviews you record with Zencastr are automatically edited, so you don't have to waste time tweaking the audio levels.
Pros
No installation process
Captures remote interviews in studio quality
Zencastr enables users to voice chat directly from the app
Offers 10 hours of automatic post-production each month
Cons
The free version of Zencastr offers only limited capabilities
Can not share files to a podcast hosting platform directly
Price
Pricing plans start at $20.00 per month
Auphonic is one of the best podcast software out there that seasoned podcasters laud its affordability and the great features it offers.
The software AI-based audio algorithms let you sound like an expert without requiring years of training in sound engineering. The software is highly user-friendly and mostly automatic, and it is designed for podcasters, radio hosts, broadcasters, movies, and screencasts.
Simply upload your recorded recordings, and the program will take care of the rest. It will distinguish between speech and music, and treat each sound differently to improve the final quality.
Pros
Free upload hours each month
Has a free option/affordable
Web-based software
User-friendly
Cons
Advanced features need to be purchased additionally
Users don't have full control over the files
The desktop version doesn't have all features
Price
Auphonic offers a free version that allows you to create two hours of audio every month. Pricing starts at $12 for five hours of processed audio to $150 for 100 hours.
While several podcast software applications are Windows compatible, Reaper is the best in this area because of its extensive capabilities and low price. It's a small, cheap, yet powerful piece of software with a wonderful user interface.
Reaper allows users to go live with streaming platforms like Open Broadcaster Software (OBS), which isn't always possible. Aside from that, Reaper is compatible with both Mac and Windows operating systems and is geared at podcasters who are more artistic than techies.
Reaper was not created especially for podcasts, as it lets users import any audio file and MIDI, synthesize, compose, sample, edit, arrange, mix, and master any audio production.
Pros
Great value for the cost, starts at $60
Starts up and runs fast
Has a free 30-day trial
Can run from a USB
Cons
Lack of online tutorials
Complex plugin integration
No mobile app
Price
Reaper offers a 60-day free trial, after which a discounted license costs $60 and a commercial license costs $225.
While GarageBand is well-known for being a user-friendly and accessible music-making program, it can also be used to record podcasts. You may start with a simple podcast-style design, complete with male or female voice recordings, sound effects, and musical jingles.
This podcast software lets you arrange and adjust recorded elements and add custom musical touches easily through an intuitive interface designed for drag-and-drop music composition.
With GarageBand, adding music overlays and sound effects to your recording, as well as visual equalization and compression, can improve its quality.
Pros
Copy and paste tracks
Can add as many tracks in one song as you want
Sharing to iTunes
Choose and access any bar of the song/track
Has a MIDI sequencer
Cons
Works only on Macs
Not web based
Price
Completely FREE.
Podcast recording software like Squadcast makes it easy to record podcasts. After you sign up, all you need to do is schedule a meeting, click "Record," and you're done.
If you don't believe you need a monthly plan, this program has a unique feature: you can pay by the hour. You may host up to three guests on the hourly plan and receive a high-quality WAV or MP3 file.
One of the best advantages to utilize Squadcast instead of Skype for podcast recording is that you'll have a collection of all your recordings in one location, accessible at any time and from anywhere.
Squadcast has a flexible price plan to accommodate a wide range of podcasting demands, and their staff is dedicated to keeping the platform up to date to better serve the community.
Pros
Support is great
Complete and simple interface
Very clear audio
Reliable incident alerting
All the features are available during the trial period
Cons
Only compatible with Google Chrome
Price
How Do You Choose The Best Podcast Software?
When you look around for the best podcast software, you'll discover that there's a lot of different software to choose from. That much is certain.
However, what features matter the most? What are the features that define a piece of podcast software?
1. Lightweight easy to use interface
The first thing to look out for in podcast software is how lightweight it is. Is it really easy to use? Is the interface intuitive and easy to set up? Do all the necessary settings and options are clearly described?
It's not all about what features are included in a podcast software but rather what kind of workflow you get with the software.
2. Easy editing tools
This is going to sound like common sense, but the best podcast software should have easy editing tools. When you add a new episode to your feed, it doesn't need to be a complicated process where you hit delete after each clip.
You want something that allows you to quickly move from one section of the podcast to another while keeping everything organized.
3. Seamless integration with third-party apps or platforms
How podcast software rolls out is an important thing to look out for. There should be an effort to incorporate new podcast hosting services automatically into the existing software. This means no need to download separate applications or deal with complicated installation steps.
If you want to succeed, you need to tap into the best resources available. This isn't just about choosing software; it's about ensuring that every piece of content is seamlessly integrated into your favorite platform, especially if you're planning to monetize your podcasts.
See also: 7 Ways To Monetize Your Podcast
4. Help and update
It's all about listening, learning, and getting better results with your podcasting. What kind of support can you expect from the developer? What benefits will you receive from using their product? Help a podcaster make more money and get more listeners?
When you buy software, you don't just buy the technology—you should also be able to get support and updates for many years. Support means the ability to solve issues as they arise. Updates mean the ability to improve and expand the product beyond your expectations.
5. Save files locally
Your software should be able to save downloaded files (if you choose to download from the internet) onto the local hard drive.
Also, if you choose to save your show on your local hard drive, then it should be able to allow you to do that – where you can browse through shows in the podcasting directory without having to log in to the software.
What Effective Tips Can Make Your Podcast Stand Out?
With hundreds of new podcasts being released practically every day, you may feel like you're late to the party – and that's fine.
However, it's never too late. You're on to a winner if you can start a podcast that resonates with an audience.
Sure, there will be competition, but careful preparation and well-structured episodes can help you break through the clutter in your area. Here are some proven tips to get you started the right way:
1. Identify Your Niche
Identifying your niche is the one thing you need to do first. A good podcast is not simply about the topic matter of what you will be talking about, it is also about finding an audience that relates to you and your voice.
Take some time to research topics that you are passionate about and the audience for your podcast, would be interested in.
2. Know Your Audience
What separates the pros from the amateurs? Knowing their audience! By specifically knowing your audience, you can tailor your podcast to meet their requests, demands, and interests.
As a Podcaster, knowing your end listeners/viewers is imperative. If you know and understand their needs, you can focus on creating content of value.
3. Give a Preview of Your Format
Would you take medicine from a doctor who doesn't tell you what it's for or how it works? Would you let your mechanic take apart your car without knowing exactly what's the problem?
You must give a preview of what your podcast format is going to be. Will it be a hard mix of questions or conversations? Will you have guests on each podcast? Maybe you will release a certain number of podcasts a week or month.
4. Stick to the Ideal Everything for Podcasts
Being an effective podcaster is not really easy, and just buying the best equipment in its own category won't make you become a pro. Here are important things you need to take note of:
The best time to release a podcast is once a week.
One episode is released every week by 44 percent of the top 25 podcasts. The second most popular frequency is twice a week.
The ideal episode duration for a podcast is 22 minutes.
According to Stitcher, an online podcast and radio platform, the typical listener will be engaged for 22 minutes.
Tuesday/Wednesday is the best day to release a podcast.
60% of podcasts follow a weekly schedule that is published before Wednesday.
Tuesday is the most popular day for posting.
If you want to succeed in podcasting, be aware that you're taking care of a relationship with your listeners. So, keep that in mind.
See also: How to Make Money with Podcast: 9 Tried and Tested Ways to Monetize Your Podcast
FAQs
Is podcasting legal?
Yes. Legally, most podcasters are considered publishers or producers of any audio they record and distribute, which means that the same legal issues faced by newspaper and television broadcasters apply to them.
Although several legal issues can affect a podcaster's operation and how their podcasts are distributed, in general, podcasting is legally safe. You'll need to look into the specifics of your country's broadcast regulations before you start podcasting.
Can I make money from podcasting?
Yes, you can make money from podcasting. If you can create popular content, a large number of listeners then you have the possibility of attracting advertisers to use your podcast as an advertising channel.
Some other forms of monetization include listener donations, affiliate marketing, charging for special content, etc.
How much does it cost to start a podcast?
The cost of starting a podcast varies wildly, but all the equipment necessary to record high-quality audio is fairly inexpensive.
Depending on how portable your computer is and how many microphones you need, you could spend anywhere from $100 to $1000 on the gear you need to get started.
Free or paid podcast software, which is better?
Free is not always better. While in many cases there are free solutions out there, sometimes the best solution is to just spend a few dollars and get the paid product. Podcast software is no different.
There are free options out there but if you can put up a few dollars for better software to do your thing, do it.
I already have a website – can I podcast too?
Yes, you can certainly podcast as well. If you already have a website, you have an advantage because you probably already have an audience.
You can use podcasts to create a new source of content that serves both your search engine optimization efforts and sets you apart from your competition.
Conclusion
The best podcasting platform is Auphonic primarily because it offers an affordable pricing structure, is accessible to newbies, and has audio enhancement features that even experienced podcasters will appreciate.
However, each software comes with a mix of unique and common capabilities for podcasting. If you wish to record podcasts using a multi-mic setup, for example, you should use advanced podcast programs like Logic Pro X or Adobe Audition.
On the other hand, Audacity may be the best podcast software you need if you don't require a sophisticated recording or editing setup.
Therefore, I recommend you focus on the specific characteristics of each software to determine which one will provide you the most bang for your buck.
If you like this post, I encourage you to check out this guide detailing some steps on How to Make Money with a Webinar. Thanks for reading.