If you are looking for the best video hosting sites to host an online course or embed videos on your website, this post got you covered.
As you know, managing video hosting on your own can be tedious, this is not even considering the amount of bandwidth it will cost you or the management aspect of your business.
This post sets out to unravel the best video hosting sites you can easily deploy today for your next digital project. Perhaps, a better solution for your existing video hosting infrastructure.
Let's begin…
Quick Review
Check out the list below if you're strapped for time and really want to discover what the best video hosting sites are.
YouTube: Best free video hosting site
Vimeo: Best paid option with a highly customizable free plan
Dailymotion: Best YouTube alternative
SproutVideo: Best for advertising agencies
Wistia: Best paid video hosting site
Brightcove: Best Wistia alternative
Cincopa: Best video hosting site with lots of customizations
Vidyard: Best for in-video customization
Jetpack: Best self-hosted video hosting for WordPress
See Also: Best Web Hosting Services For High Traffic That Generate Results
Best Video Hosting Sites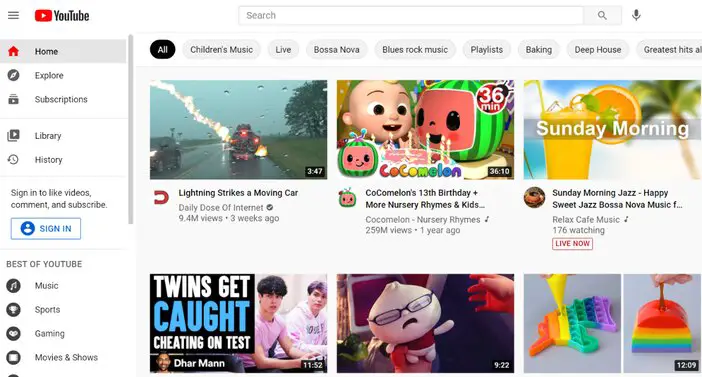 YouTube is without a doubt the most widely used video-sharing and hosting portal on the internet. Nothing compares to the 2.3 billion monthly logged-in users who frequent YouTube.
This does not mean, however, that it is the best alternative for putting any video online.
With the ability to tap into YouTube's massive inherent audience via suggestions and search, it's unlikely for a content creator to go wrong.
There is no limit to how much content you can save or how much bandwidth you can utilize, and users can publish single recordings up to 128 GB in size. Users can also earn from the advertising revenue earned by their videos on YouTube.
If you're a business, though, your only alternative for embedding any video on your webpage is to use a bland, branded iframe player.
While YouTube videos can be a valuable part of your content marketing strategy, they aren't the best place to host paid instructional videos, testimonials, or reviews.
Considering using YouTube as a video hosting platform, maybe the pros and cons below may be a further deciding factor.
Pros
You have the opportunity to obtain limitless cloud storage for your video files at no cost
With 2.3 billion users, you can quickly grow an audience of your own
The large user database of YouTube makes it easy to grow any business using the platform
Your videos can be made invisible by setting them to private or unlisted
You may quickly insert videos leveraging specially designed iframe codes
Cons
There are only a few basic embedding possibilities
Advertisements will automatically play even if promotional information is featured on your website
At the end of each video, there is a list of recommended videos
You won't get the option to download any video without using a third-party service
Concerns about copyright may arise while applying fair use regulations
Pricing
YouTube is free to use.
Vimeo, which is commonly likened to YouTube, is a video sharing and streaming service geared towards creative individuals and corporations.
Despite having far fewer visitors compared to YouTube, Vimeo has a distinction for producing higher quality content and a good user and marketer experience.
There is no advertising or recommendations following your video. Videos look great and load quickly, and embeds can be customized to fit your website's aesthetic.
You may use Vimeo for free if you sign up for the Basic subscription, which includes 500 megabytes of upload capacity per week, up to 5GB of overall storage, unlimited bandwidth, and a few other basic capabilities.
Vimeo's premium options offer capabilities such as unfettered screen and webcam recording, the ability to make videos with bespoke branding, video player customization, in-video CTAs, and lead generation features, and Google Analytics connections. Regardless of your plan, you won't have to worry about bandwidth limitations or awkward embeds.
All of this comes together to make Vimeo a good link between YouTube and the business-focused video-sharing sites on this list.
See Also: 10 Profitable Blog Niches That Will Make You a Ton of Money
Pros
Possibility of hosting a live feed
Ad-free video uploads are possible even with free subscriptions
There is a plan that is completely free
While your work has a worldwide reach, some sites may be unable to display it
Collaboration within a group
Social media connections built-in that operate nicely
There are also alternatives for selling or renting your videos, as well as paid member privacy
You can easily carry out video editing on Vimeo
Advanced analytics and reporting
Cons
The bulk of business functionalities are not available with the free plan
Vimeo has a much smaller monthly user when compared to YouTube
The free plan includes a 500MB weekly upload limit
Pricing
There are four pricing tiers on Vimeo:
Free – There is a free Basic plan that lets you try out Vimeo's features without spending any money
Plus – It just costs $7 per month. It has a weekly data allowance of 5GB and a yearly data allowance of 250GB
Pro – For the Pro account, you can have this for $20 each month. It comes with 20GB of data each week, and 1TB of data per year
Business – This will set you back $50 per month. It has no weekly storage limits and a total storage capacity of 5TB
Premium – The cost is $75 each month. It comes with limitless live streaming, and 7TB of total storage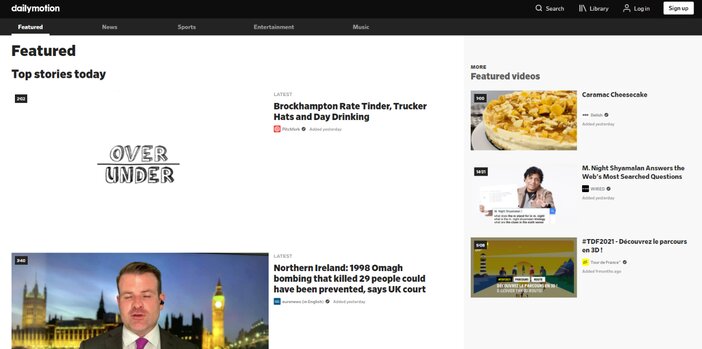 Though having lesser traffic than YouTube, Dailymotion is an excellent substitute for the video juggernaut, YouTube.
But hold on a minute: does a smaller audience mean less competition? That is precisely what it implies. You'll have a quicker time getting your brand off the ground and establishing your own audience.
The free plan gives all of the features you'll need to grow an audience if your expectations are minimal. You can edit your video, build a channel, add social media links, and create feature videos.
Although adverts appear at the ending of your video, this is a welcome relief, when compared to YouTube, which bombards viewers with ads right away.
There are no memory or bandwidth limitations, though your videos should not exceed 2GB or be longer than 60 minutes.
Pros
Dailymotion gives you a completely free and an unlimited video hosting opportunity
You can set your movies to be password-protected or even private
It has options that let you build your audience with less competition
The advantages of using Dailymotion to host videos are minimal when compared to YouTube
Due to less competition, it may be easier to build a following from scratch, but expansion opportunities are limited
Cons
The total number of viewers is lower than on YouTube
The maximum file size is limited
Except if you use a third-party service, you won't be able to download your videos.
Ads are displayed automatically on videos without the option of skipping it
Pricing
Dailymotion is free to use.
SproutVideo is yet another video hosting service that can assist advertising agencies in tracking engagements and acquiring new clients. It enables you to embed ad-free videos on your website using a customized player.
In videos, you may toggle on and off social sharing buttons, lead generation forms, and call-to-actions. Unlike a few of the other alternatives on this list, you can make playlists for training programs and online courses.
Using SproutVideo, you may share your analytics with your team and keep everything in line with an audit record of activity thanks to built-in engagement capabilities.
While SproutVideo's services are comparable to Wistia, this service offers several subscription options, two of which are more affordable than Wistia's single $99/year plan.
Pros
The ability to capture leads directly from your video
Due to automatic bandwidth detection and resolution adjustments, viewers can experience seamless playback
Standard SEO tools are available
More details are made available through comprehensive video analytics
You can use audit logs to keep track of changes
It's really simple to use and navigate
In-depth analytics that aid in the generation of leads and the provision of value
Users are kept on your website rather than being redirected elsewhere
Pricing on various bundles is really competitive
Cons
Scalability is a little limited
Customization possibilities for video players are limited
SproutVideo comes with a bandwidth restriction in place
There is no audience for the platform
It is expensive to use
Pricing
SproutVideo has four different plans to choose from.
Seed – This plan costs $24.99 a month and offers three-team members' help as well as no login-protected viewers
Sprout – This costs $59.99 per month and provides 125 password-protected viewing accounts as well as five team members' support
Tree – This plan costs $199.99 a month and offers 500 password-protected viewing accounts as well as 15 team members' assistance
Forest – This plan costs $499.99 a month and provides unlimited password-protected viewer accounts as well as 50 team members' support
Rather than just being a video-sharing platform, Wistia is also a digital marketing platform. Wistia allows users to publish and embed videos on their websites, however, this is not the company's biggest selling point.
Ads, as seen on YouTube, will never show on Wistia videos. This video hosting solution also includes advanced interactivity and analytics options.
Interaction tools like CTA buttons and email forms are available to Wistia users. These are termed turnstiles on Wistia. Wistia's engagement tools stand out when it comes to the chapter function.
Chapters can be used to accentuate portions of a video that feature section breaks or are relevant to the viewer. Viewers will be able to easily navigate through longer content as a result.
Wistia also offers advanced video analytics, such as viewer history, heat maps, and A/B testing, to aid in your decision-making.
While Wistia's plans are based on the number of videos you upload, the majority of their features put your viewers first. A beautiful user interface is included, features like channels, up-next videos, and resumable content for viewers who leave and return to a page.
See Also: How To Start A Blog That Makes Money: Step-By-Step Beginner Guide
Pros
Wistia is a business-ready platform
It has a professional look
Wistia does not support adverts playing on your video
It has the ability to customize your video and make it SEO ready
Interactive video applications
Embed a player that you can completely customize
Promote some of your channel's other videos, implying that no other video recommendations are available
You can create specific audiences on Facebook and Instagram
The video itself can be used to generate capture leads
Personalized branding
CRM synchronization
Cons
Excessively costly
There are numerous restrictions on the free plan
There isn't a ready-made audience just like YouTube
Pricing
There are three main pricing options for Wistia:
Free – This plan is absolutely free, and it permits you to embed up to three free videos or podcast episodes anywhere
Pro – This costs $99 a month and offers the ability to brand the video player as well as 10 free videos or podcast episodes to embed wherever you like
Advanced – This plan cost $399 a month includes the opportunity to brand the video player, and 1 premium integration with HubSpot, Pardot, or Marketo
Despite the fact that Brightcove may not be a familiar name, prominent corporations such as Ford, Johnson & Johnson, Burberry, McDonald's, and Adobe use this corporate video hosting service.
Brightcove specializes in developing unique, adaptive video integration strategies for your company's marketing and content distribution efforts.
Video Cloud, Brightcove's core product, is one of the company's many offerings. This video publishing service promises flexible, trustworthy, and secure video broadcasts with high quality and performance.
Brightcove also provides video marketing services, such as detailed analytics, social media publishing, live streams, and integrates with marketing automation tools like HubSpot. These features can be used to create a spectacular video experience that will attract even more viewers.
Smaller businesses and those just getting started with video will likely find Brightcove's pricing exorbitant and will be better suited by the other options on this list. Brightcove should be on the radar of any company looking to up its video game.
Pros
You'll have complete control over how you manage and advertise your video ad inventory.
Excellent assistance
Live video can be streamed to your website or app
Advanced marketing automation compatibility
A suitable content management system for businesses
Cons
It is an expensive option
Brightcove requires a huge learning process in order to easily navigate the platform
Pricing
You'll need to reach out to sales to find out how much it is to use this amazing video hosting platform because the price isn't listed on their website.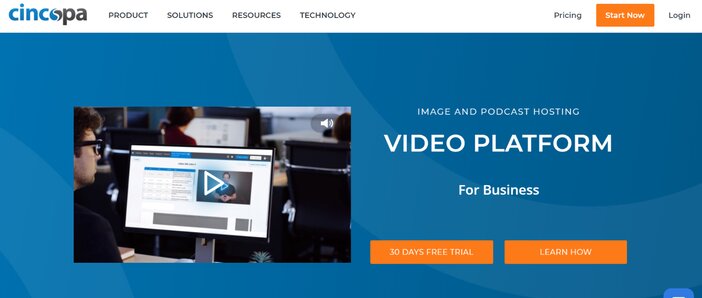 Cincopa is a digital asset management system with dynamic video hosting capabilities.
You can create custom videos, transmit them via email, host them on your site, and track your viewers' actions in real-time with advanced statistics.
Cincopa's HTML5 player may be tweaked to deliver stunning 4K video. Adding a logo, changing the player's color, setting speed settings, queueing playlists, and more is straightforward.
Additionally, you can use the platform to connect your videos with email and marketing automation services like Hubspot. Even so, you can boost your marketing efforts by using in-video forms, lead generation tools, and calls to action.
The service's live-streaming capabilities are unequaled, with the capacity to handle thousands of users.
Much further, you can categorize your videos into chapters, segments, and seasons. Several content management solutions including Drupal, WordPress, Shopify, and WooCommerce, are compatible with Cincopa video galleries.
Pros
It is much simpler to manage, upload and embed videos
You can make your own unique logo for use
Cincopa comes with a 30-day free trial
You have the ability to add annotations and call-to-actions in your videos
You only require a few clicks to set up a video channel
Improved analytics, metrics, and insights, as well as heatmaps
Asset classification, sharing, and a comprehensive library are all available
Cons
File storage limits may be an issue depending on how much media you have
The user interface is awkward
Limitations on bandwidth
There are only a few organizational tools available
There is a scarcity of documentation and educational materials
Pricing
Cincopa has three different pricing plans from which to choose:
Plus: $25 per month; includes 100GB of monthly bandwidth, one team user, a 2GB file size restriction, 200 audios, 40 movies, and no password protection
Corporate: Limitless monthly bandwidth, 10 team users, a 10GB file size restriction, and password protection for up to 200 audio and video files are all included for $99 a month
Agency/Enterprise: Limitless monthly bandwidth, 50 team users, 30GB file size, unlimited audio and video files, and password protection are all included for $350 a month
This is a corporate video hosting site that allows you to track user behavior. Vidyard, like a few of the other alternatives on this list, is an ad-free video hosting tool that lets you post videos to your webpage and other places.
Vidyard customers get access to an unlimited number of videos to shoot and upload, as well as basic editing features, advanced video analytics, and automated transcription services.
While free users are limited to 5 embeds, you won't have to worry about file size or management, which is a big plus.
With the premium plans, users can easily integrate video with nurture efforts by embedding extra videos and implementing forms and calls-to-action directly in their videos to capture lead information.
Vidyard is a top-to-bottom platform because sales reps may utilize the Vidyard Chrome extension "GoVideo" to offer short, tailored films to their prospects.
Customized video, which is still a relatively new medium, is Vidyard's main value proposition for advertisers.
This service, which requires bespoke pricing, allows users to take data from their CRM and integrate it directly into videos. A viewer can view your video and see their name, job title, or any other information from their contact record shown in real-time.
Pros
Comes with a free plan
IT comes with detailed analytics which includes viewer involvement, history, and attention span
Integrations with other business software
It's straightforward to add custom calls to action and A/B testing on multiple video thumbnails
Cons
No live support
A backend that's difficult to grasp
If you live in China, there is no support
Pricing
Vidyard offers two major pricing options:
1. Individuals
Free Forever: Unlimited recording and uploading, as well as social media, email, and other methods of sharing
The Pro Package is $15 per month and adds password protection as well as the ability to set a call-to-action for your movie
2. Teams
Teams bundle: $300 per month for three or more users, extensive video analytics, and custom branding
Business bundle: A Business Package is $1250 per month and includes access for 5+ users, CRM/MAP integration, and fully customizable video CTAs.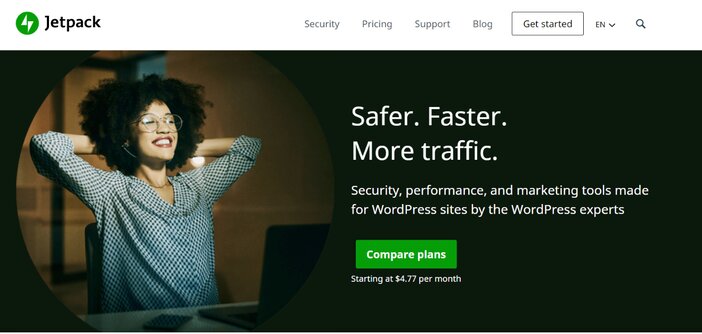 Has it ever occurred to you that you could get ad-free video hosting in a WordPress-only environment? By bundling a Jetpack premium plan with a WordPress.com account, this is absolutely possible.
You can easily use an embed code to insert any video into your blogs using Jetpack. Additionally, because the videos are stored on WordPress.com servers, they will not take up any space on your hard disk.
The Professional plan of Jetpack does not have a memory limit, however, the Premium version does. On these plans, you can likewise enable privacy options.
If you upgrade, VideoPress will be automatically added to your account, with no additional expenses for bandwidth or a limit on the number of video plays.
VideoPress is a simple video player designed specifically for WordPress.  It allows you to host and embed videos on your website, with files up to 1GB in size supported.
Pros
Completely ad-free and highly optimized video hosting solution for WordPress
Money-back guarantee for 14 days
The ad-free video player can play a variety of video formats
You can enable videos to autoplay and set video container size restrictions in your article
It also works directly with the media library and the posts editor
With CSS, you can preview videos and add custom styling
Cons
Other premium video hosting companies offer more sophisticated features
There isn't a ready-made audience for you to reach out to
Pricing
Jetpack comes with three different pricing options.
The aforementioned pricing is based on yearly payments.
Backup Daily: Daily scheduled off-site backups, unlimited site memory, and one-click recoveries are all included for $4.77
Security Daily: Backup Daily includes all of Backup Daily's features, plus comment and form protection, daily and automated scanning, and unlimited video hosting, all for $11.97
Complete: You can get all Security Daily has to offer for $47.97, comprising of off-site backup and real-time, site search for up to 100k data, real-time and automatic scans, and the CRM: Entrepreneur bundle
Frequently Asked Question
1. What is video hosting?
The concept of video hosting is submitting your video content in order to distribute it online. Wistia, Vimeo, YouTube, and other third-party video hosting platforms are just a few examples.
You upload your video to their website, they host the video on their servers, and you utilize an embed code or link to integrate the video content somewhere, such as on your own website. If viewers choose to search on the third-party site, they can find the video there as well.
2. What are the benefits of using video hosting sites?
While you can easily upload a video to your website and have total control of how the video displays, some of the benefits of using a video hosting site are:
Collaboration
Customer support
Customizability
Security
Helps you to focus on your goals
Analytics tracking
Audience engagement
Branding
Conclusion
There you have it, the best video hosting sites you can lay your hands on right now.
If you want a totally free option, then think of YouTube. If you are an advertising agency, go with Brightcove or SproutVideo while Wistia is the best premium video hosting site.
Tosinajy teaches you how to make money online, the software you'll need, and guides on how to deal with common issues you may encounter.
Thanks for reading.
Need Premium Video Hosting Solution?
Click the button below to get started with Brightcove.