Whether you run a small business or a huge enterprise, handling as well as tracking your projects is always a challenge. That's why project management software has ended up being so widespread in the market. As a matter of fact, 77% of high-performing projects use project management tools.
These tools assist you to fully plan, implement, and close your projects successfully. By using collaboration software like this, your team can handle and assign tasks, message each other in real-time, add files, track time, and a lot more.
Best project management software
Here are my top picks for the best project management software for teams this year.
Wrike is an enterprise-grade remote work management platform that helps companies achieve more, irrespective of where their employees are located. Many leading brands use Wrike to connect geographically distributed teams and make sure their entire organizations are aligned, agile, and adaptable. I feel the next generation of work management worldwide is defined by Wrike.
Pricing:
Wrike provides five plans that are great for everyone.
 The 'Professional' plan provides access to a maximum of 15 users and costs $9.80 per user per month.
The 'Business' plan provides access to 5-200 users. It costs $24.80 per user per month.
The 'Enterprise' plan offers access to 5-unlimited users and can be customized according to your requirements.
All the plans offer a free trial period for 5 users and upward.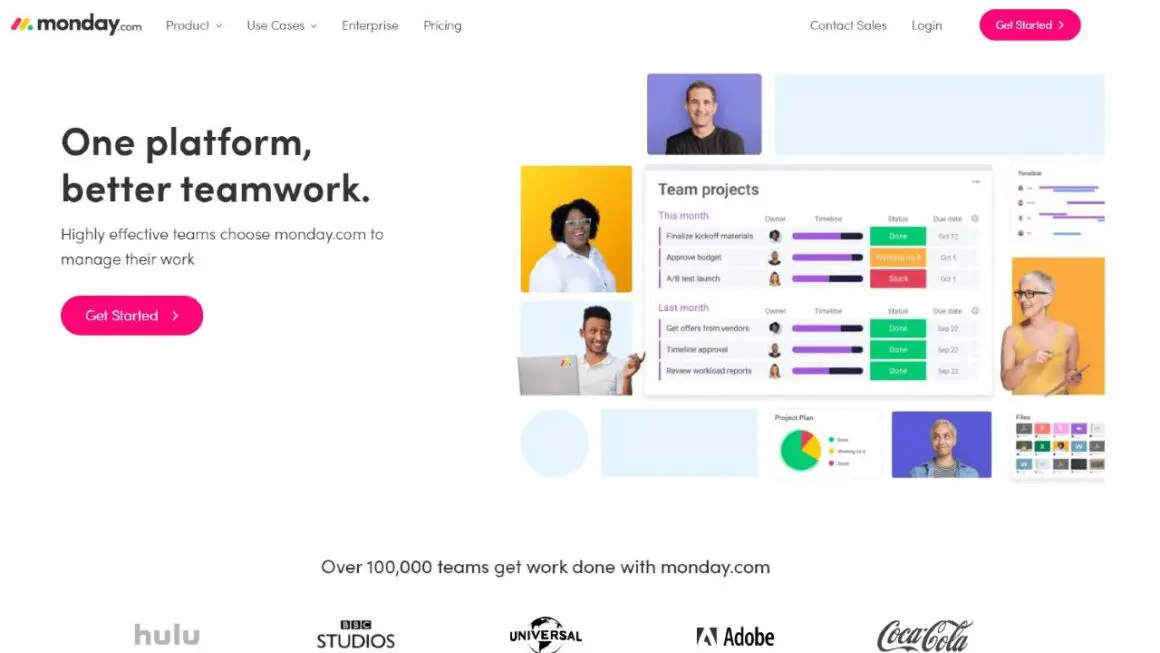 Monday.com is an award-winning, easy-to-use, and flexible project management tool that helps teams plan together efficiently and execute projects that deliver results on time. It has a variety of productivity functionalities such as time tracking, automated notifications, customizable workflows, and so on to make your team achieve better and faster results.
It offers a collaborative environment that allows project members to communicate, share files, images, and other specifications.
Something worthy of note is that developers can customize monday.com according to their needs.
Pricing:
There are four plans offered by monday.com. They are the Basic, Standard, and Pro plans which cost $25, $39, and $59 per month, respectively for up to 5 users. Note that the Enterprise plan is quote-based.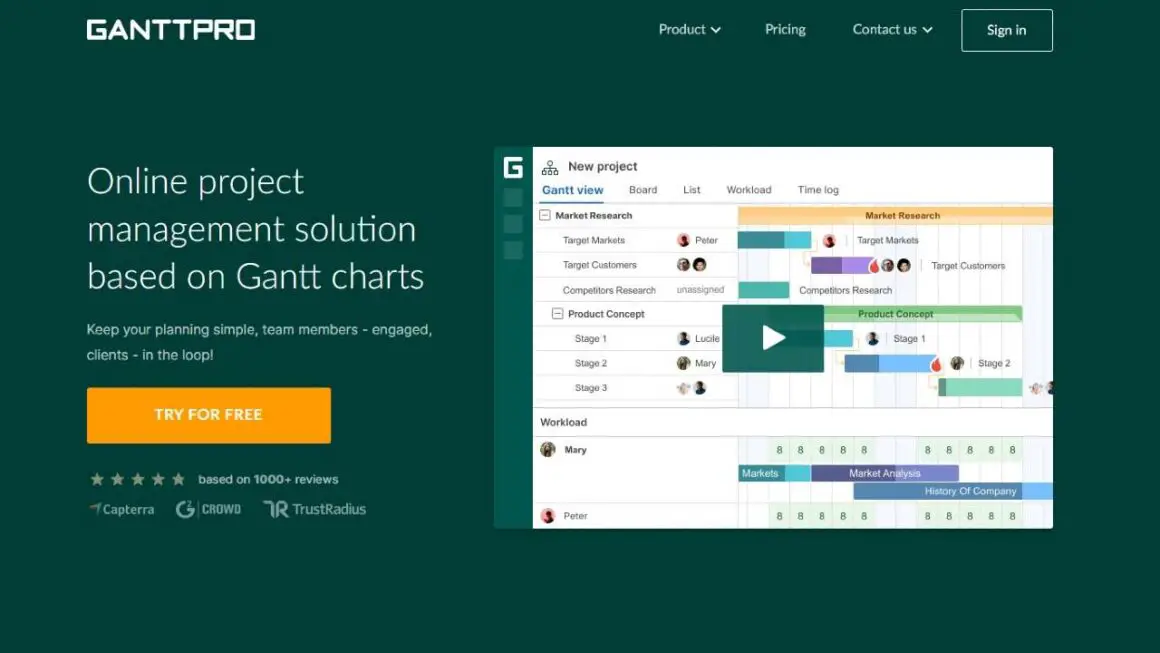 GanttPRO is a cloud-based project management solution for small to medium-sized companies, as well as individual users. The software offers specific features like Gantt charts, scheduling, progress tracking, and more.
GanttPRO helps managers to plan projects using a visual interface. Multiple project tasks can be rescheduled simultaneously with GanttPro's drag-and-drop functionality. Users can also create new tasks, assign them to team members, track progress, and so on.
Project information can be exported in PNG, PDF, XLSX, and XML format. Furthermore, users can also import charts from software like Microsoft Project and Excel.
Support is offered through email and online chat.
Pricing:
For just one user, GanttPRO is $15. Its pricing plans get cheaper per user as the number of people in the team increases (don't worry, I have done the maths for you).
For 5 users, their tool costs $8.90 per month per user ($44.50 per month).
For 40 users, $6.50 per month ($260 per month).
And $4.50 per user per month for 100 users ($450 per month).
Generally, if you're looking for an easy-to-use, Gantt chart-based project management tool with little to no training required, GanttPRO is a great option.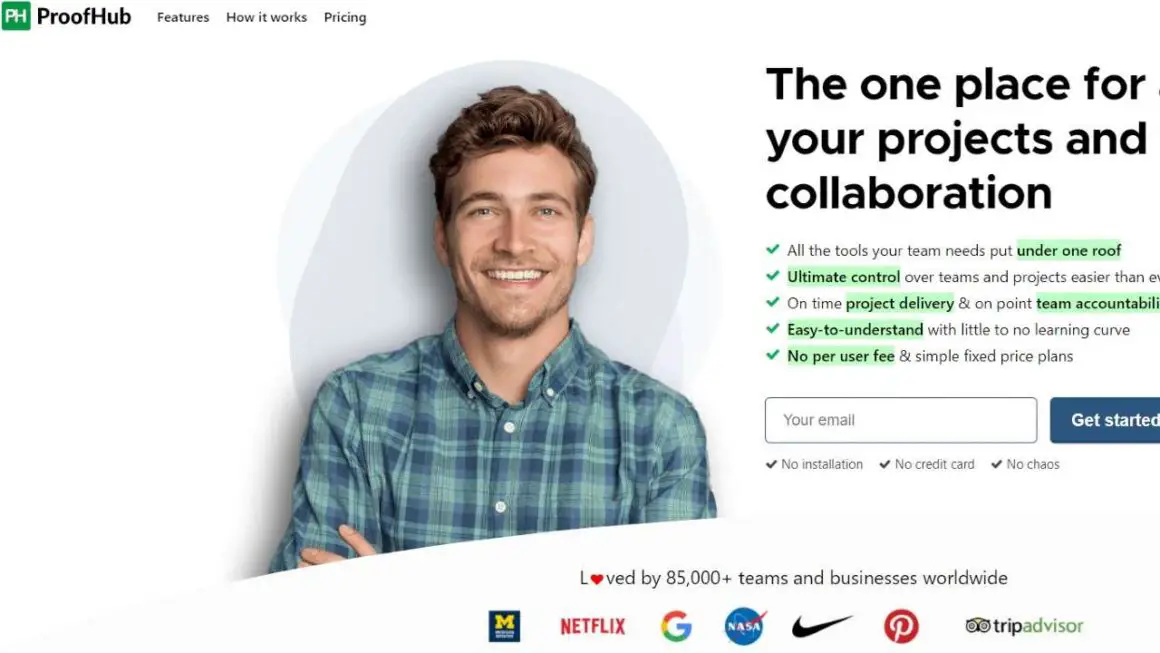 This cloud-based tool is great for teams in numerous industries and it provides applications for project management, project collaboration, resource management, task management, and more.
Key features include;
discussions, notes,
Gantt charts,
to-do lists,
calendaring,
timesheets, and more
Pricing:
They offer Essential and Ultimate plans. The Essential plan is $45/month when billed annually, but $50/month when billed monthly. The Ultimate plan is $89/month when billed annually, but $99/month when billed monthly. They also offer a 30-day free trial.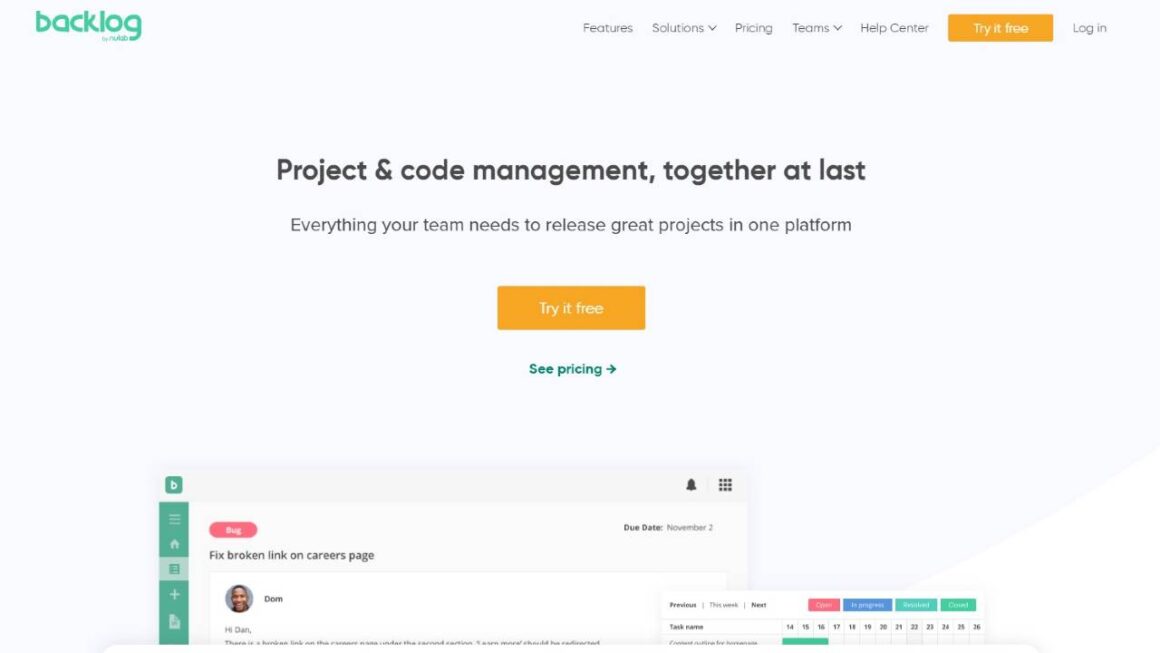 Development teams working with design, marketing and IT can use Backlog. The key features include project and issue management, bug tracking, burndown charts, and subtasks.
It integrates with Git and SVN which in turn helps developers to manage a project's source code along with project tasks. Backlog enables users to use Gantt charts to visualize their daily timelines and project workflows. Applications like Typetalk, Cacoo, Redmine, and Jenkins can be integrated with Backlog.
Mobile applications for iOS and Android devices are also available for use even when you are on the go. Furthermore, user support is offered via email, chat, and through an online knowledge base.
Pricing:
The Free plan provides 100 MB of storage for 10 users and 1 project
The Starter plan provides 1 GB of storage for up to 30 users and up to 5 projects at $35/month.
The most popular Standard plan provides unlimited users up to 100 projects and 30 GB of storage coupled with Gantt charts at $100/month
If you are looking for a plan that gives you unlimited users, unlimited projects, 100 GB of storage, Gantt charts, and custom fields, then Backlog's premium plan at $175/month is the one for you.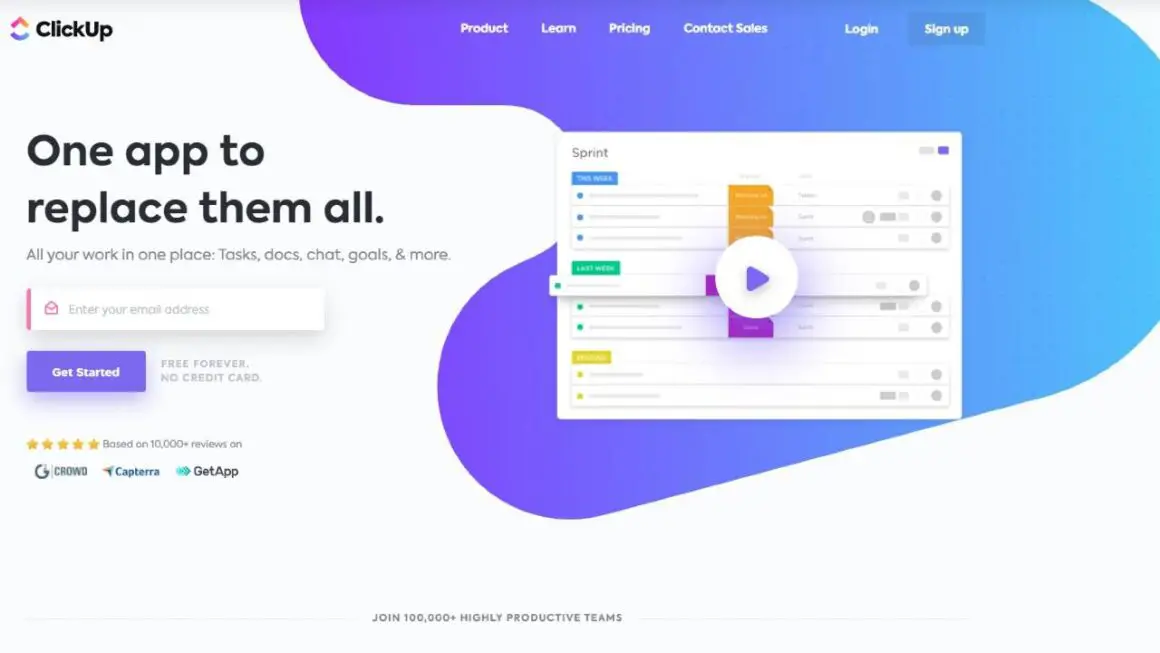 ClickUp is suitable for businesses of all sizes and industries. Key functionalities included in this software are communication and collaboration tools, task assignments and statuses, alerts, and a task toolbar.
Comments and tasks can be assigned to specific team members or groups of team members by users.
User support is available over the phone and via email.
Pricing:
| | | | | | | | |
| --- | --- | --- | --- | --- | --- | --- | --- |
| Billing | Free Plan | | | | Unlimited Plan | Business Plan | Enterprise Plan |
| (monthly) | Free | | | | $9 per user | $19 per user | You will have to contact them for the pricing as it is tailor-made according to your requirements. |
| (per month billed annually) | Free | | | | $5 per user | $9 per user | |
ClickUp Pricing Plan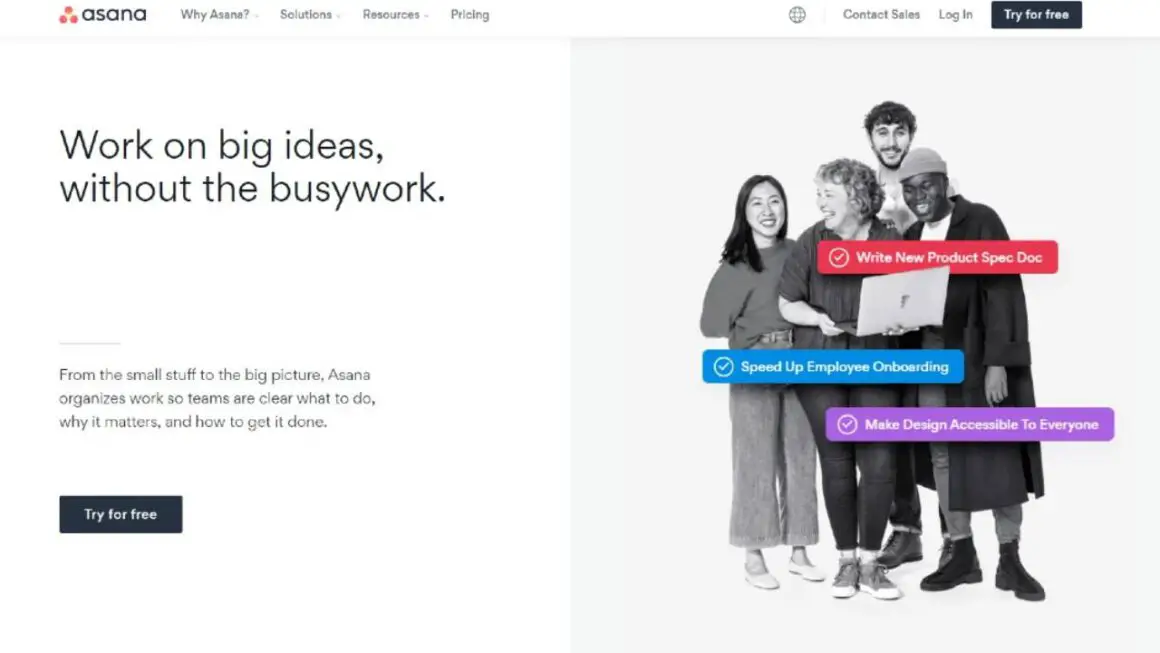 Asana is a cloud-based project and task management tool that enables companies to manage and organize tasks and projects, communicate and collaborate.
This tool can serve companies of any size. It is suited for teams and companies that handle several projects at one time. Features include task management, reporting, automatic notifications, a customer portal, and collaboration tools, to mention a few.
Asana can be accessed through desktops, laptops, tablets, and both Android and iOS smartphones.
Pricing:
| | | | | | | | |
| --- | --- | --- | --- | --- | --- | --- | --- |
| Billing | Free Plan | | | | Premium Plan | Business Plan | Enterprise Plan |
| (monthly) | Free | | | | $13.49 per user | $30.49 per user | You will have to contact them for the pricing as it is tailor-made according to your requirements. |
| (per month billed annually) | Free | | | | $10.99 per user | $24.99 per user | |
Asana Pricing Plan
Workzone offers document management, project collaboration, customizable reporting, and so on. It is a cloud-based tool and it provides emailed reports with up to date project status information.
To accommodate different user roles on a project, Workzone makes available project information at different levels of detail.
Pricing:
The Team Plan offers $24/user per month for teams of 5 people and more
The most popular plan is the Professional Plan. It offers $34/user per month
The Enterprise Plan offers $43/user per month and you can customize features endlessly
Note that pricing is based on 15 users and volume discounts are available. Also, note that the plans are billed yearly.
You can also contact them for a custom quote.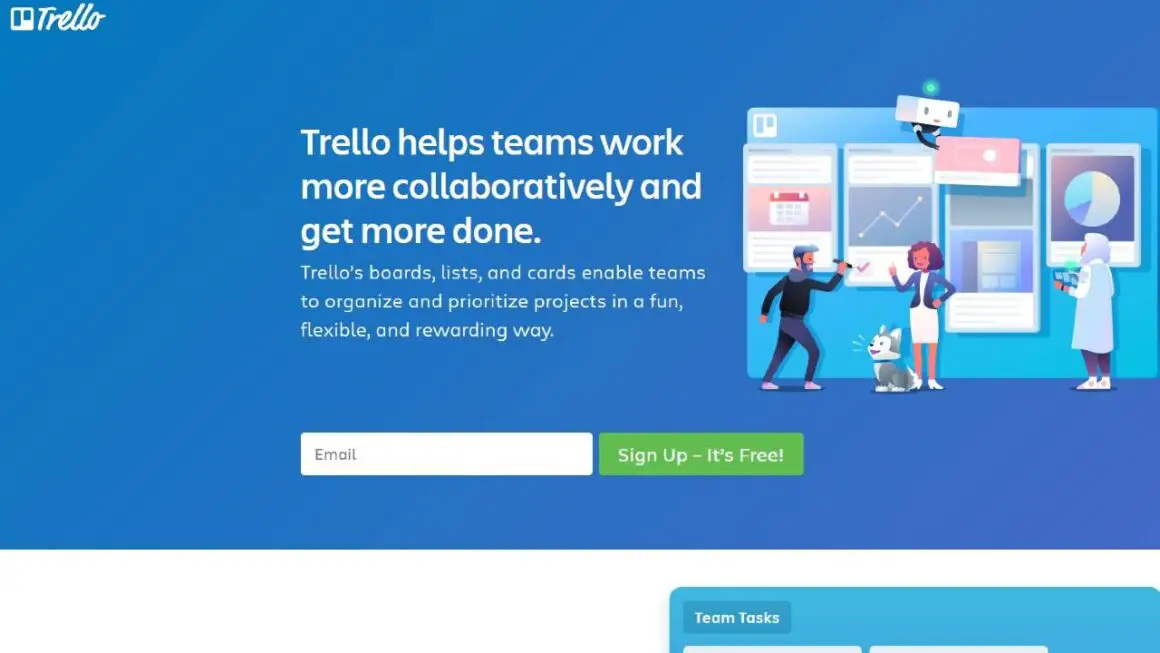 Trello is used in marketing, sales, support, and HR. This web-based tool provides features to define projects, their requirements, and the workflow to ensure projects are completed in a planned chronological manner.
Workflows can be defined by administrators, tasks can be assigned to individuals or teams, deadlines can be set and progress can be monitored. Moreover, users can add comments, members, and attach documents to the tasks given to them by the administrators.
If you are a large enterprise, Trello offers a proficient package that includes the privacy and administrative settings required by you.
Pricing:
Trello offers three plans.
The first is the 'Free' plan. It is great for people who are just starting but it has limited features.
The 'Business Class' plan costs $12.50 per user/month when billed monthly and $9.99 per user/month when billed annually
The 'Enterprise' plan costs $17.50 per user per month for 20 users
Best CRM software for your team
FAQs
What is project management software?
Project management is the science or art of mobilizing a company's resources towards the conclusion of a particular project or goal. It may be a one-time activity or a lasting work order. A project management software application is either an on-premise or SaaS collaboration tool that enables teams to manage tasks, share deliverables, as well as work on projects to completion.
Naturally, the software tools that aid businesses carry out project management are called project management software (or PM software for short).
This software is awesome as they permit groups to work together faster. They also help to conserve the company's money and time.
Since the very first PMS was established in 1896, called the harmonogram, the software has seen profound adjustments.
These days we have countless sorts of project management software s, consisting of:
Visual
Single-user
Mobile apps
Collaborative
Desktop-based or web-based
Project management prevails in science, engineering, information technology, military, as well as construction industries.
The best part is that project management software has actually caused significant automation as well as resourcefulness, which is a distinctive benefit over typical manual project management methods.
The following tasks can be performed with the help of project management software applications:
Planning
Time-management & scheduling
Resource allocation
Communication & collaboration
Documentation
How do you use project management software?
With great competition all over the business world, merely registering for a project management platform is not enough.
You need to be able to use it correctly and reap all the benefits in all its capacity.
Nevertheless, your competitors are going to be using such platforms as well, so efficiency and proper use can be the key to getting a competitive advantage.
Below are some of the steps you can use to maximize your results:
1. Analyze the project
The very first step is identifying the components of the project you need assistance with as well as your desired outcome.
You should determine things like:
Whether your requirement is internal or external
Do you need to collaborate with your clients or any kind of other third-parties
If remote working is possible and what type of remote working tools would you certainly require
What's your budget plan
If you don't run a detailed evaluation, you might end up neglecting the project management features that might have helped most.
2. Choose the right plan
After you've chosen the online project management software to utilize, you are required to select the best plan for your business.
You might make a decision based on numerous elements, like the number of individuals you have, your budget plan, or various other company-specific variables.
Fortunately, most PM tools supply several various pricing plans, along with a quote-based strategy that can be personalized based on your needs.
3. Get comfy with the navigation panel
With any kind of platform, you are required to get comfy with the navigating panel. This panel includes all the tools that you'll need to rely on.
Several of the components that a common navigation panel provides are:
Inbox
Dashboard
Stream feeds
Calendars (helps in monitoring and following day-to-day work)
4. Create a new folder
You can begin by making a folder and keeping your team  in the loop.
Creating a new folder is very easy in any kind of PMS, as well as can be done from the navigating window itself.
The folder normally consists of all the information of a certain project.
5. Start a project
After making a new folder, start a new project, or include an existing project to the folder.
You just have to follow a couple of basic steps that are usually something like this:
Naming
Establishing a start date as well as an end date
Picking your preferred view
6. Add team members
The next action is adding the team members for the project. Adding the participants is simple, and it allows all your team members to track the progress of the project and various other details they are working on.
7. Add tasks and sub-tasks
After the creation of the project, you can start to include tasks and designate them to various people in your team.
You can follow each task as well as see the progress each team member has actually made over a period of time.
The very best part is that you can give each task a name, which assists you to avoid overlapping in between different jobs. It likewise aids you to easily find the task/project when in need.
8. Task & sub-task detailing
After the creation of tasks, it's now time to include the various details.
Some of them include:
Sub-tasks
Assigned team members
Due dates
As you work through the project, you can keep updating the tasks as well as the sub-tasks.
Sub-tasks are vital additions to the "tasks."
And just like the tasks, sub-tasks also need detailing, such as:
Key information
Assigned team members
Due dates
Additional details (if any)
The advantage of most project management software apps is that the whole team can view all the tasks and sub-tasks (despite not being kept in the loop). This assists the whole team in maintaining the flow, which results in better transparency and flexibility.
9. Set a priority level
A distinctive feature when using a project management tool is the ability to set the priority levels.
Three types of common priority levels are:
High importance
Moderate importance
Low importance
This option is compulsory in some, while non-compulsory in the others.
Nonetheless, setting a priority level can assist you in keeping track of the tasks that you need to do urgently and make sure you complete all the projects in time.
10. Reports and dashboard
It is something you will understand fully once you start working on your PMS.
Normally, with reports and analytics on your dashboard, you can monitor and follow the improvement of everyone in your team.
Dashboards mostly help to filter the list of tasks. Specific widgets can be developed that help users see tasks and sub-tasks within a specific folder. The dashboard can be accessed by just anybody so as to keep abreast of things.
11. Visualize and collaborate
Make the most use of the various visualization methods available in your project management tool.
Most platforms offer Gantt charts for efficient visualization that help in easy facilitation of tasks with an additional high level of team collaboration.
Generally, it is the aim of project management applications to streamline the following work management steps:
Initiation
Planning
Execution
Monitoring & control
Closure
Conclusion
When it comes to choosing the perfect project management platform, there isn't any best or worst. It all comes down to the needs of your small business, what metrics you use, your budget, among other things.
To pick the perfect software tool that aligns the best with your business, you could begin by asking the following questions:
Will my team be working remotely?
Will I need a plan that doesn't charge on the number of heads?
Do I need a customized plan?
Will a Gantt chart be helpful?
What kind of third party integrations do I require?
After answering these questions to the best of your ability (with your budget in mind), I can assure you that you are good to go!