Frustrated with the time-draining process of invoice writing? Tired of spending endless time billing your clients? With the best invoicing software, you can automate and streamline creating, sending, tracking as well as managing invoices.
Unfortunately, there are more than enough invoicing solutions out there, all claiming to be the best for your business. Therefore, choosing the right invoicing software for your business becomes an overwhelming task.
However, I have done the work for you and compiled the best invoicing software solutions for you. Any of the invoicing software on this list will help you make billing your client and getting paid easier.
Quick Review
What is the best invoicing software?
See also: Best POS Systems Software For Small Business [Free & Paid]
Best Invoicing Software for Small, Medium, & Large Businesses
What is the best invoicing software for businesses of any size?
With FreshBooks, create professional invoices in minutes, send them online with one click, even track time from anywhere with a web browser or smartphone.
FreshBooks helps streamline the billing process so it's less work for you, and ensures your business looks sharp every time you submit an invoice. This is one of the best invoicing software for small business owners that helps you save time, save money, and get paid faster.
It makes difficult financial administration a pleasurable experience, reducing the time spent producing invoices and collecting payments.
You may collect due payments online with FreshBooks, using PayPal, Google Checkout, or any credit card. As a result, you'll be able to consolidate financial control into a single system and generate some impressive financial reports.
Furthermore, you can try out FreshBooks free for 30 days. There's no risk and all the tools are included – mobile accounting tools, flexible billing options including itemized or flat rates, multi-currency options, much more.
FreshBooks Pros
Double-entry accounting
Delightful user experience
Detailed client records
Team collaboration and time tracking tools
Estimate and retainer functionality
Inventory tracking
Supports proposals and projects
Automatic mileage tracking on iOS
FreshBooks Cons
Minimal setup help
Some dashboard deficits
Limited invoice customization
No quarterly tax estimates
FreshBooks Pricing
In addition to its 30-day free trial, FreshBooks offers 4 premium plans:
Lite: $6/month
Plus: $10/month
Pemium: $20/month
Custom: Contact FreshBooks sales team
As one of the best invoicing software, Wave is designed to automate the way you invoice your customers. It tracks your time, sends invoices, collects payments, and much more all with a few clicks of the mouse. That's Wave in a nutshell.
Wave is a cloud-based accounting and invoicing solution. It automatically connects your customer, sales, and purchase orders, quotes, and invoices in one place and tracks cash flow.
Additionally, you can invoice from anywhere using any device. Get paid faster with an all-access pass to your statements and activity reports.
Wave supports all credit cards and also has a scanning tool and a range of bank connections to make payments faster and safer. You won't have to worry about manual input mistakes or missing transactions this way.
Payroll administration is another area where Wave reduces stress by using direct payments and online pay stubs to calculate amounts and deduct taxes. The best part of the tale is that you can have all these capabilities for free.
Wave Pros
Free (payments and payroll incur fees)
Smart selection of features for very small businesses
Double-entry accounting
Excellent invoice and transaction management
Can pre-authorize recurring credit card payments
User-friendly interface
Context-sensitive help
Multicurrency support
Instant Payouts
Wave Cons
No comprehensive mobile app
Limited third-party app integrations
Receipts by Wave app unavailable on Android
Wave Pricing
Unlike FreshBooks, the basic invoicing functions of Wave are completely free. There are, however, fees for payments and payroll. Credit card processing charges 2.9 percent while each transaction costs $0.030. A 1% fee is applied to bank payments (ACH).
Make the switch to Zoho Invoice with integrated accounting and payment functionality, invoice templates, and a free trial. Zoho Invoice is cloud-based invoicing software that's easy to use, secure, and integrated into other popular business apps used by today's top entrepreneurs.
Zoho Invoice is one of the best invoicing software in the market for small and medium businesses. It offers a great invoice design and the ability to send invoices on the move from anywhere, with the flexibility of being able to create any kind of invoice they want to.
When it comes to creating and delivering invoices, Zoho Invoice is a no-brainer. It will provide you with all of the business support you need to collect payments on time and build strong connections with your clients.
The system is quick and accurate, allowing for easy time tracking, online payment processing, automatic reminders, informative reports, and uncomplicated time management.
What's more, it connects with several popular Zoho and third-party applications to allow for smooth data movement.
Zoho Invoice Pros
Customer portals
Adapt to local currencies, languages, and tax laws
Store customer information securely
Automate payment reminders
Bill multiple customers
Log time and manage projects
Scan receipts and track expenses
Good mobile apps
Excellent reports
Zoho Invoice Cons
Doesn't integrate with Zoho Inventory
Sprawling design requires scrolling
Some functions require developer skills
Zoho Invoice Pricing
Zoho invoicing software is included in Zoho Books (accounting software). Below are the Zoho Books' three pricing plans:
Basic: $9/month
Standard: $19/month
Professional: $29/month
In addition, Zoho Books offer 14 days of a free trial.
Xero is a cutting-edge way to manage your invoices, spending, and time. Whether you are sending an invoice or paying for something yourself, the fresh, clean design of Xero means it looks great on any device.
It is an all-in-one online bookkeeping solution. It's fast, easy, and secure. You can send invoices directly from Xero and track payments, manage expenses, accept credit cards, and pay employees.
By letting you do everything you need to do in one place, Xero helps you save time and increase efficiency so that you can focus on running your business.
It has one of the greatest invoicing modules in the history of digital accounting, and it's a system that can cater to businesses of various sizes and sectors.
This is likely because Xero was built with usability in mind from the start, and it places a strong emphasis on the user experience rather than technicalities and computations.
A free trial is also available, which allows you to check out the solution's key features.
Xero Pros
Insightful dashboard
Improved setup process
New business views
Interactive quotes, Smart Lists
Thorough reconciliation tools
Exceptional online support
Project tracking
Integrates with Gusto (payroll)
Xero Cons
Lacks phone and chat help
New invoice form needs labeled icons
Mobile apps not comprehensive
Expenses handled in separate mobile app
No reorder level in inventory
Xero Pricing
In addition to its 30-day free trial, Xero provides 3 price plans:
Early plan: $11 per month
Growing plan: $32 per month
Established plan: $62 per month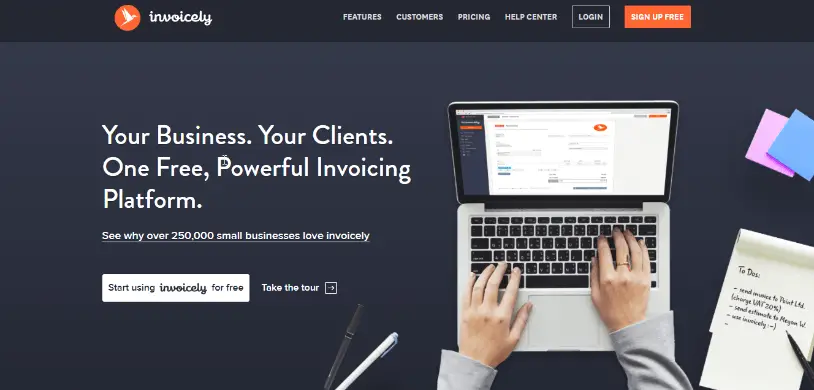 Invoicely is one of the best invoicing software for small businesses. With beautiful design, it's easy to create great-looking invoices, quotes & proposals in minutes.
Sync with all of your online accounting tools at a low monthly price. Reply to customers from anywhere, customize invoice templates and send invoices directly to your accounting software.
Using Invoicely, you can keep track of all your finances, and use a complete set of business reports and summaries that allow you to examine your budget's health.
Also, the software lets you automate recurring invoices, automate late fees, send invoices via email, print invoices, create pdfs, handle information entered in different languages.
It's simple, easy to use, and get started with: no credit card required. Invoice with invoicely in minutes. Furthermore, you can accept direct online payments via Stripe, PayPal, WePay, and Mollie.
Invoicely Pros
Branding
Time tracking
Expenses tracking
Mileage tracking
Automatic reminders
Data export & import
Multi-currency support
Reporting
Support for various payment gateways
Useful reports
Invoicely Cons
No custom branding for free version
Invoice customization could be better
Time and mileage tracking available only on paid plans
Invoicely Pricing
In addition to its free plan, Invoicely has 3 paid plans:
Basic Plan: $9.99 per month
Professional Plan: $19.99 per month
Enterprise Plan: $29.99 per month
Invoice2Go is the marketing and invoicing software for small business owners, freelancers, and consultants. The software comes with a variety of features that help merchants to create professional and beautiful invoices quickly.
Invoice2Go is a mobile-first online invoicing software that provides all professional accounting tools to small businesses. Using its professional and responsive templates, or by creating your own, you can send invoices and estimates on the go.
In addition, when it comes to payment processing, Invoice2Go will work with a variety of popular gateways, as well as direct installments from credit and debit cards.
It will track your bills (sent, opened, and late), time, receipts, and costs, and produce thorough reports on your financial activity, all while keeping an eye on how the payments are moving.
Overall, it's an app that takes the paper out of the equation. Less filling out forms, and more getting on with what's important. It brings together everything you need to get paid in one place.
Invoice2Go Pros
Professional invoice templates
Expense tracking
Accept credit and debit cards
Invoice tracking
Payment reminders
Customizable branding
Performance reporting
Multi-currency
Companion mobile apps
Customer database
Invoice2Go Cons
Features are limited in cheapest edition
Lacks optical character recognition (OCR)
Confusing billing structure
Invoice2Go Pricing
Invoice2go offers three paid plans in addition to its free plan:
Standard Plan: $9.99/month
Advanced Plan: $19.99/month
Unlimited Plan: $33.99/month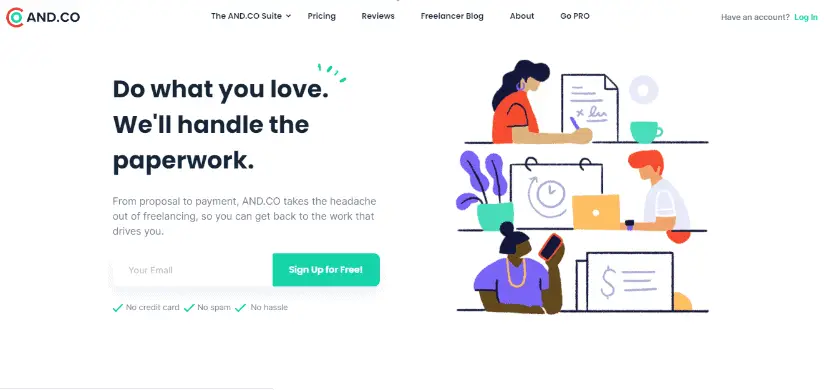 And.co is one of the best invoicing software for small businesses around the world, that's fast, simple, and tailored to suit your own individual needs.
The majority of online invoicing systems are intentionally generic to appeal to as many clients as possible. However, And.co does not adopt this method. This software, which was bought by Fiverr in 2018, is aimed at freelancers who sell services.
Out of the box And.co helps you grow your business faster by using automation technology that intelligently sorts and processes your transactions as they happen.
In seconds it automatically creates, sends, and tracks invoices for you. As a result, you can focus on growing your business instead of chasing unpaid bills. It includes a set of tools for managing customers, projects, billing, and a simple invoicing solution.
Also, And.co can be used on any computer connected to the Internet, there's no installation or configuration.
And.co Pros
Easy to set up and use
Flexible invoice scheduling
Creates detailed contracts and proposals
Home pages for projects, clients
Native mobile app support for Android and iOS.
And.co Cons
Few invoice templates
Limited customization of invoices
No product/service records with prices
And.co Pricing
If you only have one customer, it's absolutely free. However, it costs $24 per month if you have more than one client ($18 per month if paid annually). Paying also gets rid of the And.co logo (which is still there in the free one-client version) and lets you amend contracts.
Also, instead of the two in the free version, you may link up to six bank accounts.
QuickBooks Enterprise is an end-to-end accounting system designed specifically for high-growth companies. This platform, as an Intuit product, provides a powerful collection of functions that keep you on top of your finances.
It can actually handle everything from expenditure tracking to vendor administration. Furthermore, it consolidates all of your accounting data to provide you with a complete picture of all of your transactions.
It includes all the power of QuickBooks Pro, plus invoicing and time tracking capabilities so you can streamline your billing process and track payments, outstanding balances & more – right down to the last penny.
You also have access to a sales and customer management module with QuickBooks Enterprise, which makes it simple to manage your bills.
In addition, it allows you to design invoices, set up automated invoice mailing schedules, and keep track of your past-due bills. This reduces the chances of missing certain transactions and ensures that you receive your funds on schedule.
QuickBooks Enterprise Pros
Easy setup
Automatic inventory
Reporting & finances
Sales & customers
Sales order fulfilment
Purchasing & vendors
Advanced pricing
Quantity discounts
Billing & mobile payment
QuickBooks Enterprise Cons
It's quite expensive
Mobile apps not comprehensive
QuickBooks Enterprise Pricing
It offers 6 paid plans in addition to its free version.
Silver Plan (With Hosting): $140/month
Gold Plan (With Hosting): $169/month
Platinum Plan (With Hosting): $198/month
Silver Plan (Local Only): $1155/year
Gold Plan (Local Only): $1502/year
Platinum Plan (Local Only): $1848/year
Due is a small accounting system with various components, including Invoicing, Payments, eCash, Global Payments, Digital Wallet, and Time Tracking. Easily create professional-looking invoices and estimates for your customers with Due's clean and simple design that is intuitive to use.
You may purchase each module independently or combine them for professional, end-to-end customer service, depending on your needs.
For example, the Invoicing module eliminates the need to chase payments and waste time writing invoices by providing a comprehensive dashboard where you can easily handle all relevant duties.
Additionally, each invoice you send can include your logo and other unique information, as well as be delivered with a personalized greeting and several payment methods.
Due also supports recurring billing, discounts, and tips, as well as clever invoicing numbering to minimize duplicate entries.
Due Pros
Accept payments online
Get paid faster
Send and receive money instantly
Reliable security
Automate your payments
Credit and debit card processing
International payment processing
Digital wallet
Due Cons
Has no mobile app
Poor customer support
Due Pricing
Due is 100% FREE.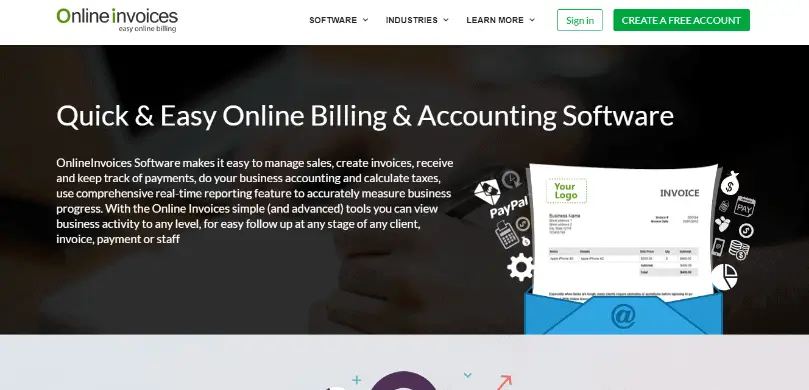 Look no farther than Online Invoices if you're searching for a simple and quick accounting solution with invoicing capabilities.
Online Invoices, which is aimed largely at the sales and retail industries, make it simple to issue fully-featured invoices, receive, send, and monitor due payments, compute taxes, and report properly and on time.
As a result, Online Invoices is one of the most cost-effective and user-friendly options for any business looking to track its progress, whether in general or for specific stages and clients.
Billing, inventory management and control, customer relationship management, client management, and follow-ups, staff payroll processing, and more are all included in the package.
Online Invoices Pros
Pre-filled invoice templates
Invoice preview
Automatic reminders
Client management
Powerful reporting
Complete history Log
Create and follow-up estimates
Multiple currency support
Multiple payment options
Online Invoices Cons
Free plan has limited features
Online Invoices Pricing
In addition to a free plan, Online Invoice has 3 affordable paid plans:
Silver: $9.95/month
Gold: $19.95/month
Platinum: $39.95/month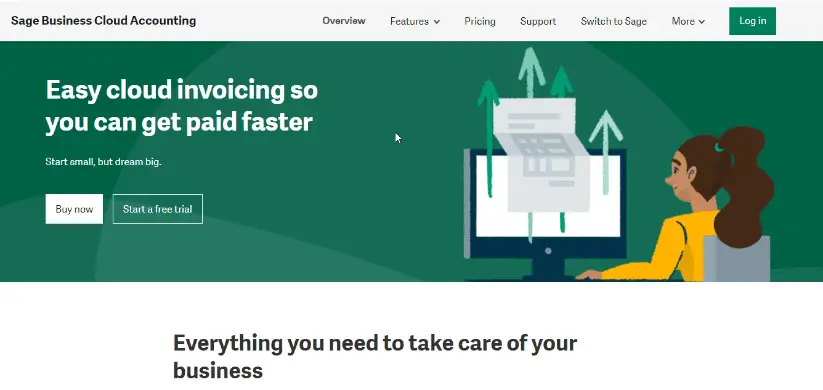 Sage 50c accounting is a comprehensive accounting, invoicing, inventory, cash, and tax management system that also handles a wide range of reporting needs.
It is known as a time-saving and financial-control tool that also happens to be one of the most secure screen-level access tools available, ensuring that your most sensitive data is protected.
In addition, it is available as a desktop and mobile application, allowing you to bill clients and accept payments even while you're not in the office.
It's also 100 percent compatible with major fraud detection services and instantly connects to your Sage Payroll account to make payroll processing and operations easier.
Coupled with its reliable, 24/7 customer support, the software line of features is designed for medium and large businesses.
Sage 50c Accounting Pros
Invoice through mail or email
Monitor cash flow
Pay bills online
Excellent inventory management
Customer management center
Enjoy screen-level security
Supports mobile devices
Sage 50c Accounting Cons
No dashboard
No dedicated time tracking
Sage 50c Accounting Pricing
In addition to its free trial, Sage 50c Accounting has 2 affordable paid plans:
Sage Accounting Start: $10/month
Sage Accounting: $25/month
What is Invoicing Software?
Invoicing software is an accounting tool to create, send, track and manage invoices. It is a multi-functional tool that can be used in a small or large business, for individuals, or as part of a project team.
The software allows you to fully customize your invoice template, utilize add-on applications, connect with customers and suppliers, print or email reports to clients and suppliers as well as many other features.
See also: Best Payroll Software for Small to Medium-Sized Businesses
What is the Importance of Using the Best Invoicing Software for Your Business?
Invoice software is not just a matter of issuing or sending out bills to your clients. A good invoice management software is also an effective tool in helping businesses in organizing and monitor billing data as well as receive payments on time.
Since invoicing is unavoidable for your business, you better do it right. Using the wrong software can cause inefficiency in your business. It is a pivotal component for your business and so you need to acquire the one that serves all your needs well.
In today's competitive business environment, it is not enough to simply record the transactions and send off invoices. In fact, an invoice is not just a simple document; rather, it is an essential part of the accounting and profits of any successful business.
Therefore, choosing any of these superior kinds of invoicing software above will allow you to display your professionalism and give you all the more client base and positive notoriety.
See also: 9 Project Management Software and Tools For Your Team
FAQs
What kind of features do you need on invoicing software?
Invoicing software should be easy to use, and you shouldn't have to spend all day trying to learn how it works. Of course, the ability to customize invoices to your liking is a plus.
Also, since we're talking about invoicing software you'll need the usual features: Send invoices, create estimates, profitability tracking, billing management reports, and easy setup for new clients.
Additionally, it'll be great if the system is compatible across devices (and even browsers) so you can work on the go.
Are there any technical requirements to use invoicing software?
No, there are no technical requirements to use invoicing software. Nevertheless, it is helpful to have basic computer skills.
Conclusion
Overall, FreshBooks is the best invoicing software for businesses of any size. This tool allows you to instantly send professional-looking invoices, estimates, and receipts to your clients in just minutes.
You can also track expenses, send out reminders, receive online payments, and keep track of your time. Plus, all your data is stored safely on FreshBooks' servers (you never have to worry about losing a computer).
However, if you're low on budget or only in need of basic invoicing software features, I suggest Due. Even though it's completely free, each invoice you send can include your logo and other unique information, as well as be delivered with a personalized greeting and several payment methods.
Finally, accounting is a crucial component of any successful business, therefore it's key to have reliable accounting software for your business finances. So, here is the list of the Best Accounting Software for Small Businesses you can choose from.
I hope you found this post helpful.
Tosinajy teaches you how to make money online, the software you'll need, and also guides you on how to deal with common issues you may encounter.
Thanks for reading.
Ready to Try FreshBooks for FREE?
Click on the button below to get started with FreshBooks. You can test its features with the 30-day free trial before committing to any of its paid plans.