Are you looking to make the switch to one of the best accounting software for small businesses but you don't know which is right for you? If yes, then you're in the right place.
With so many accounting software solutions available, you may be wondering how to choose or which software options to consider.
Therefore, to help you find the right accounting solution that will work best for you, I've compiled a list (plus a brief review, pros, and cons) of the best accounting software for small businesses.
Quick Review
What are the best accounting software?
Best Accounting Software for Small Businesses
What are the best accounting software for small businesses?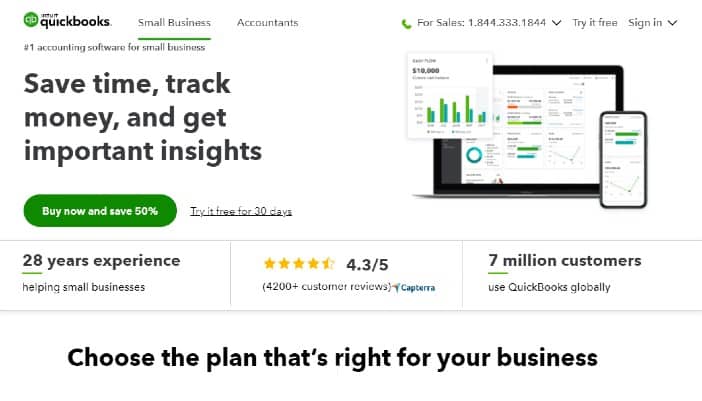 When choosing the best accounting software for small businesses, you're going to want to have functional, easy-to-use cloud-based software that requires a minimal amount of IT support.
With QuickBooks Online, you can do all your accounting and bookkeeping in one place, and access it anywhere at any time.
Create and send professional invoices, access the latest company data from anywhere, and pay bills to suppliers using a web browser or mobile device without installing software.
Additionally, all your data is backed up and secured in the cloud. QuickBooks Online is everything you need to boost cash flow, save time and simplify accounting for your small business.
QuickBooks Online Pros
Excellent user interface and navigation
In-depth contact records
Project profitability
Customizable reports
Comprehensive payroll support
Hundreds of add-ons and integrations
New cash flow pages
New hybrid sales tax option
QuickBooks Online Cons
Expensive
Auto-categorization not very accurate
Upgrade required for more users
Mobile apps not comprehensive
QuickBooks Online Pricing
QuickBooks Online offers four different plans. Additionally, they all come with a 30-day free trial.
Simple Start: $25 per month
Essentials plan: $40 per month
Plus plan: $70 per month
Advance plan: $150 per month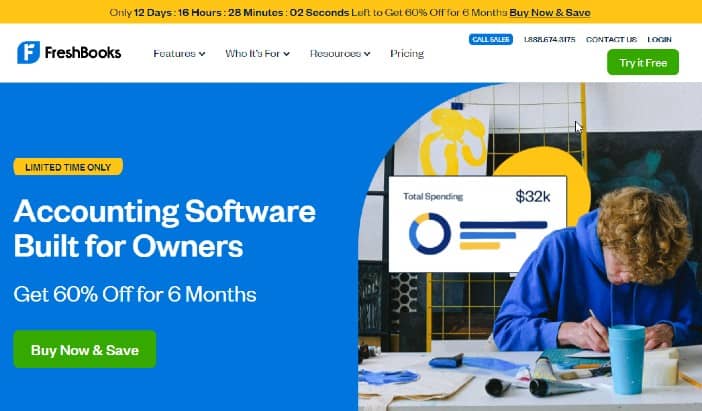 FreshBooks is an award-winning cloud accounting software that is used by many small businesses who love it for its simple design and incredible ease of use.
It's simple, intuitive, and designed to help your business run smoother. As a result, it makes accounting easy.
FreshBooks facilitates the sending of proposals and invoices, requesting deposits and collecting client retainer, tracking project times, and receiving payments for service-based companies.
With accounting best practices built-in, it takes less time to use FreshBooks, saving you from not making an invoice or writing a check in the wrong amount.
Furthermore, you can save all your receipts right into FreshBooks from your phone or computer, and never worry about losing an important document again.
FreshBooks Pros
Cloud-based
User-friendly interface
Third-party app integration
Advanced invoicing features
Double-entry accounting
Team collaboration and time tracking tools
Estimate and retainer functionality
Supports proposals and projects
Automatic mileage tracking on iOS
FreshBooks Cons
No payroll service
Mobile app has limitations
FreshBooks Pricing
FreshBooks offers 4 pricing plans accordingly:
Lite plan: $15/month
Plus plan: $25 per month
Premium plan: $50 per month
Xero offers everything you need to manage your business finances and grow your business online. Its cloud-based accounting software gives you the tools to work with confidence, manage growth, and take control of what matters most.
With Xero, your company can process invoices, track sales, manage expenses, and also bank transactions all in one place.
It is one of the best-in-class accounting software designed specifically for small businesses, freelancers, and accountants. As a result, it is used by many small businesses to manage all aspects of their finances—in a simple, elegant, and secure way.
Xero provides excellent reconciliation of accounts, imports of data, sales and purchases, and project monitoring. Companies may collect client payments online using Xero's Stripe and GoCardless integration.
Xero Pros
Cloud-based
Mobile app
Payroll integration with Gusto
Third-party app marketplace
Simple inventory management
Interactive quotes, Smart Lists
Thorough reconciliation tools
Exceptional online support
Project tracking
Xero Cons
Limited reporting
No reorder level in inventory
Xero Pricing
After a 30-day free trial, Xero provides 3 price plans:
Early plan: $9 per month
Growing plan: $30 per month
Established plan: $60 per month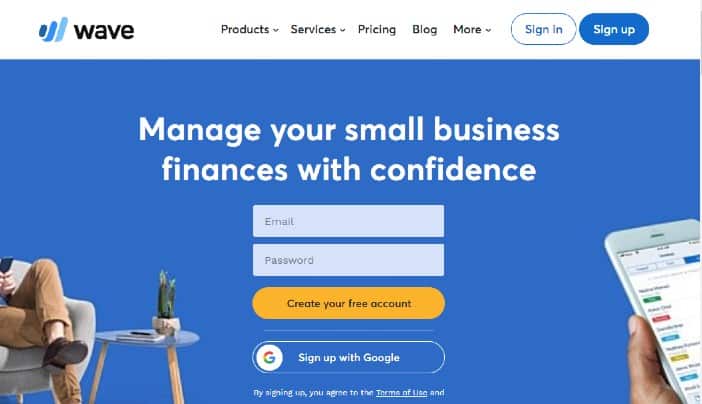 With its sophisticated business intelligence tools, Wave is more than just accounting; it's business intelligence. It empowers you to be an informed, confident, and agile businessman—to make better decisions faster.
Wave is accounting software with a price tag perfect for freelancers, independent contractors, and some small businesses. You collect client payments online using Xero's Stripe and GoCardless integration.
Occasionally, the firm updates its accounting service to a significant feature, but always introduces modest internal adjustments that might have a better impact on your business.
Wave Pros
No transaction or billing limits
Unlimited number of users
Double-entry accounting
Pre-authorize recurring credit card payments
User-friendly interface
Context-sensitive help
Multicurrency support
Instant Payouts
Wave Cons
No inventory management
Limited third-party app integrations
Receipts by Wave app unavailable on Android
Wave Pricing
Unlike some other software, the basic accounting functions of Wave are completely free. There are, however, fees for payments and payroll. Credit card processing charges 2.9 percent while each transaction costs $0.030. A 1% fee is applied to bank payments (ACH).
Also, Wave Payroll costs $35 per month for the standard service, plus $6 per month for each employee or contractor.
Sage 50cloud is the accounting system of choice for hundreds of thousands of small businesses. As a result, you can use it to manage your business finances, process invoices, and orders, and pay bills – all from one simple, secure cloud-based system.
The simplicity of putting together your bookkeeping, taxes, and payroll with a familiar, modern application set the software apart. Also, it has an extensive amount of help integrated into the software including phone or email support for quick questions.
In addition to getting an accounting system, you will also get 24/7 access to your critical business information from any location and on any device you choose.
With Sage 50cloud, you can keep track of your day-to-day finances from anywhere in the world. It can also be customized with additional accounting templates and processes to fit any business category.
Sage 50cloud Pros
Exceptionally sophisticated feature set
Great customizability
In-depth contact and item records
Strong inventory management tools
Can scale up to other versions
Good support options
Microsoft 365 integration
Sage 50cloud Cons
Expensive
No dashboard
No dedicated time tracking
Sage 50cloud Pricing
There are three plans in the Sage 50cloud line. All require a 12-month Sage Business Care membership (included in the subscription fee) that renews automatically every year.
Pro Accounting: $567 per year
Premium Accounting: $850 per year
Quantum Accounting: $1,404 per year
Though monthly pricing is available, it will cost you more in the long run. Additionally, each subscription includes $15 per user per month ($12.50 paid yearly) for integration with Microsoft Microsoft 365 Business Standard.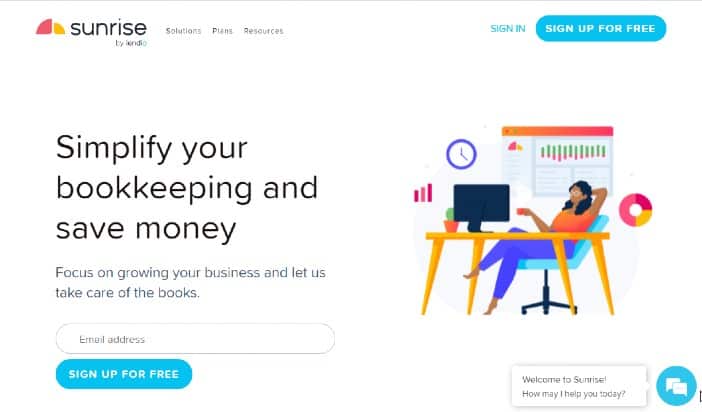 Sunrise provides contact and product records; quotations and budgets; invoices, recurrent bills, costs, and import data from financial institutions in the double-entry accounting framework.
It also works on payment processing for Stripe, Square, and PayPal Business Payments. Additionally, it integrates with the payroll service Gusto and Zapier.
While Sunrise is not provided with many capabilities, such as time monitoring, extensive reporting, and complete mobile applications, it is a good choice for budget-conscious small businesses owners.
Its billing tools contain some interesting features, such as the possibility of adding late charges, but the website generally is less versatile and functionally rich than Zoho Invoice.
Sunrise Pros
Free
User-friendly dashboard
Double-entry accounting
Supports both quotes and estimates
Competent handling of sales forms
Sales tax rulesets
Sunrise Cons
No dedicated time or project tracking
Minimal fields in contact and product records
Sunrise Pricing
You are free to utilize all of Sunrise's features. However, if you wish to take payments through a processor or link with Gusto for payroll, you'll have to pay a fee.
Sunrise additionally provides expert bookkeeping services. All three tiers include reconciliation assistance, bookkeeper support (by text and email), and a monthly book closure.
$149 per month: up to 120 reconciliations
$299 per month: up to 200 reconciliations
$499 per month: up to 500 reconciliations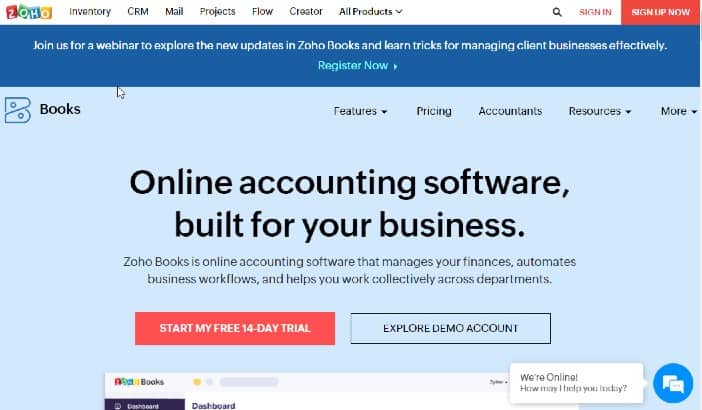 Now there is no longer a need to overpay for accounting services. Zoho Books makes it possible for small businesses to get high-quality accounting and invoicing without breaking the bank.
It is a fun and easy way to keep track of your finances. Zoho Books is an intuitive accounting solution for small businesses that helps you make sense of your business finances.
Keep track of expenses, income, taxes, payroll, and more in one place. With Zoho Books, stay on top of your financials with ease — no bookkeeping experience required.
Additionally, with innovative features like tracking your cash flow, handling multiple currencies, and paperless billing, Zoho Books allows you to focus on what matters most — growing your business.
Whether you're a start-up or have been in business for years, Zoho Books helps you run your business effectively with all the tools you need under one roof.
Zoho Books Pros
Easy to use
Affordable
Excellent user interface and mobile apps
Multiple payment gateways
Document management
Generous support options
Zoho Books Cons
Limited integrated payroll feature
Time tracking must be tied to projects
Zoho Books Pricing
Here are the Zoho Books' three pricing plans:
Basic: $9/month
Standard: $19/month
Professional: $29/month
In addition, Zoho Books offer 14 days of a free trial.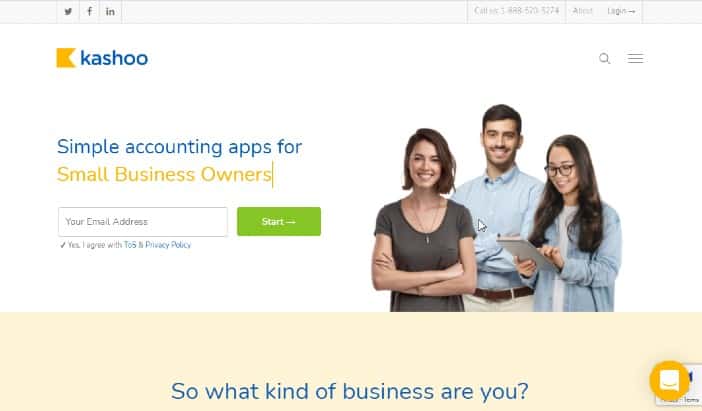 Kashoo is accounting software for small and medium-sized businesses. It offers online solutions for business accounting, inventory management and project costing that are secure, easy to use, and affordable.
Furthermore, it offers cost tracking of projects and can be built into SurePayroll. It follows the norms of double accounting and monitors revenue, expenditure, and project cost very well.
It has no features especially aimed at freelancers such as time-tracking for FreshBooks, thus it looks to be more suitable to a very small business owner that has an employee or two since it works with SurePayroll.
With Kashoo, you'll always have a clear view of your cash flow, saving you time and making it easy to run your business effectively.
Kashoo Pros
Simple, clean user interface
Good income and expense management
Project cost tracking
Free email, phone, and chat support
Integrates with SurePayroll
New version pending
Kashoo Cons
Lacks time and inventory tracking
No Android app
Few add-ons
Kashoo Pricing
Kashoo only charges $19.95/month for its subscription (plus extra fees for payroll and merchant accounts). As a result, it is one of the cheapest accounting software for businesses of all sizes.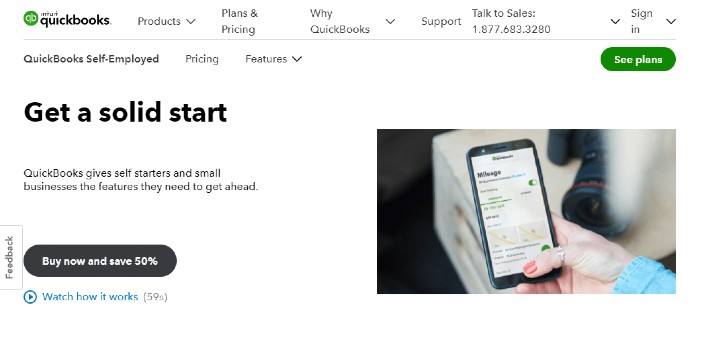 Small business owners need a powerful tool to keep track of expenses and make sales, and QuickBooks Self-Employed is the easy way to get up and running. It's easy to use and hits all the right spots when it comes to accounting.
With this cloud-based app, you'll be able to file quarterly estimated taxes, pay your quarterly taxes, report income, and also expenses easily on the go.
In addition, you can create and manage job estimates, track time and expenses, get paid faster, and produce professional invoices.
This software is available anytime, anywhere. All it takes is a few taps on your phone or tablet to track your business expenses and keep up with money coming in.
QuickBooks Self-Employed Pros
Excellent user interface
Easily tracks expenses and income
Automatic mileage tracking
Estimates quarterly income taxes
New time tracking tools
Can assign tags to transactions
Good support resources
QuickBooks Self-Employed Cons
No contact or product records
Lack advanced time and project tracking
Invoices not customizable
No templates for estimates or quotes
QuickBooks Self-Employed Pricing
Costs $15 per month.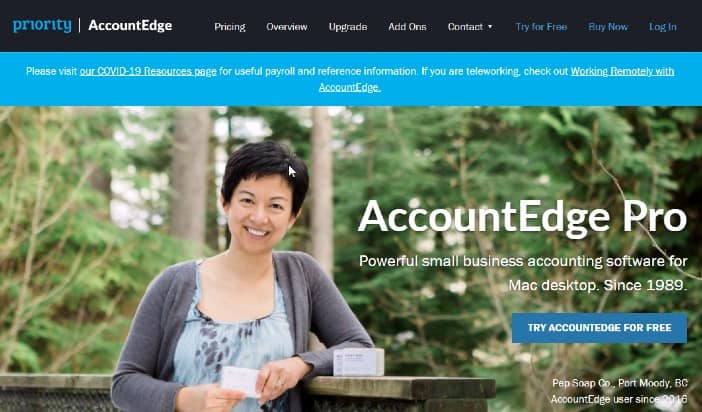 AccountEdge is one of the best accounting software for small businesses. The software allows you to categorize transactions so you can see how much you make in each area of your business.
Additionally, with seamless cloud-based solutions and superior compatibility, it provides the most effective and easiest way to manage your books and reports.
It comes with everything you need to accurately track sales and expenses, pay bills on time, invoice customers for services rendered, and much more.
AccountEdge might be precisely what you need if the lack of a mobile app isn't a deal-breaker for you.
The program is built especially for desktop users, and the experience is excellent, but you can't take it with you on the go. However, you may purchase a cloud-collaboration service that allows you to work from anywhere.
AccountEdge Pros
Double-entry accounting tools
Customizable
Chart of accounts
Full-service payroll
Mileage tracking
Recurring transactions
AccountEdge Cons
No central dashboard
Extra cost for cloud services
Can't download bank transactions
AcountEdge Pricing
A 30-day free trial is available to AccountEdge clients.
However, for a single user, AccountEdge Basic has a one-time cost of $149. AccountEdge Pro costs $499 for the first user license and $249 for each subsequent license.
What is accounting software?
Accounting software is specialized business software that allows individuals and companies to manage the financial records of their business.
Accounting software is used to keep track of payables, receivables, and balances, and also be able to do tax reports or other government-mandated reports such as payroll reports or sales tax reports.
Whether you are a small business owner or a large corporation, accounting software is designed to help track and analyze your business's finances.
See also: Best POS Systems Software For Small Business [Free & Paid]
How does accounting software work?
Accounting software takes the guesswork out of bookkeeping by automating the entire process.
Coupled with records keeping, most accounting software works by taking transactions and information from a connected bank or credit union. These data are then converted into an easy-to-read format visual on the screen.
Whether the business is big or small, accounting software will help manage your documents, invoices, payroll, inventory, bills, and taxes.
Furthermore, allowing you to see your financial status at any time of day or night, provides peace of mind that you've handled all aspects of bookkeeping and controlled your finances.
Why do small businesses need accounting software?
The most important question about accounting software is what does it do for your business? While the software does many things, it all boils down to one basic and essential thing: to drive your business.
Facing the daunting task of organizing accounting records and filing taxes can be made easier with a little help from your accounting software. Whether you're self-employed or a small business owner, accounting software is essential in making tax time uncomplicated and stress-free.
Accounting software also lets you track expenses so you can create budgets and keep track of your money—helping to lower your income taxes and managing your cash flow.
These software solutions are particularly designed to make sure your business is in compliance with federal, state, and local laws and up-to-date on its finances and reports.
See also: 7 Best HR Software and Tools For Your Business
How Do You Choose the Best Accounting Software?
Choosing the best accounting software can seem overwhelming at times. With so many different companies and products offering their own solution for doing your books, how do you know which one is right?
1. Know your needs
Why is it so important to know your business and accounting needs? For one, finding the accounting software that fits best with your business will allow you to be more organized and keep better track of your finances.
Therefore, it is vital that you know what your business accounting needs are. Do you work in a specific industry or service several locations? Do you have employees or an army of contractors? Accounting software is not a one-size-fits-all.
2. Define your budget
Whether you are searching for an accounting software package for a small business or a large corporation, it is important to define your budget. This will help narrow down the search to a smaller number of programs that meet your approximate price point.
Prices range from free to thousands of dollars. Once your budget is defined, you are ready to review the accounting software packages based on specific features and pricing.
3. Make sure it is easy to use
Choosing a new accounting package can be an onerous task but making sure it is easy to use is central to selecting the best accounting software for your business.
The software shouldn't be difficult to learn or use. Equally important, you should be able to figure it out easily without having to call their support line for help.
Your accounting software should allow you to create, adapt and print a range of reports, manage stock efficiently, prepare accounts quickly and send invoices easily.
4. Compatibility with other needed software
Compatibility with other accounting software platforms is a crucial consideration when evaluating accounting software.
If, for example, you already have an in-house inventory management system, the accounting software you choose should be able to integrate with that system.
Software that is compatible with other essential programs you already use or will need saves time and makes your accounting workflow smoother.
5. Consider its long term usability
When choosing the best accounting software, you must ask yourself what your needs will be one, three, and five years down the road.
An accounting system should not only meet your current needs but should also have a future that you want to be part of.
Therefore, make sure the software has the capabilities for the financials and reporting that you need in the future.
6. Look for a strong support team
The right accounting software should have a strong support team. If you have problems with your software, who will be able to help you? Does the company offer free customer support, or is there a hefty fee involved?
Are the representatives helpful and knowledgeable? Do they have access to technical support for your particular issues?
See also: 11 Best Video Conferencing Software: Meet with Your Team Anytime, Anywhere
FAQs
What is the difference between cloud-based and hosted accounting software?
Cloud-Based Accounting Software is software that can be accessed or used on any computer that has an internet connection. No downloads are involved.
On the other hand, Hosted Accounting Programs, are programs that are hosted on an accounting firm's server and can be accessed from both the firm and the client's location or office.
How much does accounting software for small businesses cost?
Well, for a small business with less than 10 people, the average cost of accounting software is between $200 and $350 per year. However, this is largely dependent on your needs and preferred accounting software.
What are the benefits of cloud-based accounting software?
Cloud-based software offers a number of benefits including a low cost of ownership, reduced maintenance and implementation costs, and minimal IT expertise.
Furthermore, it is easily accessible – everything you need is on your phone, tablet, or laptop. It's flexible too, letting you do more from wherever you are.
How many users can I add?
The number of users will vary by software package and will typically range between 1-10 users.
Conclusion
Overall, Intuit QuickBooks Online is the best accounting software for small businesses.
With QuickBooks Online, you can create, send and track invoices online within minutes. Also, paying your bills is a breeze.
Additionally, you can download transactions anytime, anywhere to see your numbers in real-time. You even get to try it 30 days risk-free and decide if it's worth your money.
With its supports for hundreds of add-ons and integrations, you can have all your business financial operations and records under one roof.
However, if you're short on budget or just starting up, you might want to try less expensive accounting software. In that case, I recommend Xero.
Perhaps you are on the market for an effective tool to enhance your business customer support? Here is the Best Live Chat Software To Convert More Leads To Paying Customers.
Finally, I hope you found this post helpful. Thanks for reading.
Ready to Try Intuit QuickBooks Online for 30 Days Risk-free?
Click on the button below to try Intuit QuickBooks Online accounting software risk-free for 30 days.