There are many help desk software available on the internet such that selecting the best help desk software for your business can be a confusing and time-consuming process.
These solutions all claim to be the best and deliver the most features at a great price. However, I've gathered the best help desk software solutions to help you make the right decision for your business.
Consequently, any of the help desk software on this list will help you automate repetitive tasks, increase productivity, streamline communication with clients, and much more.
Let's get started.
Quick Review
What is the best help desk software?
See also: 7 Best HR Software and Tools For Your Business
Best Help Desk Software
What are the best help desk software solutions to enhance your customer support?
With Freshdesk, you have a best-in-class help desk software, ticketing system, and customer engagement platform all in one.
Freshdesk is an online help desk software solution designed to make customer support fast, simple and personal. This software helps you to respond to tickets over email, phone, Twitter, Facebook, and the web in minutes with guaranteed response times.
Additionally, Freshdesk combines all your customer interactions in one place so you can be there for your customers whenever they need you.
It's aimed at serving external clients rather than being installed in an IT department. Ultimately, Freshdesk includes just about everything a small to midsize firm (SMB) needs to gain a better grasp on resolving ticket items as they occur in the system.
Freshdesk Pros
Integrates multiple channels
Team huddle for complicated cases
Addons for AI workflows
Transparent pricing
Mobile apps for iOS and Android systems
Real-time customer analytics
Customized reports
Portal design and customization
Custom ticketing, URL, and apps
Customer segmentation
Identity and access management
Also, it offers customer service remotely
Freshdesk Cons
No mobile messages integration
Also, key features are only available at highest pricing tiers
Freshdesk Pricing
Freshdesk offers a free version (Sprout) so you can test out the features before committing to one of the four premium plans.
Finally, here are the 4 premium packages offered by Freshdesk:
Blossom: $19/agent/month
Garden: $35/agent/month
Estate: $65/agent/month
Forest: $125/agent/month
Zoho Desk is the help desk software that everyone needs. With Zoho Desk, you start in under 1 minute, set your own SLA, and get on with business.
Ranked the best by hundreds of users globally, Zoho Desk is priced right and raises the bar for customer support software.
Additionally, it is an all-in-one cloud-based help desk solution that allows you to streamline customer support. Coupled with a smart set of features and extensions, Zoho Desk is a powerful help desk solution.
Furthermore, it is a powerful customer management software for Businesses and IT support Organizations of every size. Ultimately, it is a great fit for other organizations with sophisticated needs such as universities, hospitals, and professional services companies.
Zoho Desk Pros
Integrates with other Zoho products
Huge list of features
Highly configurable
Knowledge base and forums
Excellent price
Powerful reporting
Also, it provides social media channel support
Zoho Desk Cons
Stodgy user interface
Also, it is somewhat complex to use and customize
Zoho Desk Pricing
In addition to its free plan, Zoho Desk offers 3 paid plans:
Standard: $18/agent/month
Professional: $30/agent/month
Enterprise: $45/agent/month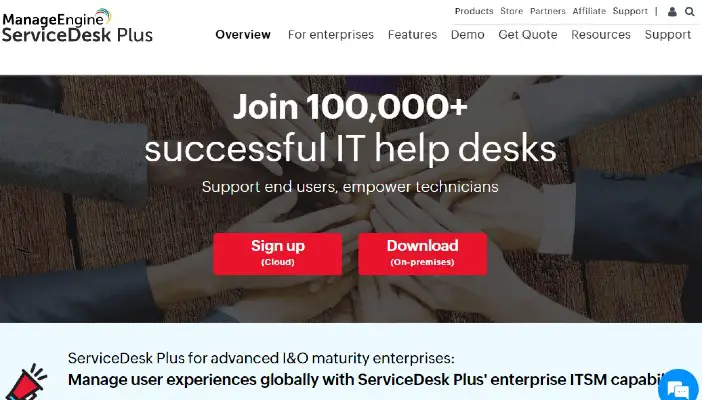 Advanced features and the latest technology are just a few reasons why Help Desk from ManageEngine is an agent favorite.
With robust data, comprehensive reporting, and intelligent alerting capabilities, you can quickly resolve help desk issues and reduce the time it takes to answer customers' queries.
In addition, this enterprise help desk software takes you from ticket creation to resolution and helps you make the best use of your time and effort.
ManageEngine ServiceDesk is packed with best-in-class, ITIL-ready capabilities that ease help desk activities and is trusted by businesses such as Honda, Xerox, Disney, and Vodafone.
Furthermore, incident management, issue management, change management, and asset management are some of the most noteworthy features.
ManageEngine Pros
Comprehensive support for ITIL processes
Strong integration with other ManageEngine solutions
Easy and effective asset management
Effective incident and problem management
Multi language support
Also, it provides mobile support compatibility with iPhone, iPad, and Android apps
ManageEngine Cons
Workflow support is limited
Also, there is minimal integration with third-party tools
ManageEngine Pricing
In addition to its free trial, ManageEngine offers 3 paid plans with each having Cloud and On-premise versions:
Standard: $12/month
Standard On-Premise: $120/tech
Professional: $23/month
Professional On-Premise: $248/tech
Enterprise: $58/month
Enterprise On-Premise: $598/tech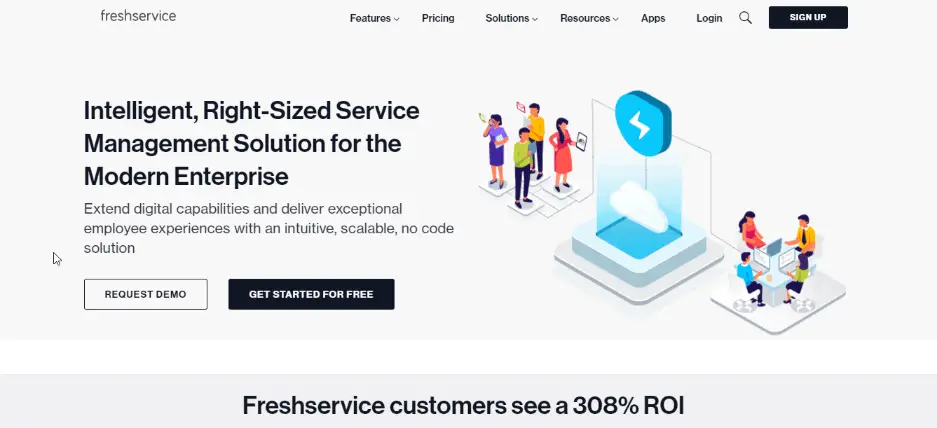 As one of the best help desk software, Freshservice is built for today's customer-facing teams so you can help your customers seamlessly wherever they prefer – phone, chat, self-serve, email.
In addition, Freshservice analytics tools reveal insights on how to deliver the best customer experience. It also comes with integrated team communications so everyone is on the same page.
Furthermore, it delivers exceptional value and makes your help desk work better for you. Also, as a fast-growing help desk software, Freshservice keeps thousands of other IT organizations happy, productive, and free to focus on their core business.
Additionally, Freshservice can directly work with your ERP, CRM, Help Desk Ticketing System and can manage your entire customer service process.
Freshservice offers a comprehensive knowledge base solution to capture all questions in one place. As a result, it simplifies the customer feedback loop.
Freshservice Pros
ITIL support for change management
Workflow support allows heavy customization
Best-in-class gamification features
Also, it provides a wealth of integration options
Freshservice Cons
Too expensive for small help desks
Geared primarily toward internal customer base
Also, it lacks social media integration
Freshservice Pricing
In addition to its free trial, Freshservice provides 4 paid plans:
Starter: $29/agent/month
Growth: $59/agent/month
Pro: $109/agent/month
Enterprise: $129/agent/month
Your customers deserve the best in customer service, which is why Zendesk was designed particularly to provide the world's best help desk software experience.
From email to Twitter and beyond, Zendesk provides customers with a single point of contact for interacting with a company and its brands.
Also, outbound messaging for agents, a self-service site for the general public, and an open application programming interface are all included in the Zendesk Suite (API).
One of Zendesk Support's strengths—and one that is only slowly being matched by its competitors—is the variety of ways tickets may enter the system. Also, with Zendesk you can chat with your customers via text or voice chat, or via screen sharing.
Additionally, internal notes can be added by agents to tickets, which can be extremely useful when tickets are handled by several agents.
Zendesk Pros
Robust reporting and advanced analytics
Screencasting
Public and private forums
Multi-channel support
Full CSS rebranding
Export ticket views to CSV
Mobile support with native iPhone, iPad, and Android apps
Also, it provides multi-brand support with linked accounts
Zendesk Cons
Best features only available at higher pricing tiers
Also, it lacks enterprise features such as change and asset management
Zendesk Pricing
In addition to its free trial, Zendesk has 4 paid plans:
Essential: $9/agent per month
Team: $25/agent per month
Professional: $59/agent per month
Enterprise: $125/agent per month
Elite: $199/agent per month
With the fast implementation and high satisfaction ratings, Jira Service Desk is one of the best help desk software that companies of all sizes rely on to manage customer requests.
This powerful, flexible solution brings reliable IT help desk software to everyone—not just IT administrators. Coupled with simplicity, Jira delivers great features plus industry-leading security, compliance, and configuration management capabilities.
Furthermore, it's designed to make your help desk more efficient, so you can focus on delivering outstanding service to your internal/external users.
In addition, customers can submit a ticket online with rich information related to their request, including photos and videos. Consequently, they can also submit a request by email or chat, or call in.
Best of all, Jira Service Desk processes tickets natively in Jira Software so you can track issues from start to finish with your teams in one place–saving time and effort for everyone.
Jira Service Desk Pros
JIRA software integration
ITIL-ready templates
Multilingual support
Real-time updates
Performance metrics
Confluence integration
Metrics report
CSAT reporting
Also, repetitive task automation
Jira Service Desk Cons
No integrated knowledge base
Also, no customer access through social media channels
Jira Service Desk Pricing
In addition to its free plan, Jira offers 4 paid plans:
Cloud – Standard: $20/agent/month
Cloud – Premium: $40/agent/month
Self-managed – Server: Starts at $10 one-time payment
Self-managed – Data Center: Starts at $13,200/year
Vivantio is a help desk software with an integrated ticketing system designed to let you create tickets for your service requests and support issues. Additionally, it is a full-featured help desk solution that delivers powerful functionality, flexibility, ease of use, and scalability.
In addition, the software's mobile edition allows teams to stay on top of requests and issues no matter where they are.
Vivantio's sophisticated reporting capabilities also give users a thorough view of their companies. As a result, it provides significant information into the efficiency of a company's service management procedures.
Furthermore, Vivantio has strong integration capabilities. It integrates with current app ecosystems thanks to integrations with corporate tools like JIRA, Okta, and Salesforce. The software's API also allows firms to tailor it to their own requirements.
Coupled with a variety of customizable tools, live chat, knowledge base, and social integrations, Vivantio is designed to help businesses create happier customers in less time.
Vivantio Pros
Excellent customization
Integrated interactive reports
Data export (PDF, XML, CSV)
Point-and-click codeless configuration
Asset management/CMDB
Includes asset and knowledge management
Also, it provides granular global search functionality
Vivantio Cons
Requires training for best use
Also, no direct social media support
Vivantio Pricing
Unlike some other help desk software on this list, Vivantio offers no free or trial version. Also, its 4 paid plans are quite pricey.
Billed annually, here are Vivantio's plans:
Value: £32/user/month
Vital: £42/user/month
Velicity: £62/user/month
Visionary: £102/user/month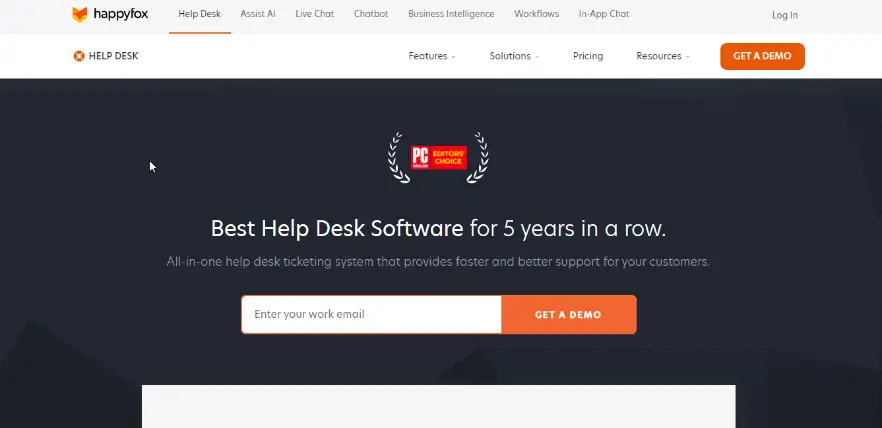 HappyFox offers a modern help desk solution designed to help you solve problems faster. It is built with the attention to detail, ease of use, and beautiful look that your clients deserve.
Also, the software focus on customer satisfaction which is why it comes with an industry-leading customer success manager.
Furthermore, this innovative feature allows you to view all relevant client data at a glance, helping you build relationships, automate tasks, and identify opportunities for upselling and cross-selling new services based on the client's individual needs.
It is particularly designed for small and medium-sized businesses which allow you to manage customer support tickets with efficiency. In addition, HappyFox allows you to reduce your response time, improve customer service, eliminate support costs and avoid 24/7 ticket overload.
Also, it supports Android, iOS, and Windows Phone, ticket management can therefore be done virtually from anywhere at any time. Additionally, the software features previews of tickets and alerts on new tickets.
HappyFox Pros
Email Conversion Into Tickets
Ticket Merging
Group contacts
In-depth reporting
Over 35 languages supported
Smart rules for automation
Social media integration
Supports multiple channels
Also works on iOS, Android, and Windows mobile devices
HappyFox Cons
Missing some key integration points
Also, it is priced above peers with no free tier
HappyFox Pricing
Unlike Jira Service Desk, HappyFox offers only paid plans with no free or trial version.
Mighty: $39 per staff/month
Fantastic: $59 per staff/month
Enterprise: $79 per staff/month
Enterprise Plus: $99 per staff/month
Vision Helpdesk is a self-hosted solution that will make your customer support service simpler. It has an elegant but simple-to-use interface and a wide range of capabilities to meet the demands of both small and big businesses.
It features a sophisticated incident and issues management function that can automate answers and categorize service requests, in addition to its basic help desk capabilities.
Furthermore, a self-help community feature in the customer support solution allows you to set up forums and knowledge bases for your clients.
It is particularly designed to help you deliver a better service to your customers, and improve staff productivity with an easily navigable system that gives you the full picture of the tickets in your system.
Vision Helpdesk Pros
3rd party single login and integrations
Automation, workflow, SLA, and escalations
Calendar and task Management
Integration with several scripts
Manage multiple companies support
Multi-channel – Facebook, Twitter, phone, chat, tickets
Multi-language
Also, it supports online issue tracking and ticket management
Vision Helpdesk Cons
No free plan
Also, it is not compatible with iOS devices
Vision Helpdesk Pricing
In addition to a 30-day free trial, Vision Helpdesk offers 5 paid plans (billed annually):
Starter Help Desk: $12/month
Pro Help Desk: $20/month
Satellite Help Desk: $24/month
Pro Service Desk: $32/month
Enterprise Service Desk: $48/month
Agiloft Service Desk is one of the best help desk software that applies User Story Mapping to define and solve your customer service issues.
It is both easy to use and powerful, and it greatly simplifies your IT helpdesk management at all levels – you won't go back to your old way of working.
Even though some of the customizations in the Agiloft Service Desk use HTML, you do not need to know how to code from scratch to make changes.
However, you have the option to customize the interface. Also, you can go much beyond basic help desk capabilities, with everything you'll need to apply Information Technology Infrastructure Library (ITIL) best practices.
Agiloft Service Desk Pros
Self-Service portal
Integrated live chat
Customizable end user interface
Workflows and templates
Granular permission controls
Management dashboards
Graphical charts and reports
Integrated sustomer surveys
Internal help desk
Also, it supports calendar integration
Agiloft Service Desk Cons
Enterprise plan pricing necessary for full feature set
Also, it has a complex configuration process
Agiloft Service Desk Pricing
In addition to the free plan, Agiloft offers 3 paid plans:
Professional: $45.00/license/month
Professional Unlimited: $65.00/license/month
Enterprise: $95.00/license/month
HaloITSM provides the software help desk tools your branch office needs to improve customer satisfaction and support staff productivity. This powerful help desk also offers fully integrated email, phone, chat, text, and knowledge base support, all designed around your business needs.
From a single console, you can manage incidents, changes, service requests, assets, contracts, documents, and much more. Additionally, Halo help desk software is scalable to meet the needs of your organization's IT department.
It can also be accessed from smartphones, tablets, and PCs. As a result, it is a very useful tool for customer support, remote administration, automated dispatch, remote end-user self-service, and more.
HaloITSM Pros
ITL-aligned processes
Workflow automation
Incident & problem management
SLA management
IT Service Catalogue
Centralized system
Collaboration tools
Code-free configuration
Also, it supports multi-channel
HaloITSM Cons
Customization is complex and can increase set-up time
Basic knowledge base access control
Also, the custom reports require some knowledge of SQL
HaloITSM Pricing
Unlike other similar solutions, HaloITSM price is determined by the number of agents that will be utilizing the system. The lower the per-agent-per-month fee, the larger your agent pool.
You'll pay $59 per agent each month, payable annually, at the low end of three agents. When you reach ten agents, your monthly fee lowers to $55 per agent. The scaling continues in the same manner up to 150 users, at which point you'll pay $29 per month per agent.
What is Help Desk Software?
Help desk software is a category of IT service management (ITSM) and customer support software. It is designed to enable companies and their employees to solve problems for customers by providing self-service.
On-premises help desk solutions, also known as in-house help desks, are used in small and midsize businesses (SMBs).
With real-time analytics, you can pinpoint trends and root causes. Furthermore, you can gain insight to respond faster and identify key areas for improvement.
Additionally, you can find the best way to address specific customer requests. As a result, this will strengthen your support team by providing the tools they need to do their work better.
See also: Best Live Chat Software to Convert Your Leads to Paying Customers
Why use Help Desk Software for Your Business?
Is your company growing faster than you can manage? Are you drowning in customer requests for help with software applications? Then, you need reliable help desk software.
Businesses of every size use help desk software to handle customer support. With help desk software, you can take customer queries and provide technical support.
Therefore, you can streamline your business processes, improve efficiency and enhance customer satisfaction.
Help desk software helps companies improve customer experience. You can actively listen, communicate, and attend to your customers. As a result, it increases customer satisfaction and revenues with better quality support.
See also: 10 Best Social Media Management Tools, Apps, and Software
What are the Important Features to Expect From Your Help Desk Software?
1. Automated Ticket Creation
A fully automated ticket creation system will allow your help desk software to automatically generate each ticket in the system for every type of need you have within your organization.
Furthermore, these tickets can be assigned to the agent or department most closely suited to handle the request and can provide a prompt response for users awaiting assistance from others.
2. Ticket Notification
Notification is the key in the Help Desk world. As soon as a ticket is created you want to know about it. The sooner you can respond, the better.
You need a system that allows you to acknowledge the ticket immediately so your customers know you've received it.
3. Note Generation and Storage
Note Generation and Storage present themselves as one of the most important features of your help desk software. It refers to the capability of the software to capture notes that are generated from customer interactions, either phone or email contact.
The information that is typed into these notes must be automatically stored within the system, for future reference.
4. Ticket Tagging
Ticket tagging is a feature of Help Desk Software that allows you to organize your incoming help desk requests, freeing you to focus on more urgent cases. It basically allows you to assign one or more keywords or clients to the ticket, and then let your agents quickly find the tickets they need based on those keywords.
5. Customized Dashboard
The first thing you need to look for in help desk software is a customized dashboard. It allows you and your support staff to have a customizable portal where they can capture, view, and then complete their work.
FAQs
What is ITIL?
ITIL is an acronym for Information Technology Infrastructure Library. It is the most widely implemented set of management practices for running successful IT organizations.
ITIL focuses particularly on effective service management and is designed to help you align your IT services with the needs of your business.
Which is the best help desk software for eCommerce business?
For robust features like self-help platform coupled with its simplicity, the best help desk software for eCommerce business is Zendesk.
Furthermore, if you have a retail shop, multi-vendor marketplace, an online skilled trade service, or any other eCommerce venture that needs a solution to resolve customer issues properly, Zendesk would be the best help desk software for you.
Conclusion
Overall, the best help desk software is Freshdesk. Freshdesk offers the right balance of flexibility and ease of use for any help desk operation. It's feature-heavy, but still easy to use out of the box. In addition, its pricing structure is simple and affordable, and it's completely mobile-friendly too.
Freshdesk provides plenty of tools for creating a trouble ticket system, organizing conversations, monitoring support renders, and so on. Furthermore, it offers a free plan so you can test out the features before committing to one of the four premium plans.
Thriving customer support is a key to making more sales, therefore I will recommend you check out the 12 Best CRM Software for Your Business.
In addition, you may also want to have the Best Live Chat Software to Convert Your Leads to Paying Customers on your website.
Finally, I hope you found this post helpful.
Tosinajy teaches you how to make money online, the software you'll need, and guides on how to deal with common issues you may encounter.
Thanks for reading.
Ready to Try Freshdesk?
Click on the button below to get started with Freshdesk for FREE.