Social media management tools, software, and apps are very useful to business owners (both big and small). It allows business owners to handle their social media presence and strategy without having to do everything manually. 
These tools and software save time. They also help you connect with your audience on a very personal level. Besides, most of them include analytics that will allow you to track the progress of your efforts.
Here is a list of the 13 best social media management tools. These tools can help facilitate the launching and growth of your social media marketing.
What Are Social Media Management Tools?
These are tools that help with most of your social media management strategy. They include scheduling posts, collaborating with your marketing team, monitoring all your accounts in one place amongst others.
In addition, once you leverage some of these tools, it will be a great way to promote your content production and increase your efforts on social media.
This tool was launched in 2010 as 'JustUnfollow'. But it has refurbished and rebranded itself in the past few years which prompted its change of name to Crowdfire in 2015. Crowdfire is one of the largest social media management platforms today with over 20 million users globally.
It is complete with important features required in social media marketing. These features range from scheduling, content curation, and analytics to social listening. 
Crowdfire works best for small businesses, digital agencies, and individuals who want to increase the engagement of users on their online pages. Also, those who want to have an idea of what is being said about them.
Pros
Helps you discover relevant content to your niche or business.
It also helps you pre-schedule all your relevant content and publish them at pre-determined times.
Contains social listening, giving you insight into everything being said about your brand and also enabling you to perform competitor analysis.
Guarantees you access to extensions.
Has a 14-day free trial for testing all its features.
Cons
It focuses more on quantity than quality.
It only gives recommendations on videos and infographics posted by other members.
Its avenue for blog promotion is limited.
Pricing
It has an offer of a free account for every social media site and also offers a 14-day free trial only for its top plan.
It has three plans in total. Its Plus Plan costs $7.48 per month, its Premium Plan, $37.48 per month and its VIP Plan costs $74.98 per month.

Socialoomph is an all-in-one social media tool that gives you hands-on control of every aspect of your social media presence. 
Furthermore, it has a host of useful features, such as the ability to automate posting to multiple accounts, schedule messages. In fact, you can write and publish posts at the best possible times.
Pros
Simple to set up and manage your tweets.
Very good monitoring ability.
Prompt customer support.
Ability to publish in your preferred configuration.
Cons
The design feels clunky sometimes.
Little user interaction and experience.
Integration with social media platforms is not easy.
Pricing
Free plan.
Professional plan at $17.79/half month.
Twitter unlimited at $6.97/half month.
Hootsuite was created in 2008 and currently has over 16 million users. Besides, it offers a large variety of social network integrations such as Tumblr, Reedit, and Marketo, asides Facebook, Instagram, and YouTube amongst other popular sites. Hootsuite comes with a 30-day free trial period.
Furthermore, Hootsuite is very popular for social media listening, managing customer service, and easy scheduling of posts. Also, Hootsuite aids the monitoring of multiple social media accounts simultaneously.
Pros
It is capable of managing multiple accounts.
You can compile data based on over 70 different metrics into customizable reports and thereby make better data-backed decisions.
It offers a wide range of social media support without the use of any software.
It automatically schedules different posts on social media.
Cons
Its custom URLs shorteners are expensive.
Its Facebook reach and engagement is low.
Some of its apps require extra fees to work.
Auto-scheduling may sometimes take a while to process as a result of software issues.
Pricing
It has three pricing plans.
The Professional Plan starts at $29/month when billed annually, with 10 social profiles and 1 user.
Team Plan starts at $129/month when billed annually, with 20 social profiles and 3 users.
Business Plan starts at $599/month when billed annually, with 35 social profiles and 5-10 users.
Enterprise plan is based on quotations, that is, what you need.
The first two plans come with a 30-day free trial. While you have to request a demo for the last one.
Buffer was launched in 2010 and is one of the best social media management tools on the Internet. It is capable of helping you manage your social media accounts. 
Buffer comes with a wide range of features which include data analytics and insights into the frequency of data posting on platforms like LinkedIn, Twitter, Facebook, and Pinterest.
Sendible also includes social listening and a mobile app for both iOS and Android for team collaboration on the go. Buffer is perfect exclusively for scheduling and publishing content on all your social media platforms.
Pros
It allows you to install its Chrome extension which enables you to share links, publish blogs, and posts pictures from any location.
You can create images instantly for your various media accounts with the help of 'Pablo', an inbuilt image creation tool.
You can publish and share content at the click of a button on your numerous social media websites.
It has insightful analytics that helps you measure your social media analytics according to a number of metrics. You can also create reports, extract actionable insights, and get recommendations that can help you in marketing better.
Cons
Its Instagram integration is not up to par.
No tool to selectively search for hashtags or searches.
Pricing
It offers three pricing plans. All plans offer a 20% discount on payment.
Buffer's publishing plans start at $15/month and go up to $99/month. 
Reply plans start at $15/month and go up to $35/month. 
Analyze plans start at $35/month and go up to $60/month.
5. IFTTT (If This Then That)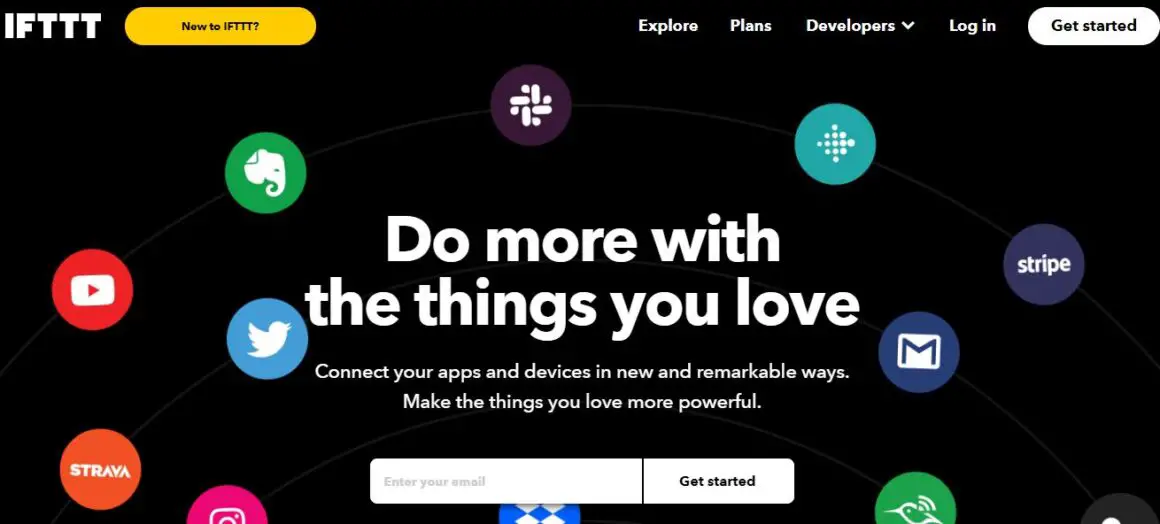 Created to let people automate simple tasks between applications and make the internet work like magic. 
With IFTTT people can create posts that will facilitate some of their everyday web activities. 
Through the application, users can link their various social media accounts to send out a tweet whenever they publish a post automatically.
Pros
They are easier to use than other products.
The website is straight forward giving you the information you need and not information you don't.
You can quickly set it up so data goes directly to cloud spreadsheets.
Cons
There are some clunky issues when you want to do more than one event at a time.
Not open for full customization.
It's a little too basic and has issues working with a more complex use case.
Pricing
IFTTT offers two types of account
For individuals
The free standard plan with 3 applets creation
The pro plan at $3.99/month with unlimited applet creation
For developers
Developer at $199/year.
Team with a pay as you grow package.
Enterprise with custom pricing.
Sendible has a lot of amazing tools which most of its competitors lack. For example, it is capable of measuring ROI from the same dashboard being used to manage your social media thereby saving you the stress of having to flip multiple times.
It is also integrated with popular social media networks and offers an attractive 30-day free trial. Sendible is perfect for lead generation, scheduling posts, and managing multiple clients. It can be used by businesses of all sizes and self-employed businessmen.
Pros
Schedule your posts in bulk or individually and also queue them if you want.
Set up individual dashboards for clients to better segregate and organize your work.
Preview your posts so as to know how they will look when you post them.
360-degree brand building. Your brands can be developed inclusive of all KPIs with enhanced reputation building and monitoring.
Cons
It has limited analytics features.
Its inbox interface can be a bit confusing to handle.
You can't easily post multiple images on a single Instagram post.
Pricing
It comes with four pricing plans. All plans come with a 15% discount on annual payments.
The starter plan is at $29/month (12 services and 1 user). 
The traction plan is $99/month (48 services and 3 users). 
The growth plan is $199/month (105 services and 7 users). 
The large plan is at $299/month (192 services and 12 users).
After its founding in 2011, Agorapulse has evolved greatly in its ability to help individuals and businesses manage their social media easily.
 It also allows users to engage in meaningful conversation online. It is being used by over 17,000 social media managers to scale up their social media marketing efforts.
Agorapulse is perfect for medium-sized businesses and agencies that require multiple users and manage at least a dozen different social media profiles.
Pros
Comes with flexible scheduling which allows you to schedule, reschedule, queue, and upload your posts in bulk.
Lovely collaboration features with easy assignments of inbox items and draft posts that keep social media moving fast and smoothly.
Instant unlimited reports that help determine the ROI of engagement and content strategy.
Social inbox that helps you easily find, filter, and manage specific mentions and essential messages.
Cons
Low diversity in emoticons.
Its listening feature needs to be improved.
It has one of the most expensive mid-tier plans in the market.
It has no option for searching through the inbox.
Pricing
It offers four pricing plans.
Medium Plan costs $99/month (10 social profiles, 2 users). 
Large Plan goes for $199/month (25 social profiles, 4 users).
X-Large Plan is at $299/month (40 social profiles, 8 users). 
Enterprise Plan is at $499/month (60 social profiles, 20 users).
All plans offer a 20% discount with annual payment and also a subscription to the Social Media Manager School which costs $997/person.
This is a popular link management tool that helps you shorten long URLs so as to share easily on social media. 
It lets you create customizable URLs, tag links, perform fast redirects, and expire links when you want them. It is best for large brands that post often on social media and always require shorter links.
Pros
Helps you route traffic on your social media, create deep links, create 301 redirects thereby having complete control over your social media links.
Gives room for team collaboration by providing two-factor authentication (2FA), extra user seats for your team, and multiple access level single sign-on (SSO).
Offers email support, a knowledge base, account management, and direct training video tutorials.
Gives you link analytics and a custom URL and report builder that tracks all of your link clicks and actions based on your social media links.
Cons
It doesn't include all of the social media post and scheduling features like other tools on this list.
Doesn't seem to be a way to search your custom URLs.
At first glance, it was a little tricky to see how to edit custom URLs.
Pricing
It offers four pricing plans and a custom enterprise pricing plan. 
The free Plan offer unlimited directs 5,000 clicks, and 500 branded links per month.
The Starter Plan is $29/month and provides 25,000 clicks and 5,000 branded links. 
The Pro Plan is $69/month and provides 150,000 clicks and 15,000 branded links.
The Premium plan is $499/month and provides 1,500,000 clicks and 150,000 branded links.
There is also an enterprise plan with custom pricing.
Sprout Social is very trusted and one of the best. It is built on the premise of encouraging deep, meaningful relationships between individuals, communities, businesses, and brands.
It is very pricey though, but when compared to the value it gives, the price is worth it. Sprout Social is excellent for small and large businesses, but also quite useful in the enterprise sector.
Pros
Has a 30-day free trial which lets you test how compatible your business is with a plan.
Allows you to schedule messages and queues up posts to be sent out at a pre-determined time.
Has a very intuitive and user-friendly dashboard.
Has a built-in tool, 'Discovery', that allows you to monitor a list of people whom you've interacted with and who have mentioned you in a post.
Cons
Expensive.
No LinkedIn intergration.
A limited number of social networks.
Pricing
It has three pricing plans, all with a 30-day trial period
Standard Plan – $99/month and provides 5 social profiles.
Professional Plan starts – $149/month and provides 10 social profiles.
Advanced Plan starts – $249/month and also includes 10 social profiles.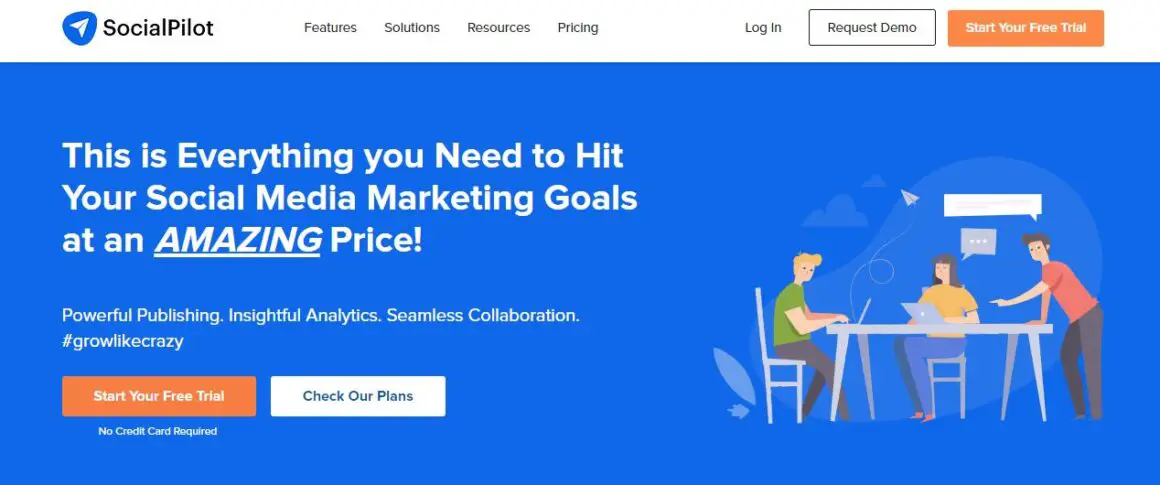 SocialPilot is used by more than 100,000 businesses worldwide and is popular as a result of the fact that it offers a lot of value and low prices.
It is designed to increase your social media marketing efforts and save time. It is excellent for social media professionals and small to medium agencies and is equally useful to individual entrepreneurs and small businesses.
Pros
Comes with a user-friendly dashboard.
Offers priority email support to customers
Can be highly customized to suit all your needs.
Offers content suggestions, so you can never be short of content to post.
Cons
Free trial not available in all countries.
Video feature limited only to uploading.
Pricing
It has three pricing plans, all with a 14-day trial period.
Agency Plan – $100/month ($83.33/month if billed annually) and provides 100 social media accounts.
Small Team Plan – $50/month ($41.66/month if billed annually).
Professional Plan – $30/month ($25/month if billed annually).
From scheduling posts to rescheduling and curating content, Meet Edgar is one of the best and provides you with a wide range of services. It also generates content for prolonged periods so that even when you are out of content, there is something to keep your customers busy.
It manages multiple social media accounts in one go. And is perfect for businesses who regular social media scheduling at regular time intervals, preferably via automation.
Pros
Offers extensions like Google Chrome and Safari.
Helps you post continually, even when you run out of content.
Has a great support and response team.
Capable of writing posts for you, with all the editing and publishing combined.
Cons
A little on the expensive side.
Has no integration with Pinterest.
Pricing
It costs $29/ month for the first four months, then the price increases from the fifth month to $49/month. It comes with a 30-day money-back guarantee and 25 social media profiles.
Zoho Social is a tool for making social media management easier. It helps to organize, monitor, analyze, and report data from multiple social accounts.  
It offers many advanced features, like cross-posting across networks and scheduling posts. You can also add notes to tweets to share valuable insights.
Pros 
Very straightforward to use, great usability.
Presents clear and useful analytics.
Easy to connect social platforms.
Great user experience.
Cons
The popularity is still low.
The interface can be a bit hard to follow for a beginner.
No ability to publish Stories on Instagram.
Analytics are tough to understand.
Pricing 
They have two pricing plans. All with a 14-day free trial period.
For businesses
Standard plan at $10 for 1 brand (7 social channels).
Professional plan at $25 for 1 brand (7 social Channels) plus special features.
Premium plan at $37.5 for 1 brand (8 social Channels) plus professional features.
For agencies
Agency plan at $200 for 10 brands (80 social features) plus Premium features+.
Agency plus pan at $300 20 brands (160 social features) plus total feature.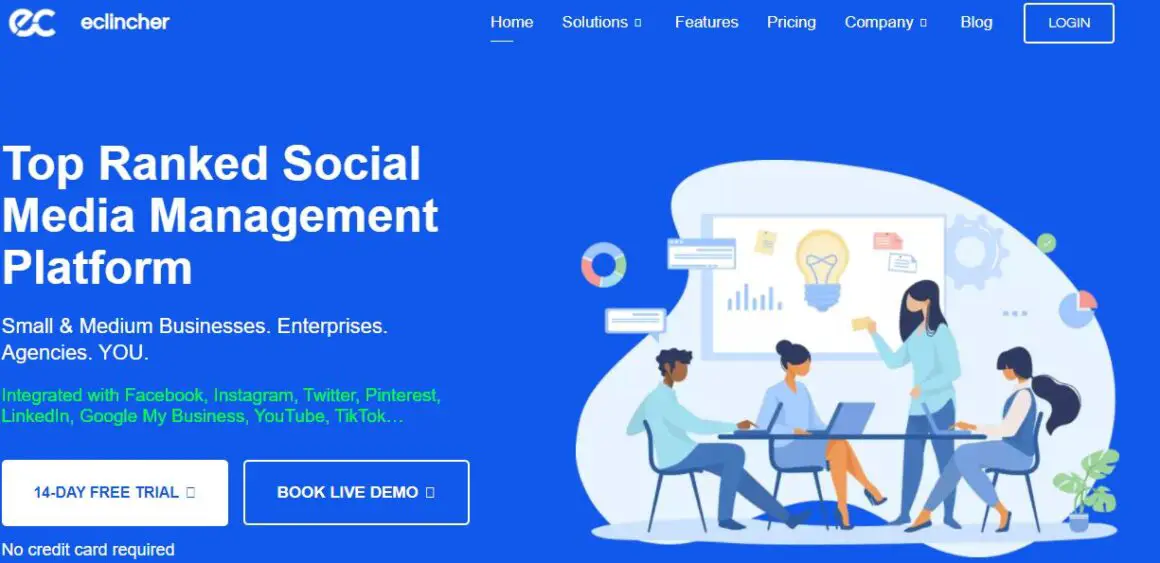 eClincher was created for streamlining social media management for businesses. Its main aim is to squeeze out all the maximum benefits present in social media.
The tool has a wide range of services which include post scheduling, advanced analytics reporting, monitoring, and listening to feeds amongst others. It is of great benefit to small and medium-scale businesses that do not wish to delegate their social media management activities to a third party.
Pros
Allows you to engage with your customers via comments. Thereby building a lasting relationship.
Includes plugin extensions like Chrome which allows you to share, schedule, or queue posts without having to use the app directly.
Auto schedules your posts thereby saving you time and stress.
Integrates all social media platforms.
Cons
Its user interface is not so intuitive.
There have been complaints about the presence of bugs in its software.
It is quite difficult to track the dates of queued posts.
Pricing
It has three pricing plans and all plans come with a 14-day free trial.
Basic Plan – $59/month, with 10 profiles and one team member.
Premier Plan – $119/month, with 20 profiles and 3 team members.
Agency Plan – $219/month, with 40 profiles and 6 team members.
The bottom line
Finally, after all said and done, we've arrived at the end. Please note that before you make a choice, you need to be certain about what you intend to achieve. Furthermore, be sure the features offered are compatible with your kind of business.
Also, consider your budget as pricing is important as well. But to make it easier for you, most of them come with a free trial so you can test the ones you prefer and check them out.
You can also check out some of our software reviews here.