Are you having trouble deciding which is the best marketing automation software to use for your business? This article is for you.
It is easy to get overwhelmed with all the people trying to sell you their platform. Also, there are lots of companies offering competing products for your marketing automation needs. Thus, it can be difficult to find the right one for your business.
For this reason, I've done all the research and compiled a list of the best marketing automation software solutions.
Quick Review
What is the best marketing automation software?
Best Marketing Automation Software for Your Businesses
What is the best marketing automation software for your businesses?
HubSpot Marketing Hub combines the power of your marketing, sales, and customer service systems in one application. It's the only marketing automation software that gives you access to the data you need to get results.
In addition, with everything integrated into a single platform, you can sit back, relax, and watch your business grow.
HubSpot Marketing is at the top of the list due to its comprehensive functionality in assisting you in the launch of efficient marketing campaigns. It is an all-in-one inbound marketing solution that can help you enhance traffic, lead conversions, and boost ROI.
Additionally, it's a tool that can help you with anything from designing, customizing, and tracking the success of your campaigns.
HubSpot also allows consumers to find and contact you through a variety of channels, including social media, blogs, and search engines. It prioritizes quality over quantity by helping you send only qualified leads and customers' target content.
HubSpot Marketing Pros
CRM integration included
Stellar marketing automation
Integrations with other HubSpot solutions
Analytics
Website SEO
Social media monitoring
Calls-to-Action
Also, it offers Salesforce integration
HubSpot Marketing Cons
Expensive
Also, there is a steep learning curve
HubSpot Marketing Pricing
In addition to a free plan, HubSpot Marketing offers 3 premium package. Also, each of the paid plans comes with a free trial to try it out.
Starter: $50/month
Professional: $800/month
Enterprise: $3,200/month
The Campaigner software provides all of the campaign and marketing automation essential to be successful in today's market. Campaigner works with your vendors and integrates into your CRM.
This marketing automation software is extremely easy to use. It comes with a drag-and-drop editor for customizing the various email templates with your own photos, colors, and also logos.
Additionally, with over 800 professionally designed email templates to choose from, you can easily pick one that suits the style and feel of your company.
The best part is that these templates are designed to function on desktops, tablets, and also smartphones. Furthermore, if you can't locate a template from the list, you may use the HTML uploader to build one using your own code.
In fact, you can use your phone, tablet, or PC to manage all aspects of your business from sales to service.
Campaigner Pros
Accessible 24/7 customer support
Advanced reporting
Wide range of templates and options
Social sharing
A/B split testing
Email workflows
Autoresponders
Geolocation
Also, it offers dynamic RSS campaigns
Campaigner Cons
Requires credit card for free trial
No free version
In addition, migrating from other solutions isn't easy
Campaigner Pricing
In addition to its 30-Day free trial, Campaigner charges based on the number of your contacts. Plans start at $19.95 for up to 1000 contacts.
Constant Contact is a robust marketing platform that enables businesses to advertise themselves via email and social media. It has a robust set of features for email marketing in particular.
Furthermore, it allows users to engage with their consumers through live events, online surveys, discounts, contributions, and other methods, all of which help you generate more revenue.
You may further expand the system's capabilities by connecting it with third-party programs like Shopify, WordPress, and Salesforce.
A drag-and-drop editor, email templates, automation capabilities, and real-time tracking tools are also among Constant Contact's features.
Overall, you can design and execute targeted campaigns, follow up on leads, and track results to drive ROI.
Constant Contact Pros
Intuitive and elegant interface
Wide range of third-party integrations
Superior email deliverability rate
Drag-and-drop email editor
Real-time campaign tracking
Campaign comparison
Subject line A/B testing
Marketing calendar
Online fundraising tools also available
Constant Contact Cons
Templates don't offer much flexibility
Pricing adds up once you have thousands of contacts
No multi-channel automation
Constant Contact Pricing
Constant Contact offers 2 affordable paid plans in addition to its free trial.
Email: $20/month
Email Plus: $45/month
ActiveCampaign is a powerful, simple marketing automation platform. It makes it easy for anyone to automate their communication with prospects and customers.
The tool is synonymous with clutter-free marketing automation and also a system that only delivers rational and successful communications. The technology allows for unrestricted customization while also providing important sales insights and best practices.
For those who want to grow their business, but don't have the time or ability to do it alone, ActiveCampaign marketing automation software can help.
It features everything you need to create amazing marketing campaigns, without all the complexity, so you can get more leads and sales for your business – at lower costs.
Overall, you can build relationships at scale, drive revenue, lower costs and become more productive with ActiveCampaign.
ActiveCampaign Pros
Over 850 built-in apps and integrations
Drag and drop email designer
Track your contacts onsite and in your apps
Campaign, contact, as well as list reporting
Track where your contacts live or travel
Add live ecommerce data and even videos to your emails
CRM & Sales automation also provided
ActiveCampaign Cons
ActiveCampaign Pricing
You will get access to 500 contacts and unlimited emails for $9 per month.
You may also choose the Enterprise package, which comes with a dedicated account representative, onboarding, and other benefits.
ActiveCampaign has plans for up to 100,000 contacts, but if you require more, you may request a bespoke plan.
On the other hand, you may get 2,500 contacts for $29, 5,000 contacts for $45, and so on.
Take better marketing email action with the right software and your customers will keep coming back.
Campaign Monitor allows you to build and send professional emails or create full-blown campaigns that combine the power of automation with beautiful design.
It's packed with useful features like dynamic text replacement, rich templates, and also real-time reporting. Campaign Monitor does the hard stuff for you, so you can focus on using data to tell great stories and convert more customers.
Furthermore, Campaign Monitor is an easy-to-use marketing automation software that helps you connect with your most valuable audiences and send beautiful emails that get results.
With Campaign Monitor, you can manage your contacts' activity, leverage existing subscriber lists, run online marketing competitions and promotions. As a result, you can build your subscription list all from one place.
Campaign Monitor Pros
Mobile-ready templates
Extremely easy to use
A/B Testing
Comprehensive automation feature
Segmentation and personalization tools
Convenient custom auto-responders
Solid insights and analytics also available
Campaign Monitor Cons
No SMS channel
No free plan
Also, it lacks direct online support via phone or chat
Campaign Monitor
In addition to its free trial, Campaign Monitor has 4 paid plans:
Basic: $9/month
Unlimited: $29/month
Premier: $149/month
Advanced: By quote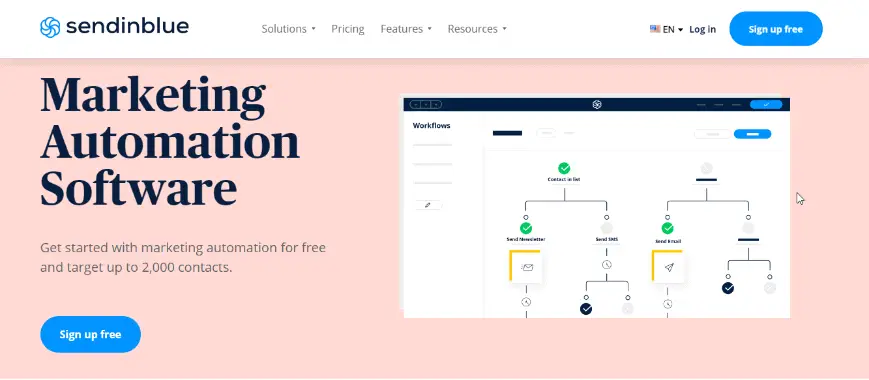 Sendinblue is a powerful automation tool for e-mailing, delivering fully responsive landing pages, and also managing your subscribers. It allows you to leverage the power of email and social media messaging while automating your workflow.
Unlike other marketing automation platforms, Sendinblue has a focus on email delivery. It uses machine learning technologies to analyze your audience and deliver highly targeted emails.
Furthermore, Sendinblue streamlines your marketing processes and removes the stress from your pipeline. This tool offers smart workflows, segmentation, and advanced email delivery to automate your customer engagement.
By importing all your contacts into Sendinblue from the start, you can build customized email campaigns that directly engage your customers' needs and also trigger actions at the right time.
Sendinblue Pros
Wealth of transactional email and SMS features
Includes basic CRM functionality
Expanded template building options
Android and iOS app
Landing page editor
Robust email automation
Unlimited sequencing
SMS marketing tool
Social media integration also available
Sendinblue Cons
Advanced template creation is a separate service and cost
Sendinblue Pricing
Sendinblue offers 3 premium packages in addition to its free plan. Here is the pricing breakdown:
Lite: $25/month
Premium: $65/month
Enterprise: Contact vendor
Best is a way too strong description for GetResponse, but better than most certainly. It does many things marketing automation can do and you will love it.
If you're not getting the results you want out of your email marketing, try GetResponse. It helps you get more leads, increase customer loyalty and sales, and also manage all your marketing channels in one place.
With GetResponse and landing pages, you can deliver content to subscribers' inboxes and mobile. This includes emails, videos, webinars, and also mobile push notifications.
Furthermore, you can create landing pages, send timed and triggered autoresponders, write and send newsletters, connect with social media, track your success, and much more.
GetResponse Pros
Expanded features like SMS and email chat
Powerful auto-responder options
Easy email marketing features
Improved e-commerce integration
Conventional funnel feature
Comparatively good at split test
GetResponse Cons
Analytics are underwhelming
Lacks 24/7 phone support
Also, no free plan
GetResponse Pricing
With a 30-day free trial, afterward, you can commit to any of the GetResponse paid plans below:
Email: $15/month
Pro: $49/month
Max: $165/month
Enterprise: $1,199/mo
MailChimp is a reliable marketing automation software with affordable rates for small and emerging businesses. It also has the ability to manage massive quantities of emails for major corporations and organizations.
Furthermore, it offers business-enhancing analytical features and robust technology tools that enable users to effectively use email to communicate with clients and prospects.
With MailChimp, you can market your products and services with ease and accuracy, while converting leads into actual sales.
Around the world, people use MailChimp to reach their customers, grow their businesses, and also connect with fans. Its integrated email marketing, social media, and SMS services make it easy for you to market your products and connect with your customers.
When you point, click, and send with MailChimp, you can count on it to deliver your message to the right people at the right time.
MailChimp Pros
Email client testing
Unlimited contacts
Generous freemium plan
Custom branding
Delivery by time one
A/B testing
Comparative reports
Advanced segmentation features also provided
MailChimp Cons
Lackluster email template experience
Also, campaign tracking is limited and somewhat difficult
MailChimp Pricing
In addition to its free plan, MailChimp offers 2 paid plans:
Growing Business Plan: $10/month
Pro Marketer Plan: $199/month
Infusionsoft is one of the best marketing automation software out there. As a result, small businesses use it to attract customers, deliver real-time customer engagement, create multiple income streams, and scale their businesses.
It can assist you with your store, whether it's online, on a physical street, or mobile service. Furthermore, you may link it to virtually any third-party program you're using through its various simplified connections.
Infusionsoft is cloud-based. This means that it is accessible across multiple devices from anywhere in the world. From your home, office, or in a hotel room, you can always access your account, along with all of your contacts and also their information.
In addition to its easy accessibility, Infusionsoft automatically syncs data between your employees, separating tasks into user roles such as salesperson, designer, and administrator.
Finally, you can become more productive, generate more leads & sales, and ultimately scale your business more effectively with Infusionsoft.
Infusionsoft Pros
Combines CRM with email marketing
Makes it easy to add contacts
Great coaching and support options
Built-in metadata and keyword fields
Track orders, sales totals, accounts receivables, etc
Sales reports
Multimedia marketing
Marketing reports also available
Infusionsoft Cons
Quite expensive
Also, template designs are limited
Infusionsoft Pricing
In addition to its 30-Day free trial, Infusionsoft charges based on the number of your contacts. Plans start at $80/month for up to 500 contacts.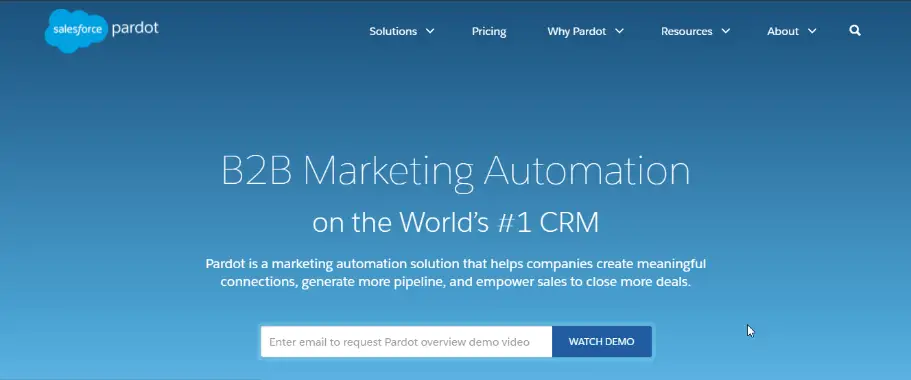 There's a good chance you've heard of Salesforce Pardot, a software that has exploded in popularity despite being relatively new (and just as much on-point compared to its enterprise-grade competitors).
While its Salesforce basis accounts for a significant portion of its popularity, there is much more to this system that will persuade you that you need it.
End-to-end lead generation and administration, simple email marketing, seamless sales alignment, and a variety of thorough ROI reports are all available with Pardot.
Furthermore, Pardot is the only marketing automation software purpose-built for B2B marketers. It helps you market like a chief marketing officer: personalization, segmentation, landing pages, lead scoring, and more.
Pardot uses lead scoring and multi-channel communication to get you the customers you want when you want them.
Salesforce Pardot Pros
Automated engagements
Personalized messaging
Real time alerts
Activity tracking
CRM integration
ROI reporting
B2B marketing analytics
Customizable dashboards
Third party data connection
SEM and SEO program integration also available
Salesforce Pardot
Too expensive for smaller SMBs
Also, lacks standalone mobile apps
Salesforce Pardot Pricing
Padot has no free plan. Its paid plans are also quite expensive. Here are the 4 plans if offers:
Growth: $1,250/month
Plus: $2,500/month
Advanced: $4,000/month
Premium: $15,000/month
Zoho Campaigns is a flexible and easy-to-use marketing automation software that helps marketers scale their marketing efforts to infinity.
The better part? It integrates with all major email services – Salesforce, Hubspot, and the most popular email platforms. With Zoho Campaigns, you can begin leveraging powerful automated workflows immediately.
Furthermore, collecting data is easy, as it allows you to collect data from numerous sources such as web forms, surveys, or social media.
Easily design, organize and manage all your email campaigns on a single platform. Therefore, join thousands of users from different countries using this software to create engagement and delight their customers.
Zoho Campaigns Pros
Well-designed campaign and marketing tools
Convenient integration with Zoho CRM
Outstanding reports feature
Import your newsletter templates
A/B test campaigns
Personalized greetings
Scheduled sending
Flexible, Customizable Layouts are also available
Zoho Campaigns Cons
Dated email template designs
Initial setup takes time
Also, it could be a costly solution for some SMBs
Zoho Campaigns Pricing
In addition to its free plan, Zoho Campaigns charges based on the number of your subscribers. Plans start at $5/month for up to 500 subscribers.
What are Marketing Automation Software?
Marketing automation software is an integrated suite of marketing tools to help companies manage customers throughout their lifecycle.
Furthermore, this software is designed to help marketers and business owners grow their sales, leads, and revenue. They empower your business to nurture prospects, convert leads, build brand preference, and also scale your marketing quickly.
Basically, they allow for marketing to be automated in an easy-to-use, customizable platform that gives you the ability to access the data you need.
Why Do You Need a Marketing Automation Software?
Marketing automation software is a tool that helps businesses acquire, nurture, and retain customers. Put simply, it's an essential extension of your marketing team that helps you create and deliver content to prospects in an automated manner.
Additionally, it helps you work more efficiently and use your time more productively by streamlining your email programs, social media campaigns, website analysis, lead scoring system, and landing page monitoring.
Essentially, it's an incredibly valuable tool that provides a wealth of benefits to any small business owner who uses it properly.
What to Consider When Choosing Marketing Automation Software
1. Pricing
PRICING IS ABSOLUTELY CRITICAL. When looking for marketing automation software, it is important to note the different pricing models.
Your budget will be a major factor in choosing software because it impacts how much time and money you'll have to dedicate to learning and using the software.
Since many companies require some sort of commitment from potential clients, you must understand what price you will be expected to pay.
2. Workflow Construction
The workflow construction is one of the most important aspects to consider when choosing marketing automation software.
Many vendors market that their software is easy to use when in reality, their workflows are complex and may be hard to edit. This means a long learning curve for your workers.
Basically, you need to be able to understand the software's workflow structure and create templates efficiently.
3. Integration with a CRM Tool
Does the software integrate with a leading CRM tool like Salesforce? Marketing automation software should integrate with your customer relationship management (CRM) software.
Most of the best marketing automation software tools give you the ability to pull in data from your CRM and then use that data to target your marketing campaigns.
However, this is just one integration option that can expand and enhance software functionality. It is equally important you consider how other solutions might complement your automation efforts.
4. List Building
List building and lead generating are the lifeblood of any business. If you're not building your list, promoting offers, and sending traffic to your website, then your business is dead in the water.
Whether you're a small business owner hoping to drive traffic, or a seasoned activist looking to bring in new leads, list building is at the center of all successful marketing campaigns.
The number of subscribers on your list is the backbone of your business. Therefore, the software must have effective list-building capabilities.
5. Social Media Marketing
Let's face it – getting found on the internet can be tough. Also, controlling your online presence is even tougher.
One of the most important decisions that you will make when deciding on marketing automation software involves the social media aspect. The reason social media is important is that you are no longer relying just on publishing an ad or posting a banner ad to get people to your website.
Social media is all the rage, it is what really puts your brand in the spotlight. Therefore, you can't make the mistake of choosing a marketing automation solution with no social media marketing capabilities.
FAQs
Are there prerequisites to using the marketing automation software?
There are not many prerequisites to using marketing automation software. Many platforms like HubSpot, and Pardot are simple and easy to navigate. Also, resources online like YouTube and blogs have tons of tutorials that walk you through the program easily.
How does marketing automation compare to lead management systems?
Marketing automation and lead management systems are both designed to help you generate more leads, close more deals, and automate key processes.
The main difference is that lead management systems typically have job-specific functionality that helps salespeople work more efficiently. On the other hand, marketing automation manages and moves leads through a self-service or manual process.
Conclusion
Overall, HubSpot Marketing Hub is the best marketing automation software you can count on all day anytime.
It is packed with advanced features of marketing automation which allow you to run targeted ad campaigns, achieve and also measure conversion rate optimization.
In fact, you can send personalized sales email templates and bulk notifications, manage leads, and email and track contacts on the go from any device through the software's user-friendly interface.
In summary, HubSpot Marketing Hub allows you to manage your entire business process from one dashboard.
Finally, if you're serious about getting more leads and converting them to paying customers, you need reliable CRM software. So, here is the 12 Best CRM Software for Small Business you can choose from.
I hope you found this post helpful.
Tosinajy teaches you how to make money online, the software you'll need, and also guides you on how to deal with common issues you may encounter.
Thanks for reading.
Ready to Try HubSpot Marketing Hub for FREE?
Click on the button below to get started with HubSpot Marketing Hub. You can test its features with the free plan before committing to any of its paid plans.