Silos exist in every business. Each corporate unit operates separately, making information sharing between divisions difficult.
Inadequate corporate resource planning results in lost time, a lack of teamwork, and an absence of business versatility.
ERP software solves these problems. Businesses can use enterprise resource planning (ERP) software to manage their whole operation from a single platform. There are a lot of new ERP systems on the market, and deciding which one is the best might be difficult.
However, I have selected and reviewed the best ERP software based on product features, integrations, safety, price, implementation delays, support, and more to make your decision easier.
Quick Review
Here are the best ERP software for businesses.
SEE: Best Accounting Software for Small Businesses
Best ERP Software
What are the best ERP software for businesses?
It is one of the earliest companies to design and deploy cloud-based software. Oracle purchased NetSuite in July 2016. Oracle NetSuite is the new name for the new company.
NetSuite is a renowned and comprehensive business management software solution. Finance, accounting, eCommerce, enterprise resource planning (ERP), inventory management, and other services are among its specialties.
For some businesses, basic accounting resources may be sufficient. More so, other businesses, frequently require more advanced features.
In those situations, NetSuite can be really useful. NetSuite is one of Oracle's many solutions and known as the world's No.1 cloud ERP.
Furthermore, NetSuite offers a number of cloud-based services. With these services, you can deploy e-commerce, project management, human resources, and other important tasks.
Oracle NetSuite interacts seamlessly with all accessible platform modules, including CRM, human capital management software, inventory management software, and others.
In addition, Oracle can easily integrate with a variety of other popular business software systems using it's with its open API.
The adoption of NetSuite is usually dependent on the demands of the firm. The procedure can take a long time. It could require anywhere from a few weeks and six months to complete.
The size of your organization and the NetSuite resources you choose will determine how long it will take to set up your NetSuite profile.
However, after negotiations to discuss your preferred offerings, an Experience Manager from NetSuite will take charge to set up your account.
Experience Managers from NetSuite will develop a project road map for your business after going through your business needs.
See Also: Best Marketing Automation Software That Delivers Results
Pros
NetSuite comes with the capacity to design bespoke process workflows
Provides a high degree of automation
It's a cloud service that's dependable, secure, and simple to use
Analytical and reporting technologies that are outstanding
You can use Oracle's enterprise resource planning functionality in a variety of sectors and niches
Cons
For certain businesses, NetSuite is prohibitively pricey. Additional fees apply for training, customer service, and other choices
Users may become frustrated or overwhelmed by a long learning curve
It is possible that the implementation process will take a long time
Some people dislike paying for customer service, while others have had negative customer service encounter
Setting up specific responsibilities in the system can be difficult
Pricing
When you sign up for NetSuite, the software is custom-made for your company. You can choose to use one, a couple, or all of NetSuite's features. Since NetSuite's services are tailored to the specific needs of each business, there is no standard pricing.
The cost varies depending on income, the number of modules required, the size of the organization, and other considerations. Hence, based on this information, Oracle sales agents can deliver personalized price quotes.
For small firms with modest inventory management requirements, Oracle NetSuite is not the ideal option. Although, scaling and medium-sized businesses who aim to employ most or all of the NetSuite framework features will benefit from the software.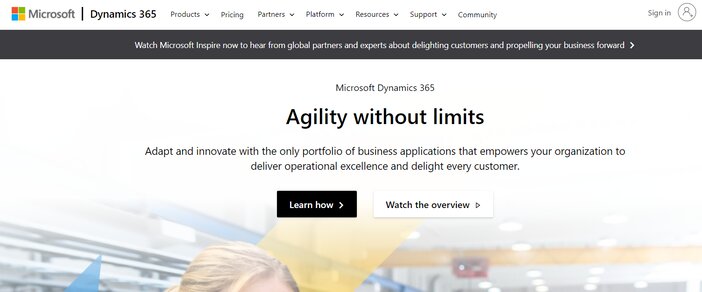 Search no further than Microsoft Dynamics 365 if you're seeking a powerful ERP vendor that can provide the most ERP system integration options. When it comes to leading ERP vendors, few can match Microsoft's track record.
Dynamics 365 is marketed as the next level of customer relationship management and corporate resource planning software, according to the business.
Microsoft Dynamics 365 is a rebranded version of the Dynamics CRM Online product and was later divided down into several applications.
The program is unusual in that it combines ERP Dynamics and CRM solutions into one cloud service. More so, using Flow and PowerApps, you can further customize Microsoft Dynamics.
PowerApps may be used to construct mobile apps, and the Flow workflow technology can be used to integrate apps from third-party suppliers.
In addition, Microsoft Dynamics 365 comprises a set of integrated technologies that allow businesses to do things like increase sales, automate field service, track leads, improve mobile device operations, and optimize various cloud-based business apps.
The software comes with a number of features that can help you enhance customer service, and general business interactions.
Apps for Windows Phone, Android, and iOS are available for the product. These can be used offline to continue working even if you don't have access to the Internet. However, data is automatically synced once the connection has been established.
Word, OneNote, SharePoint, and other Microsoft programs are all easily integrated with Microsoft Dynamics 365. You can reduce double entering and save time with these integrations.
Collaboration is also encouraged because the Yammer solution's integration allows for dynamic interaction between users and allows people to engage in meetings and initiatives. In addition, users can work on and read papers in real-time.
Pros
Microsoft Dynamics allows you to collect information that keeps your marketers informed at all times
Sales and marketing, finance and operations, field service, and other modules are included
A consolidated customer information system can help your staff save time by minimizing the amount of time they spend searching for and following up on leads
Dynamics 365 makes use of the cloud to integrate CRM and ERP functions
Enhances data security and management by allowing server-to-server authentication
Cons
Customer service is not available 24/7 with Dynamics 365
It may not be user-friendly for new users because it has a lot of sessions that disrupt the data flow
There is no free trial period available
Pricing
Customer Data Platform – Customer Insights costs $1,500 per tenant per month, with an additional $1,000 every eligible tenant/month. In addition, Customer Voice costs $200 per month/tenant.
Sales – For Professional, it costs $65 per user/month, Enterprise is $95 per user per month, and Premium is $135 per user per month while Microsoft Relationship Sales is $162 per user/month. If you want additional users, you'll pay $20 per user/month for Professional or Enterprise
Service – Professional is $50 per month/user, Enterprise and Field Service is $95 per month per/user, and Remote Assist is $65 per month/user. If you need more users, you'll pay $20 per month/user, regardless of the bundle.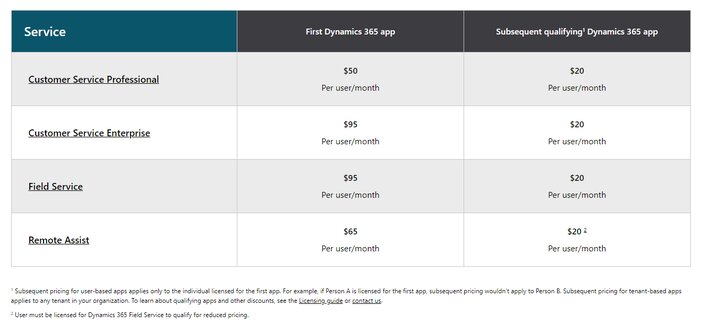 Marketing – It cost $1,500 per tenant/month or $750 per tenant/month for additional users

Commerce – It costs $180 per month for one user and $30 for each additional user.
Supply Chain Management – This costs $180 per user/month or $30 per user/month for additional users. While Guides cost $65 per user/month and Intelligent order Management cost $300 per 1,000 orders lines/month
Human Resources — This costs $120 per month/user, plus $30/month for every additional user.
Finance – This costs $180 per month/user or $30 per month for every additional user.
Project Management – This cost $120 per user/month or $30 per user/month for each additional users

Small and medium business – Essentials cost $70 per user/month, Premium is $100 per user/month, and Customer Service Professional is $50 per user/month while Sales Professional is $65 per user/month.
In addition, for extra users, you'll pay $20 per user/month for Customer Service Professional or Sales Professional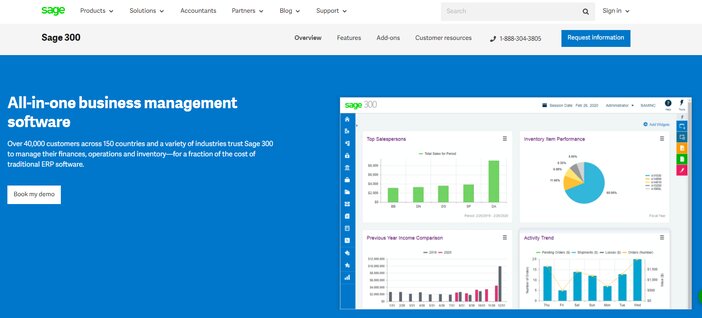 Firstly, this is one of three ERP software options available from Sage. Secondly, this product is aimed at mid-sized businesses.
Sage 300 is designed to help you improve your company's overall visibility while increasing ROI, from managing finances to operations and inventory.
It's an excellent option for organizations that deal in numerous currencies. If you have subsidiary firms or franchisees, you can even use it for several businesses.
Moreover, you'll gain access to a wide range of capabilities in Sage's extensive product suite if you purchase Sage 300 for ERP. Sage CRM, Sage Inventory Advisor, and Sage Payment Solutions are just a few of the services you'll enjoy.
For worldwide ecommerce operations, Sage 300 provides sophisticated enterprise resource planning. Real-time analytics are included, as well as the flexibility to track and handle orders from any location.
The capacity to manage vendor relationships is another key aspect of Sage 300. Orders, purchases, receipts, invoices, and refunds can all be automated. When ordering inventory or other materials, this will save you a lot of time and money.
If Sage 300 is too complex and feature-rich for you, Sage 100 is a viable option. It's still a decent ERP system, but it's not designed for international operations or many companies. Sage 100 is more akin to a sophisticated accounting program with ERP and CRM capabilities.
You can switch to Sage Business Cloud X3 if you desire additional functionality than those included in Sage 300. This is Sage's top-of-the-line ERP package.
It is geared for larger businesses and focuses more on supply chain management and sales. While Sage Business Cloud X3 is fantastic, it's definitely way over the top for most medium-sized companies.
See Also: Best Payroll Software for Small to Medium-Sized Businesses
Pros
It's available in a variety of languages, including Spanish, English, Italian, French, and others
Manufacturing, construction, wholesale distribution, food and beverage, chemicals, professional services, and non-profit organizations are among the businesses that can benefit from it
Customer care can be reached via phone or through a live chat from their website
Allows critical stakeholders to have immediate access to data for better decision-making
Amazon, Magento, Shopify, Salesforce and others are wide range applications are easily integrated wit this ERP
Google Chrome allows mobile access from a variety of operating systems
Cons
Although the price can be somewhat high
Due to the poor ease of use, training is essential prior to implementation and deployment
Drill-down or navigation capabilities aren't available
Pricing
The cost of Sage 300 ERP varies depending on the size of the company. Sage, like many other software companies, does not publicize prices for its Sage 300 ERP package. Organizations must instead contact Sage for a quote.
As a result, before estimating the cost of the service, it's critical to understand your company's requirements. ERP solutions that handle a larger number of users or have a more complicated collection of ERP functionalities and modules typically cost more.
Your enterprise resource planning system is the foundation of your company. As a result, it's vital that you choose a service that is not only a good fit right now but can also evolve and grow with your company in the future.
Odoo is one of the most prevalent ERP packages on the market, with over 7 million users globally. It's a complete solution aimed mostly at small and medium-sized organizations that require a lot of flexibility.
Besides, Odoo's benefit is its modular design, which allows for a lot of flexibility. As a result, you may effectively adjust the system to your business needs by providing a wide range of modules and applications.
This implies that their ERP platform can handle accounting, marketing automation, and inventory, CRM, and eCommerce procedures as well.
On the contrary, Odoo isn't like other business software. It offers an open-source platform for all business applications. That is to say, all programs are naturally compatible. Furthermore, using applications together does not necessitate any additional setup.
Community apps like Shopify Connect, WooCommerce, Office 365, and others can be accommodated by the modular approach to app development. Likewise, there are already gazillions of third-party apps available that work flawlessly with Odoo applications.
Android and iOS versions of Odoo are also available. You can use these mobile apps to access your Odoo apps directly from your phone or tablet.
Odoo's user interface is mobile-friendly and can fit well into smaller screens. That implies you may use your phone to manage many areas of your business.
Pros
This program's free edition allows you to add as many extensions and storage tools as you need to optimize your website
Financial management is dependable, and real-time reporting is available
Inventory items are simple to track
Odoo has a fantastic spam filter built-in
It also offers the best website for mobile and desktop viewing
There are several pre-made templates accessible with both free and paid subscriptions
Cons
Customer service available is only Monday through Friday
It may be difficult for a novice to operate
It includes an additional fee for each additional program added, making it costly for those on a tight budget to use
Pricing
If you've been looking around the software market for a time, you've probably realized that most ERP systems come at a price that makes you want to run.
With Odoo, this isn't always the case. That's because it's an open-source solution, you can easily deploy it without breaking the bank. You can download a free version of Odoo from their website.
When you decide to collaborate with more than one app, the cost implication becomes apparent, and it starts at $6 per user/month.
For distribution and manufacturing companies, Infor ERP offers a sophisticated collection of enterprise resource planning solutions.
CloudSuites is the company's main ERP service. CloudSuites from Infor are comprehensive industrial suites for the manufacturing, service, and distribution industries.
Each CloudSuite has its own set of capabilities. These integrated functionalities provide visibility into a variety of company aspects, including sourcing and human resource management, as well as accounting, CRM projects, and supply chain management.
In fact, the solution's analytics let users take benefit of Infor's capability in the quickest time feasible by leveraging key performance indicators, preconfigured dashboards, reports, and other tools.
Businesses can also go further into analytics data to choose the best course of action after acquiring knowledge.
Moreover, customers can reach Infor's professional support specialists by contacting their local Infor support number, who provide tailored support on a daily basis.
Infor customers who are loyal to the business can receive Elite Support. You'll get a dedicated Customer Success Manager who acts as the customer's champion in this option.
Customers can also access Infor's customer care portal. It's a one-stop shop where consumers can find everything from customer communities to service packs to software fixes and more.
Defense, aerospace, automotive, distribution, chemicals, construction equipment, food and beverage, fashion/retail, and industrial production are just a few of the industries that Infor specializes in.
See Also: 7 Best HR Software and Tools For Your Business
Pros
Allows for good cross-functional collaboration
It's a multilingual portal with a wide reach
Customer service is available 24/7 through phone, email, live chat, and social media
It works with all mobile devices, including tablets and smartphones
Cons
For a newbie, it can be difficult to utilize
It doesn't work well with Excel
Pricing
The website does not provide pricing information. To obtain a complete price, you must contact the company.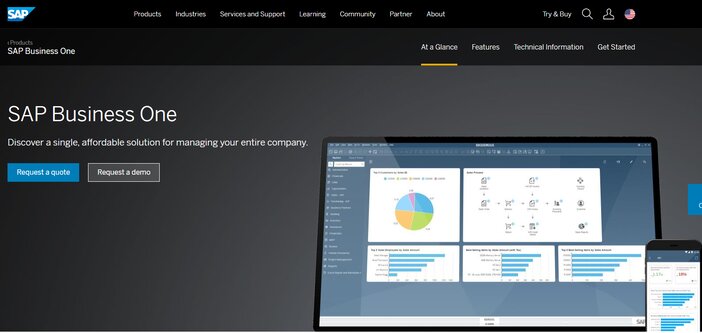 If you're looking for a decent all-around ERP software solution, SAP Business One is a fantastic option. It covers all parts of a firm and gives crucial data to assist managers to make smart business decisions. It is very scalable and powerful.
Customers, partners, and suppliers can all have data collected through the platform. SAP Business can handle financial areas such as general ledger, account maintenance, budgets, and foreign currencies. It can also help develop price quotes by organizing inventory levels, product information, and shipment data.
SAP Business One connects with Microsoft Outlook, allowing you to effortlessly share and exchange data between the two applications. However, it provides really useful reports on all aspects of your company.
In addition, Business One's core functions include assisting users in streamlining essential operations, gaining deeper insight into their businesses, and making decisions based on real-time data to support profitable growth.
SAP Business One targets an all-encompassing functionality, including financials, purchasing, inventory, sales, project management, operations, and customer interactions, in order to reduce the cost of running a business.
The fact that all vital information is recorded and displayed in a single solution via a simple interface is one of the software's primary advantages. In addition, users can also connect to numerous data sources at once and perform queries from each, enabling them to multitask and minimize their burden.
Pros
Android, Windows, Linux, Mac, and iOS are all supported
Has tools for managing and streamlining the sales and customer lifecycle processes
SAP Business One complies with the General Data Protection Regulation
Cons
It has a restricted number of account chart options
SAP does not provide crucial data in management reporting
You will experience a longer implementation process with delayed customer service
Pricing
To begin with, the website does not provide pricing information. To obtain a complete price, you must contact the company.
Before committing to a plan, you can demand a demo to see how SAP Business One works.
FAQs
1. What is enterprise resource planning (ERP) software?
ERP software is a comprehensive solution that enables users to manage sales, marketing, financial, human resource, and supply chain functions.
In simple terms, ERP streamlines your business's operations across all departments. ERP solutions help you manage your resources better, whether it's raw materials for production or human resource staffing hours.
Many ERP software systems benefit organizations because they help them adopt resource planning by combining all of the operations needed to run their enterprises into a unified system.
Best practices are typically included in software solutions by software suppliers, resulting in increased organizational efficiency, resource optimization, and transaction processing when the software is used.
SMBs can now use ERP systems without having to spend a lot of money upfront, and they can just add business modules to key functions as needed.
See Also: 17 Best Social Media Management Tools For Your Business Growth
2. What should be included in an ERP System?
An organization's requirements are what determines the features of an ERP system. There are, nonetheless, some fundamental qualities that every ERP should have.
An ERP system should be both automated, to eliminate errors and flexible, to allow for adjustments as the firm grows or evolves.
Since more people are using mobile devices, the ERP infrastructure should enable users to view it from their phones.
Finally, an ERP platform should allow for the analysis and measurement of productivity. To improve a company's capabilities, more tools can be introduced into the system.
3. What are ERP's advantages?
Higher synergies across different company sectors, increased efficiencies as procedures are streamlined and data is readily available to those who need it, and reduced expenses associated with obsolete and inadequate technology are all benefits of an ERP.
Although implementing an ERP can be costly, the return on investment can be realized fast. Certainly, the benefits realized, such as lower administrative costs and more productivity, could greatly outweigh the expenditures of using an ERP.
4. What is the difference between CRM and ERP?
CRM and ERP systems employ a variety of methods for enhancing profitability. ERP emphasizes decreasing costs and lowering overheads.
ERP minimizes the amount of capital spent on business processes by making them more efficient. In fact, CRM on the other hand strives to boost business margins by increasing sales volume.
Conclusion
By providing an all-in-one resource for all of your business activities, ERP software can help you improve operational efficiencies.
To this end, Oracle NetSuite is my best recommendation. It has everything you need to make your operations run smoothly. More so, as stated already, it is not for everyone.
SAP Business One is a good option for small enterprises. Sage 300 is suitable for mid-market firms and SMEs. Furthermore, for fashion/retail, defense, and aerospace, Infor is the best ERP software to use. Turn to Microsoft Dynamics 365 for product bundles and bulk license reductions.
It is my belief that this article has helped you to discover the best ERP software for your company, regardless of its size, industry, or enterprise resource planning requirements.
Tosinajy teaches you how to make money online, the software you'll need, and guides on how to deal with common issues you may encounter.
Thanks for reading.
Ready to join Oracle NetSuite?
Click the button below to start automating your business processes with Oracle NetSuite.