If you need a system to save your business information on-premises or in the cloud, you're probably contemplating any of the best database software services.
Essentially, all of the digital data we utilize on a regular basis are stored somewhere around the world in a database management platform or a storage device.
These can range in size from as tiny as a smartphone to as vast as an almost limitless cloud storage system.
While selecting the best database software may appear to be a daunting undertaking, particularly if you are not technology savvy.
I have compiled a list of the top DBMS presently available on the market, along with my top recommendation for you, in this post.
Let's begin.
Quick Review
See Also: Best Cloud Storage Services for Small Businesses to Backup Files Securely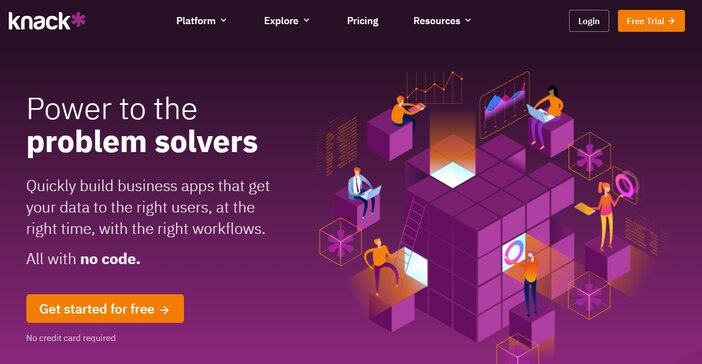 Without writing a line of code, anyone can establish an online database with Knack. To utilize this software, you don't require to be a developer or have any technical knowledge.
The company touts its product as "easy-to-use internet database software." The software also has some useful e-commerce features.
Therefore, this suggests you'll be capable to accept donations, purchases, and online orders by integrating with payment processors like Stripe and PayPal.
Knack provides a set of tools for creating online databases and applications that businesses may customize to meet their specific requirements. Users can choose which data fields to capture and connect similar data points while creating database applications.
As a user, you can create a unique interface in order to display more relevant information when you log in. You can then represent this data graphically using charts and pivot tables.
Reminders, notifications, progress indicators, scheduled activities, and approvals are all included in the platform, allowing teams to effortlessly share data and also interact.
Users that want even more customization can use Knack's open API, which supports both CSS and Javascript.
There are database templates for anything from tracking purchase orders to project management, payroll, inventories, and even posting job advertisements on your website if you're a large company.
Kaiser Permanente, Capital One, Seattle Seahawks, The Salvation Army, HP, Seattle Seahawks, Harvard University, and Spotify are among the companies that use Knack.
Pros
You can stop unauthorized access, and various users have varied levels of privileges
Knack provides over 40 database templates depending on different sorts of businesses or features
Mobile devices can simply access the software
Knack works with a variety of programming languages
It boasts of a web-based interface that is basic and straightforward to use
Cons
On the front end, there aren't many options for customizing programs
There are a limited amount of web themes available. You'll have to pay a developer to design or alter new themes if you want more
Pricing
The Starter Edition of this database system is available for $39 per month. The Pro plan is $79 per month, while the corporate plan is $179 per month.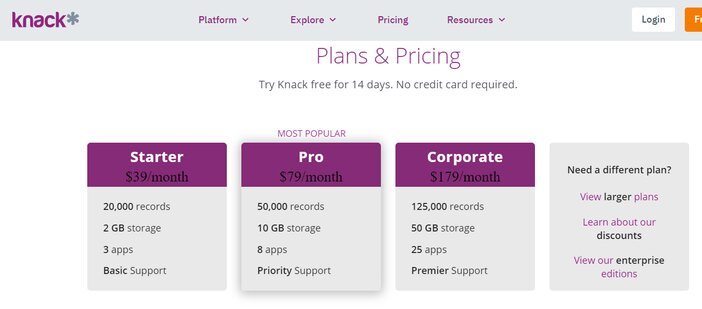 If you require a larger plan, the Plus 1 package will put you back at least $299 per month.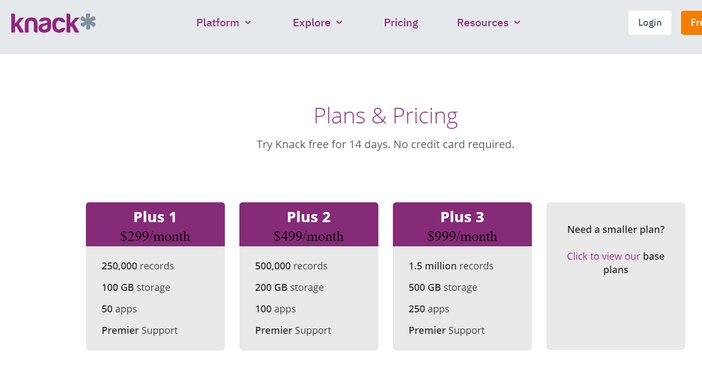 Although there is no free edition, Knack does provide a 14-day free trial that does not require a credit card.

Oracle would be the best choice for companies searching for a software application that uses machine learning to automate their systems.
In addition, this software has a unique feature that relieves you of the responsibility of maintaining its fundamentals. Moreso, this software will periodically fix and update on its own to ensure that there are no issues.
Furthermore, the database is very easy to use and may be expanded to meet your specific requirements. This is one of the reasons why people prefer Oracle, which has a wide range of functions.
Oracle's database solutions are distinguished by their deployment choices, which are some of their most distinctive features. You'll be able to pick between on-premises, cloud, and also public cloud deployment options.
Relational graphs, data, structured data, and unstructured non-relational data are all supported by Oracle Database.
There are more than 15 database options available. Oracle even includes a self-contained database that takes care of self-patching, updates, data recovery, and backups, thereby, saving hours of manual labor.
Finally, Oracle Cloud has a free tier to try out its service. It also provides a free 30-day trial for a variety of database systems.
See Also: New 6 Best WordPress Security Plugins to Protect Your Site
Pros
Oracle makes it simple for consumers to switch from their current database to Oracle's cloud-based database
The solution meets strong security standards for data integrity, confidentiality, and availability
It is the top choice for major businesses and organizations due to its superior disaster recovery and data security features
It has a framework for data and architect performance optimization that is among the finest
Cons
Since this software is memory intensive, testing anything on a native system is practically impossible
For smaller businesses, licensing costs are prohibitively expensive
It is slow for tables with millions of rows
Oracle's customer service isn't particularly pleasant
You will need a license for some features. As a result, if you want more features, you'll have to spend more
Pricing
Oracle Database costs vary depending on the size and type of business you have, as well as the current software solutions you have in your IT infrastructure.
As a result, you'll need to contact their customer service representative for particular price information specific to your company.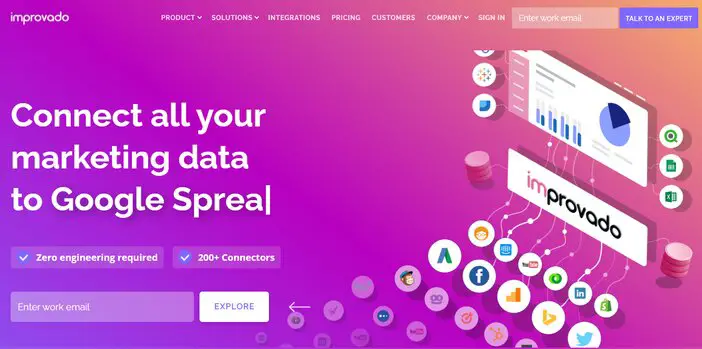 This is a renowned database software solution that may help you collect all of your marketing data in real-time for small and large businesses. It's a marketing gateway solution that's both versatile and scalable.
In addition, Improvado gives you everything you need to start gathering and analyzing sophisticated marketing data without having to know how to code.
Furthermore, it works with over 200 platforms, including Shopify, Salesforce, Instagram, YouTube, HubSpot, Mailchimp, Google Ads, Google Analytics, Bing Ads, Facebook Ads, Twitter, and dozens of others, to help you consolidate your data and convert it into what you can use to make informed decisions.
Improvado features a simple marketing dashboard that allows marketers to monitor campaign effectiveness across numerous channels at the same time.
Pros
Improvado's database documentation is neat and well-organized
They boast of a customer service that is second to none, thanks to the engineering team's extensive training and experience
It comes with the ability to rapidly move your data and clone the online database
You can incorporate data models in real time, while a live connection is maintained on a dedicated database
It has a strong reporting system that reduces manual reporting by over 90%
Cons
During the analytical comparison, the database frequently ignores the most recent entries
It has an unstated pricing strategy that could be too pricey
Pricing
Improvado's website does not have a price list.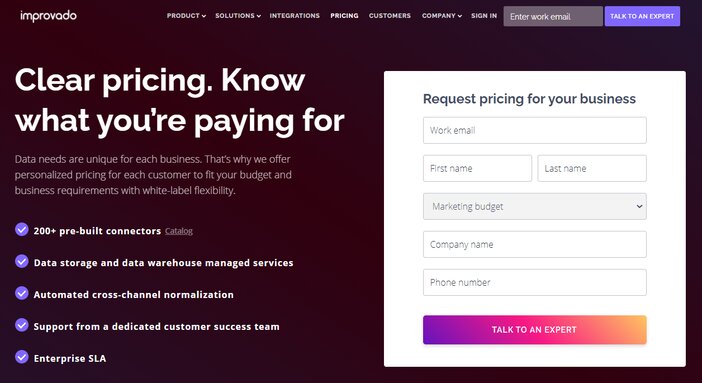 Rather, you will need to request a custom quote and demo from the Improvado sales team.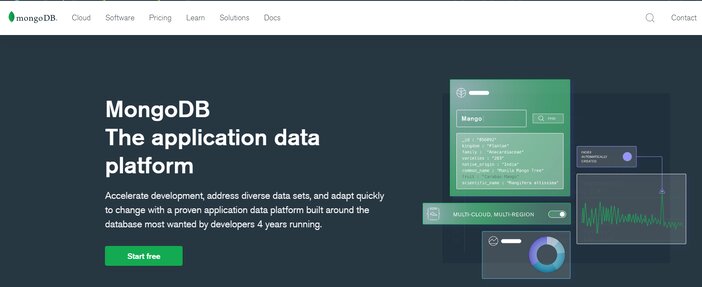 With its high-level functionality and effectiveness for high-volume data storage requirements, the Mongo database has earned an enduring name in the market.
MongoDB was the earliest non-relational database to make a huge splash in the IT world, and it still gets a lot of press.
This is a "document database" that stores information in bits, with similar data grouped together in the same chunk, unlike relational databases.
MongoDB uses JSON-like documents to store data. Consequently, developers may use this database management software to create apps and use the built-in capabilities to display, modify, and analyze data.
With versatility and agility, as well as the scale and efficiency required by today's applications, it provides the best of both worlds. It allows entrepreneurs to deploy apps that are as large as they need.
In addition, this database management system is perfect for industry leaders, small enterprises, government agencies, Fortune 500 companies, and other organizations.
In comparison to the full-service solutions of larger, more established MongoDB vendors, pricing for this open-source software is much more inexpensive for small businesses.
See Also: Best Cloud Hosting Services With High Scalability and Security
Pros
MongoDB is simple to learn and use, making it perfect for cooperative projects and rotating teams
To monitor performance, administrators can alter data, monitor index utilization, run queries, and build data graphs
MongoDB's API allows third-party solutions like Microsoft Power BI, Tableau, and Qlik to be integrated into the system
Cons
MongoDB is a NoSQL database that does not allow JOINS, which can make data retrieval more difficult in some situations
There is no data access and lookup tool
Pricing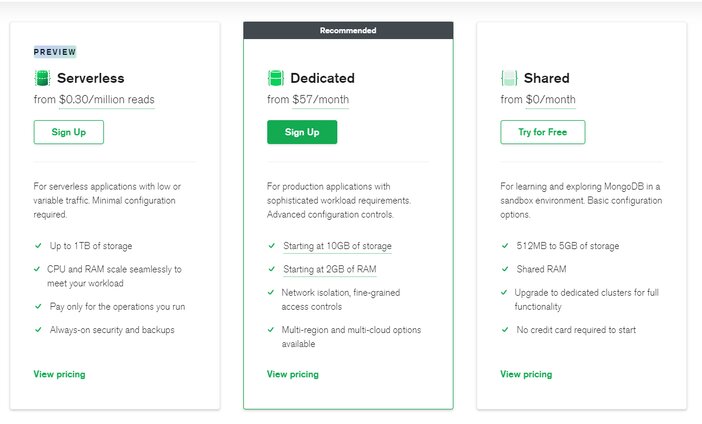 MongoDB is available for a free trial. For the MongoDB Shared plan, the software is always free, and the Dedicated plan is $57 per month. They also offer a Serverless plan at up to $0.30/million.
5. Amazon RDS
Amazon RDS is a reliable and efficient relational Database-as-a-Service (DBaaS) that competes with Amazon Web Services' other excellent solutions. It's a perfect fit for seasoned users, data scientists, and digital-first businesses.
Furthermore, users can use this software to manage and scale a database system in the cloud. It has scalability, is cost-effective, and simplifies time-consuming administrative operations including patching, setup, hardware supply, and backups.
Finally, it allows you to concentrate on providing applications with the security and performance they require.
Using a single API call, the program allows you to ramp up your database activities.
Pros
You only have to pay for the resources you consume at any given time
PostgreSQL, MySQL, Microsoft SQL, MariaDB, Oracle, and hybrid Aurora are among the database systems supported by Amazon RDS
To achieve the highest level of data security, the DBMS includes network seclusion, at rest and in transit encryption, and resource-level authorization.
Automatic software patching, automatic host replacement, scheduled snapshots, and auto-backup are all supported by Amazon RDS. These features helps to recover lost data as a result of corruption or unintentional deletion
Cons
It is more expensive than other DBMS choices on the market
You cannot fully auto-scale with Amazon RDS
Users are unable to check server logs due to the lack of actual servers
Basic logging is included with Amazon RDS, but users must pay extra for full logs
Pricing
Amazon RDS is a tool that you can use for free. In addition, users will only be charged for the resources that they use. To pay for its services, you can use On-Demand or Reserved Instance.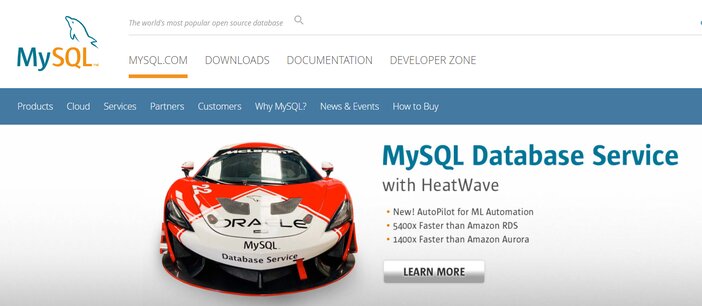 This database management system started out as a niche database system for developers, but it has now grown into a prominent player in the enterprise database market.
Being a relational database management system, MySQL is free to use. In fact, the majority of web hosting companies include MySQL as part of their basic packages. As a result, both amateur and professional site designers use it.
This is a database server that has been operational for quite some time. It is an Open-Source Database Software that can be used on Macs, Windows, and also Linux computers. This is available in a variety of languages, including Java, Python, C++, and many others.
It is well renowned for the scalability and flexibility of the data it provides. It's almost like having a separate data warehouse for your information, and it has a lot of power that most of its competitors don't.
If you have a website with a lot of data, you'll probably benefit from MySQL and its various features.
Pros
MySQL Enterprise Firewall secures data by detecting problematic queries, monitoring in real-time, blocking improper SQL statements, and removing poor indexes
Backward-compatible complete recovery, point-in-time, accurate one-click, and partial recovery capabilities allow database administrators to retrieve data in the event of a disaster
Since it is an open-source application, it allows for complete data customization
Those without a programming experience can rapidly pick up on the basics
Cons
MySQL has excessive reliance on third-party plugins for it to function properly
When dealing with huge data sets, such as data warehouse architecture, MySQL still has several challenges
When you reboot or refresh the software, queries do not respond
Pricing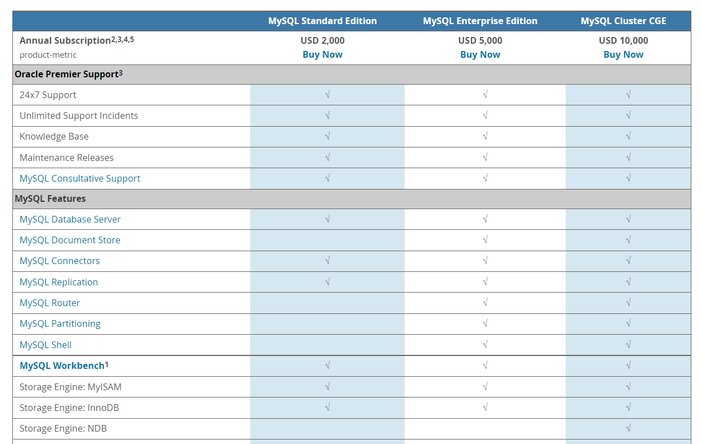 The Standard package for MySQL costs $2,000/month. The Cluster Carrier Grade Edition costs $10,000/month, whereas the Enterprise plan costs $5,000/month.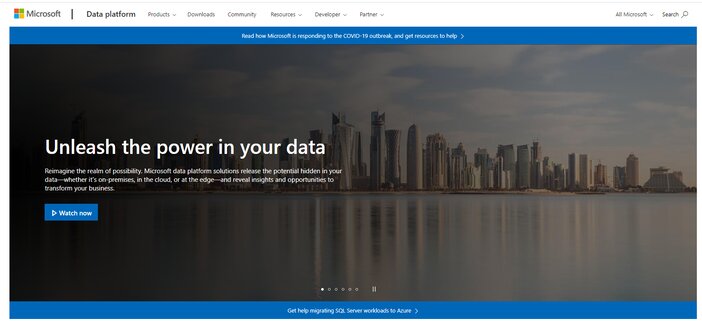 Microsoft SQL Server was redesigned to function best with Microsoft's Windows OS. Furthermore, Microsoft's Azure cloud hosts about half of all Microsoft SQL Server installations.
Its principal job, like that of other database management systems, is to store and retrieve data as required by other software applications, which may operate on the same computer or on a different computer across a network, like an internet.
Obviously, Microsoft's desktop operating system is ubiquitous, but if you're using a Microsoft Windows-based server, SQL Server is almost certainly installed.
Due to its simplicity, availability, and strong Windows operating system integration, SQL Server is a popular choice among businesses that employ Microsoft products.
Furthermore, SQL Server 2019, Microsoft's most recent iteration, is marketed as a solution for on-premises and cloud databases and business intelligence.
In addition, this technology enables you to use cutting-edge performance and availability to transform raw data into actionable reports that can be delivered to any platform or device.
Finally, it's great for companies of all sizes searching for database management software that's simple to use, effective, and economical.
Pros
Easy interface with other programs and the capacity to handle complex queries
Use the Developer Network Feature to create complex searches
You can backup up multiple databases and restored by administrators, preventing data loss in the event of a disaster
Distributed database management and advanced querying
Cons
The SQL Server interface from Microsoft isn't always user-friendly or straightforward.
Server upgrades and downtime can take a long period on occasion.
Pricing
Microsoft SQL Server offers a limited-featured Free Plan. They also have premium plans available for their service.
Microsoft SQL Server has a starting price of $209. There are four premium plans available for Microsoft SQL Server:
Standard (Server+CAL) at $209
The Standard (server) costs $899
Standard (per core) at $3,586
Enterprise comes in at $13,748
What Is Database Software?
Database software is a program or application for editing, creating, storing, extracting, searching, automating, and maintaining database files and records for later retrieval.
DBs keep data safe and secure while also allowing numerous users to access files. Finance, banking, sales, airlines, manufacturing, and education are just a few of the industries that employ them.
Also, the data submitted into the database, the algorithm that modifies the data and the schema, and the layout or organization of the information are all managed by DBMSs.
Relational database management systems (RDBMS), which are extremely customizable, and in-memory database management systems (IMDBMS), which provide quick response times and maximum performance, are two of the most prominent DBMS technologies.
Databases, in the end, store data in tables. However, the tables can become rather huge, with many records in columns and rows. SQL is used by RDBMSs to manage all of this complicated data in a more user-friendly manner.
When Is It Appropriate to Invest in Database Software?
You can use DBS for a variety of purposes. Companies of various kinds, from small businesses to multinational corporations, are taking advantage of this technology.
When you acquire data but don't know how to harness and use it to better your business, it is logical to purchase database software.
Furthermore, database software facilitates the collection of data and its subsequent use for specified purposes.
In addition, the information gathered can be used for a variety of purposes, including sales, lead creation, marketing, operations, automation, customer service, and more.
For businesses with complicated data that goes beyond the simple columns and rows on a spreadsheet, database software is required.
The best database software can handle several layered data as well as a wide range of query languages. In addition, it also supports storage formats, such as XML.
Database software should be used by organizations that are having trouble finding the right information from current datasets. These devices make it possible to uncover useful data in seconds rather than days or even weeks.
If your company does not collect data, you don't need Database software. You generally don't require database software just yet if you're collecting basic data that are readily available in an existing platform, such as a CRM or email program. You should expect to use database software as your company grows.
What Does Database Software Cost?
When choosing a database management system, there are several price points to consider. A one-time license, pay-per-user, and tiered model are some of the most popular pricing models for this software.
One-time license
A one-time license cost may be preferable for businesses that opt to download the product onto their PCs. These licenses usually allow for a specified number of users. The higher the number of downloads required, the more costly the license.
Pay-per-user
The tiered approach is comparable to pay-per-user. The cost of maintaining a database rises as a company grows and hires more workers to do it.
Tiered model
This is among the most popular pricing methods for small enterprises. As the company grows, so does the database, necessitating an increase in data management costs. Plans will start small and go all the way up to hundreds of dollars per month to keep up with an extensive database.
Database Software Advantages
Within an enterprise, database management software can assist in resolving issues such as determining how much money is due to a vendor and alerting the business when payment is due.
Instant accessibility to well-managed data can also be utilized to improve customer happiness, data mining, and organizational efficiency.
Programs that support one or two databases are usually the most financially effective network solution for small businesses.
Smaller DBMS applications use firewalls, VPNs, and restricted user access to keep data safe, just as bigger systems would do. By preventing loss, these safeguards keep the company's or a customer's information more secure.
Changes in the way data are stored and the database format can also be readily changed by the administrator without requiring a complete rewrite of the program.
A database management system (DBMS) allows numerous people to operate on the same files at the same time without affecting the data, and the files all follow the same rules, ensuring that the data is consistent and easy to navigate.
Database software assists you in maintaining data confidentiality at all costs. Users are granted access to data according to their authorization levels. To protect the privacy of data, different tiers of users are given varying access limits.
FAQs
1. Is there a free database on Google?
Yes.
Google Cloud SQL is a free database program that includes a number of useful features. Google's Cloud SQL is easily accessible online and can be downloaded for free.
2. Is SQL a free program?
No.
SQL is commercial software that comes with a free trial period during which you may test it out and decide whether or not you want to keep using it.
Conclusion
This post has given you an insight into the best database software available. To this end, you should be able to pick the best one for your company based on the size of your company, the DBMS features, and other factors while remaining productive and cost-effective.
In conclusion, I recommend Knack as the overall best database software, but if you have a lot of data to work with and only want to pay for what you need, Amazon RDS is the way to go.
Some DBMS solutions provide completely functional free trials, allowing you to test them out on your project to see which one best suits your needs.
Tosinajy teaches you how to make money online, the software you'll need, and guides on how to deal with common issues you may encounter.
Thanks for reading.
Ready to signup to Knack?
Click the button below to begin protecting your information with Knack.