Tired of the poor quality of recordings you get from other free screen recording tools? Or perhaps, you're wondering which is the best free screen recording software you can count on. Well, you are not alone.
With so many screen recording software, the choice can be a nightmare, but not anymore since you are here. I have compiled only the best free screen recording software tools to help you choose.
Also, I have included a brief review of each tool with its pros and cons to help you understand what each tool offers.
Quick Review
What is the best free screen recording software?
See also: Best streaming software [Free, Freemium & Paid]
Best Free Screen Recording Software
What are the best free screen recording software to create a quality video of your screen?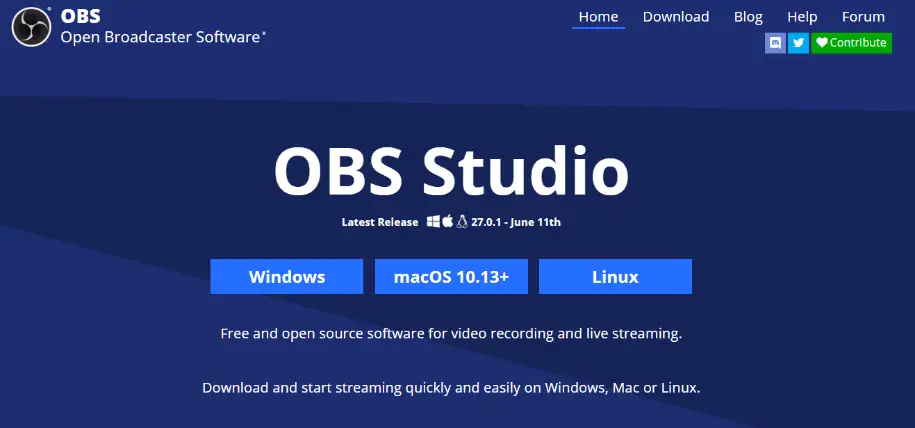 OBS Studio is without a doubt the finest free screen recorder available. Unlike the widely used FRAPS (which restricts you to 30 seconds of recording unless you pay for a license and add watermarks to the output), OBS Studio is open source and entirely free to use.
With a few easy clicks, you can use the powerful and free OBS Studio to see your screen in action, no matter what you're doing.
This software is designed to make your live stream or recorded video look great, with features like automatic game detection, a built-in test recording mode, text chat, and more.
Are you a gamer? Recording gameplay has never been easier. Whether you are a Twitch streamer, video reviewer, YouTube content creator, or casual gamer, OBS Studio is simply the best free software you can get for recording your screen.
The software provides high-definition streaming and recording, with no limits on the quantity or length of your projects. You may broadcast live gameplay to Twitch or YouTube, save projects for later use, or encode your film in FLV format and store it locally.
Pros
It's free
Easy-to-use for beginners
Monitor 8 different scenes simultaneously with Multiview
Frequent updates
Integration with numerous plugins and scripts
An open-source and free cross-platform
It allows users to do real-time video streaming
Enhances functionality through over 20 plugins
It supports multiple filters
HD streaming and recording
Gives users the freedom to video record, without time limitations
It syncs webcam
Cons
It is impossible to link the audio file as a source
It can drop out if the internet becomes weak.
FlashBack Express is simple and easy-to-use free screen recording software. It captures windows, objects, menus, and entire desktops in real-time and saves them as video.
Despite being a free version, FlashBack Express doesn't impose time restrictions or place unsightly watermarks on your recordings. Also, it's jam-packed with features and capabilities that match many premium products.
Its user interface is less daunting than OBS Studio, so it's a good alternative if you've never used a screen recorder before. FlashBack Express includes a timer to time how long your screencast goes. You can also format text and apply subtle transparency effects to your recordings.
You have the option of recording your entire screen, a window, a specific region, or a webcam. When you're done, your recording will display in a basic editor where you may crop and trim it to fit your needs before exporting it to YouTube, an FTP server, or your PC.
Pros
You can add notes, images, and sounds to make it look professional
It can be uploaded to YouTube
No limits on movie length
Capture anywhere on your PC screen
You can record from more than one monitor
This tool provides frame editing and audio editing
You can add annotations
Record with no watermarks
Cons
Looks a bit outdated
Sometimes might feel slow
ShareX is a free and open-source program for recording a desktop session and take a screenshot or record video. It is a small installation-based application. As a result, this open-source free screen capture program frees up space on your PC, allowing you to put it to better use.
It includes a variety of capture options that let you snap screenshots of any region, window, or full-screen easily. It also captures your screen in two formats: GIF and video. Take control of your screenshots by capturing them, annotating them, and sharing them.
You may make your screenshots more interesting with the built-in picture editor before utilizing the automatic upload function to immediately post them online. You can also use it to share a screenshot, a part of your screen, or the entire desktop with others.
Overall, ShareX has many features to make the whole experience very simple and convenient for you.
Pros
It comes with editing tools
It does video recording in high-quality
All features, which are useful and important, are freely available
It allows you to record screen video and audio
Take screenshots on more than one monitor
It perfectly facilitates quick sharing of videos, GIFs, and screenshots
It allows customization of the shortcut key to bind your command
Cons
Instagram users can't sync it with the site
It is complicated and thus not recommended for beginners
Apowersoft is one of the best free screen recording software. It makes capturing your PC's screen a breeze. Since it is a web-based free video capture program, it does not require the installation of computer software.
It features a bright and straightforward interface that is simple to grasp, making it suitable for beginners. This software includes various editing and capturing functions, such as timed video screen recording, due to its multiple capabilities and tools.
The ability to share the screen in Facebook and Twitter postings, as well as email picture files, makes it easier for people to share important interesting material.
It allows you to capture whatever you see on your computer screen so you can save and easily share it via video-sharing websites, or just for your own entertainment. Keep it as a hobby, or turn it into your next big thing. It's up to you.
Pros
It does not have recording time limitations
It supports webcam as well as screen video recording
There are multiple video exporting options
It allows usage of FHD and HD output formats
It handles full image editing.
You can include shapes, arrows, text, and apply effects
It allows users to share screen recordings in Facebook and Twitter
Cons
Require a stable internet connection
It can not capture on a secondary monitor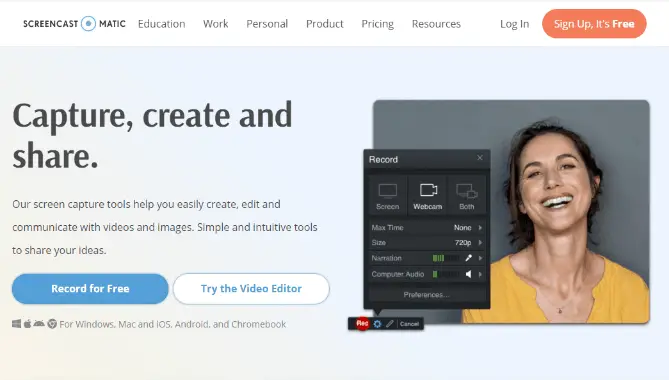 Screencast-O-Matic is yet another free browser-based screen recorder with a lot of features. The duration of your recording is restricted to 15 minutes, but you may record as many clips as you like.
You can zoom while recording, edit your recorded clips, add captions, save them to your desktop, YouTube, or the cloud, share a video link, or add one of 30 royalty-free music tracks.
Record audio from your computer or a microphone, and video from your screen, a webcam, or both. It is very easy to use and does not require any technical knowledge to record your computer screen.
Press 'Start free recording', then 'Launch free recorder.' You'll be requested to download and install a tiny web launcher, much like with Apowersoft Free Online Screen Recorder, before the screen recorder starts recording.
Pros
It is compatible with Mac and Windows computers
Has varieties of editing options, such as adding images, blurs, titles, and music
It compresses clips to desired sizes
It stores the clips in a range of formats
Exports screen capture to various cloud platforms like Google Drive
Does a webcam recording too
Cons
Limits your screen recording time to a maximum of 15 minutes
Produces low quality video
Puts a watermark on your captured videos
Debut Video Capture is one of the best free screen recording software on this list. It can capture microphone sound, allowing you to create demonstration video without having to record audio.
Despite the unusual design, it is user-friendly since each element are clearly labeled so that new users may quickly traverse them. This application allows you to record for an infinite amount of time and does not add watermarks to your video.
It also has Windows screen recording settings, such as capturing the whole screen of the desktop, a specific region, or beneath the cursor. With Debut Video Capture, anyone can capture high-quality video from their screen in minutes.
Easily and quickly record your screen with just a click of a button. It supports all popular formats such as MP4, FLV, MOV, WMV, and 3GP.
Pros
Lets you add captions & timestamps to the output file
It enables users to schedule their recording
The quality of the clips remains intact having not been compromised
It is customizable and easy to work with
Captures video from anywhere, including a Network IP camera and webcam
Offers saving videos in various file formats like AVI, WMV, FLV, MPG, MP4, MOV, and more
Cons
You need a separate tool for video editing
No keyboard shortcuts to perform quick actions
Free Cam is one of the best free screen recording software for Windows. It is an easy-to-use yet professional video capture software for making tutorials, demos, and training videos.
This is a free screen capture app with audio that you will find very useful for screen recording. The program is simple to download, and the developers will not ask you for any unnecessary information to access the download link.
The interface is also highly user-friendly, and all of the functions are easily accessible. With full screen or region recording monitoring tool features, Free Cam makes PC's screen recording a breeze.
When you first use the program, a dialogue box will display, giving you the choice of creating a new recording or browsing for an older video to modify. Once you click New Recording, you'll be presented with a screen picker that you can move about to capture the region you desire. It is that simple.
Pros
Easy-to-use, safe program, virus free, no ads
Record video in full screen, customized part or locked application
Record mouse pointer, highlight mouse pointer
Cut, trim unwanted part from video
No watermark, no time limit
Record audio from microphone or system sound
Share video directly to social channels
Cons
Can't record webcam
Lack of video editing tools
Can't take screenshot
Lack of annotation tools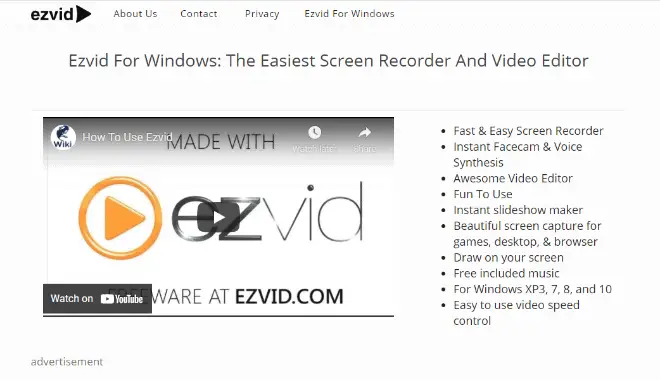 Ezvid is one of the easiest and fastest ways to record your computer screen. This screen recording app has an easy-to-use interface that allows you to record whatever is on your computer screen. It records video in HD (1280p x 720p) resolution and allows you to upload it to YouTube right away.
You can use it to create quick video clips and add popular music tracks from the app library. The tools that are given here will allow you to record & publish movies in no time, and it's the reason that Ezvid is fairly popular among gamers and YouTube creators.
Ezvid allows you to sketch while recording thanks to the features included in this software. For all of the instructors out there, this will be a really useful tool.
Use it to create software demos, show off games, narrate your review, record video calls, create walkthroughs or other how-to content, and more.
Pros
Auto-saves the videos during recording
Create slideshows with the capturings
Offers audio recording and voice synthesis features
On-screen annotating while recording the screen
Enables uploading the recorded videos to YouTube directly
Offers webcam recording
Cons
No customizable settings for recording the screen
Only allows recording videos up to 45 minutes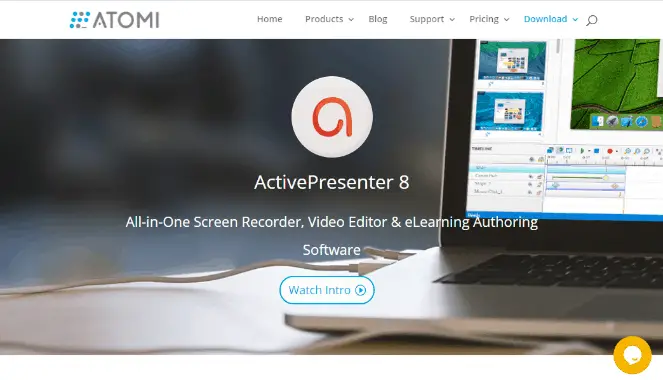 ActivePresenter is a 100% free, beautifully designed, and easy-to-use software that lets you record your screen. Image quality and size are not compromised by compression, ensuring that you can deliver crystal clear recordings to your audience.
This all-in-one screen recorder is ad-free and doesn't have a screen capture duration restriction. It allows you to record the entire screen, a single window, a specific region, as well as a camera, microphone, and computer sound.
It allows you to make no-cost high-quality recordings for business and education. You can clip, divide, animate, and edit videos after they've been recorded, as well as add annotations and closed captions.
There are several built-in settings to ensure that the recorded information is error-free, lag-free, and of high quality.
Pros
No watermark and recording time limits
Offers decorating the screencasts with styles, shadows and color effects
Allows adding transition effects like photo slides and annotations to your videos
Offers a range of post-recording editing options
Allows exporting recordings to MP4, FLV, AVI, WMV, WebM and MKV formats
Cons
You can't upload the recorded videos directly online
See also: Best Video Hosting Sites for Hosting Your Online Course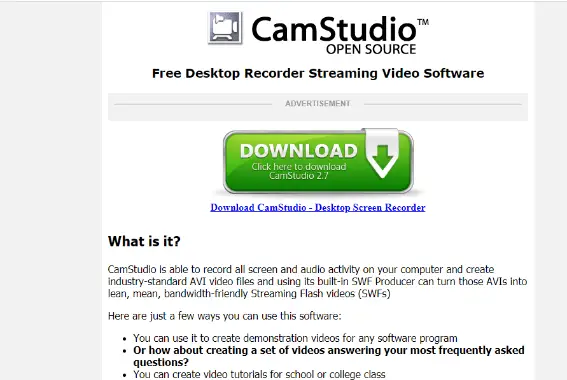 CamStudio might be your best option if you're seeking a free screen capture software for Windows 10 that can offer you the basic functionality and doesn't require you to delve through the features to discover something. It's not a really large piece of software, and it's easy to set up.
Users who will not be heavily editing their videos will also benefit from the program. CamStudio, like several of the others on this list, is an open-source program with all of the functionality included for free.
No banners, no watermarks, just a simple easy to use interface that allows you to record your screen with audio, then upload the video online where you can share it with family and friends.
CamStudio uses the MS .NET Framework for compression, so it can use a lossless codec (the ability to lose zero quality in the compression process) which gives you an exact copy of your source video as you see it on the screen.
Pros
Open-source and easy to use
Convert from AVI format to SWF
Record screen-in-screen video
Files/videos can be saved in small sizes
Set a custom cursor/pointe
Animation/transition effects
Record your audio
No recording time limit
Cons
Output only AVI & SWF format
Output file size is large
Contain unwanted program when install
Cost more CPU resource
No need to spend hundreds of dollars on screen recording software anymore. Icecream Screen Recorder is one of the best free screen recording software to help capture your screen in real-time.
Icecream Screen Recorder allows you to record your entire computer screen or just a portion of it. With the software's intuitive and user-friendly interface, you can record webinars, video calls or conferences, gameplays, and more.
Whatever you want to record on-screen, Icecream Screen Recorder can help. This program lets you record what's happening on your computer screen, as well as your voice as you narrate away. It also lets you capture screenshots so you can save images of anything cool that appears on your computer's display.
With high-quality video options, you can record anything on your screen with just a click of the mouse.
Pros
Records videos in MP4, MKV or WebM format
Allows audio recording along with the video
Offers webcam recording along with screen recording
Allows on-screen drawing (or annotating) while capturing the screen
Offers hotkey configuration to pause, record and stop the recording
Allows saving screenshots to the clipboard or in JPG or PNG extension
Cons
Free users get a 10-minute cap of screen recording time
Offers limited functionalities and editing options in its free edition
Its recordings can't be used for commercial purposes by free users
Screenpresso is a program to create screenshots and screen videos. It is one of the best free alternatives to Camtasia, for Windows. Screenpresso is simple to learn and use, quick to install, and short on features. That's why it's the right tool.
Screenpresso was designed to be powerful enough for any professional recording: simple enough for anyone.
Just like a camera, Screenpresso has everything you need to capture screens and recordings of your favorite moments. It enables you to quickly annotate and share your screen captures and video recordings.
It is a great tool for students, teachers, bloggers, or anyone that wants to easily create and share screenshots & videos of their desktop.
Its key features include capturing full screen or any area of your desktop with a single hotkey, creating and editing images directly without the need to open an external graphic editor, and more.
Pros
Record audio and webcam along with the screen
Allows using captures and recordings for commercial use
Records your screen in lightweight MP4 format 
Convert to WMV, WebM and OGG
Offers quick access to your previous screenshots and recordings
Allows labeling, sorting and editing captures into custom folders
Offers sharing features for numerous services
Cons
No support for Android with its free edition
Recordings' max. duration is just 3 minutes
Can't remove watermark
What Is Screen Recording Software?
Screen recording software is a piece of software that you can use to record what's happening on your computer screen. User-supplied narration and possibly additional audio or video files can be added to create video tutorials, presentations, how-to videos, game strategy videos, funny videos, etc.
See also: 11 Best Presentation Software To Deliver That Perfect Presentation
Why Do You Need Screen Recording Software?
Anyone. That's right, anyone can use Screen Recording Software. Whether you are a student or an IT professional, there is something for everyone.
Screen Recording Software allows you to make a video of whatever you happen to see on your screen. Since it records whatever is on the screen, it is a popular way for users to demonstrate games or websites, create instructional videos or tutorials, and much more.
This is a great tool for teachers and professors who want to demonstrate the complex processes they are teaching. It is very useful for online tutors, helping them to teach effectively as well.
Screen Recording Software can also be utilized by gamers for sharing in-game tutorials, or by anyone who wants to create their own video tutorials.
See also: Best Podcast Software: Free, Freemium & Paid [+ Pros & Cons]
FAQs
When is screen recording software the best option?
Screen recording software is ideal for some common computer uses, such as Recording whole PC games for a YouTube channel. Recording live television shows and later watching them on your computer. Recording online gaming sessions with voice chat to share with friends.
What is the length of the videos?
Well, the length of the videos you can record is dependent on the screen recording software you choose. For example, while Ezvid allows you to record up to 45 mins, ActivePresenter offers no restriction on the length of video you can record.
Conclusion
In conclusion, OBS Studio is the best free screen recording software you can rely on any day anytime.
If you are looking for a free and open-source screen recording software that doesn't cost a penny, OBS Studio is your best choice. It supports a wide variety of audio and video formats making it a great candidate for any content creator.
It is easy for anyone to start using but also provides advanced features for people that want more control over the recording. By setting up scenes in advance, you can even use it to record yourself if you're a gamer and show off your skills to your friends.
Finally, are you're looking for reliable screen sharing software in addition to your preferred screen recording software? Here is the Best Screen Sharing Software [Free, Freemium & Paid].
I hope you found this post helpful.
Tosinajy teaches you how to make money online, the software you'll need, and also guides you on how to deal with common issues you may encounter.
Thanks for reading.
Ready to Try OBS Studio For Free?
Click on the button below to get started with OBS Studio.