There is a good chance you've heard about VPNs already. Are you curious as to how they may be able to help you? To help you make informed decisions, I will define a VPN, as well as help you find the best VPN providers on the market.
As you know, the Internet is a very large place. With so many people online, there's always the chance of someone trying to hack a network to steal information or spy on users. 
Unfortunately, this means that it's important to use a VPN provider in addition to your email, security software, and other privacy tools. Besides, many internet users rely on a VPN service to protect them when they're using public Wi-Fi networks.
What is a VPN?
A VPN (Virtual Private Network) can improve your online security and give you complete privacy online. It encrypts all data sent over the internet, ensuring that no one is monitoring your web activity. 
It also evades firewalls and hides your computer's IP address, making it nearly impossible to track a user's identity or physical location.
So, are you attempting to access a website that is blocked in your country? Do you want to hide your true IP address and increase your privacy while surfing the web? VPN technology can help you solve your problem.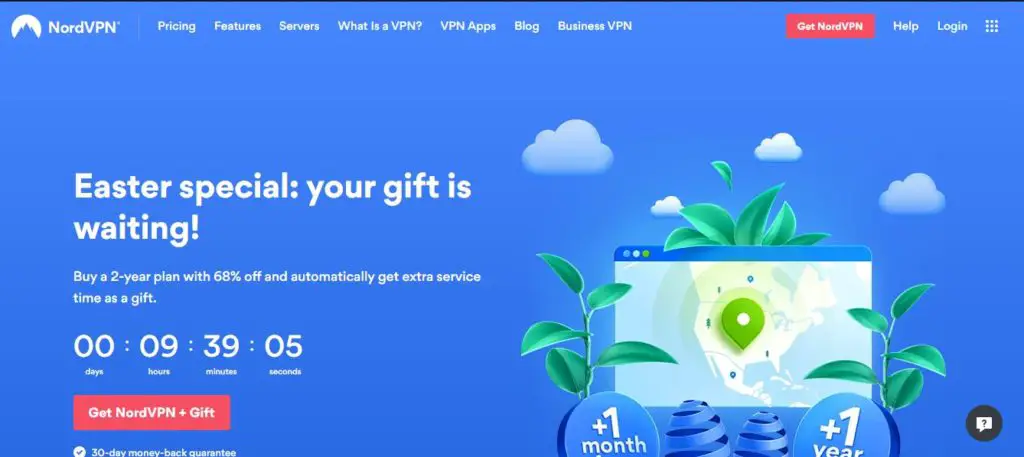 The general user's VPN.
NordVPN is one of the most feature-packed VPNs on the market. Small footprint, intuitive apps for Android and IOS, and DNS leak protection are just a few of the specialties included in this VPN service. 
What's more, for a secure encrypted connection, NordVPN is one of the best VPN services for you. This service can unblock geo-restrictions and get into restricted websites or apps when connected. It provides up to 6 simultaneous connections and covers 59 countries with over 5000 servers.
Pros 
Excellent privacy and security. 
The kill switch protects your privacy. 
There are no DNS leaks. 
Connect 6 devices across multiple platforms. 
Fast and stable speeds. 
Over 5,000 servers in 59 countries. 
NordVPN has fantastic price deals! 
Payment is accepted in the form of cryptocurrencies and cash. 
Netflix customer service is kept up to date.
Cons
Torrenting is only supported on a limited number of servers. 
Malaysia has appalling speeds. 
Connections to the app and the server are both slow. 
The OpenVPN configuration interface is not user-friendly.
Pricing
1-month plan: $11.95 per month.
1-year plan: $4.92 per month.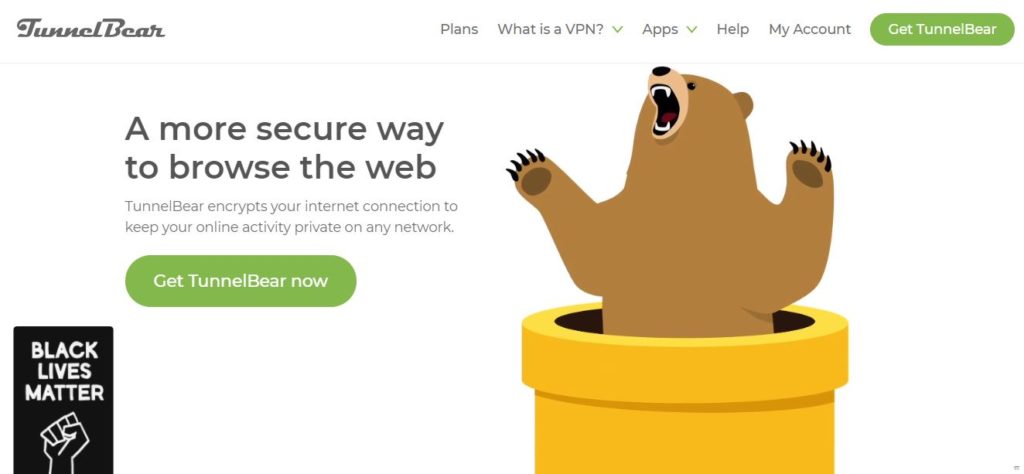 The newbie VPN.
TunnelBear is a great free VPN provider for users especially newbies who need to anonymize their internet traffic with an encrypted tunnel.  Similar to other VPN providers, it can hide your internet activity to enable you to browse anonymously and prevent eavesdropping. 
Furthermore, TunnelBear is an easy-to-use virtual private network (VPN) that encrypts your connection and allows you to browse the internet privately and securely. 
Access your favorite sites around the world with lightning-fast speeds, unlimited data, and no usage logs. And now so much more, including ad-blocking, DNS servers, malware detection, and colorful animated user interface.
Pros 
Has a free version.
Owns its DNS servers.
Colorful animated UI.
Supports all major platforms.
Kill Switch.
Cons
Customer support is not all that superb.
Speed is not stable.
Limited functionality on iOS.
Doesn't support certain contemporary platforms.
No settings for alternative VPN clients and routers.
Pricing
They have a free trial. 
Little plan: Free
Grizzly plan:  $5 per month
Giant plan: $9.99 per month.
Ideal for Network Tinkerers.
CyberGhost VPN offers one of the best cybersecurity solutions. In fact, this is my best VPN provider. It hides your IP address, encrypts your connection, and blocks online trackers. 
The Virtual Private Network creates a tunnel encrypted with advanced security protocols so you can browse anonymously and securely without being worried about hackers stealing your private information. 
CyberGhost VPN is very easy to use, thanks to its user-friendly app and simple interface. It is suitable for computers as well as mobile devices: Android, iOS.
Pros 
Security features are unique. 
A wide range of protocols and encryption options are available. 
Profiled servers that have been optimized for various uses. 
Support for multiple platforms. 
Good and consistent speeds. 
Excellent for streaming, as well as Netflix.
Cons
Untrustworthy data jurisdiction and anonymity. 
Payment options are limited.
Pricing
1 month: $12.99.
1 year: $5.99 per month ($71.88 per year).
2 years: $3.69 per month ($88.56 for 2 years).
3 years: $2.75/month ($99 for 3 years).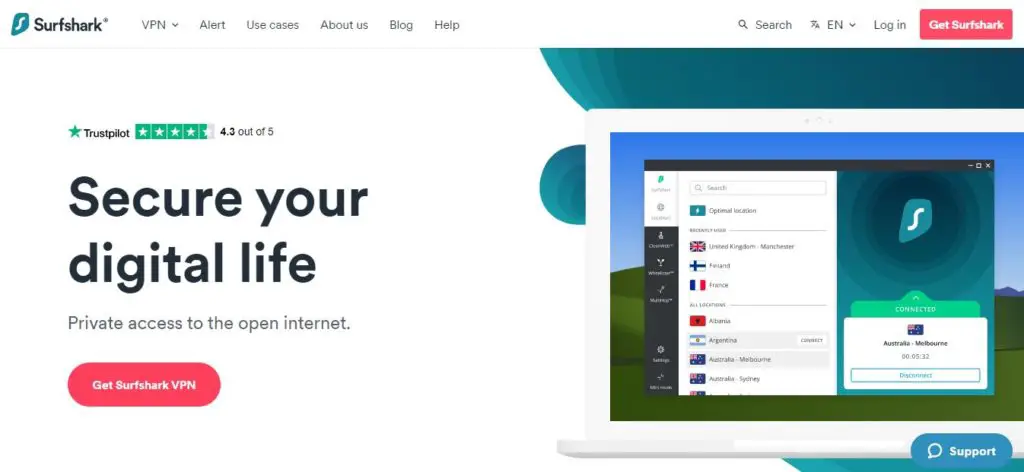 The VPN is loaded with features.
Surfshark is one of the top-rated VPN services that are currently available. This VPN offers advanced features for online security, privacy, and access to blocked content. This VPN provider is based in BVI (British Virgin Islands), which is a good indicator of a strict no-logging policy. 
Furthermore, Surfshark is secured, with DNS leak protection, split tunneling, kill switch technology, and more. What's more, high speed, unlimited bandwidth, unlimited concurrent connections, and multiple user accounts are available with Surfshark's Personal VPN service.
Pros 
The connection is both secure and private. 
There is a multi-hop connection available. 
Available on a variety of platforms. 
Excellent speed. 
Global server presence is strong. 
Geo-restricted content is streamed smoothly. 
Excellent value. 
A pleasant user experience. 
Cons
Customer service is questionable. 
Inadequate social media presence. 
Erratic peer-to-peer behavior.
Pricing
1 month: $12.95.
6 months: $6.49 per month.
1 year plus 12 months extra free for an average of $2.49 per month.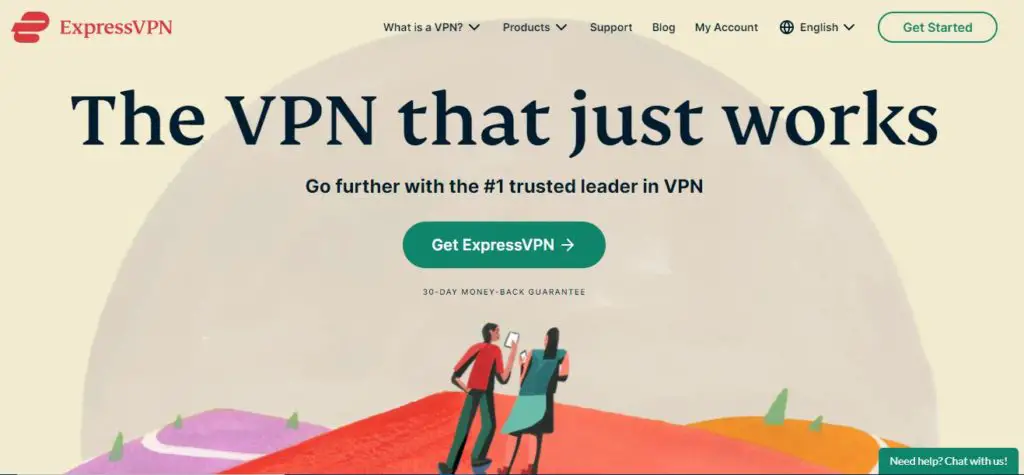 Ideal for tourists.
ExpressVPN is a great choice for anyone who wants to try out a VPN, whether in China or otherwise. This VPN provider offers the complete Internet experience, from what's available on it to how you access it. 
ExpressVPN is one of the best VPNs for unblocking Netflix, along with being one of the top-rated VPNs overall. The VPN has apps for all platforms (Mac, iOS, Android, Windows, Linux) and also supports routers, which makes it a popular choice among torrents users. 
Access and share your favorite websites and multimedia no matter where you are—from any device. 
Pros 
All server locations have high speeds.
High-level authentication for both applications and servers.
Unblocks streaming sites from around the world, including US Netflix.
Works in China and the United Arab Emirates.
Zero logs policy.
Live chat support is available at all times.
Cons
Slightly more costly
Streaming servers are not marked.
Occasional dropped connections
Pricing
1 month: $12.95.
6 months: $9.99 per month.
12 months: $8.32 per month.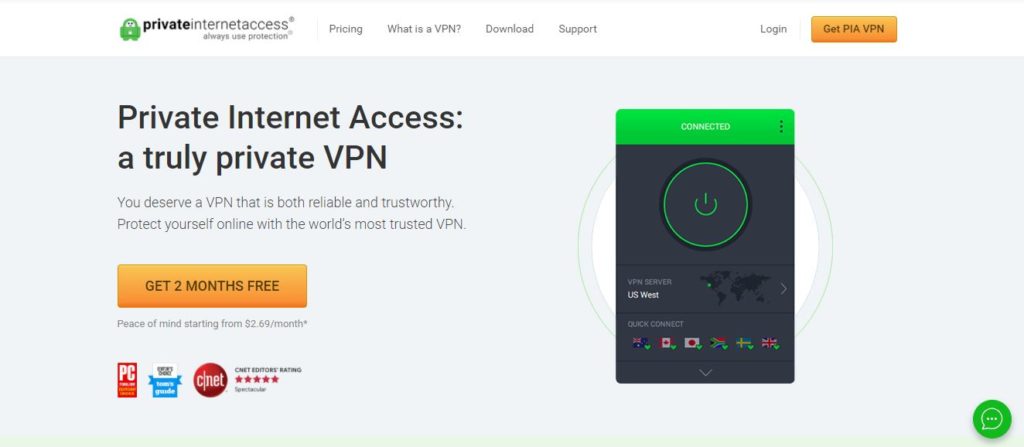 The torrenting VPN.
Private Internet Access (often known as PIA) is a private service provider that specializes in secure, encrypted VPN tunnels. These tunnels help encrypt internet traffic and secure connectivity online. 
Also, it is my best for downloading torrents files. Whether I'm accessing websites from my laptop or android smartphone, PIA allows me to hide my IP address and remotely access any website and/or content without being tracked. 
This essentially protects me from hackers stealing my identity or sites logging my information when browsing their site, etc. Additionally, they also work to unlock restricted content around the world by routing your connection through remote servers.
Pros 
Installation is incredibly easy and fast.
Concurrent connections (computer and/or mobile).
Many payment options (Bitcoin, gift cards, etc).
Torrenting is available
No logging
Unlimited bandwidth
Cons
There is no free trial.
There is no chat feature.
It takes a few hours for Customer support to answer.
7 days money-back guarantee.
Pricing
Monthly: $9.95 per month.
Yearly: $3.33 per month.
Two Years: $2.69 per month.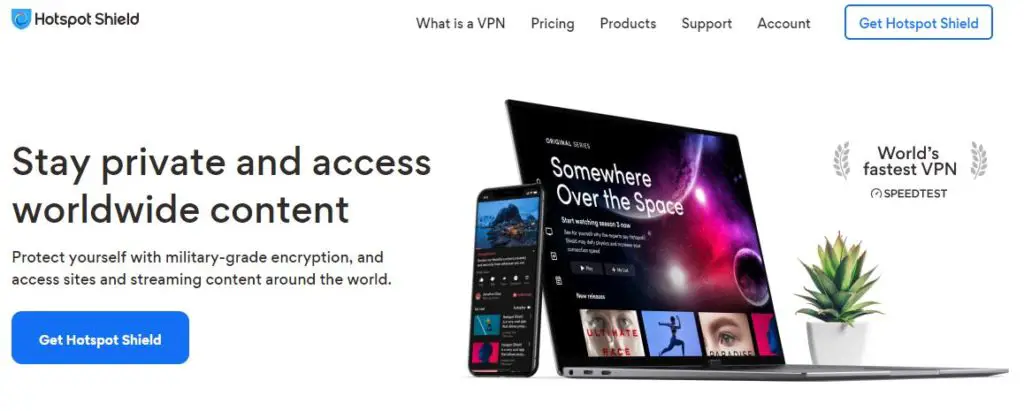 Ideal for general users.
If you are looking for a VPN provider that offers outstanding protection and security, then Hotspot Shield is one of the best. This is because it offers well-rounded security that encrypts your data as you connect to public or private Wi-Fi networks. They offer a generous 5 simultaneous connections, all of which allow torrenting. 
An extra benefit is their "Stealth VPN" servers – these are special because they use additional obfuscation methods to hide VPN traffic from the prying eyes of the authorities. 
There is also an option for anonymous browsing to protect your IP address which makes it hard for hackers to track. All of this comes at affordable prices.
Pros 
Stores no logs, so you are completely anonymous.
One of the world's fastest VPNs
Very famous.
AES-256 encryption and a kill switch are included.
There are servers in 82 countries.
High-quality architecture.
There are 5 concurrent connections.
It is compatible with Netflix and torrents (P2P).
Cons
It cannot be installed on routers.
Expensive.
The VPN protocol is not open-source.
Pricing
Basic: Free.
Plus: $6.99 per month.
Premium: $7.99 per month.
Family: $11.99 per month.
Why you might need a VPN provider
1. Online anonymity
A well-known reason why people use a VPN is to have online anonymity. They want to hide their identity while surfing the web. It is a logical and legitimate approach as you may visit some sites that need login and other personal information while being anonymous. 
By using a VPN, you can access the internet without giving up your identity. It conceals your online activity from your ISP, preventing them from tracking your activities online or seeing what sites you visit or exchanges you make online.
2. Bypass internet filters
Surf the Web anonymously and avoid those pesky Internet filters imposed in your organization or country with a VPN service provider. A Virtual Private Network (VPN) is a secure connection between your computer and a server run by the VPN provider. 
When you connect via a VPN your initial IP address is replaced by that of the VPN server, thus making it appear to external observers that you are accessing the internet from wherever that server is located.
3. Security
A VPN is an information security tool that keeps your communications private. This is accomplished by using an encrypted tunnel between you and the VPN server. All external access to the Internet is routed through this encrypted tunnel. 
Your data cannot be intercepted or decoded by anyone else, as they will see only gibberish data between you and the VPN server. It's like a safe that you carry with you, and no one has the key to open it but you.
4. Encrypt everything
Anonymity does not guarantee encryption. Files that have been obtained by clicking on a malicious link or downloading a dangerous file cannot be protected by encryption. 
Encryption is the only way to protect your computer while using the Internet. Therefore, a Virtual Private Network (VPN) can protect you.
5. Extend your coverage
A VPN service can help you to access more video and audio streaming services than the ones available where you are currently. 
For example, if your country has Netflix in its library but the country you're traveling to does not – a VPN will let you watch the US library's content from wherever you are at.
How to choose a VPN provider 
1. 256-bit encryption
256-bit encryption is by current standards considered to be uncrackable. Do not expect a provider to advertise this in the fine print, but it is a good thing to look for. 
It is one of the most secure online encryptions or intrusion-resistance varieties, and it's important for keeping your sensitive data safe.
2. Customer support
You should also choose a VPN provider that offers excellent customer support. For example, live chat is a very simple and intuitive feature to use, helpful for quick questions while you're creating your account and during the service. 
A good website with service is the difference between a company that provides value to customers and one that just wants to make money.
3. Large server coverage
As more people embrace the Internet and start using VPN services, it becomes necessary for many providers to expand their server coverage. More servers mean more options to access any website or service from anywhere in the world. 
There are potentially endless VPN services on the internet, but most of them have limited server coverage and inferior quality. The best VPN should have a large number of servers, so that you can always find the fastest speed, and enjoy safe and stable connections.
4. Multiple simultaneous connections
Selecting the right VPN service provider can make a difference between a good and bad online experience. 
It is important for you to make sure that your provider guarantees multiple simultaneous connections. A user should be allowed to have more than one active connection at a time.
5. A kill switch system 
A kill switch system is a mechanism built into a VPN that prevents the accidental leakage of the username and password and also the IP address. 
This mechanism is built into applications such as web browsers, web servers, etc. In short, a kill-switch provides a simple and effective way to ensure that none of your traffic can leak outside of the encrypted tunnel.
Final thoughts
In summary, security and censorship are two main concerns when it comes to using the internet. And when we talk of web freedom, we are talking about using the internet without being tracked or being limited in any way – especially when it comes to sharing content. 
To execute this freedom, you need a Virtual Private Network provider to access blocked websites and protect your identity from snoopers. Despite its critical status among netizens, there are many VPN providers out there that might not be up to standard. 
That's why I have created this list of the best VPN providers. They will keep you online and safe as well as allow you to express yourself freely regardless of your location. Personally, I recommend CyberGhost because of its unique security features and its consistent speed.
Also, check out other software reviews on the blog.