Whether you've been blogging for a while, or you're thinking about beginning, there are several platforms you can use to get started.
In this article, I'll discuss some of the leading free and paid blogging platforms along with the pros and cons of each option.
After reading through this post, you will have a better idea of which platform is best for your blogging needs.
What Are The Best Blogging Platforms?
What Is A Blogging Platform
A blogging platform is an application that allows you to easily create, edit and update a blog without having to use HTML or any other complex coding language.
It is a collection of tools that helps you create a blog with basic to advanced features.
Who Are Blogging Platforms Made For?
Blogging platforms are designed for anyone who wants to get started with blogging, in real-time, without relying on a programmer or a designer.
They are made for both experienced and inexperienced bloggers.
Whether it's at home or on the road, blogging platforms are designed to allow users to interact with one another through comments on posts and blogs, as well as promote the blogger's website.
See also: How to Start a Blog in 20 Minutes or Less: A Beginners Guide
14 Best Blogging Platforms For Beginner & Experienced Bloggers
Any list of the best blogging platforms without WordPress on it it's not a complete list.
WordPress was established with the intention of being used as a blogging platform. It has grown into a multi-purpose content management system, although it still includes a lot of blogging capabilities and themes.
Powering more than 42% of all websites on the web, WordPress is the most popular blogging platform in the world.
Not only can you buy a custom domain and choose from over 3,000 blog-specific themes, but you can also use plugins to add social media buttons, forms, affiliate links, and other features to your site.
The 55,000+ plugins available hardly restrict your customization choices, but you must ensure that these plugins are compatible and up to date. Otherwise, they may detract from the user experience or even cause your site to crash.
WordPress provides you with the flexibility, customizability, and content management tools you need to build a sophisticated site.
WordPress Pros
Fully customizable
Easy to learn
Thousands of free themes available
Thousands of apps for added functionality
Most popular choice for blogs
WordPress Cons
Not an all-in-one solution
Updates required
Apps, themes, and security can get pricey
WordPress Pricing
There is no cost or registration for WordPress. However, you will have to pay for a domain name and web hosting. Additionally, WordPress themes and plugins can cost extra, but there are many free options available.
Weebly is a popular blogging platform that includes all of the tools you'll need to start a blog, including website building tools, templates, and hosting.
The editor provides the drag-and-drop capability for both articles and pages. You may also add components like forms and picture galleries to make more sophisticated layouts.
You can choose to expand your navigation menus to include more sub-levels, allowing you to manage more content.
All Weebly templates are also mobile-friendly, so you won't have to do any extra rearranging or tweaking for mobile.
Weebly Pros
Affordable eCommerce plans
Simple, customizable templates
Easy-to-use editor for blog sites
Offers free plan
Change blog theme easily
Weebly Cons
Limited support hours
Must use Square editor for eCommerce
Limited apps if you use Square
Weebly Pricing
Free with a subdomain, $5/month to connect your domain and pro plans start at $12/month.
Drupal is one of the best blogging platforms and a highly flexible open-source content management system.
It comes with hundreds of built-in features and modules. If you know how to use Drupal or have the time to learn, it will provide you more control than other open-source systems.
Drupal, in particular, offers a diverse set of content categories, page templates, blocks, views, and other features for producing and managing a wide range of information.
It also offers sophisticated user rights, allowing you to grant tailored access to site administrators, content editors, and other stakeholders.
Drupal is a self-hosted solution that is suited for experienced users as well as business enterprises with advanced blogging needs.
Drupal Pros
Free and open source
Natively supports custom post types
Offers more control over users and access out of the box
Works better for enterprise or larger websites
Multilingual support built-in
Drupal Cons
Very steep learning curve
Simplistic blog posting dashboard
Requires technical knowledge to set up correctly
Nowhere near as beginner-friendly as WordPress
Not as well documented or as well covered as WordPress
Drupal Pricing
As an open-source CMS, Drupal is completely FREE. The only cost associated with this is the purchase of a domain name and hosting.
Another excellent blogging platform on this list is Blogger. It isn't nearly as strong as WordPress, but it is more user-friendly for newcomers, which comes as no surprise given that it is owned by Google.
Blogger has a great range of themes, many of which include mobile versions suited for smaller displays – a particularly useful feature given how many people nowadays consume internet material via smartphones.
Blogger's post-editor tool is similar to WordPress's, but with fewer features. As a result, its toolbars are easier to understand
One of Blogger's strongest features is its ability to integrate with other Google apps and services. For instance, it stores photos and other materials for your blog in your Google Drive account.
Blogger is a fantastic choice if you're going to post a lot of high-res photographs because Google Drive provides you 15GB of free storage.
The dashboard, which also shows visitor statistics, may be used to track comments.
Blogger Pros
Very simple to learn
Freely available to anyone with a Gmail account
Integrates with other Google products
Allows access to HTML for customization
Some drag and drop elements for blog design
Blogger Cons
Very limited customization options
You will have to use a .blogspot.com domain name
Owned by Google who loves collecting data
Blogger Pricing
Blogger is completely FREE to use. However, you can opt to pay extra to use your own domain name.
Wix really stands out with its powerful blogging functionality. There are lots of ways to customize a post with its simple editor, which offers all the features you need – such as image galleries, videos, and music.
There's also a lot of flexibility in terms of scheduling posts, as well as handy features like the ability to have content immediately posted to Facebook as they're published.
There's also commendably diverse support for many forms of media, as well as excellent customer service (yes, even on the free plan). The Wix Turbo tool is now available, which significantly improves the speed and performance of websites.
Wix Pros
Most customizable site builder
Lots of apps for added functionality
Easy to set up and use
Has a dependable drag-and-drop site editor
900+ free templates
Lots of predesigned elements
24/7 customer support
Free plan available
Wix Cons
No easy template switching
Low storage limits
Load speeds for editor and site can be slow
Wix Pricing
Even while Wix provides a free account, it is severely restricted and heavily branded with the Wix logo.
Wix starts at $4.50 per month with a premium plan. You receive a personalized domain name, 500 MB of storage, and 1 GB of bandwidth with this plan.
Higher-tier plans provide apps and eCommerce features in addition to additional storage and bandwidth. The top plan also includes VIP support, however, it costs $24.50 per month.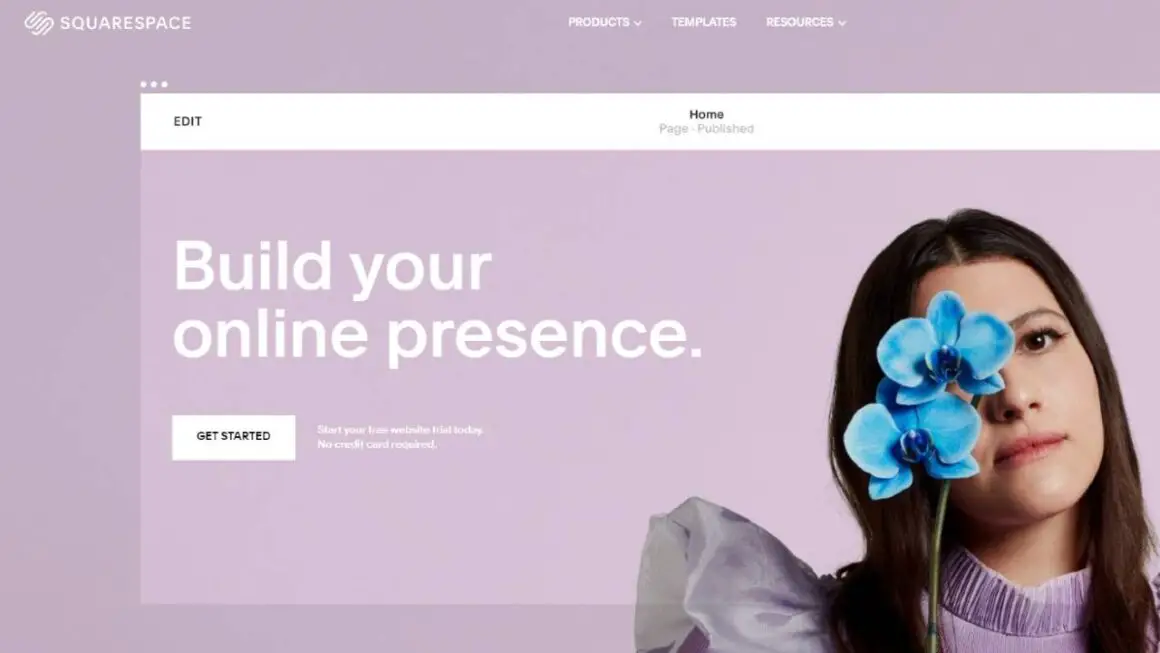 Squarespace, which is often considered as having the best-designed themes out there, is a fantastic place to start if you want your blog to look nice above all else.
As a result, it's ideal for bloggers that produce a lot of visual material, such as painters, photographers, or designers. It's also a wonderful platform for small businesses to create a professional-looking website without having to employ a web designer or developer.
Unlike Wix, you won't have complete creative freedom with Squarespace, but on the plus side, rarely do Squarespace websites look ugly (really, it's almost impossible). You can select your favorite template out of 13 available to start editing right away.
Squarespace provides typical blogging capabilities such as the ability to establish categories, contributor permissions, tags, and highlighted articles. It also includes social media, SEO, analytics, and email marketing capabilities, as well as a post scheduler.
Squarespace Pros
Easy-to-use editor
Award-winning templates
14-day free trial
Unlimited storage and bandwidth
Built-in SEO tools
Marketing tools on some plans
24/7 customer support
Squarespace Cons
Not the most affordable choice
Less design flexibility
No template switching
No autosave
Squarespace Pricing
Monthly subscriptions are required to use Squarespace. It costs $12 a month for the Personal plan and $18 for the Business plan while it charges $26/month for eCommerce sites.
Also, you can test the waters for 14 days with the free trial.
Medium is unique among the other blogging platform on the list in that it works more like a social networking site. You may start writing pieces using Medium's super-simple WYSIWYG editor without paying any membership fees if you register a free Medium account.
Medium has the benefit of having a built-in audience, which makes it a wonderful method to discover and develop a following.
If one of your articles is well-received by Medium's audience, it may be selected as one of the platform's top stories. You can also earn money from the time people spend reading your posts if you sign up for the free Partner Program.
Medium Pros
Easy and free to use
Access to a large audience
No tech knowledge needed
Get paid for blogging
Medium Cons
Lots of competition
Don't own your blog
Medium Pricing
Medium is FREE to use with a $5 per month membership option.
Tumblr is a highly visual publishing platform that blends the capabilities of blogging with social networking.
It has all of the tools you'll need to build a professional-looking website. You can add numerous pages, sidebars, social sharing buttons, comment areas, and more by choosing from hundreds of free and paid themes.
Instead of using the free subdomain, you can purchase a custom domain name from a domain name registrar. You may further personalize your site if you know how to code in HTML.
Many people refer to it as a "microblogging platform" since the content posted here is generally shorter and to the point than what you'd find on a traditional blog.
Tumblr Pros
Free hosted blogging platform
Build specifically for blogging sites
Super-simple to post using phone or computer
Huge readership
Unlimited storage for your blog posts
Tumblr Cons
Very limited features
No monetization options
Little control over your blog aside from content
Tumblr Pricing
This is one of the best blogging platforms that allow you to create a FREE blog site with a subdomain, such as myblogname.tumblr.com. You also get the option to link your own custom domain if you want to.
Ghost is one of the best blogging platforms even though it was launched not quite long. Just like Medium, has a bare-bones design, but it offers a pleasant writing experience owing to a gorgeous and powerful rich-text content editor, scheduling features, and collaboration tools.
The platform is geared toward journalists, editors, and authors. With Ghost, you can totally customize the look and feel of your blog as well as the experience you want to provide your visitors.
There are no restrictions on modification or use of social media with this tool. You can create content for a broad audience, target readers with email newsletters, and monetize your writing with Ghost's premium packages.
Ghost Pros
Easy to use
14-day free trial
Fully customizable
Automatic backups
Posts scheduling
Simple templates
Powerful SEO tools
Ghost Cons
Customizing could be easier
Limited configuration options
A limited number of themes
A self-hosted version is difficult to set up
Ghost Pricing
Basic plan: $29.00/month
Standard plan: $79.00/month
Business plan: $199.00/month
Even though it's widely known as a social media platform, LinkedIn is one of the best blogging platforms. Every week, LinkedIn members write over 130,000 articles, according to the company.
LinkedIn is a handy platform to share knowledge with your audience and attract more business customers as a social media network. The platform has 756 million active monthly users, with 40% signing in daily.
Unlike Facebook, whose organic reach has been steadily diminishing, strong LinkedIn organic reach is still within reach of the ordinary user.
If your piece is strong enough to get the attention of LinkedIn editors, it may be included in daily or weekly news sections, opening up additional promotional options to help you grow your audience.
LinkedIn Pros
Completely free
Easy to use
Convenient sharing options
LinkedIn does everything for you
Brief and clear post analytics
Excellent way to grow audience
LinkedIn Cons
LinkedIn owns the rights to your content
Huge competition
LinkedIn Pricing
Blogging on LinkedIn is FREE, but you'll get access to more in-depth data about your account, including the success of your posts if you pay for LinkedIn Premium.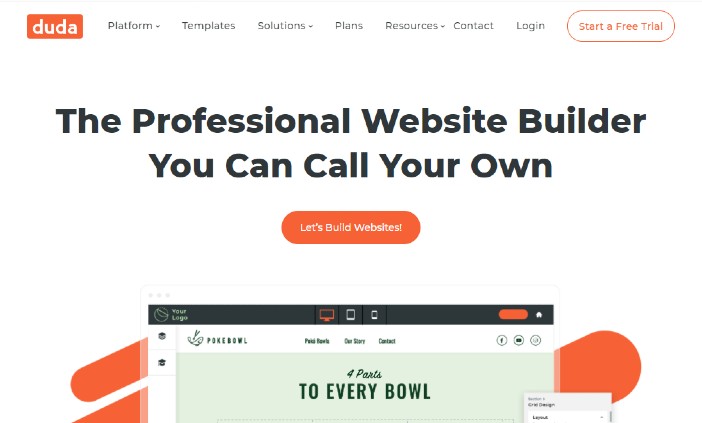 Duda is a non-technical website builder that focuses on design – think of it as a less powerful Squarespace. Its lovely design and simple interface make it an excellent choice for quickly creating a blog.
Site statistics and analytics are also provided by the platform, allowing you to rapidly track anything from the number of visitors to the pages they view.
Duda offers a total of 98 attractive themes, all of which are designed to operate seamlessly across desktop, mobile, and tablet platforms (and you can preview them before choosing a template).
You may be as creative as you want with pre-filled templates or ones that provide a bit more design control.
You won't have to move to a new window every time you want to make a little modification to your template because everything will be done on-screen.
Duda Pros
Simple to use
Pop-up available
Free SSL
Analytics
Responsive templates
Exceptional eCommerce capability
Seamless integrations with third-party apps
Duda Cons
A bit expensive
Offers no free plan
Duda Pricing
The free trial for Duda lasts for 14 days, but there is no free plan after the trial. Here is the pricing (billed annually) breakdown:
Basic plan: $14/month
Team plan: $22/month
Agency plan: $44/month
SITE123, another all-in-one website builder, is one of the simplest yet best blogging platforms on this list, but it doesn't mean it won't provide you with the features you want.
The blogging platform offers one of the simplest methods to create your own blog rather than using an external site like Medium or LinkedIn (more on that later). It includes all of the fundamental features you'll need to start a blogging website and is really simple to use.
There are more than 20 blog designs available on SITE123, all of them are free and mobile-friendly.
The free plan does offer blog pages, which include analytics, social bookmarking, a search tool, and an RSS feed, among other things. You may remove ads, add a custom domain, increase storage and bandwidth, and send more marketing emails each month after you upgrade.
SITE123 Pros
Easy to use
Has a free plan
Multilingual
Product Integration
E-commerce functionality
SITE123 Cons
Can not categorize posts
Lack customer support
Layout restriction
SITE123 Pricing
The premium plans on SITE123 start at $12 per month and include a free domain for a year. The option to link your domain, ample storage and bandwidth, and the capacity to send out 100 email messages each month are all included. It also gets rid of their branding, which is included with the free plan.
Joomla is an open-source content management system with sophisticated content management capabilities built right in. For instance, straight out of the box, it allows you to build custom post kinds, manage hundreds of users, and publish material in different languages.
It has a higher learning curve than WordPress due to its extensive built-in capabilities, therefore it will take longer to set up. It also has a smaller theme and extension library than WordPress, limiting your personalization possibilities.
However, there are several excellent blogging plugins on this list. For example, EasyBlog from StackIdeas has a far better drag-and-drop editor than Joomla's default editor. With this plugin, you can also enable star ratings on your blog and automatically publish content to your social network sites.
Joomla Pros
Free, open-source blogging platform
Powerful features with lots of customization options
Designed specifically to be a commercial CMS
Thousands of themes and plugins support Joomla
Joomla Cons
Has a steep learning curve
Require some technical knowledge
Requires extensions for many features
Joomla Pricing
Joomla is FREE and open source. You will need to pay for a domain name and web hosting though.
Postach.io is an easy-to-use blogging platform built on Evernote and allows you to easily convert notes to blogs.
You must either register a new account or connect with an existing Evernote account to utilize Postach.io. To link your notes, first install Evernote, then connect it to Postach.io. It's a straightforward way to enter the blogosphere.
You can personalize your blogging website using the dashboard, and utilize Evernote to create blogs on the move.
It offers a free plan you take advantage of, but if you want a custom domain, you'll need to switch to a premium plan.
Postach.io Pros
Easy to use
Offers a free plan
Easy to add images
Evernote sync
Site editor
Custom domains
Visual content 
Postach.io Cons
Require Evernote account
Few updates
Limited features
Postach.io Pricing
There are four plans offered by Postach.io:
Free plan
1-5 sites plan, $5.00/month
6-20 sites plan, $15.00/month
21-50 sites plan, $25.00/month
FAQs
Which of the best blogging platforms is the easiest to use?
WordPress is the best blogging platform out there. If you are looking for a simple and easy way to create a professional-looking blog to share your knowledge or story with the world, look no further.
Which of blogging platforms is best for SEO?
No platform is right for everyone, but if you're serious about SEO, then your blog should be on WordPress.
Can I start a blog for free?
Yes – you can start a blog for FREE using WordPress, Blogger, or Tumblr. There are tons of free sites to start a blog with. Those sites give you free space to get started while offering various tools for managing your blog.
Conclusion
Overall, for ease of use, a plethora of features, affordability, flexibility, third-party integrations, customer support, SEO, and other factors, WordPress is the best blogging platform.
WordPress is the world's most popular and easy-to-use blogging platform. Create a beautiful blog or website with dozens of customizable themes.
You'll have everything you need to tell your story, share your ideas, and connect with readers.
However, if you're more concerned about having a blog with a high-quality design, I will recommend you go for Squarespace. It is well-known for having the best-designed themes out there when it comes to building a website.
Are you looking for a platform with all tools to create a professional website? Check out, Website Builder101. Also, if you're serious about blogging, I will recommend you check out Blogamigo.
I hope you found this post helpful. Thanks for reading.
Ready To Sign Up With WordPress?
It only takes a click on the button below to get started for FREE. In less there a few hours, your blog will be up and running.