Are you a blogger, content writer, student, academician, or entrepreneur? Then you need to sound articulate and pro in your writing by using one of the best grammar checkers.
I know how it feels when you have to write business emails or let's say a blog post, and you feel like your grammar skills are not up to the mark. It makes you very anxious. You are not alone in this.
Even the best writers or native speakers sometimes need a helping hand to spot mistakes.
In this post, I have hand-picked the best grammar checkers for you. These tools will help you improve your writing and give real-time feedback.
Quick Review
What are the best grammar checkers?
Best Grammar Checkers
What are the best grammar checkers to write like a pro?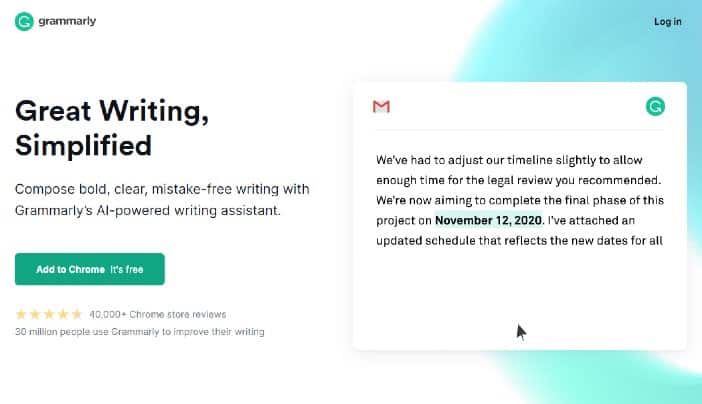 Grammarly is a famous online grammar checker that can be downloaded as a browser extension for Chrome, Firefox, and even Microsoft Edge. It analyzes your writings for grammatical and spelling problems as you type.
The cloud-based software is jam-packed with algorithms that identify possible text issues while also recommending fixes to users.
Furthermore, the program can check for grammatical problems, spelling mistakes, run-on sentences, style, punctuation, and plagiarism, among other things.
In addition, it is super easy to use. As you type, problems in spelling, grammar, and context will be highlighted with underlining.
Grammarly Pros
Extremely easy to use
16+ billion database
 150k+ word limit
 Includes plagiarism support
 Responded within an hour
Has a conciseness feature
Built-in human proofreading
Detail reports
Offers a 24/7 helpdesk service
Android and iOS apps for mobile
A plethora of web and browser-based extensions
Grammarly Cons
Grammarly Pricing
Interestingly, certain Grammarly functions are free. However, you'll have to pay for anything else, including the plagiarism detector.
Plans are offered on a monthly, quarterly, and annual basis. The following are the costs:
$29.95 per month
$19.98 per month (billed quarterly as one payment of $59.95)
$11.66 per month (billed annualy as one payment of $139.95)
ProWritingAid offers a completely new approach to grammar and style checking. It combines punctuation, spelling, grammar, style, vocabulary, and even foreign language translation into a single integrated solution.
The online editor is fantastic. Both Windows and Mac users can use their desktop programs. Moreover, they also provide free Chrome, Safari, and Firefox browser extensions.
In addition, this premium tool is equipped with powerful algorithms, which become more efficient as you use them. Gradually they start correcting the most common errors in your writing, and eventually, they become a real support to you.
Furthermore, ProWritingAid provides a comprehensive vocabulary analysis to assist you in becoming a better writer by identifying overused and redundant terms.
Lastly, it also offers a reading comprehension analysis (Flesh-Kincaid) to assist you in writing more clearly.
ProWritingAid
Third-party integration
Browser extensions available
Comprehensive reports
Mac and Windows support
Checks for plagiarism
Millions in the database
Scrivener compatible
Premium version has no word count restrictions
ProWritingAid Cons
Only English
 24+ hour support response
 Inaccurate plagiarism checker
ProWritingAid Pricing
It comes with a free plan that includes a web-based grammar checker with a limit of 500 words.
Here are the Premium plans:
$20.00 per month
$79.00 per year
$399.00 lifetime
See also: 11 Best Presentation Software To Deliver That Perfect Presentation
When technology and innovation come together, the result is Ginger. Ginger is designed to make you a better writer.
The Grammar Checker provides accurate, reliable grammar checks, quickly and conveniently. With Ginger, you can improve your writing.
Additionally, it can be used to check grammar and punctuation on Facebook, Twitter, Gmail, Tumblr, Blogger, and WordPress.
From its high-performance and innovative search algorithms to its ability to identify different types of grammatical errors, Ginger is continually evolving.
Ginger Pros
Offer several language translations
Unlimited premium use
Installs on many devices
Easy to install
Super easy to use
Lots of features
Ginger Cons
No plagiarism detector
Poor reporting
Limited checks per month on the free plan
Ginger Pricing
There is a free version accessible for users with restricted functionality and grammatical checks up to a specific level.
However, if you want more features than the free version, you have three options:
$20.97/month
$7.49/month (billed annualy as one payment of $89.88)
Two-year subscription is $159.84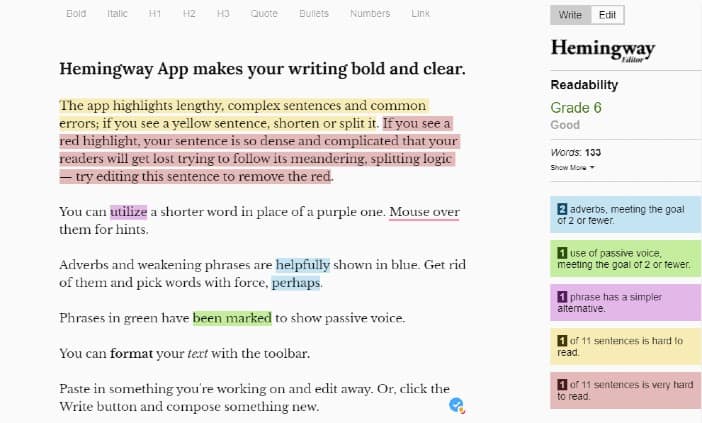 Hemingway's app is one of the grammar and spelling checkers that improves your writing – and your confidence – as you write.
Consider Hemingway to be a style checker as well as a grammatical checker. Its goal is to help you enhance readability by giving your material a readability score and proposing modifications.
In addition, the web app features a simple and uncluttered interface that may help you quickly review your content before clicking the publish button in WordPress.
Furthermore, it highlights long, complex sentences; unneeded repetition; passive voice; adverbs; and words that are hard to read.
To wrap it up, whether you want help getting started with that essay on "Macbeth", crafting the perfect tweet, or just don't want to look silly in a text message, Hemingway can help you.
Hemingway Pros
User-friendly interface
Writing style checker
Third-party integration
Browser extensions available
Improves the overall readability of any text
Examines every text and rates it by grade level
Can be used both online and offline
Hemingway Cons
No save functionality in online version
No plugin for checking text in browser
Hemingway Pricing
Hemingway offers a free online version. However, the desktop version (Windows and Mac) cost $19.99 for a lifetime.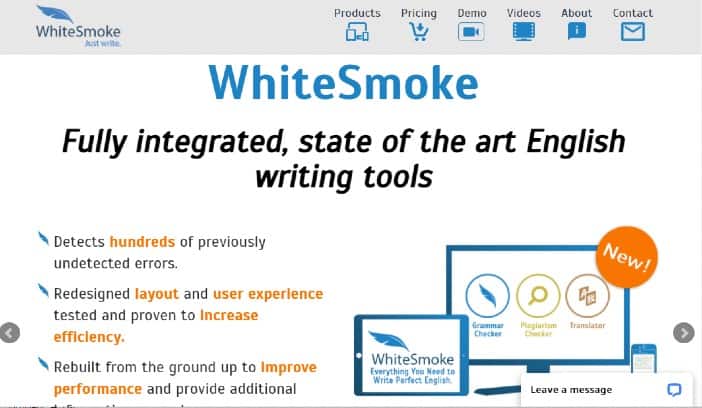 WhiteSmoke is one of the best grammar checkers on the market with a TON of features. It is a powerful yet easy-to-use grammar checker.
This grammar checker allows you to perform many checks on the fly. It also helps you correct spelling mistakes, punctuation errors, and style guide violations directly in your Word document. Moreover, it saves time proofreading, and perfecting your writing in one step.
Also, WhiteSmoke is accessible in 55 languages, most importantly, making it ideal for international users or those learning a second language.
Furthermore, it offers the quickest and easiest way to find out if your writing is clear, concise, and mistake-free. In fact, grammar rules and punctuation marks become a thing of the past with WhiteSmoke.
WhiteSmoke Pros
Available on multiple devices
Multilingual translator (55 Languages)
Easy-to-install apps
Has a TON of extra writing features
WhiteSmoke Cons
Limited checking on desktop app
Slow Customer Service
No free trial and free version
WhiteSmoke Pricing
Whitesmoke offer 3 paid plans:
Essential: $6.59 per month
Premium: $9.99 per month
Business: $17.95 per month
See also: Best App To Learn A Language Fast [Free & Paid]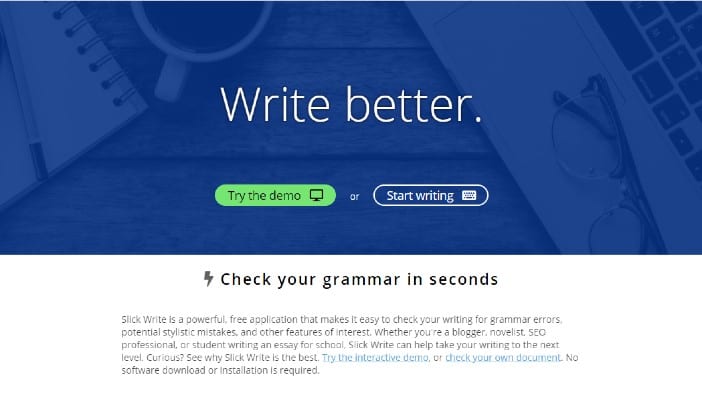 Slick Write is a powerful and smart grammar checker for writers. It provides the hooks you need to catch the attention of your readers with perfect punctuation and smooth, flowing prose.
This is a free online grammar tool designed to fix grammatical, spelling, and also style issues. In addition, it's a fantastic resource for SEO experts, students, bloggers, and anybody else who enjoys writing.
Besides, it allows you to proofread an existing work or write directly on the platform.
Furthermore, you can adjust the text editor's style recommendations based on the sort of text you're writing.
The tool provides extensive text reports with graphs. Therefore, you can keep track of your word count, sentence structure, and paragraph length, as well as your readability score, passive voice usage, and more.
Slick Write Pros
Customizable settings to suit your writing style
Detailed statistics on readability score
Graphical breakdown of sentence type
Quickly lookup a word in dictionaries
Identify paragraphs with the least variety
Slick Write Cons
Slick Write Pricing
Completely FREE.
See also: 5 Ways to Improve your Search Engine Optimization – Rank #1 on Google
As you work on your document or mail, LanguageTool notifies you of any potential problems. It allows you to hover over a message to see what changes should be made and choose whether to accept or ignore it.
One of the best things about LanguageTool is that it works with English, German, Polish, and Russian, among others. This makes it particularly useful for websites that have more than one language.
In addition, LanguageTool uses advanced technology based on natural language processing. It is more than just another spell checker.
Also, it provides grammar suggestions and spelling suggestions that can easily be applied using the keyboard.
To cap it all, the tool works in all browsers on all operating systems.
LanguageTool Pros
User-friendly interface
Corrects grammar errors in multiple languages
Translation for over 20 languages
Third-party integration
Browser extensions available
Free plan allows up to 20,000 characters
Available on so many devices
LanguageTool Cons
No plagiarism detector
No reporting features
LanguageTool Pricing
Language Tool offers both a free and a premium plan, each with its own set of restrictions. The premium plan can be paid monthly, quarterly, or annually.
Here's how it works:
Monthly subscription: $19
3-month subscription: $39
Annual subscription: $59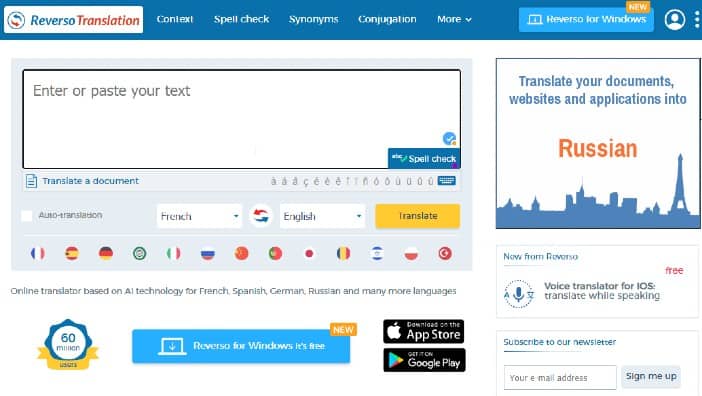 Improve your writing and communicate with confidence, even if you're not a native English speaker. Reverso is one of the best online grammar checkers in the market, boasting different languages to choose from.
Although many other spell-checkers have limited language support, Reverso is an industry leader for one reason – thanks to the superior translation technology. It can check writing, correct errors, and translate your text into a variety of languages, including German, Hebrew, Spanish, Italian, Arabic, and others.
In addition, Reverso is accessible through a web browser, a Google Chrome plugin, an Android, and an iPhone app. It is a simple and free tool that lets you check grammar and see translations of words and phrases in a matter of seconds.
In fact, it works offline, and if typing isn't your thing, you can voice phrases into the program. Also, it offers a built-in dictionary that gives edits and suggestions.
Reverso Pros
Straightforward interface
Offers a multilingual option
Relatively accurate
Browser extension (Chrome) available
Grammar rules backed by translation service
Reverso Cons
Misses the mark on concision
No plagiarism checker
No reporting
Reverso Pricing
Completely FREE
See also: Discover 10 Hacks to Learn a New Language in Record Time
Linguix is more than just a grammar checker. It's an all-in-one writing assistant designed to help you write faster and with greater accuracy and attention to detail.
It will point out your mistakes, but more importantly, offer you prescribed solutions based on English language rules in plain and simple terms.
Additionally, Linguix examines your work for mistakes and suggests the optimal grammar, punctuation, and style options based on the context.
Lastly, it provides thorough explanations for common mistakes and suggests improving the readability and appearance of your emails, school papers, and personal projects.
Linguix Pros
Extremely easy to use
Third-party integration
Business dashboard and team management
Writing insights on a company and individual users' level
Snippets and content templates for faster writing
Advanced insights and readability scores
Browser extension available
Linguix Cons
No plagiarism checker
No mobile options
Linguix Pricing
Linguix offers 3 plans – Free, Premium, and Business plan.
Premium: $8.00 per month
Business: $20 per month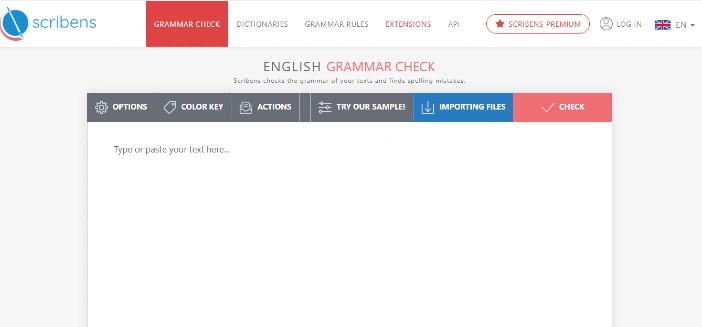 Scribens is a full-featured grammar checker app that provides writing enhancement and help.
It is a free grammar checker that corrects over 250 types of grammar, spelling, and stylistic errors, including nouns, verbs, prepositions, pronouns, homonyms, typography, and punctuation, using a complex syntactical algorithm.
In fact, Scribens also corrects style problems such as redundancies, run-on sentences, and repetitions, while suggesting synonyms.
Furthermore, the application also includes a readability indicator, explanations to help you improve your writing abilities, and extensive statistics such as the number of words, phrases, paragraphs, and more.
Scribens Pros
Completely free to use
Interface is simple and straightforward
Helps write with clarity
Diverse device compatibility
Windows, Mac, Browsers
Scribens Cons
No plagiarism checker
No reporting features
Lacks customer service
Scribens Pricing
Absolutely FREE.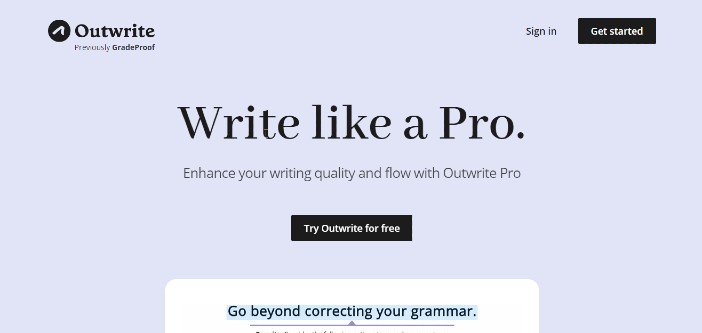 Outwrite helps you write better with advanced grammar and plagiarism checking. Also, it suggests synonym, sentence extension (for writers), and dictionary lookup capabilities (for casual word gamers).
It's offered as a web app, as a result, you can sign in from any browser.
Outwrite also includes Chrome, Microsoft Word, and Google Docs extensions. It doesn't have a desktop version and its mobile app is only accessible for iOS.
Furthermore, the AI Eloquence Engine is one of Outwrite's finest features. It reads your writing and makes suggestions on how to enhance it, such as removing erroneous words, streamlining phrases, and avoiding passive voice.
Outwrite Pros
AI-powered proofreading tool
Plagiarism detector
Sentence rephraser
Engagement metrics
Improves fluency, efficiency, and clarity
Outwrite Cons
Lack tone checker
Poor customer support
Outwrite Pricing
Outwrite offers three plans: Essential, Pro, and Teams.
Essential plan: Free
Pro plan: $9.95 per month
Teams: $7.95/month, per user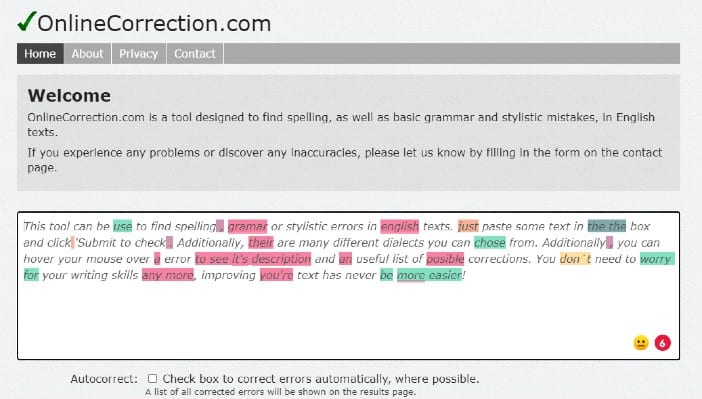 OnlineCorrection.com offers excellent grammar and spelling correction and is packed with helpful features such as a variety of word choices and context problems.
The software offers two key advantages: it's really simple to use and it's completely free. It offers vocabulary and sentence-building ideas to help you enhance your writing style.
OnlineCorrection.com, like Grammarly, supports a variety of English grammatical dialects, including American, British, Australian, South African, and New Zealand. By immediately erasing any submitted content after 30 minutes, the program ensures that your privacy is always safeguarded.
Furthermore, OnlineCorrection.com is perfect for students or anybody who cannot afford to purchase a grammar tool.
OnlineCorrection.com Pros
Minimalistic design
Easy to use
Check grammar and spelling errors
Auto correction
Reporting feature
Supports English dialects
OnlineCorrection.com Cons
Lacks the advanced functions
No proofreading for punctuation
OnlineCorrection.com Pricing
It's completely free.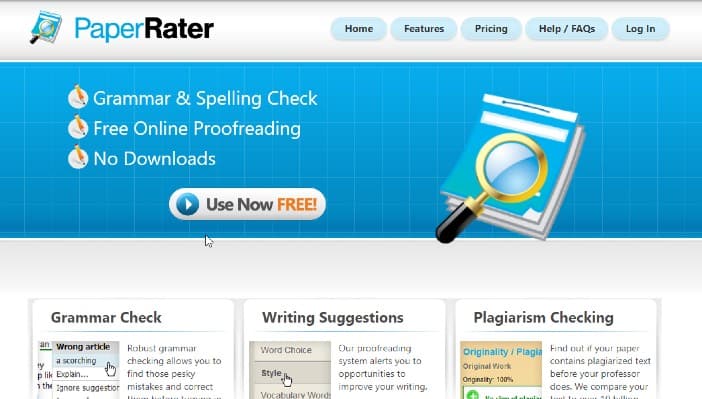 PaperRater is a grammar and spelling checker for papers and essays. By correcting your grammar, spelling, and punctuation, PaperRater helps you look like the professional that you are.
In addition, it also compares your work to that of other students at the same educational level and makes suggestions on how to improve it. PaperRater focuses on sentence length and variety, vocabulary utilization, passive voice recognition, and avoidable phrases.
For students, PaperRater also offers readability data and an automatic essay grading system to help you predict what grade you'll earn from your teacher.
Paperrater doesn't just find spelling mistakes or basic grammar mistakes in your papers, e-mails, or documents, but it also checks for plagiarism.
PaperRater Pros
Database powered by search engines
Decent customer service
PaperRater Cons
Low word count limitations
English only
No mobile support
PaperRater Pricing
PaperRater has a free plan and premium package which cost $11.21 per month.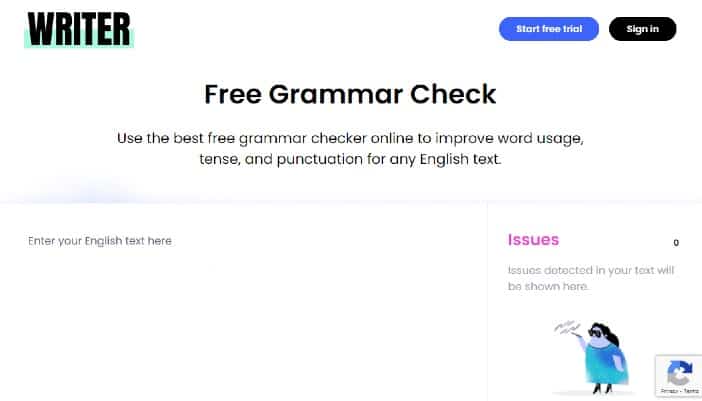 Professional writing can sometimes get a little tricky, which is why Writer provides the fastest and easiest way to help you become a more effective writer.
Writer is a grammar checker that goes above and beyond. The tool conducts more content checks than any other writing tool, in addition to addressing the basics — grammar, punctuation, and tone.
In fact, the capacity to enhance your professional writing is a major difference for Writer: making sure you're utilizing the correct tone, writing style, and vocabulary for your audience.
Clarity, readability, approachability, conciseness, writing style, terminology, tone, brand voice, and bias are all checked in the material of your company by the writer.
Writer Pros
Easy to use
Set your own styleguide rules
Evaluates for clarity and ease of understanding
Plagiarism detector
Integrates seamlessly with Google Chrome
Writer Cons
No free version
Only supports English
Writer Pricing
Writer begins at $11/month. However, they provide unique business pricing if you wish to utilize it throughout your whole organization.
See also: How to Become a Freelance Writer: Here's how to be a top earner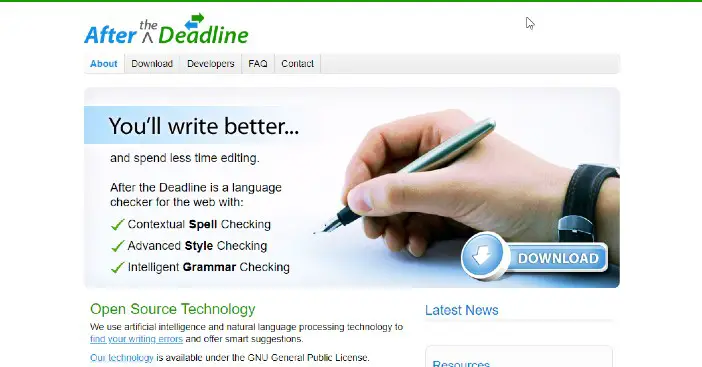 Get your grammar right the first time around. After the Deadline provides easy-to-use tools that help you write effectively and avoid mistakes.
After the Deadline proofreads your text and flag mistakes as you type, allowing you to focus on your writing. Its intelligent grammar checker is powered by the world's most trusted dictionary, so it checks spelling, style, word choice, and grammar.
Besides, After The Deadline has a built-in spell checker with grammar and readability checks as options.
On the addon's settings page, you can always select what you want the software to check in your writing.
After the Deadline Pros
Easy to use and accurate
Available on many platforms
Multilingual option
Contextual spelling check
Misused words detecting
Errors explanation
After the Deadline Cons
Has no mobile app
No plagiarism checker
After the Deadline Pricing
It is 100% free.
What is a grammar checker?
A Grammar Checker is software that helps users to edit and proofread their documents. This program also checks for spelling, grammar, punctuation, style consistency, and many other features of writing to help improve the quality of the final product.
In addition, some grammar checkers also point out other issues, like wordy text or passive voice.
With a grammar checker, you further check for complex problems such as the correct use of subject and verb agreement or the use of pronouns in a compound or complex sentence.
Why use grammar checker?
Instead of spending hours revising and doing proofreading all by yourself, it is possible to do so in a matter of minutes with the help of grammar checkers. This saves you valuable time. Moreover, it also makes sure that you can check your work for better reading experiences.
The best thing about these best grammar checkers is that they are super easy to use too, so anyone can run through them without facing any issues.
They have been created to assist you in improving the readability of your work and help you write like a pro.
FAQS
Are grammar checkers only meant for writers?
No, grammar checkers are not only for writers. It is designed for office workers, business communicators, students, and anyone who needs to write English more than an average person does.  
Even if you are not a professional writer, it's always more convenient to have a "corrector" that completely checks your writing rather than just pointing out the mistakes one by one.
Are these grammar checkers hard to use?
No, not at all. Many of the grammar checkers are easy to use – in fact, it's so easy that you can check all of your content in a few clicks. They also work with your favorite apps – whether you use Microsoft Office, Google Docs, Zoho Writer, or any other online word processor.
Can I use it in my WordPress blog?
Yes, grammar checkers like Grammarly is available to use in your WordPress blog. However, to enable the syntax-checking feature, you need to install a plugin or an addon to your blog first.
What is the cost of a grammar checker?
The cost of a grammar checker varies depending on the type of program you are using. Some can be used for free, and most have a monthly fee associated with them.
The most popular grammar checkers that you can use for little or no cost include Grammarly and Ginger. For an average price, you can purchase ProWritingAid, which has a monthly fee ($20.00), but it also has a lifetime package ($339.00) available as well.
Conclusion
In conclusion, any of the grammar checkers on this list will meet your basic needs. However, you want an all-in-one solution, Grammarly is the best grammar checker you can count on.
The Grammarly tool is an easy-to-use grammar checker, spelling, and plagiarism checker. Grammarly helps students, professionals, and everyone in between to be more effective writers by identifying errors and suggesting corrections.
Furthermore, it offers prompt user support and premium features such as business writing checks, advanced plagiarism checkers, and much more.
In case you want a grammar checker that won't cost you a dime, then I will suggest OnlineCorrection.com. However, don't expect an effective and comprehensive evaluation of your writing.
If you can actually spare some cash, I highly recommend you sign up with Grammarly.
Also, if you're a blogger or planning to have a blog, here are the Best Blogging Platforms you should check out.
I hope you found this post helpful. Thanks for reading.
Ready To Try Grammarly?
Click on the button below to begin writing like a pro with Grammarly. You can test some of the features with the free version before upgrading.