With the support of the best cloud storage services discussed in this article, storing documents on the cloud has made my job a lot easier. I can access documents and images from any internet-connected tablet, phone, or computer, as well as download them when needed.
You won't have to worry about your laptop freezing up or your external drive failing because your most critical files are safely kept online.
With the help of cloud storage providers, you can retrieve your files or photo collection online over the cloud even if your PC is lost or stolen.
But, with so many cloud storage alternatives available, how do you choose one? Some make file transfer a breeze, while others are more difficult. So, to make things easier, I've compiled a list of the best cloud storage services you can choose from.
Quick Review
See Also: Best Cloud Hosting Platforms with High Performance Servers
Best Cloud Storage Services
Here are the best cloud storage services for small business that doesn't cost a fortune.
Users of Google services like Gmail may not understand that Google Drive is one of the most affordable cloud-storage choices.
When you create a Google account to utilize Gmail, you get up to 15 GB of free cloud storage.
You only require a Google account, a Chromebook, or an Android phone to access Google's cloud storage, and you'll receive 15Gigabytes for free. You can acquire up to 10TB of storage with premium subscriptions.
Google Drive, as expected, works well with G-suite apps like Google Calendar, Gmail, Google Docs, and Google Sheets, making it simple to work on, edit, and share your files. Furthermore, if you need to access a file for which Google does not have an app, it does an excellent job of searching for one.
If you don't produce or keep a lot of huge files, free cloud storage will be sufficient. Those who typically use word processing documents may find the free Google Drive storage to be the most useful.
All of the usual cloud storage capabilities, including real-time synchronization, encryption, offline working, and document scanning, are available through desktop software for Windows and Mac, as well as mobile applications for iOS and Android.
Google Drive, like other Google programs, is continually being improved on a continuous basis, often without much fanfare. Recently, it expanded the ability to color-code folders to include shared drives and shortcuts.
If you require more cloud storage, you can upgrade your Google Drive account and pay for additional capacity with Google One. It will be a reasonable move for fans of Google's myriad services to add a membership to Google One cloud storage.
Pros
Excellent tools for teamwork
Free storage space in plenty
Apps that work well together
Google's word processing and spreadsheet tools are tightly linked
Cons
The cost isn't the cheapest on this list
Concerns about privacy
For high-end customers, there are no large storage tiers available
There isn't any zero-knowledge encryption
The web layout can be a bit confusing at times
Pricing
When you create a new Google account, you'll get 15GB of free Google Drive storage. This plan is yours to keep indefinitely, and you can upgrade to a more expansive storage plan at any time.
Paid subscriptions under the Google One banner start at $1.99 per month for 100GB of storage. After that, for $9.99 a month, you can increase your storage capacity to a maximum of 2TB.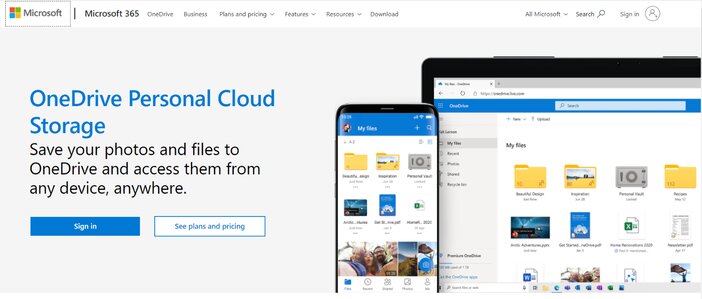 Microsoft OneDrive is the most comprehensive cloud storage service for Windows 10 and Microsoft 365 customers, as well as Android, macOS, and iOS users. Surprisingly, it is now available to Xbox One console for gamers, allowing them to safely store important game files on the cloud.
The platform strikes a mix between high-capacity storage and intuitive user interfaces, as well as sophisticated connections with the whole Microsoft 365 suite and a secure foundation. It will work as indicated once you've put it up, with no additional effort or worry on your side.
For OneDrive customers, the strongest selling point is Office integration, or precisely, the collaboration possibilities that come with combining Office with OneDrive.
A Microsoft 365 Personal subscription (formerly known as Office 365) comes with 1TB of OneDrive storage, as well as complete desktop versions of Office programs like Excel, Word, PowerPoint, and Outlook.
These Office tools make document collaboration a breeze. You can exchange any of your cloud-based documents, and numerous users can engage with them in real-time.
Any modifications are immediately seen by all other co-authors and are stored in the cloud automatically.
Never again will you have to be concerned about losing that 120-page academic thesis due to a hard disk failure. You can install Office on up to five separate devices with a Microsoft Personal subscription, enabling you to share the program with your entire family or household.
You can also modify files immediately in the cloud instead of downloading them each time. OneDrive is interoperable with a multitude of other services, both internal and third-party, ranging from Outlook to AutoCAD.
Personal Vault is a security feature that allows you to securely store important information using 2FA and Bitlocker encryption.
Pros
There isn't much of a learning curve when it comes to figuring out how to use OneDrive's services
Allows you to edit files without having to first download them
It works with any device
With Microsoft 365 account, it's free
Heavily integrates with Microsoft 365 Office
Cons
For file syncing, you may need to rearrange the folder arrangement on your hard drive
It is missing advanced features
For high-end customers, there are no large storage tiers available
Pricing
Microsoft OneDrive offers two different pricing options:
i. For home
The basic Microsoft OneDrive account comes with 5GB of memory and is completely free to use. Its Standalone plan, which costs $1.99 per month and includes 100GB, is one notch higher.
OneDrive has two premium options for personal users: Microsoft 365 Personal ($5.99 per month, 1TB storage) and Microsoft 365 Family ($9.99 per month, 6TB capacity).
Microsoft 365 programs such as Outlook, Excel, Word, and PowerPoint are included in both plans.
ii. For business
There are four subscriptions available for business users that want sophisticated capabilities like user control and file auditing. Microsoft OneDrive for Business Plan 1 and Microsoft OneDrive for Business Plan 2 are $5 and $10 per month per user, respectively.
Microsoft 365 apps are not included in these plans. Plan 1 provides 1TB of memory per user, whilst Plan 2 provides limitless personal cloud storage with sophisticated security features.
If you pay yearly, the Microsoft 365 Business Basic and Microsoft 365 Business Standard plans cost $$5.00 per user/month and $12.50 per user/month, respectively. However, if you want to pay monthly, the fee is $6.00 per user/month and $15.00 per user/month.
This cloud storage gives excellent value for money, extremely secure cloud storage services, and a user-friendly interface.
IDrive is a one-of-a-kind alternative, providing a dual solution for both cloud storage and online backup. It's really my top recommendation for online backup, thanks to its amazingly low costs and extensive feature set.
The ability to control all of your devices from a single web-based dashboard is one of iDrive's distinguishing features.
You can monitor device backups, restore devices, update application settings, and more from your console. As a result, you have full control over all of your devices from a single location.
IDrive's backup options include image-based, Network-attached storage, mobile, external hard drive, and hybrid backup, all of which may be performed on a continuous or scheduled basis.
It does not save deleted documents and folders indefinitely. They stay in the IDrive repository for 30 days or until you delete them manually, guaranteeing that nothing is lost by mistake.
IDrive also has Android and iOS apps available. Rather than serving as a management site for your backed-up desktop documents, these apps allow you to backup your mobile device.
Your files and devices are protected using standard 256-bit AES encryption while they're in transit and hosted in the cloud. At no additional cost, you may also generate a private encryption key to better secure your data.
iDrive is a popular cloud storage provider because of how much memory space it gives, even with its most basic premium plan, how convenient it is to use, and how it undercuts all of its big competitors on pricing.
Pros
Simple to use
Storage at a low cost
Feature-rich
Both backup and cloud storage is available
Cons
There isn't a monthly plan
Slow
There is no such thing as an unlimited backup
Pricing
The completely free plan only allows for 5GB of storage, but that should be plenty for you to get a feel for the platform.
Personal plans with unlimited devices and one user cost $59.62 per year ($79.50 on renewal) for 5TB and $74.62 per year ($99.50 on renewal) for 10TB.
Team plans start at $74.62 per year for five PCs, five users, and 5TB of storage, and contain a limited number of devices and users.
Business plans are much pricier, but they allow for an unlimited number of PCs, users, servers, and databases. Prices for 250GB of storage start at $74.62 per year and go up to $17,399.25 for two years at 50TB.
An Enterprise plan is available, which includes more advanced capabilities. For the price, you'll need to contact the sales department. You may still test out its features with the 30-day free trial it offers.
All plans are compatible with Mac, Windows, Linux, iOS, and Android, as well as other desktop and mobile operating systems.
If necessary, you can set up continuous data backup, and you can even make a copy of external hard disks and network-attached storage systems.
Typically, internet services are inexpensive for the first year, but after you're hooked, they raise the cost. pCloud, on the other hand, allows you to avoid this by providing a lifetime subscription.
If you prefer to pay monthly or annually, pCloud's costs are also very reasonable. There's also a free plan with 10GB of storage available.
pCloud, despite its inexpensive prices, provides a fantastic service that allows you to organize your documents in real-time across all of your devices via a browser extension or a mobile app. Single file sizes are unlimited, and backups of deleted and edited files are kept for up to 30 days.
Additionally, there are some excellent media management tools available that you may use to resize and compress files within your account, allowing you to lower those heavy file sizes even further.
pCloud just released pCloud Backup, which allows you to back up any folder or anything from your computer to your pCloud account automatically.
TLS/SSL security with 256-bit AES encryption is also used to safeguard all files. It's also worth noting that pCloud is situated in Switzerland, a country known for its strict privacy rules.
For mobile administration, there are robust Android and iOS apps available, as well as tools to help you set up automated social media uploads if you need them.
There are browser addons for Chrome, Opera, and Firefox, as well as support for iOS, Android, Windows, Mac, and Linux operating systems.
One thing to keep in mind using pCloud is that your subscription is limited to 500 GB of download bandwidth each month. If you're using pCloud storage to allow people to download files, you'll probably hit this limit regularly, which will cause problems.
Pros
All files are encrypted with 256-bit AES
Allows you to pay once and have access to your storage for the rest of your life
Levels of encryption to choose from
It works with a wide range of operating systems and devices
Inventive virtual drive
10 GB of extra space
Cons
There is no document integration
Encryption with zero knowledge costs money
You will not get the option of phone support or live chat
Pricing
Since there are so many alternatives, the pricing structure might be complex, and the website doesn't make things as plain as they could be.
You may purchase a lifetime subscription within the individual plans, which is a good cost-saving option that not many other suppliers allow. A one-time payment of $175 will purchase you 500GB of storage, or $350 will get you 2TB.
Conversely, you can pay 500GB for $47.88 per year or $4.99 per month, or 2TB for $95.88 per year or $9.99 per month.
With the family plan, you pay a one-time $500 fee for 2TB of storage that may be shared among up to five people.
Despite the inclusion of several premium features, I'm not convinced that the large price difference between this and the similar individual plan is justified.
With the business plans, you pay $9.99/user per month or $7.99/month if you commit for a year, and you receive 1TB of storage per user for an unlimited number of users. To get this setup, you'll need to contact sales.
Do you require cloud storage services that are GDPA, HIPAA, or PIPEDA compliant? Pick Sync. End-to-end encryption, password security, expiry dates, and flexible access restrictions at the user, file, device, and group level make it extremely secure.
Sync differs from the other options on this list in a few ways. It's much simpler and, at first glance, it may appear dated. The corporation, on the other hand, places a strong emphasis on security, making it ideal for legal, healthcare, and accounting firms.
You'll need to download the Sync installer whenever you sign up. After you run it, your device will have a new Sync folder.
More capabilities and functionality are available in Sync's desktop, browser, and mobile apps. Although these apps have a focus on convenience and security, the desktop or web app is where you'll find the majority of your user and file management functions.
You can quickly upload files using the desktop and browser apps, and you can select which employees and devices on your team have access to them.
As a result, the desktop or web application gives you more control over your data than the Sync folder on your PC. Sync's end-to-end encryption ensures that your files are safe no matter how you upload them.
Furthermore, TLS/SSL tunnels safeguard files as they travel from your device to the cloud as well as other users.
Sync also takes a no-knowledge policy for everyone who utilizes their services, meaning the organization will not have access to your files or data.
Another feature that distinguishes Sync from the competition is that it does not enable third-party integrations. It's great for security, but it means you can't connect it to the business tools you use daily.
Pros
Supports two-factor authentication
Version monitoring and restoration are unlimited
Compliant with GDPR, HIPPA, and PIPEDA
AES-256, RSA-2048, and TLS are used to encrypt data from beginning to end
Cloud storage is safe and secure
Cons
There is no integration with third-party software
Collaboration features are lacking
There are no monthly pricing plans available
Options for sync folders are limited
Slower than some competitors
There is no desktop client for Linux
Pricing
Sync has a variety of pricing options, allowing them to serve everyone from individuals looking for free cloud storage to major corporations. Free, Solo Basic (for $8/month), and Solo Professional (for $20/month) are the three options.
i. Individual plans
The Free plan includes 5 GB of data transfer per month, 5 GB of storage, 30-day file history, and recovery, and many of the paid plan's features.
If you choose the Solo Basic plan, it will cost you $96 each year. This includes unlimited data transfer, 2 TB of storage, 180-day file history, and recovery, as well as improved privacy and data security features.
The Solo Professional plan costs $240 per year and includes several features. Unlimited data transfer, 6 TB of storage, 365-day file history, and recovery, and unique branding, as well as all of the Solo Basic plan's features.
ii. Team plans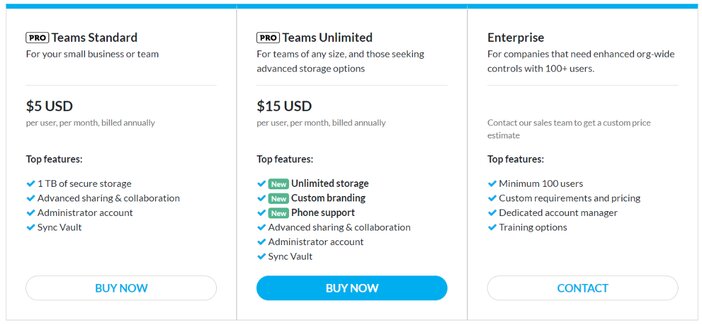 Teams Standard, Teams Unlimited, and Enterprise are the team plans available. Each of these plans can accommodate two or more users. HIPAA, GDPR, and PIPEDA compliance are among the plans available in this category.
The Teams Standard costs $5 per user each month but is only billed once a year. It includes 1 TB of storage, unlimited monthly shared data transfers, and file history and recovery for 180 days. A slew of business-oriented functions is also included.
Teams Unlimited costs $15 per user every month, but it's invoiced annually. It has the same capabilities as Teams Standard, plus unique branding, 365-day file history and recovery, unlimited shared storage, and VIP rapid response.
There isn't a fixed enterprise package, however, Sync would prefer that you contact them to discuss your company's requirements.
See Also: Best VPN Services With High Speed and Maximum Security
FAQs
1. What happens if your account is deleted?
You should know that if you delete your cloud storage provider account, every file you've already uploaded will be completely deleted. Some services make it simple to delete your account, while others take more time and energy.
While some services will notify you that everything has been removed, others may not, leaving your files to linger long after your account has been terminated.
See Also: How To delete Facebook Group: All You Need To Know
2. Which features should you seek in a cloud storage service?
Since all cloud storage services are not created equal, carefully choose one that has all of the features you require. Here's a rundown of some important ones to consider.
Access to several devices: Most cloud storage options work on both your smartphone and tablet, as well as your laptop or desktop computer.
Editing: Interestingly, some cloud storage providers do not allow you to edit documents within the service; instead, you must access the file outside of the service and then it syncs automatically.
Sharing files: Most services allow you to share your files with others; for example, you could want to share some vacation photos with your family.
Synchronization in real-time: This implies that any modifications you make to your files will be automatically modified in the cloud storage platform.
Rollback: This allows you to revert to a previous version of a document, which is useful if anything goes wrong.
Playback of movies and music: Since videos and music require a lot of storage capacity, many individuals use cloud storage services to free up space for other things.
See Also: 9 Best Video Hosting Sites To Store Large Media Files
Conclusion
That's the end of this list of the best cloud storage services that are both private and secure. Recognize that cloud storage service providers alter their membership tiers regularly, including new storage limits and costs.
As a result, it's worth checking in with cloud storage providers frequently to see if they're offering a better deal than you're getting now, or if a new storage space tier could better suit your needs.
Numerous cloud storage solutions offer not just free internet storage but also a variety of additional services.
There are several cloud storage options on the market that not only offer the best user experience and incredible features but also allow customers to take advantage of free services after signing up.
For most users, Sync and pCloud are excellent privacy-focused solutions, but if you're more interested in document sharing, bigger competitors like OneDrive or Google Drive are the best.
While iDrive is the way to go if you need online backup alternatives in addition to cloud storage.
Tosinajy teaches you how to make money online, the software you'll need, and how to deal with common Internet issues.
Thanks for reading.