If you want to scale your digital presence, you may probably be on the lookout for the best cloud hosting platforms.
When it comes to hosting, you have a lot of choices when deciding on the type of package to buy. Shared hosting, Virtual Private Servers (VPSs), dedicated hosting, and even cloud hosting are all available. Many individuals, though, are unsure what that last choice is or how it works.
There's been a lot of buzz about "the cloud" in recent times, and there's a reason why so many of your favorite businesses and websites now use it. Actually, cloud hosting provides a high level of dependability other types of hosting frequently lack.
In this post, I'll discuss what cloud hosting is and the best cloud hosting platforms. Then I'll go over the different types of cloud hosting plans and how they differ.
Let's get started.
Quick Review
Do you want to know the answer right away? The following are the best cloud hosting platforms currently available:
See Also: 5 Best Managed WordPress Hosting Providers With Bespoke Services
Best Cloud Hosting Platforms
Uzair Gadit, Pere Hospital, and Aaqib Gadit launched Cloudways in 2009, with its headquarter in Malta, a tiny European island.
Cloudways is a platform integrator that allows consumers to use their solutions across a range of Cloud platforms, rather than merely being a web hosting service provider.
In addition, users can choose from a variety of Cloud Platforms, ranging from low-cost Digital Ocean servers to the high-cost Amazon Web Services (AWS) servers.
This suggests that the actual outcome is heavily dependent on the server platform you pick to host your site on when you sign up, instead of being Cloudways' responsibility.
Cloudways is obviously charging you, and a portion of that payment goes into their maintenance services as well as other things like service migrations and user interfaces.
Cloudways' goal is to offer managed cloud hosting services that enable customers to concentrate on their companies while Cloudways handles their hosting needs.
In conclusion, when you talk about cloud-based managed WordPress hosting, this hosting company is one of the few that strikes a good balance between cost-effectiveness and performance.
See Also: Cloudways Review – Is This The Best Budget Cloud Hosting?
Pros
WordPress Cache Plugin is available for free
Flexible payment schedule
Within a group, collaboration
Access to a staging environment
The first website migration is completely free.
Your IP addresses are whitelisted
You'll get CloudwaysBot for free
There are over 70 data centers in the United States alone
You'll get self-healing servers are that have the ability to repair themselves
When you sign up, you will receive a free SSL certificate
Excellent safety
Solid-state SSDs are used for hosting
There is a free WordPress migration plugin
Cons
This is not a realistic solution for small sites
Charges for storing backups off-site
Email hosting is not available
CDN service comes at a fee
Neither cPanel nor Plesk is accessible at this time
Pricing
The cost of a Cloudways hosting server is determined by the hosting server you choose. With Cloudways, you have five different servers from which you can make your choice, each with its own set of price options.
DigitaOcean Data Centers
Linode Data Centers
Vultr Data Centers
Amazon Web Services (AWS) Data Centers
Google Cloud Data Centers
You have access to over 70 data centers through all of the data centers listed above. I'll look at Cloudways' hosting options and how much each data server costs in this pricing analysis.
1. DigitalOcean Data Centers
This hosting plan costs $10 per month or $0.0139 per hour to get started.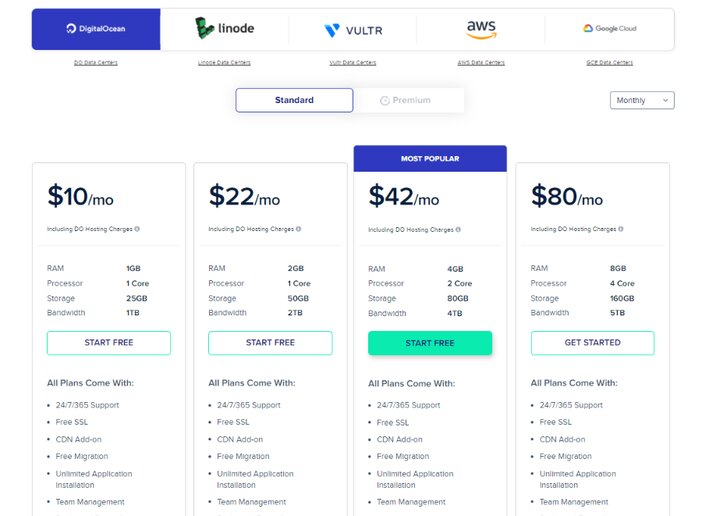 2. Linode Data Centers
This hosting bundle costs $12 per month or $0.0167 per hour to get started.
3. Vultr Data Centers
This hosting solution is available for $11 per month or $0.0153 per hour.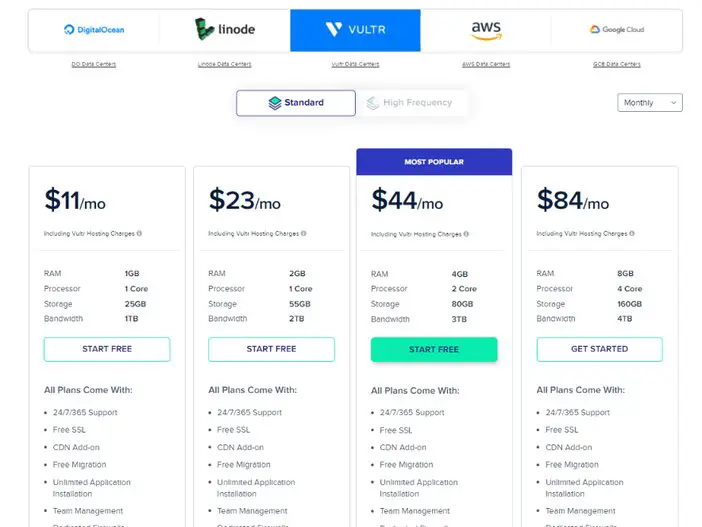 4. Amazon Web Services (AWS) Data Centers
This hosting solution is available for $36.51/month or $0.0507/hour.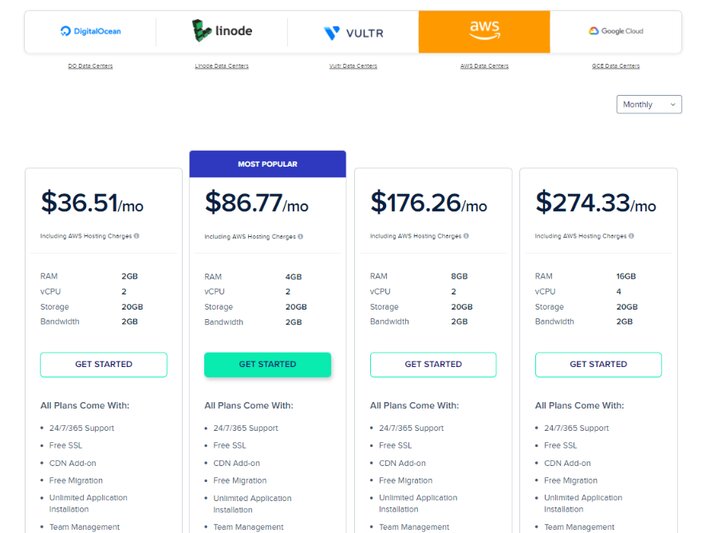 5. Google Cloud Data Centers
This hosting solution is available for $33.18 per month or $0.0461 per hour.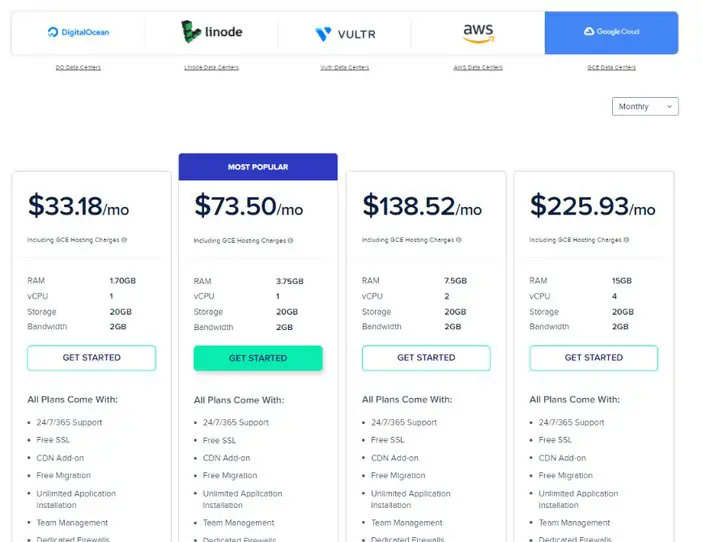 Please keep in mind that each of the pricing plans shown above includes 1GB of RAM, a 1 Core processor, 25GB of storage space, and 1TB of bandwidth as standard.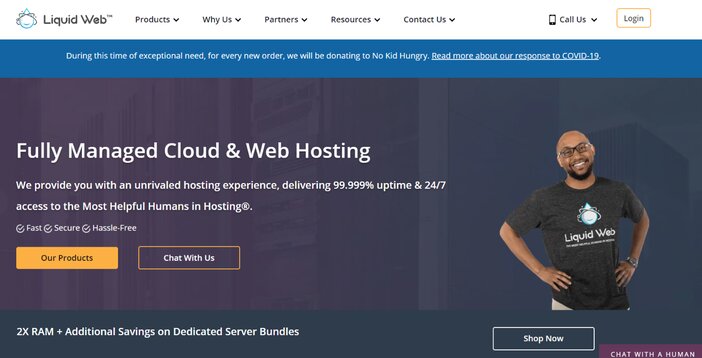 Liquid Web was established in 1998 and worked solely on the shared hosting market for a long period. The company's fortunes changed dramatically in 2009 when it became one of the first to obtain and build its own line of cloud servers. Since then, the company has had no regrets.
With over 45,000 users in 150 countries, Liquid Web has developed a strong position in the corporate cloud hosting market.
Below are some more numbers to think about. In ten data centers, 500+ hosting professionals keep an eye on 500,000+ websites. This host appeared to be doing something correctly.
In addition, each subscription includes a CDN, DDoS protection, an integrated firewall, and advanced security features, as well as access to their five-star web servers.
The servers, in particular, are quite attractive. You can get RAM ranging from 2 to 8 GB and SSD storage ranging from 40 to 200 GB.
Furthermore, the monthly bandwidth limit is set at 10TB, which should be enough for even the most resource-intensive businesses.
2007 marked a turning point in the history of the Liquid Web. Their support team was dubbed "Heroic Support," and the company didn't hesitate to refer to them as the "Most Helpful Humans in Web Hosting."
Why are they creating such a big deal out of it? As part of their regular marketing tactics, several hosting companies like to promote themselves as "the best" in this or that.
But here's the thing about Liquid Web, and it is the fact that they live up to their billing. Without a doubt, they have one of the friendliest support assistants I've ever met.
See Also: Liquid Web Review – Best Managed Web Hosting for WordPress
Pros
Cloudflare CDN (Cloudflare Content Delivery Network) is provided for you for absolutely free
Your hosting account will remain under strict supervision
You'll get total protection against DDoS assaults
It can be used with cPanel
Built-in firewall
Acronis cyber backups are provided
SSDs that boost performance and give you more options in the cloud is provided with every hosting plan
They have a guarantee of 100% uptime
Heroic Customer Service is available via phone, chat, and email 24/7
Cons
Excessively expensive
There isn't any kind of money-back guarantee
There is no such thing as a free domain available
Email hosting is not available
Pricing
The following are the three pricing tiers offered by Liquid Web:
1. Managed Cloud Servers
The cloud hosting bundle from Liquid Web starts at $265 per month.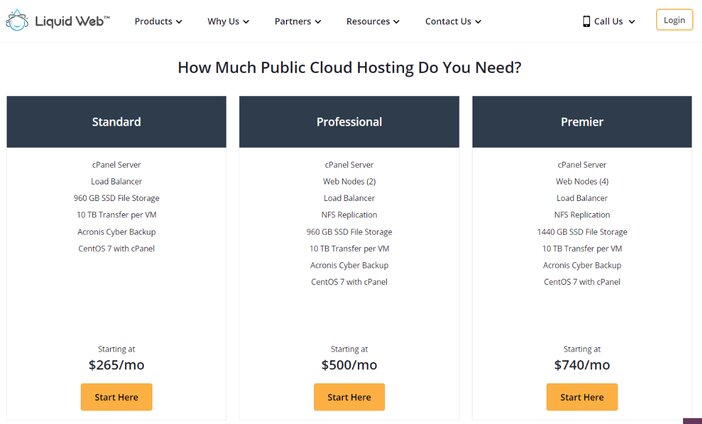 2. Private Cloud Servers
The cloud hosting bundle from Liquid Web starts at $510 per month.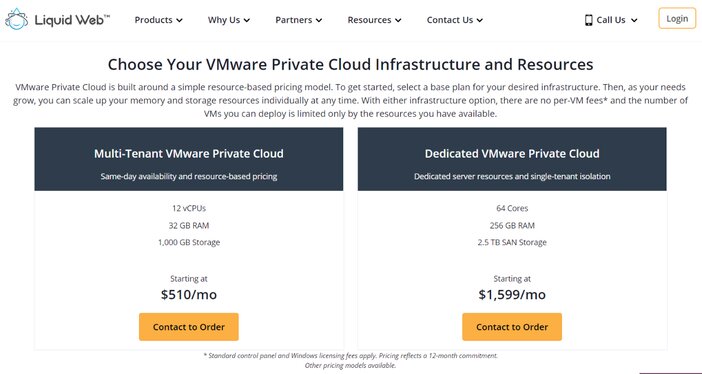 3. Cloud Dedicated Servers
This pricing structure has two price plans to choose from.
a. Standard Cloud Dedicated Options
This dedicated cloud hosting service starts at $149 per month.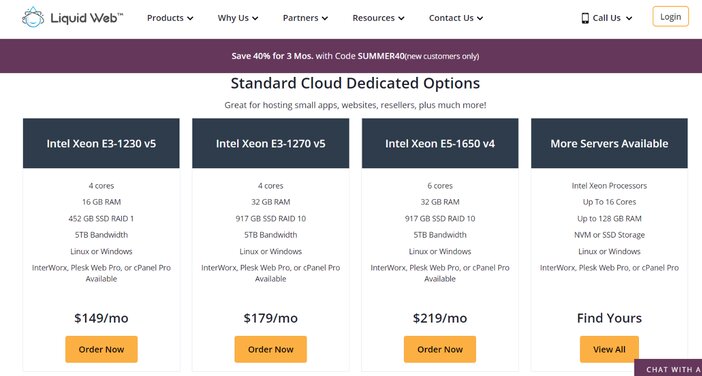 b. High Performance Cloud Dedicated Options
The monthly cost of dedicated cloud hosting begins at $429.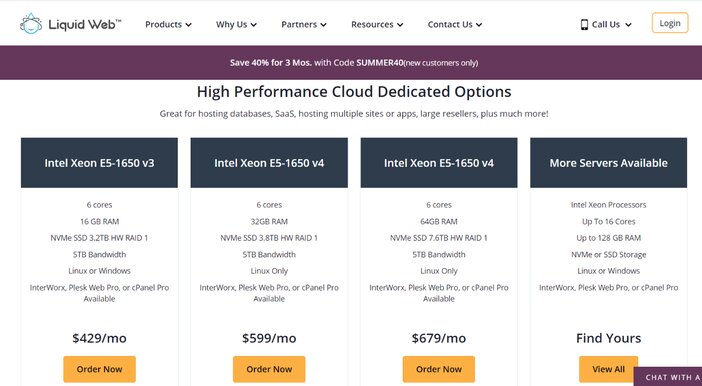 The tagline of DigitalOcean is "simplicity," which means you can spend more time running your business and less time stressing about your web host's performance.
Individuals and businesses would benefit from this cloud hosting provider's user-friendly design and high functionality spread over numerous hosting packages.
DigitalOcean takes client security very seriously, and its technical staff is only permitted access to most key systems. They create automated backups of your site, which are kept safely on DigitalOcean's own servers.
In addition, this hosting service offers a fantastic, simple-to-use control panel, quick download and uptimes, and scalable pricing that is dependent on usage and has a maximum cost ceiling, so you won't be overcharged for data consumed if you reach your limit.
Furthermore, DigitalOcean offers plans with RAM ranging from 512 MB to 8 GB, as well as disk space options ranging from 20 to 80 GB. In addition to their 24/7 customer assistance, this cloud service offers a useful forum portal where DigitalOcean customers can discuss issues and offer advice on a variety of topics.
Pros
Superior assistance
It's easy to use
The cost is affordable
There are daily backups available with DigitalOcean
Adaptable API
They have thirteen data centers in all
SLA of 99.99 percent uptime guarantee
Free trial for 60 days
Storage is available on SSDs
There are a variety of hosting plans to choose from
SSL certificate provided through Let's Encrypt
Cons
There is no Windows server on the network
The pricing structure is perplexing
It is not recommended for newbies
Their cPanel is a sophisticated framework
No managed servers are available
There is no offer of a free domain
Pricing
You will surely find it difficult to comprehend DigitalOcean's pricing structure. However, DigitalOcean's pricing is divided into three tiers in any circumstance.
1. Basic Droplets
2. General Purpose Droplets
This price plan has a starting price of $60.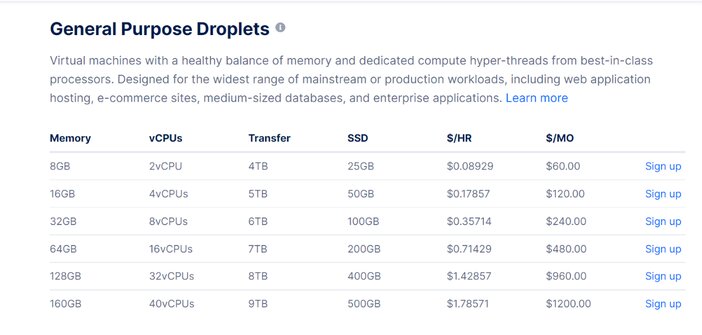 3. CPU-Optimized Droplets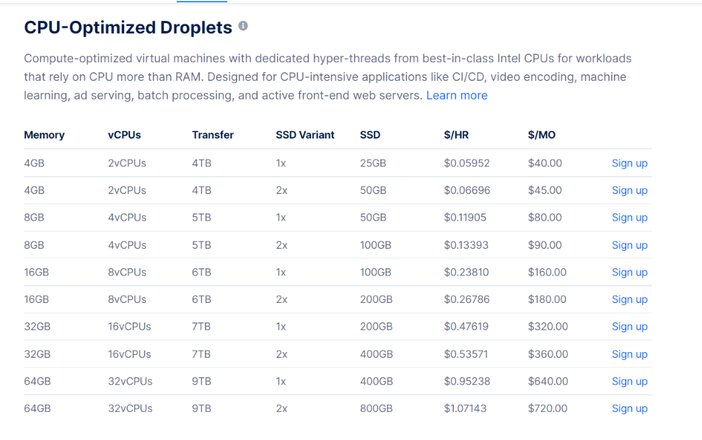 4. Memory-Optimized Droplets
The starting price for this package is $80.
5. Storage-Optimized Droplets
This price plan has a starting price of $125.

Hostinger's cloud platform is a flexible and reliable system that enables you to concentrate solely on your business.
This cloud service is powerful and fully managed, with account seclusion, high redundancy, and efficiency provided by cutting-edge technology.
While the Hostinger system administrators handle upgrades and maintenance, you can focus on optimizing and improving your website.
In addition, Hostinger Cloud is ideal for business tasks. You are not only purchasing gear but also a solution; the Hostinger support team will take care of all technical details, allowing you to rest and enjoy your stay with them.
You can manage up to 300 websites and have unlimited bandwidth. Furthermore, you get a dedicated IP address, free domain name, free SSL, and Cloudflare integration to build up a secure and quick operation.
The lowest of the three subscriptions has 3 GB of RAM, while the most expensive has quadruple of that amount.
For its cloud customers, Hostinger maintains a dedicated support team. The cloud support team monitors and administers the machines around the clock.
It's now a little harder to acquire access to their help. Don't get me wrong: they are courteous and answer swiftly. They only react to emails, which is a concern.
Customer service does not have a live chat option or a phone number. As I previously indicated, the assistance you receive is satisfactory, but it is significantly slower than chat or phone owing to the email route.
Pros
Hostinger provides solid-state drive (SSD) storage
SSL Certificates at no cost
All plans come with a fully managed WordPress
They will give you Google Ads credit for free
A free domain name is available
Their databases are unlimited
You'll get a CDN at no cost
There are daily backups available with Hostinger
The quantity of bandwidth accessible is limitless
They have a team of dedicated personnel
Website migration is completely free
You have your own IP address
There are several data centers
Money-back guarantee for 30 days
Cons
There isn't any live help available
There is no Windows server
Email hosting is not available
There is no free trial available
The expense of renewal is expensive.
Pricing
There are three main levels of Hostinger clouds. Each of the three cloud options is extremely scalable.
Each cycle adds more RAM, SSD space, CPU cores, active processes, and inodes. You'll get some nice bonuses regardless of which plan you choose, such as a free SSL certificate, a dedicated IP address, and daily backups.
Cloud Startup – This costs $9.99 each month
For Cloud Professional – This costs $18.99 each month
Cloud Global – This was $69.99 per month

DreamHost has a cloud server hosting plan that extends over and above the other options. By deploying an unmanaged cloud server, users must become familiar with the webserver environment to operate cloud hosting services.
DreamHost's cloud hosting services are split into two categories: cloud computing and cloud object storage.
DreamCompute is a cloud services platform that makes creating and scaling your own cloud services a breeze. It can be run on the latest SSD disk space and next-generation CPUs in a serverless environment.
DreamHost is built on the open-source OpenStack platform, so you're not locked into proprietary software. Therefore, you can utilize it as a growth system until you're ready to run your own OpenStack.
DreamObjects is a secure cloud storage hosting storage solution from Dreamhost that may be used to supplement or replace AWS E3 solutions as a web development platform. Dream Objects also allows for backup storage.
Furthermore, DreamHost is ideal for cloud service discovery, experimentation, and growth at a reasonable cost, even though cloud services and storage may appear confusing to beginning users.
See Also: Shared Hosting vs Managed WordPress Hosting – What Is The Difference?
Pros
Exceptionally powerful hardware
Complete control and root privileges
Open source-based platform
Solid-state drives are used for storage (SSD)
Cloud services are available
Email and live chat help are available
Computing and storage options
30 days of free trial
Cons
Email hosting is not available
There are no free domains available
Pricing
The Dreamhost cloud service is divided into two pricing categories:
1. Dreamhost Cloud Computing
The monthly cost of this plan starts at $4.50.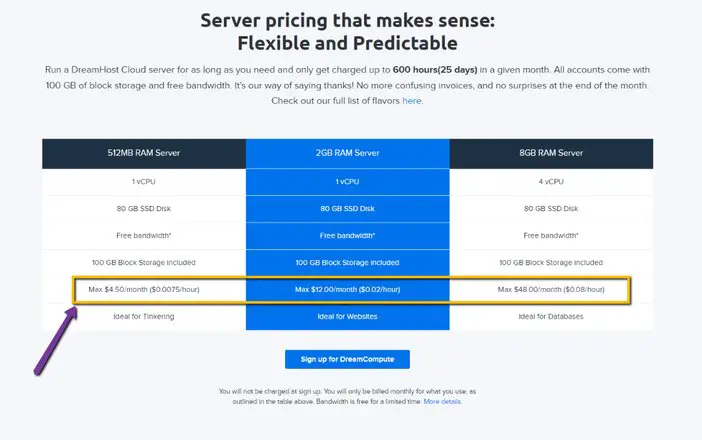 2. Dreamhost Cloud Storage Hosting
This plan's price starts at $0.95 per month.

Hostgator Cloud offers a very dynamic and user-friendly website development tool on their enormous Virtual Private Server (VPS) system.
Hostgator's Cloud is a premium cloud hosting provider with 24/7 customer service and a range of price packages to meet the needs of a casual user to a professional corporation.
In addition, Hostgator Cloud provides a variety of high-quality and affordable WordPress hosting options with the finest uptimes available, as well as serving as an excellent beginner's hosting service.
These WordPress solutions are appropriate for both personal users and businesses with several websites that demand high broadband speeds.
In addition to its cloud server and WordPress hosting services, Hostgator offers low-cost web hosting and reseller web hosting. Hostgator Cloud is capable of meeting all of your needs.
Furthermore, Hostgator Cloud's security features include custom firewalls, flood prevention, and DDoS protection.
Aside from that, the company makes it clear that it is your responsibility to keep track of your passwords and ensure that they are strong, to regularly back up your website, and to ensure that your site has secure connections.
Pros
When you sign up, you will receive a free SSL certificate
Money-back guarantee for 45 days
A free domain is included
cPanel is available for use
The traffic on the server is unmetered
A $200 Google Ads credit is provided
Cons
The lower-level solution is constrained
The expense of renewal is substantial
Pricing
The cloud hosting plan from HostGator starts at $4.95 per month and adds up to $9.95 per month.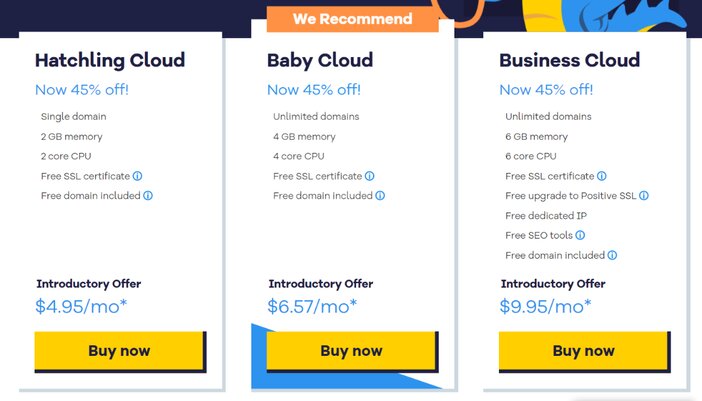 HostGator Cloud Hosting Plans provide storage capacities ranging from 25 GB to 3 TB, and the company offers a 45-day money-back guarantee if you are dissatisfied with their service.
What is cloud hosting?
Your website is hosted on a single server with a standard hosting plan. That is, all of the company's information and resources are hosted on and provided from a single computer.
Other users may split that server with you in some circumstances, or you may need to purchase your own virtual setup if you require more performance.
Cloud hosting, on the other hand, is made up of a large number of connected physical hosts that are linked together by shared networking and storage.
Other cloud infrastructures, such as managed and controlled backup services or a disaster response solution, are connected to the network layer. You have the alternative of a shared tenancy with cloud hosting; shared hosting is when the infrastructure is shared by you and other clients.
In the event of a host failure, cloud hosting delivers high availability and develops an environment capable of failing over your virtual private server(s) to another host.
Cloud hosting provides enormous scalability, allowing you to utilize an almost infinite quantity of server resources, as well as massive amounts of disk space, memory, and computation. On-demand access to the resources you require is always available.
Hosting on the cloud makes use of a hierarchically secure service that is handled entirely by the provider. You won't have to worry about acquiring gear, software updates, or keeping the data center lights running.
In a nutshell, the service provider will handle everything for you. Shared hosting with a reputable provider will provide you with a cost-effective platform capable of managing the majority of day-to-day demands.
You can see why cloud hosting is so popular when you consider the opportunity to add on extra services like backups, snapshots, one-click applications, managed networking, and managed storage.
2. What are the categories of cloud hosting?
Private and public cloud hosting are two types of cloud hosting. Each of these choices has its own set. of pros and cons.
i. Private Cloud Hosting
You're employing a private cloud hosting service if you have an on-site network of servers that you utilize to host your own website.
A private cloud, on the other hand, is made up of many dedicated servers. That means you have complete control over the cloud's hardware and can tweak it in any way you choose. Of course, as you can think, this form of hosting is usually quite expensive.
ii. Public Cloud Hosting
In most circumstances, you'll deal with a cloud hosting company that also serves other clients on the same servers as you. You'll still have access to a lot of resources, and your information should remain safe.
However, because your servers are managed by someone else, you don't have complete control over its configuration with this solution.
Despite the lack of control, public cloud hosting provides adequate performance for the majority of websites.
Frequently Asked Questions
What are the benefits of cloud hosting?
The following are some of the most significant benefits of cloud hosting. This will come in handy if you're still on the fence about cloud-based hosting.
Backup and disaster recovery
Immediacy
Cost-effectiveness
Customization
Speed and efficiency
Security
Scalability
Availability is excellent
What are some alternatives to cloud hosting?
Cloud hosting is most suitable for individuals with high-traffic websites or agencies with multiple websites.
In other words, I recommend shared hosting for newbies or anyone who has one or two websites. VPS and dedicated hosting are also good alternatives.
Conclusion
While some options are better than others, there is no such thing as a universal solution when it comes to web hosting. Your hosting selection should be based on your objectives. Important factors such as customer service, affordability, flexibility, and so on will help you choose the right platform.
The cloud hosting plans offered by HostGator are fairly priced. Hostinger offers a 30-day money-back guarantee on its web hosting services.
Furthermore, Liquid Web offers the best fully managed web hosting solutions that are suitable to those who are non-techies. Whereas, Cloudways is well-known for offering affordable WordPress hosting.
Whichever provider you finally decide to go with, just remember that you should first consider what you want and use the recommendations on this list only as a guide.
Tosinajy teaches you how to make money online, the software you'll need, and guides on how to deal with common issues you may encounter on the Internet.
Thanks for reading.
Ready to Get Started?
Click on the button below to get started with Cloudways.