Individuals and small businesses can easily create a website without having to hire a developer using any of the best website builders in this post. Choosing the best website builder, on the other hand, might be difficult for beginners.
A solid online presence is one of the most significant expenses you can make. However, not all business owners can afford to engage a skilled web designer thousands of dollars.
This is where website building tools come in handy. Even if you have no coding experience, website building systems can help you develop a professional-looking website.
However, with several options available, making the perfect decision can be difficult. That's why I've put together this list of the best website builders available today.
Quick Reviews
See Also: Best Blogging Platforms For Beginner & Experienced Bloggers [Free & Paid]
Best Website Builders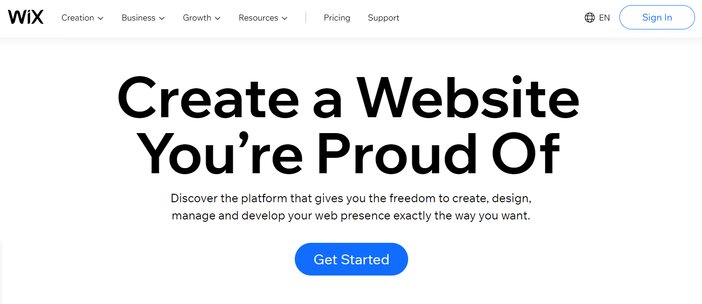 Wix is without a doubt the most popular website builder, with an astounding 170 million users. It was originally designed as a Flash-based website. They are now the most adaptable website builder available.
Their creation speed is incredible, making them the greatest website builder available. Almost every month, Wix announces a significant new feature.
They also have their own set of business tools dubbed Ascend by Wix, which includes, amid other things, email marketing, CRM, a video maker, and an invoice generator.
Absolute beginners may now use Wix ADI's guided website construction to help to quickly create a website. Powerful tools like Wix Velo and Wix Editor X can provide you more freedom in designing fully responsive, interaction-driven websites for individuals with more experience.
Since your site is hosted on Wix servers, there are no hosting expenses with Wix. This is a fantastic platform for creating and maintaining a blog, website, or online store. It stands apart from the competition because of its blank canvas editor.
You'll be offered the option of using WixADI or WixEditor when you first start using Wix. WixADI creates your website based on your answers to a few brief questions, which is wonderful if you're undecided but not so great if you want complete control.
While WixEditor is a drag-and-drop editor that takes longer but lets you create a website that is tailored to your needs.
I suggest it to anyone who wants to create a professional-looking website with greater design options than some other site builders' offer.
Pros
Since Wix website builder is a fully hosted platform, there won't be any need to pay for hosting
For the design of your website, you have recourse to hundreds of templates from which to choose
Wix has also developed Wix ADI, an artificial design intelligence that can create a stunning website for you
They also include a plethora of free and paid tools that you can use to customize your website
A free SSL certificate is included with all Wix plans
Wix offers a free plan with storage and bandwidth limitations. This plan, although, can be used to try out their drag-and-drop website builder
Cons
Wix branded advertising will appear on your website if you choose the Free or Connect Domain subscriptions
You will find it difficult to migrate your website out from Wix if you ever want to do so
Their $4.50 per month Connect Domain package only allows you to link a custom domain name, so you'll have to purchase one individually
Pricing
Wix provides a limited free edition that includes a Wix-branded subdomain. A domain can be connected for $4.50 per month.
Their combo package is $8.50/month and includes a free domain name. The Unlimited and VIP plans are priced at $12.50/month and $24.50/month, respectively.
For online stores, there is also an ecommerce package that starts at $17/month and goes up to $35/month.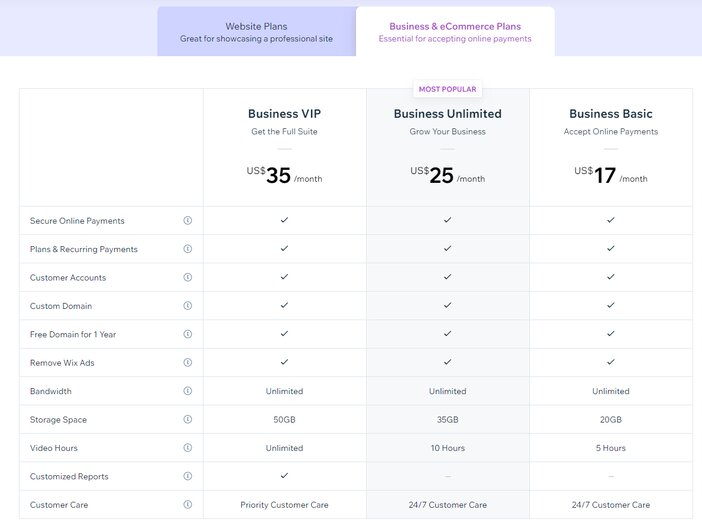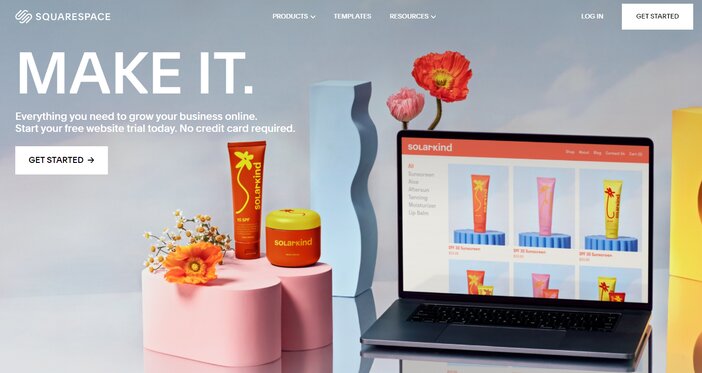 This website builder is ideal for musicians, artists, photographers, and designers who want to create their websites.
Why? This is because Squarespace's designs and overall design ethos are ideal for visually-driven businesses looking to showcase their work uniquely and excitingly.
Furthermore, getting started is simple. All you have to do now is pick a template, tweak it with the drag-and-drop builder, and publish it.
Additionally, the drag-and-drop editor is arguably one of the most user-friendly. So, aside from adding your photos and text before launching, you won't need to do much tweaking.
You can easily add a gorgeous e-commerce store, use sophisticated statistics to learn more about your clients, and combine your website with numerous marketing channels.
What's more, guess what? Convenience comes at a cost. It's quite high in the scenario of Squarespace. There is no free trial or plan; to get started, you must pay a least $12 a month.
The one saving grace is that the pricing plan includes domain registration, hosting, builder access, and all related services and design tools.
You may, however, be charged individually if you use third-party add-ons. For example, because Squarespace lacks a native payment processing mechanism, you'd have to pay Stripe or PayPal fees on top of that.
See Also: WordPress vs Squarespace: Battle For The Best Website Builder
Pros
Squarespace offers innovative infrastructures for hosting your website
There are a plethora of website templates to choose from to get you started
You may even utilize different templates for the same website at the same time with Squarespace
On Squarespace, publishing content to your website is a breeze. Simply point to a location on your website and begin typing
Squarespace also offers an ecommerce option that enables you to create an online store on your website
Right out of the box, you'll have a mobile-friendly website
Cons
Apple Pay, Stripe, and PayPal are the only payment options available on their ecommerce plans. There is no room to add any more payment gateways
Squarespace has a restricted number of third-party integrations, which can be a hindrance to expanding your business
In comparison to other website builders, Squarespace can have a steep learning curve for a total newbie
The page load time is very long
Pricing
Squarespace websites cost between $12/month and $18/month.
The Basic Commerce and Advanced Commerce subscriptions, on the other hand, are $26/month and $40/month, respectively, with an annual membership.
It allows you to sell memberships, has an infinite number of contributors, uses premium integrations, and designs your site with CSS and Javascript.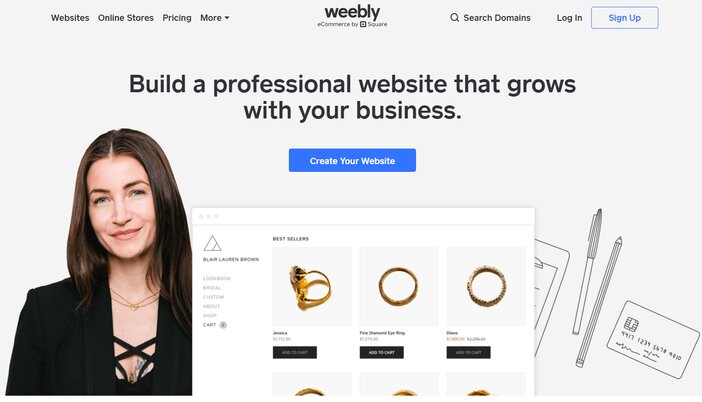 A drag-and-drop site builder like Weebly allows anyone to easily construct and personalize a website from the ground up. Website search, custom fonts, video backdrops, and an image editor are just a few of the tools available.
Weebly's robust collection of security protections will appeal to those concerned about the current growth of website hacking and malware.
Building a website from the ground up does not have to be difficult. If you don't have any coding or design knowledge, a drag-and-drop site editor is the way to go.
Every website receives a free SSL certificate, which I appreciated. Weebly also uses an effective DDoS mitigation technology to defend all hosted websites, ensuring that no hacker can bring your site down.
Apart from security, I found Weebly to be user-friendly and packed with key website features like custom fonts, native image editor, on-site search, and integrated analytics, to name a few.
You can add custom JavaScript or HTML/CSS code snippets to your website if you believe anything is lacking. Alternatively, you can look through the app store, which has a large number of connectors.
Customer service is critical when it comes to something as essential as your website. If you're having issues with your website and need help, you'll want to contact someone who can help you as soon as possible.
The majority of website builders provide customer service 24 hours a day, seven days a week. However, you'll need to be on a premium plan to get the most out of that support.
Weebly provides email and live chat assistance with all of its free options, but not every platform does.
Pros
You don't have to install or manage any software because Weebly is a fully hosted platform
It includes numerous website designs that you may use as a starting point for your own
Weebly also has built-in ecommerce capabilities. This enables you to quickly set up an online store and begin selling
Contact forms, photo galleries, sliders, and more features are included with every Weebly site
Cons
You won't be able to employ a developer or designer to add additional features or functionality to your website
Every purchase made through your ecommerce store is subject to a 3% transaction fee charged by Weebly
Weebly is also not a good option for multilingual websites
Finally, I found their customer service to be a little sluggish to respond, with responses that were not that useful
Pricing
Weebly offers a free plan as well as three paid subscription options. It's a cheap website builder, with even the most expensive plans costing less than $30/month.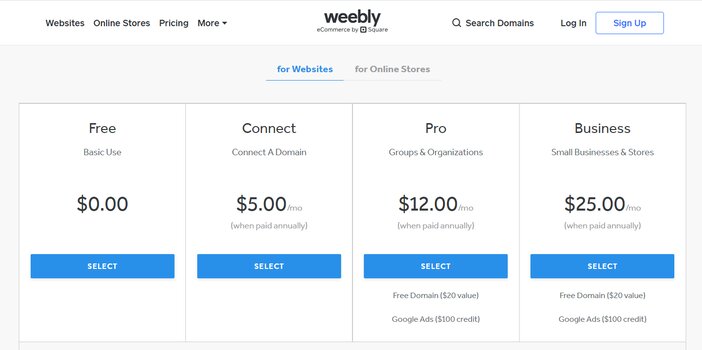 Their paid plans start at $5/month with an annual billing cycle. The pro plan costs $12/month, while the business plan costs $25/month.
Do you want to open an online store? With their ecommerce plans, Weebly has you covered.
The Pro plan is $12/month, whereas the Business and Business Plus programs are $25 and $38 per month respectively.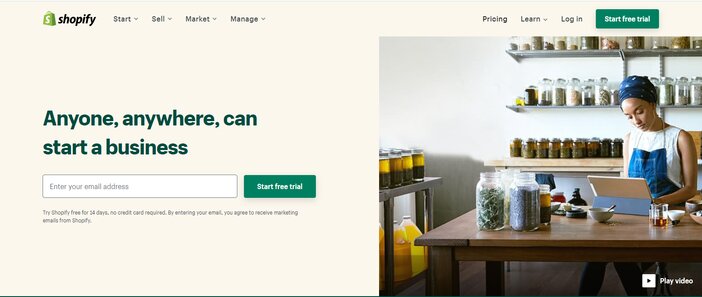 This is a well-known eCommerce website builder. You can create a beautiful web store in a matter of days with no code at all.
You can select a modern website template and then modify individual pages with a drag-and-drop builder, just like with other builders.
Whenever you need a new feature, there's a good chance you'll be able to discover it among the Shopify app store's zillions of alternatives.
Alternatively, because Shopify providers open APIs, you can hire a web developer to create a custom integration for you.
A Shopify ecommerce store is also simple to manage. The CRM system is simple to use, and you have a variety of store administration tools to help you with typical activities like product catalog management, inventory management, and shipping.
To run a blog, you also have a robust content management system. Overall, you have everything you need to manage a small-to-medium-sized eCommerce business.
You can't fully change URLs or edit robot.txt files while using the basic SEO tools. This might be annoying in a competitive environment.
If you require additional support, you may contact a Shopify specialist who can assist you in setting up your store and optimizing it for search engines. You'll also get award-winning support 24/7.
The fact that Shopify is so niche-specific is the one major drawback to using it as a website builder. It's only intended for use in the creation of ecommerce websites.
See Also: 15 Best Ecommerce Platforms – Start Your Online Store
Pros
It has a built-in payment system called Shopify Payments that allows you to accept credit cards
Shopify is a completely hosted, all-in-one solution, so you won't have to bother about installing updates, updating software, or backing up your data
There are hundreds of designs to select from, and no coding is required
Shopify's user interface is straightforward, especially when compared to other ecommerce website builders, which are frequently bulky and confusing
They also provide in-store POS, which enables you to sell products while accepting all major credit cards at your location
You can even link Shopify with WordPress, allowing you to use both of these fantastic tools simultaneously
Cons
If you ever want to migrate your website out from Shopify, it will be quite tough.
Shopify is a great platform, but it takes time to master for newcomers and non-techies
If you're just getting started, Shopify's cost may be a little more than some of the other website builders on this list
Pricing
Shopify offers a 14-day free trial with no credit card necessary if you want to give it a shot.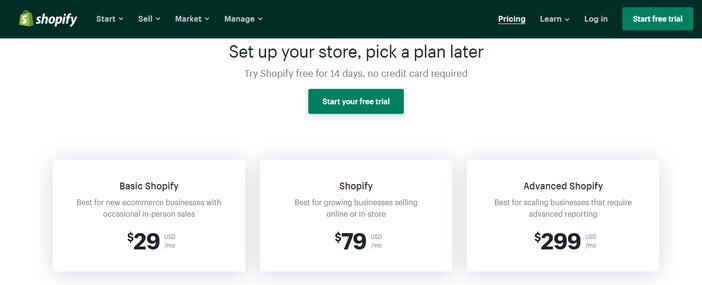 The basic Shopify plan will set you back $29/month. For $79/month, you can subscribe to Shopify, and for $299/month, you can upgrade to Advanced Shopify.
They also have a $9-per-month Shopify Lite subscription, which lets you place a buy button on any website.

This is the world's most extensively utilized content management system. It runs more than a third of the Internet.
With that in mind, WordPress comes in two flavors: an open-source version and an all-in-one site builder. I like the open-source version since it allows for greater customization.
It's not only very customizable but also extremely scalable. This is a content management system that can scale up or down to meet your needs. But be warned: unless you're comfortable with website development, it's not for the faint-hearted.
If you're just getting started, though, the all-in-one site builder is considerably easier to master. It includes everything you need to get started right away, including web hosting, a free domain for the first year, and access to dozens of free themes.
Jetpack's important features, like social sharing, basic SEO, and site analytics, are also built-in to WordPress.com. Jetpack is a popular all-in-one plugin that includes everything from SEO and analytics to security and marketing.
You can also use the free forever plan to try it out for as long as you want. You won't be able to use your domain, and you'll be forced to use WordPress ads, but it's a great way to try out the platform before investing.
With WordPress, the Gutenberg editor makes it simple to create new blog posts, plan them to go live whenever you choose, and track their performance with simple statistics.
See Also: 5 Best Managed WordPress Hosting Providers With Bespoke Services
Pros
Design and structure that is responsive
It comes with lots of SEO enabled functionalities
Users can choose from hundreds of free and paid WordPress themes with any package
It does include excellent editing capabilities that bloggers like
Cons
Unless you subscribe to their business plan, you won't be able to use custom plugins or themes
They have no eCommerce capabilities or support for third-party ad networks
Pricing
The basic free plan has a lot of limitations. Their Personal plan, which includes a personalized domain, starts at $4/month, payable annually.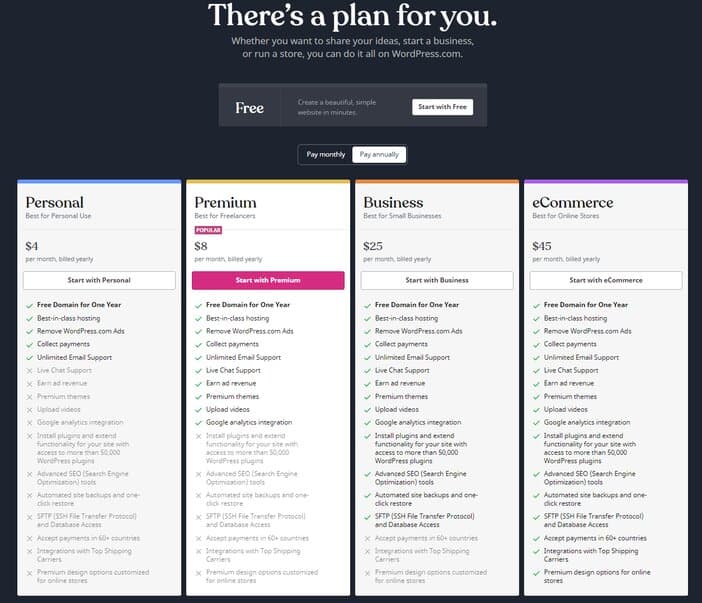 The premium subscription, which costs $8/month and payable yearly, enables you to monetize your site and customize it in advanced ways.
While the business plan is $25/month, billed annually, and the eCommerce plan is $45/month, invoiced annually, and includes Ecommerce and custom plugins.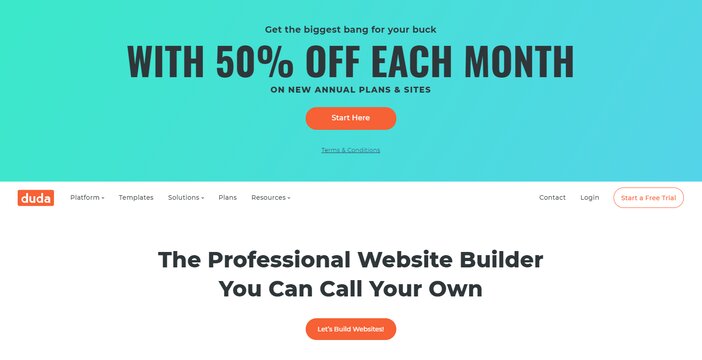 Duda is a website builder that has been around since 2008 and is unique in that it supports multiple languages. It also includes superb SEO features, attractive themes, and is speed-optimized.
That doesn't just mean 'they have a few mobile-friendly templates,' as some of their competitors do. Duda was built from the ground up to assist the creation of high-quality responsive websites.
Duda allows you to create a website without writing a single line of code. Create a gorgeous, content-driven site by adding your copy. Duda is a drag-and-drop website builder that allows you to quickly and easily create your website.
It's a wonderful choice for constructing company sites and blogs, thanks to its numerous stunning themes, mobile responsive design, and simple choices.
To begin, there is a very substantial knowledge base, as well as the previously mentioned educational materials, for when you want to figure things out on your own.
However, there are instances when you must converse with another human being against your better judgment.
You have the option of contacting Duda by phone, email, or live chat. You can use the chatbox to initiate all support team contacts and access all support channels.
Pros
All plans include unlimited storage and monthly data transfers
Strong tools for creating sites for phones and tablets
SSL certification with a single click boosts brand confidence
Multiple languages are available, making it perfect for worldwide teams and clients
There are no limits to storage or bandwidth, so there's no need to be concerned about running out
Cons
Support for email newsletters is only available at the higher subscription tiers
It's a bit pricey, and there's no free version
The e-commerce functionalities of Duda aren't available by default in any of the tiers. E-commerce is an extra expense
Pricing
There are three price levels to choose from when charged annually, starting from $14 to $44 each month. People with hundreds of websites who need a custom quote might opt for a Custom Package.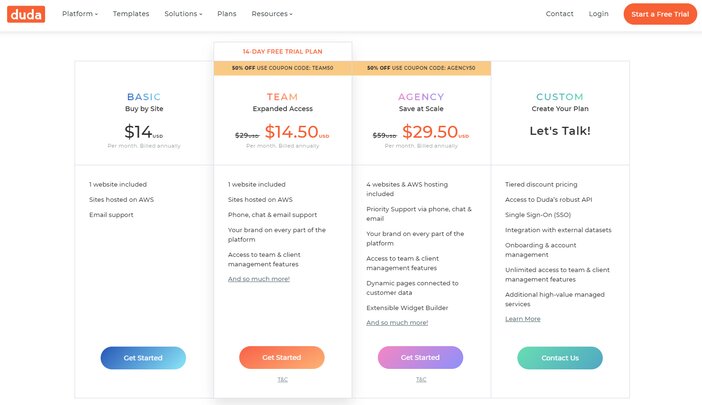 FAQs
1. What exactly is a website builder?
A website builder is a program that allows anyone to create a website and register a domain name without having to know how to code. To put it another way, a website builder is a tool or software program that assists you in creating a website.
You might think of it as a set of templates similar to those found in Microsoft Word. A website builder eliminates the need for you to learn any coding languages such as HTML or Javascript, instead of relying on WYSIWIG to get you online.
WYSIWIG refers to "What you see is what you get," and it's a graphical user interface that lets even beginners move pictures about and type in blocks of text just like they would in a scrapbook.
2. What kinds of websites can be created using a website builder?
You may make any type of website with website builders. Select the sort of website you want to build and a builder that meets your requirements.
These tools have varying strengths, and some are more versatile than others depending on your needs. Over the last decade, website builders have become increasingly popular.
They provide a variety of website construction and hosting services for customers who want to create their website but don't have any prior experience or understanding.
Some website builders specialize in creating company websites, while others specialize in creating blogs. Some themes are dedicated to social media sites, while others are dedicated to images and videos.
Users of the website builder can also develop an e-commerce site with things to sell online or have shipped to them.
3. Is it worth it to pay for website builders?
Yes. If you wish to attain certain objectives, website builders are worthwhile. Website builders are an excellent method to get your company up and running quickly. Even if you don't have a lot of technical skills, you can use them.
For example, if you want to create a website to promote your services or sell items while also establishing a strong brand presence, selecting the best website builder is critical.
Only a few years ago, no one could have envisioned the advantages that website builders now provide. The biggest advantage of website builders is their simplicity.
Conclusion
That concludes my ranking of the best website builders. Since there are so many alternatives, I've narrowed the list down to the best so you can pick the one that's suitable for your company or online brand.
I recommend starting with Wix if you're seeking the best website builder overall. Squarespace has some of the best designs and templates to help you build a website fast. Shopify is a wonderful option if you require an e-commerce website to market things online.
Each website builder on the market today, however, is distinct. The best option for you may not be the greatest option for me.
This list has something for everyone, whether you're building an ecommerce website, a blog, a personal site, an online portfolio, a small business website, or something else.
Tosinajy tells you how to make an income online, the tools you'll need, and how to cope with typical problems you may encounter in the process.
Thanks for reading.
Ready to get started with Wix?
Click the button below to begin building your websites on Wix.