In 2020, the Covid-19 pandemic has caused severe economic downturn with millions losing their jobs. However, it has also created opportunities to buy and sell online businesses.
Organizations are moving online quicker than any time in recent memory. The pandemic has forced the growth of online businesses worldwide. In the era of social distancing, many companies began to embrace a new normal – shifting most of their business operations online. This guide covers where to buy and sell online businesses and what kind of businesses to trade.
This detailed guide covers:
The best platforms to buy and sell online businesses.
What to look for when buying an online business.
The types of online businesses you can purchase (and which are best).
How to get the best deal
Let's begin.
What Are the Best Places to Buy and Sell Online Businesses?
Here are my leading choices for the very best websites to consider.
Best for buying and selling online businesses

Flippa is a marketplace for buying and selling online businesses, websites, digital services, blogs, ecommerce stores, affiliate sites, amazon FBA stores, shopify stores, saas businesses, domains, or apps. It is the most popular marketplaces to buy and sell online businesses.
As seller can value and then list their online asset or business for sale, communicate with potential buyers, discuss, negotiate and agree on terms of sale, perform due diligence and eventually get paid. Flippa offers a lot of guides and information to help you sell hassle-free.
For a buyer, they offer comprehensive insights for online businesses available for sale. Information such as website traffic, financials, evaluation, networks, demographics, and recommendations.
You can even acquire a thorough 'Due Diligence Report' of online companies to make informed decisions. The reports provides identification of high-level risks and opportunities with presentation of financial and traffic information within a period of 1-3 years.
The Due Diligence Report consists of:
Seller analysis
Financial analysis
Operations and Legal analysis
Industry and Competition Analysis
Recommendations
You can also make use of the 'Flippa Finder' solution – a special concierge solution for first-time buyers. This service provides personal consultation to assess buyers experience and acquisition criteria. It provides professional guidance for a $50 fee.
You can place your items right into either public auction listing or the classified listing. Public auction listing has a period of 30 working days, while the classified listing doesn't have any time limitation. Furthermore, Flippa offers a 'Site Broker' service to make selling easier. Listing with a broker to help sell your business is a great option for busy or novice sellers. A broker will present your business in the very best light to maximize your sale price.
Key Features
Funding to Small Companies – Flippa partners with Guidant Financial to provide funding through SBA and 401(k) business financing solutions. The minimum requirement is $50,000 and a 690 credit score to be eligible for SBA loans.
Escrow Services – Flippa collaborates with Escrow.com to offer safe transactions. The escrow procedure ensures that the buyer can evaluate and also confirm the assets before approving the seller's funds.
Valuation Tool – Flippa provides free and instant valuation for online businesses. The valuation is accurate provided the information supplied is valid. Valuation is determined by comparing input data with thousands of similar sites sold on their website.
Diverse Groupings– Flippa groups businesses into diverse groupings to help filter your search. They provide online business categories such as shopify stores, amazon FBA stores, ecommerce stores, domains, online businesses, SaaS businesses, blogs, affiliate sites, digital services and apps. You can filter your search by asset type, industry, monetization, site age and net profit.
Pros
You can promote your listings for more visibility
Ability to sell all kinds of online business types
Buy themes and new businesses at reduced prices
Seller verification
Escrow services
Pricing/Fee
The fee you pay for successful deals depends on your sale price.
Up to $50k
$50,001 to $100k
$100k+
Partner Broker
10%
Success Fee
7.5%
Success Fee
5%
Success Fee
15%
Success Fee
Listing Fees
Starter/Template Internet sites: $15
Domains: $10
iOS and Android Apps: $15
Established Websites: $49
Best for shopify websites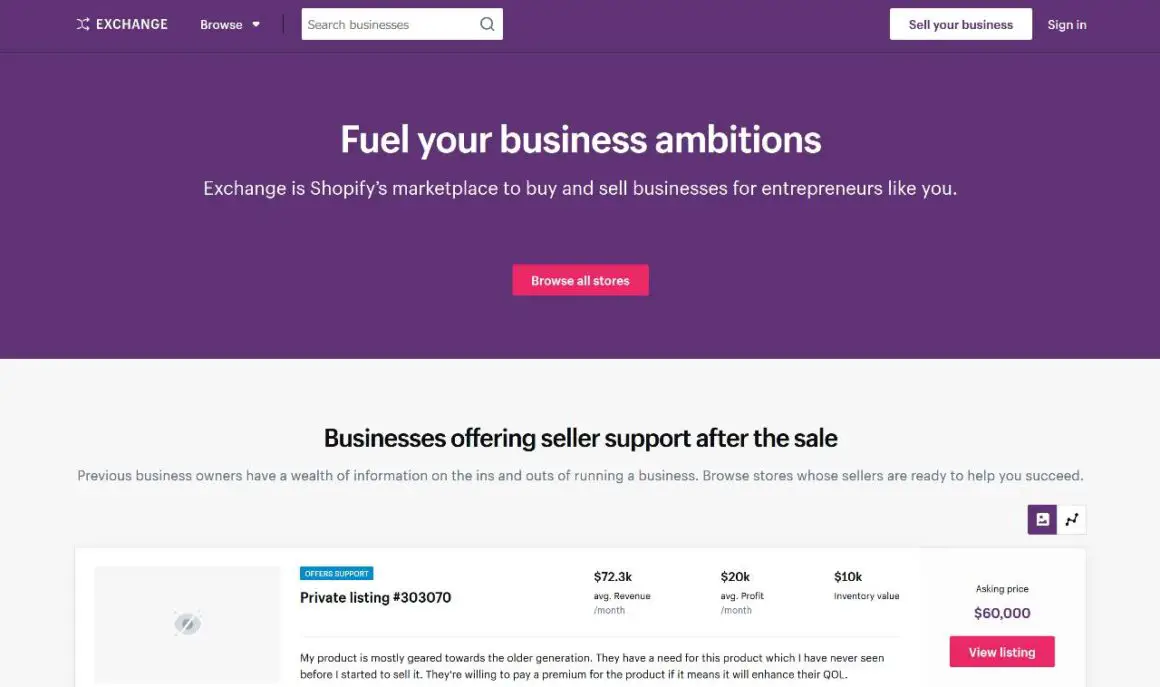 Exchange marketplace is shopify's marketplace for buying and selling ecommerce businesses.
Buyers can narrow down their search by search and categories such as industry, business type, location, curation, business attribute and sales channels. Listings are also grouped to help buyer with classifications like – businesses offering support after sale, handpicked high-quality businesses, niches and so on.
Each listings provide monthly metrics like average revenue, average profit, average sessions, average sales and profit margin. It also provides inventory data and other relevant information such as business story, performance, expenses, sales includes and seller's advice.
Selling on the platform takes 4 steps – create a public or private listing, listing is shown on platform, buyers contact you, make secure transfer.
Furthermore, Shopify's Exchange Marketplace provides secure transactions with anonymized messaging and fund transfers with escrow services. Also, you can create a private or public listing for your business.
Key Features
Starter Shops – There are very of starter online stores listed on the Exchange Marketplace for less than $100. You can choose a store with the potential to kickstart your business instantaneously.
Secure Exchange – Exchange marketplace collaborates with Escrow.com to deliver safe and secure money transfers.
Editor Picks – Exchange Marketplace provides a list of handpicked stores curated by its staff to help buyers find a vetted and suitable online business.
Pros
It offers a free buyer's guide to teach new buyers on how to buy ecommerce website.
Listings provide detailed and accurate information about a website key metrics.
Exchange Marketplace scrutinizes online businesses to acquire precise analytics and web traffic information.
You can hide your business name and also URL via private listing till your business is sold.
It provides free evaluation tool to help buy or sell your website the right price.
Pricing/Fee
Shopify Exchange bills a service charge based on your website's sale price which includes escrow fees.
Best for individualized experience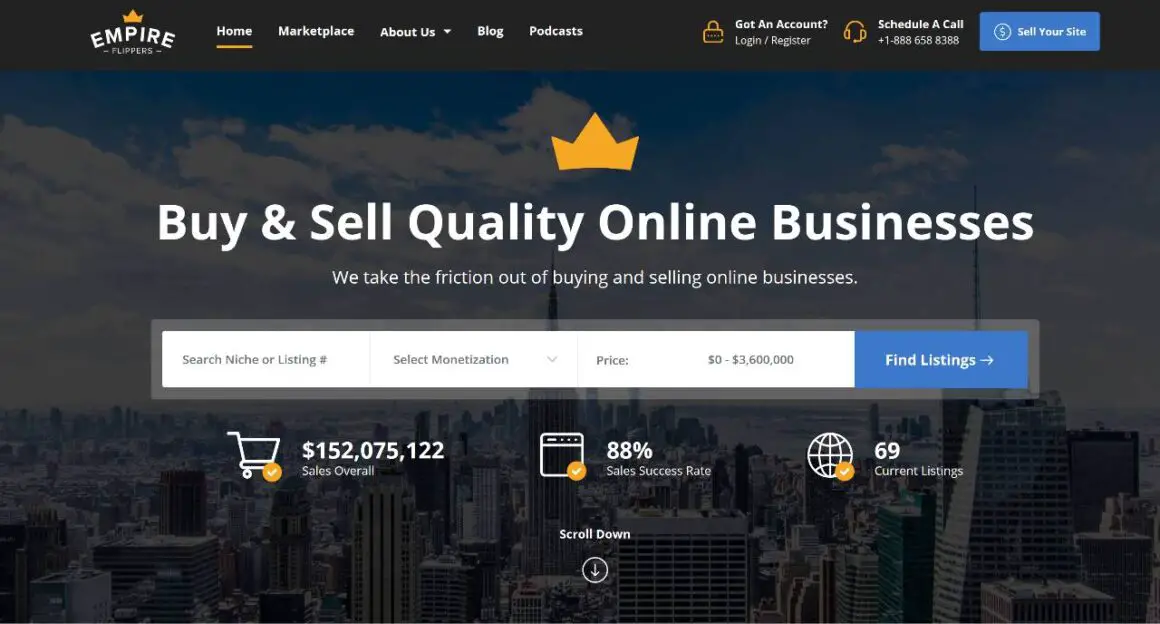 Empire Flippers is a curated marketplace for buying and selling online businesses. They have helped entrepreneurs buy and sell over $100 million worth of online businesses. Empire Flippers reduce the challenges involved in the process of buying and selling an online business by personally vetting both vendors and customers.
They help negotiate deals to ensure both parties are happy with the deal. Since they are a curated marketplace, they offer few listings. This allows faster sale process hereby reducing the burden of selling for seller. Meanwhile, the buyer can already vetted business filtering their repository by niche, monetization and price range.
Buyers enjoy benefits such as choosing from a pool of vetted businesses, verified data such as traffic analytics or financial statements, and and easy migration from sellers to buyers.
Sellers enjoy benefits such as faster and hassle free sale, transfer of business and potential to make more money from the sale.
Key Features
Monetization – You can search for online businesses based on monetization strategies like affiliates, display ads, amazon programs, subscriptions, services, SaaS, ecommerce, and so on.
Refundable down payment – You only need to pay a 5% refundable down payment of the value of business you purchase. Besides, you get access to all the information you would certainly need before making the acquisition.
Podcasts – Gain access to their podcast which provides interviews with sellers of listings featured on their platform and other industry experts.
Pros
They can transfer business on the vendor's behalf.
The free valuation tool can help ascertain your business value.
They provide adequate support and can also establish conference calls for buyers and sellers for communication.
If the business makes less than 50% of the promised amount, you can renegotiate the deal.
They accept bitcoin
Pricing/Fee
Empire Flippers charges fixed listing fees
First Time sellers: $297 listing fee
Repeat sellers: $97 listing fee
The seller will certainly get 85-98% of the last prices.
Best for buying large scale online businesses
FE International is a website broker reputable for providing M&A advisory solutions to a network of investors looking to buy and sell online tech businesses. Their marketplace gives you simple access to vetted entrepreneurs and investors.
Furthermore, you can pick from current listings with details like annual income, revenue, and also asking price. It also shows "under offer" listings so you can avoid researching organizations that might get sold the following day. Plus, it aids you take a look at the advantages of acquiring a specific company in brief bullet factors.
To sell your website, you can value your website using their Get Your Valuation tool. FE International is more suited to sellers.
Key Features
International Network – FE International provides a global network of 50K+ pre-qualified online investors in over 32 countries to help you get the appropriate buyer.
Private Listing – You can make a personal listing to secure your business intentions throughout the sales process. This way, only verified buyers can follow your business sale proceedings.
Specialist Broker – The specialist brokers prepare an in-depth report with details like organization possibilities, profitability, traffic, and market trends. It helps you take a look at business effectively and efficiently.
Pros
Certified business brokers are available for guidance
Its advisory solution provides evaluation for your company
They help reduce legal footwork when selling to overseas investors
It supplies confidential and also private transfer of company in your place
FE International has international presence across continents
They provide full-service mergers and acquisitions to serious investors
Pricing/Fee
FE International charges 2.5% of the final sales price. There's no listing cost.
Best for incomplete side-projects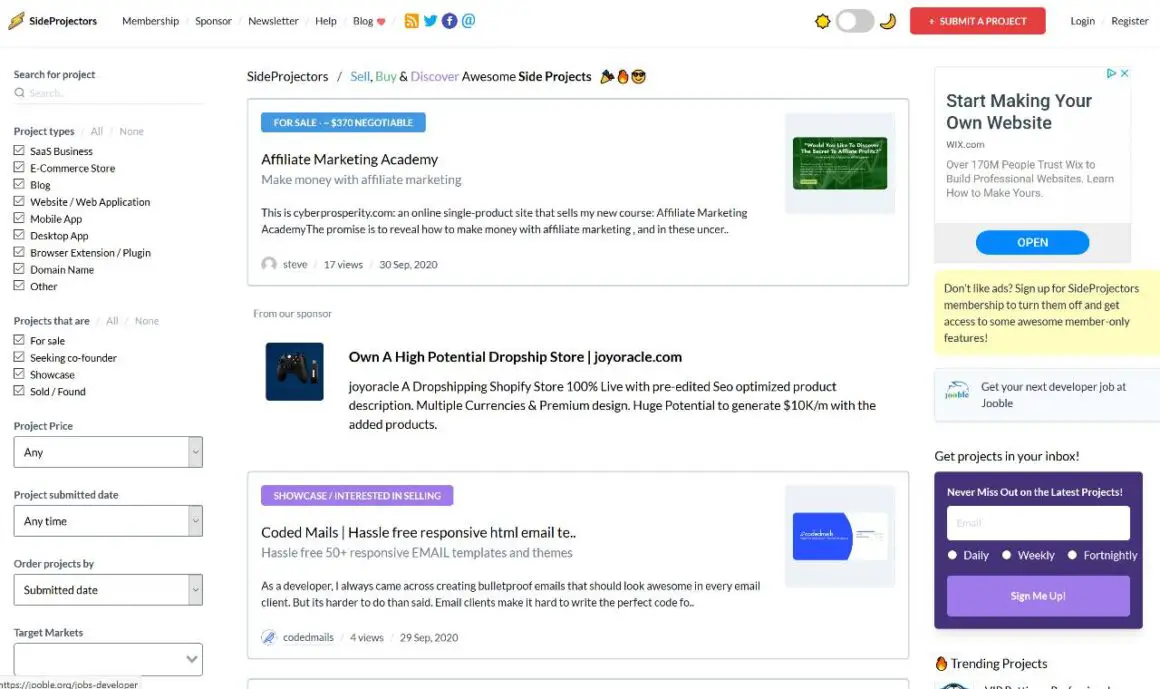 Gain access to a large repository of side projects such as SaaS, eCommerce, blog, web sites, web apps, mobile apps, desktop apps, domain name, browser extensions and other online assets for sale. In addition, you can filter buying projects based on job types, job status, price, submitted date, tools used, and target market.
SideProjectors help you sell all types of projects – both finished and unfinished. SideProjectors provide listing details like
Project description
Just how the project was developed
Project metrics
Reason for selling
How the buyer can take the project further
Key Features
Co-Founder Search – It helps you search for a partner for your business desires. It details certain projects that are searching for a co-founder.
Sponsored Listing – Increase your listing's visibility by sponsoring it for $10 each day. This will certainly assist you to get an assured homepage listing on weekdays to attract potential buyers.
Membership – Enroll in its subscription for $3 per month to enjoy benefits like personalized job e-mail alerts, direct messages, real-time alerts, no advertisements and online payment with Stripe.
Pros
Search projects based on project types, price, target markets, tools used and more.
You get real-time project deals on Slack.
Integration with Producthunt
SideProjectors' moderators assess all the projects before making them live.
It advertises high quality listings on their homepage and other social media platforms
Buyers and sellers can communicate via direct messages.
Pricing/Fee
No fees or commission.
Best for large tech companies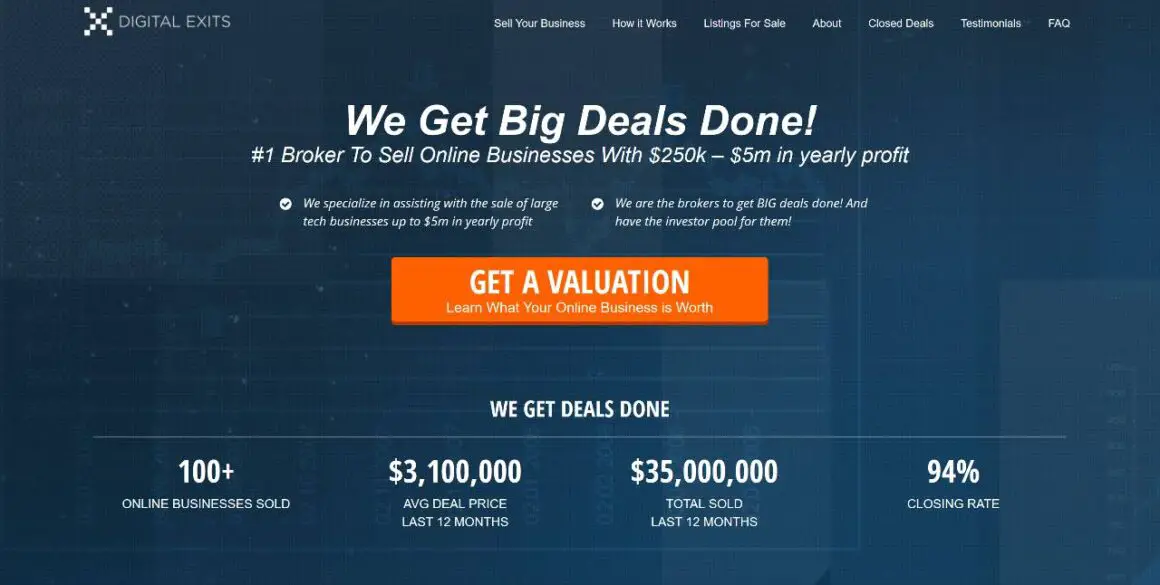 Digital Exits specializes in selling large online tech businesses with $250k to $5m yearly profit. They have investor pool for big deals and provide group of experts to assist sellers maximize the value of their business.
Sellers initiate the valuation process by – submitting a valuation request, communicate with the team and provide relevant information, the team reviews and provide valuation.
Digital Exits offer a comprehensive process for selling online businesses. Here are the steps to sell a website on Digital Exits from valuation to post sales:
Submit For A Valuation
Valuation is completed
Agency Agreement
Information Gathering
Copywriter Interview
Bank Financing
Prospectus
Deal to Market
Accept an Offer
Due Diligence
Contract Development
Escrow
Post Sales Training
Digital Exits operate as business brokers and help sellers get the 'perfect buyer' doing the following:
Put a marketing plan in place
Prepare an executive summary to present your business in the best way possible
Manage the deal flow
Position the business to get multiple buyers interested in the business
Key Features
International Transactions – It can help you broker transactions with international investors. It has currently completed transactions with over 100 customers across continents.
Financing – It gets financing for your businesses ahead of time to make it attractive for purchasers with insufficient funding.
Copywriter Interview – Internal copywriters interview local business owner to collect all the pertinent information. They use this information to draft executive summary, create engaging stories, and modify the prospectus to make business appearance appealing.
Pros
It markets your business proposal to 13 different advertising and marketing channels
Digital Exits answers all the purchasers' inquiries in your place
Website valuation is confidential and performed by their expert team
The customers have to sign an NDA to keep your business info safe
It helps the buyer through the transition duration to keep the business successful
Pricing/Fee
They charge 10% of gross commission of gross contract price.
Best for selling lucrative on-line companies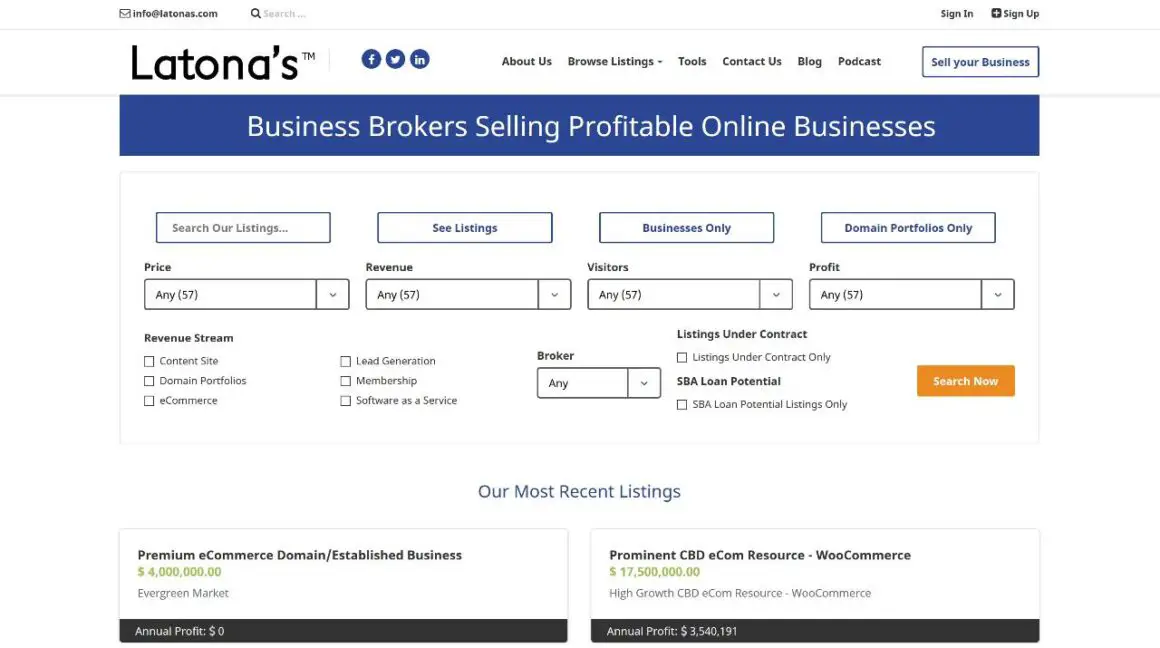 Latona's is a boutique mergers and acquisitions broker focusing on buying and selling high net-worth portfolios of cash flow positive digital assets such as websites, ecommerce, membership, lead generation, SaaS businesses and domains.
It does not charge any costs from the buyer either. Plus, it offers unique filters where you can especially search for businesses with an SBA finance potential. For purchasers going shopping on a budget, it also has segregated listings under $300,000 category.
Additionally, Latona's provides a broker for each M&A to take care of all the buying/selling demands.
Key Features
Income Streams – It displays business listings based on several income streams, including content site, domain portfolios, eCommerce, lead generation, membership and SaaS.
Payment Plan Calculator – this tools helps to decide if you should offer or accept a payment plan or if you should push for lump sum amount.
Latona's InteLend – The copyright lender assists you get funds for your existing electronic assets.
Pros
Latona's offers a sizable buyers network.
Dedicated brokers guarantee fully guided purchases.
They do the sales as well as migration process on your behalf.
The buyers need to sign an NDA to safeguard your important business information.
Pricing/Fee
No upfront fees.
What Kinds of Online Businesses Can You Buy and Sell?
Let's discuss online businesses you can buy and sell.
1. Content Websites/Blogs
There are several blogs and content websites available for sale. WordPress users alone produce about 70 million new posts and 77 million comments every month. A well-monetized blog or content website can be a good business to trade.
Buying
Acquiring a content website or blog requires thorough scrutiny and some expertise regarding exactly how the site is monetized. It is also important to understand how the website was developed. A good idea is to get a firsthand experience of a content management system like wordpress, blogger or any popular website builder.
You can then begin to look for a website using the same tool you've messed with or something similar. I'd suggest you ask around your immediate network of friends first to see if you can get some abandoned website that fits into your goal. If not, check out websites marketplace to find something decent and within your budget.
Before making the final acquisition without a third party, ensure you communicate with the website owner – ask questions, request proof of metrics, transfer process and negotiate the best price possible. More so, whatever platform you decide to buy from, ensure your payment is safe and secure.
I recommend buying from established marketplace. They provide genuine metrics, valid valuation, seller verification, secure payment, advisory, free transfer and other relevant metrics.
In addition, I'd recommend a specialist or broker to help with your purchase especially when a larger sum of money is involved. They could additionally encourage you on how to improve visibility, boost web traffic, and produce more easy revenue.
Lastly ensure there's a lawful agreement upon completing the deal. Make sure there's a valid legal entity involved before you exchange money.
Selling
My fist advise is to value your online business. Some marketplaces like flippa offer a free valuation tool to determine your website's worth. Other important things to consider include:
Cost of content development
Cost of website development
Your annual earnings
Cost per visit
Website's cost if no yearly income
Metrics like website web traffic
Once you come up with a valuation, go ahead to list on the website. Ensure you do some due diligence. Close your deal with legal guidance.
2. Ecommerce Websites
More people continue to choose to shop online everyday. An eCommerce businesses with strong cash inflow and less expenses would definitely be a great buy.
Buying
ECommerce websites generate majority of their revenue through product sales. They include traditional stores with digital shopping carts, shopify stores or amazon stores.
Ecommerce stores are more riskier to buy than content websites or blogs because of inventory management and other technicalities. Considering the relatively high risks involved, it's important to consider the current state of an eCommerce businesses before it's potential.
In addition to key website metrics, a buyer needs to critically access the annual financial statement of the business just like a traditional business. Statements include:
Balance Sheet
Income Statements
Cash Flow Statement
Buying an eCommerce requires critical assessment. A buyer needs to ask questions such as:
Why is the business up for sale?
Whats the proximity of physical inventory?
Is the business scalable?
Which eCommerce platform are they using?
Who are the product suppliers?
Who are the customers?
Selling
Its easier to value an established eCommerce website than a startup. However, you can use the free valuation tools offered by website brokers and marketplaces. Before you sell your website, I'd advise you prepare your eCommerce store for sale to attract serious buyers.
To maximize your store value, align your store with standard industry practices. You can modify a few things like:
Use popular tools to manage your business
Ensure your store UI design is minimal and easy to use
Increase the sales channels currently in operation
Try to reduce the COGS (price of goods offered), so you can optimize your profit margin
Try to boost the eCommerce site metrics like Click Through Rate (CTR) and web traffic, and also organically accumulate a social networks existence.
Remember to get legal representation before sign-off.
3. SaaS Companies
SaaS businesses are usually cloud-based software licensed on a subscription basis. Subscriptions account for majority of their revenue.
SaaS services are also extremely profitable because of their scalability. They are values differently and quite easy to buy or sell.
Buying
There are a lot of variables that can influence your decisions when buying a SaaS business.
Several of the factors to consider while purchasing SaaS firms are:
Key Metrics – Consider the website metrics, marketing metrics, financial statements.
Pricing Model – SaaS businesses usually offer multiple pricing plans. Understanding the pricing model can help determine how to improve service or bottom-line.
Source Code – It's important to get 100% ownership of the source code. A preliminary overview of source code can influence offer price.
Customer Acquisition – Understand the business customer acquisition channels such as organic, referral, direct, paid, and social. Organic is great. Consistently paid channels acquisition will become unsustainable in the long run.
Scalability – Is the business equipped to handle 10 times more of what is currently handles without major issues?
SaaS businesses can easily be overpriced. Save cost by hiring an industry expert for guidance.
Selling
SaaS businesses are profitable and attractive to high net-worth investors. There are five main kinds of buyers who show interest in buying SaaS businesses. They include – individuals, private portfolios, microfunds, private equity and strategics. The buyer often depends on the size of the business.
Two popular valuation methods for SaaS businesses include – EBITDA and Seller Discretionary Earnings (SDE).
I'd advise you use website brokers to get all the support you may need, get legal advisory, reach out to their pool of ready to buy investors and eventually get higher valuations.
4. Apps
We spend more time on our phones. This has tremendously increased the demand for mobile apps for productivity or entertainment. Purchasing an app can be a great financial investment.
Buying
If you're looking to leverage its affordable benefit in the market, acquiring an application makes sense. Do you due diligence by ascertaining your desired business niche and determine your solution. Go ahead to source the app that provides your solution.
Many tech guys are not really interested in business. Many provide these solutions on marketplaces for affordable prices.
As an individual investor or entrepreneur, you can make an informed purchase using the information below.
Daily Users
Paid or free service
Total downloads
Monthly website traffic
User demographics
Reviews
Monetization networks
Do not just settle for the words of the designer. Check out the metrics on your own as well as comprehend the facets that can assist achieve your company objectives. And also, try to recognize the areas that you can improve.
Apart from this, attempt to recognize why the proprietor wishes to sell the app. Watch out for any difficulty with the source code, technicality, its working condition, and its ownership.
You could additionally want to obtain the industry viewpoint on the app's competitors and also appraisal. Considering that there are numerous applications on the market, it's very easy to get overcharged.
Selling
App designers without passion in business side of points are prone to selling their apps. If you are among them, the share and spread the word to your network.
Online visibility on social media can boost your reach to prospective consumers exponentially. If you have actually got it, make sure to market your intentions.
App valuation vary based on a couple of factors:
Revenue streams
Customer demographics
Download stats.
Whether you created the app on your own or you used a programmer.
There are a lot of apps available for sale and the market is very competitive. For this reason, I suggest you keep your sale price at par with the industry-standard price and be a responsive seller.
You will get calls and messages from many people with all kinds of ideas but no expertise about what it takes to run an app. Ensure to deal with them professionally and be patient for the right buyer.
5. Domain Names
With all the world business's coming online, everyone requires memorable domain names to attract consumers. Buying desirable domains can create good business value. Selling domain names can be profitable as well when done right.
Buying
Normally, you would wish to choose an intriguing domain name. It's the first thing that your audience will certainly discover concerning your organization, so you require to make it as involving as possible. And also, it needs to pertain to your service, unless you opt for something abstract like 'Yahoo'.
Besides this, inspect that it's not already in use by another person, and also there isn't any kind of copyright infringement.
You can locate all the readily available domain names that are up for purchase. Plus, make sure that the name can reflect your organization principles and also emphasis location exactly. You can proceed with the acquisition when you pick the domain.
The whole process is fast because it's on the internet as well as hardly ever needs a pen and paper. You usually get an e-mail with all the information of the purchase, invoices, billings, and other necessary information.
Selling
The first step below is to value your domain name properly. Even if you owned the business and ran it for a long time does not indicate it will sell for a high amount.
You can start by referring to online markets like Flippa as well as examining the prices of similar domain names. These marketplaces can give you an idea of what to expect.
What Should You Search for When Purchasing An Online Business?
Not every wants to start online business from the ground up. And also, purchasing an existing business could be a very good idea. That said, the business you purchase must have a consistent history of income inflow.
Here are some things to consider while buying an online business:
1. Monthly Traffic
Monthly web traffic is a major metrics when buying an online business. Furthermore, look for diversity in web traffic.
It needs to be a healthy and balanced mix of 5 common sources of traffic:
Organic traffic
Paid traffic
Direct
Social Media Site Traffic
Referral Traffic
You can make use of tools like Google Analytics to figure out how the traffic is pertaining to the website. Plus, check if the site has top quality back links therefore sites are worth more than websites without or low-grade backlinks. In this case, you can use tools like Ahrefs and Open Site Explorer to check into a website's backlink account.
2. Expenses
Take a look at the costs like hosting, subscriptions, domain renewals, digital marketing, recurring fees, payroll and so on. At the same time, make certain that the proprietor is practicing clever spending practices. Otherwise, you can reapportion spending to raise profits.
The expenses definitely need to be lower than the revenue.
It's equally important to scrutinize expenses that appear irrationally reduced or deliberately overlooked. Such expenditures include payment processor fees, reimbursements for integrations & plugins, etc
3. Revenue Streams
Look for businesses with growing profits. Taking the risk to revive a failed business is not worth it unless you are skilled or extremely competent.
Request for the monthly financial information from the business owner. It will certainly give you a clear idea in which direction the business is heading.
4. Growth Potential
The business must be scaleable. This is very important for any business. This is the same reason why SaaS software seem to very valuable.
Possibly the owner never ever employed a Conversion Rate Optimization service. You can hire one and also examine business for technicalities in the conversion process.
You can even start a vibrant social media advertising campaign. There are many means to check out and also scale your business. Avoid a business that shows little to no growth potential.
5. Discover The Factor For the Sale
Discovering the reason the owner is trying to sell their business is important. Avoid buying a website if the owner is selling due to unprofitability or lack of web traffic. Understanding the reasons will let you choose whether you can handle them.
6. Client Reviews
Find out whether existing clients are happy with the business or not. Avoid buying a business with bad reviews. It's much better to buy a business with no public reviews.
How Do You Value Online Businesses?
Here are a few steps to value your online business:.
1. Determine Business Model
The first thing to identify is the core business model. A good business model is self-sustaining. Your goal is to ensure the business model fits into your strategies and long-term goals. Examples of business models include – subscriptions, affiliate, display advertising, amazon FBA, ecommerce, lead generation and so on.
2. Verify Metrics
Next, confirm the metrics are accurate. They show the financial health and wellness of the business and also determine its sustainability. This includes both the website metrics and financial metrics. Examples of website metrics are Click Through Rates, and Monthly Visitors. Examples of financial metrics are Operational Cost, Cost of Goods Sold, Revenue, and Expenses.
3. Determine Valuation Method
Valuation of any business is not straightforward. Different business models require different valuation models. Two popular methods are cost method and market value method. I advise you use free valuation tools offered by services like Flippa who use their accumulated sales data to determine the right price (market value method).
4. Growth Rate
It makes sense to consider the growth rate of the business. A business with 5% month on month revenue growth over the past one year is definitely more valuable that same business with inconsistent growth or fixed or dwindling revenue over the past year.
Key Takeaway
If you choose to buy or sell a company, success relies on a lot of factors: the size of the business, income and expenses, advertising networks, branding, growth potential, traffic metrics, and much more. Here are my top recommendations for buying and selling websites online.
Flippa is a fantastic platform to purchase or offer start-ups and local business quickly.
FE International is an excellent choice if you desire to sell to global investors.
For large tech businesses who need assistance with every aspect of the offer, I would certainly recommend Digital Exits.
For boutique website brokerage, I'd recommend Latona's or Empire Flippers.
My top recommendation is Flippa.
Do you agree with the list and recommendations? Drop a comment below.