Are you frustrated by the process of making a business plan? Or are you looking for the best business plan software that gives you the freedom to create your own business plan?
The process of planning a business can be a long and complicated task, especially if you're new to the game. In this article, I have listed the top business plan software for all types of needs, so read on to find out more.
Quick Review
What is the best business plan software?
See also: How to Start a Small Business From Scratch in 9 Steps [With No Experience]
Best Business Plan Software
What are the best business plan software to create a professional business plan?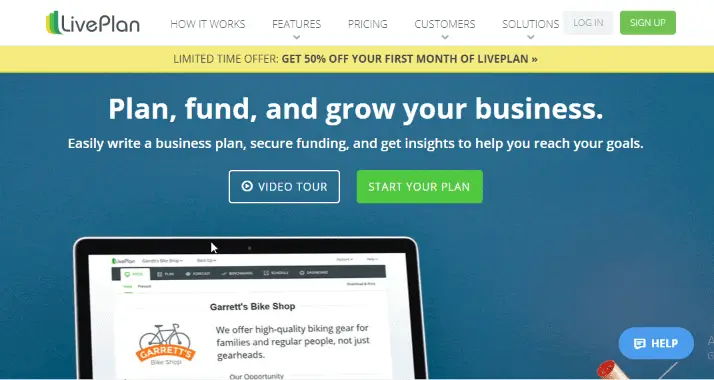 This is one of the most cost-effective, professional business plan software available. LivePlan is your complete business planning tool to help you make the right decisions to grow your business.
LivePlan was created and is maintained by a team of small business owners and has been used by hundreds of thousands of entrepreneurs around the world. It may be the ideal choice for you if you desire template-rich, modern-feeling business plan software.
LivePlan's user interface is modern and sleek, with simple, easy-to-use features and settings. Their step-by-step instructions will get you started right away, and you can continue to acquire new business skills by using their online learning center.
It comes with real-time financials, modules for marketing, operations, sales, startup costs, and more.
Pros
Free trial
Low-cost annual plans
Affordable pay-as-you-go plans
No contracts
No cancellation fees
Reactivate anytime
Business plan data saved for 12-months, even after cancellation
Clean, modern platform
Cloud-based; works on any business machine (Linux, Windows, Mac)
Create unlimited business plans
Access to over 500 business plan templates
Integrates with Quickbooks and Xero to import your data easily
Knowledgeable customer support to get help with your plan
Cons
Lacks valuation capabilities
Offer a few integration options
Pricing
Annual plan: $15 per month
Six-month plan: $18 per month
Pay-as-you-go plan: $20 per month
Let's face it: some people want the meat and potatoes of a business plan, not the fluff.  How do you keep things simple? Enloop is the platform worth considering if you choose the clearest, rapid, and uncomplicated approach to developing your business plan.
Enloop is the business plan software that makes it easier for start-ups to launch a business. It's a SaaS solution designed by entrepreneurs, for entrepreneurs. With built-in templates, financial calculators, and professional plan writers, it has everything you need to create your business plan.
When you're writing your business plan, you're going to want to be organized. That's where Enloop comes in: it provides an all-inclusive seven-day free trial with no credit card necessary.
With Enloop's online business planning software, you will have everything you need to create that successful business plan and get started on the right foot.
Pros
Seven-day free trial
Low-cost yearly plans
Affordable pay-as-you-go plans
Advanced financial ratios
Financial projections
No contracts
No cancellation fees
Cloud-based; works on any business machine (Linux, Windows, Mac)
Cons
Three business plan limit per account
No financial forecasts beyond 36-months
No phone or chat support, just a "contact us" form
Pricing
Detailed plan: $19.95 per month or $11 per month, paid annually
Performance plan: $39.95 per month, or $24 per month, paid annually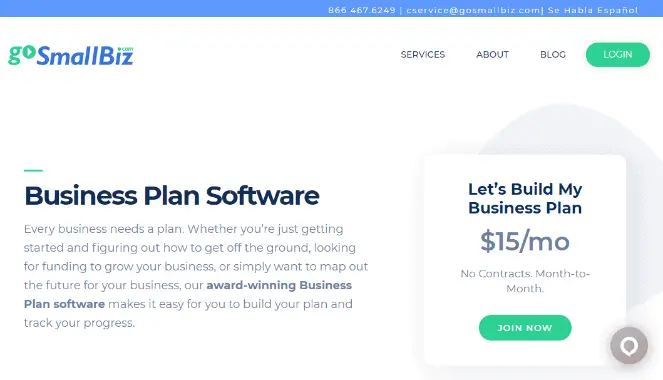 GoSmallBiz is another one of the best business plan software on this list. However, this tool is much more than just a business plan software. You can create a strategy, work through business and legal paperwork, develop a website, and more using GoSmallBiz's business continuity planning tools.
In this sense, GoSmallBiz is ideal for startups and newer enterprises searching for a single platform to access numerous company management solutions.
You can easily create an exciting and professional business plan presentation complete with charts, graphs, and more. The software walks you through every step of planning your new venture.
With purpose-built modules for each stage of your business life cycle, from startup to funding to fast growth to an exit strategy, GoSmallBiz helps you create and execute a winning business plan. Creativity in its purest form.
Pros
Industry-specific business plan templates
Ability to create financial statements and projections
Customer relationship manager integrate with MailChimp
Offers seamless third-party integrations
HR document builder
Corporate minutes writer
Business documents library
Business courses library
Unlimited business consultation
Cons
Business plan can only be exported to Microsoft Word
Outdated interface
Pricing
$39 per month, no contracts. You are free to cancel your subscription anytime.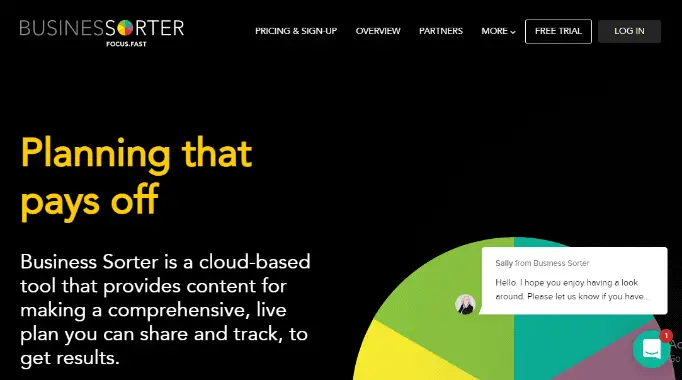 Many businesses require plans to present to those outside the organization (to get financing, for example). However, what if you only require a plan for internal use? In that situation, Business Sorter is a good option.
To assist you in creating the ideal company strategy, Business Sorter employs a unique card-based technique. You can organize some of the most common aspects of your business, such as financing and marketing.
Business Sorter also allows you to create plans for particular teams or team members. It also highlights more internal aspects of the firm, such as operations, that may be neglected in a business plan for outsiders.
Also, you can create tasks, assign them to team members, and set dates for them. As a result, Business Sorter provides basic project management tools to ensure that your company goals become business actions.
Pros
Business plan templates 
14 days free trial
Collaboration tools
Plan for a business of any size
Easy to use dashboard 
Social sharing
Roadmapping
Plan brand and marketing activity
Plan for the short or long term
Cons
Support few integrations
Too team-focused
Pricing
Small: $10 per month ($80 if billed anually)
Medium: $30 per month ($240 if billed anually)
Large: $80 per month ($640 if billed anually)
Enterprise: Contact sales team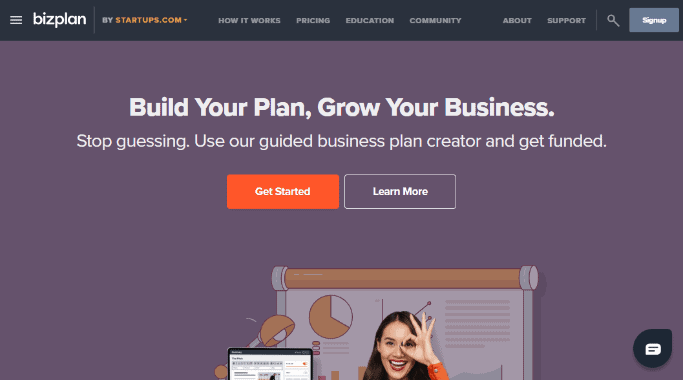 Bizplan, which is part of the Startups.com suite, receives high ratings for its user interface, which is straightforward, simple to use, and modern. You'll work using a step-by-step business plan builder to get your business plan to exactly what you want.
Since it uses drag-and-drop features to create templates, it can be used by anyone. You also get access to all of the resources in the Startups.com network, including self-guided courses, how-to manuals, masterclass videos, and more, for a single monthly price.
Bizplan provides a business blueprint that will help you identify all the things you need to succeed, from finances to a license, from a product to an awesome marketing strategy.
Overall, Bizplan is a top business plan software choice for businesses wanting to raise money and attract investors, thanks to its direct link to Fundable.
Pros
Low-cost yearly plans
Affordable pay-as-you-go plans
No contracts
No cancellation fees
Easy to use
Cloud-based; works on any business machine (Linux, Windows, Mac)
Create unlimited business plans
Cons
Offer no free trial
Can't export in Word
No mobile access
Pricing
Monthly plan: $29 per month
Annual plan: $20.75 per month, billed at $249 per year
Lifetime access: $349 one-time fee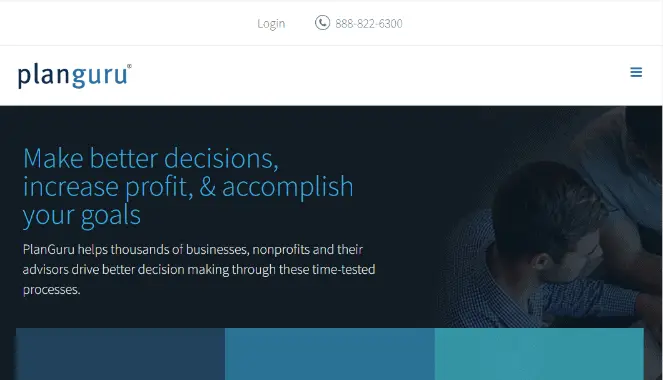 Finally, PlanGuru offers some of the most powerful financial tools among business plans software alternatives, such as budgeting and forecasting. It is dedicated to business financial planning, providing the tools you need to create budgets, financial forecasts, reports, and more.
Are you are an entrepreneur, small business owner, investor, financial analyst, or business consultant looking for software to help you plan, track and forecast your business and investments online? If yes, then PlanGuru is what you are looking for.
It is easy to use, simple to update and maintain. Also, it can be used on a desktop or mobile device. PlanGuru is expertly crafted with the express intention of assisting you in formulating a winning business plan the first time around.
Pros
Advanced financial calculations
Financial projections
Business valuation calculations
Unlimited business plans
Integrates with QuickBooks and Xero
No cancellation fees
Desktop software option
Cloud-based software option
Cons
Additional cost per user can add up quickly
It's quite expensive
Pricing
$99 per month (additional users costs $29 per month)
$899 per year (additional users $299 costs per year)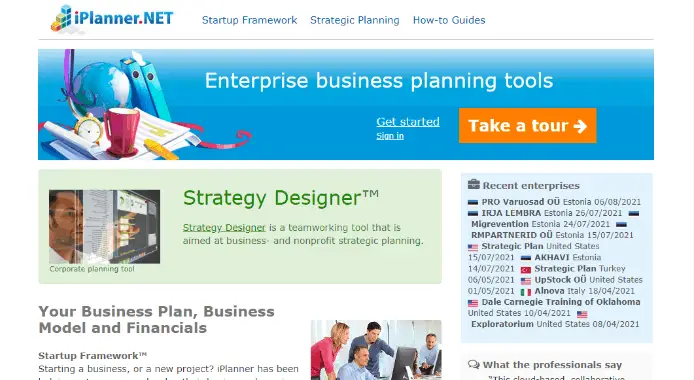 Is the idea of drafting a business plan giving you the creeps? Using business planning software such as iPlanner.NET (not to be confused with the iPlanner calendar app) is an excellent method to tackle these responsibilities straight on.
iPlanner is used by corporations, entrepreneurs, and individuals to write winning business plans that can be used to secure financing, attract investors and partners.
The tool comes built with an integrated business goal wizard that walks you through the process of clearly defining your objectives and requirements.
iPlanner can help you develop your business plan in days and answers more than 100 vital questions that are common to all business owners. These include how to start a business, create a business plan, write a business plan for yourself or an investor, write an executive summary, Build your Pitch Deck, and much more.
Pros
Unlimited team members & collaboration
A La Carte pricing model vs ackages
Discounts for serial entrepreneurs & business coaches
Provides business modeling
Financial plan builder
Business plan samples and templates
Export to Word, PDF and HTML
Cons
The website is pretty old school
Doesn't offer a free version or trial
Pricing
Professional: $24 per 3 months
Corporate: $59 per 6 months
Corporate Plus: Contact sales team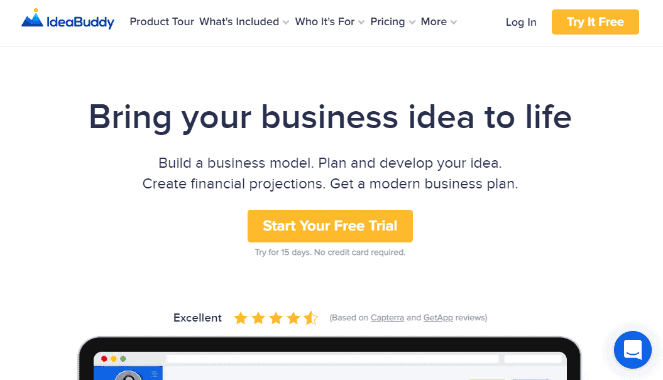 IdeaBuddy is a comprehensive business plan software that allows you to create your plan in an intuitive, effective, and expeditious way.
The tool focuses on assisting entrepreneurs in developing their ideas, sharing them, and refining them into a strategy. If you have a business idea but don't know what to do next, IdeaBuddy may be the business plan software for you.
This tool guides you through every step of creating your business plan, from defining your ideal customer to brainstorming your go-to-market strategy. It also generates revenue projections for your business and tracks actual results for a dynamic operating plan that will help you meet all your goals.
Whether you are creating your 1st business or growing your existing business, IdeaBuddy offers complete support for all your planning needs.
Pros
Easy to use
A lifetime plan costs only $178
Great for developing ideas
Great for doing market research
No contracts
Cloud-based software option
Cons
Email-only customer service
Software lag time issues
Pricing
Dreamer: $45 per year ($89 for lifetime access)
Founder: $85 per year ($178 for lifetime access)
Team: $165 per year ($356 for lifetime access)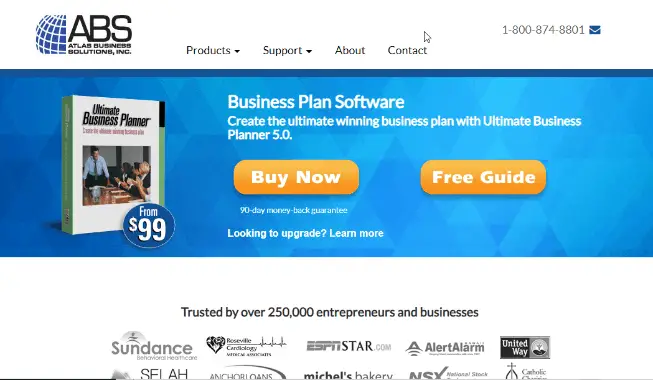 ABS Ultimate Business Planner will walk you through the process of creating a business plan and a financial forecast utilizing a very intuitive-looking wizard. The good news is that it has sophisticated functionality, yet it is still capable of assisting new business owners.
With ABS Ultimate Business Planner you'll write faster, be more organized and be clear-minded about what's most important. You be will be able to easily visualize what's needed to execute your business plan, get honest feedback from clients and co-workers.
ABS strives to make your life easier by keeping it simple and taking control of your business to ultimately give you more time for living, loving, and freedom. It is designed for entrepreneurs to help set up their business plans.
Furthermore, ABS can be used to create customized cash flow forecasting, marketing plans, and future valuation calculations. With ABS as part of your plan, every detail will be covered while streamlining the process of creating a multi-model business plan.
Pros
It is easy to use
Create projected P&Ls, Cash Plans, Balance Sheets, Financial Ratios, and more
Interview-based format
Useful graphics
Sample business plans
Comes with hundreds of business start-up resources.
Works with MS Word, MS Excel, Adobe PDF, and QuickBooks
Cons
High degree of manual input and spreadsheet work needed
It's a bit pricey
Pricing
Unlike other solutions on this list, ABS Ultimate Business Planner charges based on the number of users. One user's license costs $99/year while 10 users are $549/year.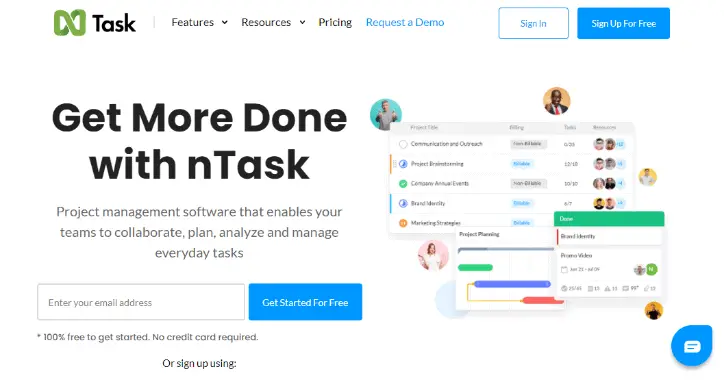 When your business succeeds, you succeed. With nTask, all your business ideas can be started and completed with its easy-to-use software package. Perfect for Restaurants, hotels, Yoga Studios, or any small business that wants to have a simple business plan solution.
nTask is one of the best plan software tools that makes your important tasks visible, so you can easily estimate how far you are to your goals. nTask makes sure you succeed in making progress with a minimum of effort.
After filling in the blanks, you can print professional-looking documents, including an executive summary and financials.
Rather than writing your own business plan, use nTask to get your thinking straightened out, create meaningful financials and make an actionable business plan that will help you get funding and more easily grow your business.
Pros
Very easy to use
It is inexpensive
Ability to bring all business teams in one loop
Business meeting management features
Complete project management suite
Multiple handy views
Cons
No templates available
No mind mapping features
Pricing
In addition to a free plan, nTask offers two inexpensive paid plans:
Premium plan starts at $2.99 per user/ per month
nTask Business starts at $7.99 per user/ per month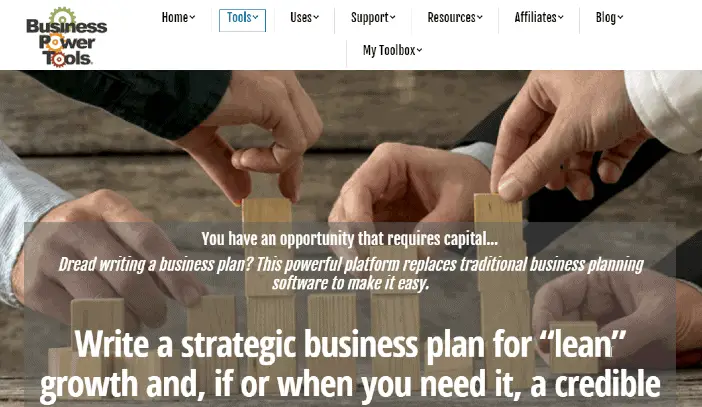 BizPlanBuilder may be the only business planning software you will ever need. The days of high fees for professional business plans are over. BizPlanBuild makes starting a business plan fast, easy, and best of all – offers a free package.
All of the information is stored within the Word document, and easily customizable to meet your needs. The end goal is to help you create a successful business as soon as possible, and BizPlanBuilder makes this process simple.
Choose BizPlanBuilder for the right balance between speed and features, as well as ease of use. With its easy-to-use tools, you can create a business plan in minutes, not hours.
Enter your financial data and then build your plan from a library of hundreds of professionally designed and formatted templates in a variety of sizes, from 1-to-3 pages to 10- to 30-page plans.
Pros
Dozens of templates to choose from to get your business plan off the ground
Provides you with the ability to create a pitch deck
Ability to create a 5- or 10-year financial model
Predefined text for each section of your business plan is available
Easily import and manage your financials by syncing with Quickbooks
Cons
Doesn't offer a free version or trial
The platform is not compatible with mobile devices
Pricing
Strategic planning, start-ups, and growth funding: $27/month
Employee policies and procedures: $47/month
Marketing, PR, and sales: $37/month
All-in-one: $97/month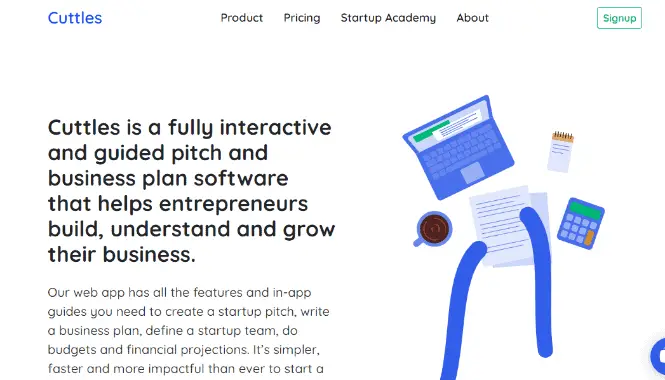 Wouldn't it be great if you could draft out a business plan as fast as you can say "soup to nuts"? Well, now you can with an all-in-one business plan software – Cuttles. It will save hours of work, and help prevent typical mistakes that novice business planners often make.
Cuttles is one of the best business plan software on this list. This tool comes with an instructional and interactive platform that makes planning and starting a business easier, faster, and more impactful than ever before.
Cuttles is designed to assist you in creating attractive presentations and effectively sharing information with investors and stakeholders. With this software, you will be able to make smarter business decisions and move closer to reaching your goals.
No busywork – set it up and go to work. Save yourself hours each week and get back to growing your business. As small as your next investment.
Pros
Great in-app guides and help
Awesome budgeting feature
Beautiful app and very user-friendly
Investment analysis
It offer communication analysis
Cons
Needs more customization
Only available in English
Pricing
In addition to a free plan, Cuttles offers 3 affordable paid plans:
Seed: €8/month
Grow: €16/month
Series:  €48/month
What is a Business Plan?
Business Plan is a feature-oriented document that allows you to change gears and keep driving forward by using the same map.
Whether you are an individual looking to start a small business or you are a large corporation deciding how to implement new strategies, a plan will outline your goals and guide your progress.
It is the heart of a business. A business plan helps to organize your resources, time, and finances. It helps you think in a professional way about your business. It will give you the direction you need to succeed.
Most businesses need a business plan because it describes what will be done, how it will be done, and when it will be done, besides also providing information about the startup costs and how they profit from the business will be used.
SEE: Explore the top considerations for starting a business
Why Do You Need to Use Business Plan Software for Your Business Plan?
Think of all of the steps that you need to go through to start your own business. You will also need to look for a good location, find people who are willing to work with you, and acquire supplies for the store.
Obviously, you need to consider a lot of factors before you can set up your business, and it can be difficult and confusing if you're not good at planning. You don't have to go through all of this trouble if you decide to use business plan software for your business plan instead.
Not only does the best business plan software have the potential to save you time and energy, but it can also help ensure that all of your needs are being met in terms of the structure and design of your plan.
These tools present your business plan in an attractive and easy-to-read "electronic book" format printing out a crisp, clear, professional-looking document that is ready to go with you to any potential investor meetings.
What Should Be Included in Your Business Plan?
Use this checklist to be sure your plan includes every essential element. Be sure to adapt it to meet your specific business situation.
Executive Summary
Business Description
Market Analysis  
Sales and Marketing Plan  
Operations and Management  
Competition and Markets
Budgeting
Financial performance projections
FAQs
Are business plans the same for every industry?
No. A business plan for a manufacturing plant is different from a business plan for a retail store. There are key elements that remain the same, but there is often flexibility to vary the format and content depending on the type of business you are starting.
When is the best time to write a business plan?
The best time to write a business plan is at the beginning of company development.
If you're thinking of starting a business or have a young business, don't wait until the time is right to write a business plan. Sign up with one of the software above today and get yourself a professional-looking business plan.
Conclusion
Overall, LivePlan is the best business plan software. It has a good selection and delineation of business objectives, strategies, financials, marketing, accounting, and its ability to create a professional plan that can be forwarded to venture capitalists or lenders for funding.
Also, it is affordable and even has strategic planning templates, which help you customize your entire startup strategy.
However, if you're looking for a free business plan software solution, I suggest you sign up for the free plan of nTask. Since it's free, be informed that you will only have access to the basic features.
Finally, to efficiently present your business plan in a way that captures the interest of your potential investors, you need reliable presentation software. Here are the 11 Best Presentation Software To Deliver That Perfect Presentation you can choose from.
I hope you found this post helpful.
Tosinajy teaches you how to make money online, the software you'll need, and guides you on how to deal with common issues you may encounter.
Thanks for reading.
Ready to Try LivePlan?
Click on the button below to get started with LivePlan.