If you are thinking of starting a blogging business, then how to create a website will probably be the first challenge to overcome.
However, creating a professional website for your blogging business doesn't have to be overwhelming. It is now easier than ever to design a website, regardless if you have minimal technical expertise.
To help you create a professional-looking website, this article is filled with pictorial guides that'll lead you through the whole process. In fact, it will look more like a hand-holding tutorial that anyone can easily follow.
In addition to creating your website, this post includes tips to create traffic-generating posts and effective ways to build a large base of readers.
Without much ado, let's get started.
SEE: How to Create a Blog as an Utter Newbie With No Techie Skill
How to Create a Website
1. Niche Selection
This is an often overlooked area, especially among newbies. Niche selection is a critical aspect of owning a website due to its nature of instilling direction and focus on webmasters.
As a webmaster, you don't want to be blogging just about any topic that pops up in your head. Niching down will help to find a target audience that you can channel your message to.
Don't only look at other successful bloggers who have been in the game for a long time if you want to start a site in the same area.
If your website is in a particular niche, it will help you to attract avid followers who will be ready to listen to what you have to say.
It will also establish you as an authority in that particular area of endeavor.  You should consider the following factors when choosing a niche:
Solution-based
Knowledge
Availability of money spenders
Passion
Mass appeal
Ready to learn
2. Purchase Domain Name and Hosting
To get started with Bluehost, click here to visit Bluehost's homepage. Click on the "Get started" option from the Bluehost homepage.
Doing so will take you to a page where you are to select a preferred Bluehost's plan. If you're just getting started, I suggest starting with the "Basic Plan."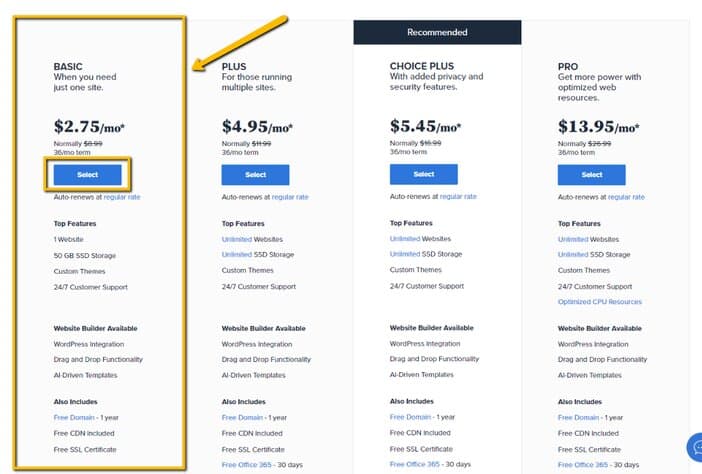 You'll then be required to choose a free domain name for your blog, do so and click on "Next". Once a name is provided by you, Bluehost will try to confirm if that name is still available for usage. Otherwise, you'll need to provide another name.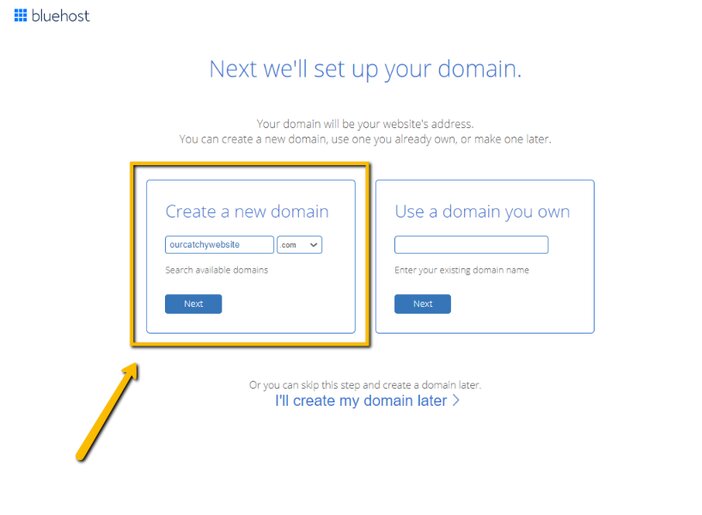 NOTE: If you already have a domain name, you can skip this whole process by simply providing your domain name in the space titled "Use a domain you own" located just next to where to would have created a new name.
Fill in your account information and personal details to continue with the process.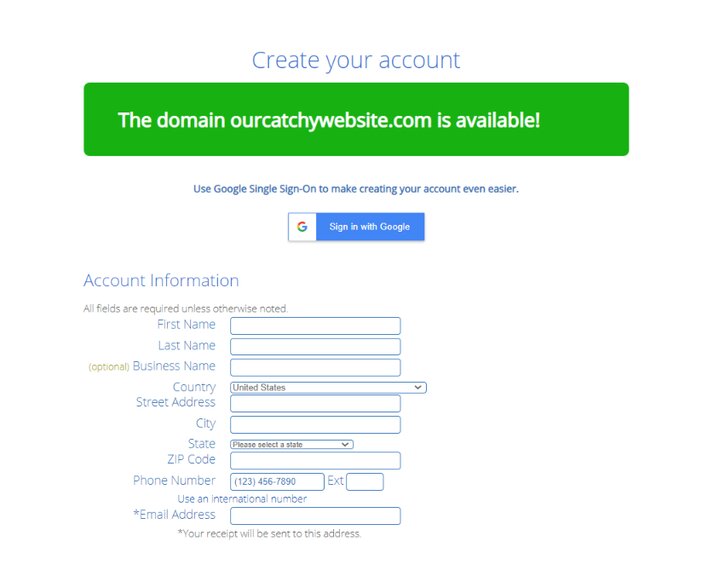 On the package information section, do note that the price tag of $2.75/month is only valid if you choose to stick with Bluehost for the next 36 months. Otherwise, the price will jump up.
In addition, do uncheck all the boxes for the package extras. You won't be needing them, except for the domain privacy protection. That is if you need it.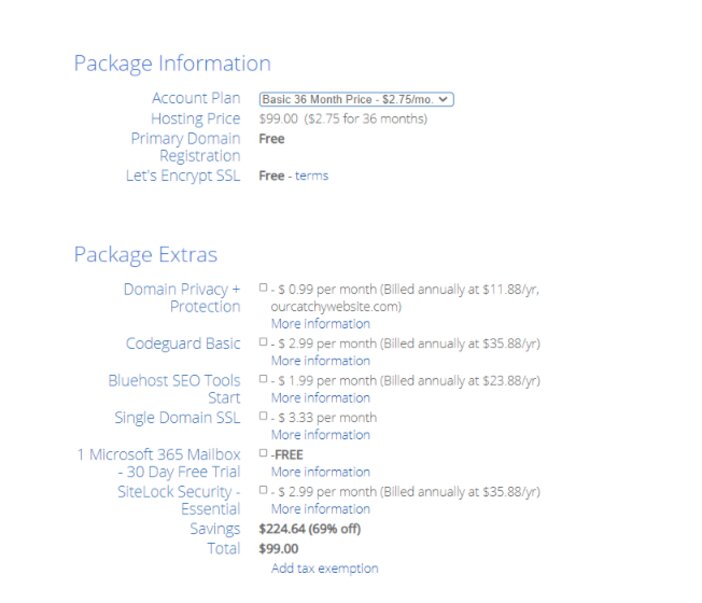 Finally, it's time to input your payment information, agree to the terms and privacy conditions, then click on the submit button to your account created and WordPress installed.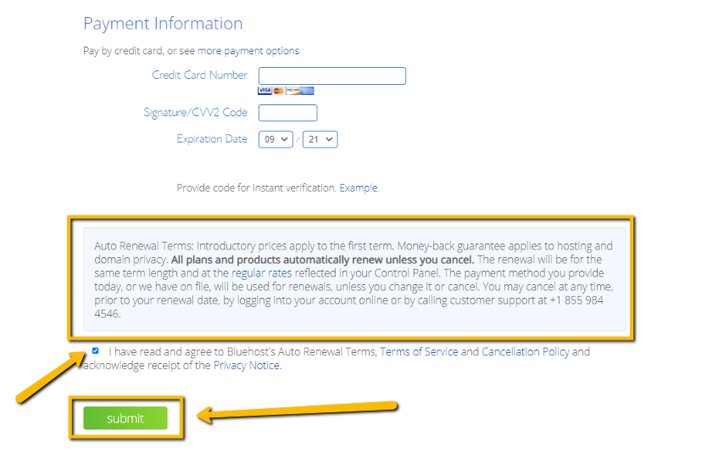 Please note that your plan will automatically renew, except you opt-out of auto-renewal.
Also, when your plan renews, it won't be at the initial price you bought the plan. Rather, it will jump back to the actual price of the plan you've subscribed to.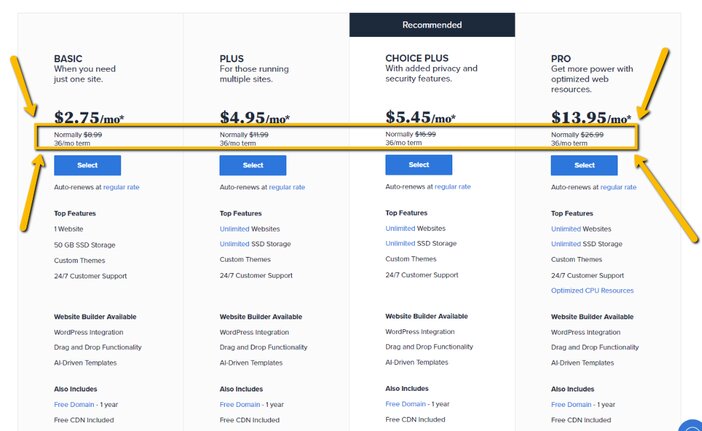 After that, Bluehost will take you to the page from where you'll then install WordPress on your domain.
SEE: Best Web Hosting Services for the Money
How to Get Started with WordPress
After you've installed WordPress, using it is as straightforward as strolling around the park.
This is due to the WordPress dashboard's user-friendly interface, which any newbie should be able to grasp quickly.
Don't feel nervous, I'll explain everything in this post. The first process in starting with WordPress is to log in to your WordPress admin area.
To get to the admin area of your WordPress website, click the following link: https://www.ourcatchywebsite.com.com/wp-admin.
Replace "ourcatchywebsite.com" with your site's name. The page below should come up.
To sign in, kindly enter the username and password you created when installing WordPress.
This is what your WordPress admin area ought to look like.
You can experiment with it to get a sense of what it looks like. After that, you'll be able to proceed to the next stage.
3. Customizing Your Blog
It'll be time to start adding content to your blog once it's up and running. At this point, I can assist you with choosing a theme for your new blog utilizing the best WordPress themes for SEO, and customizing the design to your preferences.
A good blog design is vital since users must be able to readily access content to stay and read your site.
The most crucial decision you will make when creating a website is choosing the relevant website theme. This is because it has a large influence on how visitors perceive your website and what they conclude about it.
Other aspects that will influence how successful your website becomes include choosing the correct color scheme and layout, as well as personalization choices.
You may quickly change the aesthetic design of your website with WordPress. All you need to do is locate and install the appropriate WordPress theme on your WordPress site.
The basic WordPress theme is fine, but if you prefer a distinct appearance and feel for your website, you may search the official theme repository for an alternate theme and install it. Finding the ideal theme will allow you to completely personalize the website and give it the look and feel that you require.
Before you go in and install a random theme, it's strongly suggested that you have a look at this list of the best WordPress themes.
If you purchase a premium theme, you must first download it from the theme vendor's website and then import it to your WordPress theme section for installation.
If you choose a free WordPress theme from the official themes library, you can install it right from your WordPress admin area, without having to download it manually.
4. Pick a WordPress Theme
To install a WordPress theme, glide over "Appearance" on the left-hand side. From the drop-down option, then choose "Themes".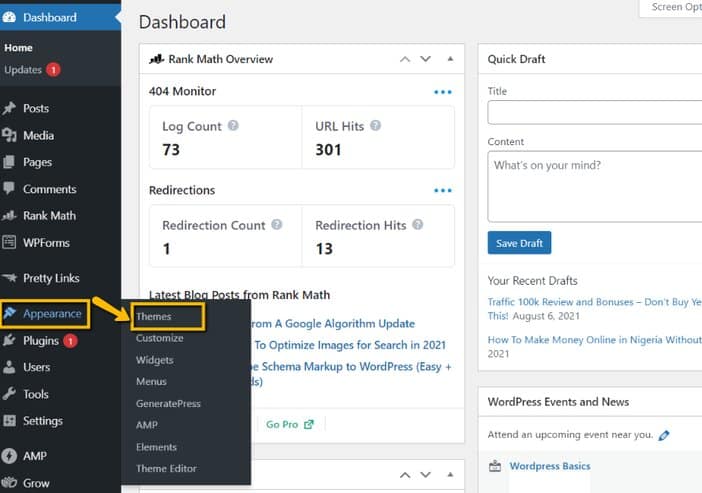 On the next screen, click the "Add New" button to go to get to where you can search for WordPress themes.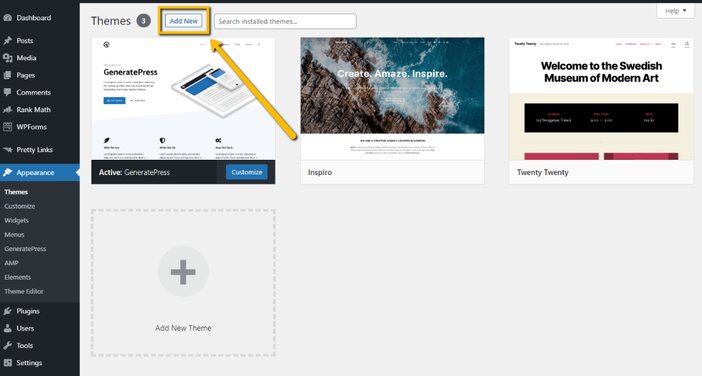 Following that, you'll be directed to the WordPress themes section, which looks somewhat like this.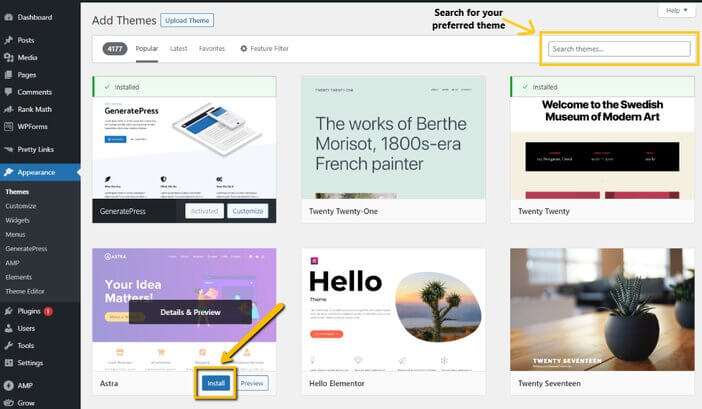 As you can see, there are a variety of themes to choose from. Some are for a fee, while others are completely free. Don't go crazy and get a premium theme right away if you don't have a handful of cash.
That notwithstanding, begin with a free theme to get a sense of how things function. It's vital to keep in mind that you have the option to modify it at any time. Every WordPress website comes with a pre-installed theme by default.
Simply enter the theme you want to install into the search box located at the top right corner.
To make the theme active on your website, hit "Install" and then "Activate" after you've chosen it. To further personalize and style your website, click the "Customize button."
SEE: Best Minimalist WordPress Themes
5. Install Plugins
You must download new plugins from the WordPress plugin repository to install them on your website.
To access the plugin repository, mouse over "Plugins" on the left-hand side of your WordPress admin area and click "Add New" from the dropdown options.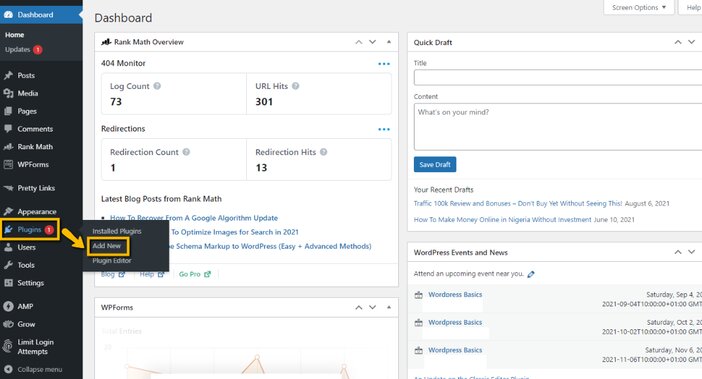 For installing a plugin on your website, go to the search bar, key in the name of the plugin you want to install, and then hit the "Install Now" and "Activate" buttons respectively.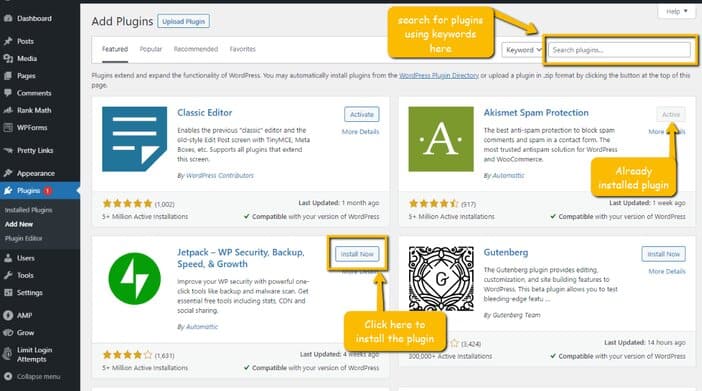 SEE: Best WordPress Security Plugins to Protect Your Site
6. Optimize Your Website Post URL
For your website article to have a search engine-friendly URL, this configuration has to be done. Drag your mouse over the "Settings" button on the left side of your WordPress admin area.
Click on "Permalinks" from the drop-down list that appears.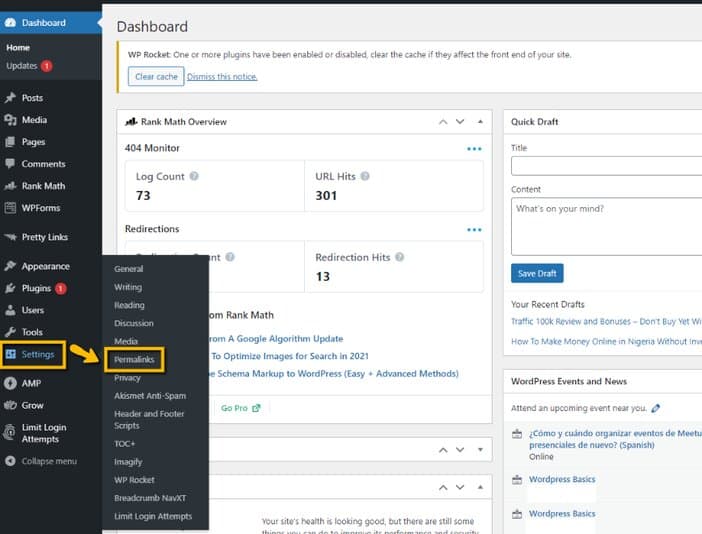 Click "Save Changes" after selecting "Post name."
This will alter the URL of your post to https://www.ourcatchywebsite.com/post-title instead of https://www.ourcatchywebsite .com/p=123.
That implies that if you write a blog post titled "Create a Website," the post URL will be https://www.ourcatchywebsite .com/create-a-website instead of https://www.ourcatchywebsite .com/p=123.
So, which of the two URLs is the more search engine friendly?  I'm guessing it's the first one.
7. Add Website Pages
To have a page on your website, you must first create and add it to your website. Please follow the instructions below to begin the process of adding a page to your website:
On the left side of your WordPress dashboard area, move your cursor over "Pages." Select "Add New" from the list of drop-down menus.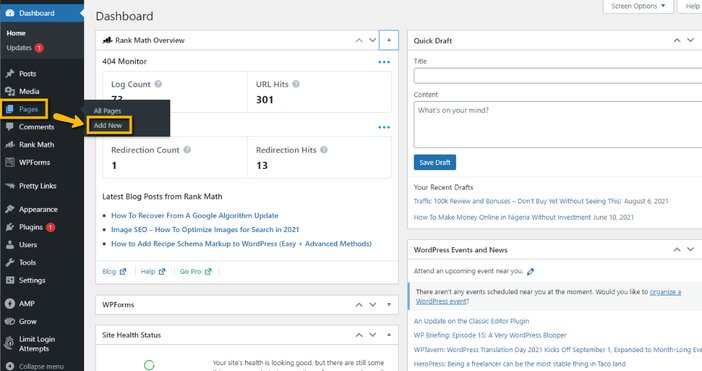 You'll be forwarded to the next page as a result of this.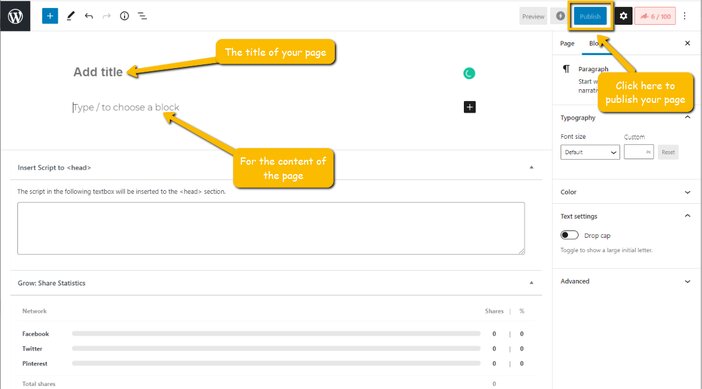 The interphase is straightforward to follow, as you can see. Simply type your page's title in the box below and begin writing your page's content.
When you're done, go to the top of the page and select "Preview" to see how the page will look.
If you're happy with the result, click "Publish" to publish the page. However, if you're not pleased, make changes to the content before publishing it.
Essential Pages for Every Website
Pages are essential for any website, regardless of how you look at them. The following are the most important pages to have on your website:
1. Contact Us
This page contains basic contact information for visitors and readers. This is one of the most frequently visited pages on most websites.
Your phone number, email address, or contact form can all be included on this page.
2. About
This page is also known as "About Me," "About Us," or "My Story." It introduces the blog's owner and explains why the website was created. This is how the blog owner tells his or her tale.
It is required, however, that you use this page to inform your visitors and readers about what they can anticipate from you and how the website will benefit them.
3. Policy Privacy
This page is for your website's private information. Things to do with IP addresses, cookie gathering, and other digital data about your visitors.
You can create a privacy policy online using one of the many free online privacy policy generators available.
4. Terms and Condition
This page's title already tells you what it's about. It is similar to a digital agreement between you and your website's users. Terms and conditions can be created for free on the internet.
5. Affiliate Disclaimer
This page is only required if you use affiliate marketing on your website in any way. Just be honest and tell your readers that you are an affiliate for a few businesses on this page of your website.
Let them know that some of the links on your website are affiliate links. Make them aware that if they purchase using your link, you might gain a commission.
8. Add Post
As a blogger, one of the things you'll be doing all of the time is posting on your blog. The part where you publish a post is the one you'll use the most as your blogging career progresses.
To add a new post to your WordPress site, glide over "Post" and select "Add New" from the dropdown list.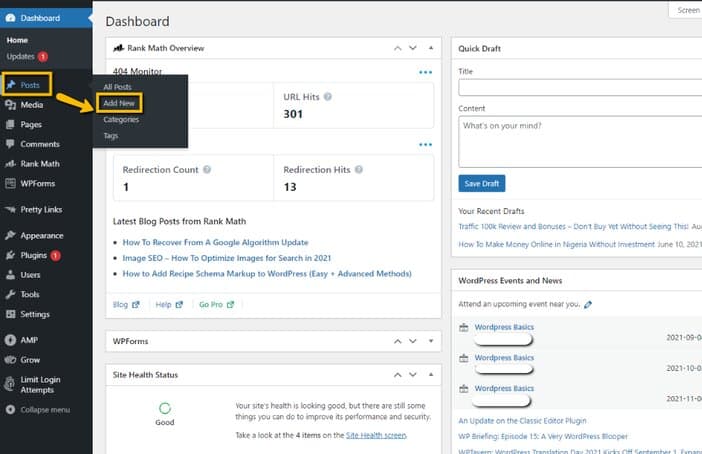 You'll be redirected to the next page.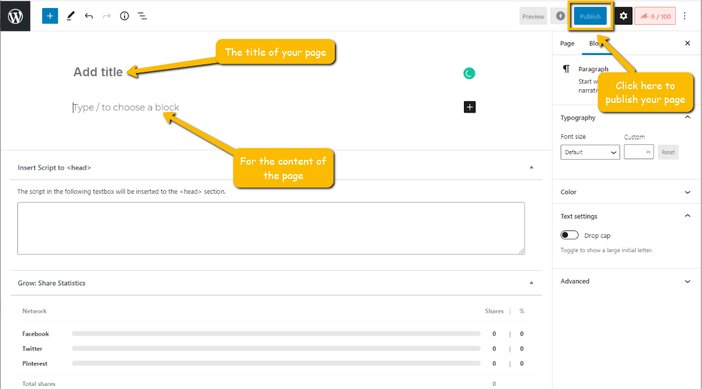 Follow the same instructions as you have when adding a page above in this regard.
To put it another way, compose your article title, choose a solid URL structure, create your post content, preview it, and then publish.
How to Come Up With Website Post Ideas and Topics
1. Autocomplete on YouTube
As a beginner, it's past time for you to stop thinking of YouTube as merely a video site and start thinking of it as a search engine.
Outside of Google, it is the second most popular search engine on the internet. Autocomplete on YouTube is a function that many people overlook.
However, it can provide us with a reference to what individuals are looking for daily. If you try to search for any keyword phrase on YouTube, in the search bar, you'll see a lot of results.
You'll see that YouTube tries to recommend what you should do next to finish your search.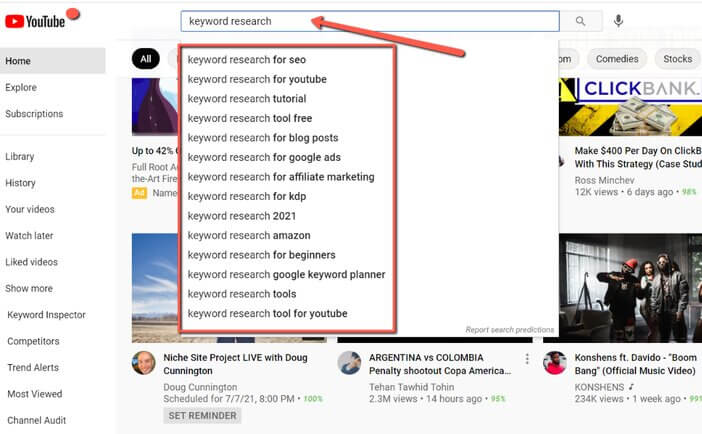 These suggestions are referred to as YouTube autocomplete. Those are the search terms that other people use to find videos to watch on YouTube. So, what does this mean? That is what the majority of people are looking for right now.
It follows that if you create blog content around such keywords, you will receive traffic. Please hold on for a moment. You may argue this, but this is YouTube, not Google.
Yes, you're quite correct. You should be aware that if people are looking for it on YouTube, they are also looking at Google as well.
2. AnswerThePublic
This is a free online service that collects questions from the public. If you go to AnswerThePublic and search for a keyword, you'll see a list of most of the questions that have been asked about that topic.
These inquiries might be used as a blog post for your website. These are questions that people are already requesting, and for which they are seeking answers.
Hey, do you know what the most interesting element of all these questions is? The majority of them don't have any specialized content to address them on the internet.
As a result, you'll have a relatively easy time writing about less competitive keywords. Furthermore, these are long-tail keywords. This implies they are specific and straightforward to rank for.
To begin, go to AnswerThePublic.com, type in your keyword, and then click search. For this example, I'll use the phrase "start a blog."
As you can see, it has generated a large number of long-tail keywords that we can target.
"Why start a blog for your business" is one of the keywords I just spotted.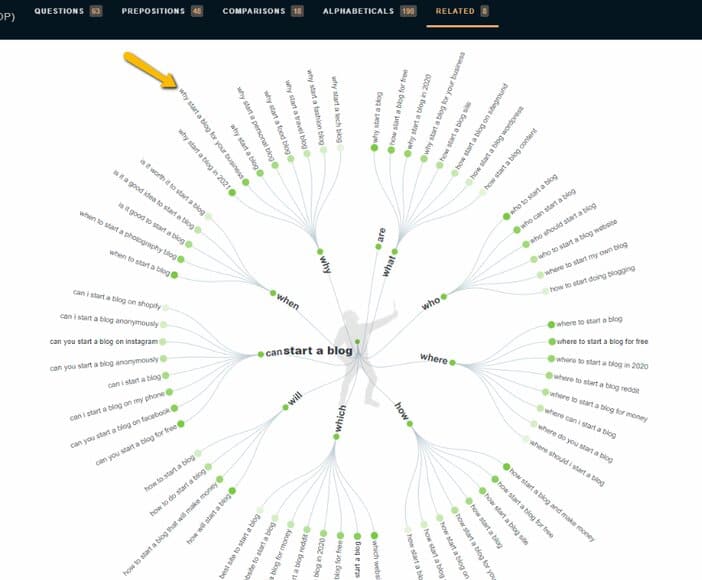 If you're in web hosting, make money online or business niche, this could be a good blog topic.
To summarize, simply enter your keyword and search on AnswerThePublic. Choose a decent keyword from the list of presented keywords and write about it.
3. Using Pinterest
Never confuse Pinterest for a photo-sharing network or one that appears to be dominated by food, fashion, or health-related topics.
If used correctly, Pinterest may provide you with a wealth of blog post ideas as well as significant traffic to your material, but only if you do your keyword research effectively.
Take a peek at these Pinterest profiles to discover how much traffic they receive every month.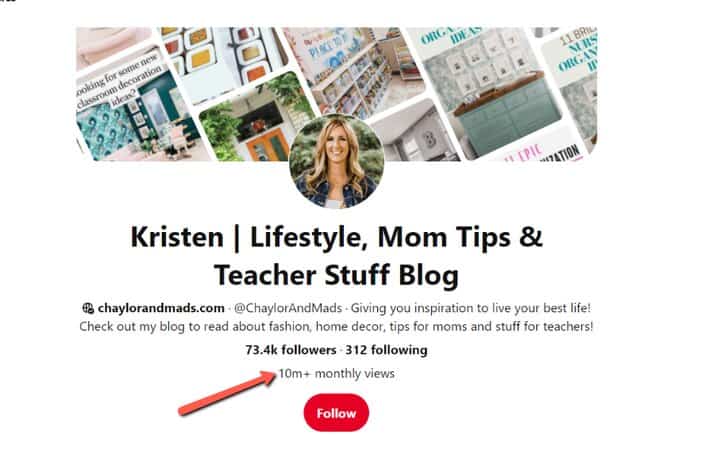 Have you noticed the millions of monthly visitors these profiles deliver to their blogs and content? So, how can you conduct keyword research that will produce such a result?
To begin, go to Pinterest and look for the search. Type your seed keyword into the search bar.
After you've finished typing in your seed term and just about to hit the search icon, you'll see that Pinterest will autosuggest phrases for you.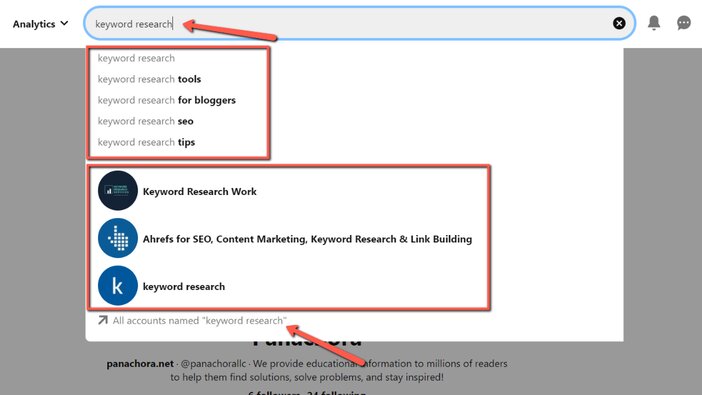 Additionally, depending on commonly searched terms linked to your root keyword, Pinterest accounts optimized for the same root keywords that you are searching for will be displayed to you.
You'll observe that popular and well-optimized pins appear once you click the search icon, but that isn't our emphasis here.
The focus should instead be on the term bubbles that show directly above the pins.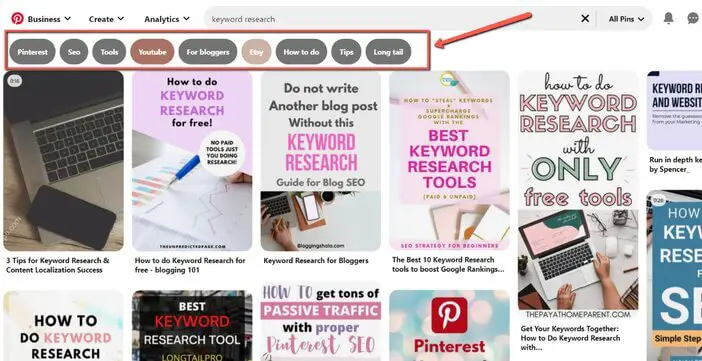 These keyword bubbles in the example above are:
Pinterest
SEO
Tools
YouTube
For bloggers
Etsy
How to do
Tips
Long tail
What does all of this have to do with you as a blog content ideas researcher?
Listen up, pal. Pinterest just enabled you to discover a slew of potential blog topic ideas by providing you with popular search phrases related to your seed keyword.
Consider it this way. While ranking for the term "keyword research" may be challenging, what about keywords such as:
Pinterest keyword research
SEO keyword research
Keyword research tools
YouTube keyword research
Keyword research for bloggers
Etsy keyword research
How to do keyword research
Keyword research tips
Long-tail keyword research
Have you noticed how I used those bubbles of keyword ideas to build long-tail keywords?
Since Pinterest is displaying these keyword ideas, it means that hundreds, if not thousands, of individuals, are searching for these terms.
How to Drive Website Traffic
The greatest technique for promoting your new blog is to do everything it takes to acquire links to it. Links are the Internet's equivalent of currency.
In addition, the more links you have, the more Google will respect you and give your blog content a higher ranking. Here are some of the most effective ways to market your blog:
1. Content Aggregation
Many content aggregation services work in the same way as social media does. You register for an account and begin following people who share content that you find interesting.
While this is fantastic, the goal here is to distribute your work. So, if you don't have a blog yet, make one immediately and start writing articles to share with others.
If your content is quality and solves people's problems, people will begin following you and sharing/posting your content on social media.
2. Guest Posting
Begin following your competitors if you haven't already. Instead of hating them for their success, read what they blog about and try to gain from their experience and exposure.
You can blog about your common field if you have information about it. So don't be shy about obtaining their contact information and requesting a guest article.
You will add value to the other blog by writing something unique. In exchange, you can request that your author biography be published at the end of the article by contacting the blog administrator.
3. AdWords by Google
Google AdWords is the most reliable advertising tool for generating more leads and consumers for your internet business when done correctly.
To draw visitors to your website and sell your items, you can post your advertising directly above Google search results.
4. Email Outreach
Make a list of bloggers who are active in your niche. Begin an email outreach plan to reach out to such bloggers and ask for a backlink to your website. This strategy can help you create backlinks and drive traffic if you use the appropriate tactics.
5. Facebook Groups
There's a good chance you will have at least a single Facebook group dedicated to your subject. You can use the Facebook search box to find out.
They're also a great approach to quickly create a dedicated audience and traffic because they're already focused on a specialty.
Many communities include options for you to share your information with others, such as posting links on specific days.
When sharing your stuff, it's crucial to be genuine by engaging in dialogue with other users rather than simply spamming.
SEE: How to Make Money With a Website Without Selling Anything
FAQs
Which WordPress plugins are the best?
Shiny object syndrome is a serious issue for most newcomers. As a result, most newbies tend to overcrowd their blogs with as many plugins as they can get their hands on. However, the following are the most vital plugins to have on your blog:
Classic Editor
WP Rocket
Limit Login Attempt
ShortPixel Image Optimizer
Yoast SEO
Social Walfare
Contact Form
Can I build a website without using WordPress?
Yes, you can use CSS, HTML, or any website builder to create a website. I will, however, always advise you to create your website with WordPress.
This is because most free website builders place advertisements on your free website, making it appear amateurish. Unless you upgrade to a premium subscription, you won't even be able to choose a bespoke domain name for your website.
They can also take down your site without warning if you breach any of their agreements. WordPress, on the other hand, gives you complete control over your website.
Conclusion
If you have made it this far, you've probably seen how to create a website without needing any complicated code.
The steps outlined in this post are way too easy to following and have proven to yield the desired results in terms of creating a website from scratch.
Just take a chance on yourself by putting into practice what has been elucidated in this post, and your brand new website will be up and running.
Well, the sole purpose of you creating a blog is to make money from it. So, to help you achieve that, here are profitable ways to monetize your blog.
Tosinajy tells you how to make an income online, the tools you'll need, and how to cope with typical problems you may encounter in the process.
Thanks for reading
Ready to create your website using Bluehost?
Click the link below to register for a Bluehost hosting account, which comes with a one-year free domain.