You don't have to be a geek to figure out how to buy domain name. It is simple to obtain a domain name for your website. If you've never bought a domain before, don't worry; this article will guide you from the beginning to the end.
Why buy a domain name in the first place?  You'll need a domain name if you want to build a website. Additionally, having one gives you a branded email, making you appear more trustworthy online.
The entire process of purchasing one takes less than five minutes. And it's a lot less expensive than you may expect.
Every question you may have about buying a domain name for your website will be answered in this post.
Let's get started.
Quick Review
Want a quick run-down of what is covered in this post? The list below is what is contained in this post.
Buying a Domain Name from Namecheap
How to Buy Domain Name from Namesilo
Buying Domain Name from Godaddy
How to Buy Domain Name for Free
How to Buy Domain Name from Someone
Steps to Choosing a Good Domain Name
How to Know a Good Domain Registrar
Types of Domains
How to Buy Domain Name
Let's discuss each step in detail
1. Buying a Domain Name from Namecheap
Are you looking to build a blog but can't afford a good domain name? When it comes to cheap domain names, Namecheap is the perfect alternative.
Namecheap is ICANN-accredited and has established itself as among the most reputable names in the business.
When you buy a domain from Namecheap, you'll get a complimentary WhoisGuard privacy protection service.
How do you purchase a domain name using Namecheap?
To begin, go to the Namecheap website and type the domain name you want to register into the search box before pressing the "Search" button.
After that, Namecheap will give you all of the domain extensions available for the domain name you provided. Please click the "Add to cart" button next to the available domain you want to register in this case.
Namecheap will try to upsell you on other services, as is typical with domain name registrars. Don't be fooled by their marketing gimmicks, only do this if you truly desire any of those items. To complete the purchase of your domain, please click the "checkout button".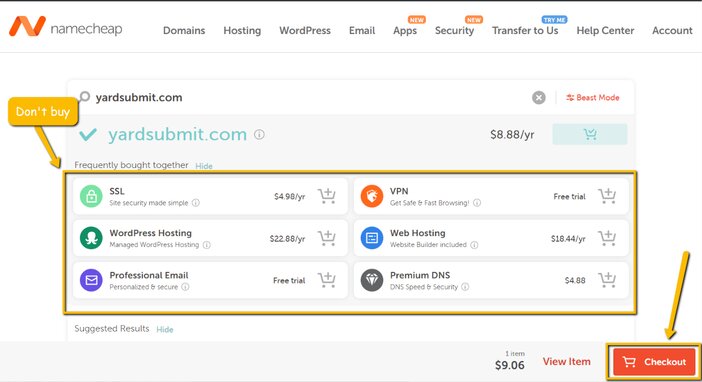 Simply select the domain registration period and turn on the auto-renewal button on the checkout page to avoid forgetting to renew when the domain expires.
Don't forget about the domain privacy option. Turn it on as well, since it's free for life. If you have a coupon code, enter it before you complete your order and proceed to payment.
To finish the purchase of the domain, simply sign in to your account. If you don't already have one, you'll need to get one before proceeding with the process.
2. How to Buy Domain Name with NameSilo
Another domain registrar that provides tailored domain registration services is NameSilo. NameSilo has you covered when it comes to customer service, security, and economical price. The following is a step-by-step guideline on how to buy domain name through NameSilo.
To begin, go to the NameSilo website and type the domain name you want to register into the search box before pressing the "Search Domain" button.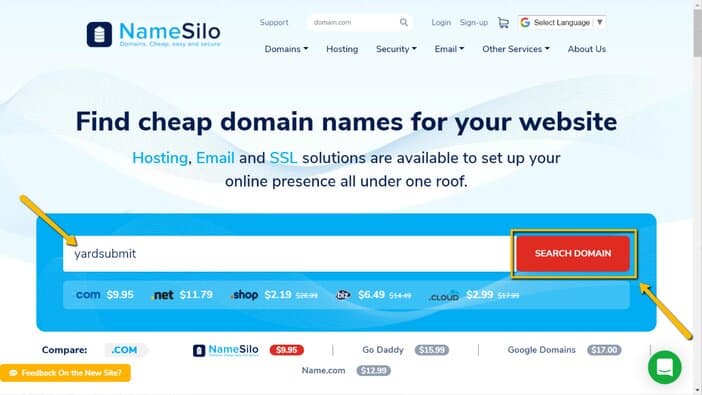 The domain extensions for the domain name you specified will be generated by NameSilo. In this instance, please click the "Add" button next to the available domain name you want to register.
The "Checkout" button will appear as a result of this action. Click on it to proceed to the "Shopping Cart" dashboard.
Since you're only here to register a domain, all you have to do is enter a promo code if you have one and click the checkout button.
Finally, on the next page, agree to the terms before clicking the "Pay" option.
You have now successfully acquired a domain with NameSilo.
3. Buying a Domain Name with GoDaddy
GoDaddy is the world's most popular domain registrar. Over 82 million domain names are currently managed by their more than 9,000 personnel for a total of 20 million users throughout the world.
When you're ready to develop a website, they give an easy-to-use domain control panel that enables you to direct your domain to any hosting provider. This is a step-by-step tutorial on buying a domain name from GoDaddy.
To begin, go to the GoDaddy website, type the domain name you want to register into the search box, and then click the "Search Domain" option.
A confirmation message will show with your domain name at the top of the page if your domain name is available. Using the drop-down menu, select "Continue to Cart."
GoDaddy will try to offer you as many add-on services as possible, such as domain privacy protection. Please pick the "No Thanks" options in this scenario.
This is because each domain purchased through GoDaddy includes ordinary domain privacy protection, and that's all you need.
As if that wasn't enough, GoDaddy is going to try its luck again by providing you the chance to use its web hosting and email hosting services. Uncheck these settings and click the "Continue to Cart" button, as usual.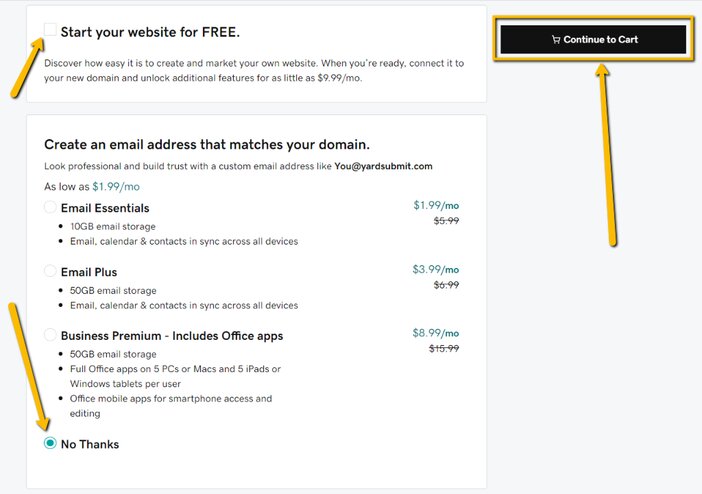 With all marketing gimmicks out of the way, kindly select the duration of the domain, provide your coupon code if you have any, and hit the "Ready to Pay" button.
After that, you'll be required to sign in to your account if you don't already have one to complete the checkout process.
4. How to Buy Domain Name for Free
Going through the web hosting route is one of the best ways on how to buy a domain name for free.
Bluehost is the web hosting service that I recommend for this reason. This is only relevant if you want to establish a blog and build a website.
The main drawback to this strategy is that you'll have to pay for web hosting as well.
To get started, go to Bluehost's website and pick "Hosting," then "Shared Hosting" from the drop-down menu.
You'll be taken to their pricing page as a result of this. Customers tend to lean towards the Basic and Plus plans. Nevertheless, I advise you to go with the "Basic Plan."
On the following page, you will be prompted to select a domain name. Simply type the domain name into the "create a new domain" box and press "Next." This is the path that will allow you to obtain a domain name for free.
You will be directed to the signup page if the domain name you specified is available. From here, you must enter your account information, such as your name, phone number, and email address.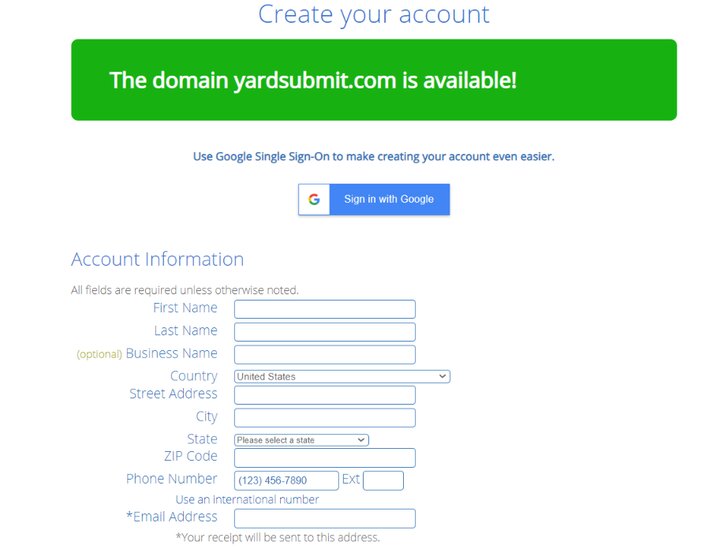 You'll see various hosting extras below the account details. I don't advocate purchasing them, so uncheck them for the time being. You can always get them subsequently if you think you'll need them.
Bluehost will immediately register your domain name, create your hosting account, and offer you login details to your hosting control panel.
If you don't want to utilize Bluehost, you can instead use GreenGeeks, HostGator, or DreamHost to acquire a free domain name.
5. How to Buy Domain Name From Someone
You've chosen to establish a new business and have the perfect name in mind. However, when you lookup for the domain you desire, you find that it is already taken.
So, how do you go about it? Do you quit and change your domain name, or do you figure out how to get that person to sell you the domain name? Follow the instructions below if you want to go with the latter route.
1. Look for recent activities.
The first thing you should do is go to the domain you want to purchase. Is it a legitimate website? Is it up to date? Has it been modified in the last few years? If you answered yes to both questions, the domain owner is certainly not interested in selling it.
You're more likely to receive the domain if it's an actual website that hasn't been maintained in years, but there's still a possibility the owner will decline to sell it.
2. Make contact with the owner
The next step in purchasing a domain that belongs to someone else is determining who that person is. This can be done by utilizing WHOIS. This is similar to a phone book's white pages.
The name, email address, and phone number of the person who owns the domain name are frequently included there.
However, there are situations when a person uses a privacy service or when the information is outdated.
Privacy on the WHOIS functions similarly to an unpublished phone number; it adds additional information to the WHOIS to protect the owner's personal information.
Since this privacy email information usually always forwards to the true owner's email address, contacting them via the private email listed in the WHOIS directory is still possible.
3. Agree on a reasonable price
Offer a reasonable fee for the domain once you've made contact. Do some homework if you're unsure about a price. If you really want the domain, you can even pay a broker to handle the transaction for you.
4. Use Escrow to complete the transaction
You might be apprehensive about purchasing a domain name, especially one for a large quantity of money. What if the seller accepts your payment but fails to deliver the domain name?
Using a service like Escrow.com is the best option. You send the site your money, which they keep safe until you confirm you've gotten the domain name. They then hand the payment over to the seller.
Escrow.com has been used to buy some of the most well-known domain names, including WordPress.com and Twitter.com. It's worth noting that you'll have to pay a fee to Escrow.com.
Don't try to save money on Escrow costs by cutting corners. Unless the domain owner agrees to move the domain to you before the money is sent.
Steps to Choosing a Good Domain Name
A solid domain name is an important first step in establishing your brand. Finding the ideal domain name, on the other hand, might be difficult.
While there is a significant number of domain names available, several of the popular and easy-to-remember domain names are already taken. Luckily, if you employ a little imagination and follow a basic procedure, you can still get what you need.
1. Make it recognizable
Generic domain names are never as good as creative, memorable ones. After all, it's through your domain name that people will locate, remember, and share information about your company on the internet.
Instead of a domain name made up of a lot of generic keywords, it's much preferable to have something that matches your brand.
It's also important that the domain you choose be memorable. It should be straightforward to pronounce and type for everybody.
Are you unsure whether or not your domain name is memorable? Ask your friends about it and see if they can pronounce it. Should more than a few be having trouble, you should try something else.
2. Length is important
Shorter is preferable when it comes to domain names. Easy-to-understand and straightforward domain names that reflect on their promises are preferred by search engines, particularly Google.
The domain should be as concise as feasible while still conveying your website's concept. Shorter domains are easily readable, take up less space on promotional materials, and are more likely to stick in the minds of visitors.
Shorter domain names also have the disadvantage that there is a limited quantity present. However, if your business name is completely original or contains a creative element, you may be able to locate something that fits the bill.
So, what is the appropriate maximum length? Aim for 6 to 12 characters, with the shorter end of that range being the most important.
3. Always go with a.com TLD
If you must choose an extension or TLD for your domain name, ".com" has always been the best option except you have a compelling cause to do otherwise.
While Google certifies that your TLD choice has no bearing on rankings, it does affect consumer impression. Many people believe that other TLDs are less reliable.
However, because .org and .net extensions are not prevalent, they can be fantastic backup alternatives if you find the perfect name but can't get the coveted .com.
 If you ever do opt to go with a non .com extension, make sure to check out what types of websites are currently using the .com extension.
Someone is certain to stumble over it while searching for your brand. You should avoid using that name if the site contains suspicious or offensive content.
Finally, unless you truly believe that specialist domain name extensions such as .club, .restaurant, and .pizza would boost your brand, avoid them.
4. Get rid of hyphens and numbers
Consider requesting that your friends write or pronounce a domain name that contains numbers, special characters, and dashes. Search engine results can be harmed by URLs that contain a lot of numbers and special characters.
If you pick a domain name that includes these elements, you'll probably lose visitors to people who can't remember it or inform others how to find it.
5. Avoid Iinfringement on trademarks
Others exploiting their trademarked names upsets both major and little firms.
Even if you've made an honest mistake, the legal costs of a lawsuit and having to reorganize your online presence could be exorbitant.
Before making a final decision, use a trademark lookup tool to avoid these scenarios.
6. Ensure that it is future-proof
The purchase of a domain name and a website is a long-term investment. That implies you shouldn't pick a domain name that contains a year or a trending catchphrase.
Consider where your company or brand could be in 5 or 10 years. If you're currently providing basic SEO services, you might find that as your company expands, you'll want to extend your offers.
How To Know a Good Domain Registrar
The core role of all domain name registrars remains the same. You may register domain names like myfirstname.org, mrawesome.net, yourbusiness.com, and somethingspecial.net with them.
Let's have a look at some of the factors to consider when choosing a domain registrar:
1. Safety and security
Theft of domain names is common. Untrustworthy individuals will attempt to gain access to your registrar account or your email address.
Your domain names can then be hijacked and transferred to other registrars. It may be too late to recover your domain name by the time you discover it or it may necessitate an expensive legal battle.
As a result, while choosing a domain name registrar, the foremost thing you must look for is security.
Some registrars are recognized as domain thieves' closest buddies, while others have a bad reputation for security.
Two-factor authentication is an important security component to look for. When two-factor authentication is enabled, as you attempt to log in to your account, a backup password will be texted to your phone.
This implies that even if a criminal knows your account password, they won't be able to log in except they also have your phone.
2. Cost
What is the cost of the domain name in the doorway? When buying and renewing your domains, particularly if you have a large number of them, price is an important factor to consider.
The good news is that registrar prices are usually straightforward to compare. If your firm buys a lot of domain names, a few dollars here and there can mount up.
Check how much the domain registrar asks for add-on options such as whois privacy, which can help you avoid being spammed and robocall all day.
Many new domains and transferred domains with Namecheap and Namesilo come with free domain privacy, as well as low-cost renewals.
3. Account management
Have you previously signed up for a service just to be lost as to how to use it? That's where having help close by comes in helpful.
However, if the domain registrar's interface is well-designed, you may often avoid any additional assistance.
Is it simple to use the domain management system? Can changes be easily made like simple changes, such as changing your nameservers? Is it working properly in your browser?
Those are a few of the questions you'll have to answer when registering a domain with any registrar.
4. Customer service
Many people do not consider customer service until they are in desperate need of it. Consider how many times you've needed to file a support request for a web-based service. This demonstrates the importance of assistance.
It might be difficult to determine the quality of a company's support before purchasing its service.
That is why, before making a purchase, it is a good idea to send a small query through a company's support portal to check how quickly they react.
SEE: How To Make Money Flipping Domains
What are the Types of Domains Available?
After the first quarter of 2021, Verisign reported over 363 million domain registrations among all TLDs.
To make the optimal decision, you must first comprehend the structure of a domain, which is divided into two sections:
1. Second-Level Domains (SLDs)
While most people consider a website's name, they assume a second-level domain. That is because it is the portion that people will recall the most. It's the unique identity you pick to symbolize your brand.
An SLD sits to the left of the extension, or top-level domain, in a web address. You can use as many letters, numbers, and special characters as you would like, but keep it short and simple.
2. Top-Level Domains
Top-level domains are also known as domain extensions. They're the letters that appear after the dot on the right side of your SLD. The most popular are .com, .edu, .gov, .net, .org, and so forth.
The domain name for this website, for example, is tosinajy.com. This implies that "tosinajy" is the second-level domain, while ".com" is the top-level domain.
FAQs
What is a domain name?
A domain name is the URL of your website that visitors type into their browser to access the site. For instance, take a look at tosinajy.com.
In other words, if your site were a structure, your domain name is its address. Domain names can contain both letters and numbers, making it easier for business owners to come up with unique names for their website's address.
How can I purchase a domain name permanently?
A domain name cannot be purchased permanently because it is not a one-time procurement. A domain name can only be registered once a year.
The most you can do is pay in advance for up to ten years. This ensures that you'll have the domain name for ten years.
What is the procedure for renewing my domain name?
Your domain name can be renewed through your domain control panel. I strongly advise you to use the auto-renew tool to have your domain name renewed automatically.
Even if your domain registrar sends you reminders before your registration expires, you may miss those emails and lose ownership of your domain name. If you choose not to retain a domain name, you may easily turn it off.
Is it possible to purchase an existing domain name?
Yes, you can potentially buy an existing domain name through a brokerage like Flippa.
However, there's no assurance that you'll get the domain name you want because the owner may refuse to sell it or demand an exorbitant amount. Premium domains can also be purchased from a premium domain broker such as Sedo.com.
Is it possible to purchase a domain name without hosting?
Yes, you certainly can. Web hosting and domain registration are two distinct services. To purchase a domain name, you don't necessarily need to purchase or have a hosting service.
Check to see if your desired domain name is available, then purchase and register it with a registrar.
The domain name will be yours whether or not you create a website, as long as you retain the ownership before it expires.
Conclusion
This concludes the article. I hope that this post has taught you how to buy domain name for your website.
Namecheap is the best domain registrar in my opinion for buying and registering a domain name. They offer the industry's best customer service and pricing. That notwithstanding, NameSilo is the best alternative you can equally give a trial.
If you are looking for how to buy domain name, you probably want to start a website. Here is a complete guide on how to start a website.
You can also check out this post that reveals how to make money with a website without selling anything.
I hope you found this guide helpful.
Thanks for reading.