Curious about how you can make money with receipts? This article will reveal all the details.
Since I shop a lot for the groceries and clothes that I need, my wallet is always full of receipts. I believe you also have lots of receipts lying around in your home. I'm always on the lookout for new ways to make money and it was unbelievable when I discovered I can earn from scanning my receipts.
If you are in search of an easy way to make money and get free items, have you considered scanning your receipts for money?
In this article, I will reveal some of the best apps that will offer you cashback for scanning your receipts.
Let's discuss in detail, the best apps that you can use to make money with receipts.
1. Paribus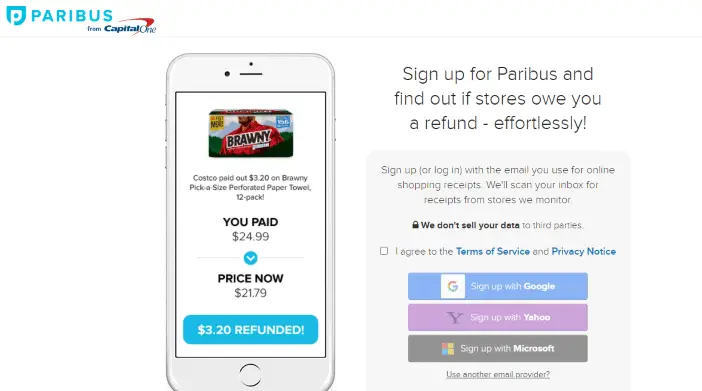 Amazon and some other retailers have useful policies in terms of price changes and refund if there is a fall in the price of an item right after you bought it. The retailer may also owe you a store credit for delivering your item late. But you don't need to memorize the store policies and tracking prices since Paribus can help you with that.
Paribus will monitor your email account for emails about the shipping and confirmation of your orders from different stores. The app will then track any changes in price on the items you purchased.
Apart from identifying when the retailer owes you a refund, it will also work with the retailer to ensure you get your money.
In some cases, you may be required to take some actions, depending on the policies of the retailer, but Paribus helps to reduce the work involved to the bare minimum. When there is a price adjustment, your original form of payment will be credited. The app is free to use.
How to Use Paribus
To use Paribus, you need to create an account. This can be done through a valid Google, Yahoo, or Outlook email address. You don't need to track any receipts or link a card for Paribus because the system will scan your email.
If the retailer owes you a refund, you will be credited via your original payment method. Paribus is easy to use since it works behind the scene while you carry on with your shopping. Simply sign up for an account and expect your first refund.
2. Ibotta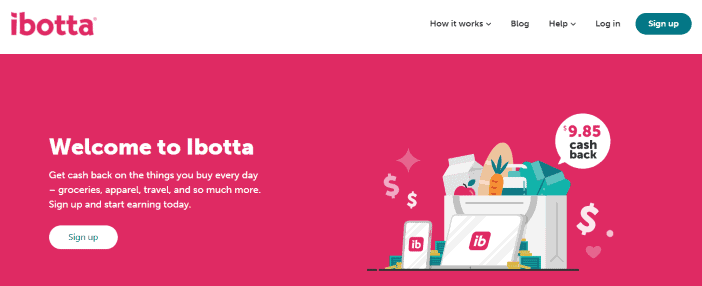 This free app gives you lots of opportunities to earn cashback from the things you buy every day. Ibotta rewards you for shopping at different restaurants, retailers, and lots more, from visits to the grocery store to holiday shopping on eBay.
You can earn cashback from Ibotta by uploading your receipt, shopping on your phone, or linking a customer loyalty card for some specific retailers. You need to browse cashback offers before you shop; thus, you should be proactive when you're going to shop.
It is easy to use Ibotta; all you need to do is to download the app and create an account. Once you've created an account, browse the available offers on the products that you want and add the offers by completing simple tasks.
The next step is to shop as you normally would. You will be able to purchase those products at any of the retailers that Ibotta supports. When you're through with your shopping, snap your receipt. The app will compare the offers you added with what you bought and then give you cash in your account.
When you earn $20, you can withdraw through PayPal. You can also redeem your earnings for a gift card.
3. Shopkick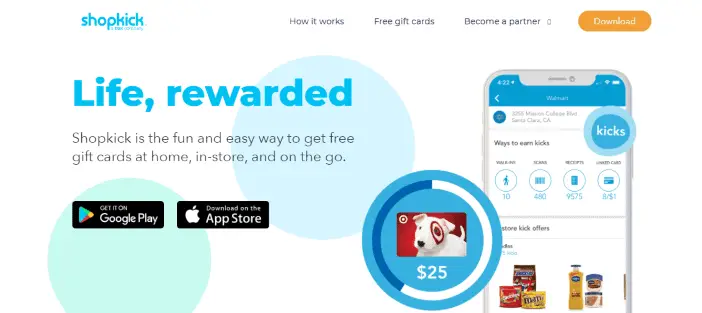 Shopkick is one of the most unique apps that you can use to make money with receipts. Apart from earning points for scanning receipts, you can also be rewarded for visiting stores. This implies that anytime you enter into one of the stores they partner with or visit one of their sites, you will earn points that can be redeemed for different rewards.
Apart from this, Shopkick can also be used to scan barcodes at stores, scan receipts, and link the credit or debit card to earn points. There are lots of ways through which you can earn with Shopkick. Once you sign up, you will be rewarded with 250 kicks (Shopkick points) right away.
To use the app, you need to download it and create your free account so that you can earn the 250 kicks. After that, you can earn through various means.
If your location services are switched on while shopping, you will earn kicks whenever you enter into one of the stores that Shopkick partners with. You can also shop via the app to earn cashback; simply click on the links in the app to be taken to the website of the retailer.
Go through the available deals on Shopkick before you embark on grocery shopping. When you see a product that you can earn cashback from, scan the product's barcode by using the app. You can also link your credit or debit card with your account; whenever you buy an item that qualifies for cashback, the app will register it automatically.
In addition, you can register your receipts via Shopkick to earn. As you earn kicks, you can either redeem your earnings for PayPal cash or gift cards.
4. Waldo

Waldo is an app that refunds you for price adjustments after buying an item. This app is similar to Paribus but it has different partner brands. The app does all the hard work of monitoring your email receipts and securing refunds from retail stores.
To use Waldo, you need to sign up for an account by using your email address. Once you sign up, your work is finished; Waldo will help you monitor your email account for receipts and also keep track of price changes on the items you bought.
Once the app detects a price change, it will send a refund request to the retailer and then get you your money back. You don't need to keep track of your receipts to earn cashback; Waldo will do that for you. Simply sign up for an account and wait for your first refund.
Your money may either be credited to your original method of payment, emailed to you as an e-gift card, or sent in the mail as a check; the actual option will be determined by the type of retailer in question.
5. CoinOut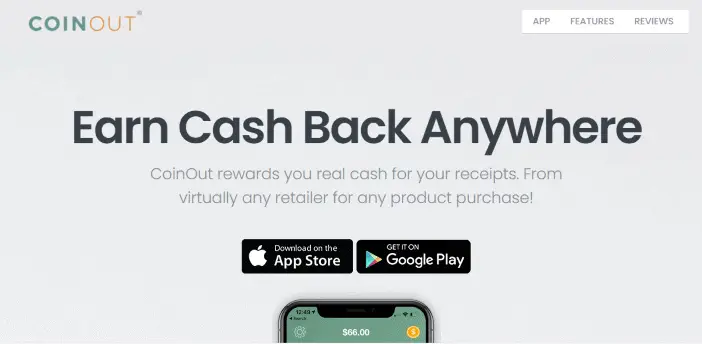 CoinOut is a reputable cashback app that you can use to make money with receipts. The app helps you to earn from deals on your in-store and online shopping. It offers an easy in-app camera and automatic cashback deals when buying items online; thereby making it a convenient app.
CoinOut is in partnership with a few popular retailers for online deals. For in-store shopping, on the other hand, you can scan your receipt from any store to receive rewards.
Another awesome feature of the app is that while shopping and using the app, the app will keep track of your buying habits and present more relevant offers to you. That implies that you don't have to waste your time looking for the best weekly offers; the app will do that on your behalf.
To earn cashback while shopping online with CoinOut, you need to browse through the app to find relevant details. Click a link and you will be taken to the retailer's store. Once you buy an item, you will earn points in your account.
If you want to earn on your in-store and grocery shopping, simply take a picture of your receipt. This will work at any store, but the best thing to do is to browse through relevant deals before you shop; this will help you know where the best deals are.
In most cases, users have earned about $5 per month as cashback with CoinOut. It may not be huge, but it is easy to have access to these offers and it's like being offered free money.
6. SavingStar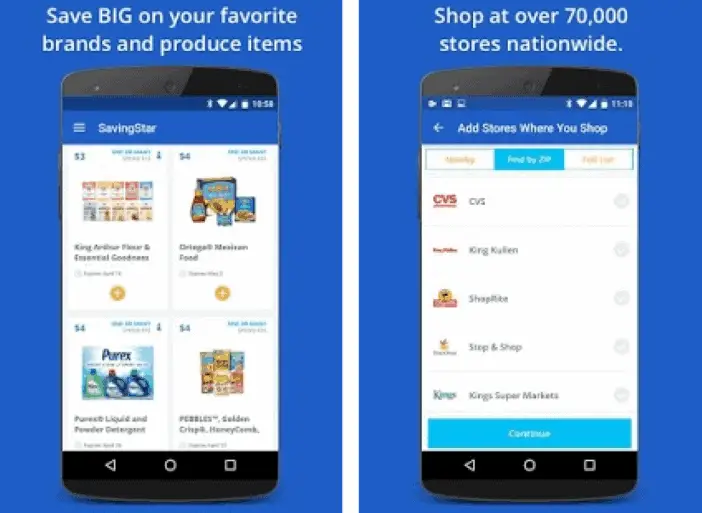 SavingStar was originally designed to allow you to link your loyalty cards and automatically get rewarded with every purchase you make. In addition to this service, the app also offers a receipt-scanning service that allows you to boost your savings.
One of the reasons why users love SavingStar is that its savings are higher than what is obtained on some apps. On SavingStar, you can easily earn about $4 to $5 in a single visit to the grocery store. These savings will become a tangible sum over time.
This app also pays out in cash, so you don't have to worry about redeeming your points for gift cards. SavingStar offers an easy way to save on your shopping.
After setting up your account, go through the app to find the best cashback deals. Proceed to shop as you would normally do and scan your receipt within the next 3 days. The earnings will be automatically transferred to your account.
When you earn more than $20, simply withdraw via PayPal. The app also offers you the option to donate your earnings to any charity that you want.
Click here to visit SavingStar.
Tips on Making Money with Receipts
To get the best from scanning receipts, use grocery store loyalty apps or cards. Lots of stores offer some form of loyalty program; the program can be through an app or a card which you use to pay for the groceries you bought.
To maximize the benefits offered by a rewarding opportunity, sign up for loyalty programs at stores and restaurants. Then scan your receipt to your favorite cashback app, and get more cashback from your shopping.
SEE: Legit Ways to Get Free Money on PayPal
Why Should You Scan Receipts?
It is easy and free to earn cashback by scanning receipts. Also, scanning receipts is a fun way to get free money; it's like getting paid for shopping.
FAQs
Is it legit to make money with receipts?
Yes, this is a legit way of earning cashback. It is understandable if you are skeptical that an app will pay you for scanning receipts due to the tons of scams on the internet.
The sites that are reviewed in this article are reliable and legit. The apps may use your details for research purposes, but you can be assured that they will not take any of your data without seeking your permission.
How do receipt-scanning apps make money?
Receipt-scanning apps make money through marketing. When you scan your receipts, the app company will sell your information to marketing companies that will then send relevant ads to you.
What do receipt-scanning apps do?
Receipt-scanning apps allow shoppers to scan their receipts and get cash back or savings on the items they buy. Some of the apps work by allowing shoppers to look for offers from their favorite retailers and uploading the receipts that reveal that they bought the items.
SEE: Strategies to Make Money without a Job
Conclusion
As revealed in this article, it is easy to make money with receipts by getting cashback on your purchases. Don't ignore the value of a receipt, because cashback on your purchases can give you tangible savings as time goes on.
If you are interested in saving money, cashback will make a huge difference.
Irrespective of who you are, you will find an app that works for you on the list, whether you love browsing coupons or just want to get cashback automatically. The best part is you are not limited to one option. Most of the apps can work together to give you more rewards.
One of the best apps that you can start with is Ibotta. This app is not only reliable and safe to use, but it is also easy to use and offers a straightforward means of getting savings while shopping.
CoinOut is also a great app that you can use to make money with receipts. This app helps you to take advantage of both in-store and online shopping deals.
To further help you make money with your spare time, here are the best apps you can use to make money with your phone. Thanks for reading.