Have you been looking for a way to make money with your digital marketing skills?  If the answer is yes, then this post is for you.
Digital marketing is huge right now. And with the large growth of digital marketing, there are many new channels available for you to earn money as a digital marketer.
In this info-based post, I will show you how to make money with digital marketing using the 10 leading platforms for digital marketers.
Now let's discuss each platform in detail to help you make the right choice.
1. MarketerHire
MarketerHire is a platform where experienced digital marketers can get hired. The talent team behind the platform is always looking for and hiring the best digital marketers. The site has great experience, proven expert, and top-notch communication.
Some of the types of digital marketers that can find jobs on MarketerHire include:
CMO
Amazon marketer
Content marketer
Brand marketer
Email marketer
Social media marketer
Growth marketer
SEO marketer
Paid social media marketer, and
Paid search marketer
MarketerHire pairs companies with digital marketers that fit their projects and budget within 48 hours. Most of the clients' projects are kicked off within 7 days. The platform's pricing is straightforward and they don't lock digital marketers in long-term contracts.
Also, you can work on hourly, part-time, or full-time projects.
One of the pros of the platform (when compared to other freelancing sites) is that it has a talented team that finds and hires the best digital marketers to work on the platform. MarketerHire's screening process is rigorous and less than 5% of applications are accepted.
SEE: Legit Ways to Earn $200 Per Day
The rigorous screening process and low acceptance rate help businesses to save money and time since the platform has faster implementation and higher retention rates.
Click here to visit MarketerHire
2. Fiverr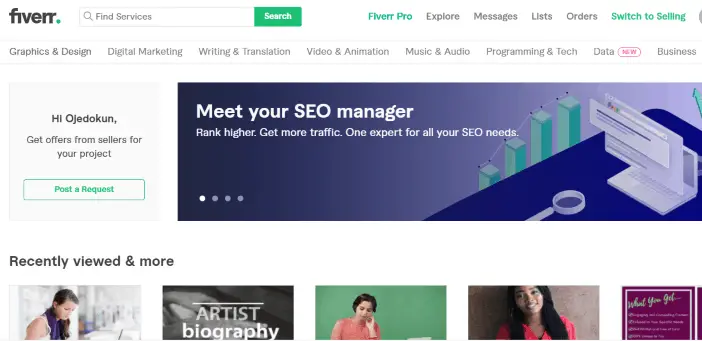 Fiverr is one of the largest freelancing job boards on the internet. It connects companies with prospective digital marketers. The site helps in streamlining the process of connecting different types of digital marketers with clients in a way that is efficient for both parties.
To contact a digital marketing professional on Fiverr, simply select the profile of the expert you want to work with. After finalizing the terms of a project, the clients will pay the expert upfront. The client will be given three days to go over the delivered project and can request revision or a refund.
Clients go through the website's list of freelance digital marketers through the site's filter tools to find the right professional. Some of these filters include price range, type of work, and lots more.
Fiverr is ideal for finding digital marketers that have specific skill sets because the platform has categories for almost any type of digital marketing need. Some of the categories that you can have access to after clicking on the digital marketing link on the site include the following:
Content marketing
Social media marketing
Public relations
Search Engine Optimization (SEO)
Display advertising
Podcast marketing
Email marketing
Video marketing
Crowdfunding
Affiliate marketing
Influencer marketing book and eBook marketing
Web analytics
Marketing strategy
Local SEO
Community management
E-commerce marketing
Text message marketing
Mobile app marketing
If you think the list above is extensive, you will be surprised by what you will find out. When you click on each category, you will discover that there are tons of sub-services. For instance, you can hire experts to create a LinkedIn page under the social media marketing category.
Also, you can hire someone to manage a Twitter account or upload your YouTube videos under the same category.
3. Upwork
Formerly known as Odesk, Upwork is one of the most reliable freelancing platforms for digital marketers. The platform allows clients to view each marketer's profile and overall rate, thereby making it more efficient to check the qualifications of each freelancer.
Upwork gives clients the power to get in touch with any freelancer they want. Clients looking for digital marketers will post jobs with their desired specifications in the description. The platform will then analyze the needs of the clients and goes through their tons of freelancers to choose the right fit.
You can work on hourly projects. Also, you can be paid per project. The platform can also be used for short-term jobs, recurring projects, or even full-time contracts. This implies that you can find different types of digital marketing jobs with different durations.
4. Freelancer.com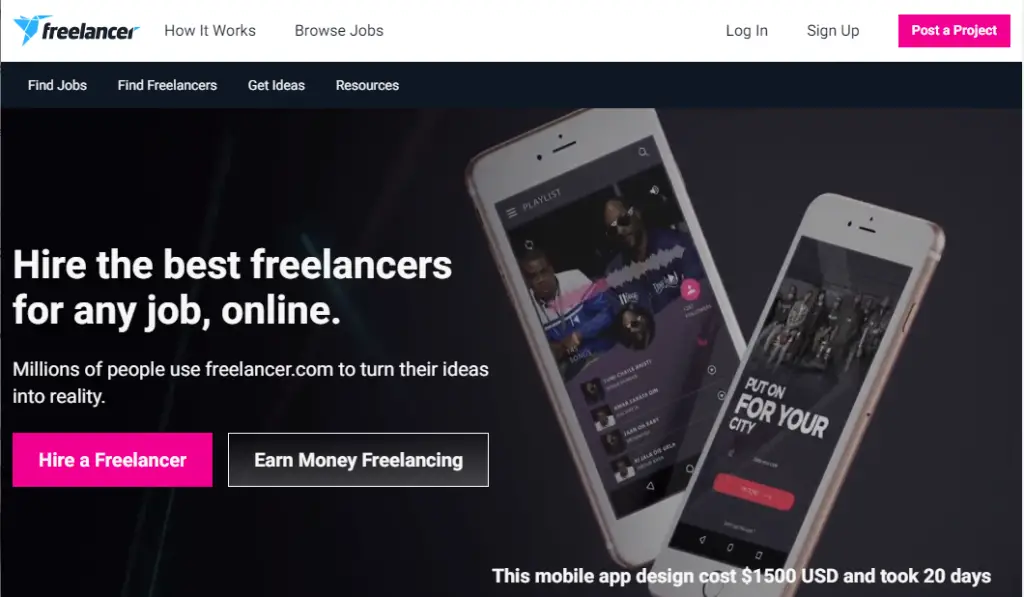 Freelancer.com was founded in 2009. It is one of the oldest sites that has a huge population of professional digital marketers in a single location on the internet.
If you want to find jobs on the platform, simply use filters to find jobs that match the service(s) that you offer. Clients can either reach out to digital marketers or post a job listing that candidates will apply for. The site also has the option of hosting contests where digital marketers can pitch their ideas.
Freelancer.com allows digital marketers to creat targeted portfolios; this gives you an upper hand when pitching your ideas to clients. The site also conducts exams to verify the skill sets of freelancers. If there is a dispute, the platform's streamlined system can be used to resolve issues within a short period.
Click here to visit Freelancer.com
5. PeoplePerHour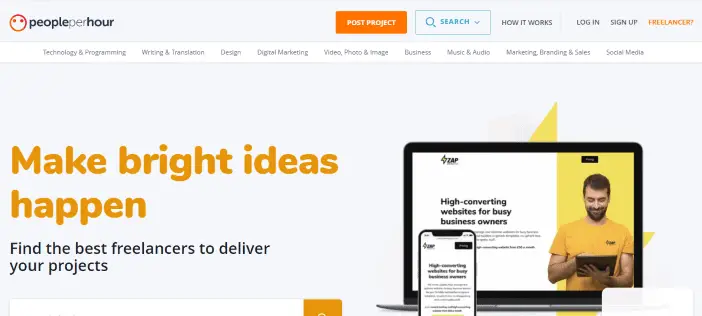 PeoplePerHour is a freelance website that allows companies to hold contests for projects that they need help with. The site provides a detailed list of qualified candidates that are experienced in different types of marketing expertise.
Also, freelancers can hold offers on PeoplePerHour; users can engage with this for lower prices to see if a digital marketer is perfect for them based on their abilities. Communicating on PeoplePerHour is simple since clients can track progress and can also provide feedback on projects.
SEE: Best Apps to Make Money with Your Smartphone
The easy-to-use interface and intuitive payment system make the platform a great choice for those that need some quick digital marketing help.
Click here to visit PeoplePerHour
6. Guru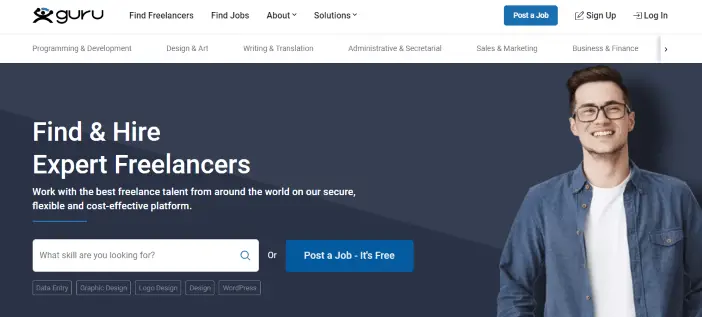 Guru is another platform that helps to make money with digital marketing. The site has job listings for different kinds of expertise. There are over 500,000 freelancers that offer digital marketing services on the site.
On Guru, digital marketers can either be paid for contract jobs or long-term projects. Clients can easily browse through the freelancer list and click "Sales and Marketing" as their category. Listed below are some of the categories and subcategories where you can find digital marketers on Guru:
Web/ digital marketing
Advertising
General marketing
Management
Content/ copywriting
Lead generation
Industry-specific expertise
Customer relations
General sales
Analysis/ data/ strategy/ plans
Branding
Management
Affiliate and referral programs
Concepts/ creative direction
Public relations (PR)
Call centers/ telemarketing
Communications
When clients find digital marketers they like, they can contact them and start discussing the details of the projects. Alternatively, they can post jobs on the platform's job board and wait for interested digital marketers to contact them.
Guru provides digital marketing jobs for experts around the world. There is no shortage of work on the platform at any time. Once a client is paired with a freelancer, Guru will provide "WorkRooms" that can be used to collaborate with the freelancer.
7. Contently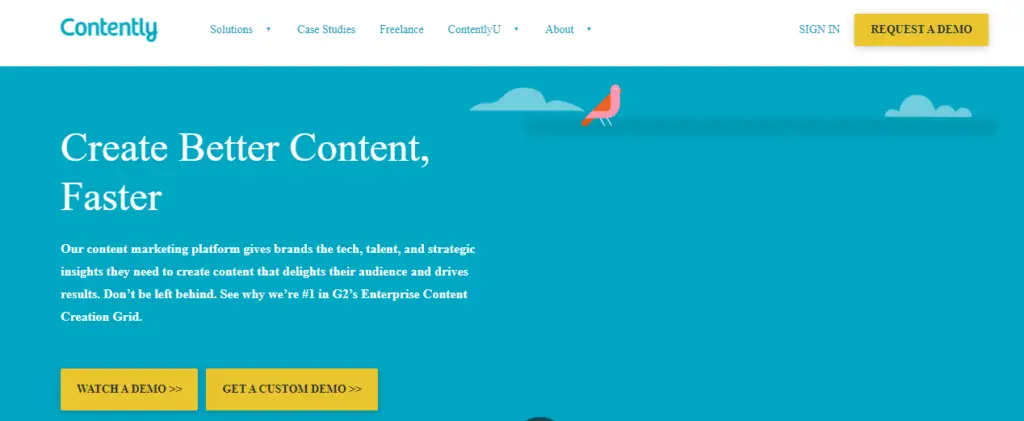 Contently helps digital marketers to get paid for doing what they are passionate about by connecting them with brands for high-paying projects. On contently, digital marketers are matched with leading brands that they can pitch ideas to so that they can land a job. If you want to start using Contently, simply create a portfolio that portrays your expertise and skills.
8. Working Nomads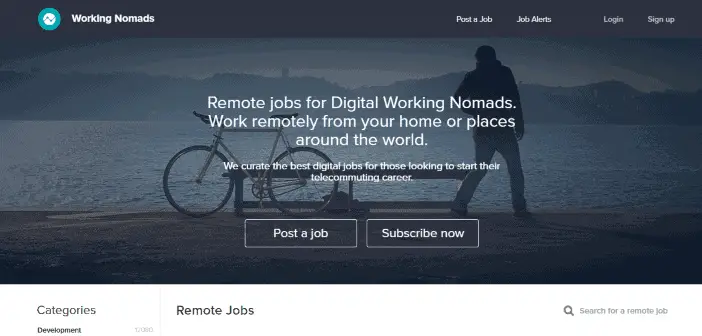 You can also make money with digital marketing by joining Working Nomads. Despite how competitive the digital marketing industry is, Working Nomads is one of the most reputable job boards on the internet ever since it was launched. The site allows brands to place job descriptions for jobs that they have.
Professional digital marketers can be found on the site. As a result, brands can be sure that their job ads will be seen by their target audience. Brands connect with the right digital marketing expert by placing ads on the platform.
Click here to visit Working Nomads
9. Simply Hired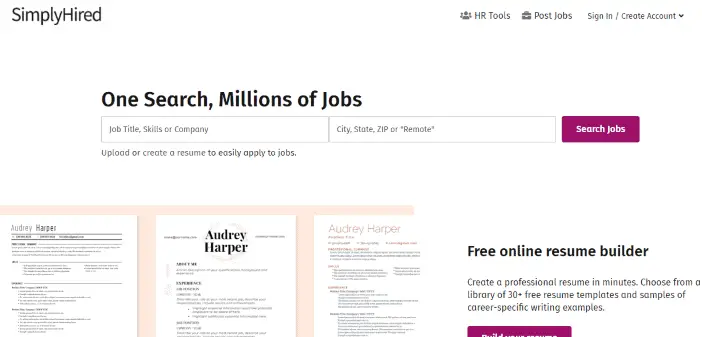 Just like Working Nomad, Simply Hired is one of the most popular job boards where digital marketers can find jobs on the internet. It is a platform where clients post job adverts for vacancies that are available in their companies. It can also be considered as an online recruitment tool that broadcasts vacancies found on other job listings and ads.
Simply Hired allows clients to include specifications about the advertised task, such as the remunerations that come with the job. Brands that use Simply Hired can be assured that they will find a digital marketing specialist that meets their requirements.
Click here to visit Simply Hired
10. Indeed

Indeed is one of the most influential and powerful websites for recruitment. It is a subsidiary of Recruit Co. Ltd; a Japanese company that owns Simply Hired. Indeed connects clients with digital marketing professionals all over the world so that they can collaborate to create great projects.
SEE: Legit Ways to Make Money with Your Smartphone
Companies can find digital marketing experts that specialize in SEO, email marketing, and other digital marketing fields on the platform.
How Much Can You Make with Digital Marketing?
Rates for digital marketing specialists depend on different factors. Businesses usually pay between $30 and $150 per hour when hiring a digital marketing specialist.
How to Increase Your Income as a Digital Marketer
The first thing you need to do to increase your earnings as a digital marketer would be to learn and develop the digital marketing skills that you want to focus on. This will help you to become an expert in the skills. You should also improve and strengthen your managerial skills.
Why Should You Make Money with Digital Marketing?
The internet has created the need for brands and companies to create awareness for their services online. As a result, there will always be demand for digital marketing services as long as the internet exists. Also, you can work from anywhere as a freelance digital marketer and there is no limit to what you can earn.
FAQs
Is digital marketing a good career?
Digital marketing is a good career. As a digital marketer, you can a salary that is between $25,000 and $35,000 per month.
What does a digital marketer do?
Digital marketers help companies and brands promote their businesses to generate leads and boost their sales. They achieve this by strategizing, designing, and launching direct and indirect marketing strategies.
Conclusion
There are many ways to make money with digital marketing. Also, there are many platforms that digital marketers can join to make money and we have considered some of them in this article.
If you want to offer your digital marketing service, you can join any of these platforms to showcase your expertise to tons of clients around the world.
There are lots of companies that hire digital marketers. You can find these companies on the job boards listed in this article.
Digital marketing will keep growing. Focusing on developing your skills will open you up to high-paying opportunities.
If you want to start making money with digital marketing, you can join Fiverr. The platform is easy to use and has low entry requirements. Lots of clients also visit the site regularly to hire digital marketers.
Another platform that I recommend is Upwork. This site gives you access to high-paying clients that will pay you what you're worth.
If you want to know the different services you can offer as a digital marketer (also known as an online marketer), check out this guide. Thanks for reading.