Are you looking for the best domain name generators? Let me guess.
You want to start a blog or new product?
Finding brandable names is not your forte?
You're looking for the fastest way to get brandable name?
Whichever describes you, this post contains the best domain name generators that will spill out names you'd never imagine all by yourself.
Let's get started…
Quick Review
Here are the best domain name generators.
See Also: Do I Need Domain Name Privacy Protection? The Truth Revealed
Best Domain Name Generators
1. NameMesh

NameMesh has been one of the best domain name generators to consider if you want to use many keywords in your domain.
This tool permits users to experiment with keywords by using prefixes, suffixes, antonyms, synonyms, thesaurus, and even overlapping terms.
NameMesh provides a large list of domains relying on your keywords, which is neatly divided into categories such as short, common, fun, new, and SEO.
How do you intend to use the tool? Begin by inputting one or more keywords, and then pick the TLDs that interest you.
NameMesh can compile a long list of potential domain names for you and tell you which ones are available for registration.
Unchecking the box labeled "hide registered" will give you a better idea of the viability of such domain names.
In general, you should avoid registering a domain name if the majority of the other TLDs are already taken.
Pros
The number of domains spread is massive
The Mix and Playgroup is great for coming up with unique domain names
This domain name generator stands out due to its advanced filters for both TLDs and hosting platforms
Only available domains are returned
You'll be given recommendations for premium domain names that are available for higher-end enterprises
Cons
It's hard to explore different categories using their scroll down for more function
There are no suggestions for keywords that are comparable
"Premium" domains generated are usually more expensive
Pricing
NameMesh is a 100% free service.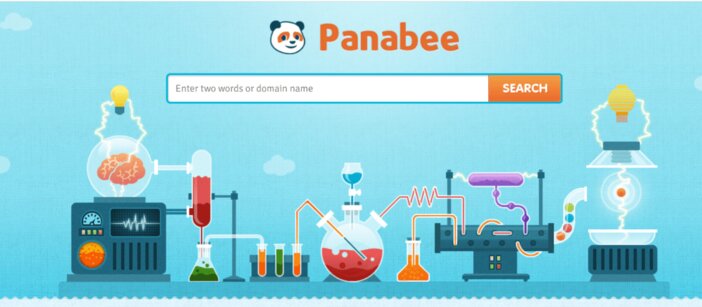 Panabee stands out with its eye-catching graphic identity and layout. Not only does it have a nice design, but it's also a great addition to this list of the best domain name generators because it has a lot of features.
The program will generate domain names based on syllables, phonemes, acronyms, prefixes, suffixes, and popular domain trends after you express your concept in two words.
If the precise name you're looking for isn't accessible, it will provide you with a list of possibilities. Alternatives will be derived from related words, ensuring that you will always be able to discover something reasonable.
Instead of a long scroll of results that strains the eyes, each accessible domain name is marked with a blue heart, with a broken heart next to domains that have already been claimed.
See Also: Why Would Domain Authority Drop? – How To Improve Your DA Score
Pros
Panabee features a staggering number of keyword manipulation rules
A fantastic section on related words
Based on the domain names you're considering, it suggests social media usernames as well
Returns alternatives that are now unavailable, along with information on how you might be able to acquire them
Translates your terms into another language automatically
Cons
The usage of only two keywords could be restrictive
There's no popularity filtering
The majority of the results for a popular phrase are not available for purchase
Pricing
Panabee is a 100% free service.
DomainWheel is an AI-powered application that suggests term combinations, synonyms, and related keywords to help you enhance your search.
They combine their search with random ideas, names that sound similar to your search, rhyme with your search, and other irrelevant topics.
When the names DomainWheel generates aren't quite appropriate for your site, it also offers a few random choices as well as a list of keywords related to the subject.
You can choose from 15 different domain extensions, including new ones like .store and .tech, with this domain name generator. It shows only accessible names in addition to providing random creative names. A dropdown menu allows you to search for TLDs thanks to the user-friendly interface.
If any of their domain name ideas appeal to you, click the view details button to see your domain name registration possibilities. Most of the time, it will take you to Bluehost, which provides free domain registration with any of their hosting services.
Pros
It features unique name possibilities like "sounds like" and "rhymes with" features for your chosen keywords
Only domains that are available for purchase are returned
The tool's user interface is both quick and pleasing to the eye
Users can choose which extensions they want to include in their searches
It displays keywords that are relevant to your topic
Cons
There aren't many options for data filtering
It's difficult to check for social media availability of your chosen keywords
Pricing
DomainWheel is a free service.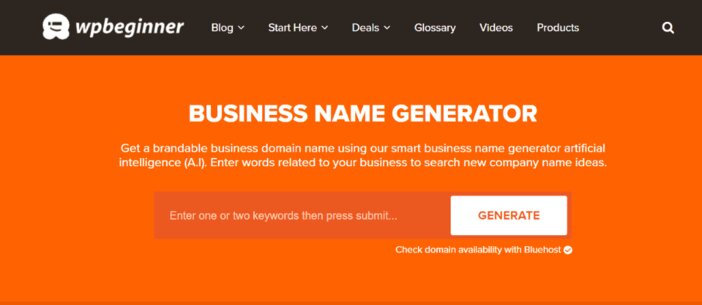 WPBeginner provides one of the greatest AI-powered free business name generators on the market, among many other free business tools.
Apart from looking for business names, the WPBeginner generator also searches for available domain names.
This generator combines a business name generator and a domain name generator, allowing you to quickly come up with great domain name ideas and verify domain availability across a wide range of domain extensions.
See Also: How To Choose A Domain Name: 5 Tips To Choose A Good Domain Name
Pros
Create business names in a matter of seconds
There is no need to register before using the tool
Cons
Only a few names are generated
The majority of the names generated are not registerable
It works with Nameboy's API
Pricing
It is completely free to use.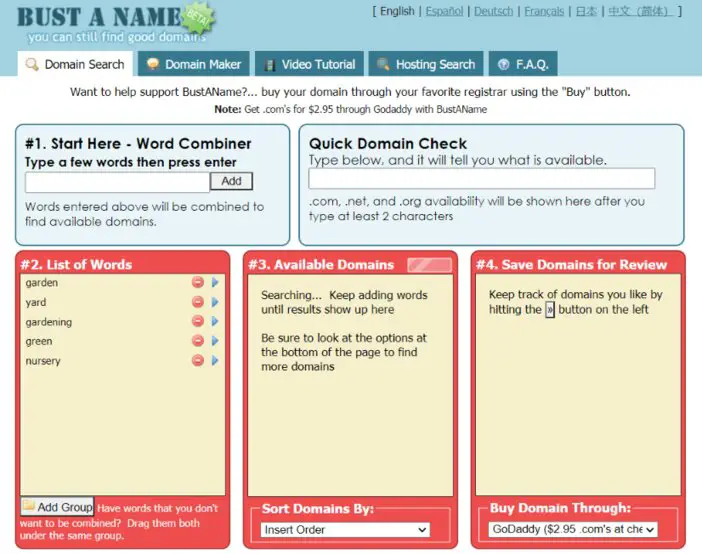 BustAName is a user-friendly domain name generator. While the tool's layout and design aren't as beautiful as some of the more recent options, don't let its unpleasant appearance fool you into thinking it doesn't work great.
Based on the keywords you enter, it will rearrange the words into a variety of names. The domain name generator from BustAName demands a lot more information than the rest of the tools on this list.
The option to select how natural-sounding your name should be is the most remarkable feature of the Domain Maker in BustAName. BustAName offers a variety of filtering options to help you select a decent domain name that meets your needs.
Start by searching for keywords, then using those keywords to pick alternatives such as "starts" or "ends." Then choose your character limit and the level of realism you want the domains to have.
Other features include pluralizing nouns, removing the last vowel, and adding suffix, prefix, and hyphen.
In addition, the domain builder on the website generates natural-sounding domains based on the words you provide, either at the start or end.
Pros
The domains it suggests are one-of-a-kind and interesting
It allows you to bookmark domains for future use
Allows you to choose where you want to acquire the domain
It compares the prices of different registrars
If you're stuck for ideas, press the "Make Random Domains" button
Cons
Only a few domain extensions are recommended
You can't put your seed keyword anywhere else in the domain name except at the start or finish
There isn't a vast number of domain names available
Pricing
BustAName is a fully free service.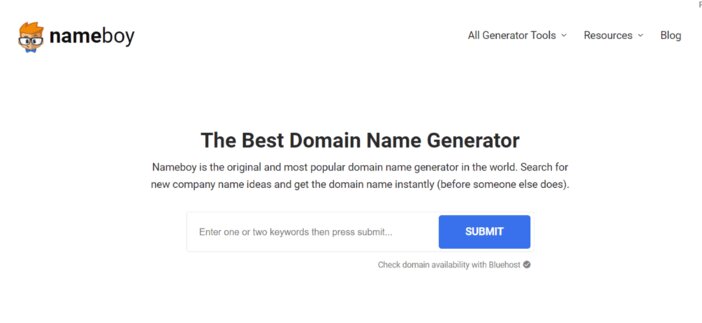 Nameboy, one of the best and longest-running domain name generators accessible, will not let you down.
With a history dating back to 1999, this is one of the most well-known and valuable name generators on the market.
Nameboy has a lot of cool domain names, especially if you want to register more TLDs than just .com.
This tool generates name recommendations using a combination of phrases, suffixes, prefixes, and the keywords you specify as a domain name generator.
Users can enter one or more keywords, and the system will generate a list of probable domain names from which to choose.
After that, you can click on any domain name to get more information about it, or you can complete the registration by implementing the on-screen instructions. It's lightning-fast, allowing you to look over a lot of domain names in a short amount of time.
See Also: How to Choose a Website Name for Your Blog
Pros
It shows the availability of a small number of top-level domains (TLDs)
You can choose whether to allow or disallow hyphens
It shows domain names that are available for purchase
You have the option of entering two seed keywords using Nameboy
Cons
If you want to buy a domain name straight from Nameboy, the checkout method has been labeled as "unsafe" by Google
There is no way to sort by extension
It doesn't look to see if you're on social media
Doesn't have as many features as the other generators on this list
The vast majority of the domains generated are unavailable
Pricing
Nameboy is a free service.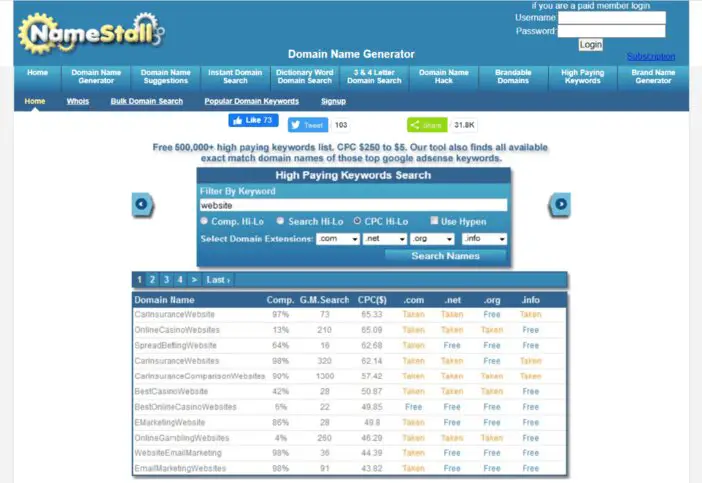 While NameStall's user interface is a little archaic, its domain name generating capabilities are vast and powerful. NameStall may be used as a typical domain name generator, but it also has more specialized options that allow you to develop ideas that are more particularly customized to your needs.
The three most beneficial domain name generators are three-word domain names, key domain names, and rhyming domain names.
Start by utilizing their domain name generator tool, which lets you search for domain names using keywords and other parameters like industry categories, parts of speech, basic English terms, and frequent keywords.
You can also specify whether the seed keyword should appear at the beginning or end of your domain, whether or not hyphens should be allowed, and whether or not your domain should end with a 'word category.'
NameStall also features a related domain name suggestion for apps names, a brandable domain name list, an immediate domain search tool, and a search tool for high-paying keywords.
Finally, choose the extensions you'd like to retrieve data with. A list of possible options, both taken and unregistered, will be emailed to you. Click the "register" button next to the one you wish to sign up for.
Pros
There are a variety of choices for customization
A large number of domain name generating tools are available
It allows you to define where your keyword should appear in the domain name
Allows you to choose from a variety of domain extensions
It enables you to look up a limited number of TLDs before registering them
Cons
You can only conduct five searches before being forced to buy a subscription… Alternatively, you can use the incognito window in your browser
You can only make a search for one keyword at a time
Its user interface is old
Pricing
NameStall is a fully free service.
NameStation is a community as well as a domain name generator. You can hold a competition and crowdsource name recommendations in conjunction with searching for domain names.
To use the NameStation domain name generator service, you must first create a free account with the company. You can use your email or Facebook account to accomplish this.
After you've created an account, you'll have access to a number of useful features, including:
Keyword Suggestions
Instant Availability Checker
Domain Name Generators
Public Name Contests
It offers extension filters, as well as the ability to hide unavailable domains and develop unique custom domain names. It also allows you to purchase the domain names you discover, and it can generate thousands of ideas, so you won't run out of alternatives.
The nicest thing about NameStation, though, is its simple style and layout. There are no distractions, the interface is simple, and there are no hitches.
You can also utilize NameStation for keyword recommendations, substitute names, and search help. There's also the option of hiring name experts via crowdsourced contests. You can even receive points for coming up with clever contest names.
Pros
It's quite simple to use
Domains with a huge number of extensions are generated
Excellent filtering and recommendation choices
Using domain name contests, you can solicit ideas and input from an online community
The user interface is free of interruptions
Cons
There are no alternatives for the length, quality, or language of the name
To access more sophisticated features, you'll need to upgrade
There are currently no popularity filters available
You must first register before using the domain generating tool
Pricing
If you want to make use of extra features on NameStation, you can pick from three premium options.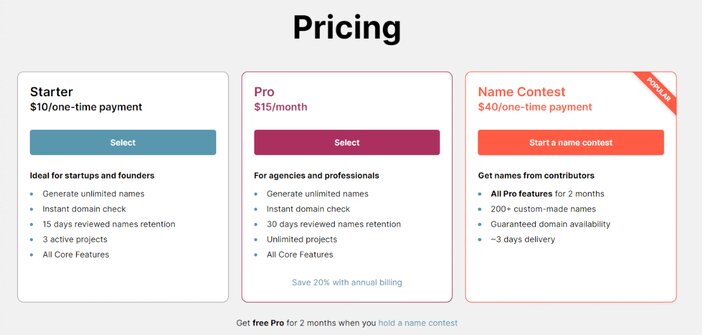 i. Starter Plan: $10/one-time payment
This option is perfect for entrepreneurs and businesses. You can produce an unlimited number of names, run a quick domain check, work on three ongoing projects, and keep your reviewed names for 15 days.
ii. Pro Plan: $15/month
Professionals and agencies will benefit from this initiative. You can produce an unlimited number of names, run a quick domain check, work on an unlimited number of projects, and keep your reviewed names for 30 days.
iii. Name Contest Plan: $40/one-time payment
If you want to obtain names from contributors, this option is great. You'll get 200+ custom-made names as well as guaranteed domain availability with this.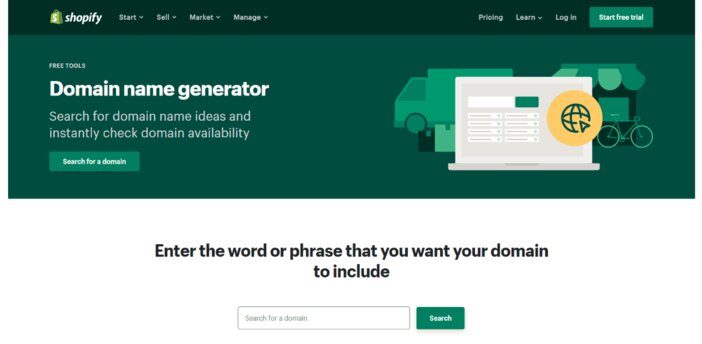 As the name says, this application was designed by Shopify, one of the highly successful and greatest eCommerce companies on the internet
Shopify is recognized for providing free resources to its users, one of which is the Business Name Generator platform.
There isn't much that differentiates this tool from the others in terms of functionality, but it is one of the quickest and easiest to use.
Regardless of the fact that the tool's name suggests it's solely for making business names, Shopify's Business Name Generator also suggests domain names.
Simply enter a seed term and wait for the generator to generate recommendations.
Most of the domain names you'll see here are .coms, which you can register right away if you wish to start a Shopify store.
You can acquire the web address elsewhere if you don't want to develop a Shopify store and just want to produce domain names. This tool will also come in helpful if you wish to use Shopify to build an online store.
Pros
The cost of each domain is displayed
It allows you to start a Shopify store as soon as you choose a domain name… but that's only a benefit if that's exactly what you want to do
Users are guided through the procedure of creating an online store.
Cons
The feature can only be used by Shopify users to register domain names
It shows the availability of more domain names with .com extensions
The feature can only be used by Shopify users to register domain names
If you don't want to create an online store with Shopify, this isn't the best option.
Pricing
The Shopify Domain Name Generator is a 100% free service that you can use without spending any money.
If you want to pick from dozens of domain names, you've come to the appropriate place.
Lean Domain Search has over the years proven to be one of the most dependable approaches for locating a domain name for your website.
This is a tool created by the Automattic team, who are known for their work on the WordPress.com software and the fundamental WordPress team, so they should be well-versed with domain names and websites.
Despite the fact that it only shows sites with a .com extension, the sheer volume of results gives you a lot of options to evaluate. Start with a single term and then search for your domain options using Lean Domain Search.
It will match your search phrase with commonly used keywords with 95% accuracy to suggest and view available names. It also sorts the results by popularity, length, and alphabetical order, as well as filtering by keyword order.
Pros
It permits you to 'favorite' specific domains for further analyses
You can register domain names straight from the tool's interface with Lean Domain Search
Checks if a domain name is available on Twitter, as well as whether it is too long
It shows the results of past searches you've done
Cons
It only shows .com domains that are available
Numbers and hyphens are not allowed, so only letters and spaces are allowed
Pricing
Lean Domain Search is a 100% free service that you may use without spending any money.
Namelix is an AI name generator that makes it easy to come up with business names. Unlike traditional programs that suggest long business names based on dictionary words, the Namelix business name generator uses algorithms to generate short and catchy business names.
Their AI-based technology is fantastic, in my opinion. It came up with a lot of unique names, including those that were considered premium. In addition, high-quality vector logos can be printed. You can keep track of the names so that better recommendations can be made.
The premium names are superior to the free names in several ways. Nonetheless, if you're seeking logos or even designs to match your name, it's an excellent resource.
Pros
You can use numerous keywords without the search crashing
You can also specify terms that you don't want to appear in your search results
The user interface is fantastic
It's simple to come up with domain name suggestions
Cons
To view available domains, you must first select the domain name
The website is really slow to use
There isn't any access to check the social media availability of any domain
Pricing
Namelix is completely free to use.
What factors should you consider before selecting a domain name?
1. Keep .com domains in mind
For a reason, "Dot Com" is another term for online business. People immediately think of "dot com" when they think of website addresses. That is why, instead of .net, .blog, .pizza, or other domain endings, I recommend shopping for a domain that ends in .com.
2. It should be simple to spell
New bloggers frequently make the mistake of choosing domain names that are too long, complex, or difficult to spell. Consider sharing your new website with a friend. Make sure they can type it into their browser with ease.
This means sticking to short, easy-to-spell terms, avoiding hyphens, and limiting double letters like "yogaadvice.com," which can lead to errors and lost traffic.
3. Choose a domain that can be used to build a brand
You want your domain name to be distinct and memorable when you're launching a new blog or business. It should stand out from the crowd so that your readers will remember your brand.
4. When possible, use relevant keywords
Using keywords in your domain, on the other hand, is a fantastic strategy that can help your ranking on search engines. You may use our domain name generator to find unique combinations for your new blog, website, or product by searching for your goal keywords.
FAQs
What is a domain name generator?
A domain generator is a useful tool that generates domain name recommendations or ideas depending on the terms you type in.
While some use AI technology to do this, there are others that are really good at suggesting unique domain names for you based on the keywords you enter into the tool.
Can I use domain name generators for business names?
Yes. I recommend new small online business owners use domain name generators to search and confirm the availability of the desired brand name before registering the company name with local authorities.
Conclusion
Here you go. These domain name generators are more than enough to help you generate a brandable domain name for your small business or online brand.
I hope you can now come up with a catchy name for your future project using the best domain name generators listed in this article.
If you found this post useful, share it with your friends. Are you a small business owner, check out the software reviews section to find out the best tools you'll need for your business.
If you're about to start a blog or website, check out blogamigo for useful blogging resources and websitebuilder101 to learn how to create and manage your website.
Tosinajy teaches you how to make money online, the tools you'll need, and how to deal with typical problems.
Thanks for reading.