Do you have a ton of data? Do you find it hard to make sense of it? Or are you wondering which are the best data visualization tools?
Whether you are looking to gain some valuable insights or just trying to improve your current data visualization strategy, I have compiled only the best-rated data visualization tools to help you choose.
Also, I have included a brief review of each tool with its cost, pros, and cons to help you understand what each tool offers.
Quick Review
What is the best data visualization tool?
Best Data Visualization Tools
What are the best data visualization tools to get the best out of your data?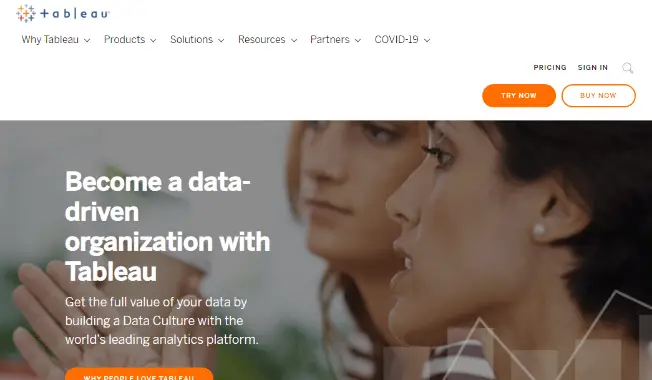 Tableau is one of the best data visualization tools in the world. Whether you are a student, marketing analyst, decision-maker, or chief executive, Tableau helps you make sense of the world.
Date and time can also be structured in numerous ways to ensure that your analysis will not lead to wrong conclusions. Additionally, you can quickly sort through large amounts of data with visualizations types like bar charts, area charts, etc.
You will also not need any programming knowledge as the software is very user-friendly and interactive with guides at every step that takes your data way beyond spreadsheets in a couple of minutes.
Tableau gives you the best, simplest, and quickest way to visualize large amounts of data. It also allows for the easy creation of dashboards and real-time updates. With a few clicks and drags of the mouse, you can be more productive and your company can make better decisions sooner.
Pros
Ceate interactive visualizations
Mobile support and responsive dashboard
You can use other scripting languages
Ease of implementation
Perfect for large amounts of data
Drag-and-drop functionality
Cons
No custom visual imports
Static and single value parameters
Pricing
The Public version of Tableau is totally FREE while the Desktop version starts at $70 per user per month. It can be used as Tableau Online with a Tableau Server, but can also be self-hosted on a private server.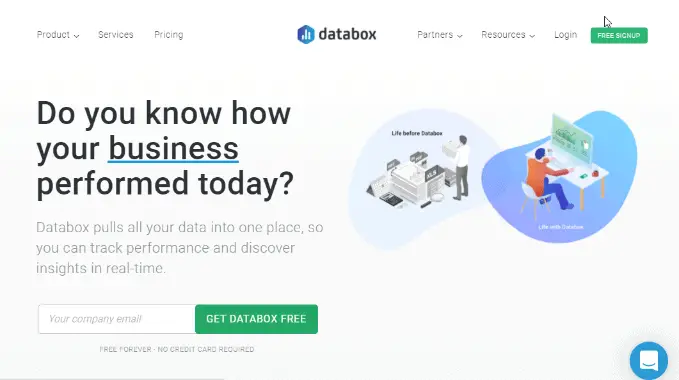 Databox is another top-rated data visualization tool. The tool enables companies to aggregate and prepare large volumes of data and display it in a variety of visual formats.
With Databox, you can create bar charts, scatter plots, bubble diagrams, pies, timing graphs, and more. Canned reports are also easy to create with their drag & drop interface and are available for immediate use.
Their goal is to help users not only be more creative but also deliver impactful analysis with aesthetic appeal. Databox gives you the ability to create, edit, and share beautiful data visualizations online.
It aims to build tools that are simple enough for everyday use by data science professionals, so everyone can realize the true value of their data.
Pros
Easy to use
Real time analytics
Filters data
Perfect for marketing teams
Over 70 one-click integrations 
Advanced data calculations
Over 200 pre-built reports
Cons
Limited features on the free plan
Pricing
Databox offers a free subscription that includes up to three users, three data sources, and a daily data refresh. Their premium plans range in price from $49 to $248 per month.
The Basic Plan, which costs $49 a month and includes 10 user accounts, 10 data sources, 10 dashboards, hourly data refresh, and API access, is the most-used option.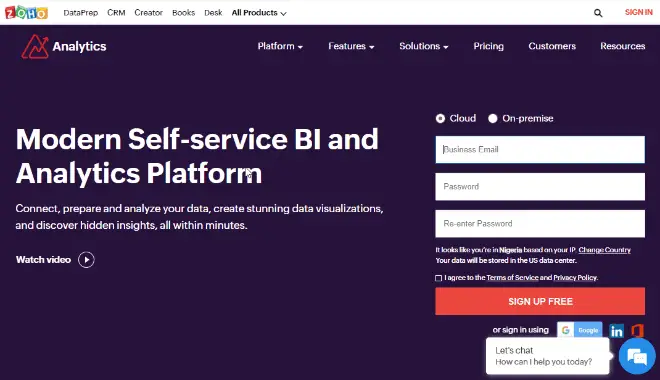 Zoho Analytics is more than powerful business intelligence software. It is a platform to help you create a visual world where you can understand your data better and empower your business towards success.
It enables you to build interactive dashboards in minutes, accesses critical KPIs and reports with ease. Zoho Analytics empowers you to make smarter decisions using real-time data from web applications.
It is a cloud-based business intelligence tool that allows companies to unify their data sources. With Zoho Analytics, you can create a centralized hub for data analysis. No matter what you are measuring, Zoho Analytics helps you visualize your data and draw insightful conclusions faster.
It has all the features to create and share compelling reports and dashboards. It also allows you to collaborate with other users of Zoho Office and Zoho CRM, making it an excellent business solution.
Pros
Decent price
Quick, simple automatic report generation
Easy-to-follow interface
Comes with strong security policies
Offer extensive customer support
Extracts data from multiple resources
Comes with an AI-based assistant
Cons
Frustrating reporting features
Steep learning curve
Pricing
Zoho Analytics pricing options start at $25 and go up to $495. In addition to its pricing, you can try it for 15 days for free.
Sisense is a new breed of Business Intelligence that provides real-time analytics and insights from any type of data for faster business insights.
Sisense's natural language query engine, interactive dashboards, and easy drag 'n' drop architecture makes it one of the best data visualization tools for BI professionals looking to analyze any kind of data in minutes.
From healthcare to marketing, finance to HR, Sisense gives everyone in your organization the ability to make faster and smarter business decisions. Thus, saving you both time and money at every step of the process.
It helps you deal with large amounts of complex data by turning it into easy-to-understand visualizations. All you have to do is focus on your end-user reporting, analysis, and dashboards – Sisense does the rest.
Pros
Does real time analysis
Eye-grabbing visualization
Exports data to PDF, Excel, Images, CSV and other formats
Drag-and-drop user interface
Data unification
Connects smoothly to almost all data storage platforms
Data mash-ups
Cons
A bit complex for a self-service business intelligence (BI) tool
Pricing isn't transparent
Pricing
The website does not list prices. You will have to request a tailored quotation based on your specific requirements.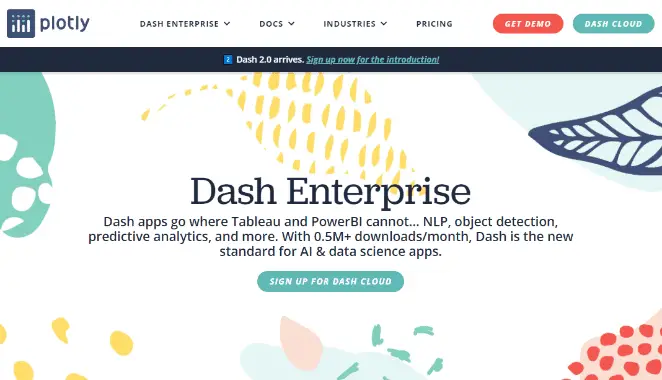 Plotly provides you with all the tools you need to make the best visualizations. Uncover insights in your data like never before.
Select from hundreds of chart types, and customize each one with interactive features like brushing, linking, sorting, and more. Plotly is the best way to create beautiful plots, charts, and graphs for any purpose.
In addition, Plotly's platform allows you to easily share your work with your colleagues or the world, and even modify and enhance it.
Chart Studio Enterprise and Dash Enterprise are commercial offerings of Plotly. It's, therefore, more suited for enterprises that need large-scale AI and data science. In addition, it's perfect for students and small business owners as well.
Pros
Provides multi deployment options
You can add multiple team members
High-quality analytics tools
It provides simulation modeling, custom dashboards, and proper reports
Supports popular languages like R, Python, Node, and more
Cons
Doesn't provide customer support via phone call
Limited features on the free plan
Pricing
Plotly offers a free plan for those who only need basic features. However, paid plans start at $ 59/year per user for more sophisticated features.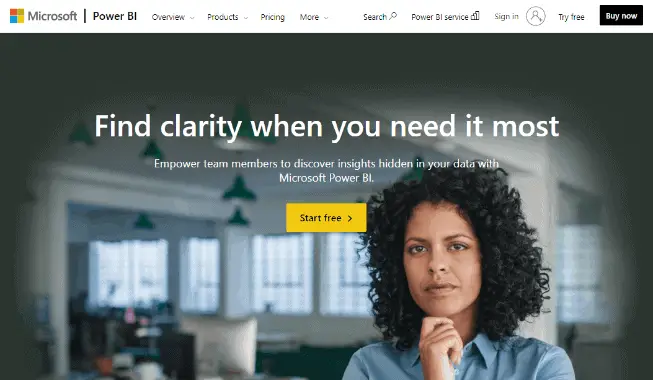 Power BI is a simple yet powerful data visualization tool. With the Microsoft Power BI, you can connect to your favorite cloud storage services to visualize and analyze your most important business data, and easily share data insights with colleagues.
It connects to all your data sources, whether on-premise, in the cloud, or SaaS applications. It then delivers easy-to-use and interactive dashboards, using a natural language query engine to make it quick and easy for everyone to get value from their data.
Your customers, employees, partners, and other stakeholders can easily explore the data that matters most to them. With Power BI, your team can do more with data in a familiar and interactive environment.
Pros
Very user-friendly
Easy to use
Supports Excel
Constant updates and innovations
Custom visualizations
Connects to hundreds of data sources
Cons
Desktop and web versions divide data prep tools
Refresh cycle is limited on free version
Pricing
For personal use, Power BI is FREE to use as a desktop version. However, Power BI Cloud Service which is designed for the team costs $9.99/month.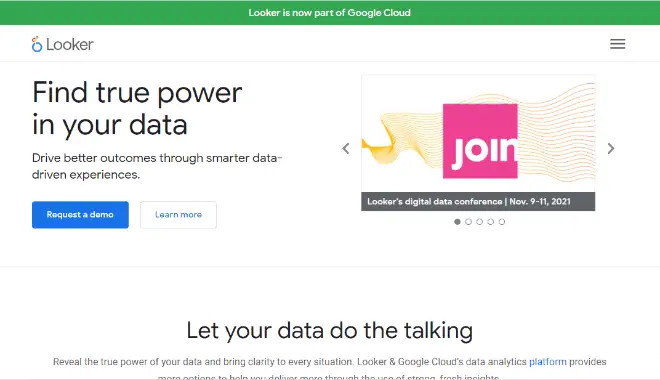 Looker is one of the best data visualization tools to host, analyze, and share your business data. The tool provides instant answers to critical business questions with its unified platform that includes beautiful dashboards, charts, and filters to provide context without IT intervention.
Thousands of companies rely on Looker to power their data-driven cultures. It delivers real-time data dashboards for in-depth research, allowing organizations to make quick choices based on the data visualizations.
Looker also connects to Redshift, Snowflake, BigQuery, and more than 50 SQL dialects, allowing you to connect to various databases without difficulty. You can also export your files in multiple formats.
Pros
It's easy to use
Cloud-based so it doesn't take time to setup
Have a custom-built DSL layer
Supports collaboration and version control with Git Integration
Excellent customer support
Seamless integration with various databases
Cons
Quote-based pricing
Steep learning curve
Pricing
Looker offers a quote-based plan, therefore you will have to get in touch with their team.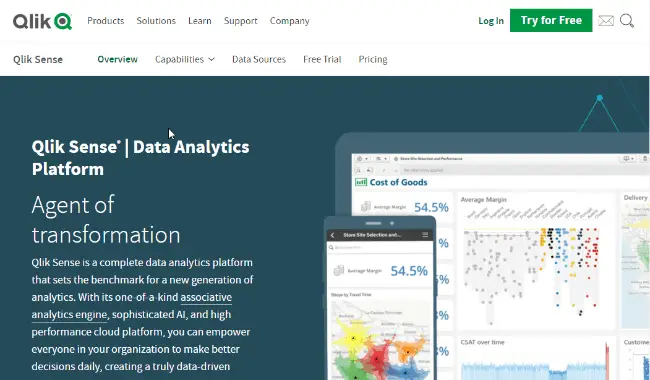 The Qlik platform is built for teams who are seeking simplicity in their BI and need advanced visual analytics to unlock insights faster.
Qlik Sense offers the best of both worlds – simple, centralized data discovery and dynamic, customizable dashboards. It empowers every user to make better decisions, every day.
No matter how big or little your data is, Qlik Sense makes it simple to combine, load, view, and explore it. All of the data charts, tables, and other visualizations are interactive, updating themselves in real-time based on the current data context.
Qlik Sense AI gives data insights and assists you in creating analytics with only a few clicks. Put your data to good use with the right tools. Go beyond traditional data visualization and discover your business with Qlik Sense.
Pros
Data integration and linking is made easy due to the associative model
Customizable APIs
Connect and combine data from hundreds of data sources
AI technology built in at a foundational level
Machine learning for more relevant insights over time
Cons
Limited visualization due to lack of some basic charts
No free plan
Pricing
You can subscribe to the Qlik Sense Business plan for $30/per month or contact the sales team for its enterprise plan. Also, Qlik Sense offers a free trial to try the tool.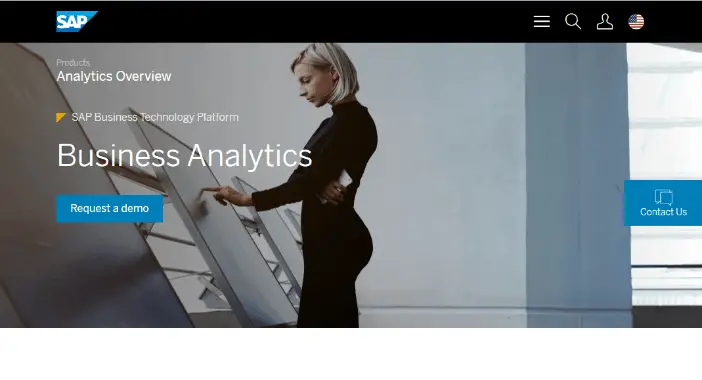 SAP Analytics Cloud is a high-rated unified self-service data visualization tool. It allows you to combine, visualize, and share data from a range of data sources to drive your decisions.
More than just analytics software, SAP Analytics Cloud intelligently interprets your data for you, helping you ask smarter questions and uncover meaningful insights. The result: more informed business decisions.
It also gives you access to the most up-to-date modeling tools, which assist you by alerting you to potential data mistakes and classifying various data measurements and dimensions.
It's a powerful, well-priced choice if your company already uses SAP's HANA database platform. Be informed, however, that there is a steep learning curve and SAP products are essentially dependent on each other for full functionality.
Pros
Easy to use
Real-time analytics
Social Collaboration
Offers business intelligence
Inbuilt AI and machine learning capabilities
It integrates with third-party applications such as Google Drive and Excel
Cons
Data prep features are lacking
Not friendly for beginners
Pricing
This platform is free for the first 30 days, after which you must pay $22 per month for the Business Intelligence package.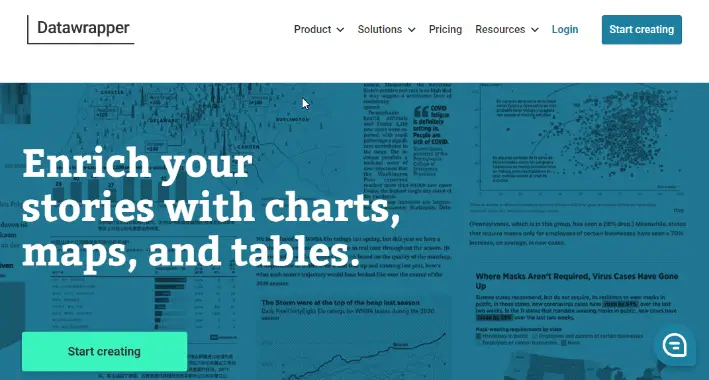 With Datawrapper, telling stories with numbers has never been easier. Visualize with pre-loaded charts and graphs, or upload your own in CSV format. You can also export them into .png, .html, and .pdf with a single click.
Datawrapper is growing increasingly popular, especially among media companies who use it often to produce charts and report information. It is a tool to create beautiful visualizations that attract readers' attention at first glance.
Once you sign up, choose the number of columns in your data, select a chart type, and press "Visualize". Datawrapper will take care of the rest. It is already used by thousands of people every day to create more than thousands of charts.
Regardless of your level of expertise with spreadsheets, it only takes a minute to create a chart.
Pros
Provides a variety of in-built charts and graphics to choose from
It doesn't require any technical know-how
It's an open-source tool and is entirely free
The charts, maps, and other graphics automatically get saved afterward
The DataWrapper tool is compatible with all operating systems
Allows you to edit and annotate your charts easily
Cons
One of the biggest drawbacks is that your data will get stored on the DataWrapper server with the free plan
The customization of fonts and colors can be tough
Pricing
Unlike many tools on this list, Datawrapper offers a complete FREE plan in addition to two paid plans for those who need advanced features. Its Custom plan costs $599/month while you will have to contact them for their Enterprise plan.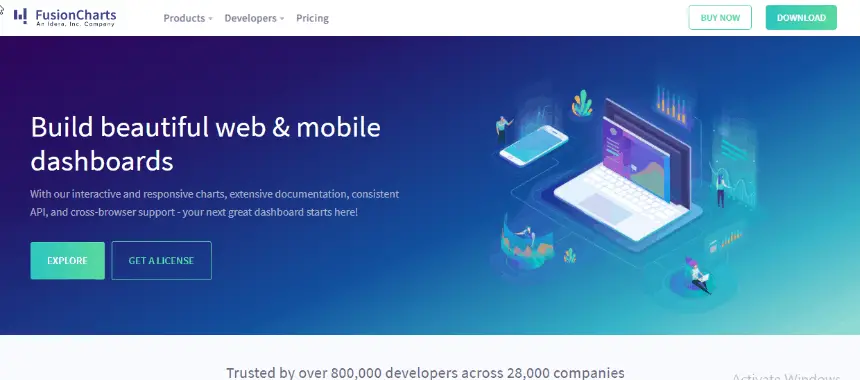 FusionCharts is one of the best data visualization tools for the web. It is used by thousands of developers and thousands of top companies around the world.
This is a popular JavaScript-based charting and visualization tool that has established itself as one of the paid-for industry leaders. It can generate several distinct chart kinds and connects with a wide range of platforms and frameworks, providing it a lot of versatility.
You may choose from a variety of "live" example templates, just putting in their own data sources as needed, rather than having to build each new visualization from scratch, which has helped FusionCharts become highly popular.
It makes it easy for all members of your team to collaborate on visual data representations, fostering faster insights across departments and countries.
Pros
Offers flexibility in design
You can get a variety of fonts and layout of dashboards
You can create a custom dashboard using FusionCharts
Offers extensive documentation to break down everything in depth
Cons
Needs improvement when it comes to customization options
It's a bit expensive so more suited for large enterprises
Pricing
FusionCharts is priced per user. The plans start at $499 and go up to $2,499 while you have to contact the sales team for its Enterprise Plus plan. However, the good news is that it provides a free trial to try it out before making a decision.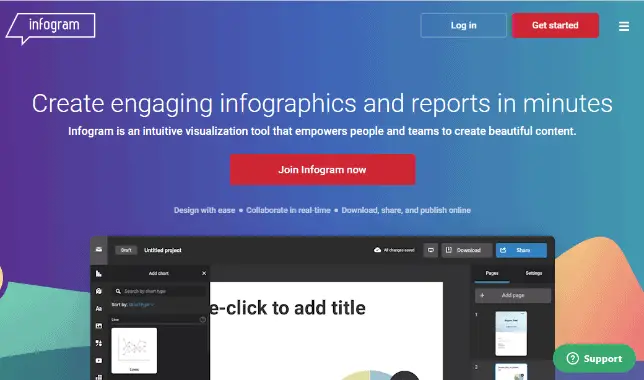 Infogram is another one of the best data visualization tools which makes it easy to create charts, diagrams, and info-graphics. With its clean interface, you can easily turn your data into meaningful graphics that help both you and your readers understand the information better.
Simply turn your data into beautiful charts and infographics in minutes, not hours. No technical skills are required.
You can also choose from hundreds of beautifully designed templates or create your own from scratch to show your data clearly and effectively.
Visualizations can be saved as image files or GIFs for use in reports and documents, or as HTML for use on the web. A drag-and-drop editor is also included in the tool, making it, therefore, perfect for beginners.
Pros
Incredibly student-friendly
Provides customizable templates to help you add colors, fonts, logo, and more
It offers an ample variety of images, icons, and flags
Proper sets of maps and charts are present
The templates help in creating social media images, dashboards, and reports
It has got some beautiful project templates that can turn data into engaging content
Cons
Navigating your data can be challenging
Customer support needs improvement
Pricing
Like Datawrapper, Infogram also offers a FREE plan and 4 paid plans. Its paid plans include Pro ($19/month), Business ($67/month), Team ($149/month), and Enterprise which you will have to request a quote based on your need.
Whatagraph is a data visualization tool for social media, PPC, SEO, and email marketing that provides visual data analytics.
The visual analytics are built using a variety of networks, ranging from Twitter to Google Analytics. With white label templates, you can personalize the Whatagraph data visualizations to match your brand.
Whatagraph's primary data visualization function is to display and evaluate social media and email marketing campaigns. You can further use the tool to connect to a variety of services and create beautiful branded analytics dashboards.
This tool is especially handy for social media managers who want to keep track of all the many social media channels they're utilizing for campaigns. In addition, the reports can be tailored to your specific requirements.
Pros
Provides data automation
Cross-channel reporting
Real time data monitoring
Data source centralization
Seamless integration
Fully custom branding
Supports multiple devices
Pre-made templates and widgets
Cons
No option available to gather link clicks from Facebook
It's quite expensive
Pricing
Unlike SAP Analytics Cloud and Qlik Sense, Whatagraph is quite expensive. The cheapest package, which includes 1 user and 15 data sources, costs $119 per month. The full-featured subscription, on the other hand, with unlimited users and customized data sources, costs $699 per month.
See also: 10 Best Social Media Management Tools, Apps, and Software
What is Data Visualization?
Data Visualization is a way of displaying information so that patterns, relationships, and characteristics can easily be identified. It provides a comprehensive view of the data in an easy to comprehend manner by enhancing human visual perception.
The purpose of data visualization is to communicate information by creating graphs, info-graphics, charts, or images such as maps so people can easily interpret and understand them.
While there are hundreds of ways to visualize data, the following are some of the most-used ones:
Pie charts
Bar charts
Histograms
Waterfall charts
Area charts
Gantt charts
Heat maps
Box-and-whisker plots
Scatter plots
Infographics
Maps
See also: Best Screen Sharing Software [Free, Freemium & Paid]
Why is Data Visualization Important?
As humans we are naturally drawn to visual cues, making data visualization an incredibly powerful tool for communicating insights and trends, among other things.
By turning data into an understandable visual format, it becomes easier to consume and allows organizations to glean new insights from data that was once only accessible through complex software applications and programming languages.
In summary, with data visualization tools you can put data to work; saving time and effort, getting new insights, making decisions faster, and creating compelling presentations to share your findings.
FAQs
How long does it take to create a data visualization?
It depends on the size of your data, however, data visualization can take anywhere from an hour to a week to create.
How long does it take to learn the basics?
Novice users typically start to gain analytical skills and feel comfortable in a few weeks. While there are tools with a steep learning curve, data visualization tools like Tableau and Microsoft Power BI are extremely easy to use.
Conclusion
Overall, Tableau is the best out of the best data visualization tools on this list.
It lets you bring data to life and easily turn insights into actions, radically improving how we all make sense of the world. Also, with its easy-to-use interface and drag-and-drop functionality, powerful algorithms, and compelling content, it's the top tool for data visualization.
Finally, are you're looking for reliable presentation software in addition to your preferred data visualization tool? Here is the 11 Best Presentation Software To Deliver That Perfect Presentation.
I hope you found this post helpful.
Tosinajy teaches you how to make money online, the software you'll need, and also guides you on how to deal with common issues you may encounter.
Thanks for reading.
Ready to Try Tableau For Free?
Click on the button below to get started with Tableau.